How mHealth Tech Changes Patients' Experience: Benefits And Use Cases
Such major app stores like Google Play and App Store today offer about 320,000 mHealth apps, according to IQVIA. By the way, the number of apps was nearly doubled since 2015. Also, 90 percent of US-based physicians use smartphones on a daily basis to work with EHRs, communicate with patients, and so on. Why do you need this information? Well, it means that mHealth technology is gaining momentum and both you as HC provider and patients will benefit from having mHealth apps. You just need to find reliable mobile app development services provider. However, first things first. Let's check it out what is mobile technology in healthcare.
Reasons why mHealth is important for delivering better patient care
The mobile healthcare tech world is going to grow to nearly USD 19,39 billion by 2021 from USD 1,77 billion in 2016. This statistics speaks for itself - more and more healthcare providers provide their patients with mobile apps to simplify the interaction between provider and patient.
Advantages of mobile healthcare tech and its versatility in all medical fields may substantially help both doctors and patients. It will be especially useful for patients who have chronic diseases and it is necessary to monitor health condition and have permanent control.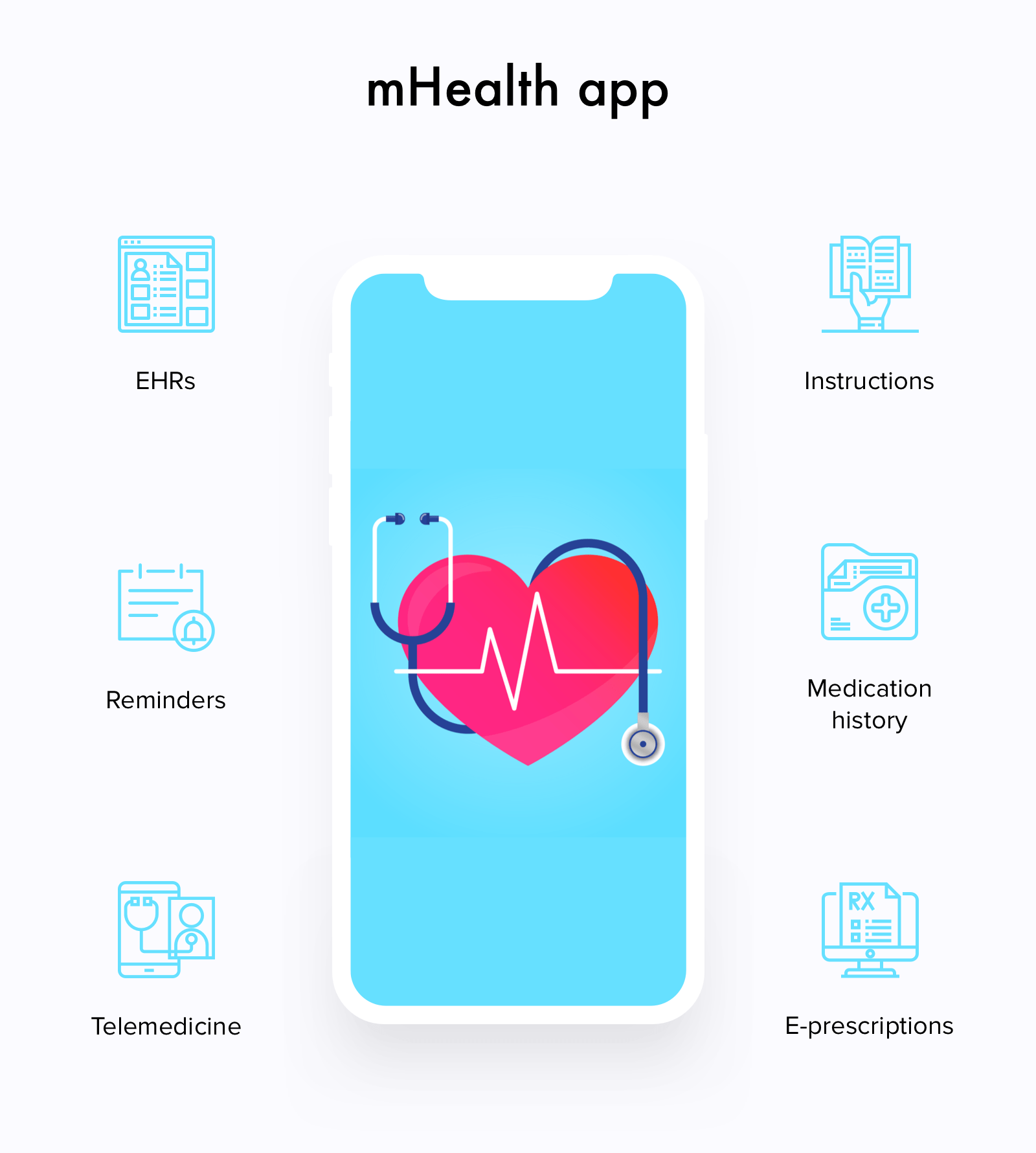 What mHealth app is capable of
An opportunity to get consultation online, a quick connection with a doctor remotely help your patients reduce the number of personal appointments. Besides that, people who are located far away from healthcare establishments will also be able to get remote medical services.
Due to its potential mHealth industry is changing healthcare services drastically and increase the efficiency of medical care around the world. And the demand for mobile devices may provide a stable growth of high-tech manufacturing in the whole world.
Let's single out the main types of healthcare apps for patients you may invest funds in and create for your healthcare organization to give your patients a better experience and have better communication with doctors.
App with medication history. It works in the following way - various pharmaceutical reports sync to mobile apps of patients. As a result, patients have full information about drugs they bought, what doses and when they did it last time.
Reminder app. An app reminds patients about medicines that need to be taken. Many patient apps for improved healthcare with reminders also have a Confirmation button that helps doctors see that treatment is started, and physicians know that a treatment isn't ignored.
Chat app. Patients can chat online with their doctors and ask any questions related to the treatment process.
EHR app. EHR or electronic health records show full information about patients, and physicians can monitor the history of diseases, set reminders, communicate with patients, and so on.
In fact, you can combine all these features into one app, everything depends on your requirements. If you need a full-fledged mobile app that solves many tasks and optimizes related processes, it is better to build an app including all those features and you will succeed since your patients will be completely satisfied with high-tech services.
Benefits of mobile apps in healthcare for patients and caregivers
As you already see, there are specific strong sides of mobile medical apps for both parties. And we will single all the benefits of mobile technology in healthcare one by one to provide you with full information.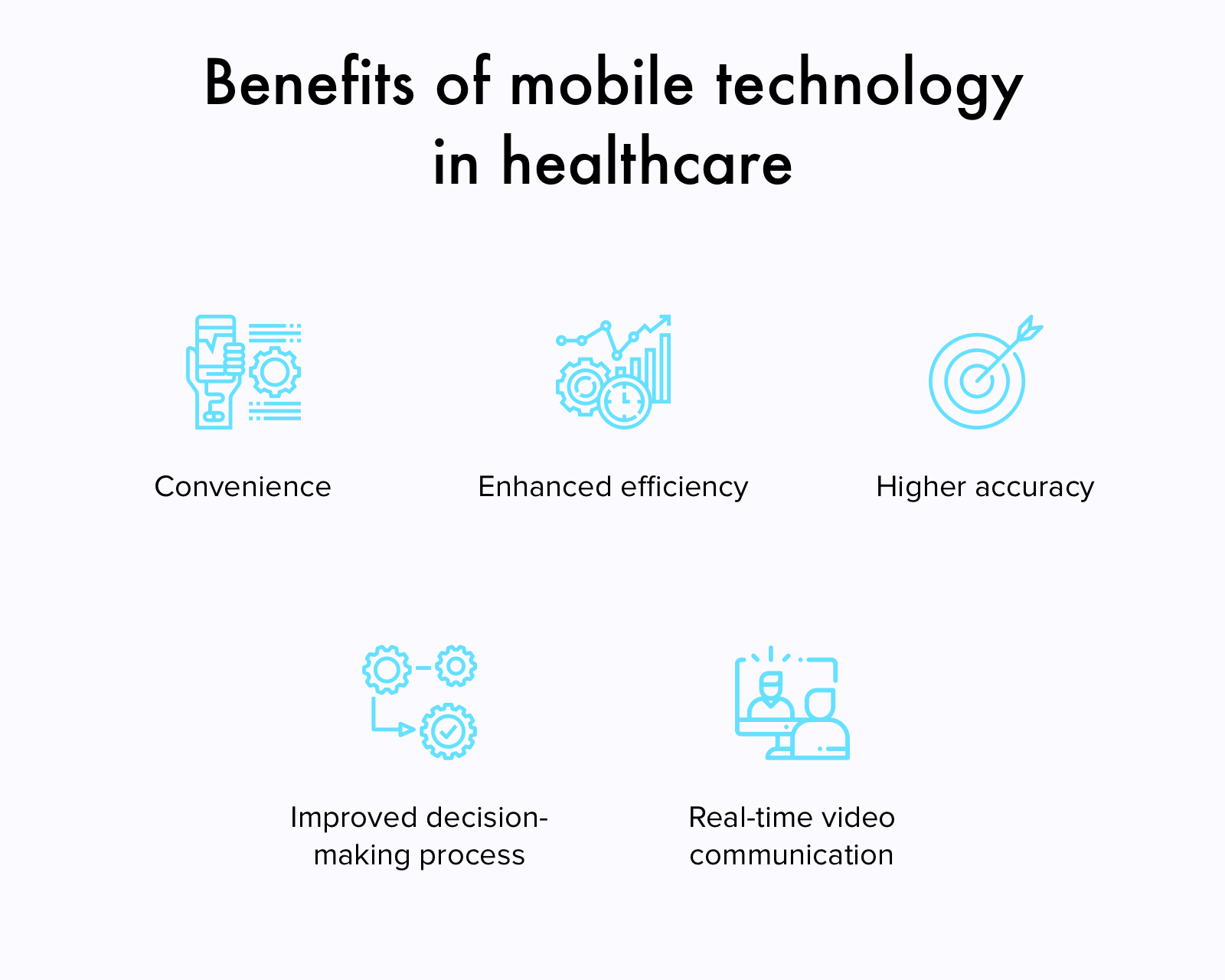 Advantages of mobile tech in healthcare
Accessibility
First of all, medical mobile apps make a life of patients and physicians more convenient. People acknowledge that mHealth applications provide them with portability, instant access to necessary information, communication with doctors, and so on. In addition, many mobile apps in healthcare industry have two versions - for a patient and for a doctor, and doctors' app may contain useful information like medical literature and guidelines which help them quickly find out important details.
Improved decision-making process
As we noted above about medical textbooks available in the mobile medical apps for patients and physicians, they help physicians find answers to necessary questions faster and make the right decision quickly. As a result, patients can get better services and correct treatment. In addition, pharmacists also may have instant access to medical information about drugs and make their decisions wisely.
Higher accuracy
All documents are stored in one place, doctors and patients can check it anytime from any point of the world from their mobile device. Thus, doctors may make a diagnosis more accurately using digital technologies that process a lot of information, analyze it and give users a correct result. As research shows, mobile-based analysis has a higher quality than documentation that was prepared with the help of paper records. Also, it reduces medical errors, it helps physicians avoid pitfalls and structure all information.
Enhanced efficiency
Using mHealth applications, patients can get access to the information about medicines they take, chat with a doctor, look through all prescriptions, etc. without leaving a comfortable sofa. In turn, physicians can improve the efficiency of their workflow, reducing paperwork and switching to a mobile app where integrated machine learning algorithms analyze the information and do a major part of work. Everything leads to time saving, and it helps physicians spend more time on patient care. An exemplary solution that streamlines workflow with electronic document management within the healthcare services is e-prescription app development.
Better communication
Modern mobile devices have high-resolution cameras and it contributes to telehealth tech promotion. It is online communication in a real-time mode when doctors can see a patient, check their health state, find out symptoms if the patient feels sick and so on. In addition, physicians don't need to visit a patient in person, everything can be done online without time waste. This benefit is obvious.
Having listed the main benefits of mHealth, we can say that investment in mHealth app development worth its efforts if you want to feel the pulse of up-to-date technologies and improve the life of your patients and medical staff.
Use of mobile technology in the healthcare sector
There are many ways how mHealth can be used. It depends on the app's purpose. Let's review a few use cases that will completely change patients experience and improve your workflow.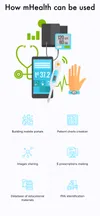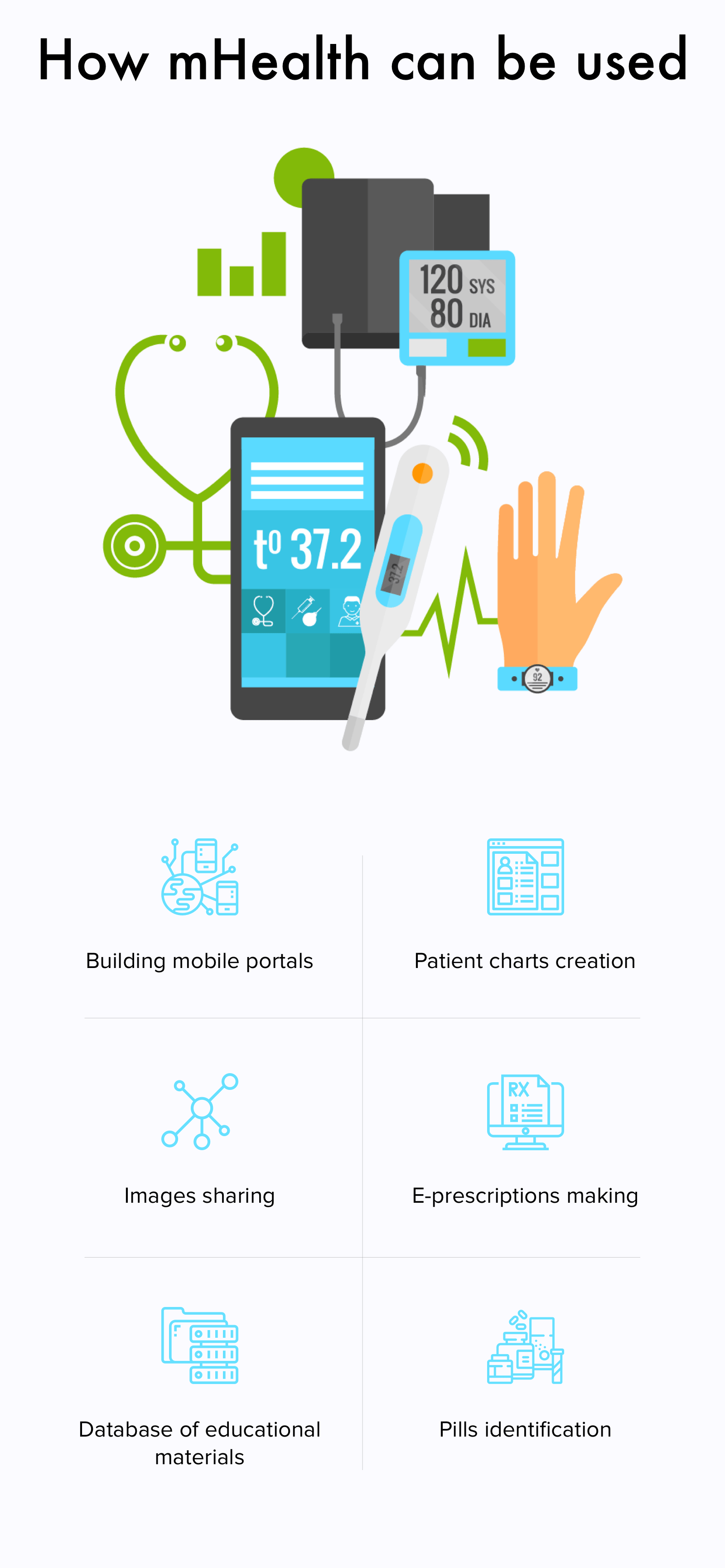 Mobile portals for patients
Patient portal development will allow patients to check their health reports. Portals make it possible for patients to connect with their family physician, schedule an appointment, set up reminders about specific medicines taking, and so on.
Patient portals also help patients become more responsible for their health and focus on the treatment process more attentively, let them engage more in this process. Besides that, it allows doctors to increase patient care quality.
Patient charts building
This use case is required for physicians who still follow old school habits and work paper patient charts and spend too much time on it. They need to switch to a mobile EHR app that makes it possible to build and organize patient charts, and then get access to them from anywhere.
Thus, physicians spend more time on personal communication with a patient rather than on updating and filling out charts. Besides that, EHR apps offer an intuitive and clear interface that allows physicians to fill it out easily and quickly. In addition, EHR app gives an opportunity to find a patient quickly through a search system, use a chart template to build new patient charting, etc.
If your organization or hospital will create its custom EHR app for patients, it will ensure your physicians retain patients since all boring organizational processes will be performed faster than usual.
Images sharing
Apart from written records with disease history, physicians also need to see visually if a patient is injured or they have some problems on the skin. Mobile devices with HD cameras make it possible to capture an image and then patients can send this image to the doctor and upload it to their portal. It is a very convenient way to share all images with attending physician remotely and let them make diagnosis even if they are far away from hospital.
You, as a healthcare provider, may give your patients an opportunity not to wait for time to visit a doctor but send an image any time to feel calm and not to worry about their health. Also, it helps save time and gives physicians clear details of a problem patient cares about. Acceleration of such processes makes healthcare mobile apps for patients and doctors really important and necessary.
Making e-prescriptions
E-prescription is one more way to let patients feel comfortable and physicians can also reduce their stress. When a patient needs to have electronic prescriptions, they need it to be done fast. That is why mHealth apps should be used to achieve it. Physicians use a mobile app like EHR system to indicate what medicines patient needs to take, prescribe everything from any point of the world.
After e-prescription is done, physicians can send it to drug stores or this process can be adjusted to send all prescriptions automatically, if a patient goes to the same drug store on a permanent basis. Patient care quality is growing exponentially.
Apart from this, physicians can track how properly patients take drugs, and remind them to take if they forgot or ignore it. However, most mHealth apps have integrated reminder feature.
Educational materials sharing
Even if patients strictly follow all prescriptions and pieces of advice of doctors, it doesn't mean that they can remember everything physicians said them on a visit or video chat. That is why physicians should add educational materials to patient portals to let them access it and read. Apart from written documents, physicians can also upload video material to allow patients to immerse in the treatment process better.
First, all documents are stored in one place and patients won't lose it, as it may occur with paper documents. Second, patients become more engaged and tend to live a healthy life. If patients are aware of all threats to their health with educational materials, they will try to do everything to lead a healthy life.
Pills identification
Patients sometimes come across a problem when they find pills without instruction and blister. What is this pill? To find out it, mHealth apps with integrated machine learning algorithms may help. Artificial intelligence will be able to recognize a pill by an image uploaded by a patient. It is not cheap for you to create a custom AI-based mHealth app, but it will worth its efforts. Thus, patients will know what pill they found and how it is taken.
However, it is necessary to take into account that even if patients find full info about pills, it will be impossible to find out their expiry date. So it may be dangerous to take expired drugs.
Well, the list of use cases may be extended and there are really many ways more to use mHealth apps. But there are also some pitfalls you should know if you intend to adopt mHealth app in your practice.
What you should consider when adopting mHealth tech
Let's review three main pitfalls you should never avoid if you want to succeed and provide patients with high-tech and reliable mHealth app.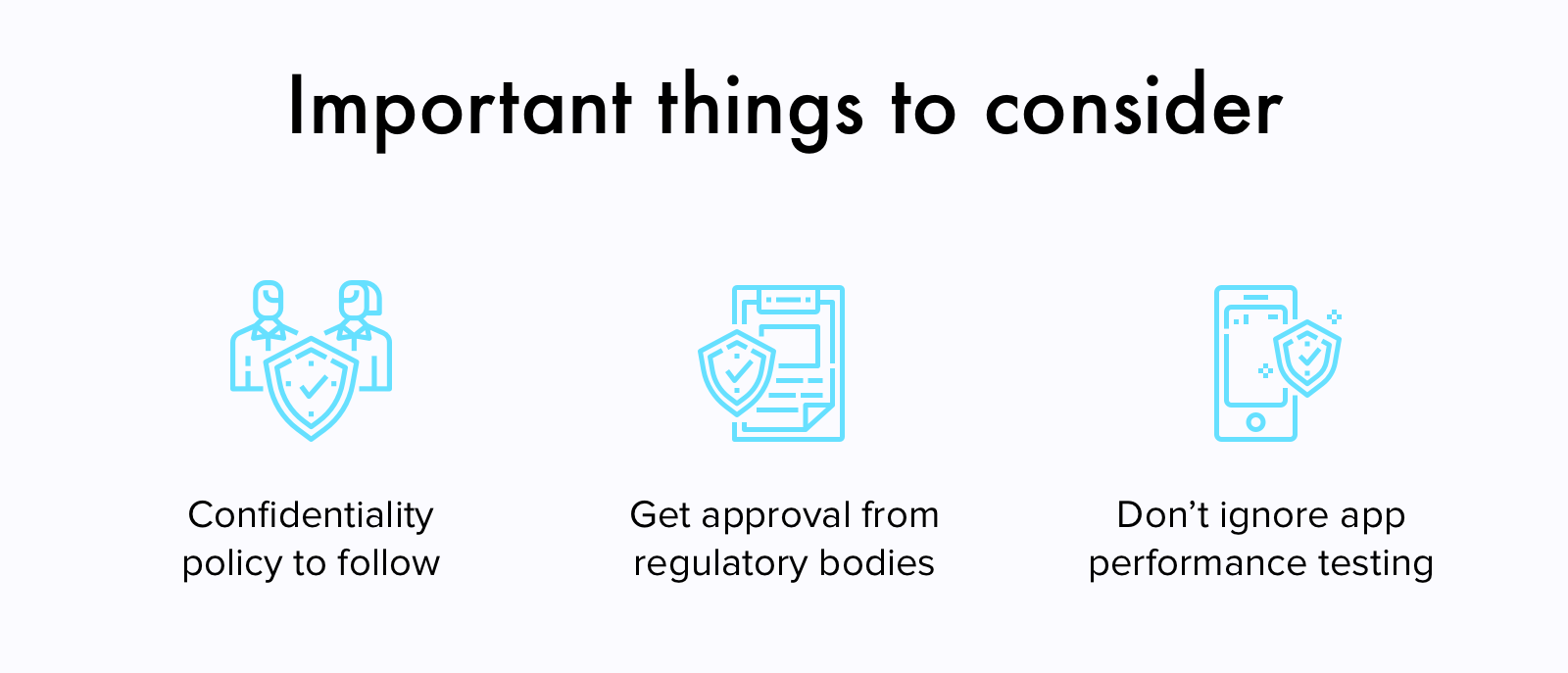 Crucial moments to take into account
Keeping up with confidentiality policy
It is very important to protect all data since mHealth apps contain a lot of personal information. That is why you need to follow the confidentiality policy and secure all data properly. If you build an app for the USA, you should make your app HIPAA-compliant. It means the app should meet all HIPAA regulations. If an app is built for EU-based citizens, then make sure that it is GDPR-compliant. Also, patients should know their personal data is protected and they can remove all their data if they think it necessary. In addition, patients need to approve that the app uses their data on their consent.
Approval by regulatory bodies
It is recommended to get approval from authorized regulatory bodies for your mHealth app. The problem is that many apps were not available in beta testing, and potential patients didn't test it, and they didn't get any approvals from the Ministry of Health or FDA (if the app is targeted at the US citizens). That is why you should provide an app for consideration of such organizations, get their approval that your app meets all regulations, and then you can release it for public use.
App performance testing is mandatory
And the last but not the least thing to consider is an app performance testing. To ensure accessibility and reliability of the app, you should perform load testing (actually, the custom healthcare software development company will need to do it). If you tell them that you want to put a product on the market as soon as possible, and you ask them to skip the testing phase, your app is under risk.It should undergo all testing phases to make sure it will function properly under various circumstances.
Make sure that your app will be supported by various mobile OS versions since somebody uses 12-iOS-based iPhone, and somebody still uses iOS 9. The same concerns Android OS versions. Don't ignore crash monitoring - it will provide your users with an uninterrupted experience.
And, finally, mind to add notification about mobile connection. That is, if a patient needs to watch a video but a mobile device isn't connected to Wi-Fi network, they should get a notification that connection will be performed via 3G or 4G network, and it may cost a penny for a user.
These three mHealth challenges will be your navigator on the route to successful experience your patients will get.
Expertise by Cleveroad: mHealth apps
We already had an experience in the development of mobile medical apps for different purposes and we would like to share it with you. Unfortunately, since all apps are created under NDA (non-disclosure agreement), we won't indicate its title.
For example, we have built an app for patients to track, analyze, and share their pain. It means patients fill out pain patterns every day, where they indicate what type of pain they have, what frequency, and so on. It makes it possible for patients to communicate with doctors better. The app creates charts and diagrams displaying a patient's condition, and doctors can easily read it. Also, patients can mark medicines that help them relieve the pain, so doctors see what medicine is helpful.
Also, our portfolio includes a mobile app that serves as a social network for people with chronic diseases. People can find discussions about diseases they suffer from, communicate with brothers in misfortune, share their stories, etc. In fact, such an app helps people realize that they are not alone in the world who came across such health condition. And we think that in some cases such social network may even say a life since people will see that they are supported by thousands of other people and they are inspired to fight and move forward.
Summing up, we can add that mobile technology in healthcare really change the world and improve patients' experience substantially. So if you are looking for a good and reliable software development company to create a custom mobile medical app for your hospital or healthcare organization, don't hesitate to contact us! Our requirements managers will provide you with all possible options.
Frequently Asked Questions
It's a worldwide practice when mobile devices become a link between people and healthcare providers. Remote data tracking, treatment support, and healthcare information deliverance are top priorities of mHealth.
Functionality range of mHealth is pretty vast. Apps can include various features like databases with educational materials, personal chats with family physicians, e-prescriptions, and so on. Moreover, mHealth apps can include more complex features like AI pills identification, mobile charts, and portals for patients.
The expected growth of mHealth technology will exceed $19,39B in 2021.
The main aspect of mHealth apps' effectiveness is the portability they provide to patients and doctors. All necessary features are in their mobile devices with constant access in the time of need. Furthermore, the communication process between patients and physicians becomes much more comfortable and faster with more accurate decision-making. On top of that, physicians' workflow becomes more efficient due to the reduced amount of paperwork.
The most noticeable effect of using mHealth apps is the ease of communication between patients and physicians. No more time-wasting in hospital lines for patients and constant access to the knowledge base for physicians. Furthermore, patients may have access to various complex features like AI pills recognition, patient portals, and so on. Moreover, mHealth decreases the amount of dull paperwork for doctors and more convenient ways to build various health charts for proper analysis of the overall health situation.
mHealth is a medical practice that includes mobile devices with various apps that increase the overall healthcare level and doctors' work efficiency. Apps providing better service, knowledge base, and complex features that help patients keep themselves alive and kicking.