How We Coordinate Our Customers When Building Solutions at Cleveroad
Companies from different spheres of activity have their own approaches to the work they do. Being involved in the sphere of IT, Cleveroad has it's own techniques related to software development process and coordination of our customers.
Having years of experience we have optimized these processes in a way allowing us to build your ideas even faster and more convenient for you.
In this article, we will tell you more about our company's approach to the development process.
Step 1. Everything starts with a request
After we have contacted a client and got the idea of a project, our team starts conducting a research. That's needed to examine all the peculiarities and possible challenges of project's field.
Then, we ask the client some clarifying questions intended to get as many information as possible. Among frequently asked questions we can single out ones related to provisional dates, features, target countries & audience, business model etc.
All the information we get will be documented. Based on these documents, we make a list of features that is furtherly sent to the team for app developmentfor estimation. In turn, they estimate the scope of work and calculate an approximate time (min/max) they need to implement the claimed requirements.
That's called a rough estimate. With it's help, we inform our client concerning approximate budget and timeline. After the client agreed to cooperate with us, we conclude a preliminary contract to start working on a project.

Cleveroad software development process
Agile development only
Before moving to the next step, let us clear up some details connected with agile development methodologies that imply directly on development processes and the way we coordinate our clients.
At Cleveroad we use agile software development methodologies (Scrum, Kanban) that imply the division of the whole project into sprints. During every sprint, we implement a certain set of features.
Respectively, at the end of each sprint, we provide our customers with a demo, so they can test the quality of work that was done throughout the stage. The payment is done at the end of each sprint as well.
Agile methodology allows us to increase the flexibility of our software development process, as well as get feedbacks from our customers from the project's very beginning until it's release.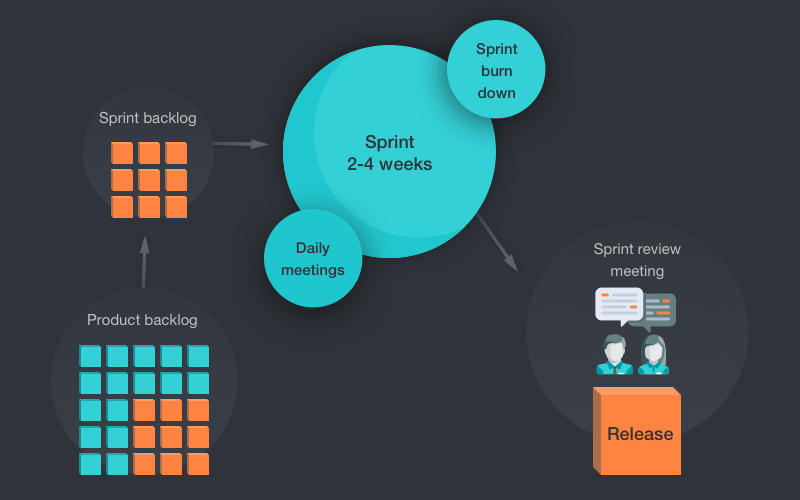 Agile development process
Step 2. First development stages
The first stage of software development process at Cleveroad starts with a so-called sprint 0. It usually lasts from 2 to 4 weeks and intended to prepare the product backlog and infrastructure.
During that time, the client works with our project managers who write requirements and user stories for the project. After the client say that everything corresponds to the initial project's idea, we transfer the project to our design team.
In turn, based on requirements and user stories, designers build a wireframe of a product that needed to be approved by the customer in order to move the development process forward.
After that, we conduct the detailed estimate that contains the development hours required for each project's feature separately.
The next stage starts as soon as the client confirms the agreement to continue our cooperation and signs the full contract.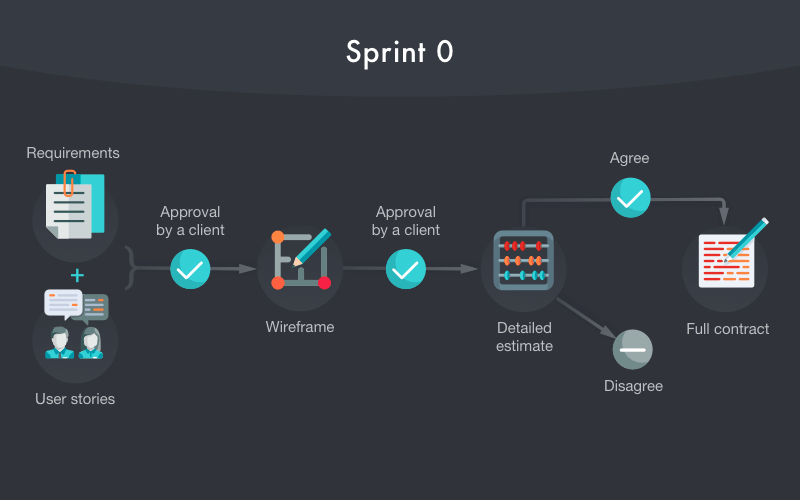 Step 3. Further development processes
When the software development contract is signed, we start drawing up the project plan. While drawing up, we take into account our customer's requirements. So, if there are a clear set deadline, we allocate resources of our company in such a way to deliver the project just in time.
It is worth noting that after the project plan is made and approved by a customer, any changes to the project will be estimated and paid separately, as well as added to further sprints.
After the sprint 0, developers will get to work, as soon as UI/UX design is ready and approved by the client. Depending on a kind of a product, QA department joins the project at it's beginning or closer to the end.
If it is a mobile app, we place it on Google Play or App Store after the project is finished. Usually, the waiting time before the app will be accepted on a store is from 1 to 3 days (depends on a store).
Also, we guarantee absolutely free maintenance within 30 days after the release. The further maintenance will cost in accordance to our company's per hour rate.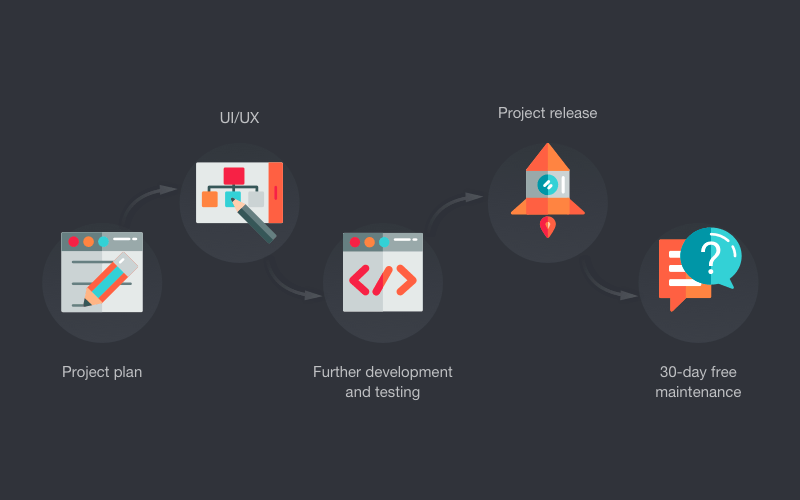 Cleveroad - stages of software development process
Rate this article!
2694 ratings, average: 4.91 out of 5
Give us your impressions about this article
Give us your impressions about this article