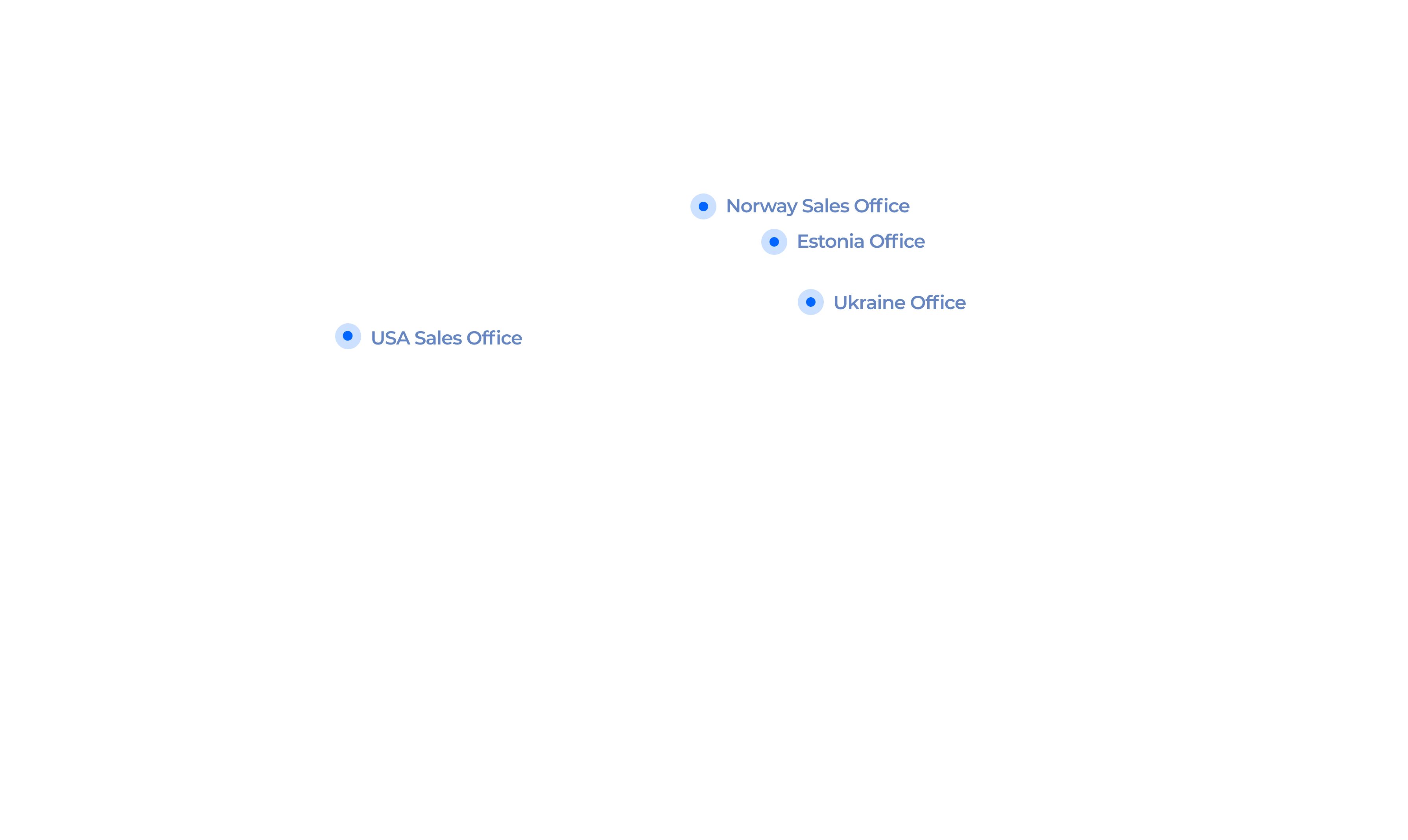 About Cleveroad
We help global businesses and startups to transform ideas into excellent digital products that drive results.
25%
are senior-level developers
25%
are senior-level developers
Being on the market since 2011, we have managed to gain the trust and respect from our clients. Long-term relationships and happy customers have always been our main goals.
Our values
Transparency

At Cleveroad, we believe that honesty with clients, partners, and employees is a fundamental step to creating great products.

Flexibility

Our team quickly responds to new requirements and changes thanks to the elaborate development process and no bureaucracy.

Quality

We control product quality at all levels due to collecting input requirements and defining a realistic scope of work in the early stage.

Professionalism

Our software engineering teams consist of high-qualified and certified developers with domain expertise across industries.
Leadership team
Our leadership team is here to make sure that clients get a smoothly working end product that solves business problems
Industry recognized
For 10+ years on the market, we've been awarded by industry-leading rankings and associations
Professional Member of the IAOP association
Participant of Norwegian-Ukrainian Chamber of Commerce
Top 1000 Service Providers Global
Top Development & IT Companies Ukraine
Top Software Development Companies Global
Top 1000 Companies Global
Top 1000 B2B companies, Global
Top App Developers, Global
Best Mobile App Development Companies
Top B2B Service Providers, United Kingdom
Top B2B Companies, Poland
Top B2B Companies, United States
Top B2B Companies, Los Angeles
Top Software Development Companies, Financial Services
Top B2B Companies, Ukraine
Corporate social responsibility
We believe in making a positive impact on the local developer communities.
Community contributions
We encourage career-long learning by educational events within the company and contribute to the IT community of Ukraine hosting and sponsoring events.
ITCP is an educational community and a platform helping IT specialists to improve their skills.
The largest professional JavaScript event in Ukraine that was held in Kharkiv.
The International Collegiate Programming Contest is a programming contest for college students.
Education
We hold up to seven traineeships per year in Dnipro and Kharkiv, where we share our knowledge and experience with rising talents.
Completed traineeships
UI/UX Design
React.js
Node.js
Flutter development
Business Analysis
Healthy lifestyle
We're fond of sports and other activities that bond the team and bring inspiration. It helps us to reboot and get ready for new challenges.
Sports
Our team loves sports. It's an excellent way to clear our heads and get back to work full of fresh ideas. We encourage any sports activities inside the team.
Entertainment
Spending holidays together makes us closer and inspires us to move ahead. We enjoy sharing happy moments and invite you to join our team to create bright memories together.
Open vacancies
Climb new career heights with us! Send a CV to the vacancy suiting you best, and join the Cleveroad team!
Internship: Project Manager
We are looking for an adept Project Manager to join our Team. Reach out if you are eager to upgrade delivery and project management skills.
Details
Join our team today
Send us your CV and we'll contact you as soon as possible.
Come to Visit us
With several offices in Ukraine and beyond, you're more than welcome to come to visit us at any convenient time and meet your team in person.
USA, Claymont
2093 Philadelphia Pike #1655
Norway, Oslo
Tordenskiolds gate 3
Build the next big thing with us