Cost To Develop an App: a Guide For Planning Your App Development Budget
How much does it cost to develop an app? If you have landed here, you have likely finalized your app idea and are all set to invest in creating one soon.
There may be two questions that come to your mind first: 'How much money is needed to build an app for my business?' and 'What does the price depend on?' As an experienced IT provider with 10+ years of industry expertise, we, at Cleveroad, are here to share our experience and help you understand the cost of developing an app.
This guide will assist you in covering the following questions:
What influences the price of app development?
Why is it challenging to calculate the cost of an app right off?
How much do popular mobile apps cost to build?
How to reduce the price for app development?
What is the cost spent on?
To put it in short, app development costs ranges from $40,000 to $300,000 and even $500,000+. These are the numbers based on our personal experience and research of well-known platforms such as Clutch and GoodFirms. If we conditionally divide all possible mobile applications by the level of complexity and size, we get the following picture (based on hourly rate of $50):
Average cost to develop an app

| | | | |
| --- | --- | --- | --- |
| App cost by type | What are you paying for? | Average cost | Timeline |
| 🎯Simple app development cost | MVP functionality, basic User Interface (UI), 1 platform | $40,000 - $120,000 | 2-3 months |
| 🏆Medium-complexity app development cost | More sophisticated features and custom UI details, 1 platform | $120,000 - $200,000 | 3-6 months |
| 💎Complex app development cost | High-level advanced features, bespoke UI, 2+ platforms | $200,000 - $300,000+ | 6-9+ months |
But that's a pretty big range, right? The fact is that a huge number of factors affect the final cost of building an app. That's because app creation is complicated and depends on many things. Keep reading to understand how the price is formed and what is included in it.
Development Cost of Different App Types: Price Estimation Examples
To prove the state that the price for app development may vary far, we have listed different kinds of applications across industries with their creation cost range. Take a look to understand the average cost to develop an app.
Cost to develop an app: by app type

| | | | |
| --- | --- | --- | --- |
| App type | Approx cost ($) | Time (h) | Examples |
| Food delivery marketplace | $30,000-$100,000+ | 900-1200 hours | Uber Eats, DoorDash |
| Taxi apps | $60,000-$400,000 | 1400-1600 hours | Uber, Lyft |
| Social networks | $50,000-$300,000+ | 1400-1600 hours | Instagram, Facebook |
| Dating app | $50,000-$300,000+ | 1200-1400 hours | Tinder, Match |
| Real estate app | $80,000-$100,000 | 1200-1400 hours | Zillow, Realtor |
| Hotel booking app | $60,000-$150,000+ | 1400-1600 hours | Airbnb, Booking.com |
| Video streaming app | $90,000-$150,000+ | 1400-1600 hours | YouTube Live, Twitch |
| Educational app | $60,000-$220,000+ | 600-1300 hours | Coursera, edX |
| CRM software | $30,000-$300,000+ | 1500-1700 hours | Salesforce, Hubspot |
| Banking app | $160,000-$300,000+ | 700-1250 hours | Revolut, Chime |
| Telehealth app | $75,000-$250,000+ | 1200-1600 hours | Teladoc, Doctor on Demand |
| Location-based app | $45,000-$150,000 | 900-1200 hours | Waze, Google Maps |
| Retail app | $50,000-$150,000+ | 1200-1400 hours | MagicPlan, Zoho Books |
| Augmented Reality app (AR) | $100,000-$250,000 | 1400-1600 hours | Pokemon GO, IKEA Studio app |
Keep in mind these numbers are approximate and based on industry studies and research of well-known platforms, like Clutch and GoodFirms. The development team provides a detailed app cost estimate (as well timeline) after analyzing your business and project demands. For a more precise calculation of your app idea, Contact us, we'll analyze your requirements and provide you with a personalized app cost estimate.
Mobile App Development Budget Template
A basic mobile app development budget template with average numbers can be really helpful, if you want to clearly understand what you spend your money on (and is it worth your efforts) and what kind of work you need to pay for. Of course, if you need help with the technical side, you can always turn to an experienced software development company to get expert advice on how to calculate investments for your product creation.
That's why we've prepared a conditional template you can use to plan your app development budget. It contains variables that affect the price.
Team location
Team subordination (in-house, freelance, outsourcing)
Location of the software development service provider
Cooperation model
Mobile app platform
Native app - 1 platform (iOS or Android)
Native app - 2 platforms (iOS and Android)
Cross platform or hybrid app
Development process
Discovery phase and design complexity
Number of modules and features to develop
Compliance and security requirements
Number and complexity of integrations
Complexity of data processing and storage
Quality Assurance complexity
Additional expenses
App Store and Google Play charges
Fees for 3rd-party integrations (e.g., payment gateways)
Admin, marketing, and infrastructural costs
Support costs (updates, bug fixing, future improvements)
Continue reading to learn what makes up the cost of making an app and how much you should budget for releasing your own product (on average).
How Much Does It Cost to Create an App Worldwide?
So, giving a rough answer to how much it costs to create an app (we take the rate of $50 an hour as average): a basic application will cost around $80,000. Medium complexity apps will cost between ~$160,000. The cost of complex apps usually goes beyond $250,000. But, if you ask vendors from several countries, you'll hear different numbers. This is due to the large distinctions in pricing depending on the software company location.
Let's take a look at how average cost of app development differ in various parts of the world.
How much does it cost to make an app: hourly rates worldwide

| | | |
| --- | --- | --- |
| Region | iOS ($) | Android ($) |
| North America | $120-$150 | $120-$150 |
| Australia | $100-$120 | $100-$120 |
| UK | $70-$80 | $70-$80 |
| South America | $40-$45 | $35-$40 |
| Central/North Europe | $45-$60 | $45-$60 |
| India | $20-$25 | $21-$26 |
| Indonesia | $30-$35 | $30-$35 |
Now, suppose the total development time to create an app is 1600 hours for one platform. It includes development and non-development time. How can you calculate the final price? You can multiply the time by the team's hourly rates. To give you a hint, we've estimated the approximate cost of developing an app in different regions:
Central/North Europe: $80,000
North America: $192,000
South America: $72,000
UK: $120,000
Australia: $160,000
India: $40,000
Indonesia: $56,000
It is weird to realise that the highest-priced app developer in the US charges $150 an hour, while the best one in India is 6x cheaper. But, these are the realities of the market, which does not mean such a significant difference in the quality of the result. In fact, more expensive does not always mean better, and cheaper isn't more profitable in the end. For instance, outsource app development cost is quite low, but the quality of the final product will pleasantly surprise you.
How Much Does an App Cost to Create: Time and Money Issues
Not all mobile applications are equal, and the inequality in average app development cost is not only in the platform that it is developed for. You should consider other factors, first of all, time spendings. The lowdown of iOS application development as well as an Android one is counted with the time needed to implement certain app features. So let's create a classification based on the moderate time needs.
A basic app with simple functionality requires approximately 500-800 development hours and takes around 3-6 months to develop.
A medium complexity app takes from 800-1200 hours and can take from 5 to 9 months to develop .
A complex time-consuming app in most cases exceeds 1200 hours and takes from 8 months and more to develop.
App Cost Calculator to Estimate Your Development Spendings
Studying offers from software companies around the world and comparing prices can be a long process. Our app development cost calculator will help you save time and understand how much you need to spend on a mobile application. Of course, you will get the exact figure after the technical experts study your requirements, agree on the functionality, and prepare a detailed estimate for you.
What Affects Mobile Application Development Costs?
When you set out to develop an app, you cannot expect your software development company to inform you about the development costs right off the bat. They need to analyze your initial requirements first. Basically, church app development cannot cost the same as CRM system creation or streaming-service. Surely before you will be sent a quote, the team of developers will estimate how many hours were required to implement your specifications.
The most significant factors that affect app development costs are:
Project type (CRM, marketplace, LMS, EHR, etc.)
Features and functionality
Customization of visual design (template or custom)
Platforms (iOS, Android)
Choice of a team (type of cooperation)
Backend infrastructure and app administration
Third-party integrations
App maintenance costs and additional services (e.g., promotion)
Location and structure of the development team
Vendor's hourly rates
Based on this information, any vendor can make a rough estimate of your project.
What affects mobile application costs
Now, let's focus on some of these aspects.
Features and functionality
To know the answer to the question: 'How much does it cost to develop an app?', you should find out how complex the application you are about to build is. Functionality and number & complexity of implemented features are the biggest cost drivers in app development. Screens, buttons, fields involved, the amount of logic required matter a lot.
Well then, it's time to discover what features influence the complexity of the whole app. As we mentioned before, implementation of some features can be significantly lengthy, while others are relatively short and simple. Depending on the complexity of solutions, developers need to use third-party API or code from scratch. Simpler solutions, in turn, require standard instruments and engage native features.
Here is the approximate development cost required for some basic features and complex ones. Prices are based on one platform.
How much does it cost to develop an app: Breakdown by features

| | | | |
| --- | --- | --- | --- |
| Simple features | Approx cost with back- end, $ based on ($50/h) | Complex features | Approx cost with back- end, $ based on ($50/h) |
| Login | $3,750-$5,550 | Map | $3,750-$5,550 |
| File uploading | $3,000-$3,900 | Payments | $3,000-$3,900 |
| Profile completion | $4,500-$7,000 | Streaming | $4,500-$7,000 |
| Profile editing | $12,850-$18,250 | Calls | $12,850-$18,250 |
| Search | $7,200-$8,250 | Video chats | $7,200-$8,250 |
| Push notification | $2,900-$3,250 | Rating systems | $2,900-$3,250 |
| Basic messages | $1,800-$2,000 | Optional integration | $1,800-$2,000 |
| Admin panel or dashboard | $3,250-$3,750 | In-app purchases | $3,250-$3,750 |
Customization of visual design
Creating a unique user interface design is a complicated deed that provides additional expenses to your project. The cheaper variant suggests using OS-supplied items and building screens of standard elements. The quantity of screens is also a determining factor.
There are a few aspects that we should consider as well:
User experience (UX). The mobile app development price will vary depending on the level of user engagement and sophisticated design: button placement, color psychology, and users' eye patterns.
User Interface. The different kinds of apps require individual design solutions. Thus, the mobile app cost will fluctuate depending on the specific visual elements, such as layout, screen, color, shapes, items, and typography.
Icon branding. It requires more time to build a unique app design that will stand out and grab customer's attention. That's why the final cost to make an app will depend on branding.
Approximate app design cost

| | |
| --- | --- |
| Type of work | Cost ($) |
| UX design | $5,000+ |
| UI design | $10,000-$25,000 |
| Branding | $2,500-$10,000 |
Type of application
Another decision you'll have to make is whether you want to build a native app, hybrid app, or progressive web app. Their creation costs are not equal.
Native apps
Specific-platform apps are known for their fast performance, responsiveness, and greater functioning in offline environments. Access to a full set of native built-in device features and functions are the main gains of such solutions.
The core complaint to creating native mobile platforms is that there's a need to deliver two separate solutions for targeting different users. So you have to decide on which platform to start from. Are you thinking of iPhone app development cost? Or maybe your application is meant to work on Android OS as well?
The question comes up: is there any price difference in developing apps for iOS or Android? Actually, no. In case you are creating an app for a single platform, there is no significant price discrepancy in the costs of creating Android and iOS apps. But if you want your application to support two or more platforms, get ready to pay more money for development.
Cross-platform solutions
If your aim is to have both iOS and Android apps, cross-platform or a hybrid app development is a good choice. The problem is that usually you need to have a separate team for any particular platform and the app development cost is doubled.
Flutter, a cross-platform framework, solves this problem. It allows developers to write code once and then run it on both Android and iOS devices. By choosing Flutter app development, you can lower the cost to make an app up to 30-40%.
Progressive web applications (PWAs)
Progressive web app creation may be a good alternative if you are a small size company or startup with minimal resources, and creating a full blown mobile app might be costly.
Commonly, the development team requires 4x less time on building PWAs compared to making native mobile apps. Such apps are deployed in a single codebase and require one team to be maintained. Hence, the development cost is reduced without sacrificing the product's quality. The thing is that PWAs have restricted scope of functionality and can't access multiple device features.
To help you understand the cost of mobile app development by type, we've prepared a comparison table featuring the difference between native vs. PWA vs. cross-platform app developments:
Mobile app cost comparison by type of application

| | | | |
| --- | --- | --- | --- |
| Parameters | Native apps | Cross-platform apps | Progressive web apps |
| Cost | $50,000-$500,000+ | $40,000-$300,000+ | $30,000-$250,000+ |
| Performance | Fast and responsive as they can access native device features | High on performance, but cross-platform capabilities still affect it | Greater performance due to their lightweight nature |
| Distribution channel | Distributed from the App store of the particular OS | Distributed from the App store of the particular OS | Directly available on the web |
| When to select | You need to code for one platform; to make use of specific hardware options | You want to target iOS and Android users and reduce app creation cost | You're limited on funds and want to reach a wider audience |
| Required expertise | iOS SDK, Android SDK | React, Dart | Angular, React |
Type of cooperation
When you are planning on creating a mobile application, not only the average cost of developing an app matters. If you don't have a team to make it happen, you are probably thinking of hiring someone to make an app. So the question comes up about what to choose:
Assemble an in-house team
Outsource the work to the 3rd party provider
Let's take a quick look at each option and it affects the price.
Full-time employees
The only argument in favor of in-house development is physical proximity to the development team which means faster and simpler communication. But, looking at the current situation, it's not an argument at all. Because of the pandemic, people used to work from home. And lots of IT companies ask their employees to work remotely anyway.
Besides, the traditional hiring process takes far more time, especially if you need to find senior developers. Even if not, searching, interviewing, onboarding, and training the right candidates won't happen in two weeks. There will also be additional expenses as well: rental of premises, purchasing hardware and software, salary payments, etc.
For example, the average rent in San Francisco is about $92 sqft. What's more, such a region is oversaturated with tech talents making the costs of living pretty high and ramping up the average software experts salary (according to Glassdoor):
Full-stack developer = $1350,000-$180,000 per year,
Designer = $70,000-$160,000 per year,
Native mobile app developer (iOS or Android) = $88,000 - $150,000.
Cooperating with an outsourcing company
Cost of building an application depends on the region and team's expertise level. For instance, US-based developers charge 2x-3x higher than software engineers from Estonia: $150/h and $50/h consequently. The cost of offshore mobile app development ranges from $30,000 to $250,000+. The precise amount counts on the product's complexity and other variables.
Outsourcing your app development is not as troublesome as it may seem. Communication with your team overseas may seem hard but not impossible. Even if you live in different time zones and there's a 10-12 hour gap, remote teams eagerly make advances and try to meet any organizational requirements.
Having a higher level of expertise at reasonable costs, foreign developers are able to perform a lot better comparatively to local ones. Moreover, if you need an expert with a specific skill set, you can attract diverse developers with extensive backgrounds and unique expertise.
Finding the right tech vendor also takes time and effort. The general steps are:
Research tech vendors
Find a company with affordable rates, appropriate size, and specialization
Look through their portfolio of released apps
Gather feedback
Schedule a meeting with their managers to find out the details of their development process and methodology
You can gather feedback by contacting their previous clients or checking verified reviews on platforms like Clutch or GoodFirms.
Outsourcing and in-house development comparison
What Does It Cost to Develop an App: Additional Price Driving Factors
Beyond functionality, design, and hardware integrations, there are hidden costs to keep in mind to plan the budget for app development.
Backend infrastructure and app administration
In mobile application development, backend is normally an OS that provides developers with APIs to provide data exchange between an app and a database. To track user activity and assess the performance of your consumer app, it is equipped with analytics. Depending on the number of parameters you are going to track and how detailed and specific the tracking will be, costs vary.
The administration panel is surely a very useful tool for managing app content, users and statistics. There are options to adopt existing admin panel templates for your needs, but finding a good one is a problem. So it makes sense to create an adequate panel to meet your business requirements.
Functional services
Functional services are required to carry out the functionalities and features of your application. The more integrations you want to implement, the higher will be the final price to create an app. Roughly, the functional costs, like the fee for 3rd parties, are about $5,000 to $20,000 per year. The price will depend on the number of such services and the logic of a certain integration for your application.
We've compiled some examples of 3rd party services you may want to implement. You can use this information to plan the budget for your own app development:
Push notifications: $2,500 on average per annum
Social involvement and chat integration: $1,300 on average (annually)
SMS messaging (e.g., Twilio): $500 per annum
Email marketing service: $1,000 on average annually
Cost of maintaining an app
One of the last points to consider is how much does it cost to maintain an app. It's a common practice to allocate from 15% to 20% of the initial app development cost on maintenance each year. App maintenance costs usually include bug fixing, new features, getting ready for new OS version, and so on. It also depends on how many featured you'd like to add per year and how complex they are.
App maintenance is a must-have service even if you have no plans scaling up and adding new features into the application. These costs will rise over time as your app gets more complex.
Maintenance includes the following:
Continuous bug fixing
Improving stability and performance
Code optimization
Adding support for latest OS versions
Developing new features
Supporting the latest versions of third-party services
That's why the cooperation with your tech partner or development team doesn't stop right after the product readiness. It's a continuous process, and every software development company has it's terms of post-release support.
Mobile app promotion
You should also think of allocating a sum to your marketing strategy to attract first users. If you don't, then nobody will know about your app. When it comes to planning the mobile app marketing budget, the sum is individual. Some entrepreneurs manage to afford between $1,000 and $5,000. While others are willing to spend thousands of dollars on app promotion. Speaking generally, the average app marketing cost takes around 40% per year of the original app development cost.
These hidden costs are often unmarked, but they are vital to bear in mind. After all, the last thing you want to do is run short of money and have your app development project hang fire.
How Much Does an App Cost to Create: What Is the Cost Spent On
The process of building an app consists of several distinct stages. Each phase contributes to the overall mobile app development price forming. So, knowing the average costs that are spent on each stage of app creation, will bring you closer to the answer: How much does it cost to build an app?"
At Cleveroad, we provide full-cycle custom software development services. Therefore, the process of mobile apps development follows through these stages:
Planning
Design
Development
Testing
Deployment
Release
Mobile app cost per development phase
Discovery phase
The Discovery phase (also known as analysis and planning stage) is an essential step to identify tech and business requirements before proceeding with development costs. This phase usually engages the work of business analysts, UX/UI designers, solution architects, and a product owner.
The team studies the market and competitors, analyzes your business needs, and product demands. Based on the research, we determine the requirements documentation, decompose and detail the features, set the timeline, as well as make a roadmap for project implementation. Thorough planning is key to avoiding costly changes to the scope and misunderstandings during the developmentI. In other words, the business and requirements analysis influences the cost of developing an app.
The price of the discovery stage may range from $5,000 to $25,000 and up. The planning and analysis takes approximately 2-5 weeks.
UI/UX design
It's barely possible to build a great product without an experienced designer who'd offer UI/UX design services. This phase is dedicated to the modeling of how the application will work. The design team determines the core user scenarios, visualizes the features and functionality, and plans the user user journey. The UI/UX designers also create an app prototype, so you can check how the solution will feel and look and its capabilities before the coding starts.
The price for design begins from $5,000 and can go far beyond $50,000. The cost depends on the number of screens to be designed, and the overall solution logic complexity.
Product development
As you've seen, there are many factors that can shift the price either way. Small business app development cost varies from $40,000-$120,000. While a complex app price starts at $200,000 and goes beyond $500,000+.
The cost of making an app also contains the stage of testing and app deployment. Once the coding is done, app modules are released for testing. Next, the QA engineers conduct multiple tests to ensure the system works smoothly and corresponds to the initial project's demands.Once the product is tested, it is deployed in the production environment. Finally, if the app aligns with the client's expectations, it can be released to the end users.
Project management
Project Managers coordinate the work of the entire team and make sure the product will be ready in time and comply with all the requirements. In turn, the right management approach has a great impact on mobile application development costs.
The project management budget in app creation cost is about $1,200-$12,000.
How much does it cost to create an app: the anatomy
It should be noticed that depending on the complexity of your project, the team structure can also vary. The number of developers and designers, the presence of admin panel designers and backend developers is very flexible and negotiable. However, a project manager to coordinate the workflow and perform smooth communication is essential.
When we start our cooperation, we make a rough estimate according to your requirements and the description of your idea. We determine the approximate number of hours required to develop the application. Having received your approval we move on to detailed estimation, building app logic, wireframes and creating detailed project documentation.
Here is the final cost breakdown. It's approximate and based on the average hourly rate in the CEE region ($50/h).
Note: The prices below are based on one platform: Android or iOS
App costs breakdown

| | | | |
| --- | --- | --- | --- |
| Type | Simple app | Medium app | Complex app |
| Development time | 4 months | 6 months | 10 months |
| Developers | $39,200 | $67,200 | $112,000 |
| UI/UX Designer | $4,200 | $7,200 | $12,000 |
| Project Manager | $7,350 | $12,600 | $21,000 |
| Business analyst | $3,500 | $6,000 | $10,000 |
| QA Specialist | $10,500 | $18,000 | $30,000 |
| Solution Architect | $3,150 | $5,400 | $9,000 |
| DevOps | $2,450 | $4,200 | $7,000 |
| Total | $70,350 | $120,600 | $201,000 |
We tried to give a detailed answer to the question: 'What do I need to develop an app for my business?' as possible. Finally, experience shows that the best-proven way to look at the money paid for mobile app development is as an invested money and subsequently returned investments. Just to arrange the information we provided you with, check out our infographic!
Cost of app development: composing a team
How do we work at Cleveroad: the app development process
No-Fail Practices to Cut App Development Cost
Let's say you've done with project requirements and the questions concerning the price are far behind. Now, what to do if the cost of creating a mobile app is too high?
Of course, you can start looking for other IT providers that charge less. But it doesn't mean that the quality of the end product will be high. Low price doesn't always translate to a better deal.
If you're committed to working with the current team as no one can perform the task better (with the same quality), study the options you have:
Tip 1. Start with a minimum viable product (MVP). MVP is a simple version of an app with enough functionality for early users. It allows you to validate your app idea and launch it fast without investing a tidy sum. Based on customers' feedback, you make modifications (if required) and carry to costly implementations.

Tip 2. Engage in cross-platform app development. This approach cuts the price for mobile app development by 30%-40% due to time savings. You're only requesting one app version that works across the platforms your clients will be using (Windows, Mac OS, Android, or iOS).

Tip 3. Select to outsource development work. Putting the development team together with the proficiency level needed is a costly task and long process. Choosing to outsource the work, you can hire dedicated developers worldwide and select the specialists with required expertise for the budget you have.

Tip 4. Design and development by the same company. Delays caused by poor project coordination turn into extra costs. By having a single dedicated team responsible for both app design and development, you'll be able to release the app fast since the handoff between the teams is cut rate.

Tip 5. Don't skip on the QA team. The price of fixing software bugs ends up costing 6x more than preventing them. When QA specialists are involved at the design stage, you can make sure the process will be fluent. The more bugs are catched early, the higher the chances to stick to the project budget.
Development Cost of Famous Startups [Bonus]
I've selected several well-known startups that got funding in a seed round to continue developing their products. These real-life examples may give you more understanding of mobile app development prices.
Uber. The company received $200K in seed funding for implementing their ideas. Uber

reported

$8.6 billion in revenue in the third quarter of 2022.
Instagram. This photo-sharing application got $500K in seed funding for further development. Instagram made $51.4 billion revenue in 2022.
Tinder. This dating application raised $485K in the seed round in 2012. Tinder's revenue was $1.79 billion in 2022.
Postmates. This company raised $750K in the seed round. Postmates generated $730 million revenue in 2021.
Snapchat. This large social media network raised $485K in 2012, which is a drop in the ocean reviewing the total funding in over $3B. Snapchat

reported

4.6 billion in revenue in 2022.
If your startup business model is similar to the models of popular apps, check out the compilation below. In these guides, we explain how to build an MVP version of popular apps. Including the costs, features, and challenges you may face:
As always, if you have an idea and can't wait to bring it to life, we'd be glad to help you. Just fill in the form, and we'll get back to you within 24 hours for personal communication.
App development cost of famous startups
Frequently Asked Questions
App development cost is based on a bunch of factors. They are: app complexity, number of platforms, expenses on a development team, maintenance, and some more. You can find more details in this research.
Though it's impossible to figure out the exact app development price, here are the approximate ones:
$90,000 for a simple app with basic features on average
$160,000 for a medium complexity app on average
$240,000 and over for a complex, feature-rich app
It heavily depends on what type of business you're running and what features you need in the app. For example, the average cost to build an application like Uber is $91,000 and $72,000 for an app like WhatsApp according to GoodFirms' report.
Check this research to learn more about how the app development cost is estimated and discover more accurate prices.
The app development time depends on its complexity.
A simple mobile app with basic features takes 500-800 development hours on average.
For an app of medium complexity, it takes 800-1200 development hours on average.
Regarding complex feature-rich apps, the development time for them may be from 1200 hours and above.
The app maintenance costs may range from 15% to 20% of their initial development cost. In other words, if you paid $40,000 for a basic application, then you should be ready to invest from $6,000 to $8,000 for maintenance.
Mobile app development cost varies based on the scope of work, number of features, complexity of the UI/UX, platform type, integrations, team location, and more. But, if you consider all these components, the average cost to develop a mobile app will range between $80,000-$250,000+. Though, these numbers may differ based on team location. For example, the cost to build a basic mobile app in Estonia is around $80,000, while in the North America the same app will cost you around $190,000 due to hourly rate disparities.
The estimate for the application varies from $40,000 to $300,000, and even $500,000+. One of the influencing factors is the business domain you want to develop your app for. For example, according to the prominent industries given below, the price range will be:
Healthcare - from $75,000 to $250,000+
FinTech - from $90,000 to $300,000+
Logistics - from $50,000 to $250,000+
Giving a rough answer on how much does it cost to make an app (based on the rate of $50 per hour):
Basic app will cost around - $80,000
Feature-rich app will cost between $160,000
The price for enterprise-level app goes beyond $250,000+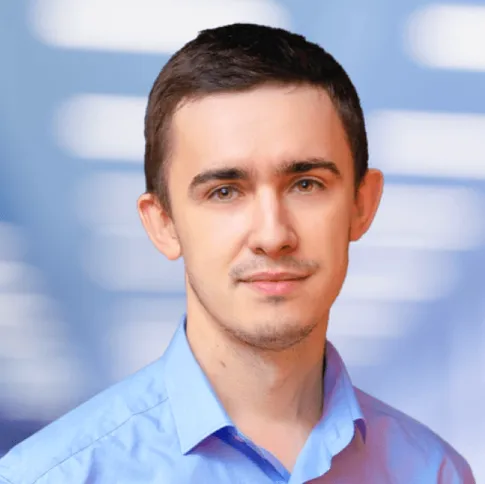 About author
Evgeniy Altynpara is a CTO and member of the Forbes Councils' community of tech professionals. He is an expert in software development and technological entrepreneurship and has 10+years of experience in digital transformation consulting in Healthcare, FinTech, Supply Chain and Logistics
Rate this article!
239376 ratings, average: 4.66 out of 5
Give us your impressions about this article
Give us your impressions about this article
Vivek kava
13.12.2022 at 13:35
Its give deep knowledge about estimation. Thank you so much
Manisha Sharma
16.11.2022 at 10:51
I searched about this topic, then I find your blog and really grateful to get such information from this article. Thank you for sharing and keep it up!
Mark Suleman
10.08.2022 at 11:33
Thank You for sharing such an amazing information. You really did a great job.
Rocky Wincet
09.06.2022 at 11:22
Love the information you shared!
James Taylor
02.06.2022 at 06:21
Hi I read your blog and found it very helpful, thanks for sharing.
Basanta gaihre
02.06.2022 at 06:01
Thank you for a kindfull information
Usama Shahid
25.04.2022 at 18:51
Looks good, precise and to the point. Thanks,
Naveen
25.04.2022 at 07:44
Hi there, "Amazing write-up!" Thank you for sharing this blog post, I was looking for this information, and really very helpful for me. Thanks to Google to make me land here.
wow! great effort ! i would like to thank the Article writers for such clear explanation. Indeed, its a big support for new comers.
Soniya M
31.01.2022 at 10:52
Great insights, I am part of IT service company and most of my clients asked this questions hundred times in my 10 years business development journey. Very detailed and will opt-in for future posts from you.
sparity
22.01.2022 at 14:48
Hi there,I enjoy reading through your article post, I wanted to write a little comment to support you and wish you a good continuationAll the best for all your blogging efforts.
Naveen Khanna
10.11.2021 at 09:56
Very interesting blog…Thanks for sharing.
Rohith Mahesh
18.03.2023 at 16:42
Ellocent Labs IT Solutions Pvt. Ltd.
28.10.2021 at 11:20
Hey, thanks for sharing this wonderful piece of information with us. You are truly right that young companies also deliver efficient end products within a budget. Besides this, the overall budget of the app also depends on the complexity of your app. You have picked all the appropriate information regarding the app cost. Thanks once again.
WebGarh
25.06.2021 at 10:35
Thanks for such an amazing post. Really deep guidance for Mobile App Development to app Maintenance charges. Good Job! Well done!
Top App Firms
10.06.2021 at 04:53
Nice post, I visited your all website it's awesome
MAndisa Sekharume
07.04.2021 at 20:28
It's a beautiful article with so much information but the cost of creating an app is too high
thomas
03.03.2021 at 07:57
app cost is very well analyzed. great article
Clear explanation ..but how about to develop clone apps? is it the same cost/time consuming?

Vitaly Kuprenko
23.11.2020 at 07:47
Hi, Tim! Clone apps with full functionality of original software are likely to cost more and take more time. It all depends on the app and your requirements.
Oliver Nshom
03.11.2020 at 02:40
Slpendid. Thank you for this explicit research work. It has direly help me. Job well done team Cleveroad
Millie Jack
22.09.2020 at 12:43
After reading this all my points are cleared now. I appreciate you for sharing best article.

Vitaly Kuprenko
29.09.2020 at 13:35
I'm glad you find it useful! Appreciate the feedback.
Gibson Ogaga
06.08.2020 at 04:44
Nice article, have an idea for a app but the cost I am getting to know will require a lot of funds, I won't give up. Keep up with the good work
James Lambert
23.07.2020 at 09:52
Yeah that's just way too much I would just like to make app TV you know for your internet box but that just sounds too much money

Vitaly Kuprenko
27.07.2020 at 10:54
Hi, James! It's really hard to say how much money would your app cost without project details. Feel free to contact us and get consulted free of charge.
Joaquim Mussassa
13.07.2020 at 07:04
Hello. When you say cost of maintenance is 15% - 20%, do you mean is charged monthly that amount?

Vitaly Kuprenko
14.07.2020 at 09:32
Hi, Joaquim! Thanks for your comment. The maintenance cost is approximately 15%-20% of the original app development cost. Meaning that if your initial app development cost is $120,000, you can expect the maintenance expenses to be around $24,000 per year or $2,000 per month.
Munevver Tursun
03.07.2020 at 18:25
Thank you for the information. Every step was Crystal clear.

Vitaly Kuprenko
07.07.2020 at 13:15
Oliver Milton
18.05.2020 at 01:44
Great article - Thank you!
NectarBits
02.03.2020 at 20:23
Nice content sharing for mobile app development, it's too clear and easy to understand for a new startup company and business owner.