Getting Started With Video Marketing: Tips Based on Cleveroad's Experience
The tendencies for telling your customers about who you are and what you do have changed dramatically over the past several years. According to Cisco, video content will get 69% of overall consumer Internet traffic which is a big deal for businesses that literally fight for each new client.
In no way do we mean that you should step off your content marketing strategy. That's too important for SEO optimization. We're talking about telling your company's story in different ways. Video marketing is a great way to expand your target audience and grab more leads.
In this article, we will tell you our own story of getting started with video marketing and share some experience with you.
How it all started at Cleveroad
Marketers tend to experiment with new traffic sources and we are not the exception. The story of our video marketing dates back to 2015 when we decided to give a chance to our new ideas for storytelling.
Those ideas were related to video production and as a platform for it we chose YouTube. Then and now it holds the title of the world's most popular video platform with a vast audience and no limitations related to free or paid features. So, it was decided not to reinvent the wheel and stick to the best existing solution that furthermore fits our target audience of entrepreneurs and developers of different ages.
Video marketing: Audience demographics
Why did we decide to create our YouTube channel? Everything's simple -- we had ideas and interesting materials that could be helpful for our potential customers. Moreover, we wanted to experiment with something new for us that goes beyond written texts on the web pages. Add to this not much competition in our niche and you'll get the 'why not' answer.
Concerning budget for video marketing, it starts at $0 and ends only with your own limitations. Nowadays, it is possible to make videos having just an idea, smartphone, and computer (if advanced editing is necessary). In our case, we have a small but dedicated team responsible for video production.
In short, the process of video preparation and release in our company demands efforts of a copywriter, SMM manager, video editor and of course a host. Such a team is needed for releasing videos regularly and keeping their quality high.
1. Reach your target audience through content
Of course, your video marketing should be targeted at a certain type of audience (by age, country, interest and so on). There are two ways to reach them -- produce content they're interested in and optimize it. A bit later about optimization, let's firstly pay attention to the content.
You should design your own video content marketing strategy and experiment with it until you understand which types of videos engage your audience most of all and generate leads for your business.
For example, we have started with the reviews of interesting products from Product Hunt and then shifted to making videos for our blog articles. Why did we do that? Again, we wanted to experiment a little and provide our potential customers with diverse video content. As soon as we did that, we saw the new strategy works better -- we refused Product Hunt reviews in favor of videos for our popular blog posts. This way, we meet the needs of both customers who prefer reading over watching and those who would rather watch a video than read an article.
So, nowadays our YouTube channel is filled with videos related to our company's case studies, mobile app development services, tips for developers and entrepreneurs, as well as other thematic videos that hook the audience from over the globe.
Video marketing: Target audience analytics
Depending on the business you may use a variety of marketing video types to engage your customers. There are a bunch of them but on our channel we generally use:
Demo videos
To show the result of our commercial projects, as well as the concepts of apps that our design department came up with and breathe them to life.
How-to videos
They are intended to shed some light on a certain topic teaching the viewers how to avoid or solve different problems and achieve their goals. In our case, this type of video is adapted to the needs of entrepreneurs or developers.
Case studies
That is one of the best ways to build trust between your brand and a potential customer.
Case studies intended to show your experience on the example of separate products/projects, demonstrate the challenges you were faced with and the way you solved them. Another scenario for case studies is when customers tell about their experience of usage of a product or service.
Statistics show that short videos (up to 1 minute), regardless of the topic they belong to, tend to be viewed longer if compared to lengthy videos. The truth is you shouldn't prolong your videos. Instead, add to description links to some useful sources according to the topic of a video.
However, there isn't just one right video duration since everything depends on the content you produce. Concerning our videos, they generally last 4-5 minutes.
2. Reach them through optimization
It's not enough just to upload a video to YouTube. In order to effectively reach your target audience, you should also take care of it's optimization. What do I mean? Let's get this sorted out.
Get scenario
Scenario helps a lot during video filming since you or your host doesn't have to learn the text for a video by heart. Furthermore, it has an optimization purpose as well since you can easily add subtitles to your video with it's help. Why? Because they are indexed by Google quite well and hundreds of thousands of users may reach your video with the help of this search engine. Everybody is sick of annoying advertising texts. Visitors want more useful information there. Give it to them and provide your company with good PR at the same time -- here is the art.
Include links to the video
As I already mentioned, the direct links in your video are one of the most important things in video marketing. Since that's how leads are generated in most cases. Also, do not forget about the subscribe link at the end of a video, as well as links to your previous or related videos. Talking about links and interaction with them, there are plenty of ready-made templates with animation provided by YouTube, so you don't have to animate them from scratch.
Video marketing: Ready-made templates
Add some keys and tags
Keywords for your video on YouTube are as important as for your website on the Internet. That's why they should be present in the video's title and description. Note that the keys in the description preferably should be located in the first 200 symbols.
I suppose that you all know what tags are, so I will not stay on them. The point is they are important for the search optimization of your video, so you should necessarily fill them in when publishing (read below about the tools we use for tags selection).
Design great previews
The rule is simple -- the more attractive your video preview is, the more clicks your video is able to generate.
Structure the description
The description is something your viewer can access anytime without rewatching the video. So, it is vital to place all the core links you want there. For instance, to your website or blog as in our case.
Besides, you can place the timing there so viewers could easily switch between parts of the video. In addition, it's not a bad idea to leave a link to your playlists there, as well as credits to the authors you've borrowed some materials from (pieces of video, music). That'll help you to avoid copyright problems.
In fact, you should put yourself in the viewer's shoes in order to understand what they expect to see in the description. Everybody is sick of annoying advertising texts. Visitors want to see more useful information there. Give it to them and provide your company with good PR at the same time.
Video marketing: Description editing on YouTube
3. Measure your success correctly...
There are tons of metrics in video marketing but in our opinion, only several of them differentiate a successful YouTube channel from a developing one.
We think that the key metric you should be oriented on is the Watch Time. It clearly shows how well your audience is engaged with your content (respectively the higher the Watch Time rate, the more the engagement rate). As I already mentioned, shorter videos tend to grab higher watch time rate so our 30 seconds long videos are watched till the end by 80% of the audience, while videos with 4-5 minutes long by 50% of the audience. Such results are considered to be good for videos with duration time like this.
Number of views is quite an uncertain metric since roughly speaking every time a user reloads the page with your video -- you get one more view. So, it's testimony does not always match the level of engagement of your viewers. By the way, comments, shares, likes, and dislikes are also great metrics showing the overall activity of your audience.
Another useful metric is link clicks. You are able to place in your videos with the direct links to your website or elsewhere, so it is important to check this metric regularly in order to work on it.
The last metric to discuss is connected with the audience growth that will help you to trace your most successful experiments showing the increase of subscribers for a certain period of time and even the number of subscribers generated by a video.
4. ...and with the right tools
Actually, the list of tools we prefer using isn't large but nevertheless it's helpful. We use built-in YouTube Google Analytics to track the metrics of our channel and Google Adwords for finding relevant tags for our videos. For searching keys, we prefer using SEMrush along with ahrefs and Google Keyword Planner.
Besides, we use Videolytics and vidIQ to analyze videos of our competitors or just other authors on YouTube. Also, they help us to analyze our own videos helping to learn if our tags are relevant.
That's by far not all the video marketing tips and tricks. Subscribe to our blog if you want more! In case you are considering an opportunity for cooperation -- contact our managers, they'll answer all your questions really fast.
By the way, the video related to creating effective user experience of mobile apps will be soon released on our YouTube channel. Subscribe there too in order not to miss it.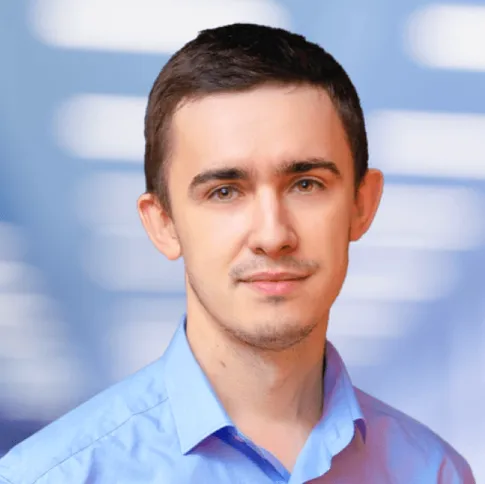 About author
Evgeniy Altynpara is a CTO and member of the Forbes Councils' community of tech professionals. He is an expert in software development and technological entrepreneurship and has 10+years of experience in digital transformation consulting in Healthcare, FinTech, Supply Chain and Logistics
Rate this article!
3636 ratings, average: 4.97 out of 5
Give us your impressions about this article
Give us your impressions about this article