On September 12, 2017 Apple revealed the arrival date of it's new iOS update under the number 11. That fact provoked lots of heated discussions among both developers and the company's fans. As an IT company having the iOS development department, we couldn't stay out of this topic and decided to tell you about the hottest changes in iOS 11.
We have tried to make our iOS 11 review helpful for both entrepreneurs who want to build an iOS app and developers who may apply the new features to upcoming projects. That's why we have considered this update from different angles.
Rethought iOS 11 design
The appearance of some elements in iOS was essentially changed in order to improve the general experience of using this operating system.
iOS 11 Control Center
Swiping up from the bottom edge of your iPhone's screen you will see the new Control Center in iOS 11. It's got a totally redesigned view with bubble-shaped icons and a division of elements into sections. Basically, the only interesting thing here is the button allowing you to turn the LTE connection on and off that finally comes to iOS.
Oh, wait. That's not the last thing! New iOS 11 Control Center takes up the full-screen of the iPhone and contains a bunch of customizable elements due to expanded free space. So, starting from iOS 11 users can adjust this spot according to their preferences in settings. On the screenshot underneath you can see a partial list of options that users are able to place on the renewed Control Center:
By the way, in iOS 11 3D touch is also used in here allowing users to interact 'deeper' with the settings. This way, they are able to change the brightness of the flashlight or the screen, how loud system is and many other things with a strong press of the screen.
iOS 11 Lock Screen
Now, if users pull up the lock screen, they can access the recent notifications that replaced a distinct window with the Notification Center.
To be exact, notifications that are missed by users are visible on iOS 11 Lock Screen until users react to them, while to access already viewed notifications they need to swipe up the Lock Screen.
iOS 11 App Store
The most noticeable changes in iOS 11 happened to Apple's app store that's got a completely new design. It is definitely good news for app owners since the changes are focused on providing users with more relevant search results. Hence, the chances to get more installs and grab some additional attention from the audience are getting better.
Another big change in iOS 11 App Store happened with the page called 'Today'. Where apps chosen by editors and tutorials of how to work with them, interviews with app developers and other relevant content is placed.
App pages were also redesigned, emphasising on reviews, as well as the visual presentation of an app (screenshots & videos). It is worth noting that starting from iOS 11, developers can feature recently-added in-app purchases, so users can be aware of the latest changes.
Except for the design changes, there is another extremely important technical change to App Store. Starting from iOS 11, 32-bit apps are no longer supported and nobody will be able to find and download them. Apple warned developers about that two years earlier, so this year the company gets into more radical actions.
So, if your app still uses 32-bit architecture instead of 64-bit -- hurry up and update it or the app will not be accessible for your customers.
New features in iOS 11
The changes touched not only the design but the functionality of the operating system as well. Let's look through several notable iOS 11 features that were added this year.
Siri is getting smarter
Apple has polished it's smart assistant in every version of iOS since the time Siri was released. The 11th version is not an exception. In iOS 11, Siri voice is improved. Now, it's male and female voices sound more natural due to the improved pronunciation and expressiveness that were achieved by means of deep learning.
In addition, in iOS 11 Siri is be able to analyze users' preferences in order to anticipate their needs. Moreover, the assistant synchronizes these preferences with all users' active Apple devices. That means the overall experience of using Siri over multiple devices is greatly improved.
Being able to analyze preferences, Siri proposes a topic based on users' browsing habits for Apple News feed, as well as offer to set a reminder for a meeting that was set up in a calendar. By the way, in iOS 11 Siri translate users' requests to plenty of languages right from it's menu. Also, users are able to type their queries to Siri if it isn't the right time for talks with a phone.
In iOS 11, SiriKit is available for all developers just like it was the previous year. So, entrepreneurs and developers should definitely adapt their projects for this smart assistant.
Let the file management begin
The iOS 11 Files app is intended to mimic the Finder on OS X and bring more comfort when working with files on iOS 11. It stores all the content situated on the iPhone or iPad, as well as content placed on cloud storages like iCloud, Dropbox, Google Drive etc.
The same as Finder on Mac, the iOS 11 file manager is well-organized and offers such options as search, tags, favorites and so on. Furthermore, it supports third-party apps, so developers are welcome to integrate their projects with this file manager.
Automatic setup
Nobody wants to bother with setting up a newly purchased device and Apple understands that. They made the process of shifting to the new iPhone or iPad even easier. The iOS 11 automatic setup allows just to hold a new device near the one having an already active Apple ID in order to start the automatic transfer of settings, passwords, and preferences.
Reassessed screenshots
The screenshots are no longer stored together with users' photos and videos, they placed in a separate Screenshots album. In addition, the animation of taking screenshots in the new iOS update was reassessed and now the picture moves to the left bottom left corner of the screen from where users can:
Swipe the screenshot off-screen in order to save it to their Photos
Long-press on it for sharing options
Tap on it for entering markup mode where they can easily edit a screenshot and share it without saving to the album
All these allows users to work with screenshots more easily and effectively, as well as obviates the need to use some third-party apps for editing pictures that've already taken.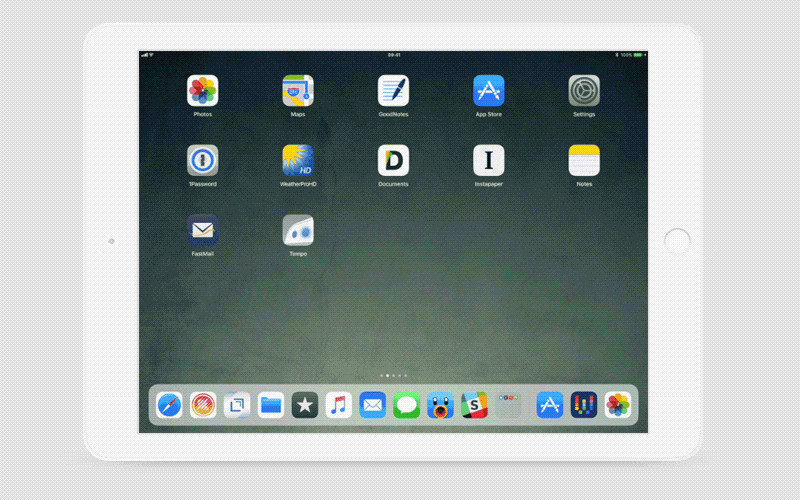 What's new with the iPad?
iOS 11 brings the biggest functional changes ever to the lineup of tablets from Apple. We can say for sure that this new iOS update makes the iPad one step closer to the replacement of a PC.
Meet the Dock
The Dock for iPad becomes more similar to the one for Mac. It was expanded to be able to contain many more apps (up to 13) than it was capable of in previous versions of iOS.
Furthermore, the Dock can now be accessed from any app you want. It is a matter of one swipe from the bottom of the screen to make the Dock appear and give users an opportunity to switch between apps much faster.
Switching between apps has become even easier
Except for rethought Dock for iPad, iOS 11 also brings a lot of changes to the App Switcher on iPad. Now, pressing the home button twice or swiping upwards on the screen -- users will see the renewed multitasking menu.
On the bottom of the screen it contains the Dock, while the menu itself was redesigned and now has a tiled view of already opened apps. The elements of the Control Center are placed on the right side.
In iOS 11, App Switcher allows users to multitask much more effectively than previously. Accordingly, the easier it is for users to work with several apps at once, the more benefits you may get as an app owner since the total time spent in your app tends to rise.
Redesigned multitasking menu
Just Drag & Drop it!
Such feature as drag and drop in iOS 11 was seriously rethought. No more copies to buffer or time-consuming sharing manipulations -- users should just open the iOS 11 Split View mode with the app where they want to take the content from along with the app where they intended to copy it to. The actions are simple and intuitive -- they should tap on, let's say, a picture, hold on for a while and then drag it to another side of a split screen dropping it on the exact place they need the app.
Except for photos, it works with other content including files, links etc. This renewed feature can be adapted for your app by the team of mobile app developers through a specific API designed by Apple.
iOS 11 Drag and Drop: iPad
Pencil fits any task
Great attention was given to Apple Pencil's interaction with the iPad Pro. Starting from iOS 11, Apple Pencil can be used throughout the whole operating system, while previously it could be used only for a bunch of apps.
Markup Through PDF allows converting printable file formats into a PDF via Share Sheet. This way, users are able to edit the markup of a file by means of Apple Pencil on iOS 11. Though this feature was originally designed for Apple Pencil, it works pretty well with a finger.
Another interesting take for using Apple Pencil was implemented for Notes. Thus, once a user taps on the lock screen with the pencil, the Notes app is automatically launched allowing users to make a new note and simple sketches.
Again, your developers can adapt the app for Apple Pencil if you need by means of the iOS UIKit framework. Remember that it currently works with iPad Pro only.
New capabilities of iOS 11 for developers
iOS 11 opens up a bunch of new opportunities and tools for developers over the globe. Let's take a look at them.
Apple ARKit
This sensational API was designed for developers so they could create cutting-edge Augmented Reality projects by means of a device's camera and built-in sensors.
With the help of Apple ARKit, an iOS-based device is capable of identifying surfaces and placing virtual objects on them. The facilities of this API are really impressive. If we talk about games like Pokemon Go, ARKit contributes to significant improvements in graphics and smoothness.
Developers point out that this Apple ARKit framework is easy to use and that makes AR development more clear-cut if compared to other projects connected with AR like Tango from Google or Microsoft Hololens.
Depth Map
The Portrait Mode is powered by this technology. Currently, it is available only for the iPhone 7 Plus, iPhone 8 Plus, and iPhone X because of their double-camera. In iOS 11, developers may use the depth information from the iPhone's camera and apply it when building their projects related to creating or editing photos.
HomeKit
On iOS 11, HomeKit usage becomes easier for developers. They no longer need Apple's approval to start working with it, so they can build and test their products even before bringing their inventions to the market. Moreover, products based on HomeKit do not need the authentication chip anymore and that means manufacturers could add the support of HomeKit to their devices by updating their firmware.
Apple Music
It is worth mentioning that the company gave developers access to the wide spectrum of features that are present in their music streaming app. These features include Recommendations, Charts and some others. Now, any of these features can be integrated into third-party applications.
Core ML iOS 11
This framework was built to give developers an opportunity to try the power of machine learning in their apps by using just a few lines of code. The capabilities of this framework's functionality are wide, starting from face tracking ending with the identification of a language.
iOS 11 supported devices
The devices with chips A7 or better are required. You can see the full list on the picture underneath:
Of course, the new iPhones presented by Apple will also get this update, but out-of-the-box.
So, as you can see there are a lot of changes. If you want to build your own iOS app, taking full advantages of these updates -- contact our managers to learn the terms of cooperation with us and ask your questions.
Rate this article!
1017 ratings, average: 4.93 out of 5