How Much Does It Cost to Create a Live Streaming App Like Periscope?
This article has been updated to keep up with the ever-changing business and technical landscapes of live streaming services.
Live streaming went viral. Almost every big tech company in the world already has its own solution for live streaming: Amazon's Twitch, YouTube Live, Instagram Live, and so on.
It's no wonder that many companies have a streaming fever. There are multiple reports saying that video streaming will account for 80% of total internet traffic. Periscope was one of the first startups who understood that back in the days.
In this article, we'll find out the Periscope app development cost based on its essential features and tech stack. Here's the full list of what we're going to talk about in this post:
What Is Periscope?
Periscope is a live video streaming app initiated as a startup and bought by Twitter before the official launch. The app lets users broadcast live videos via their smartphones to all Periscope users.
In turn, users can see those broadcasts on the world map, get notified of live broadcasts of people they're following, or watch their past broadcasts.
Periscope broadcasts interface
Periscope is one of the pioneers in live video broadcasting. Even though the service struggles for users after Facebook and other players have launched their live streaming features, it's still quite popular in the US. According to SimilarWeb, the platform gets 2.21M visits per month up to date. And this traffic is generated by the website alone.
Periscope has apps for iOS, Android, and Apple TV. It's an important thing to mention because each of those platforms requires a separate app, which affects the total Periscope app development cost.
How Much Does Periscope Cost to Build?
The cost to build a Periscope-like app can vary between $63,000 to $180,000. The cost of an app similar to Periscope depends on numerous factors: feature set, overall project complexity, and platforms (iOS, Android, Smart TVs).
In this section, we're going to consider all factors affecting the price and take a closer look at Periscope app costs.
Essential Features of Periscope
First off, let's talk about the essential features of this streaming service to find out how much Periscope actually costs. These are the MVP features you can build to test the demand for the product without spending too many resources.
It's a key feature for any live broadcasting app as the entire service is built around it. Speaking about Periscope, streaming stands for transmitting live video and audio from servers to users.
Periscope streaming interface and stream settings
There are many video streaming protocols that make such transmission possible. Real-Time Messaging Protocol (RTMP) is one of the most widespread of them. Here's how it works: App's media player connects with a server and the server sends a video file back to the player in response. This way, broadcasts can be sent to an unlimited number of users at the same time, but both sides should have high bandwidth.
Except for the RTMP, there are the following streaming protocols:
HTTP Live Streaming (HLS)
HTTP Dynamic Streaming (HDS)
Dynamic Adaptive Streaming over HTTP (DASH)
Smooth
If you want to let users watch broadcasts after they end, you have to store them on servers. It requires a lot of memory, so the best option would be to use cloud storage like Amazon S3, Google Cloud Storage, Microsoft Azure, or others.
Storing videos on servers will add up expenses to the overall Periscope app development cost. Providers charge fees for every gigabyte. Here's the average pricing per gigabyte (may vary by region and tech requirements):
Storage costs

| | |
| --- | --- |
| Provider | Storage ($/GB/month) |
| Amazon S3 | $0.021 |
| Microsoft Azure | $0.018+ |
| Google Cloud | $0.020 |
A one-hour HD quality video stream (1080p) takes about 1.5GB of space. Meaning that with 1,000 active users streaming at least one hour per week you should account for approximately $126 per month. The price scales up with the number of active users.
Got lost in features?
Let us help you draw up the list of your project's features and explain tech details. It's free of charge.
Don't forget about minor streaming features that make user experience a little bit better:
Enable audio broadcast only
Turn on the chat for everybody or followers only
Don't allow guests on streams
At Cleveroad, we offer Business Analysts as a part of our mobile app development services. They'd specify all these details before proceeding to other screens.
Another important feature to create a Periscope-like app is geolocation. That's the feature Periscope is built around as the app lets users see what's going on anywhere in the world. It can be a country of residence, travel destination, and so on.
Once users go live, they're displayed on a global map unless they choose a private stream in settings. Anyway, they have to enable geo detection to go live.
Geolocation can be implemented using the Core Location framework for iOS and Location APIs for Android. Besides, Apple's MapKit and Google Maps Platform can be used to build maps on iOS and Android respectively.
Geolocation-enabled screens in Periscope
Now that you're aware of the core features, let's consider other basic functionality like signup that your Periscope-like app should definitely have.
The more signup options you offer, the more registered users you'll eventually have. That's why consider adding signup via social networks and not only a conventional email and password method. Here are some good signup options and APIs to implement them:
Facebook (Facebook Login API)
Google (Google Identity Platform)
Twitter (Twitter API)
Apple (Sign in with Apple)
It's difficult to imagine a live broadcasting app without a user profile screen. In Periscope, there is not much information on this screen. What's more, it's mixed up with settings.
Periscope lets users pick a profile photo, enter the full name, nickname, and a short description. Such basic functionality won't affect the Periscope app development cost very much.
User profile in Periscope
Chatting is an essential feature for any social-related app. In Periscope, the chat is available during live broadcasts. It's the way for viewers to communicate with a streamer and conversely.
Periscope's chat pops up during the stream
However, you should think about how to deal with inconsistent user behavior. Users tend to insult each other in online chats. Twitch has human moderators for this, while other companies like Twitter or Instagram use algorithms based on Artificial Intelligence to deal with this issue. The latter is a pretty time-consuming and expensive method.
Talking about chat development itself, your development team can use Twilio to save time and cut costs. Twilio is a set of cross-platform SDKs for iOS and Android bringing such basic instances as users, messages, and others.
In-app search is another important feature. Users should be able to search for the content by several parameters.
Many people use the in-app search to "google" new places, new people, and other things. There are three main search options in Periscope:
By broadcast
By location
By people
Periscope's in-app search interface
Depending on requirements for this feature, its development may be time-consuming and so affect the final Periscope like app cost.
Push notifications are a must-have for every modern app. It goes without saying that streaming apps must notify users when people they're following go live or when important events happen nearby.
In Periscope, users can turn on or off notifications for individual users. The app also has a rich push notification settings where users can set Do Not Disturb parameters and choose what events to be notified about.
Notification screens in Periscope
There are a plethora of tools allowing developers to build notification and make them personalized. But it's often the right decision to stick to the Apple Push Notification service (APNs) for iOS and Firebase Cloud Messaging (FCM) for Android.
Total Periscope App Development Cost
So, how much does Periscope cost? Now that you know what MVP features you need to build a Periscope-like live streaming app, let's calculate how much the development of those features may cost.
Our estimate is based on the average hourly rate of $50/hour in Eastern Europe, Ukraine.
Note: The time and sum below is approximate and shouldn't be treated as the final project cost. The estimate is based on essential features discussed in the article and includes a mobile app for two platforms, back end, and admin panel.
Periscope app development cost for iOS and Android

| | | | | |
| --- | --- | --- | --- | --- |
| Platform | Min time (hours) | Min cost ($) | Max time (hours) | Max cost ($) |
| Web (back end) | 434 hours | $21,700 | 719 hours | $35,950 |
| iOS | 838 hours | $41,900 | 1,342 hours | $67,100 |
| Android | 845 hours | $42,250 | 1,350 hours | $67,500 |
| UI/UX design | 195 hours | $9,750 | 250 hours | $12,500 |
| Total | 2,312 hours | $115,600 | 3,661 hours | $183,050 |
Min and max values serve to show possible differences in time and cost depending on project complexity. It's possible to discover an accurate project timeframe and cost only after the discovery phase.
You may consider launching your live streaming app for one platform to reduce costs. With one app launched, you'll be able to attract first users to make some profit or raise funds. It's never too late to develop the app for other platforms.
Tech Stack
Let's now talk about technologies that your development team can use to build the product and reduce Periscope app development costs:
Programming languages: Swift for iOS, Kotlin for Android, Node.js for the back end
Database: MySQL, Firebase
Streaming protocols: WebRTC**, RTMP
Content delivery network: Cloudflare or Amazon CloudFront
Cloud storage: Amazon S3, Google Cloud Storage, Microsoft Azure
Media processing platform: DaCast, Wowza
Push notifications: Firebase Cloud Messaging (FCM), Apple Push Notification (APN)
Search: socket.io
Signup: Facebook Login API, Google Identity Platform, Twitter API, Sign in with Apple
Maps: MapKit, Google Maps Platform
You should pay attention to a content delivery network (CDN). It's a system of servers distributed all around the world and serving for transfering media files. In short, it lets users view high-quality live streams at low latency and without freezes.
Development Team and Process
In general, there are three scenarios of hiring a development team:
Outsourcing development to an agency
Hiring in-house team of developers
Hiring freelancers
The team to create a Periscope-like live streaming app should have the following specialists in it: back-end developer, iOS/Android developer, Quality Assurance engineer, UI/UX designer, Project Manager. The number of those specialists varies depending on project size and complexity.
Let's assume that you've chosen one of the first two options and hired a software development company like Cleveroad or an in-house team. In these cases, the development process will be more or less similar.
Who's involved in this phase: Business Analyst, Software developer, QA engineer, UI/UX designer.
At this stage, the team specifies all project requirements and features to draw up a detailed document called specification. This document describes how different parts of the project should work technically and from a user perspective. Wireframes are also done on this stage.
At Cleveroad, we call this stage the Project Discovery. This phase lets us eliminate technical unknowns and calculate the accurate time we need to deliver the project. It also affects the overall Periscope app development cost as development typically goes faster when everything is planned out.
Example of project wireframes
Who's involved in this phase: UI/UX designer
UI/UX design services come before app development. Designers create a project prototype based on wireframes and pass it over to developers once it's ready.
Example of a live streaming app prototype by Cleveroad (Source: Dribbble)
Who's involved in this phase: iOS/Android developer, Project Manager, QA engineer
The team develops and tests the app throughout the stage. Eventually, they release the app to Apple's App Store or Google Play. If you work with an agency, they pass all documents and project's source code to you when the project is ready.
The Periscope Monetization Model
As of now, Periscope is absolutely free to use and doesn't have a monetization model.
Still, you can use one of the following methods to monetize your Periscope-like live streaming app:
Donations
Such services as YouTube and Twitch let viewers donate their favorite streamers getting some reward instead. On YouTube, it's messages pinned to chat and animations called Super Stickers. While Twitch, let's users buy virtual goods to Cheer for streamers. Both platforms charge fees for every donation addressed to streamers.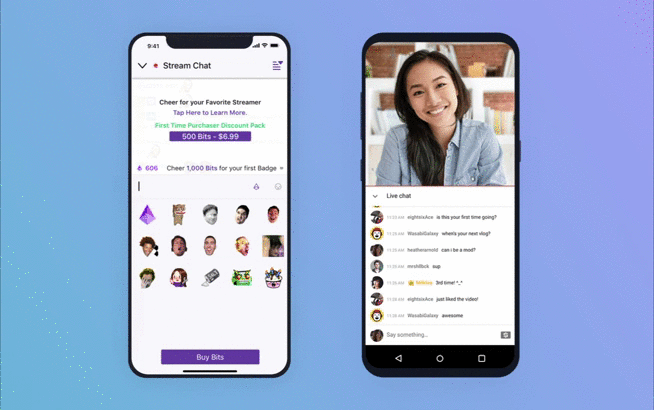 Donations on Twitch and YouTube
Regular payments
YouTube and Twitch both offer users an opportunity to support their favorite streamers with monthly payments. This subscription brings some exclusive content to users. In turn, YouTube and Twitch charge fees for these transactions.
YouTube membership program
Ads
Most streaming services (including Twitch and YouTube) have in-stream ads for those using a basic version of the service. It's similar to what Spotify or Hulu have in their free and basic plans.
Service subscription
YouTube and Twitch offer users to subscribe to YouTube Premium and Twitch Prime. These subscriptions remove ads and bring some exclusive content like YouTube Originals and in-game content available for Twitch Prime members.
So there are plenty of monetization methods that'll help you pay off Periscope app development costs.
Cleveroad Experience
Cleveroad is a professional technical company located in the European outsourcing heart - Ukraine. For more then ten years, we have been providing our services and leading the app development process for businesses of various industries and helping them to obtain unique digital products.
Cleveroad in numbers:
10+ years on the market
120+ in-house engineers
170+ successful projects
8+ expertise industries
We specialize in custom development services and create feature-rich applications for various enterprises. Recently, we added an interesting project to our portfolio. It is video-on-demand platform - Blockbuster which is the digital version of the popular movie rental stores. It is a streaming application that allows users to rent movies online and watch them on any device.
Blockbuster apps for different devices
Here's the tech stack our team was using to meet TDC's requirements:
Wrapping Up
You can see that there are a lot of details you should bear in mind to launch a competitive live-streaming app. The best course of action would be to find and hire experienced developers or a software development company with a solid background in the field.
Ready to build your live streaming app?
We'll assess your requirements to draw up an estimate and provide you with a tech consultation at no charge.
Frequently Asked Questions
It works thanks to video streaming protocols like Real-Time Messaging Protocol (RTMP), HTTP Live Streaming (HLS), HTTP Dynamic Streaming (HDS), MDash, or Smooth.
Put simply, these protocols make a built-in app media player connect with a server. In turn, the server sends a video file back to a device. That's how broadcasts can be distributed among hundreds of thousands of users.
Streaming features are typically pretty complex and so time-consuming and expensive to build. Talking about a Periscope-like app for two platforms (Android and iOS), its cost can range from $63,000 to $180,000 and above.
The price depends on the feature list (if you want something different than Periscope's features), project complexity, and platforms. Contact us to get a more accurate estimate based on your list of features. It's free of charge.
You can go with one of the following protocols: Real-Time Messaging Protocol (RTMP), HTTP Live Streaming (HLS), HTTP Dynamic Streaming (HDS), MDash, or Smooth. The final choice depends on technical and functional details.
You should also take care of cloud storage to let users watch finished streams and a content delivery network to deliver users from all over the world a stable experience without freezes.
You'd certainly need a team of experienced software developers for this. We can help you build your liver streaming app. Contact us with project details and we'll get back to you with free tech consultation.
The periscope-like app for two platforms (Android and iOS) can cost from $63,000 to $180,000 and above. The final price heavily depends on the feature set, project complexity, and tech peculiarities.
Contact us with this question so we could estimate the project in a more accurate manner based on your feature list and requirements.
Periscope is a live streaming app where users can broadcast live video from their smartphones to their friends or make it available for all users. It works thanks to one of the live streaming protocols: Real-Time Messaging Protocol (RTMP), HTTP Live Streaming (HLS), HTTP Dynamic Streaming (HDS), MDash, or Smooth.
In simple terms, these protocols make servers interact with built-in app media players and send video files back to them. That's how live streams can be distributed among hundreds of thousands of users.
Here're some of the technologies used in Periscope:
Wowza Streaming Engine. The main engine used by the application.
Amazon EC2 and Amazon Route S3 used for storage.
HTML5 used to render the front end of the application.
PubNub used to implement chats.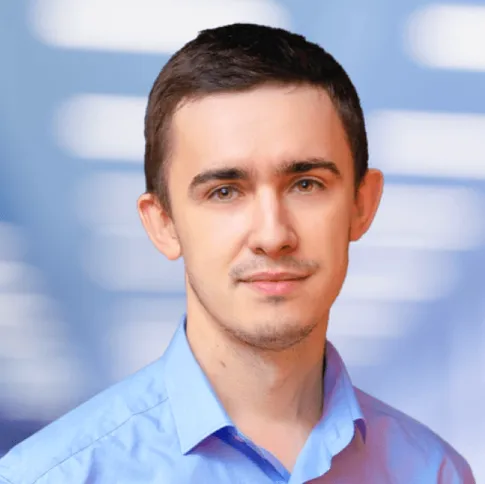 About author
Evgeniy Altynpara is a CTO and member of the Forbes Councils' community of tech professionals. He is an expert in software development and technological entrepreneurship and has 10+years of experience in digital transformation consulting in Healthcare, FinTech, Supply Chain and Logistics
Rate this article!
6276 ratings, average: 4.94 out of 5
Give us your impressions about this article
Give us your impressions about this article