How Much Does It Cost to Develop a Delivery App Like Postmates?
Food delivery apps are very popular these days. It comes as no surprise taking into account how busy people might be during their typical day. In this case, on-demand food delivery seems to be a perfect way to save some precious time and have a good meal.
Food delivery app development, therefore, becomes a strategic move for existing food businesses and a good niche for startups to jump into. Everyone wants to get their food with home delivery as soon as possible and software solutions open up new opportunities for that.
In this article, we're going to consider how to make an app like Postmates. In particular, we'll talk about MVP, development costs, and monetization methods.
A Few Words About Postmates
What is a Postmates app? In fact, it's a courier service. The founders of Postmates have combined technologies and non-standard business approach to digitalize on-demand delivery sphere.
What does 'non-standard business approach' stand for? The distinctive feature of the service lies in the following: everybody can work as a courier (which somewhat resembles the Uber's model for partnering with drivers).
All you need to do to become a courier is to fill in a simple form. Furthermore, it's not necessarily to be a car owner since the company has different delivery schemes and diverse positions: from pedestrian couriers to van drivers.
The order process is as simple as the app itself. After an order is made and paid for, one of the nearest to destination couriers accept it and start fulfillment.
Their approach to business processes and on-demand food delivery app development itself allowed them to kill two birds with one stone: create workplaces with a flexible schedule and give users what they genuinely need — doorstep delivery within an hour.
4 Things to Consider Before Starting Development
Before you start the development of an app like Postmates, you should study and analyze your idea in order to find out how feasible it's. If you perform it wisely, you will be able to create a first-rate app. So follow these steps to minimize possible mistakes.
Market Research Comes First
You should conduct market research and analyze your competitors that are engaged in on-demand service for food delivery. The received information will let you find out how to make a food delivery app like Postmates. UberEats, Bootler, Postmates are your direct competitors. See how they became successful and what they did to promote the product. Don't forget to check out the main statistics of these apps, available metrics, etc. Remember that only detailed research can help you compete with pioneers of the industry.
Give a Try to Business Model Canvas
It's a mean of business model visualization. The canvas itself is divided into several segments. The model is especially useful for startuppers since it helps them reach a deeper understanding of their business and view it from different angles.
Before getting to on-demand food delivery app development, you need to think over all possible issues connected with the physical part of your app. Talking about a Postmates-like app, it's cooperation with shops and restaurants.
Of course, big chains with their own in-house delivery services may reject your proposal, so you need to focus on those ones without own delivery for a while. Explain all the benefits of your service and give them numbers showing the profit they will be able to gain by cooperating with you.
Payment is one more thing you need to take into account. Since all payments in Postmates are done with credit cards, you have to work out a scheme of how the courier is going to pay for the goods. It's quite reasonable to build an internal payment system with your partners. This way, restaurants will be able to get money for the goods and their cost will be charged from the company's bank account.
To avoid costly development of a payment system, you may simply provide your employees with cards for purchasing goods. However, the security question arises since you have to ensure an employee can purchase only those goods that were actually ordered and do it solely in a restaurant or shop specified by users making a purchase.
Come Up With Unique Value Proposition
Do you want your app to become something unique and competitive? In order to find out how to create a food delivery app similar to Postmates, you should come up with unique features or bonuses that are missing on the market (or at least look at them from a different angle). To implement this, it's highly recommended to do research and define what your target audience really miss.
Unique value proposition makes your product stand out and gives users an understanding of why to choose exactly your app over the competition.
Keep Up With Trends
This step may help you build a unique value proposition since they're tightly connected. The following trends can be a great fit for food ordering app development:
Use of modern technologies
Chatbots, speech and voice recognition technologies are always welcome since they motivate users to utilize the app. However, bear in mind that such innovations will surely affect the final development cost.
Personalization
Build a separate app for clients and partners. Uber and many other services do it this way and deliver unique user experience for each of their target audiences.
Augmented reality
There is an endless number of AR use cases: from visualization of food to navigation via smartphone's camera for couriers. But, again, it isn't cheap.
So, these three simple steps may help you turn your idea into a stunning application.
Building an MVP for Food Delivery App
The success of any app depends on set of features it offers. Let's consider the primary components of the food delivery application, split them into features and find out the approximate cost of Postmates.
Before providing you with approximate cost, it's worth mentioning that the price fully depends on the number of development hours. Accordingly, the more methods you would like to add — the more money it'll cost you.
Sign Up
Registration is an integral part for the majority of apps. Especially for those ones having built-in payments or in-app purchases. Modern apps may have multiple ways to sign up: from good-old login and password method to registration via social networks or phone number.
Postmates made a very smart step here. Since their business is currently working within the US only, they gave an opportunity to register via Facebook, a social network where — according to statistics — 58% of Americans already have an account in.
Track the Food
When you create a food delivery app, it's tightly connected with navigation. So advanced work with maps and geolocation is required. You have to think over all possible features that could allow users to make and track orders as convenient as possible.
Considering the example of Postmates, we can see that users can start keeping track of their orders once the payment is made. To be precise, they see all the movements of a courier even before the food is taken from the restaurant. In addition, the app calculates time the courier needs to get to user's place.
This feature requires interaction with a built-in GPS chip in order to locate the courier by means of satellite data and keep calculating until the destination is reached.
It's worth mentioning that tools for geolocation features differ depending on the platform. Android uses Google Maps, iOS — MapKit. Thus, development hours for these platforms may vary.
Payments
The payment process is vital for any on-demand service. It's in your best interest to provide users with a quick and convenient way to pay for their food.
The integration of a payment system is a serious task since the safety of your users is at stake. To secure their transactions, you should follow data security standards and be PCI DSS compliant.
If you are going to sell physical products, both Android and iOS platform's guides recommend using ready-made gateway services like PayPal over building your own. It allows not only to apply a trusted and secure payment gateway provider but to cut on hundreds of development hours and, correspondingly, reduce the cost of Postmates-like app.
In Postmates, there are several payment methods:
Credit card
Apple Pay
Android Pay
When you build food delivery app like Postmates you should also remember about delivery fee and the way it's calculated. In a variety of apps, the fee depends on a distance.
All these details have to be considered and paid for in one transaction. That's a lot of work for a software development team.
Discount Program
Discounts and other bonuses are always nice. Being a successful marketing trick for physical businesses, gift cards and promo codes have gradually migrated to the digital sphere.
In delivery apps, users may send promo codes to their friends. As a result, both sides get free delivery or other bonuses.
Building Additional Features
What does it mean? When you turn to mobile development service vendor and ask to build food delivery app, different situations may happen. Lack of a budget or time is a common thing in creating and launching digital products. That's why so many companies and individuals start with an MVP.
Since we've already discussed some of the must-have features (MVP) for food delivery apps, we can now proceed with good to have features.
API Development
Roughly speaking, API it's a set of ready-made code that can be adjusted to certain needs of developers and interact with other software.
Almost every food delivery service has a dedicated API designed to help build partnerships with interested companies and other scenarios. But mutually beneficial cooperation is, probably, the main goal.
If you have an API, other business owners (e.g. e-commerce store) can integrate it into their websites to get your delivery service there. After that, customers could simply pick the delivery option via your service. Such a move is a win-win decision since you get more orders to process (and gain more fees), while the website owner generates additional sales.
Talking about Postmates API, it offers integration of the platform with other websites and apps. Among big companies utilizing their API and delivery service are Apple, Starbucks, Curbside, etc.
API implementation cost (approx.)

| | |
| --- | --- |
| Development hours | Development cost ($50/h) |
| 350h | $17,500 |
Two Apps Are Better Than One
Services similar to Postmates should think not only about their users but their employees too. The company built an assistant app for couriers. It allows couriers accepting and skipping orders, informing clients when the order is taken, and building the route to the destination point.
Courier app development cost (approx.)

| | | |
| --- | --- | --- |
| Feature | Development hours | Development cost ($50/h) |
| Go online/offline | 10h | $500 |
| Accept order | 30h | $1,500 |
| Order info | 28h | $1,400 |
| En route | 34h | $1,700 |
| Cancel | 18h | $900 |
| GPS tracking | 27h | $1,350 |
| Earnings | 85h | $4,250 |
| Other business logic and UI | 58h | $2,900 |
| Total | $14,500 | |
Interface of Fleet by Postmates
Fails of Food Delivery Startups
Many startups fail on their way to success and there are dozens of possible reasons why. Fail doesn't always mean the startup had a poor idea, realization or something. The market demand along with a variety of other factors also play a huge role.
Discover main tips to increase user engagement. Read: Ways to increase mobile app engagement and give users a personalized experience
I've gathered a couple of examples of food delivery startups that failed and analyzed the main reasons for that.
PepperTap
In 2014 a startup called PepperTap was launched. It was an on-demand Indian grocery delivery service. It was closed after two years of existence even though the company had raised over $51 million. The main reason for this was the inability of the service to reach the desired growth through marketing channels.
That's how India's largest grocery delivery service with more than 1,000 employees has been shut down because of growing competition and decline of demand.
Note: Remember, the market is full of competitors who want to get your clients. You have to keep track of every single change that's somehow related to your sphere. If you don't do this, your competitors will.
Dinnr
Dinnr was a startup offering users to select a recipe and deliver all the goods needed to cook it. An interesting idea, but what went wrong?
It failed because the market didn't need it. Apparently, not so many people have spare time or desire to cook at home these days. This is just one of many possible reasons for no demand for the service.
Note: When you create an on-demand service, make sure it's really demanded. Learn more about your audience: their needs, preferences, pains, etc. Thus, a detailed analysis of target audience is the first step to succeed in the on-demand delivery niche.
Ways to Monetize a Food Delivery Service
When you create food delivery app, you have to think about monetization methods. Let's find out the most appropriate monetization methods for your Postmates-like app.
Delivery fee
You can charge a certain fee from each courier delivery. The percent of this fee can be fixed or vary depending on distance/price of an order. This is the way how Postmates is monetized.
Advertising
This monetization method is used by a majority of mobile and web apps. Add advertising to get revenue from it, but mind to work with target advertising which is connected with food delivery or other food services.
Collaboration
Restaurants and cafes may pay you for promotion within the platform. When a user finds a particular establishment in your app and orders delivery from there — you get a fee. If people will find specific restaurants in your app, their popularity may rise.
Premium
Divide your app into free and paid. The paid version of the app can be equipped with some premium features and be completely ad-free. So you will offer users additional functionality for a fixed price or subscription.
The Final Cost of a Food Delivery App Like Postmates
So how much does it cost to create a food delivery app similar to Postmates? Software development is complex and consists of various components like UI/UX design, back-end and mobile development, admin panel development. To make the estimation as accurate as possible, let's consider each of them.
For this estimation, I've taken an average price for mobile development services in our region (Ukraine) — $50/hour.
Design
Let's start with the cost of UI/UX design services. It depends on the complexity of your food delivery app. For instance, complex animations and visual effects may require from 190 to 250 hours of extra time.
Food delivery app design cost (approx.)

| | | |
| --- | --- | --- |
| Platform | Hours | Cost ($50/h) |
| iOS | 90h | $4,500 |
| Android | 110h | $5,500 |
| Total | 200h | $10,000 |
Bear in mind that if you want to build a separate app for couriers, it requires a design too.
Development
This estimation includes all the MVP features discussed in the article plus other unmentioned business logic and UI elements required to deliver a full-fledged experience for end users.
Pay attention that additional features like API implementation and courier app development are not included in the estimation.
The final food delivery app development cost (approx.)

| | | |
| --- | --- | --- |
| Type | Hours | Cost ($50/h) |
| iOS development | 816h | $40,800 |
| Android development | 820h | $41,000 |
| Back-end development | 456h | $22,800 |
| Basic admin panel development | 581h | $29,050 |
| Total for one platform (iOS/Android) | 1857h | $92,850 |
| Total for two platforms (iOS+Adnroid) | 2673h | $133,650 |
Note: Back-end part of the app is one for all platforms; the admin panel is meant for partner restaurants and app administration.
List of technologies
Underneath, I've listed frameworks and libraries that can be possibly used to develop a food delivery app. But again, they may vary dramatically depending on app's features and requirements.
Amazon EC2
Amazon S3
Socket.io
Facebook SDK
Google Maps
Google Places
Stripe
PayPal
Elastic email
Fabric
APNS
Firebase
Fire Cloud Messaging
The Bottom Line
It's worth mentioning that the final price also depends on such factors as a country where you offshore application development and size of the vendor company. E.g. in the US an average rate is $150/h, in the UK along with Western and Central Europe — $100/h.
So if you're thinking to offshore software development to those countries, you should be ready to spend more. However, if you're looking for an experienced food delivery app development company in Ukraine — contact us. Our managers will answer all your questions and provide a custom estimate of your project.
Before you go, you may also watch our short video on this topic if you hadn't enough to read the full article.
How Much Does It Cost to Develop a Delivery App Like Postmates?
Frequently Asked Questions
Start with these steps:
Conduct market research and analyze your competitors.
Give it a try on business model canvas (a mean of business model visualization).
Come up with a unique value proposition--unique features or bonuses.
You may want to develop a basic app (MVP) first to test your idea:
Consider MVP features of your app — for both couriers and customers.
Find a reliable development team that'll make the app from scratch.
Plan your app. Think of features it should have, how you're going to monetize it, and don't forget about making a separate app for couriers.
Find a team. To make a high-quality product, you need to cooperate with an experienced development team. Try looking for good software development companies on Clutch or GoodFirms.
Cooperate with couriers. Postmates is a courier service. Without people — not only customers but couriers, too — the service won't work. Check a few local hiring websites, and figure out how many people you need and how much you're going to pay them.
Everything depends on your requirements and complexity of the future app. iOS development takes 816h, Android — 820h, back-end — 456h, admin panel — 581h.
In total, your developers need ~2673h to make the app. The cost depends on their hourly rates: in Ukraine, a Postmates-like app will cost $133,650, in the USA — $400,950.
iOS development of a Postmates-like app takes ~1857 hours, its design — 90h. The cost depends on the region where you hire developers. In Ukraine, it would be $97,350 (iOS development+design). In the USA — $292,050.
Basically, any company experienced in iOS and Android development can make an on-demand food delivery app. You can check the list of such companies on platforms like Clutch or GoodFirms.
It depends on the platform you choose and your target audience. If your audience uses Android-powered devices, you need to choose between Java and Kotlin languages.
If your audience sticks to iOS, it's either Swift or Objective-C.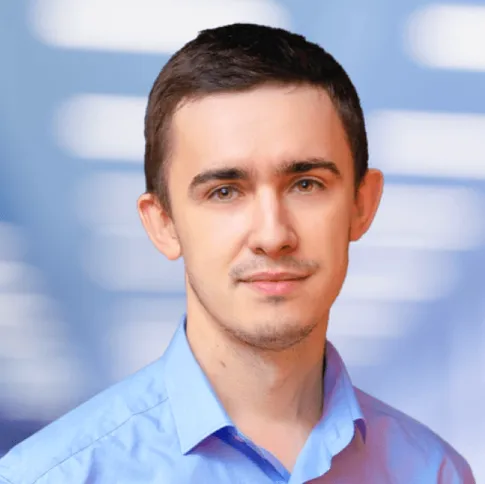 About author
Evgeniy Altynpara is a CTO and member of the Forbes Councils' community of tech professionals. He is an expert in software development and technological entrepreneurship and has 10+years of experience in digital transformation consulting in Healthcare, FinTech, Supply Chain and Logistics
Rate this article!
6584 ratings, average: 4.64 out of 5
Give us your impressions about this article
Give us your impressions about this article
Hi there! It was an amazing article, it´s was a great information. Thank you to share!