7 Reasons Why a Mobile App Builder Can Harm Your Project
All the technologies, tools and programs we have are aimed at making our lives easier. We create robots to help us in production, we design devices to make our routine more pleasant and build a mobile app to simplify our daily life, make it more interesting and fill it with valuable information. Sometimes we think that simple things are better than usual ones and in many cases it's true. But think about machine translation, do you rely on it when you need to translate an important contract? I don't think so. The development of mobile apps can be performed by a machine as well, but is it better than a team of professionals? Well, let us get this sorted out.
What is an app constructor?
App constructor or app builder without coding is a service that creates mobile applications. Using such a program you don't need to have any technical or programming skills. The service does everything by itself, all you need to do is to indicate what features and designs you would like to see in your product. There are three main types of applications that mobile app builders and app constructors create.
Applications which you can create using online app builder
Web apps
Web apps created by an app constructor are not program products. They are special websites that act and look like native mobile apps. To get access to such apps you need to have a browser installed on a smartphone and an Internet connection. These applications are based on HTML5 technology. Such web apps don't fit all the projects. They can work with some news and blog applications but not with shops and other high load sites.
Hybrid apps
It is another type of applications generated by app builders. Hybrid apps partly use the functionality of a native application and partly functionality of a web app. What people like in these types of mobile apps is that they cover more than one platform and cost less than the development of two native apps. Yet, those were all benefits of these applications.
Native apps
Is the best option in mobile development. They cover only one platform which they are perfectly designed for. If you choose between a web app, hybrid or native, native development is the way you should go. But don't think that a native app created by a person and a native app created by a constructor are the same. It's not like that. But, well talk about this later.
Comparing man-made and constructor's app
The thing we are trying to explain in this article is that you will never get a fully-functioning, smooth and solid application with an app builder or app constructor. Yes, you can create an app with their help. Yes, it will have some set of functionality and will actually work. But, there is a long list of issues which you would get if you choose this service instead of a hybrid app. Lets consider them one by one.
Web apps (HTML)
Web apps based on HTML5 technology may attract you because they are cheap, fast to create and they will work on any mobile platform. Yet, here are the drawbacks:
Can't be published in stores. Remember that your app (and as we have already clarified is not actually a mobile app) will not be accepted in App Store and Google Play. Of course, you may find some stores and publish your application there but you need to understand that the number of visitors to such stores is minor compared to the traditional ones. And if you wanted to promote app via App Store or Google Play, you ll not be able to do it with this type of application.
Difficult to integrate a payment gateway. It is one more minus of these apps. The thing is that it is more difficult to integrate payment or any other third party service into such an app than into a native one.
Smartphone utilities don't work in such apps. An HTML5 app doesnt have full access to the hardware platform, unlike native applications. It means that in your app there wont be camera features, GPS, NFC, gyroscope and other utilities enabled that could make your application fun and more interesting.
No off-line mode. As you might have guessed, a browser page will not work without an Internet connection.
Hybrid apps
Lots of companies are attracted to the idea of paying less and getting an app which can work on different platforms and be developed quickly. But, think twice before agreeing on such an option. Here's why:
Design. iOS and Android platforms have their design guidelines. Of course, they are different and of course, an app with the design for Android platform won't meet the requirements of iOS Human Interaction Guidelines. And, of course, the features designed specifically for iOS platform won't work correctly on Android.
Utilities. Just like the previous type of automatically constructed applications, Hybrid apps also have very limited access to a smartphone utilities. And even if you got access to them, the performance speed would be just awful.
Native apps created with an app constructor
Now, you may start thinking that the native app is the best option (which is really true). However, a native app developed by a person and native app constructed by an app constructor or an online app builder are two dramatically different things. Here is why:
Functionality. Imagine that you prepare a salad. You have a cucumber, a tomato and some cheese. Nothing more. You can take only two ingredients or even one but not four because there is no ingredient number four, only three of them. The same here. You are limited with a short list of features which you can include into your application. If you have an innovative idea (or at least not a trivial one) you can not implement it. The application will be absolutely templated.
Code quality. It actually looks like a salad. You add a little bit of this and a little bit of that. In an online mobile app maker, you choose features but not the way they will interact with each other. You will not get any documentation to your code and will not be able to change it.
Why an app constructor is a bad idea
The constructors and online app builders offer to build you a mobile app for business within a few minutes and for a reasonable price. But they don't tell you what will happen with such an app later. Before you make a final decision study the results of our research:
Drawbacks of all mobile app builders
Poor functionality
As we've already mentioned, the functionality you'll get is the functionality offered by a mobile app building platforms. Nothing new, nothing innovative.
No debugging
When you get your app and start using it there will always be bugs. And here comes the question of who is going to fix them. What will you do in a case of a crash? There is no support and maintenance service in such mobile app building platforms.
No opportunity to update an app
AIs another question. After your app has been launched you will need to add or reduce dome functionality. Sensible product owners always listen to their customer. He or she collects feedbacks, analyses it and improves the app according to the customers' needs and wishes. There is no such opportunity if your app was created with the help of an app builder.
Support
If you hired an app development team for your project, you can protect yourself by adding a clause about support in the contract. So, you are sure that your product will have technical support anytime you need. Moreover, you can hire a dedicated team, which means that whenever you want to make changes, there will be your team of mobile app developers which knows the code inside and out. And can perform any changes fast and easily. With online mobile app builders and app constructors, you get a code without any further support. In a case you want to change something, you need to find a mobile app development company which has to check your code which is not the easiest part.
Low speed
The speed of performance of your application means a lot. Imagine, you open an app, trying to find the nearest shop and have to wait for 5 minutes to do that. Nowadays, users are very picky and demanding and no one likes to wait. The time needed for the app to communicate with a server is crucial. Man-made applications compare favourably with the ones of constructors'.
Poor user interface
User Interface is one of the key arguments in favour of native (man-made) applications. Because such development guarantees you that you'll get a consistent user interface of an app. Visual components, elements and graphics should satisfy not only the interface guidelines created, but also be ergonomic, useful and convenient to use. Unfortunately, a machine can't do that.
Difficult to integrate third-party services
You use only those third-party services, which are in the list of an app builder for iOS (or Android). If you want to make your app compatible with Instagram, for instance, but there is no such in a constructor available, it means that you can't add it anyhow.
When you can use app builders
Anyway, there are some cases when the usage of online app constructors or app builders is warranted.
Firstly, if you need a proof of concept. You are a start up and need to show something to your stakeholders and investors. In this case, you can use a mobile app creator to create a mobile app prototype, something that can validate your idea. But, bear in mind that if your idea is really innovative, you will not find needed features in an app builder. The same with design, you can only choose from a set of options.
Secondly, if you want to know how an app will look. As we have already said, these constructors apps are only good for prototypes. If you need to test your idea and see what you want to add and what functionality to reduce, you can try this way.
Thirdly, if your app is very plain. You need to create a mobile app (maybe even a cross platform one) which will work across various platforms and doesn't require lots of features. It can be a blog or news applications with limited functionality.
You may have seen lots of ads on the Internet that assure you that an app constructor or app builder is a great opportunity to create a fully-functioning, great looking and cheap mobile application very quickly. But they don't tell you the whole truth. The app created with the help of such services can never be compared with a man-made app. What you will really get is a set of features which aren't connected properly with each other, with moderate design and no support or maintenance. If your task is to create a seamlessly working mobile application with great design and unique features, write us, we are full of ideas to share with you!
FYI, soon we are going to tell how to advance your business with Neural Networks. Subscribe to our blog and don't miss anything!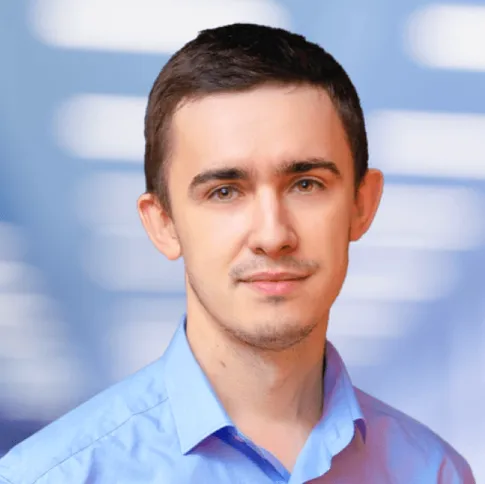 About author
Evgeniy Altynpara is a CTO and member of the Forbes Councils' community of tech professionals. He is an expert in software development and technological entrepreneurship and has 10+years of experience in digital transformation consulting in Healthcare, FinTech, Supply Chain and Logistics
Rate this article!
3812 ratings, average: 4.88 out of 5
Give us your impressions about this article
Give us your impressions about this article