How Much Does It Cost to Develop a Chatbot in 2023
A rising trend for business automation and lead generation demand is what chatbots are helping to solve. According to Juniper Research, chatbots can automate up to 90% of banking interactions within the current year. But banking is only one of many fields where chatbots can be used.
Entrepreneurs want to get such benefits of chatbots as additional distribution channels and improved user experience. However, the price may be a stumbling block for companies. Many of them don't know the chatbot development cost and quit that idea, thinking it's too expensive.
This article reveals the cost of building a chatbot and factors affecting the price and also sheds light on how to create a cost-efficient chatbot.
Factors Affecting the Cost of Chatbot Development
Chatbot development is a diversified process. So how much does it cost to build a chatbot? The price can range from $40,000 to $150,000. This difference is because there are a vast number of factors that affect the cost of chatbot development. So, before we get straight to the detailed estimation, you have to know more about these aspects.
Business Goals
The first factor and most tangible affecting the price is your requirements. As you may understand, a chatbot is not a common type of software. Chatbots are a kind of software container. Whenever you're building a CRM system or a fitness app, you have a vision of it even without the feature list. The reason is these types of apps are somehow similar to their analogs. They may differ in some advanced features, but the basic concept is always the same.
However, when it comes to chatbots, things turn upside down. For example, a distributing chatbot, like H&M's, and a simple FAQ bot are two different development scopes with different chatbots pricing. When building a distributing one, you'll need to take care of payment gateway and security issues, while a FAQ chatbot needs only a conversation pattern.
So, chatbot features depend on your requirements. And the price, in its turn, depends on its complexity. To calculate the approximate price, you have to know what features will be developed. You can contact us to get help with the feature list and project estimate.
Types of Chatbots
Before the development, you have to decide what kind of chatbot you want to have. One of the most common ones is a messenger chatbot. The most well-known messengers for chatbots are Facebook Messenger and WhatsApp. The number of supported platforms is the primary factor influencing the cost of building a chatbot. The more platforms you cover, the bigger the final paycheck will be.
Another type is a chatbot integrated into a company's app or website. The best use cases for this chatbot are customer support and answering frequently asked questions. For example, the Booking.com chatbot can answer 30% of clients' requests about hotels and helps to contact the owner. It's available on the mobile app, Facebook Messenger, and directly on the website. These chatbots help to improve client experience thanks to quick feedback. In this case, factors influencing the price are the complexity of the bot's features and the number of integrations to websites and apps.
Last but not least is, chatbots made for internal use within the company. These solutions can automate routine processes, like taking sick days, changing shifts, tracking project state, etc. The cost to build a chatbot like this varies depending on the internal processes the chatbot will be dealing with.
Main types of chatbots applied by companies
Data Analysis
When talking to a chatbot, it sometimes acts like a human being. So, you might ask, " How do chatbots know what to answer?". Apart from predefined answers, chatbots can learn from past conversations. With the help of data analysis and machine learning algorithms, chatbots single out speech structures from received messages and use them in conversations.
However, machine learning is a time-consuming process. Firstly, developers need to feed the chatbot with lots of data to bring basic skills for answering questions. Later, the chatbot will handle more complex queries as the number of processed data rises.
Mind that data analysis algorithms, predictive analytics, and work with knowledge discovery tools are time-consuming processes and so will affect the price.
How to Reduce the Cost of Chatbot Development
As it becomes clear, many aspects can increase the price. But what can you do to lower the financial pressure? In this section, I'll cover some tools that will help you to fit into your budget.
Third-Party Platforms
Instead of building a chatbot from scratch, you can use third-party platforms. They allow creating a chatbot in the shortest terms. All you need to do is create a conversation structure and links between the messages. However, these platforms grant you the speed, but in return, they take the flexibility away. Most platforms don't support payment gateways and machine AI integration.
The most well-known platform is Chatfuel. It lets you build conversational structures and key features of a chatbot in a drag-and-drop way. This software is free unless your chatbot gains 50 subscribers. Then, the price starts from $15 per month, but it depends on the number of subscribers. The main Chatfuel's drawback is that it supports only Facebook Messenger. According to Statista, Facebook Messenger is the second-largest messenger with 1.3 billion users. Still, the more messengers you target, the more audience you attract. That's why it's better to aim at a few messengers simultaneously.
Botsify is Chatfuel's tough rival. It also makes chatbots for Facebook Messenger and uses a drag-and-drop system. However, the prices are more affordable. With Botsify, you'll have to pay $50/month for 30,000 unique users, while Chatfuel will charge you more than $200/month for the same number of clients. Nevertheless, Botsify provides free chatbot features for only two weeks, and it doesn't have pricing plans for a small number of users, like Chatfuel.
The most well-known chatbot development platforms
Development Tools
What if you need advanced features of a chatbot rather than a quickly built product? In this case, frameworks for chatbot development will solve your problem. They leave you enough space for customization and code managing but, at the same time, let you deploy some routine code in a few moments. Still, these frameworks require strong programming expertise or an experienced software development company.
BotMan is a good example of a chatbot development framework written in PHP. It's compatible with almost every well-known messenger on the market (WhatsApp got unlucky). Botman deals with Facebook Messenger, Telegram, Slack, WeChat, and even chats created with Twilio. This framework allows developers to build chatbots that understand commands and browse through user attachments. Moreover, this framework supports Natural Language Processing, so a message like "Set an alarm for 8 o'clock tomorrow" will trigger the bot to set the alarm.
Microsoft Bot Framework has an open-source SDK and tools for building and testing chatbots. This framework mostly supports Microsoft's services like Cortana, Microsoft Teams, Skype. However, Slack and Facebook Messenger are compatible with this framework too. With the help of Azure Cognitive Services, you can develop AI chatbot features. It'll understand, speak, and learn from chats with users. C# and Node.js are the only languages that developers can use with this framework.
Anyway, tools are becoming useless if you don't know how to use them. If you feel like platforms meet all your needs, then just go with them. However, if you need custom features, it's time to think about a professional development team. They can offer you another way to reduce chatbot development cost and time, while implementing all the necessary features — cross-platform Flutter development. Experienced developers will create code that can run on both platforms (iOS and Android).
Outsourced Development
When it comes to chatbot pricing, the cost of its development plays an important role. In order to find an option with the most acceptable quality-price ratio, it is worth looking at outsourced software providers. This way you can get a number of advantages as following:
A wide selection of regions with a variety of hourly rates — you can easily find the most acceptable price for you. For example, it is worth paying attention to Central and Northern Europe. This region is known for its cost-effectiveness and many software companies that charge $50-75 per hour while providing a high level of competence.
A vast array of specialists in different areas — you're sure to find someone who will make the perfect solution.
A lot of outsourcers on the market — for example there are more than 10000 companies on the Clutch platform.
Choice of cooperation models for your needs — for example, you can augment your team with required specialists or hire a dedicated development team.
Access to a wide range of technologies for implementation — outsourcing companies are much more likely to find specialists that are experienced working with different technologies
MVP Development
If you want to launch a product faster so that it starts generating revenue, it's a great idea to start by creating a MVP. This way, the team builds a lean a version of the chatbot that contains the minimum required set of features. Later, after you get the first customer feedback, you can add more advanced features. This approach allows you to significantly reduce the initial cost of building a chatbot.
Let's move on to a detailed analysis of what kind of features need to be implemented in the chatbot MVP.
MVP Chatbot Features
Any chatbot contains a basic set of features that allows it to function properly. These are the features you should consider to lower your chatbots prices and get more satisfied customers.
Top five features for different types of chatbots
Conversation
Who can use it: Any business.
Needless to say that chatting is the primary feature of a chatbot. Whether you need a simple FAQ chatbot or an AI-powered NLP chatbot, a well-built conversation pattern is a must-have for both of them.
First and foremost, the message sequence should be logical and clear to users. For example, when the user asks: "What's the address of your company?" it should provide an address only. If the chatbot tells the user about the company's history instead, that's unacceptable.
Besides, messages shouldn't contain grammar errors and follow the general tone of the conversation. If your chatbot is more unofficial and refers to a customer as a "buddy", don't call him "mister" in the next message. If you can't solve this issue on your own, it may be better to hire a freelance writer to create texts for messages.
The flowchart for a dialogue with a chatbot
Payment System
Who can use it: E-commerce, restaurants, retail, healthcare providers.
This chatbot functionality concerns commerce. If you're building a chatbot to boost your sales and expand distribution channels, you have to provide at least one payment method. Here you will face a dilemma: implementing third parties or building a custom payment system?
As for the custom payment system development, there's a gigantic amount of work to be done, which will definitely raise the cost of building a chatbot. You have to take care of:
Encryption of each transaction.
Server issues. Where will they be located? How fast can they perform operations?
PCI DSS for the security of credit cards processing.
Architecture. Cloud vs. on-premise? Integration, benefits, and pitfalls of both.
Analytics. The ability to gather data about payments and overall performance of your system.
With a properly developed payment system, you don't have to worry about the safety of payments and get such bonuses as payment analytics and user behavior. But the sweetest piece of the pie is that you don't have to pay a fee that third parties charge. Still, the cost of building a chatbot with a custom payment system is so big that smaller companies prefer to go with payment gateways like Stripe, PayPal, Braintree, and others.
Three leading payment services providers
If you're into third parties, your main concern will be choosing a reliable vendor. Braintree, Stripe, and PayPal are verified companies with the highest transaction speed and payment security. The only drawback of these third parties is fees.
Popular payment gateways' fees

| | | | |
| --- | --- | --- | --- |
| Service | Stripe | Briantree | PayPal |
| Standard fee | 2.9% + $0.30 per transaction | 2.59% + $0.49 per transaction | 2.9% + $0.30 per transaction |
| Supported countries | 47, including UK, USA, Australia, Westen and Central European countries | 46, including USA, Canada, Australia, UK | 201, including USA, Canada, Australia, UK |
| Chargeback fee | $15 per transaction | $15 per transaction | $8 per transaction |
In most cases, the third-party payment system is the best option for small and mid-sized businesses. However, if you intend to build a custom payment system, you have to find a professional software development company.
Geolocation
Who can use it: Restaurants, gyms, delivery services.
Another point on the chatbot features list is an integration of online maps. Let's assume that you're a restaurant owner. You can attract new clients with the help of a chatbot. If they have never been to your place before, let them navigate via the chatbot. When the user types: "Show me the way", your chatbot marks the restaurant's location on the map.
This chatbot feature can be built with Google Maps Platform in no time, but it will enhance new customers to visit your place. Later on, you can add an ordering on-the-go feature. Thus, users will order the meal via the chatbot beforehand, pay for it, and get it as soon as they get to the restaurant.
Another use case for geolocation is food delivery. Users can choose their preferred meal inside a chatbot and share their geolocation with a courier. The convenience of this method lies in the fact that the client doesn't need to make phone calls or install side apps.
Personal Approach
Who can use it: Any business
That's not exactly a chatbot feature, but more like a personal trait of your chatbot. We can't deny that when someone refers to you by name, the conversation feels more personal. Combine it with an individual attitude, create a memorable name, and add catchy phrases to the chatbot's vocabulary. That's the recipe for a chatbot that will be remembered for a long (it still requires useful chatbot functionality).
In the perfect world, you could hire a brand expert that would help you to build a chatbot's image. But if you're on a budget, it's time to show your creativity.
Syncing With User Accounts
Who can use it: E-commerce, delivery services, healthcare providers.
Here's one of the most needed points on an e-commerce chatbot features list. The very first use case that comes to mind is redeeming bonuses. Let's say that the user has some bonuses for previous purchases. They will buy another product via a chatbot and pay a part of the price with bonuses. However, if the chatbot isn't connected to the user's account, it doesn't have information about those savings. Thus, if you're an e-commerce vendor, ensure that your distribution platforms are synced.
It won't only help customers but also benefit you. With synchronized accounts, you can stimulate customers to buy products from their wishlists. When there's a discount for a specific product, the customer receives a message from a chatbot. That's much more effective than emailing. Also, customers can add the goods to the cart and proceed to payments on the go in the messenger.
Advanced Chatbot Features
These were the essential chatbot features for different niches. In theory, you're good to go with this feature list. But what can you do to make your chatbot even better? It's time to dive into Ai-based chatbot features.
AI Implementation
When we say Artificial Intelligence, we actually mean that the chatbot is powered by machine learning algorithms. Using them, the chatbot can learn from its experience without human presence. When the user queries, the software finds similar patterns in vast data clusters and responds to the user according to this data. At first, the output may be confusing. But that's why it's called learning. The more data the chatbot gathers, the better it performs. With every correct response, the chatbot gets smarter because it can form a base of answers based on a successful pattern.
The best tools for creating AI chatbot features are Wit.AI, Microsoft Bot Framework, and IBM Watson. Each of them has custom tools for building both basic features and advanced AI functionalities.
Natural Language Processing
NLP, or natural language processing, is one of the AI scopes of activities, which is responsible for interactions between individuals and computers. In plain language, NLP provides an excellent communicating experience between the user and the chatbot. Examples of NLP technology are voice assistants like Alexa, Cortana, and Siri.
However, NLP is also one of the greatest challenges in computer science. The reason is that it's hard for the computer to understand the user's message right. Things like sarcasm, idioms, and figures of speech confuse the machine. So, the conversation may sometimes face a dead-end.
There are a lot of algorithms and turn-key solutions for this, but they often can't deliver quality features for your chatbot. That's why it's better to develop custom NLP algorithms for the chatbot from scratch.
Best Examples of Chatbots in Business
Top-rated companies got their hands on chatbots a long time ago. These chatbots are automating tasks and simplifying interaction with customers. Let's go through the best chatbot examples from different niches.
Unilever
According to Forbes, Unilever recruits around 30,000 people a year and deals with 1.8 million job applications. That's a tremendous amount of work. To ease HRs' lives, Unilever created the Una chatbot. The chatbot offers applicants to pass the test, which is further assessed by machine learning algorithms. This test estimates candidates' logic skills, risk tolerance, and more.
A remarkable chatbot's feature is that it handles each application and sends feedback to every person. Commonly, HRs ignore a lot of inappropriate CVs. However, the chatbot values every try, so the company saves its image. Una allowed Unilever to save more than 70,000 person-hour on interviewing and assessing candidates.
H&M
H&M's chatbot is an outstanding chatbot example in the fashion industry. When users enter the conversation for the first time, the chatbot studies their style offering to choose one of two pictures that represent different fashion trends. After a quick test, the user can ask the chatbot to create an outfit with a piece of clothes of the user's choice. Then, the user gets an image with a new outfit and its total price. Users can proceed to purchase right away or save the outfit for later. H&M's chatbot can participate in group chats so that friends can discuss clothes together.
Lufthansa
Lufthansa developed one of the best examples of a chatbot for flight support. Passengers can access it on Facebook Messenger or directly on the Lufthansa web page. The main purpose of this chatbot is to provide users with information about their flights. Push notifications will remind users about checking in, flight boardings, inform about seat and gate changes. Also, passengers can check in online via the bot. Users receive instant notifications about changes in flight status and schedule in Facebook Messenger.
Additional chatbot features allow users to rebook a missed flight instantly. Also, if a suitcase goes missing, the chatbot will inform terminal workers about it, and they will return it to a passenger. If there are any questions that the chatbot can't handle, it will redirect the client to the online chat available 24/7.
Chatbot Development Process
It is worth understanding the basic steps of chatbot development to find out how much chatbots cost. Let's look at the whole process in detail:
Step 1. Find a reliable software provider As we mentioned earlier, cooperating with outsourced vendors is a good way to reduce chatbot costs. However, it is also essential to select a technology partner who can pick up the project even at the raw idea stage. To make the right choice, you can study customer reviews on the professional platforms, like Clutch and projects portfolio.
Step 2. Pass solution stage The first step of your cooperation with a software provider will be a meeting with the Solution Design team, which includes business analysts, a solution architect, and a designer. Specialists determine business goals, work scope, and basic quality attributes. You will also receive a rough estimate of the chatbot price, team composition, and a timeline as part of the solution stage. At the end of this step, the vendor's team forms a proposal, and you sign a contract.
Step 3. Go through the Discovery Phase At this stage all your chatbot requirements are converted into a clear plan. All the previously agreed-upon conditions are detailed, such as the platforms to integrate with chatbots, third-party integrations, feature sets, etc. During the Discovery Phase, the experts:
Create a detailed Feature Breakdown List (FBL)
Develop design concept and UX map
Conduct a quality attributes workshop
Calculate more precise estimates for chatbot development costs
Step 4. Pay attention to UI/UX design
In the case of chatbot development, you should pay much attention to its design. The user experience should be high because it is one of the critical components of success. It is crucial to think about the design so that it is easy and understandable for the user to use your chatbot. The higher the user satisfaction, the higher your profits will be. A professional vendor, like Cleveroad, with experienced UI/UX designers will help create a successful product.
Step 5. Development and testing Once all the project details are approved, developers start working with all the documents created during the Discovery Phase. At Cleveroad, development takes place in several sprints, with the Project Manager assigning a specific part of a development to each sprint. Each phase is accompanied by quality assurance. When all sprints are completed, the QA team performs extensive testing, including verification of all features, stress testing, and more.
Step 6. Release and Maintenance After making the final tweaks, the chatbot is ready to launch. The Cleveroad team helps you to integrate the newly created chatbot into your business enviroment. Also, we provide all project documents such as specifications, design, project plan, source code, etc. Once your chatbot is launched, it is worth continuing cooperation with the software provider, as such projects require post-release support. It includes:
Bug fixing
Stability and performance improvements
Code optimization
Adding new features, etc.
Developing a Chatbot with Cleveroad
Cleveroad is a professional company that has been providing software development services for more than 10 years. Our team is based in Central and Northern Europe. Our experts, including 120+ experienced software engineers, have completed more than 170 successful projects. The Cleveroad team has significant expertise in developing solutions for Logistics, Healthcare, FinTech, Education, Tourism, and many other industries. By creating a chatbot with Cleveroad, you can get a lot of benefits:
Flexible collaboration models. You'll be able to choose the option that gives you the best chatbot development cost.
High quality. Our team carries out complete quality control at all stages.
Full-service package. Our experts will guide your project from idea validation and planning to development and implementation.
High-quality consulting. The Project Manager and Business Analysts will help you determine the features that will fit the planned cost of a chatbot and your needs.
The price-quality ratio. Our experts will help you save on development costs while providing a final quality product.
If you need to create a chatbot, contact our experts. They will be able to advise you and create a product that will satisfy your customers. A quality chatbot is a huge step ahead of your competitors to boost your business.
Improve your business with chatbot
Our experts will provide you with a personalized calculation and build a chatbot fitting your needs!
Frequently Asked Questions
There's no one-size-fits-all answer to this question. The price heavily depends on the features. The features, in their turn, depend on business requirements. So, to estimate the chatbot cost, firstly, you have to come up with a feature list.
Here are some MVP features for different types of chatbots:
Conversation
Payment system
Geolocation
Personality
Syncing with user accounts
AI integration
During the development of AI chatbot, you can use machine learning algorithms. Using them, the chatbot can learn from its experience without human presence. When the user makes a query, the software finds similar patterns in vast clusters of data and responds to the user according to this data.
Besides, you can implement NLP. Natural language processing, is one of AI scopes of activities, which is responsible for interactions between individuals and computers. In plain language, NLP provides an excellent communicating experience between the user and the chatbot.
These companies have great chatbot solutions:
Unilever
H&M
Lufthansa
Marvel
Booking
Airbnb
The chatbot development cost depends on the set of features you need and the tools you use. In fact, you can build the bot at no cost with the services like Chatfuel and Botsify. However, they have some strict limitations on the number of users. If you want to build a custom solutions, it's better to contact a software development company to get an estimate.
With the help of special platforms, you may build a chatbot in a couple of hours. However, this chatbot will be short of features and have strict user limitations. That's why it's better to go for a custom solution. Depending on the complexity of features and amount of platforms for integration, it may take up to 500 hours to build a chatbot.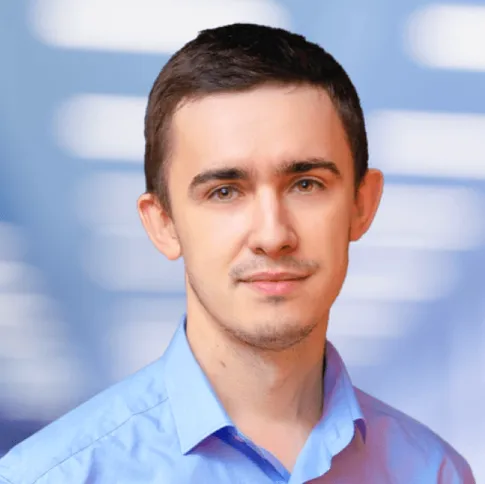 About author
Evgeniy Altynpara is a CTO and member of the Forbes Councils' community of tech professionals. He is an expert in software development and technological entrepreneurship and has 10+years of experience in digital transformation consulting in Healthcare, FinTech, Supply Chain and Logistics
Rate this article!
2209 ratings, average: 4.94 out of 5
Give us your impressions about this article
Give us your impressions about this article
LuckyAstar
14.10.2020 at 01:30