Cleveroad is an ambitious company established in 2014. We work hard to make outstanding products that will fit our clients needs. Every day our tech-savvy developers write thousand lines of code that soon will become a website or a mobile application. Our designers do their best to combine your ideas and their creativity into an elegant customized design.
Our proficiency and hard work can be proved by a list of awards received from several reputable companies. Among them are Github, GoodFirms, Clutch.co and many others. In this article, we suggest you discovering what we have achieved over the years.
Github
Github is a world's leading repository hosting service. In plain English, it is a 'cloud' where programmers can share and rate their source code. You can always watch our best projects in our Github profile.
We started with a bright idea to make an Android library for creating animated tutorials inside an app. We were pleasantly surprised when our project quickly began to gain stars. To date we have 2300 stars on this project, 3 other our projects have more than 1000 stars. In 2017 we took the third place on Github top in Ukraine and was really proud of this result.
And we're not going to stop. After years of sharpening our skills and knowledge,we have so much experience that we think we are obliged to share it with you.
Product Hunt
Product Hunt is the largest service for searching startups with approximately 140,000 active users. It enables them to share and discover interesting technology products and gadgets. All these items are organized into categories: games, tech products, podcasts, and books. Every day the best products released on this platform are selected and placed on the Home page.
Our service called App Cost Calculator was lucky to become one of these best products. We began with an idea to help business owners estimate the costs for app building without contacting manager and requirement analyst.
App Cost Calculator on Product Hunt
So we started with brainstorming and came up with an idea to create a convenient cost calculator that will count the price for mobile development according to the app type and it's main features. We launched it on October 11, 2017. On the same date, App Cost Calculator became the #5 Product of the Day. Pretty good achievement, isn't it?
Clutch.co
Clutch is an independent B2B research company situated in Washington, D.C. It aims to identify best IT companies in several categories, including digital marketing, web design, web and application development service. This firm helps clients with the search for a vendor with the best value for money and the ability to meet their specific business goals.
On Clutch.co you can find more than 11,000 reviews about 7,000 agencies worldwide. Every year Clutch ranks best IT companies. The service evaluates companies by different qualitative and quantitative criteria but the ranking mostly based on clients' reviews.
Cleveroad has been awarded several times in the following categories:
What's more, every time Clutch updates it's information about the best IT vendors and represents it in Leader Matrix. To date, Cleveroad holds leading positions in the following categories:
Top 1 Ruby on Rails Developers in Los Angeles;
Top 2 Mobile App Development Company in Manchester;
Top 4 E-Commerce App Developer 2018;
Top 6 Ukrainian App Developer 2018.
Goodfirms
Goodfirms is a review and research platform that helps business owners select best tech-focused company needed for their project. It covers a large field of industries. In 2016 Cleveroad was featured by GoodFirms as a Leading Performer in Web Development.
It was a couple of years ago. Now we continue to do our best in order to provide our clients with the best solutions tailored to their specific needs. We are Top 4 mobile app developer in Ukraine according to the recent research.
IT Firms
Like the previous services, IT Firms.co provides customers with an up-to-date statistic data about top IT companies. Now Cleveroad is featured as:
TopDevelopers
This ratings and reviews site is geared towards providing it's customers with the list of the best mobile and web developers. To date, TopDevelopers rated Cleveroad as a:
Top 4 VR App Developer;
Top 4 iPad App Developer;
Top 4 Mobile App Development Company in Australia;
Top 5 Django Developer;
Top 7 IoT Company;
Top 7 Python Developer;
Top 8 Swift Developer.
Our profile at TopDevelopers
Other Achievements
On 2015 our CEO Evgeniy Altynpara attended Outsource People, an annual event that gathers top professionals from Europe and the US. IT Biz Awards, aimed to reward the key achievements in the IT industry, was also held on this event. Evgeniy was awarded as one of 3 winners in the nomination 'CEO/COO'.
Learn more about Cleveroad business processes in ourblog.
Besides previously mentioned awards, Cleveroad was named Top Enterprise Application Development Agency in 2016 by Top App Creators. This service selects best mobile development companies all over the world.
We were awarded as TOP Enterprise App Developer
Looking for a reliable company to turn your business ideas into reality? Contact our managers and we will find the most appropriate solution for your business.
Also, subscribe to our newsletter to once a week receive the most interesting information about business and IT.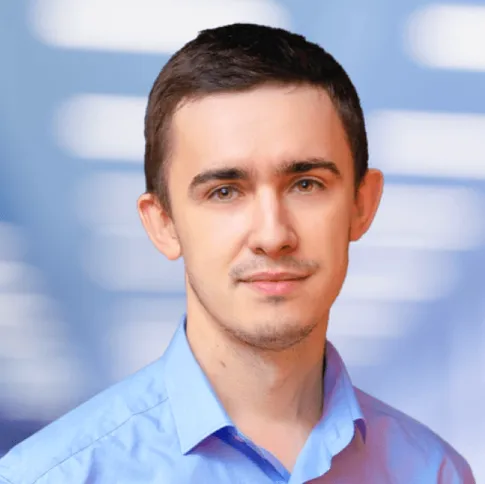 About author
Evgeniy Altynpara is a CTO and member of the Forbes Councils' community of tech professionals. He is an expert in software development and technological entrepreneurship and has 10+years of experience in digital transformation consulting in Healthcare, FinTech, Supply Chain and Logistics
Rate this article!
1718 ratings, average: 4.82 out of 5
Give us your impressions about this article
Give us your impressions about this article