A Modern Guide on Cloud BI: What Is It And How Can It Boost Your Business Growth
Being deeply involved in a world of innovations is equally crucial for startups, SMBs, and large corporations. Companies usually look for ways to increase their value and boost their commercial activity. Cloud business intelligence (BI), the combination of two popular cutting-edge innovations intended for analytical insights creation, is the very thing that helps businesses gain the set aims.
These days, cloud BI is widely used by businesses of all sizes. According to Dresner Advisory Services' Market Study, cloud business intelligence is extremely useful or critical for about 55% of companies to take initiatives and change the business future. This study also remarks that the enterprise departments rendering financial services, business services, and manufacturing are the most active in cloud-based BI adoption.
In turn, Statista gives another classification of the most dynamic cloud business intelligence users, offering the first place to research and development (R&D), marketing and sales, strategic planning, and IT company departments.
Cloud BI Importance According to Expert Surveys (Basic source: Statista)
Looking at the given statistics, you can find out that the BI cloud technology, which consists of a set of analytical instruments deployed in the cloud, is crucial for the functioning of almost all the company parts and departments. So, we prepared our guide to help you gain a better understanding of what is cloud BI, reveal the benefits you can get from its use, learn more about prominent use cases of cloud BI, and many more.
What is BI Cloud, And How Does it Imply Business?
Before using cloud business intelligence solutions, it would be helpful to know a little more about them. Let's delve deeper into the essence of cloud business intelligence to begin our technological conversation.
Cloud based Business Intelligence (or cloud BI) is defined as the process of the collected data analysis in terms of preparing valuable insights to further enhance the business activity. This is possible due to BI tools deployment in the cloud infrastructure accessible for users via the Internet.
Why is the combination of cloud and BI so advantageous for numerous enterprises? Thanks to it, they can effectively:
Deploy BI solutions to scale them in terms of capacities or storage
Receive access to required data from any portable gadget or web browser
Get rid of any business intelligence expenditures as to the hardware
Check the fault tolerance of the company BI solution
Share analytical insights with other company workers without the danger to data safety and security
Smaller enterprises and startups used to heavily rely on cloud based business intelligence since they couldn't afford to invest in analytical solutions. These days businesses of all sizes are beginning to use cloud computing for their BI-related daily operations. Due to this, cloud BI is becoming a vital component of enterprise activities.
Obtain a powerful analytical tool
Apply to Cleveroad, and we'll tell you all the details about cloud BI implementation!
Cloud computing capacities and BI cloud tools are two integral parts of the cloud BI products, helping organizations of different sizes and business domains achieve their goals. Thanks to cooperation with cloud technology, business intelligence gets more capacities and flexibility, becoming a versatile instrument for data collection and processing.
Some of the options the cloud gives to BI strengthening are listed below:
Reliable storage for both the structured and unstructured data
Opportunity to straightforwardly collect and save data from various gadgets or Internet resources
More means to operate with the business data, etc.
Let's talk more about the cloud, enlightening its deployment models for BI and business analytics data.
Options for Deploying Cloud Business Intelligence and Analytics
Different companies define the fundamentals of cloud computing differently. Grid computing, on-demand computing, and Software-as-a-Service (SaaS) are occasionally used interchangeably with cloud computing. There, a data center serves as the "cloud" for all of the activities.
Microsoft explains essence of cloud computing as follows:
Microsoft

American technology corporation producing software and hardware

Cloud computing is the delivery of computing services — including servers, storage, databases, networking, software, analytics, and intelligence — over the Internet ("the cloud") to offer faster innovation, flexible resources, and economies of scale. You typically pay only for cloud services you use, helping you lower your operating costs, run your infrastructure more efficiently, and scale as your business needs change.
In addition, we can also say that cloud computing is quite a complex service, including various deployment models. According to the completed National Institute of Standards and Technology (NIST) report, the most common models of deployment for cloud BI are the following:
Deployment models for cloud computing business intelligence
Public Cloud
Thanks to this classical model of cloud computing, a lot of users (which is reflected in the name of the model) can get access to a large capacity pool. Such an opportunity is available due to multitenant architecture - an essential part of cloud computing when the same computing resources are being used by several clients of a cloud provider. These clients are unaware of one another, and their data is recorded separately.
The public cloud is one of the simplest and the most cost-effective BI deployment models, suitable for small companies and mid-size businesses. Clients pay only for the used space. Moreover, public clouds quickly adapt to the operational load's changing requirements.
Private Cloud
Private clouds are the most expensive deployment model; however, it offers regulatory compliance and more secure data storage for the companies that worry about such issues.
Typically, the private cloud is used in terms of one large company capable of creating their own IT infrastructure (e.g., banking establishments, healthcare organizations, etc.). Despite the relatively high private cloud use price, moving from a traditional IT infrastructure to such a deployment model is cost-effective. IDC research proves that private clouds are also popular among large companies.
Hybrid Cloud
This is a computing environment combining the public and private cloud functionality. It can be used by businesses that can guarantee separated data storage of data requiring high-security measures from the data that doesn't.
This deployment model allows data and application workloads to flow freely across platforms and data to be transferred between application workloads. Data and workload virtualization, Network Function Virtualization (NFV), Virtual Private Networks (VPN), and linking one or more cloud service providers to the platform can all be used to accomplish such a result.
Community Cloud
This cloud deployment model offers computer resources that are shared with other businesses and organizations but used by a small number of customers (like for a private cloud).
The essential advantages of the model are the shared costs that lower the cost and increase compliance. However, the community model is also expensive for separate entrepreneurs or small businesses.
Every deployment model from the list has its pros and cons and depends on particular use cases. This way, if you want to know about one best fitting your business, you should better apply to a software development provider experienced in cloud app development and ask them for consultation.
Why Should Companies Adopt Cloud BI?
Traditional business intelligence is essential for companies to analyze their operations and know how to move further. Such an analysis helps them plan their future activities and stay competitive and sustainable in fluid market conditions.
Cloud business intelligence solutions equipped with such features as intuitive dashboards or visualizations broaden traditional BI capabilities, enhancing the working process and making it more productive. Let's find out other typical benefits of cloud BI that help businesses grow and change.
Typical advantages of BI in cloud computing
Cloud BI products are secure and reliable
The cloud solutions for your analytical operations are trustworthy and highly secure to use. For example, a supplementary security layer in some cloud BI applications allows analysts to work with data without transferring it away to someone else. Moreover, most solutions are deployed on prominent cloud service vendors (e.g., Amazon Web Services) which help the users analyze the existing information and collect the new data without any downtimes.
Cloud BI products are as accessible as possible and easy to use
Data democratization is the definitive factor which helps users choose one or another cloud BI solution. It implies getting information whenever it is required and wherever you are at the moment of your work. Data processing becomes an easy and delightful flow thanks to intuitive and user-friendly functionality, which is flexible and simply scalable.
Cloud BI products are highly scalable
Business intelligence cloud solutions will allow you to quickly change the needs of your BI system and save your funds, as you'll only pay for the space you've used. It can be done without any supplementary installations or modification of the hardware.
Cloud BI products are relevant due to constant updates
You don't need to care about making upgrades into the chosen solution. As a rule, the product vendors constantly update their solution functionality like Natural Language Processing (NLP) or visualizations to make them stay cutting-edge.
Cloud BI products easily integrate with datasets
Modern cloud BI applications allow the businesses to save data in its original form with no disparity or defragmentation. In addition to saving businesses' funds on paying specialists to prepare datasets, it also speeds up the process of obtaining timely insights so that decisions may be made quickly before any chances are missed.
We'll also give some examples of the well-known cloud BI solutions to make the advantages of their use deeper.
Birst
Your company may upload required information into cloud databases or marts using the comprehensive cloud based BI solution provided by Birst. Unlike any other BI systems, Birst is applicable across several sectors and integrates readily with cloud applications like Salesforce. Consumers may benefit from on-demand queries, dashboards, analysis, visualization, and reporting capabilities. Data Discovery and Enterprise Editions from Birst provide with visual discovery, dashboards, ad-hoc analysis, and analytics for mobile gadgets.
Microsoft Power BI
Thanks to Microsoft Power BI, you can add your analytical information to insight by focusing on visualization. The platform links to real-time data sources to provide an accurate picture of the state of your business. Configurable charts, graphs, infographics, and reporting visualizations can be quickly shared with others rather than slogging through Excel spreadsheet columns. Power BI Desktop's data modeling and shaping tools make the time-consuming task of getting data ready for analysis.
GoodData
GoodData monetizes business data for ISVs and businesses in different domains like healthcare, retail, hospitality, and so on. Its cloud platform is safe, scalable, and created for large-scale dissemination of analytics both inside and outside of your business. Analytics Engine, a recent addition to the BI for cloud systems, employs its own query language to let customers use metrics in various situations without changing the definitions of the metrics.
How Do Companies Use Cloud Business Intelligence?
Companies typically use BI tools for processing the unstructured data and making them available for common use. Most organizations apply to business intelligence manually gathering and exporting data in CSV files, and using common storage solutions (such as Google Disk).
Such an operational way can work in a limited variety of cases, and leads to a restricted sustainability.
When businesses demand autonomous judgments from their staff and a speed-up workflow, they frequently get the most benefits from cloud business intelligence. This makes it a fantastic fit for startup companies, data-driven organizations, and enterprises seeking quick growth.
We'll view in detail how the companies use BI in cloud computing, and get better results in their business activity.
Reddit
This US social media resource is well-known by collecting news and allowing to set up community discussions. Its capability to monetize traffic heavily depends on business analytics.
The Reddit data team used to be entrusted with finishing ad hoc requests, which not only took time away from their own projects but also complicated access to data for other teams. It was practically unreal to completely take advantage of the monetization prospects due to this barrier, which masked interesting findings.
After obtaining access to piles of company information, the sales team used it to analyze Reddit's enormous data collection in real time. It was required to discover when brands or items were discussed among the 2-million+ groups. All this is accessible through Google BigQuery or Chartio graphs and visualizations demonstrating how companies may accede to the daily debates taking place on Reddit.
Koodos
The Rock Center for Entrepreneurship at Harvard Business School generated a content curation Koodos system for youngsters based on user-generated input. This "Pinterest for music" works the following way: you send an emoji, and obtain a sound recommendation. For example, the "sad" emoji can bring a lot of songs that can be recommended to people who currently feel blue.
The platform's work was seamless; however, Koodos' creators lacked a simple method for accurately monitoring product performance to gauge the success of their experiments.
As a result of being able to combine their data with the help of cloud BI, Koodos can better understand how their initiatives are doing and utilize that knowledge to create a product that is more effective.
They began by establishing their business intelligence tool as a "central repository" for all product log data. No matter how clean the dataset was, they could execute queries after gathering all that data. With the use of those queries, they could create dashboards that directly compared sets of information in real time, making it simple to see trends and connections.
NYSHEX
An organization called New York Shipping Exchange (NYSHEX) focuses on shipment technologies and seeks to streamline international shipping. Recent success includes tripling enrollment in 2019 in large part due to business intelligence.
NYSHEX made the decision to make its business intelligence product available to the whole organization, as all of the data is housed in a single system and that even those without coding experience may easily conduct in-depth research.
Any NYSHEX employee may run queries, set up dashboards, and produce reports using the drag-and-drop Visual SQL builder. They can still receive exactly what they need, when they need it, even if they have no SQL experience.
We've given only some of the countless examples of how the cloud (as well as traditional) BI makes companies' lives easier and helps them enhance business activities. Now it's time to find out the essential factors you should get acquainted with to implement cloud BI solutions into your routine business flow.
What Do You Need to Deploy a Cloud Based BI Solution in Your Company?
Cloud BI has many strengths for businesses allowing them to remain afloat and adapt to the fluid market conditions. However, before applying to it, you should analyze your need in a cloud business intelligence product.
It can be done with the help of a little brainstorm — answer the below questions:
Do you already store business information on the cloud?
Do you have a need for unstructured data analysis?
Think about going through any BI tools you already have. What features are missing? What do you consider to change with cloud BI?
After you've found out the importance of cloud business intelligence tools for your business, let's analyze what factors are important to implement such a tech solution in your company flows.
Requirements to architecture
A cloud BI architecture is the cloud-based structure that a company uses to operate business intelligence and data warehousing analytics applications. It consists of the computer hardware and virtual tools that are used to gather, combine, store, and analyze business intelligence data.
What aspects should be checked to provide a seamless work of a cloud BI architecture? They are as follows:
Cloud-based data stores
Data warehouses transfer information from several sources into a repository that may act as a single source of truth for analytics inside an enterprise. Google BigQuery, Snowflake or Microsoft Azure SQL Data Warehouse can be used as reliable cloud data stores from world-known service providers.
Security
Security issues are covered when a cloud BI solution is protected by end-to-end data encryption, built-in protection against data loss (accidental or intentional), and the ability to swiftly implement countermeasures in response to emerging security threats. Moreover, it should comply with data security regulations (e.g., SOC 1 and SOC 2, PCI DSS Level 1).
Availability
Many cloud data warehouses, which span numerous availability zones or data centers, include high availability into their design. The user is not informed of the disruption when operations are moved to another data center open in case of a failure.
Scalability and rapidity
The cloud platform for BI needs should have the capacity to scale up or down fast to accommodate almost any processing demands. With a few mouse clicks, administrators may increase or decrease the processing and storage capacity.
Requirements to data processing
Look at your data needed — are they real-time, or do you need to offer a data storage analytics function that doesn't require real-time information? Data should be able to be gathered from a variety of sources, cleaned for high-quality insights, and then converted into a usable format. BI cloud solutions also require effective data integration, and you should care about it.
Ensuring security and data synchronization
Security compliance is one of the most crucial factors to take into consideration for data kept in the BI cloud. Clients from a variety of business fields expect that their data access and storage practices go by the legal and auditing requirements particular to their industry. Examples of compliance include SOX, HIPPA, C2 audits (US standards) or PCI. Before selecting a cloud vendor to meet your demands for cloud BI storage, check the provided list of compliances.
Transferring data to clouds
Modern BI will play a significant role in the cloud, which has various benefits in terms of cost effectiveness, flexibility, scalability, and stability. The IT department can concentrate on strategic objectives because of the time saved by working in a cloud environment.
Deploying cloud BI solution into the enterprise business environment
Your cloud BI software's deployment relates to the location where it will be used. If you have the means, self-hosting your BI tool might be a fantastic option, but you can also look to public cloud suppliers for an alternative, just as with other resource-intensive processes.
Choosing a software development vendor
The competent business intelligence provider will guide you through the cloud BI implementation process and ensure that it is completed successfully.
Service costs. When selecting a cloud BI provider, it's critical to take into account the vendor's pricing strategy and your company's financial capacity.
Experience. Due to their awareness of the common problems that can arise, vendors will be better equipped to deal with complaints. It is conceivable if you have prior experience dealing with organizations of a similar size, in a related industry, or dealing with comparable problems.
Training and assistance. The reliable cloud BI vendor with their team of business intelligence developers should create a perfect solution, and be able to teach consumers how to deal with it.
Implementation time. Deployments of cloud business intelligence are usually time-consuming and difficult tasks. That's why the implementation time is the criteria that's worth mentioning while looking for a business intelligence and cloud-based product provider. Because of the speed of deployment, it is vital that you select a vendor for business intelligence in the cloud who can provide it within the period you want.
You can fulfill all the requirements with the best score finding a cloud BI provider among the outsourcing IT companies. Outsourcing is an opportunity to find experienced cloud professionals to work upon a top-quality solution creation cost-effectively for your company. Let us tell you more about one of the skilled outsourcing IT vendors specialized on cloud BI solutions development and implementation.
Choose an Assistance of Experienced Provider for BI Cloud Solutions
Cleveroad is the provider you can rely on for solving such kinds of issues. This is an experienced outsourcing software development company headquartered in Estonia, with deep expertise in cloud solutions creation, implementation and support for companies of all sizes. They increase workflow effectiveness, address enterprise issues, and aid in gaining competitive advantages.
The cooperation with us is beneficial for a number of reasons including (but not limited to):
Profitable and modern cloud BI solution with seamless UX
Fast initial project estimation from our Business Development team
Consultation with our specialists (SA, BA, PM, etc.) as to your project
Non-Disclosure Agreement (NDA) signing per your request
Qualitative on-demand services (such as software development from scratch, upgrade, legacy systems modernisation)
A team consisting of agile-minded and high-skilled professionals working on your project
Qualified QA engineers to check your project on every step of its creation
Cutting-edge tech stack to develop your product as better as possible
Proven experience in several business domains
After-release support, maintenance and advertising services for our clients
The way to a perfect solution creation is simple — let's start our cooperation, which will be productive both for you and us. Our experts will give you an in-depth consultation as to all your disturbing business questions concerning business intelligence and cloud computing. Moreover, you'll become a full participant of the development process, which will pass quickly and effectively.
Order BI app for your business
A skilled outsourcing cloud BI provider strives to assist you in creating a top analytical product!
Frequently Asked Questions
Cloud based Business Intelligence is defined as the process of the collected data analysis in terms of preparing valuable insights to further enhance the business activity. This is possible due to BI tools deployment in the cloud infrastructure accessible for users via the Internet.
Cloud computing capacities and BI cloud tools are two integral parts of the cloud BI products, helping organizations of different sizes and business domains achieve their goals. Thanks to cooperation with cloud technology, business intelligence gets more capacities and flexibility, becoming a versatile instrument for data collection and processing.
Comply architectural requirements
Comply data processing requirements
Ensure security and data synchronization
Transfer data to clouds
Deploy BI solution in the business environment
Choose a cloud BI software provider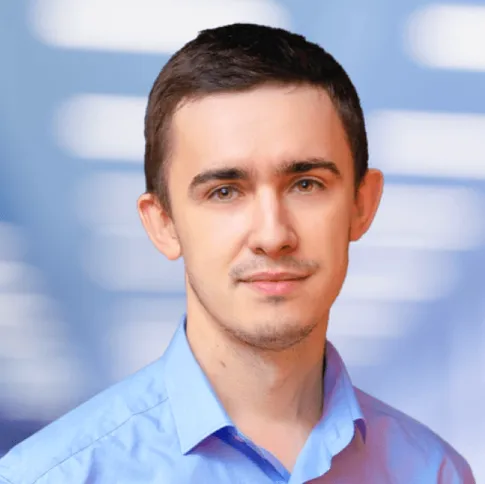 About author
Evgeniy Altynpara is a CTO and member of the Forbes Councils' community of tech professionals. He is an expert in software development and technological entrepreneurship and has 10+years of experience in digital transformation consulting in Healthcare, FinTech, Supply Chain and Logistics
Rate this article!
833 ratings, average: 4.87 out of 5
Give us your impressions about this article
Give us your impressions about this article