Business Intelligence, Data Warehouse, and Their Interrelation: a Detailed Analysis
Business Intelligence (BI) and Data Warehousing (DW) are two essential aspects of data digitalization used to find out how the collected information is processed and stored. However, these notions are sometimes mixed up by some of the professionals and even united into a BIDW term. Other specialists consider them as different kinds of software.
On the basis of our extensive practical experience and the study of industry documentation, we've prepared this data warehouse/business intelligence post and help you decide which of the technologies to choose, which one will be the most beneficial for your company workflows, and many other details.
What is a Data Warehouse in Business Intelligence Solutions?
First, let's clarify the basics of these two notions to deeper understand the subject.
What is business intelligence in data warehouse? Business Intelligence (BI) is a bunch of technologies and tools used to help business owners operate with the collected company data, translate it into comprehensive insights, and with their help, find out how to enhance workflows and boost profit.
This analytical notion is essential for companies. Thus, Geoffrey Moore proves the following:
Geoffrey Moore

American books author and management consultant

Without big data analytics, companies are blind and deaf, wandering out onto the web like a deer on a freeway.
Data Warehousing (DW) means a process of gathering information located in various repositories and operating with them. DW is used by businesses and other organizations to analyze historical performance and make operational changes. The said operations are performed with the help of data warehouses — storages saving structured data for conducting further business analysis.
Business intelligence and data warehousing is used for performing company operations properly, both in cooperation and separately. We'll consider these technologies' common benefits apart from each other.
This way, BI-empowered systems are advantageous for use because of the following:
The systems can collect reliable and well-managed data for analysis.
Due to the business intelligence implemented, specialists can analyze information faster. Intuitive dashboards also play an important role in speeding up analytical processes.
Company performance can be increased due to the effectively applied data collected and applied by the business intelligence tools.
The organizations can make data-driven reasonable decisions as to their products, workflows, and so on.
Customers and employees are satisfied with the opportunity to work with the BI-based platforms and the outcomes they bring.
What about the use of a data warehouse in business intelligence? We gathered their most common benefits below for you to consider:
It offers historical insights containing well-protected and high-quality data for the companies to give their efficiency a boost.
DW makes data mining simpler — by providing organizations with available standardized information.
It enables a company to compete more successfully with other suppliers in its industry via strategy and execution.
A lot of data warehouses are now entirely cloud-based, and even those that were designed to be installed on-premises usually work well with the cloud-based element of an organization's infrastructure.
Business intelligence and data warehousing is used for: benefits for businesses
Data warehouse/BI together can function as the informational basis of the enterprise assisting in the alignment of all business lines to enable an entirely data-driven activity. So, let's consider this interrelation of data warehousing and business intelligence and how all this data processing system works.
Everything starts from the sources of data. Information required by companies should be extracted and collected from the chosen relevant data resources. With this purpose, the "extract, transform, load" (ETL) flow is applied. It allows the specialists to collect data from various sources, extract it to a so-called "staging digital space" to be appropriately processed, and finally load it to a single information repository.
Data warehousing is the next stage of operating with info. All the collected information is loaded into data warehouses (or data marts — DW subcategories storing info necessary for particular company departments). Data loading is often a completely automated procedure carried out continuously in batches.
BI in data warehouse is a data connector between DW and the end user. Properly processed data saved in information warehouses should be additionally analyzed by the BI-empowered software solutions. Business intelligence can efficiently analyze information and transform it into valuable reports for end customers to change their business performance.
The data accessibility for the end customer. This is the crucial moment you should pay attention to when planning work with data. It means transferring complex data sets to people that need them (e.g., business owners and company employees) in a simple and logical form to understand.
Data processing workflow: How BI and DW participate
In this small scheme of working with data using BI and DW, the first three stages are intended to find, gather, and adequately store the data, and the last one means how the data is used by the stakeholders. Moreover, we could see how the business intelligence and warehouses for data work in cooperation. Considering it, you should understand that BI and DW are two different notions. Let's research their differences together.
What is The Difference Between Data Warehousing and Business Intelligence?
The processed data is valuable for businesses to accomplish their aims. Business intelligence and data warehouses both deal with this data but have different functions. We will consider the difference between BI and data warehouse in detail according to the following options:
The essence
The role
Dealing with tools/flows
Kind of system
Place of functioning
Place for data gathering, etc.
The below table will help you better find out all the major distinctions between BI and DW.
Business Intelligence vs. Data Warehouse

| | | |
| --- | --- | --- |
| What to compare | Business Intelligence | Data Warehouse |
| The essence | Set of data analytical tools | Platform for storing collected data |
| The role | Enhancing company performance on the basis of recent info | Offering historical pieces of information |
| Dealing with | Reporting or query instruments, information visualization, and mining, Online Analytical Processing (OLAP), etc. | Data storing, cleaning and transforming, dissemination, management of the metadata gathered, and so on. |
| Kind of system | Decision Support System (DSS) | Information storage system |
| Place of functioning | Frontend | Backend |
| Place for data gathering | From the DW to conduct analysis | From various data sources to further save for BI analysis |
| What is produced | Business insights containing graphs, charts, and other visualized data | Information in view of dimensions and data fact tables |
| Who uses | Business analysts and executives | Data engineers and system administrators |
| Examples | Datapine, Looker, Sisense | Amazon, Redquery, Snowflake |
The main distinction of business intelligence vs data warehouse is that the last notion means the storage where information can be saved before extracting for analytical operations, and the first one — a toolkit for conducting these operations.
How is Data Warehousing Related to Business Intelligence?
Despite all the above data warehouse vs business intelligence differences, BI and DW cannot be fully opposed to each other. There are a lot of things unifying them. The appropriate business intelligence utilizing the correct data in your data warehouse enables several options that can support strategic decision-making. That's why business intelligence, data warehouse have changed to incorporate additional procedures and tasks.
A few of the alternatives boosting the company's decision-making process are enlisted below for you to consider:
Data warehouse/BI opportunities to enhance decision-making flow
Data visualization is the process of collecting numerical information and displaying it graphically for improved comprehension and decision-making. Visualizing relevant information in the form of graphs and charts frequently makes data more engaging and efficient.
Statistical analysis (as one of the integral components of data analysis) includes gathering and analyzing data samples in the context of business intelligence and data warehousing. It is vital to have the data warehoused and connected to your BI processes in order for the analysis to be as precise as possible, leading to smart, strategic choices.
Data mining, another called Knowledge Data Discovery (KDD), is a method for identifying useful information from piles of raw data. You can find trends, themes, or patterns in enormous volumes of big data finding benefits with this method.
Data querying inside business intelligence and data warehouses is used by business analysts to verify info authenticity or correctness. Successful BI and data warehousing solutions assist companies and organizations in posing questions to their data, getting the correct data into those inquiries, and receiving accurate, quantitative information as replies.
Performance metrics serve to assess the success of a company's operations, its personnel productivity, or certain initiatives. Thanks to them, a business hypothesis as to future company development can be generated, supported, or refuted.
Data storytelling means converting data analytics into understandable language to influence or inform a strategic business decision. Naturally, the info will be simpler to collect, and the stories will be much more persuasive if you have the best data warehouse and business intelligence technologies.
These are the most common instruments that data analytical solutions offer to make businesses' life and performance better. This list can be extended to simplify your job, but adding more analytical tools to your company software requires the help of a software development vendor having deep expertise in BI/data warehouse solutions development and upgrading.
How Does a Database and Data Warehouse Support Business Intelligence?
The world of data is extended more and more for companies of all sizes and business domains. So, raw data transformation into successful business decisions isn't quite an easy thing for companies: they require to find information, process it, and store it in the most comfortable way to enhance their flows. Data warehouses and databases are the two most used types of data storage in business data management, and both of them gather structured data.
So how does database and data warehouse support business intelligence? Let's start from their differences to help you decide which of the options to choose.
The essence. The database is a set of structured and detailed data to be stored in real-time. But the DW may contain historical info compilation from different data sources intended for further BI analysis.
A number of users. Thousands of customers can work with databases at the same time when data warehouses are intended for fewer people to operate with.
Query importance. Databases are typically used for small atomic info transferring. DW is applied to issues requiring thorough analysis.
Level of optimization. As usual, databases are advanced for "Create-Read-Update-Delete" (CRUD) operations. DW is designed to handle fewer, more intricate queries across several sizable data repositories.
Information structuring. Data warehouses were explicitly created with reporting and analysis in mind. Databases, in their turn, frequently provide the most recent data, making historical requests impossible.
Which option to choose for data storage — depends on your current business needs. However, suppose you need to work with various data sources (databases can be one option of this variety) and proceed with more complex informational queries.
In that case, you should choose data warehousing for business intelligence, unifying it with BI, and creating a Business Intelligence and Data Warehousing (BIDW) solution. Let's learn more about BIDW and see if it can be used to categorize software accurately.
The BIDW term is something of a generalization because data warehouses are just one of several phases in the data management process. A more correct phrase is "BI and DW," while it is also acceptable to refer to business analytics, data warehousing, databases, reporting, and other related activities under the BI notion. A broad ecosystem of intelligence systems with similar objectives is made up of all of these different sorts of solutions.
It is necessary to first distinguish between the idea of business intelligence and the technologies that enable it in order to comprehend how data warehousing/business intelligence interact.
Business intelligence relies on gathering data from throughout the organization and using data analysis to provide reports and global views. BI tools enable OLAP, create reports and visualizations, and enhance BI analysis (online analytical processing).
The BI toolkit also includes data warehouses, which are focused on gathering data. A data warehouse's goal is to assist businesses in achieving a single version of the truth by combining data from many platforms.
How to Improve Business Analytics and Data Warehousing Strategies
Business intelligence in data warehouse collaborating will make your business flows more proficient, so they're worth using. We've gathered step-by-step information for you on how to do that.
How to enhance BI and DW strategies
Step 1. Define the purpose of the upcoming BI system
The purpose definition requires you'll do a little research identifying what key employees in your company will be involved in the process, what major problem(s) they'll have to solve, and what Key Performance Indicators (KPIs) they need to gain.
Moreover, you need to identify the following:
What information sources will be applied? (e.g., ERP, CRM implemented, external ones)
Type of data needed in your particular case (web resource traffic, number of sales, etc.)
How might the information be applied? (e.g., spreadsheets or diagrams)
You may also come with the raw system concept to a tech partner. The IT specialists will be able to help you consider all the said points and identify the future system's purpose as accurately as possible.
Step 2. Select a software vendor
Step 3. Choose a solution type
After a collaboration starts, you should also understand what type of BI system you need, whether it would be a ready-made platform from the famous BI vendor with the necessary tools implemented or it will be a custom solution developed to fully satisfy your needs. Choosing the first option, you may consider that not every off-the-shelf solution will be a perfect match for your company, as such software typically offers a standardized set of features. But if you need to have more accurate functionality responding to particular business requirements, select the custom system to create. The vendor will perfectly help you with it.
Step 4. Define tech requirements
The vendor will then help you define all the tech requirements for the future solution to accurately develop it. They'll choose the ETL tools, appropriate data warehouse(s), and reporting tools, as well as think out the future solution's architecture.
Moreover, they'll set up the reporting type, whether it will be a traditional BI platform that will be accessible only by technical personnel to operate with (and the end users will receive info through your team, which will be a more secure way), or a self-service BI-empowered system that will offer access to customers along with your company staff.
Step 5. Deploy and use the software
After the software is built and successfully implemented into your business flows, you should care about one more thing to care about the flawless use of the software by your employees.
Holding training sessions for staff is necessary to assist in learning how the new platform functions and how to utilize it as effectively as feasible. These sessions could take a different format if you employ an analytical tool that is integrated into your CRM or ERP. In that case, you might utilize interactive onboarding tools or video pointers to guide users through the onboarding process.
However, keep in mind that in case you have got a little budget, you can apply to your vendor's team that helped you develop a new BI system and ask them to learn your employees how to perform with it.
What to Remember When Implementing BIDW Software Solutions
When you plan to create a BI or DW solution, you need to remember that profound expertise means a lot for such software. So, you should better apply to the software development partner having a comprehensive experience in business intelligence and data warehouse integration into your company flows.
Cleveroad is the very same partner capable of helping you. Let us tell you more about our company. We are a software development company located in the CEE region and skilled in the development of data processing solutions of any complexity or BI/DW integration. We are helpful for startups as well as SMBs and large enterprises to gain a competitive edge, boost performance effectiveness and increase outcomes.
By collaborating with us, your business will obtain:
A full-fledged data processing platform development equipped with all the BI tools you need or integrated with the previously chosen data warehouses
An in-depth consultation with one of our specialists as to your project (Business Analyst, Project Manager or Solution Architect)
Innovative tech stack and modern development approaches to give your idea the best embodiment it needs
A team of skilled and agile-minded professionals to develop your project
Quick development workflow elaboration with no bureaucracy or hidden costs
After-release maintenance, support and advertisement services, etc.
The BI/data warehousing implementation into the business solutions will be easier if you apply to the software development vendor with verified tech experience in working with data processing tools. Due to our experience, we are ready to build a data analytics solution for your business. Let's just start our cooperation which will be enjoyable and productive!
Improve your business with BI/DW
Order competent BI solutions to appropriately bring your analytical system's concept to life
Frequently Asked Questions
Business Intelligence (BI) is a bunch of technologies and tools used to help business owners operate with the collected company data, translate it into comprehensive insights, and with their help, find out how to enhance workflows and boost profit.
Data Warehousing (DW) means a process of gathering information located in various repositories and operating with them. DW is used by businesses and other organizations to analyze historical performance and make operational changes.
The main difference of business intelligence vs data warehouse is that the last notion means the storage where information can be saved before extracting for analytical operations, and the first one — a toolkit for conducting these operations.
Identify the system's purpose
Select a software vendor
Choose a solution type
Define tech requirements
Deploy and use the software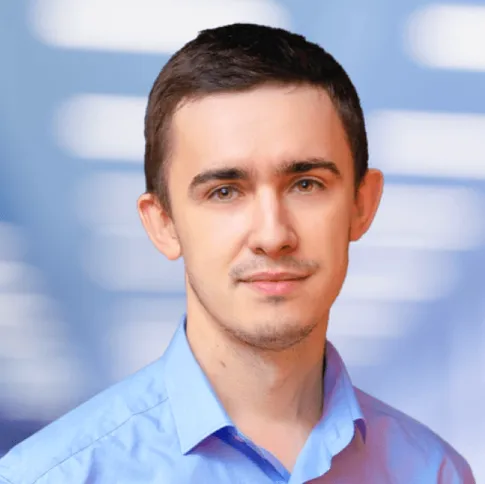 About author
Evgeniy Altynpara is a CTO and member of the Forbes Councils' community of tech professionals. He is an expert in software development and technological entrepreneurship and has 10+years of experience in digital transformation consulting in Healthcare, FinTech, Supply Chain and Logistics
Rate this article!
696 ratings, average: 4.78 out of 5
Give us your impressions about this article
Give us your impressions about this article