Software Outsourcing Companies: Top 15 Best Agencies in 2023
Having an existing business, you might already know that outsourcing is a valuable channel for your company. However, you're probably wondering which company to choose — smaller or bigger. It's a matter of balancing the number of specialists to effectively deal with a project and the flexibility to meet ever-changing requirements. A software outsourcing company can be small, medium, or large, and each option has its own benefits. We've decided to discuss the cooperation with which company may bring the most value for your business.
What Is Software Development Outsourcing Services
Development outsourcing is a way of creating a software product that includes the decision to hire a third-party software development company to complete all the necessary technical tasks of the project, while the tasks themselves can also be performed by the customer. At its core, you transfer control over the project to a more skillful agency that has the necessary experience to complete the assigned tasks.
The tasks that can be outsourced may include development:
Mobile apps
Desktop software
Websites
PWAs
Internal management systems (EHRs, EMRs, ERPs, CRMs)
Software development outsourcing services themselves differ in the type and options of outsourcing. If we touch on specific types, then there are only three of them:
Onshore. This type differs in that you are looking for a contractor within your own country.
Nearshore. The main idea of ​​this type is to search for a software development agency in countries that are adjacent to yours.
Offshore. The last type differs from all others in that your searches are not limited to the borders of your country. Instead, you can find a contractor anywhere in the world.
Now about the outsourcing options.
Hiring freelancers. Quite a cheap way, but it carries a lot of risks. You will have to manage the process of hiring freelancers and developing projects yourself. In addition, you are not insured against the fact that a freelancer can disappear from the radar at one point and leave you with an unfinished project.
Hiring a professional agency. This outsourcing option is quite expensive, but for an increased price, you get full service and project development from the concept and finishing the launch. In addition, you do not need to manage the development since the agency itself does this. Do not forget about guarantees, since first of all, it is the reputation of the agency itself. You will receive a 100% quality product, and at the same time, you can be sure that your idea or developments will not fall into the wrong hands.
Benefits of Software Outsourcing
Why do companies prefer to outsource their projects to various IT agencies? The answer to this question lies on the surface since this method of software development has several undeniable benefits, which we will now talk about.
Benefit #1. Quick Hiring
Outsourcing is a real lifesaver if you want to start developing your project as quickly as possible. You don't have to spend a ton of your personal time looking for all the developers you need, interviewing them, and so on. In addition, you do not need to compete with other companies that are also hunting for valuable technical personnel and can lure them to themselves with more favorable conditions and benefits.
Outsourcing agencies are already fully staffed with all the necessary specialists, from business analysts and solution architects to various developers, testers, designers, and other specialists.
Benefit #2. The Whole World of Talents is Open to You
Hiring specialists at home can be extremely difficult, as there may be high competition in the labor market or a shortage of specific specialists. In addition to all this, you must offer your candidates more favorable conditions than in other companies, if you want to get them into your team. All this makes the whole search process extremely difficult.
By expanding your search area through nearshoring software development or offshore outsourcing, you greatly facilitate your task because now you can hire any agency anywhere in the world with the required set of specialists and expertise.
Benefit #3. Cost-Efficiency
Another significant benefit is the ability to develop software and do it for a reasonable price. Hourly rates of local developers can be several times higher than in a neighboring country or offshore region. In addition, outsourcing allows you to select a team of specialists that will meet your technical and financial requirements. For example, a mid-level developer in North America can earn $120 - $150 per hour, while in Eastern Europe, a specialist of the same level will receive $40 - $50. Do the maths.
Types of software outsourcing companies
Software Outsourcing: Market Analysis
The software development outsourcing services industry has always been quite prosperous and even now does not change its traditions. This year alone, the industry boasts an increase in IT budgets spent on outsourcing from 6.3% to 8.7%. This indicates the growing popularity of this development method and the fact that the size of projects that are outsourced development is also increasing. It is also worth noting that the total revenue of the IT outsourcing market is projected to reach over $359 million by the end of 2021. Companies of all sizes and industries are investing in outsourcing development, and this number will only grow in the future.
In addition, the popularity of the method is evidenced by the fact that 37% of small businesses currently outsource at least one of their business processes. And according to a survey by Clutch (one of the largest aggregators of information about IT companies), businesses with more than 50 employees are 66% more likely to outsource their projects to third-party agencies. And this is not surprising because outsourcing is a great way for small companies to get their hands on a custom software product developed according to all modern canons and using cutting-edge technologies.
When to Choose Small Software Outsourcing Companies
Small outsourcing companies tend to have less than 250 employees. Such companies usually pay attention to every wish of the client and follow all requirements.
Benefits of Outsourcing to Small Software Companies
Affordable rates. Companies that have up to 250 workers usually provide clients with lower prices compared to their bigger competitors.
Flexibility. As it was mentioned, small companies consider every detail to offer good outsourcing software development services. They typically offer a variety of models of cooperation to reach the flexibility their clients need.
Well-organized development process. The teams in small software development companies usually consist of developers that work together permanently and know each other better. They have already built a solid team and can cooperate more effectively.
Constant growth. Specialists want to satisfy the growing demands of customers, so they tend to expand their knowledge and integrate new tools and technologies into the development process.
Best Outsourcing Software Development Companies with Less Than 250 Employees
Cleveroad
This Ukrainian-based software outsourcing company with 10+ domain experience specializes in software outsourcing, namely mobile and web development. The company's highly qualified software engineering team helps startups and enterprises create unique business-driven solutions. Cleveroad has domain expertise in such industries as education, streaming, healthcare, e-commerce, Agriculture, FinTech logistics and many others, and many others. When outsourcing your projects to Cleveroad, you can expect full-cycle development services, including discovery phase, UI/UX design, multi-sprint development, Quality Assurance, DevOps, Project Management, and so on.
Future Processing
This software development company is based in Poland and is one of the industry leaders in its home country. This company's portfolio includes more than 600 successful projects for companies from such industries as property management, insurance, healthcare, and others. The main motto of this company is "Great software ... because we put people first."
Prismetric
This software outsourcing company was founded in 2008 in India and, as of 2021, already has offices in the USA, Hong Kong, Brazil, and Qatar. The company has a fairly wide range of expertise, including IoT App Development, AI and Machine Learning, Custom Software Development, and many others. One of the well-known software solutions of the company is Toya - a mobile application that helps farmers more conveniently rent agricultural machinery for their needs.
Droids on Roids
Droids on Roids is a Polish top outsourcing company with headquarters in Wroclaw. One of their achievements is creating a mobile version of the famous LiveChat app that unites people all over the world. Besides, Droids on Roids were honored in Forbes Diamonds List in 2018 and awarded as a top development company in Poland in 2019.
I-System
This web development firm is located in Gliwice, Poland. I-System provides customers with e-commerce, web and mobile development. The firm offers to create a web design and consult about IT strategy.
Wrapping up this part, small software outsource companies are perfect if you are limited in a budget but want to create a software solution for your business.
When to Choose Mid-Sized IT Software Outsourcing Companies
Software outsourcing companies of the medium size tend to have between 250 and 999 workers. Such vendors have been on the market for approximately a decade and already worked with various types of customers from startups to enterprises. However, they provide not so affordable prices as small software companies do.
Advantages of Choosing Mid-Sized Outsourcing Companies
Brand reputation. Companies of medium size have worked for several years, so they have a quite wide client-base. Additionally, they take care of their reputation and gaining customers trust.
More qualified specialists. Due to more workers, mid-sized companies have more specialists with various skills and knowledge. As a result, it's easier to find a developer who is experienced, let's say, in C# or any other required technology.
Ability to scale up quickly. There are many different specialists, so you can hire more developers and get your project done faster. However, it's still difficult to create a large team (10+ engineers).
Faster problem-solving. If any issue occurs, an experienced team can react and solve the problem more quickly. Due to years of experience, there is a possibility that the developers have tacked the issue before. As a result, you can have less downtime.
Best Outsourcing Software Development Companies of the Medium Size
itCraft
ItCraft is one of the best Polish IT outsourcing companies that support both established businesses and promising startups. They have more than 200 developed projects. Their most famous cooperation case was with the DHL delivery company. ItCraft developed a robust database for all DHL vendors and employees to optimize various operations fulfillment and overall workflow of all branches.
JCommerce
This Polish software outsourcing company has been providing IT outsourcing services since 2005, and since then, the staff has expanded to 300 highly skilled experts who are ready to provide their technical knowledge to boost your business through custom software solutions. This company boasts a wide range of services that include product design, custom software development, and IT consulting, ensuring a full cycle of product development.
Espeo Software
Espeo Software is a Finnish web and mobile app development company headquartered in Poznań. For more than a decade of history, this company has created many products that boost businesses in various fields like healthcare, blockchain, real estate, and so on. Clients note the company's desire for quality cooperation, high industry knowledge, and complete transparency.
Spiral Scout
This software outsourcing company is one of the most famous IT staff augmentation companies in the USA. For over ten years, Spiral Scout has been staffing companies with high-tier development teams. They do thorough research and select the developers based on customer requirements and business scope. Besides, Spiral Scout is also developing custom software for boosting enterprises.
ScaleFocus
It's a European software development company that offers outsourcing software development services like mobile and web engineering, software quality engineering, and more. ScaleFocus builds solutions for banking, insurance, healthcare, and logistics. This company cooperates with all kinds of businesses, from startups to enterprises.
To sum up this part, mid-sized companies have more talented specialists, so you can choose an expert. On the other hand, outsourcing software development services are usually more expensive.
When to Choose Large Outsourcing Companies
Large software outsourcing companies tend to have more than 1,000 employees that are experienced in various fields. However, such vendors charge more money and can't provide the same level of flexibility compared to small and medium companies.
Pros of Hiring Large Outsourcing Companies
Scale the team up and down. There are a lot of specialists with different skills, so it's easy and fast to add or replace experts. As a result, you can speed up the development process. However, this may lead to additional expenses.
Experience in developing large projects. Due to many experts, the developers can handle the project of any size and complexity. You can hire as many software engineers as you want to create a solution that follows all requirements and meets your company's goals.
Extensive portfolio. Large outsourcing companies have been working for a long time, so they can provide you with a large portfolio and satisfied clients. As a result, you can ensure your vendor expertize.
Large Outsourcing Software Development Companies
QBurst
The Indian software outsourcing company QBurst is a major player in the IT outsourcing market in its home country and has a really large team of 1300+ specialists in their field, including developers, designers, UX engineers, quality assurance specialists, and business analysts. For more than 17 years on the market, this company has completed more than 1200 projects for businesses from various industries.
Avenga
Avenga is an American company that focuses on IT outsourcing, staffing, salesforce consulting, big data, and cloud solutions. This company has a staff of more than 2,500 professionals with offices in Germany, Poland, the USA, and Asia. Companies such as Mazda, Volvo, and Postbank have trusted their expertise and desire to make business better with digital solutions.
Maruti Techlabs
Maruti Techlabs is a company founded in 2009, and during this time, the company has achieved immense popularity in its homeland in India. According to the company itself, its main goal, which they strive for, is "To carve an ascendable niche and assist enterprises in achieving their business objectives through an innovation-led approach by providing the best-in-class consulting, IT solutions & services."
Unity Group
This software outsourcing company from Wroclaw, Poland, has been supplying various businesses with custom software solutions for 20 years that help them develop and reach new heights. Unity Group has more than 100 active clients around the world and provides them with technical expertise that gives businesses + 30% growth rate, for which it has become widely known not only in Poland, but also abroad.
InfoPulse
This company has been on the market for more than 25 years. Nowadays, InfoPulse has offices in 11 countries across Europe and North America. It builds software solutions for healthcare, banking, retail, and so on. InfoPulse cooperates with businesses of any size from small to large.
Large outsourcing companies provide expertise in various fields and offer to hire specialists with different knowledge and skill sets. However, there is one serious drawback: large firms have high hourly rates. As a result, you spend a lot of money during the development process.
How to Outsource Software Development Successfully?
To achieve the best results from cooperation with an outsourcing company, you should follow several tips. We've listed them below.
Define Your Requirements and Timeframes
The first tip on how to outsource IT is quite obvious: to achieve the best results, you need to set clear requirements. Software development companies need accurate and detailed information about your expectations and project. Only having such information, the vendor can provide you with realistic timeframes and price.
Consider Specific Experience
Each vendor has several fields with the greatest expertise. So, while outsourcing complicated software projects, it's better to make sure that the vendor has enough experience. For instance, you want to create an iOS application for the healthcare sector. So, such specialists as Swift or Objective-C developers should be members of your team. Additionally, you can look through the company's portfolio to study their previous projects.
Choose an Agile Methodology
The agile approach allows keeping tack on the workflow during the software development. This method is perfect for outsourcing because it gives both a project owner and a vendor an opportunity to be in different places but cooperate successfully. The product development is divided into several cycles called sprints. As a result, you and members of your team can fully understand the project building along with final goals.
Discuss Project Management Tools
There are a lot of applications that can assist developers in tracking tasks they need to do. For example, such tools as Basecamp, Trello, Jira allow assigning tasks, commenting on them, and so on. And on top of that, you need to discuss ways to communicate and schedule meetings beforehand to follow all the changes in the project.
Keep Your Data Safe
A reliable vendor offers you to protect your project idea and any information about the development. There is a non-disclosure agreement or NDA that you may sign. This contract outlines all confidential material and data that can't be told to the third parties.
Prepare All Necessary Documentation
In order for your product development to be successful, all your requirements for future software must be strictly documented. A software requirements specification is a treasure trove of information that will help a software outsourcing company understand what exactly you want from a project. In addition, the contract for cooperation with the vendor contains an obligation on the deadlines, the location of the assigned personnel, fines in case of non-compliance with the deadlines, and other important nuances that will serve as a kind of roadmap for the vendor and will not allow them to go astray.
How to outsource successfully
Why Outsource Your Software Development to Cleveroad?
Cleveroad is a specialized IT outsourcing company. Since 2011, we've been helping businesses of all kinds to develop result-oriented software solutions to increase performance, address company's challenges, and aid in acquiring competitive strategy.
Cleveroad in numbers:
10+ years on the market
120+ in-house engineers
170+ successful projects
By choosing us, our clients receive a row of benefits:
Proven expertise in outsourced web development and software across various domains, including Logistics software development, Healthcare, FinTech, Retail, Education, etc.
Clear understanding of pros and cons of outsourcing and ways to benefit from them
A complete team of qualified and certified software engineers accomplishing your project
Full-service development, including UI/UX design, cloud-based solutions, application modernization services, and other IT services in one place
Three cooperative models available: time and resources, a dedicated team, fixed price
An initial project estimation from our Sales Managers, without any additional costs
Signing non-disclosure agreements (NDAs) per your requests.
To conclude our article, the size of the outsourcing software development company completely depends on your requirements and goals. Welcome to look through our portfolio to see what projects we've developed before and find ideas for your business solution. You can also study our profile on Clutch and GoodFirms to check reviews from our clients.
Work with experienced tech partner
Book a call with us, and get powerful software solutions from experts with 10+ years of experience!
Frequently Asked Questions
Because it allows you to build a software product with fewer expenses and a wider range of companies to choose from. There are bo office costs or taxes, and most tech vendors provide a Project Manager who watches over the development team.
To achieve the best results, follow these tips:
Define your requirements and timeframes
Consider specific experience
Choose an agile methodology
Discuss project management tools
Keep your data safe
Depends on your product and budget. If there's no need for deep expertise in machine learning, IoT, or other complicated tech stuff, a small company may be quite enough.
Besides, companies with up to 250 workers usually provide clients with lower prices than their bigger competitors. And they're more flexible, too, offering a variety of cooperation models.
Vendors that have between 250 and 999 workers have been on the market for approximately a decade. They already worked with various types of customers, from startups to enterprises.
They offer a wider range of services, have more qualified specialists (as they can pay them better), can scale up quickly.
Large software outsourcing companies tend to have more than 1,000 employees that are experienced in various fields. It makes sense to cooperate with a large company when you need lots of specialists with different skills and experience in developing large-size projects.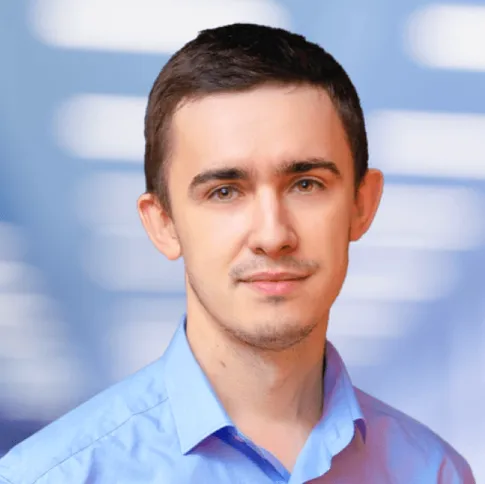 About author
Evgeniy Altynpara is a CTO and member of the Forbes Councils' community of tech professionals. He is an expert in software development and technological entrepreneurship and has 10+years of experience in digital transformation consulting in Healthcare, FinTech, Supply Chain and Logistics
Rate this article!
2174 ratings, average: 4.61 out of 5
Give us your impressions about this article
Give us your impressions about this article