Mobile App vs. Mobile Website: What is the Best Option for Your Business?
2165 Views
|
04 Jul 2018
|
10 min
The constantly growing number of mobile devices make entrepreneur think about the creation of mobile websites and mobile apps. However, far from all businesses can afford to adopt both these approaches and their CEOs have to make their choice: mobile app or website. Fortunately, there a variety of factors allowing to identify whether it's reasonable to invest your time and money in one or another type of software development.
In this article, we unveil advantages and disadvantages of mobile applications as well as websites.
Difference between app and website
A mobile website is a bunch of pages that are connected with each other and can be launched in browsers. With the help of specialized approaches, they can adapt to different screen sizes or completely change their design patterns depending on a device.
Mainly, mobile websites are created to deliver content and they aren't too interactive as a rule. The first difference with a mobile application lies in the internet connection. Customers need it to use full capabilities of the website. From the financial point, the difference between a website and mobile apps lies in a price range. In a majority of cases, websites are more budget-friendly.
Talking about a mobile app, it's a piece of software created to run on a certain platform like iOS or Android. They are fully-featured, can be downloaded on app stores as well as used in both offline and online mode. Advantages of mobile applications often surpass benefits from having the mobile website to some extent. However, this requires more thorough analysis to define whether it's so for your concrete case.
It's worth noting that many big companies have both a good-looking website and an advanced mobile app with functionality tailored to their target audience and business needs.
Benefits of mobile websites for business
Let's face it, a website is a minimum that each modern business must have to survive in the internet era. As Bill Gates once said, if your business is not on the internet, then it will be out of business. That's absolutely true considering the modern situation on the market.
However, as technologies evolve, the new ways to browse the web appear. We're talking about mobile devices. If ordinary websites are already the business-as-usual approach then benefits of having a mobile website aren't clear to everyone.
More and more users prefer surfing the web on their smartphones. Respectively, mobile-friendly websites may become a good alternative (or addition) to the mobile app.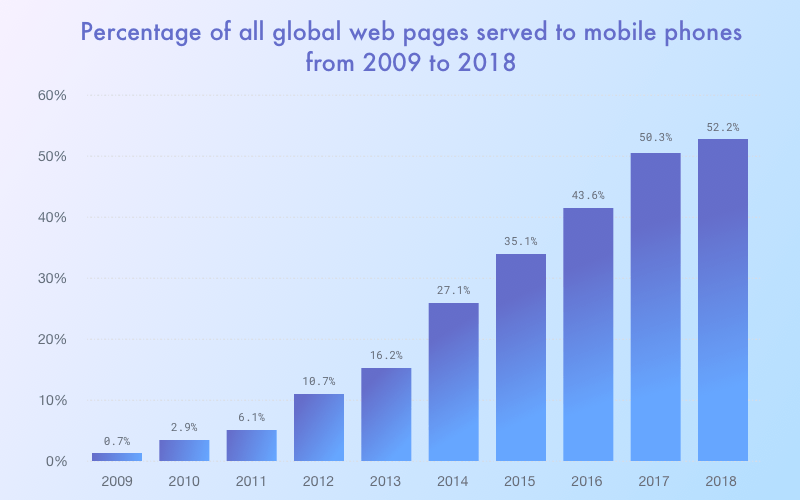 Advantages of having a mobile website: Coverage of the audience
In fact, there are two web development approaches focused on the creation of mobile-friendly websites:
Responsive
Put simply, such websites adapt to any screen size and look great on any device. They act like a fluid and squeeze or scale up their elements depending on the environment. This approach is considered to be the most cost-effective as it requires single website design and code base.
Responsive vs Adaptive Design: Which's Best for You?
Adaptive
The adaptive approach, on the contrary, uses static layouts which are designed specifically for a certain device or screen resolution. In other words, a website defines from what device a user is currently surfing the web and displays the layout created for this very device. This is a more expensive approach as every layout is designed and developed separately considering screen size of a device.
So, now you understand what it means to be a mobile-friendly. Then, let's take a closer look at benefits of mobile websites and thereafter consider their disadvantages.
Compatibility is one of the main advantages of mobile websites. Your target audience can use the product regardless of their devices and operating systems those devices run on. The mobile application, on the contrary, can function only within one platform and you need a separate team of specialists to add the support for others (e.g. iOS app won't run on Android). In other words, the mobile website provides you with broader reach.
Another advantage of mobile websites is that your customers don't have to install anything to start using their functionality. At the same time, mobile apps require to be found, downloaded, and installed before using.
It's hard to omit such important aspect as updates when considering mobile website vs. mobile app. The updated version of a website is available to users as soon as it's loaded to the server while for mobile apps this process is a bit more complicated and time-consuming. Every update must be verified by Google or Apple before it will be available to users. This may take up to two days for App Store and two hours for Google Play.
Search Engine Optimization
SEO optimization is one more benefit of having a mobile website as it's a great way to generate more leads and convert them into customers. The potential customers enter specific requests to a search engine and see your website in search results (of course only in the case it's properly optimized). Put simply, this optimization approach drives more potential customers to your website. Moreover, they are directly interested in a product or service you provide.
What concerns mobile apps, they are mainly searched within their marketplaces. Their ranking in search engines depends on how users rate them and, respectively, their promotion is a way harder.
As it was already mentioned, you need a separate specialist or even team specialized in development for one or another platform (it depends on project complexity). Thus, if you want to have an app for both popular platforms, you have to hire Android and iOS developers since developing for these two platforms differs. They have different architecture and principles of interaction with users.
Respectively, the costs are noticeably higher if compared with the responsive website having a single codebase that works across all devices through a browser.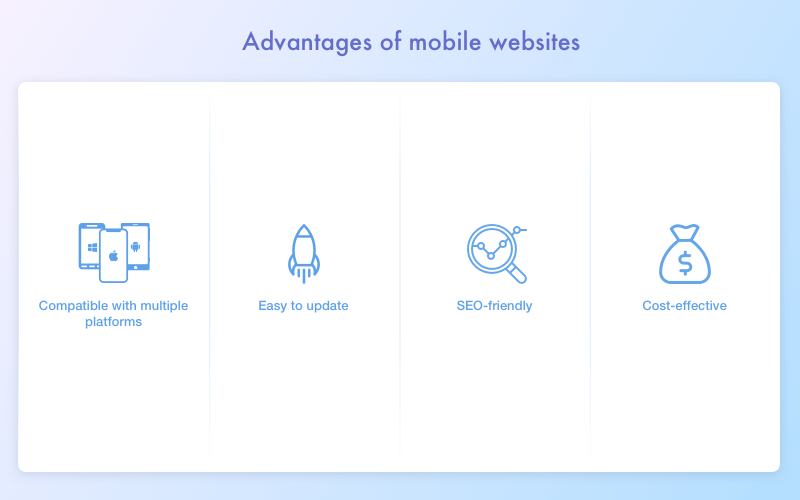 Benefits of having a mobile website
Disadvantages of mobile websites
To completely cover the 'mobile app vs. mobile website' question, we should consider both negative sides of each solution as well. As we've already touched upon benefits of having a mobile website, it's time to consider disadvantages.
Unlike mobile apps, users can't access the full-featured website if they are offline. They can only view previously cached pages with content, but cannot interact with any elements as this requires sending queries to the server via the internet.
Mobile websites can't make full use of device capabilities as mobile applications can. This means some features of device hardware and platform capabilities can't be engaged on the mobile website or may work unstable. It's worth mentioning that Android and iOS have different limitations and the feature unavailable for one platform can work on another one.
No access to push notifications;
No integration with Siri;
ARKit, Touch ID, Face ID, Bluetooth, and battery information are unavailable for websites.
Major limitations on Android
No access to the calendar;
Such telephony features as calls and SMS are restricted.
Nevertheless, mobile websites can access GPS, camera and some other features with the help of various APIs and libraries.
One of the key advantages of mobile apps over websites is that they deliver a top-notch user experience. That's because mobile apps designed specifically for a certain device and take into consideration it's peculiarities and screen size.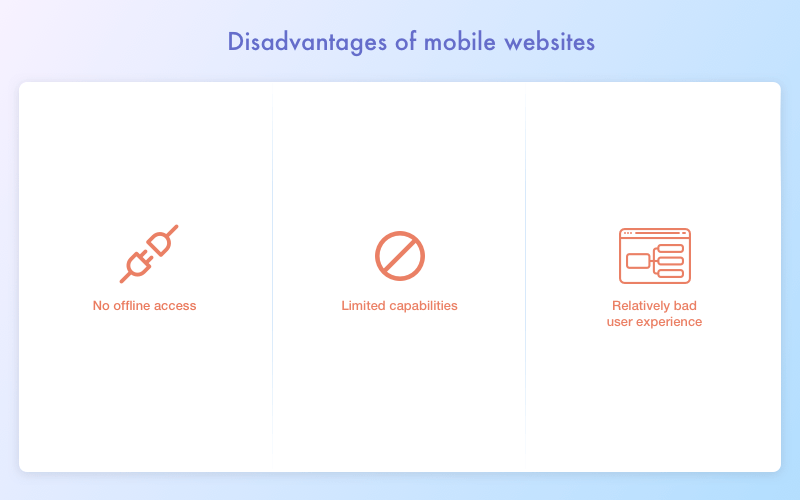 Disadvantages of having a mobile website
Benefits of mobile apps for business
Let's firstly consider advantages of mobile apps for business and start with comprehensive statistics. In general, mobile traffic dominates in most countries. For example, 71% of the digital traffic in the US falls on mobile devices.
If to dig deeper and compare the use time of mobile browsers and mobile apps, we'll see the overwhelming domination of applications in a variety of countries. What's more, mobile app usage grows 6% year-over-year that makes the development of a mobile application a good investment for both long-term and short-term.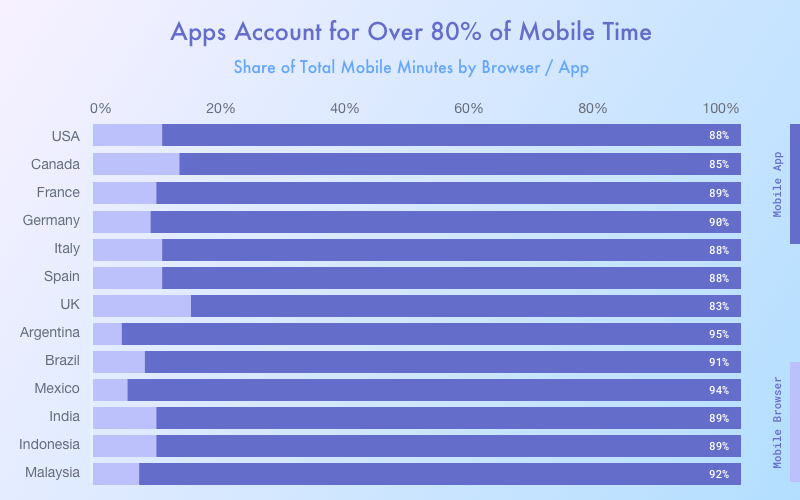 Mobile app vs website: Statistics taken from the latest study as of July 2018 (Source: comScore)
The benefits of mobile apps for businesses, in this case, are clear. Companies that adopted mobile strategy can count for a higher percentage of engaged customers who are more likely to convert and pay for company's products or services.
By the way, the conversion rate is one of the other advantages of mobile apps. According to the research by Criteo, customers view 4 times more products per session via applications in comparison to mobile websites. As a result, the conversion rate in mobile apps is 3 times higher compared to mobile websites and 1,5 times compared to desktops.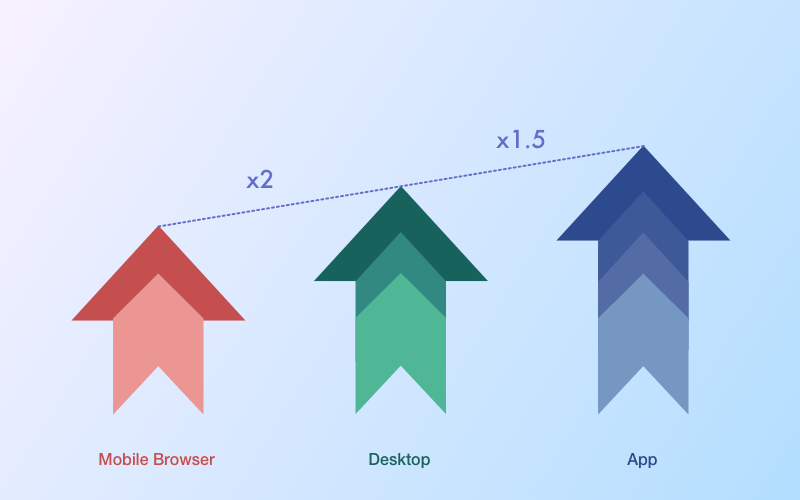 Mobile web versus mobile app: Conversion comparison
Enough statistics. Let's now consider the benefits of apps over mobile websites from the technological point of view.
Talking about advantages and disadvantages of mobile applications, it's hard to omit the fact they are capable of more compared to mobile websites. This way, if you need to engage specific features of a device (e.g. accelerometers) then a mobile app seems to be a more suitable option for you.
Even though the IT industry is advancing rapidly, traditional mobile applications are still the best way to provide users with the desired functionality and provide them with a good level of convenience in usage.
This is another obvious advantage of mobile apps. Being initially designed to fit the specific device and OS environment, they make navigation and, respectively, usage much easier with the help of gestures as well as native UI elements.
Offline accessibility is one more benefit of mobile apps. You should consider the creation of mobile app in case your product concept implies offline access to certain part of it's functionality. This trick doesn't work properly with mobile websites.
Brand promotion opportunities
One of the main advantages of mobile apps for business is an opportunity to promote a company brand with their help. It's a quite popular way of promotion that's adopted by a variety of companies from different industries. What's more, notifications make it extremely easy to remind your customers of your company and ship important information (e.g. special offers and discounts).
For instance, such well-known company as Coca-Cola, which seems to be far from technology, has a mobile application created mainly for promotional reasons. Another prominent example is IKEA with it's AR-based app that both drives more sales and promote company's brand.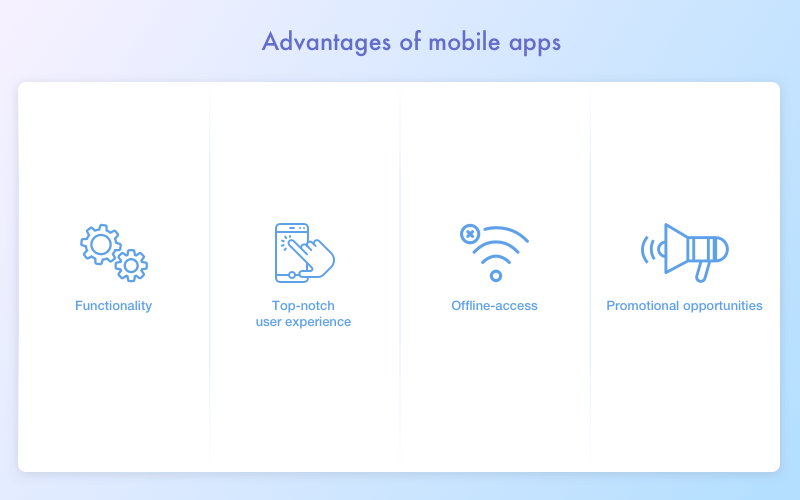 What are the benefits of mobile apps for business
Disadvantages of mobile apps
Each approach has it's own pros and cons. Let's consider disadvantages of mobile applications.
The mobile app should be created specifically for the operating system. For example, if you have developed an app for Android, it won't work on iOS and vice versa. You should build two separate apps for each platform. This means you need to hire two separate developers/development teams that, in turn, implies more spending.
You have to support apps on a regular basis. What does it mean? Apps for both platforms should be regularly updated to new versions containing bug fixes, upgrades etc.
Digital products almost always contain small issues which may appear through some time after release. That's why in Cleveroad we offer our customers three weeks of free maintenance to make sure the product is completely bug-free. Even if you have no bugs, you have to constantly advance your app and make it better (e.g. add new features). Otherwise, users will find a better option.
Respectively, the maintenance and upgrade take time and money.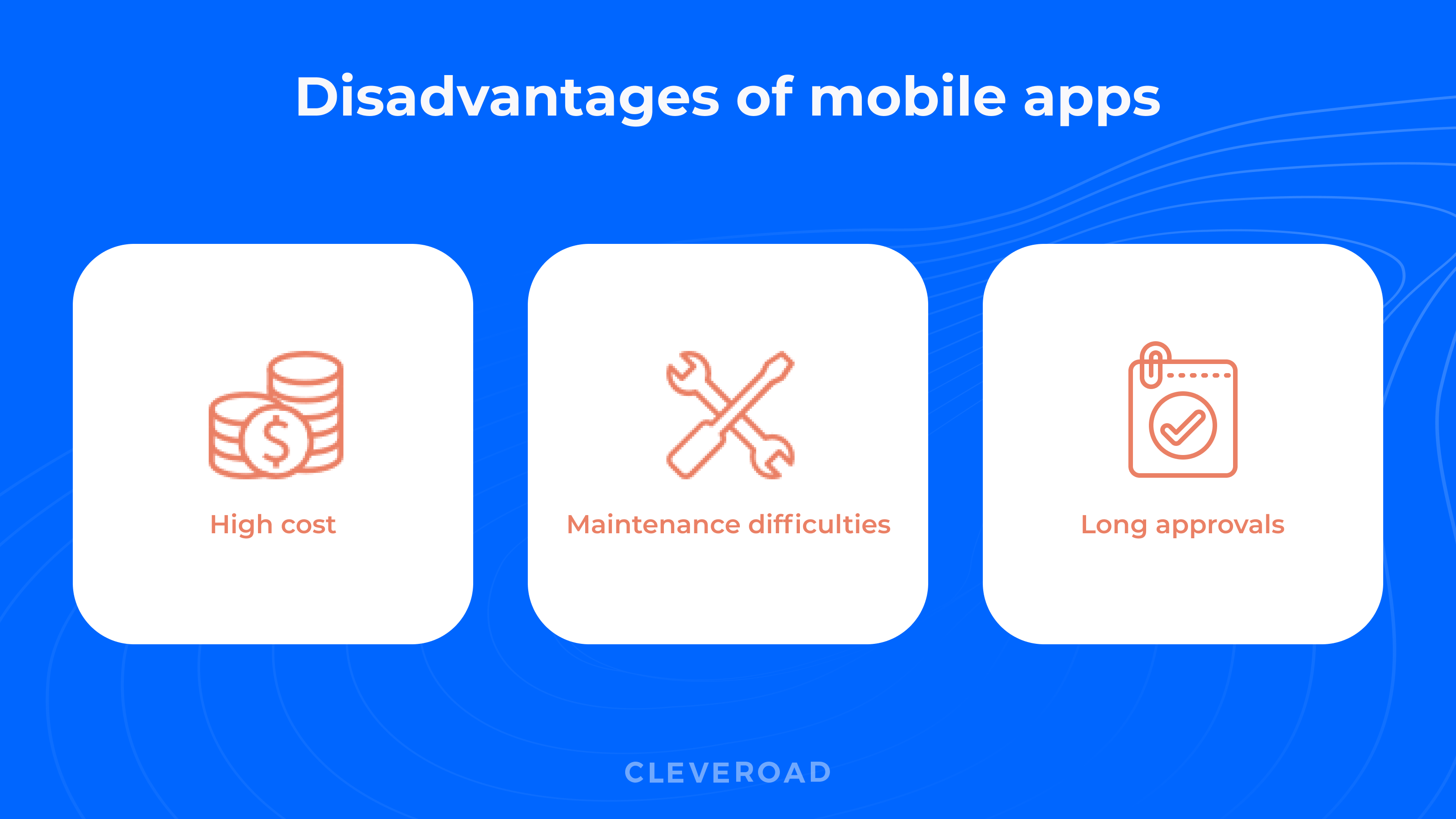 Disadvantages of mobile apps for business
Mobile app vs mobile website
So, let's wrap up. Underneath you can see a comparison of advantages and disadvantages of mobile apps and websites.
Still can't decide what is the better option for you? Let's brainstorm together! Contact our tech-savvy managers and they'll estimate both variants of project implementation to suggest you the most suitable option.
Also, don't hesitate to subscribe to our newsletter if you like this article.
Rate this article!