8 Superior AR SDK for iOS and Android That You Can Start Using Right Now
If some people are convinced that our future lies with virtual reality, then others might strongly believe that augmented reality is the ultimate destination before humans change their ordinary cars to flying ones. Howbeit, AR technology is the here and now thing. That's why we've formed the top list of iOS and Android augmented reality SDK intended to shape your AR development.
What is augmented reality SDK for?
An SDK is the heart that powers the augmented reality software and it is also sometimes called an AR engine. It is focused on helping developers solve a bunch of tasks when combining objects from the real world with digital ones. Generally, the core of a mobile application development service depends on the capabilities of a chosen AR SDK.
So, an SDK serves for a much easier working with some AR components. In fact, these components are recognition along with rendering and tracking. Recognition operates as a brain of the app, while tracking is the eyes transferring AR experience. Talking about rendering, it is all these objects that you can see when interacting with an augmented reality app.
This way, the toolkit that SDK provides improves the efficiency of location-based AR apps development by facilitating the implementation of recognition, tracking, as well as rendering components.
Free augmented reality SDK
While the Facebook AR Studio along with Apple ARKit are in beta, let's check what SDKs are already available for developers for free.
EasyAR
Available on: Android, iOS & Mac, Windows
Recently, the only feature of EasyAR augmented reality platform was the recognition of images. However, the things changed dramatically in the version 2.0. That's because developers brought there a bunch of new features. Among them, we should single out several significant ones:
SLAM
Real-time tracking of 3D objects
Solution for content recording
Real-time recognition & tracking of planar images
Support of a variety of languages
The main scope of features offered by this AR SDK can be used for free right after registration. But the point is if your project requires SLAM or tracking 3D objects along with screen recording -- the creators will ask you to pay $499 per app. It is worth pointing out that the documentation is quite intuitive and comprehensible, while the SDK's integration is pretty easy.
ARToolKit
Available on: Android, iOS & Mac, Windows, Linux
ARToolKit AR engine contains the next features:
Planar images & black squares tracking
Tracking of camera's position & orientation
Calibration of a camera
Presence of plugins for Unity as well as OpenSceneGraph
Quite fast
Still, the big scope of features in this library complicate the process of it's integration, as well as take longer to deal with all the settings.
AR application built with ARToolKit (Source: Google Play)
NyARToolkit
Available on: Android, iOS
As you may have figured out from it's name, this AR technology is based on the one we have already touched on above. That's the facilitated version of the ARToolKit. The integration of this library is simple, unlike it's documentation. You should be really good at Japanese to translate it properly.
Kudan
Available on: Android, iOS & Unity
Kudan SDK is intended to make the AR development really easy being quite an efficient solution in this sphere. With the help of SLAM, it is able to recognize 3D objects, as well as ordinary pictures. Also, it is quite easy to integrate. Furthermore, the database can be easily generated in the Unity Editor.
However, the SDK has some drawbacks as well, including the one connected with crashes in editor. That issue may cause crashes of the application on a variety of devices.
You are able to use the Kudan AR engine for free if your revenue capacity does not exceed 1 million pounds, or you do not need the volume licenses, and the watermark does not bother you. In another case, the license will cost you 1,000 yearly or more.
App built with the help of Kudan (Source: iTunes)
Maxst
Available on: Unity, Android, iOS & Windows, Mac
MAXST AR engine has a set of tools focused on the recognition of the environment, as well as images. To be exact, it is equipped with two tools intended to deal with two-dimensional and three-dimensional spaces respectively. The platform generates a database online through Local or Cloud Target Manager. For scanning 3D objects, you can use the app for iOS or Android.
The only visible difference between the free and paid version is the presence of a watermark and SDK updates availability. So if you're OK with watermarks and don't need the SDK updates, you can use free SDK. You can also get a free trial for Cloud Recognition for one month with 1,000 target images. If it's not an option you can purchase a license for $499 or $599.
Paid augmented reality SDK
Yes, some of the previous SDKs have the paid options but still, you are able to build and publish your app even using the cut-down version. There are lots of AR engines that do not provide you with an opportunity to implement your app for free. They only have the try-before-you-buy option, so you're supposed to pay for a license anyway. Let's take a look at what opportunities for AR development the paid SDKs open up.
Wikitude
Available on: Android, iOS & Unity, Smart glasses
With the launch of the 6th version, Wikitude AR engine got several brand-new features including positioning and broadened options for a camera. Talking about general functionality, this engine is capable of:
Tracking & recognition of images
3D tracking that is based on SLAM
Working with location-based data
Cloud-based recognition & tracking of images
The presence of Unity plugin allows creating a database consisting of both images and 3D objects. Unfortunately, it does not support Unity Editor at the moment, so the development may take a little longer.
The prices start from 1,990 up to 4,490 per year or a custom estimation for enterprises. They depend on the scope of features you expect to get. There are two payment models - a subscription and a one-time fee. However, you can test this augmented reality platform in a free trial version containing a watermark before purchasing.
Vuforia
Available on: Android, iOS & Unity, Windows
Vuforia augmented reality SDK is probably the most well-known solution when it comes to the implementation of a solution dealing with AR. It is able to recognize 2D images the same as visual objects, texts, and the environment. The process of recognition can be realized with the help of the database, be it local or even cloud storage.
You can use this augmented reality platform for free with insignificant limitations and watermarks. However, if you want to publish and commercialize your product you have to purchase a license that ranges between $99 to $499 per app. Also, you may contact the company to discuss your customized tariff.
XZIGM
Available on: Android, iOS & Windows, WebGL
XZIGM gives developers three products for working with AR at once. All of them have different missions. Thus, Augmented Face was created to recognize and track faces by means of Unity, while Augmented Vision has exactly the same capabilities but it is focused on planar images. Talking about Magic Face, it is focused on the replacement of a face, as well as makeup apps. By the way, the database is generated in the Unity Editor.
Before purchasing, you can use the trial version intended to show the platform's capabilities. Though, this version is only capable of inverting colors and reversing images. The full version costs 2,200 but opens up the full power of this platform.
App built with the help of XZIGM (Source: iTunes)
AR-media
Available on: Android, iOS & Unity
AR-media is a cross-platform solution supporting iOS and Android. The company is planning to roll out the support of Windows and Mac shortly. The AR-media augmented reality platform offers you a bunch of methods related to recognition and tracking (e.g. motion, planar, location, 3D). This way, apps empowered by this SDK are able to recognize 3D objects regardless of their size and shape.
So, this AR SDK is a powerful solution at a good price for the functionality it offers. A one month subscription will cost you 1,000, but for using the SDK throughout the whole year you'll only have to pay 3,500.
Example of AR-media capabilities
ARCore
Recently, Google has presented it's own response to ARKit from Apple called ARCore. On contrary to ARKit that is still in beta, ARCore from Google already available for developers.
Android Developers Blog says that ARCore uses three main technology. The first one is the motion tracking that intended to bring to a virtual object stability if a user's smartphone is shaking. The second one is environmental understanding intended to track horizontal objects so that AR objects can be placed there. And the third one is related to light estimation in order developers could adjust the illumination of augmented reality objects, thereby making them more realistic.
It should be noted that ARCore will function on millions of devices on contrary to previous Google's try in augmented reality called Tango. That technology supported only those devices equipped with specialized sensors.
So, as you can see there are lots of solutions allowing you to start developing your augmented reality app right away. By the way, if you are looking for a reliable software development partner -- we are at your disposal. Contact our managers to get detailed information concerning terms of cooperation and pricing.
Do not forget to subscribe to stay tuned!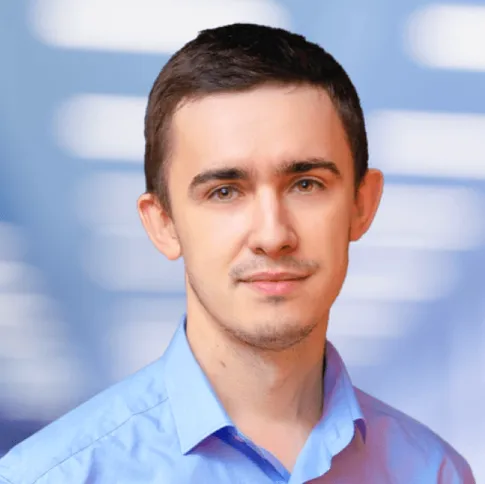 About author
Evgeniy Altynpara is a CTO and member of the Forbes Councils' community of tech professionals. He is an expert in software development and technological entrepreneurship and has 10+years of experience in digital transformation consulting in Healthcare, FinTech, Supply Chain and Logistics
Rate this article!
3692 ratings, average: 4.89 out of 5
Give us your impressions about this article
Give us your impressions about this article