Augmented Reality as a Powerful Tool to Boost your Business
With the release of Pokemon Go, anyone who had never heard of augmented reality, finally discovered this wonderful phenomenon. Catching a little creature that sits on your chair or peeks out of your wardrobe can be a lot of fun. The combination of real and unreal worlds attracts users and opens up new opportunities for them.
The technology of augmented reality is widely used in the gaming industry during the custom software development process. However, this is not the only area where it's growing rapidly. In fact, AR has already penetrated into all spheres of human activity. Such popularity appears to have resulted from the obvious advantages that both customers and business owners receive from using it.
Let's take a deeper look into this topic and find out which business areas gain the most from using this breathtaking invention.
How to Boost Your Business with Augmented Reality?
Impressive AR forecasts
The AR market size equals to $5.2 billion. According to Statista, this figure is expected to roll over to $162 billion by 2020.
Also, the onrush of AR technology will significantly increase profits and the number of users.
AR market size in billion U.S. dollars (Source: Statista)
The number of users is going to reach 200 million by 2018.
AR market size in millions of users
These facts are more than encouraging. They point to the undeniable advantages that augmented reality brings.
The role of AR in some business areas
Let's find out how exactly you can apply it in different business areas and consider the most successful examples.
The role of AR in Video Games
It is difficult to overestimate the importance of augmented reality in the video games that are based on users' interaction with fictional characters. The vividness of image perception is greatly increased due to the fact that the action takes place in an environment that is familiar to the user.
Famous Niantic games like Pokmon Go and Ingress work on this exact principle. They expertly combine real and unreal worlds, motivating players all over the world to look for curious Pokmon and fight mysterious Shapers. A great thing about both games is that they make users go out, rather than sit next to the PC or mobile device for hours.
Children's games also heavily use of the technology augmented reality. For instance, Meet the Animals enlivens the book characters and shows some fun animated scenes. Quiver provides a new experience to the traditional physical coloring by allowing kids to see their drawings in 3D.
Meet the Animals enlivens static characters (Source: Meet the Animals)
The role of AR in Healthcare
Medical apps with augmented reality serve not only doctors but also people of non-medical professions.
For example, AED4EU identifies the nearby points of automated external defibrillators. So, if it happens that a person next to you needs an urgent help, you will be able to apply first aid without losing any time.
Amplified Robot Lab provides users with an opportunity to see the hypothetical mode of action for a drug.
Dedicated specialists may use healthcare apps for professional purposes. For instance, AccuVein produces an app for fast and accurate vein detection. It is designed for nurses and helps avoid situations when the vein is missed the first time, thus preventing more pain the patient might experience.
Medsights tech has developed a progressive technology that allows surgeons to see the location and size of a tumor without using X-rays.
The role of AR in Engineering
AR is a real find for engineers. Part of the biggest problem for these professionals was to preview their paper sketches as full-scale images. This new technology pushes those boundaries.
Regardless of the type of machine you work on, you can understand how it is going to look, rotate the image, and see it from different sides. eDrawings Standard and eDrawings Pro are good examples of using AR in CAD modeling and industrial engineering.
Augmented reality in industrial engineering
The users of engineering products also benefit from augmented reality. For instance, the drivers no longer need to read thick manuals that come along with a car. Instead, they can launch an app and discover all the hidden options or find out how to repair their vehicle. Audi has embodied such an idea in the eKurzinfo app and Hyundai has introduced a similar approach at the CES 2016.
The role of AR in Retail
Vendors from different businesses and commodity groups are able to increase sales thanks to the ability to show any product to their customers. If you want to see how a sofa is going to fit into the room or try on a dress in an online shop - augmented reality is at your service.
Global giants like Coca-Cola and IKEA developed special apps for demonstrating their products in supermarkets and private apartments. Not only do the companies' representatives talk about the products but show where and how they can be arranged.
Placing AR furniture in a real accommodation
The experts of style and beauty, Converse, and L'Oreal, revealed apps that allow you to put on shoes or do makeup without actually doing it.
Zappar introduced a new wave in the shopping industry by offering t-shirts with live images and patterns.
To create a successful eCommerce apps, you have to make sure you take into account all the details. Check out whether you really do: From eCommerce to Mobile Commerce: Shopping at a High-Tech Level
The role of AR in Real estate
Are you an architect that develops designs for homes or office buildings? With an app like ARHouse, you can provide your client with several alternatives and show how they differ with graphics.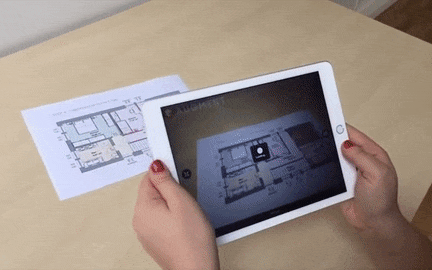 Using AR to show the final look of the building
If you work as a realtor, you can show a few buildings to the potential buyers without making them travel to different city districts.
From the point of view of the consumer, you also benefit since you have a chance to save time and money on trips but still see the accommodations as they are.
The role of AR in Live events
Various trade shows and exhibitions are predicted to become large clients of the AR technology. Actually, we can see this trend happening even now.
It is not surprising that the participants of these events are able to eliminate the necessity to produce huge maquettes in order to demonstrate their products. Holding a phone or tablet, they can show all the tiny details of their projects. This applies to a variety of business areas including those that we have already mentioned.
Great events like Mobile World Congress, Global Consumer Electronics and Consumer Technology Tradeshow, Super Mobility Week, Defcon, and others have been using augmented reality for quite a long time. Year by year, the technology is getting involved more and more.
Implementing augmented reality
It's time to consider the technical aspect of a subject and look into the development process of augmented reality. Basically, there are two ways to implement AR in an app.
Marker-based approach
The marker-based approach is based on a hard-coded object that is further recognized by the app for building augmented reality. Usually, such object is represented by QR code since it has a specific structure (three distinctive squares and one smaller square) that helps accurately define the size of AR model and it's position in space.
Yet, using QR code as a marker is not a rule. For this purpose, you can choose any object you like. For example, Microsoft has it's own 2D tags and Popcode created specific images that can be recognized by the program.
The operating principle of the marker-based app is based on the direct connection between a certain marker and certain model. Marker works as an identifier that shows which AR model is necessary to display at a given moment of time.
Usually, such apps do not use phone sensors like GPS or accelerometer since they are not required for correct rendering of the image.
E-commerce, engineering, and real estate apps are bright examples of the applications with marker-based technology. Sometimes, it is also used for developing video games, specifically, games for kids that animate particular static pictures.
Markerless approach
The markerless approach is a more complex solution since your app needs to analyze the data and take a decision of when and where the AR image should appear. It has no strict identifies in it's database. Instead, it knows what signs indicate it's presence.
For better understanding, let's consider an example. Imagine that you develop an app that draws funny hats for pets - dogs and cats. That is, when you turn on the cam and direct the phone at your four-legged friend, you can see it in a nice hat of any shape and color.
Which way would the app recognize the animal? In this case, the pet image is not a marker since you cannot put the images of all the dogs and cats in the world into app's database. However, you can "teach" your app to identify, for example, the mustache, shape of head and eyes, a range of possible hair colors, and so on. After analyzing all these values and finding certain points of intersection, your application will understand that this is the right pet and display a hat on it's head.
This approach is often used in the healthcare, beauty, and video gaming apps.
It should be noted that there is another way to build marker-less applications. It primarily concerns apps that display extra information about the nearby objects basing on various phone sensors.
As I mentioned above, an app that shows the nearest places of AED location. For that, it uses GPS to identify user's location and a map to display AR pointer in a right place.
Both in Apple App Store and Google Play there are a plenty of apps for tourists. Some of them guide you through the nearest cafes and restaurants, some - display information about the local sights. Such applications are also built on the basis of markerless technology with the help of GPS detection.
Top 5 tools for integrating AR in an app
If you decided to build an app with augmented reality, there is no need to reinvent the wheel. Diverse AR frameworks and libraries can help you in this matter. Some of them are really good, another are not worth your attention.
Here are 5 tools that, in our opinion, offer the best opportunities for building AR application:
Vuforia
The Qualcomm SDK that works on iOS, Android, and Unity. It supports 3D and 2D recognitions and can detect several targets simultaneously. Vuforia is suitable for VR devices. Also, it can work both with local device and cloud-stored data.
ARToolKit
ARToolKit is an open-source library that requires no license. You can use it for developing marker-based apps that display certain AR visualization when detecting a particular marker. The tool can work with OpenGL when mapping extra elements. Also, it runs on numerous mobile and web platforms.
WikiTude
WikiTude is a commercial library compatible with iOS and Android. Apart from that, you can use it as a plugin for PhoneGap, a module for Titanium and a component for Xamarin. WikiTude is able to render 3D models and work HTML augmentation.
LayAR
LayAR allows to see land area through the layers on the screen of your device. Each layer may save a specific portion of information concerning the places and users. The complete logic is handled on a server via JSON. The framework goes along with a very clear and detailed documentation.
Kudan AR
Kudan AR is a fast framework that supports markerless tracking. Thanks to this, you can use it for complex apps that can build AR based on features analyzed. To be able to use all the options of Kudan, you might need instant access to OpenGL since it is used for mapping additional elements.
To summarize basic differences between the tools, take a look at the image below.
Choosing AR direction
As you can see, AR is becoming more and more a part of our lives. Helping both dedicated specialists and app users, it becomes part and parcel of the daily routine. Soon, it will be difficult to find an area where it is not involved. That is why, investing into an AR project is definitely a safe choice. If you work in some business segment, you can increase your profit by expanding the sphere of operation with the help of AR. If you're a newcomer in business, you are free to choose whatever you like.
The popularity of technology increases the demand for tools to integrate it. Before making a decision, weigh all the pros and cons and take into account the specifics of your activity. Anyhow, no matter which way you choose, AR is going to be a reliable business tool and development approach.
We are ready to assist you in your great beginning.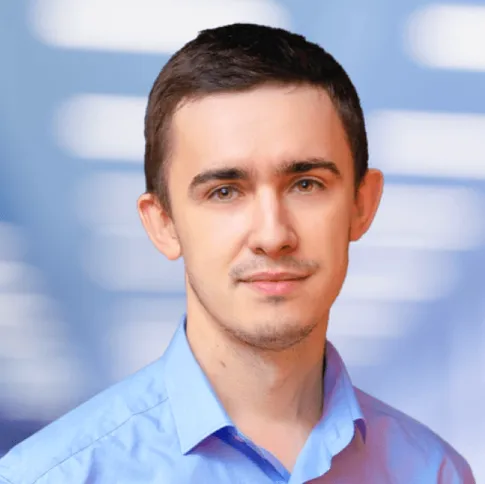 About author
Evgeniy Altynpara is a CTO and member of the Forbes Councils' community of tech professionals. He is an expert in software development and technological entrepreneurship and has 10+years of experience in digital transformation consulting in Healthcare, FinTech, Supply Chain and Logistics
Rate this article!
2323 ratings, average: 4.57 out of 5
Give us your impressions about this article
Give us your impressions about this article