How Much Does an E-commerce Website Cost? [2023 Overview]
What's the average cost of e-commerce website? It's hard to tell as too many factors influence the price: features, design, integrations. Especially if you're going for custom development, not some ready-made templates.
That's why we've made a guide explaining how much does an e-commerce website cost, what influences it, and what are the MVP features for this type of sites. And we're going to start with the most interesting part – average ecommerce website cost.
How Much to Build an Ecommerce Website: The Essence of the Notion
Before calculating ecommerce website pricing, let's talk about the essence of the subject.
Physical transactions have taken place throughout the world, both locally and globally. E-commerce, or electronic commerce, operates the same making the sale and purchase operations available through the World Wide Web. Exchanging data and cash electronically between two or more parties is essential for e-commerce platforms' proper functioning as well as ecommerce web design cost.
Since the entire globe goes online, data privacy rules have gotten increasingly strict. And before you start an e-commerce business, you should be familiar with all of the legal laws that apply to your website as well as a notion of e-commerce site.
An e-commerce website is the Internet platform enabling online transactions of physical and digital products and services via the electronic data and payment transfer. E-commerce was initially conducted in part through emails and phone conversations. But now everything a transaction requires may now be completed online through a single website.
The main distinction between e-commerce sites and, say, informational platforms is their purpose. They both may advertise and give information about a product or service, but in case of using informational resource, any transactions are typically conducted offline (e.g., in a physical shop). However, an e-commerce site goes one step further by selling a product or providing a service online, regardless of the location of the buyer.
Now, having learned the basics of e-commerce websites, let's find out why the investors should pay their attention to such resources as it's important to define an ecommerce website development cost.
Cost For Ecommerce Website: Why Invest in Them?
First, let's see if it makes sense to develop your own custom trading website. Statistics say yes, definitely worth it. According to analysts, the size of the entire e-commerce industry will exceed $6.5 trillion in 2023. This clearly demonstrates that every year more businesses start their development paths in this direction and invest in creating their websites. As a result, overall e-commerce sales also rise.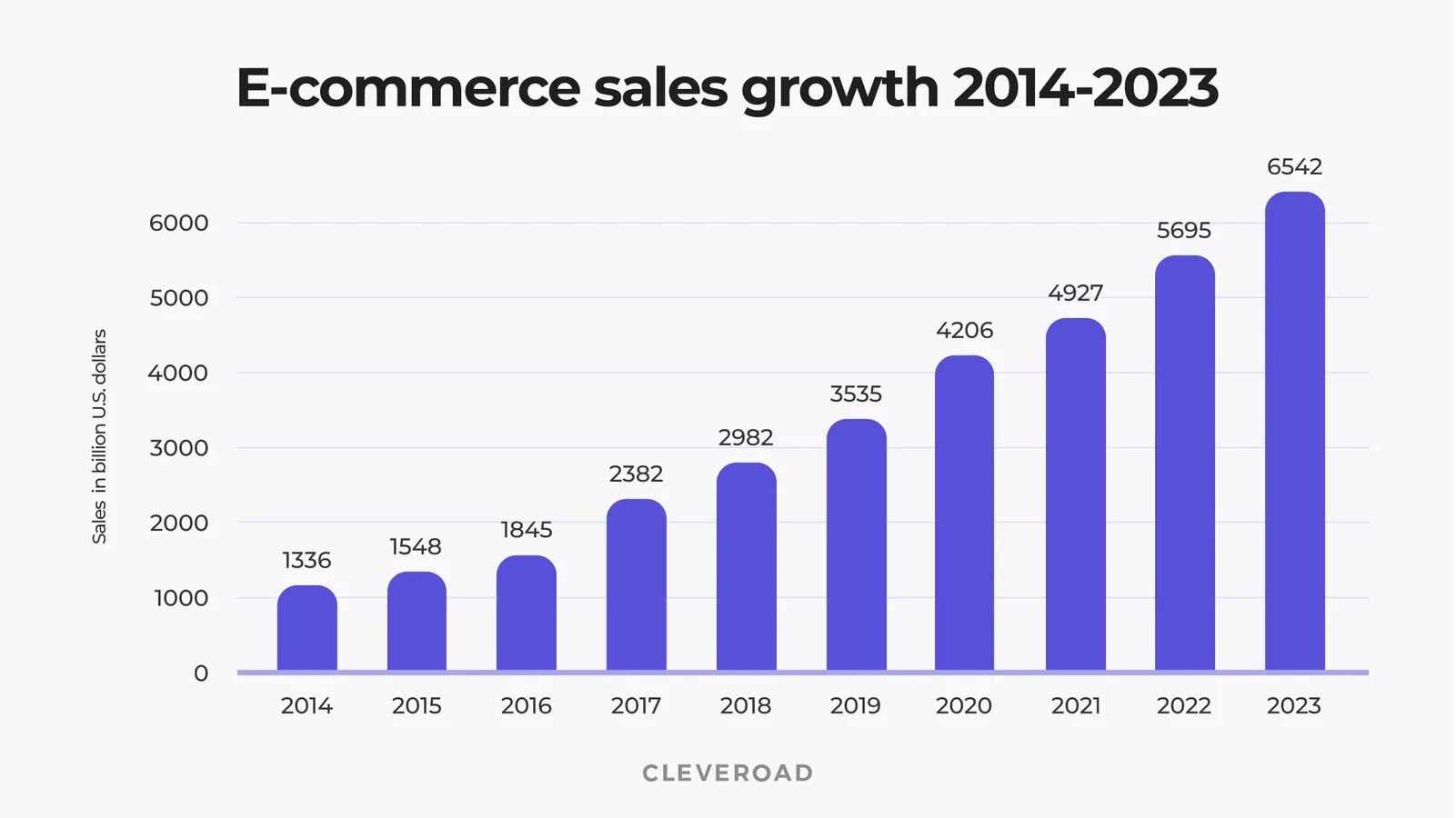 How much is an ecommerce website in total: industry market prospects
E-commerce websites are very popular among ordinary Internet users, and every year, more and more purchases are made on the Internet than in standard stores. All thanks to the incredible convenience that online shopping provides. In addition, online websites allow you to make purchases any day of the week and at any time of the day, which also boosts the number of sales. Analysts say that by 2040, about 95% of all purchases will be made through e-commerce platforms.
However, why invest in a custom store? Why not make a small e-commerce store using website builders with ready-made templates? There are several reasons for this, which stem from the main advantages of custom solutions and influences on cost of building ecommerce website:
Trustworthiness
Even though the website builders have pretty templates, they will be the basis for more than just your store. This approach will make the client think that you do not care much about your business or that you are a one-day shop that has decided not to spend money on custom design and features, and calculating how much for an ecommerce website you need to gain qualitative results.
Unlimited possibilities
With a custom website, you can bring to life any of your ideas and features that will serve the good for your business. Any functional integration and technology can be implemented in order to fulfill the tasks of your store. Meanwhile, template websites have low ecommerce website design prices, but fairly limited functionality, which is enough to start a business but not enough to fully compete in the market.
Tailored design
No matter how many different templates there are, you can never find the perfect one that would showcase the color palette, idea, and mood of your particular brand. A custom website frees your hands and allows you to create a design that will 100% associate with your business. So, a website ecommerce cost will worth the paid money.
SEO optimized
When developing your own website, you can take into account search engine optimization, which will give you a great boost in traffic immediately after the release of the site. However, templates provide only the most basic settings, which may not be enough for a successful e-commerce website launch. This way, low ecommerce website design cost will influence its quality.
Ongoing support
The situation in the e-commerce market is dynamic, and no one knows what will be in trend in a month. As a result, you must be ready to implement various changes and updates in order to have a competitive edge. You can lay the foundation for customization in your website (which will influence your ecommerce site cost accordingly), while the template-based platform only provides a standard set of features without any extensions.
Average Ecommerce Website Design Pricing
In short, a custom ecommerce website design pricing may range from $26,400 to $99,700 and up. That's true for websites developed from scratch, not built with some ready-made templates (which may work well but for short-term needs).
Now, let's figure out where an e-commerce website cost comes from. To make it even more clear, we suggest splitting e-commerce websites by their complexity, from simple sites to more complex platforms. Large e-commerce sites have to be well-architected to cope with high loads and rank well on search engines. It (and many other points like unique design) is what makes ecommerce website price go up.
By the way, the tech stack also changes from project to project. This way, a simple ecommerce website price list may not include push notifications or coupons, but it's hard to imagine a large-size platform that doesn't have these features.
Types of E-Commerce Websites
As we mentioned above, there are several different types of e-commerce websites that differ in directions, way of doing business, and complexity. Therefore, your platform choice will directly affect the final cost of an ecommerce website of developing a digital solution.
Single brand website
These e-commerce platforms are among the most common and fairly easy to develop, as such websites sell products of only one brand. This approach narrows down the possible functionality to calculate how much does ecommerce cost since to start a website, it is enough to create a storefront with products, listings, and the ability to add them, as well as a basket with checkout and you are ready to go.
Great examples of such websites are the platforms of brand giants as Puma, Nike, Lego, and many others. For example, when you visit the Nike website, you will see clothing and footwear produced only by this brand.
Online retailers
This type of platform is the basis for various large stores selling goods of other brands. Such websites are more difficult to develop since there are a lot more products in assortment, which requires additional work with the server-side to make the website work smoothly. So, their accurate custom ecommerce website cost is difficult to calculate accordingly.
A good example of a retailer is Dick's Sporting Goods store that specializes in sportswear. The store does not produce its own goods but is engaged in purchasing from famous brands and selling them in its store. For example, the website contains clothing from sports companies such as Columbia, NorthFace, Patagonia, and many others.
Marketplaces
The last type of e-commerce website is a giant platform where private entrepreneurs and sellers can put their products up for sale. The most popular marketplaces are Amazon and Etsy. They give private sellers full control over their account, its performance (on-site analytics of sales, returns, refunds), and so on. Besides, sellers can control the prices of their products, communicate with customers, manage shipping, and more.
Such websites are the most difficult to develop. In addition to huge server capacities, they require implementing complex features, such as analytics, stock control, shipping management, and much more. So, especially in this case the answer to "how much does it cost to make an ecommerce website?" should be entrusted to the IT professionals.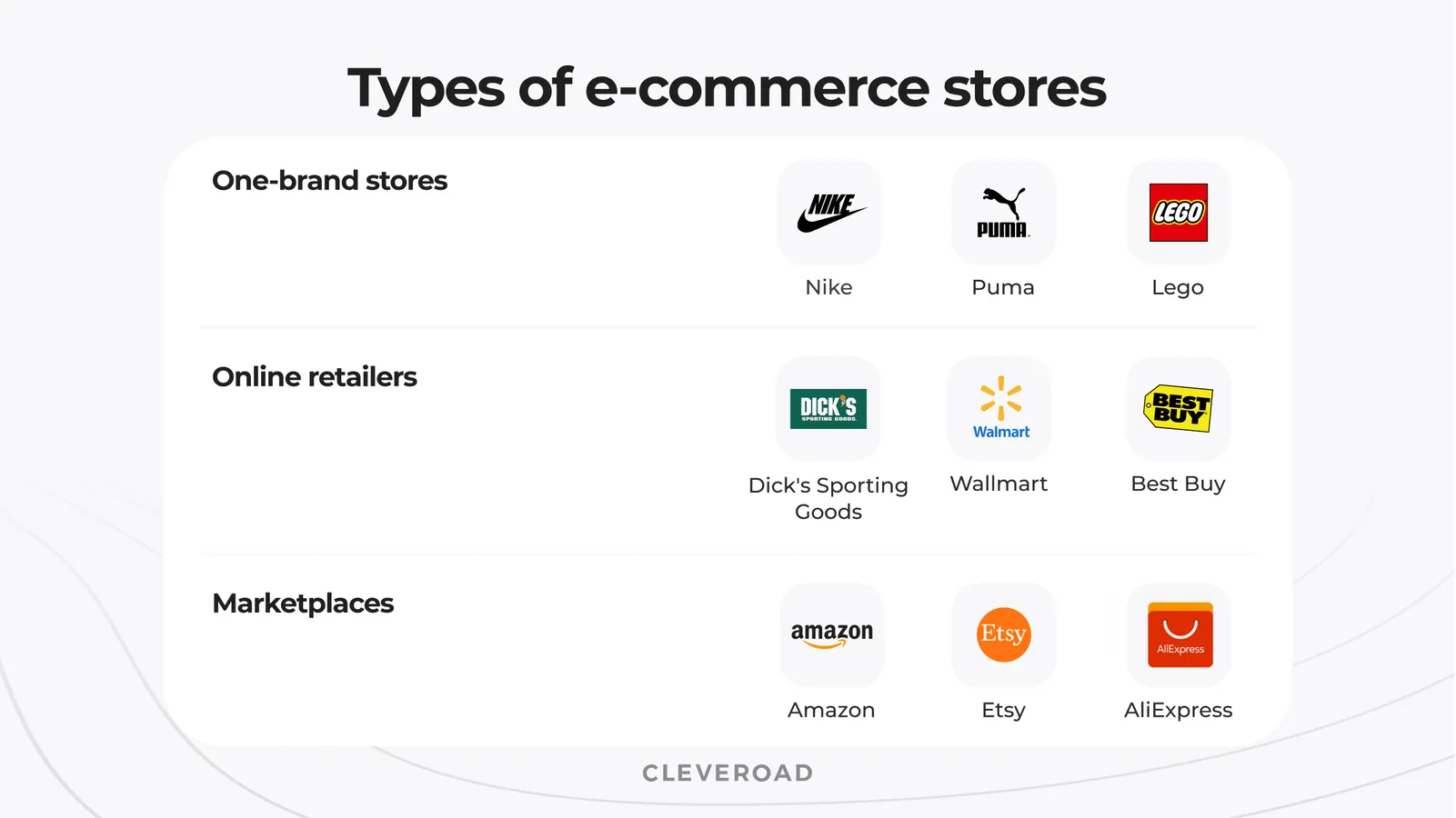 How much an ecommerce website cost: Popular e-commerce platform types as a price constituent
Average Cost to Build an Ecommerce Website and What Affects It
Simply said, there are a few major cost-drivers for ecommerce website development cost breakdown:
Number of features and their complexity
Complexity of website design
Number of 3rd party integrations
Developers and their location
Let's discuss each of them to find a response for "how much does it cost to build a ecommerce website" question.
Features: Number and Complexity
It's pretty easy: as your website grows, so do tech requirements. And the cost to make an ecommerce website.
Screens, buttons, fields, logic – when it comes to pricing, all these matter a lot. Besides, devs often need to use third-party APIs (e.g. to integrate payment systems or social login) or code from scratch which also influences the cost of setting up an ecommerce website.
Development cost here and below is estimated at $50/h (rates in Estonia, Central Europe)
We're going to calculate the cost of e commerce website development by features in the next part of the article. But here's a list of pages our clients often ask about:
Main page
Shopping cart
Favorites
Check out
Blog
Category pages
Product pages
And the features that also define a final response on how much does an ecommerce website cost:
Integration with payment systems (Stripe, PayPal)
Push notifications
Recently viewed products
Products' rates and reviews
Search bar with filters
Admin panel
Custom Website Design
Same with cost of ecommerce website development: the more sophisticated the design is, the more time it takes. After all, design isn't all about pretty looks but also about making the select-buy process simple, fast, and clear for customers. Or even encouraging them to buy some products.
Besides, if you want to include some animations or have a choice between 2-3 visual concepts (designers need time to get them ready), be ready to face a higher cost of ecommerce website.
One more thing: you may want your website look good on mobile devices. There's a good reason for that: in 2021, 72.9% of all purchases will be done from smarthphones.
That's why you may want to add adaptive web design to the list of web development services and consider it in ecommerce web design pricing. Adaptive web design makes web pages render well on different devices, including smartphones (so you won't need to build native iOS and Android apps for mobile users).
Number of 3rd Party Integrations
If you plan to integrate third-party tools to handle payments, add a live chat or customize shipping options, be ready to face a higher e-commerce website design cost. Let's start with must-have payment integrations – Stripe and PayPal.
Stripe takes 2.9% + 30¢ per successful card charge. Same with PayPal, but they also charge 5% + .05¢ for payments under $10.
Want a robot to call or SMS your customers? Or send them messages in WhatsApp? Twilio APIs, programmable voice or SMS is quite a good option. Let's see Twilio starting costs to calculate average cost of ecommerce website for your business:
$0.0042 to send a WhatsApp message
$0.0075 to send or receive an SMS
$0.0085/min to receive and $0.013/min to make a call
Again, devs need time to integrate it (not much though).
Last example that can be considered in calculating ecommerce costs is emails. You'll surely need them if you're going to inform customers about their orders being collected or shipped. We use Amazon email sending service (Amazon SES). If you ask yourself about what should be added to ecommerce site price at this point, you'll find out that they charge $0 for the first 62,000 emails you send each month, and $0.10 for every 1,000 emails you send after that.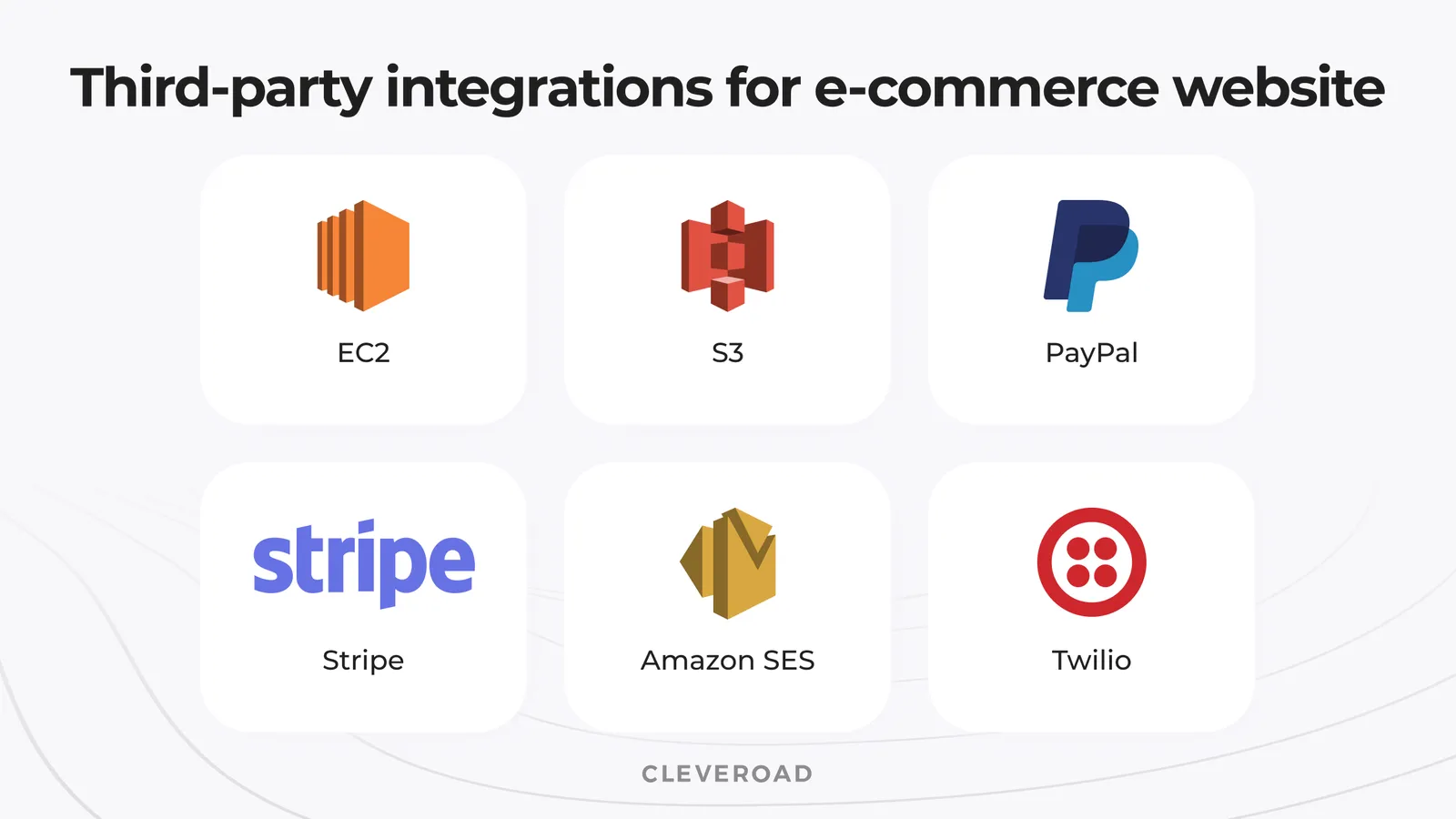 E-commerce site development cost: 3-rd party services
Developers and Their Location
Giving a response to "how much does it cost to create an ecommerce website" question, you should also consider the locations your hired developers are in. For example, software development services in Central Europe cost less then in United States, Canada or Western Europe. Here are the hourly rates in world's biggest tech hubs helpful while calculating average price for ecommerce website.
Cost to build a ecommerce website in different countries

| | |
| --- | --- |
| Country | Cost per hour, $ |
| Canada | $100 - $149 |
| United States | $100 - $149 |
| Israel | $100 - $149 |
| Australia | $100 - $149 |
| Sweden | $100 - $149 |
| UK | $50 - $99 |
| Germany | $50 - $99 |
| Norway | $50 - $99 |
| Switzerland | $50 - $99 |
| Latin America | $30-50 |
| Estonia | $25-50 |
Yet big hourly wages (necessary to find out average ecommerce website cost) doesn't obligatory mean big quality, and it may not matter from which country your devs are from – United States, UK, or Estonia.
Nevertheless, if you want to get the highest quality of services at a low price, we advise you to pay attention to Central Europe and its most popular tech hub - Estonia. This country rightfully takes its place in the top ten countries actively pursuing IT reforms and is a leader in offshore development. In addition, Estonia has the following advantages that make it an attractive place for IT outsourcing with appealing web design ecommerce prices (as well as for other industries):
Wide pool of developers. Currently, Estonia is in third place in Central Europe in terms of the number of developers, and the trend will continue in the coming years. Analysts predict that the number of IT professionals will reach 242,000 by 2025.
Cost-effectiveness. This country is a real gift for those who want quality IT services at a low price. Companies in Estonia charge from $25 - $50 per working hour (and it can positively influence cost of building a ecommerce website for your business), while in other regions prices are 2-3 times higher.
Trade openness. Estonia has a visa-free regime with Western Europe and a time difference of only 1 hour, which makes this country convenient to visit if you want to personally control the development process. In addition, the country conducts trade with the EU and EFTA countries, uses English as a working language, has the same working values ​​as Western countries, which also contributes to fruitful and comfortable cooperation.
Cost of Building an Ecommerce Website: Additional Price Drivers
Despite the basic ecommerce website cost components listed above, owning a website imposes several additional, but no less important items to the list of expenses. Therefore, you should also take them into account when designing your own e-commerce website.
Any business must have a memorable domain name, and getting one for your site will have an impact on your ecommerce website design price. A domain name is your company's home in the internet world. Quality domains range in price from $5 to $10 per year. However, if you want a short domain with ".com" at the end, be prepared to pay from $15 per year. In addition, you should know that domain ownership contracts are often signed for up to 10 years, which allows you to dispose of your domain as you please.
Hosting is the backbone of your website, without which you will not host your business on the Internet. You host your platform on vendor's servers that provide access to users for your business and services, as well as support in case of disruptions. The ideal option for a business is finding a hosting that will allow you to host a website created from scratch. However, you should keep in mind that such hosting services cost a lot of money.
And most importantly, never skimp on hosting. The cheaper the price, the higher the chance of work interruptions and poor customer support from the vendor. However, hosting prices that should be included to a price of ecommerce website calculation range from $75 to $10,000 per year.
An SSL certificate is a digital signature that enables a secure, encrypted connection between a website and a browser using the HTTPS protocol. In turn, HTTPS uses the SSL or TLS cryptographic protocol to encrypt the transmitted data. This certificate is extremely important for e-commerce websites, as you will be working with users' personal data and other confidential information that needs protection from interception by third parties. The cost of such a certificate as a constituent of ecommerce website development price in general, ranges from $6 to $150.
An e-commerce website thrown on its own won't last long. As a result, you need constant technical support, and your budget should include the costs for it along with ecommerce development pricing. The support includes salaries for admins who manage the website and its functionality, various updates that bring new features, solutions to emerging technical problems, and much more. If you don't take care of these things, your platform will quickly lose its competitive edge.
Support costs also vary and can range from $500 to $12,000 per month - this should also be considered in your ecommerce development cost.
Finally, if nobody knows about your website - it doesn't exist. That's why you must add marketing expenses to the list of custom ecommerce website price drivers. This category includes various services needed to promote your online store and fill it with content that will be optimized for search engines. Proper optimization will help you generate organic traffic, and with it, leads. The marketing prices from the total cost for ecommerce website development list include:
Pay-per-click advertising. This is a form of online advertising in which ads that are relevant to the content attract users to the website. In this case, payment will be made for the "click" of users interested in your service. The service is also known as PPC, context advertising, or contextual advertising. The cost of such advertising varies greatly and depends on how demanded keywords are.

Search engine optimization (SEO). This is a set of work on developing the site, changing its environment, analyzing user behavior, and improving the website's position for various target requests. Roughly speaking, you permeate all the content of the site with relevant keywords that show search engines that your business benefits ordinary users and deserves to be above the rest of the websites in the search results. The cost of such services that should be included in total cost for an ecommerce website is usually around $300- $1,500 per month.

Copywriting. In order to correctly place keywords on the website, you need to fill it with content. Copywriters are engaged in creating articles, product descriptions, landing pages, and other works related to creating text. The standard price tag per article starts at $50.

Social media marketing (SMM). Don't forget about social networks and your image on them. SMM helps to get closer to your audience. Specialists in this industry generate content and promote your brand on popular networks like Facebook, Twitter, Instagram, and others. So, what is the cost of ecommerce website SMM services? The service cost of a good SMM specialist starts from $400 per month.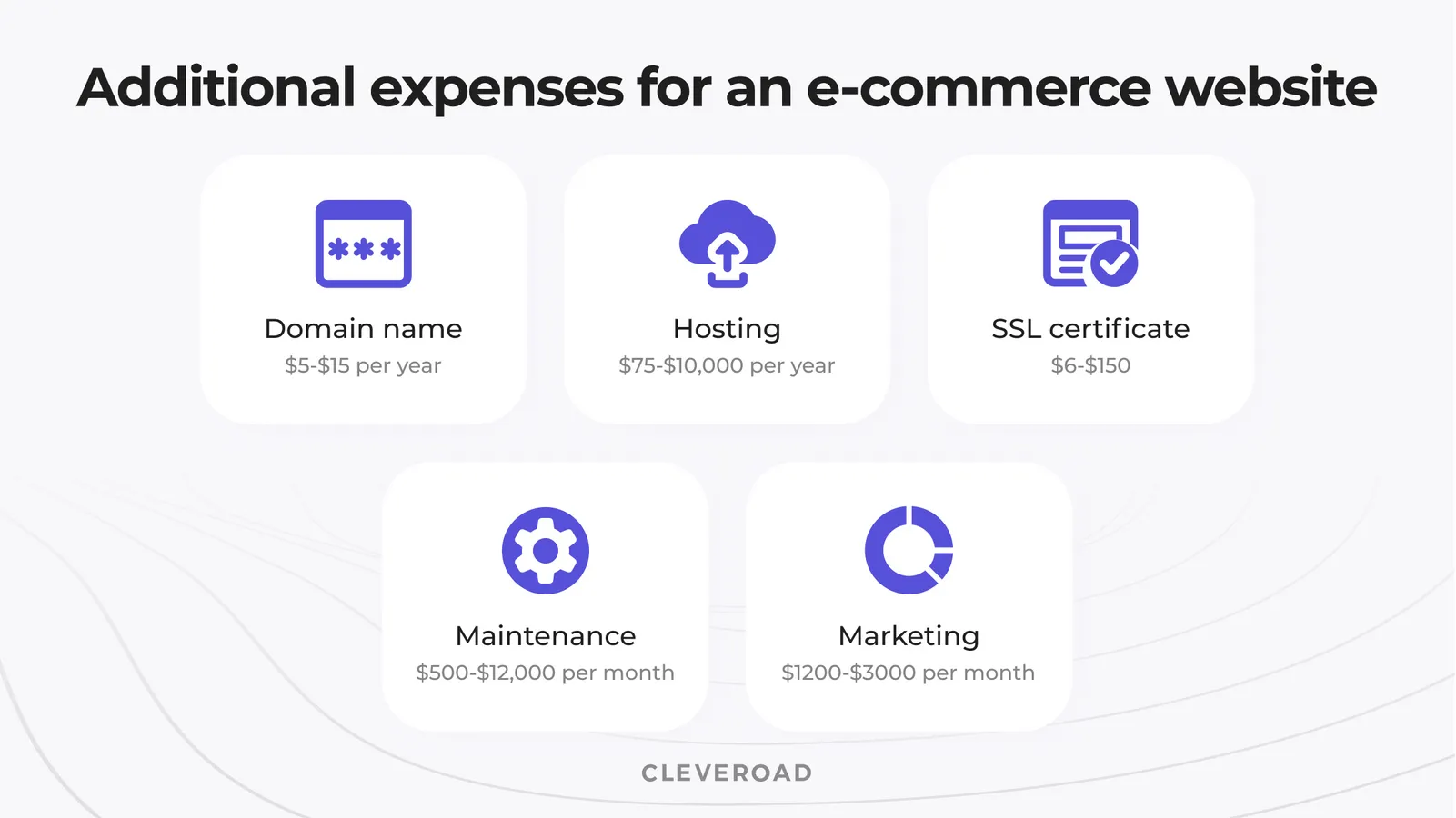 How much does it cost to run an ecommerce website:extra things you must pay for
E-Commerce Website Costs: Estimate by Features
Your websites' content, design, and domain name surely matter when you calculate a total cost to create ecommerce website. However, features that you're planning to implement for the website will take up most of the budget.
How much to build an e-commerce website? Let's see what development modules are there.
Cost to create ecommerce website (development only)

Module
General features
Approx time (hours)

Registration

Register using email and password
Login using social media
Forgot password
Logout

56

Main screen

Watched products
Last purchased products
Popular products

96

Catalog screen

24

Product details screen

Photo slider
Rate
Add review

64

Cart

List of products
Checkout

112

Profile

Edit profile
Orders
Payment screen

64

Help screen

Terms and conditions
About company
Feedback form

32

Push notifications

16

Analytics integration

Google Analytics (or another per request)

16

Total development time

480 hours
All e-commerce projects require a thoughtful admin panel for managing items, users, and giving different access levels to employees. Keep that in mind to accurately calculate average price of ecommerce website development.
Admin panel development cost

Module
General features
Approx time (hours)

Authorization

8

User management

List of users
User details
Create user
Search user

120

Item management

List of items
Create item
Delete, edit, search items

104

Requests

List of requests
Details screen
Change request status

72

Export products

From Shopify or other places per request

80

Payment management

40

Voucher management

32

Total development time

456 hours
To appropriately calculate ecommerce website building cost you should know time needed for that. In the tables above you can see an approximate development time by modules telling that developers will spend about 936 hours in total to implement those modules.
Dividing that time into smaller parts (called sprints), we'll get about six development iterations. Keep in mind that software developers aren't the only specialists you need on a team to build such a complex product.
Here's the full team composition you'll need during your project development and while calculating a cost of making ecommerce website:
Front-end developer (2X) - all sprints
Back-end developer (2X) - all sprints
UI/UX designer - sprint 1-5
Business Analyst - sprint 1-5
Project Manager - all sprints
QA engineer - all sprints
DevOps engineer - all sprints
Team lead - all sprints
Given that team composition and the amount of work, the average cost for ecommerce website will be $99,700 regarding described in the table. As a software service provider, we can guarantee successful product delivery within a specified time frame only if all needed specialists are on the team.
The tables that we have shown you are just a rough cost of e commerce site estimate, the accuracy of which can range from 75 to 25%. The main purpose of such an estimate is to show you the amount of money you approximately should count on and outline development stages. As a result, you shouldn't regard this e commerce website price estimate as something unchanging. As soon as we delve into the discovery phase and analyze your specific idea and learn all the details, the numbers may change. However, we can immediately calculate a more accurate e commerce website cost as soon as we know your project thoroughly.
Learn more about the discovery phase - the essential stage of any software development process
A detailed estimate is a 100% calculation of the cost to build an ecommerce website, which is agreed with the developers who will participate in creating the project. It includes all your requirements, technologies that will be implemented, wireframes, and other elements that outline your future product. If you have detailed documentation, we can calculate a detailed estimate in just a couple of days, and you will know the exact ecommerce web design costs.
The price for ecommerce website can also change drastically depending on your requirements. If you want to save some budget, there's a team augmentation model available. Choosing it, you simply hire as many developers as you need for the project and manage them on your own. However, you bear full responsibility for the result choosing team augmentation.
Ecommerce Website Prices: Tech Stack Component
What's more, I've asked our developers to make a list of technologies they would use to build such a site. Let's see the tech stack before calculating how much for e commerce website you should spend.
Frontend:
Angular + Angular Universal (server-side rendering engine for SEO purposes)
UI components library like Twitter Bootstrap, Angular Material, or Semantic UI
Backend:
Nodejs + TypeScript
PostgreSQL or MySQL as the main database with Sequelize as ORM
Elasticsearch as full-text search engine
Redis as cache
BullMQ as the message broker
Integrations:
Amazon Simple Storage Service (Amazon S3) as file storage
Amazon Simple Email Service (Amazon SES)
Paypal, Stripe, Adyen, etc. for payments
Firebase Cloud Messaging for notifications
Login via social media API (Facebook, Gmail, Twitter)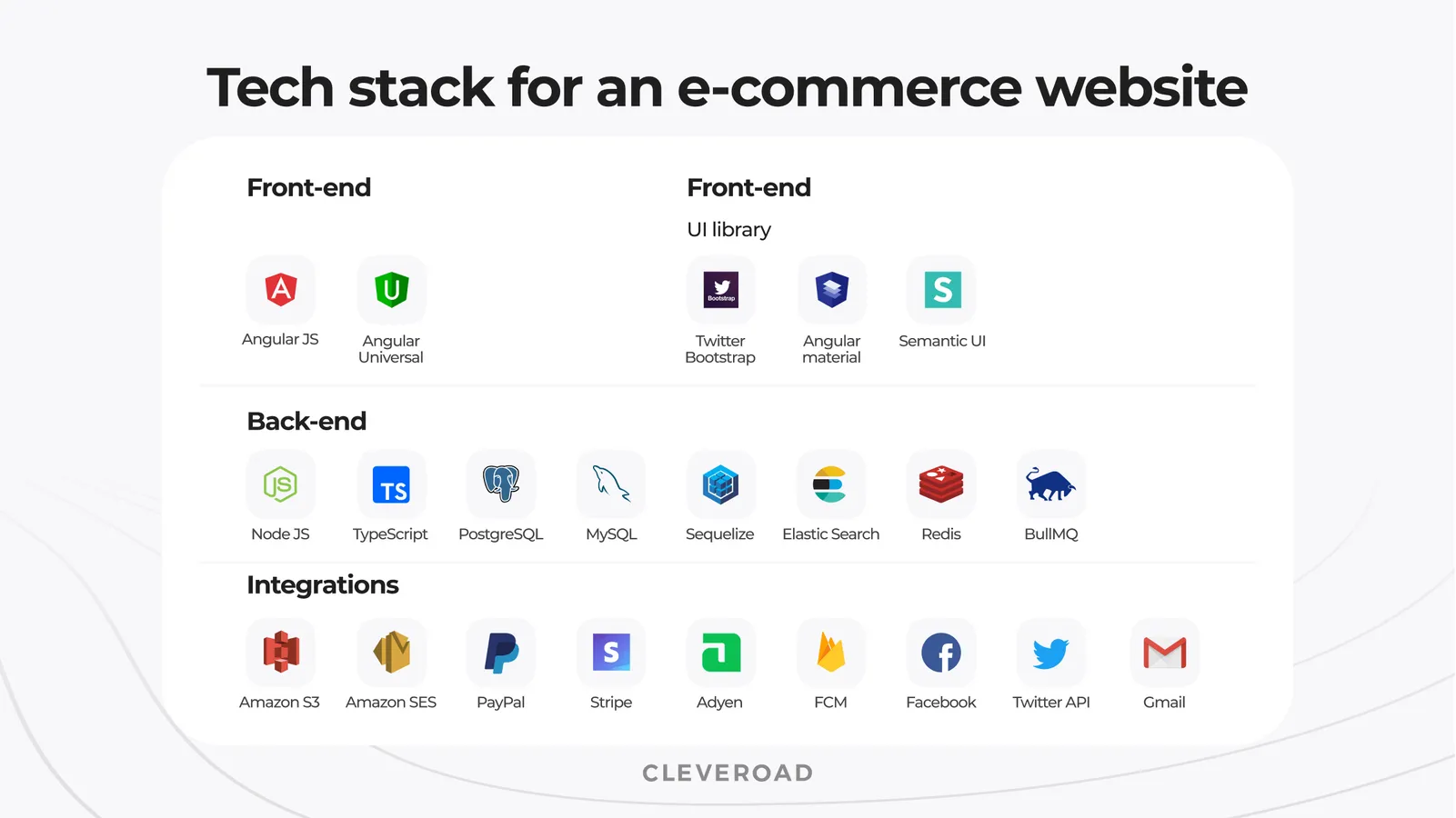 How much to charge for an ecommerce website: full e-commerce website tech stack
Moreover, you will benefit more from your e-commerce website if you integrate it with cloud solutions and payment gateways. They should also be considered while answering the question of how much to create an ecommerce website.
Cloud systems can assist your business in an online commercial presence expansion. Their capabilities provide stability to your e-commerce website flows and increase their operational speed. Moreover, cloud systems' use is totally secure. All these advantages can cut your total e commerce website creation cost because using a cloud hosting, you pay only for what you utilize.
Payment gateways integration has the crucial meaning for an e-commerce website building. All the financial data is sensible, so, the resource it's transferred to/from should be securely protected from any penetration. But keep in mind that you also need to choose the gateway which is popular in your target country, offers a low transaction fee and is recommended as one with good shopping experience for users.
You can facilitate your task, entrusting the tech stack choice (as well as a commercial site creation and e commerce website making cost calculation) to an IT vendor having a profound e-commerce expertise.
Ecommerce Website Design Pricing and Building: Cleveroad Expertise
Cleveroad is a professional provider of custom digital solutions based in Estonia - one of the most famous outsourcing destinations in Central Europe. For over ten years, we have been helping businesses of various industries acquire new technologies that boost their overall performance and help them reach new heights. In our arsenal we have:
10+ years on the market
120+ in-house engineers
170+ successful projects
Our flexible approach to cost of e-commerce website allows any business to get a custom software product. All thanks to various cooperation models created for the convenience of the client and meeting financial expectations. One such model is Time and Material.
This cooperation model allows you to start working on a project without having an exact scope of future work. Development takes place according to the following algorithm:
We provide you with a demo of the completed functionality and sprint reports for your approval and feedback.
If you would like to change something in the current sprint, we will deal with the implementation of the changes in the next one. Each request is documented and the total time required for their development is calculated.
If we do not meet deadlines, you will receive a bill containing a cost to set up ecommerce website only for the completed part of the work.
We build secure and converting e-stores for our clients, offer them an average cost of an ecommerce website as well as accurate estimates and make a heavy focus on personalized customer experience. Moreover, our professionals will help you comprehensively answer the question how much does it cost to build an ecommerce website.
It's always better to see once, though, so here's a case that recently expanded our portfolio — Marketplace for Service Providers. It's a P2P website called AYIO that offers services in many fields – from travel to plumbing. We've included in it everything that an average cost of e-commerce website should contain and what a true e-commerce platform needs: a complex search system with categories, payment handling (we used Stripe), tracking of income and expenses, and many more features.
Collaborate with skilled vendor
Message Cleveroad, and we'll build an easy-to-use and converting ecommerce website for you
Frequently Asked Questions
From $20,150 to $28,800 and up only to develop the features. The exact cost depends on how complex your website is going to be, whether you need custom UI design, 3-rd party integrations, and additional services.
It depends on how much additional services cost. They usually include:
Domain name ($10 to $20/annualy)
Hosting ($100 to $200)
SSL certificate ($6 to $150)
Website maintenance ($500 to $12,000)
Marketing($1200 to $3000)
A simple e-commerce website will cost $20,150+ for features and about $3,250 for custom UI/UX design. More complex functionality will cost ~$28,800.
$3,250 for simple website design. If you want to add adaptive web design for mobile devices, it'll cost 30% of the front-end part, not including the admin panel.
If you decided to outsource your ecommerce website building, the cost to hire a specialist depends on a region you're hiring them from and the developers' hourly wages set in this country. This will also help you to give a response to the question "how much does it cost to develop an ecommerce website?"
Must-have features: registration, user profile, main page, product pages, catalog, shopping cart, and help screen.
Additional features: wist list, analytics, social login, blog, push notifications.
There's no one-size-fits-all formula. But things like expert UI/UX design services, simple checkout, wish list, automatic emails, and a website blog may greatly help.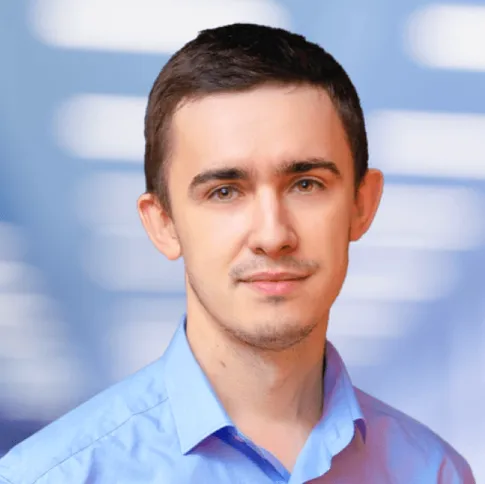 About author
Evgeniy Altynpara is a CTO and member of the Forbes Councils' community of tech professionals. He is an expert in software development and technological entrepreneurship and has 10+years of experience in digital transformation consulting in Healthcare, FinTech, Supply Chain and Logistics
Rate this article!
2912 ratings, average: 4.52 out of 5
Give us your impressions about this article
Give us your impressions about this article