Grocery Shopping Digitization: How to Build a Competitive Grocery App in 2023?
The digital transformation of many spheres of business, including grocery, is absolutely stunning. Recently, 'to go shopping' meant wondering around different stores in your neighborhood and was a highly time-consuming process. It required to find a needed product in the store and also to wait in the long billing queue. Now you can check this information in a few seconds, not to mention that you can pay with no money in your pockets.
25% of customers are buying groceries online according to the Nielsen report. They use their mobile devices to make shopping lists, find discounts, compare prices and order groceries online. That's why to stay on top today, you have to satisfy their demand with web and mobile app development services for your grocery store.
The grocery market is in the middle of digitizing and now the market shares are being divided between those who managed to implement the newest technologies and, thus, provide a better customer service and those who didn't. If you want your business not to hang around the break-even point and could raise some serious money, the choice is obvious.
A grocery mobile app will always remind customers of your store when they use their devices, and not only when they have run out of groceries. The leading grocers like Walmart, Aldi, Kroger have already boosted up their sales significantly thanks to grocery shop app.
Now, let's unveil the advantages of developing a grocery mobile app, no matter if you own a grocery store or just want to build a grocery app to monetize it.
How the digital influence affects grocery shopping
The influence of digital has raised four times from 14% in 2013 to 56% in 2016, according to the Deloitte report. The use of mobile to improve the in-store experience seems to follow the same pace and boosts from 5% to 37%.
The influence of grocery mobile apps on in-store sales is rapidly growing
Although the digital influence for grocery is lower than for electronics, automobile and clothes, in 2016 this indicator grew by 18% during the year and, thus, aught up with the other product categories.
Also, the grocery industry is about to double it's revenues in 2021. According to Statista, online grocery sales in the U.S. accounted for $14.1 billion in 2017 and will grow to $30 billion. So if you want to possess a share of this money, you should be one step ahead of your competitors. And one of the ways to do that is to develop a grocery shopping mobile app.
How can a grocery shopping app improve your business?
Not to mention that with the help of mobile app development service your grocery store can go international, there're also some other benefits which come first to the mind:
Strengthening your Brand
Probably, you know that people would rather buy not from an unknown merchant on the street, but rather from a reliable brand whose very name resembles the best shopping experience. In this case, nothing helps better than a grocery shopping mobile app. It offers a pile of methods to remind customers of your shop:
A grocery store application can be a powerful tool to increase your sales
It's available 24/7;
Able to send notifications;
Allows to read/share reviews with each customer.
According to a study, 45% of companies order grocery mobile app development to strengthen their brand image. And though, grocery shopping apps are pretty common in today's business world. However, if your app offers some unique capabilities, it can greatly boost customer engagement.
A way to examine customer behavior
What time do your clients prefer to shop? Which products are best-selling and which are the ones that only cause monetary losses? What are your customers' favorite payment method (credit cards, cash or online payments)? A grocery store application will provide you with all of these statistics and you can use this precious data to improve your sales.
Either way, you are able to personalize your app for each category of your clients and, thus, even gain customers with opposing tastes and opinions
Improving loyalty programs
The task to convert a new customer into a buyer is 10 times harder than converting an existing one. Moreover, regular customers spend 68% more. Mobile app for grocery shopping is a perfect platform for launching loyalty programs like discount proposals or payments with brand's loyalty cards, etc. Also, the benefit of a mobile platform is that you can embed push notifications to promote your loyalty programs. It's noted that 59% of brands take advantages of online grocery app development to boost customer engagement.
Attracting even the busiest customers
Visiting a store to buy groceries is a low priority task for all of us. We are terribly busy with our jobs, children, relatives, etc. A mobile app to buy groceries would be a great relief. Grocery mobile apps allow finding a needed product online with no need to attend several stores, wonder in their halls to find a needed product and wait in the long billing line.
And making it more comfortable for customers will engage them better and increase your sales. It was reported, that 26% of people who remain in public places utilize mobile apps for grocery shopping to purchase food and this rate is planned to grow to 50% in the next years.
Grocery shopping app categories
There is no single standard of how to build a grocery app. Thus, it may be created for different tasks. Your grocery mobile app may also fulfill multiple tasks, making it more complex. And how complex it should be depends on your budget and goals.
Grocery list app
Previously, writing a shopping list was a problem, especially for those customers who thought that their memory is sharper than their pencil. Now there's no need to write a new paper list each time you go to the store. Almost any modern grocery shop app lets the customers add/remove products to their online cart and keep them to be accessed later.
Grocery list app offers a more flexible and convenient way to work with shopping lists. Unlike their paper variant, they can also perform such actions as:
Keep users' lists to utilize them in the future;
Remind to purchase default list of products on a regular basis;
Share a list with other users;
Commit changes to the list online so that other users could see them.
Grocery IQ is a grocery list app that shows the corresponding brands to customers while they type their search queries. To add an item to the list they can either scan a product's barcode or say it by voice.
A grocery list app called Grocery IQ
Users can create numerous lists for various shops or for different events like birthday or picnic. This app also saves every item which users buy to easily reorder them again. Grocery IQ provides discount tickets (from Coupons.com) which customers can easily print, send by email, etc.
Grocery store delivery app
Since shopping is a decently time-consuming activity, no wonder grocery delivery apps have appeared and become so successful. They have two varieties. The first one is grocery delivery companies that can bring products from almost every shop (e.g. Instacart and Shipt). The second one is online grocery shops (e.g. Peapod).
The usage of grocery delivery service app is simple
Grocery shopping delivery apps provide such opportunities as:
Find products without leaving home;
View previously bought goods as well as use them as a list to reorder some of them again;
Assign purchases beforehand or order them instantly.
32% of buyers have installed grocery delivery service apps as of National Grocers Association report. Especially overwhelmed with work people and millennials who don't like to waste time at the billing lines can become your loyal buyers if you create a grocery store delivery app.
A grocery shopping delivery app called Instacart
One of the largest grocery delivery services in the US with the same mobile app name is, of course, Instacart. With it's help, users can get their products delivered in about 1 hour. They can always be in touch with their personal shopper via chat. There's a group cart feature that allows them to shop with their family or friends simultaneously using the shared shopping list. Instacart also offers it's exclusive coupons and special offers.
Grocery store rebate app
Grocery rebate apps enable customers to save money and get discounts with no need to print discount tickets. Here's how they work: the users get the rebate app and purchase certain groceries that are on the app's list. Then they should take a photo of the bill, send it and receive a specific cash back.
The design of the grocery store rebate app called Ibotta
Ibotta is one of the best apps in this category. Besides, it's not only a grocery shopping app, it also allows to save money on clothes, taxi, etc. Grocery apps like Ibotta allow customers to get discounts for products by completing simple tasks. For e.g., users can earn 0.3$ for sharing a coupon with others, or 0.7$ if they watch a video clip.
Grocery price comparison app
Using grocery price comparison apps customers can conveniently check prices in different stores to find out the best deals. Such apps can also help users to:
Get promotional price hanges;
Receive notifications with the best offers according to your previous purchases;
View booklets with promotional groceries;
Choose other units used to measure the product's price (weight, area, height, etc.)
Do you know what are the prices for software development among the European countries? Read our guide on rates of IT outsourcing in Europe or watch short video.
Grocery price comparison apps are widely used by customers to discover groceries with the best value for money. You can use this hype to create your own grocery comparison app. The target audience of both grocery rebate apps and grocery comparison apps are the people who want to have a precise control over their spendings.
A grocery price comparison app called Favado.
Favado is both grocery comparison app and a grocery discount app. Because of such a mix, it boasts to save up to 50% on users' grocery bills. Along with price comparison between different shops, users can tell Favado about their favorite brands or products. The app will demonstrate them when these products come up for sale at their preferred stores. Favado also informs customers about the best weekly sales so they could find the products with the largest discounts.
Supermarket-specific grocery mobile apps
A lot of grocery store chains like Publix, Aldi, Costco develop grocery store apps to promote their brands. These apps may combine the functionality of every previous app in our list. In particular, they may offer loyalty programs, promotional booklets, show the user's purchase history, etc. In particular, supermarkets' own apps provide these features:
Generate, manage and share shopping lists for each section of a supermarket; Scan groceries to use them in users' shopping list;
Scan discount tickets using mobile devices;
Acquire basic supermarket information e.g. discounts, location, customer care phone number, etc.
For instance, Woolworth app lets the users easily find their nearest storage using Google or Apple Maps. A cool feature is that it allows scanning a product to get the info about it's ingredients. It also uses push notifications to notify the customers about promotions and special offers. Woolworth also smartly engages it's users by informing them about the inspiring cooking recipes.
Grocery mobile app features to make it competitive
Now that you've seen what categories of shopping apps are, let's review the aspects you should focus on to build a great grocery app.
Provide an authentic shopping experience
Despite that 32% of customers prefer purchasing groceries online, you should apply for UI/UX design services to deliver the authentic look of a real grocery store. It should have such opportunities as:
Browsing products by the categories;
Providing illustrative 3D images of real products;
Adding products to virtual shopping carts.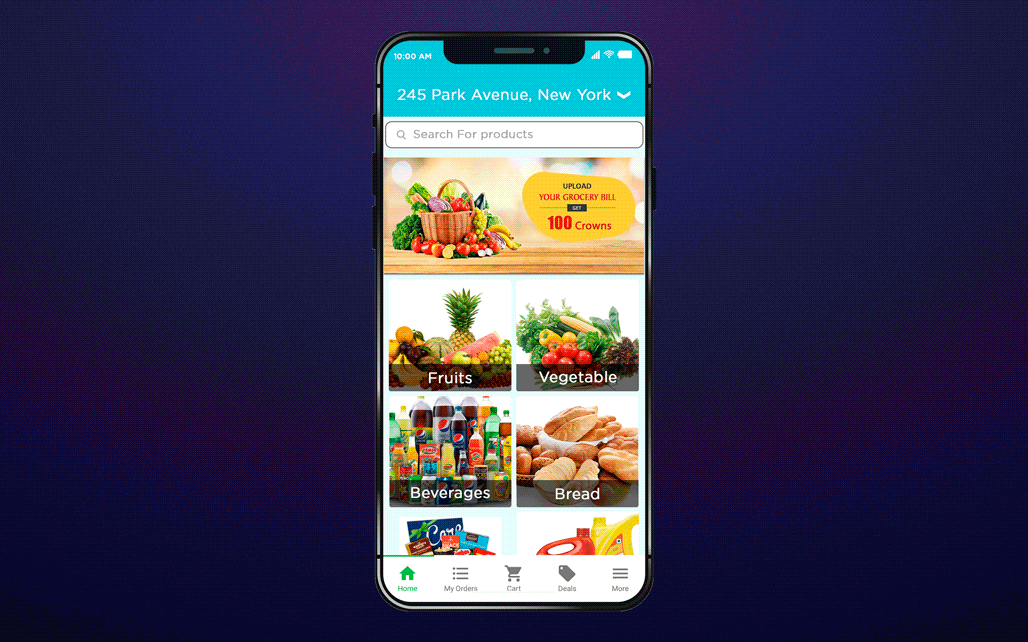 An example of the grocery shopping mobile app with an authentic look
All of these elements make it simpler to toggle between physical and digital shopping.
Provide digital coupons
A good deal is appreciated by any customer. 50% of Americans buy the most popular goods or search for discounts in order to be sure that the money they pay won't be wasted. These statistics were taken from the report of the American Psychological Association.
An example of grocery discount app that provides e-coupons.
Since the possibility to use discounts or coupons is so important to your clients, your grocery mobile app would better have them. It doesn't mean that your discount rate should be high, it can be kept to a minimum. The main point is that by offering the coupons you make a statement that your customers are not missing special offers to cut their costs.
Personalize customer experience
Each of us surely has their favorite brands or product categories. To free your customers from searching for the same product over and over again, your grocery store application should save these products into easily accessible purchase history to reorder them once more.
Moreover, you can use AI to analyze this history and offer a client the products that are recommended specially for him/her. The personalized recommendations instead of typical advertising engage customers better and aren't obsessive since they offer exactly what a client needs.
Push notifications
Customers aren't born loyal to your grocery shop app by nature. To attract them to use your app actively you should embed push notifications and send them to inform users about the new products, discounts or useful shopping tips. Furthermore, you can encourage them with rewards or cash back depending on their engagement rate.
Grocery shopping app with barcode scanning
Far not all customers like adding groceries to the digital shopping list manually. Then barcode scanning comes to the rescue. It's a way how a grocery mobile app can supplement a physical shopping experience to this category of customers.
Barcode scanning allows to scan all the required products fast and receive a ready-made shopping list as a result. The users can also scan all the previous products they've bought directly at home to buy them at the shore later. Barcode scanning is helpful to stay on a budget showing the total price of the shopping lists to users. It helps them to remove a fear of running into an awkward situation at the payback time if they have miscalculated the total cost themselves.
Grocery app development cost
To calculate the grocery app development cost we used an average rate which amounts to 50$ per hour. We should note, that these are rough figures, so the real prices depend on your preferences, business needs and customer demands.
So the total time on developing an app like Instacart amounts from 925 to 1200 hours for Android and 955-1270 for iOS. It's no wonder because such apps require such time-consuming features as a list of all products, payment gateways, cart page and others.
The cost of your app is heavily dependent on hourly rates of a retail software development company. That's why numerous customers consider offshore software development as a good option to cut costs while retaining the quality of their app. If you choose to hire specialists from the U.S. they may charge 150$ per hour and higher.
Thus, the total cost of the Instacart-like app for Android may cost you 140,000$-180,000$. And only 46,000$-60,000$ for the Ukrainian outsourcing company like Cleveroad. If you aren't familiar with such a practice, you can find out why US companies outsource development to Ukraine.
Cleveroad is ranked among the top 10 outsourcing app development companies in Ukraine. We have successfully developed hundreds of apps, explored a wide range of technologies and made numerous clients happy. Make a first step towards creating your grocery app and contact our managers to discuss any detail of your project. By the way, project estimation is free at Cleveroad!
If you liked this article, you can subscribe to our blog (button at the top right corner of the screen). No spam. You will stay tuned to the latest changes in the IT industry and receive a weekly email tailored to your preferences.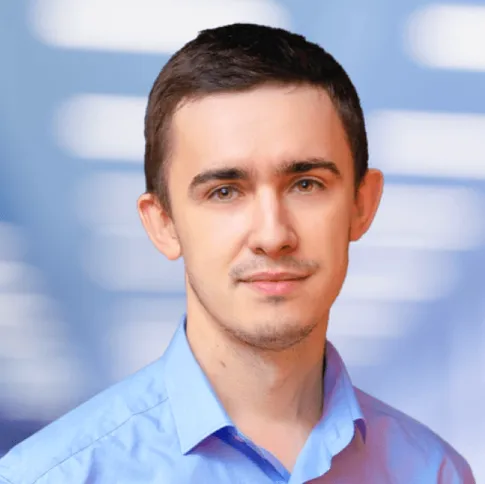 About author
Evgeniy Altynpara is a CTO and member of the Forbes Councils' community of tech professionals. He is an expert in software development and technological entrepreneurship and has 10+years of experience in digital transformation consulting in Healthcare, FinTech, Supply Chain and Logistics
Rate this article!
2893 ratings, average: 4.69 out of 5
Give us your impressions about this article
Give us your impressions about this article
Bhavika
14.02.2023 at 07:04
hi there thanks for sharing such a great information with us, It's not easy to find relevant information.
Bhavika
06.02.2023 at 07:42
Hi you are amazing, because you are providing great information in free. As a writer it's not easy to find all the information in single blog but I found here all the information.
Bhavika
30.12.2022 at 10:28
Hi there, Thanks for sharing a beautiful blog with us. I really appreciate your knowledge.