Revealed: How Much Does It Cost to Create an App Like Snapchat
Online communication is a vital part of our everyday lives. Thanks to chat apps like Snapchat, WhatsApp, or LINE it's got much easier to chat without unnecessary clicks through a social network page. A lot of popular chat apps exist, and many more of their clones are appearing. However, if you want to create your own chat app don't be afraid to give it a try, because users are always open to new offers.
How Much Does It Cost to Create an App Like Snapchat?
Turning to application development services allows you to build an app similar to the booming Snapchat, but fist, you need to learn this application inside and out. In this article, we'll help you understand how to create app like Snapchat as well as calculate it's development cost.
What is Snapchat?
To make it clear, Snapchat is a mobile messaging app that lets users share their pictures, videos, and stories. It also allows users to take photos and videos and add a caption, filters or drawings to them. The special security mechanism makes photos and videos self-destruct a few seconds after viewing. Snapchat is now widely used among teens, but it hits new demographics every single day.
Teenagers say that they prefer visual communication to texting. This is the exact reason for Snapchat's sweeping popularity.
A bit of Snapchat history
Snapchat's evolution from a regular messenger into a private messaging space is really exciting.
Evan Spiegel and Bobby Murphy started Snapchat in 2011 when three main giants - Facebook, Instagram, and Twitter ruled the online space. They risked a lot launching an app similar to the hottest apps, so they needed to add something that would make their app special. And they did. The idea of self-destructing pictures beat all the expectations. The new app managed to equalize the strengths of all three social network giants and create something absolutely unique.
Just one year after Snapchat was launched, the CEO of Facebook, Mark Zuckerberg, tried to buy the app for $3 billion. However, Spiegel turned the offer down, because he realized that he had one of the hottest apps of the time. In June 2014, Snapchat was valued at $10 billion, so their rejection of Facebook's $3 billion offer doesn't seem to be goofy anymore. After a while, Snapchat launched some great updates such as Discover and geofilters as a part of their monetization strategy. We'll get back to Snapchat's monetization a little bit later
Snapchat language
If you're new to using Snapchat, you may misunderstand some of the terms. People in Snapchat use some special lingo to name some things differently from other chat apps. To avoid confusion here are some of the terms for you to learn:
A snap is a video or picture taken in Snapchat
A story is one or a number of snaps that do not self-destruct in 10 seconds but are shown to your followers for 24 hours
A snapback is a user's response on snaps
A score is called a number of sent and received pictures and videos in chat. They are shown next to your friend's name in your contact list
Snapchatters are the people who use the Snapchat app
Here is an option that allows users to get a live video chat if they are online, or in other words "here"
To make an app like Snapchat, it's a good idea to consider its main features that are the main reason for the app's popularity.
Main features of Snapchat
If you want to create app like Snapchat, you need to learn what features it provides, so you'll understand what your new app should include. Here is a small guide on Snapchat features.
Taking and sharing your snaps
The main feature you should consider to create a Snapchat app is the ability to take and send photos and videos that self-destruct in a few seconds. Snapchat provides a big number of filters, text captions, and drawings for photo/video editing. Besides, recently WhatsApp enabled an update that includes new editing and drawing options that happen to be amazingly similar to Snapchat's drawing tools. After that, the Facebook team was criticized for borrowing features from their "ghostly rival".
Lenses
Lenses is the most popular Snapchat feature, after snap sharing of course, which is often a goofy animation that users can overlay on the top of their pics. This feature is very important in case you want to build an app like Snapchat.
Features to create app like Snapchat of your own: Lenses
Geofilters
Geofilters are similar to the originals. You can overlay a design onto a picture or video taken in the Snapchat app, but the difference is that they are only available in distinct locations.
Features to create app like Snapchat of your own: Geofilters
Adding friends
The Snapchat team provided new ways of adding friends. They use personalized QR codes that users can scan with their camera to start following other users. They are called Snapcodes. So if you're wondering how to make app like Snapchat, you should analyze convenient ways of adding friends.
Features to create app like Snapchat of your own: Adding friends
Chatting
Snapchat is not only a snaps sharing app since regular messaging is also used. Snapchat couldn't ignore the obsession with the stickers. So they added more than 200 stickers with their recent update.
Features to create app like Snapchat of your own: Chatting
Video and audio calls
With one of the updated, video and audio calls became available for Snapchat users. The special thing about Snapchat calls is the ability to be on a call and send pictures at the same time. Also, users can now make small videos and audio clips, or as they call them notes.
Features to create app like Snapchat of your own: Video and audio calls
Story
A story is actually a snap broadcasted to all followers so that they can view as many times as they would like for 24 hours. Users also can see who has viewed their story too. Recent updates allow users to jump straight to their next friend's Story by only swiping left in a Story, and once a Story finishes playing the next one from the list automatically starts. The update made consuming Story content easier for users, and Snapchat is now getting over 7 billion video views daily. So if you are researching how to make a Snapchat-like app, then don't forget to add Stories to the features list.
Features to create app like Snapchat of your own: Stories
Discover
Discover is a feature which helps find stories from editorial teams. It provides recent news from big companies, such as Cosmo, People, CNN, Mashable and many others.
Features to create app like Snapchat of your own: Discover screen
The question is what benefits you may obtain implementing all this features and launching a Snapchat-like app? Some of the most obvious benefits are:
Attracting young core audience. A Snapchat-similar solution can be turned into an influential marketing tool with a young audience containing people from 16 to 30 years old

Users' engagement. The implementation of the auto-delete option encourages customers of the Snapchat-similar app to check it again in order to discover new data that is ready to disappear.

Various monetizing options. The social networking industry offers a diverse set of monetization options. Snapchat-like apps can take advantage of all of these features. For instance, customers will have a cutting-edge experience with the messaging software, which may include both free and paid unique filters. This is your chance to profit while others demonstrate themselves to the entire world.
How the Snapchat-Like App is Being Developed?
Your concept needs to pass through the following software development stages to turn into a full-fledged Snapchat-like app:
First contact
Discovery/planning phase
Building a solution design
Product development
QA control
Release
Maintenance and support
First contact
On this stage, your project's requirements and goals thoroughly reviewed by the specialist. When you submit a request on our website, your message is received by managers, who will contact you within 24 hours. Then, a first meeting is set up to discuss your business needs and requirements. Now, it's time for software engineers to prepare rough project estimates in cooperation with Business Analysts.
Discovery/planning phase
This phase's main purpose is to gather your needs – platforms you'd want to support, features you'd like to include, third-party services to integrate (such as Stripe or Google Maps), and so on. Moreover, the project team composition is being confirmed on this stage, as well as prototypes made, detailed project estimates and costs by platforms.
Building a solution design
Before coders go to work, UI/UX designers prepare a prototype based on the wireframes that were drawn up throughout the discovery process. The team starts with a design concept and then builds the user interface for a product screen by screen, adding the graphic elements. After you've approved designers' work, they hand over the project to the developers.
Product development
The development phase (regarded to be the most time-consuming in the workflow) is designed to establish the app architecture and prepare a solution that meets all of your needs.
Due to the project's intricacy, you can work with a variety of professionals (such as iOS/Android or web developers) to ensure that all of the features you want are properly implemented. This approach is broken into sprints (1 sprint equals 10 working days), and each one begins with planning, in which the team discusses the task they will do.
QA control
After the codes have been produced, QA professionals must check that the project fits the established criteria. They check the platform's frontend and backend for bugs and submit a bug report to the developers. After everything has been updated, the QA specialists double-check the product to ensure that it is working properly.
Maintenance and release
This stage is for distributing the product on online marketplaces. The experts also take care of the produced software to make it easier for clients. As a result, the development team's participation is required further for performing bug fixes, extra capability supplementation, and modernization.
How Snapchat makes money
Now, you know how to make the Snapchat app's skeleton. It is time to learn more about it's monetization strategy.
The Snapchat team has been using some of the features to provide monetization.
Advertising
For example, the Discover feature described above provides paid advertising. The revenue distribution between Snapchat and their clients varies, but occasionally ads are worth ten to fifteen cents per view and they are estimated to be seen 500,000 to 1,000,000 times daily.
Sponsored content
A short time after geofilters were launched, the Snapchat team announced that users are now allowed to purchase sponsored geofilters for snaps. McDonald's was the first to use the offer and paid for a branded geofilter that covers all it's restaurants in the United States.
Ads API
In addition, Snapchat has started ads with API and announced a launch of promotional instruments such as snap ads between Stories and expandable "Snap Ads".
The cost to make an app like Snapchat
If you've already decided to make an app like Snapchat, the first thing that needs to be considered is the approximate cost. We say "approximate" because the cost of an app's development always depends on many factors. We've prepared a list of components that influence on app's cost.
First of all, the cost of your app will depend on the mobile development services provided by the team you choose. For instance, if you choose a team from Western Europe or the US, the price per hour will range from $60 to $200. However, the most expensive variant isn't always the best one. As an example, development companies from Eastern Europe will make you the exact app you want or even better, and the rough payment is about $45 per hour, which is significantly cheaper than in the US.
However, it's often hard to include many platforms at the start, because it requires a big budget. You can choose only one to start with and make it really good and expand your app once you become successful.
Also, it depends on how many people your team will consist of. The standard team must include a minimum of two developers, a designer, a project manager, and a QA engineer. If you want to create a more complex app then you will need to hire more people.
One of the first choices to make before building an app is the type of platform. It's obvious to say that if you want your app to be widely used you need to launch your app on more than one platform, especially the most popular - iOS and Android. If we speak about Snapchat, it's available for all main platforms.
The cost of mobile app design services again depends on your requirements. The more complex design you want, the more hours will be needed and the higher the price will get. Let's look at the basic points in app designing and try to estimate approximate costs:
Wireframing usually takes anywhere from 20 to 140 hours. If we take an average price of $45 per hour, we get an approximate cost from $900 to $6,300.
UI design can take from 20 to 210 hours depending on complexity. On the condition of our average price, the approximate cost gets to $900-9,450.
The process of UX design requires from 7 hours to 200 hours, so the cost varies from $315 to $9,000.
Also, keep in mind that not only the complexity but a platform type can influence the cost of app designing. For instance, an iOS app design is more expensive because of it's strict guidelines. However, Android app design can also become tricky since it has a lot of OS versions and a wide range of screen resolutions.
We can endlessly estimate the approximate cost of the app, but the most important condition is how ambitious you are about your app. If you want to create app like Snapchat with identical features, you need to prepare a big budget to spend. However, it isn't a necessary condition to create an absolutely identical clone.
It's up to you to decide which features to include or ignore. Here we've prepared the list with estimated Snapchat features which shows how much it really costs to create app like Snapchat. For estimation, we took an average price - $45 per hour.
Cost of Snapchat features

| | | |
| --- | --- | --- |
| Feature | Time needed | Cost |
| Self-destructing messaging | 30-40 hours | $1,350 - 1,800 |
| Registration | Up to 125 hours | Up to $5,625 |
| Push notifications | 40 hours | $1,800 |
| Adding friends (recognition algorithms development) | From 2 hours (depending on complexity) | From $90 |
| Geolocation | 32 hours | $1,440 |
| Uploading pictures and videos | 76-320 hours | $3,420 - 14,400 |
| Video and photo customizing | 68 hours | $3,060 |
| Audio and video calls | 180-220 hours | $8,100 - 9,900 |
Total cost
Summarizing everything above, we can say that the approximate cost to make an app like Snapchat for one mobile platform will be around $90,000-$100,000. However, we say again that everything's up to you. It's for you to decide which feature your new app will provide and how similar to Snapchat it will be.
How to make an app like Snapchat
Follow these simple steps to create app like Snapchat of your own:
Step 1. Research the market to identify your competitors
Step 2. Learn your target audience to understand their needs
Step 3. Create a list of features for your Snapchat-like app
Step 4. Set your budget
Step 5. Define for what platform to build your app first (or maybe for both)
Step 6. Find a team or hire software development company
Step 7. Craft a marketing strategy
Step 8. Release and don't stop developing your product
There is no need to create a pompous app at the very beginning. Keep in mind that the real Snapchat started as a small messaging app similar to Instagram where a minimum number of features was provided. The idea was all that Snapchat's founders had.
How Cleveroad Can Help You
If you want to build a Snapchat-similar app, you should firstly find a trustworthy software development vendor that may consult you in a decision-making process and assist in conducting a mobile development workflow.
Cleveroad, a professional software development company from Ukraine, Eastern Europe, works in this domain, having a profound expertise in building mobile applications for social networks, video streaming apps, and so on. Since 2011, we've been assisting startup companies and organizations of all kinds in acquiring cutting-edge technology.
Our IT services and bespoke software solutions improve workflow efficiency, address business issues, and aid in the acquisition of competitive advantages for our clients. Cooperating with us, you'll obtain a wide pool of services, which examples are represented below:
Proven expertise in software engineering across a variety of sectors
An initial project estimate from one of our Sales Managers
A conversation about your project with one of our Business Analysts or Project Managers
On-demand signing of non-disclosure agreements (NDAs).
A team that adapts fast to new needs and modifications and integrates into current workflows
Get your inspiration from the exciting Snapchat evolution story and give your idea a try. And then, get in touch with a reliable mobile app development company and start your project up!
Want to make a Snapchat-like app?
We can help you! Our company has an extensive expertise in developing social networks.
Frequently Asked Questions
Follow these simple steps to create app like Snapchat of your own:
Step 1. Research the market to identify your competitors
Step 2. Learn your target audience to understand their needs
Step 3. Create a list of features for your Snapchat-like app
Step 4. Set your budget
Step 5. Define for what platform to build your app first (or maybe for both)
Step 6. Find a team or hire software development company
Step 7. Craft a marketing strategy
Step 8. Release and don't stop developing your product
Snapchat uses Python, Objective-C for iOS, Ruby, Android-SDK, JavaScript, Cocoa Touch, and PHP.
Snapchat uses technology from an area of Computer Vision. It's called image processing. It processes an image, and with the help of algorithms, add layers with so-called masks.
The major source of Snapchat revenue comes from advertisements. Besides, Snapchat users purchase sponsored geofilters in the app.
With a rate of $50/hour int the Eastern Europe the development process per one mobile platform will cost around $70,000. The final app version will have features like:
Audio and video calls
Video and photo uploading
Video and photo customizing
Geolocation
Mind that the price in different regions varies. For example, it will be much more expensive to build an app in North America with a rate of $150/hour.
To make an app like Snapchat, you have to conduct a research first. Then, create a list of features you want to see in your app and set your budget. Decide with the platform for your app (Android, iOS, or both). Find an in-house team or hire an outsourced development company. At the end of the development process, release your app, and constantly update it.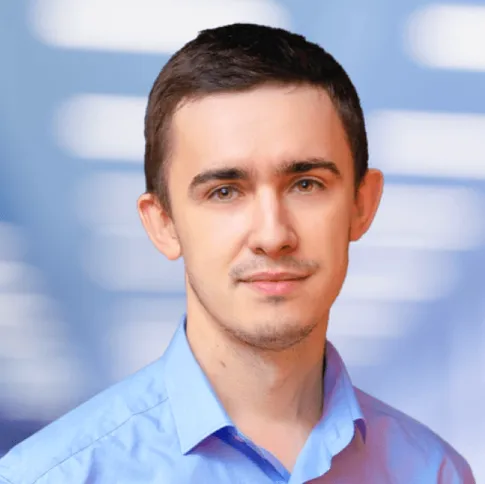 About author
Evgeniy Altynpara is a CTO and member of the Forbes Councils' community of tech professionals. He is an expert in software development and technological entrepreneurship and has 10+years of experience in digital transformation consulting in Healthcare, FinTech, Supply Chain and Logistics
Rate this article!
11188 ratings, average: 4.80 out of 5
Give us your impressions about this article
Give us your impressions about this article
Sergio
01.06.2020 at 10:24