How Much Does It Cost to Design an App in 2018? [Infographic]
9415 Views
|
14 Mar 2018
|
9 min
Needless to say, mobile application design goes far beyond pictures, color schemes, and overall looks. Understanding that design is about how an app works, as well as how it looks, makes mobile application design a truly cost-effective investment, which helps to reduce risks of your app rejection by the market.
In this article, we'll try to answer all your 'how much' questions as informative as it possible.
Mobile App Design: How much does it cost?
Should I hire UI/UX designer?
In short -- yes. If you need some arguments, here you go.
Many entrepreneurs that are driven by the desire to develop a mobile app of their own, but being on a tight budget, often look at app designers as professionals whose services can be avoided for the sake of saving money. They think, 'Why should I pay thousands of dollars to a person that performs one single function if I can hire a developer with some skills in Photoshop and ask him or her to build my app from scratch?'. Wrong thinking.
Generally, such all-in-one 'options' are provided by freelancers and imply lots of risks related to quality of the final mobile app UX design and meeting deadlines. Not to mention the fact it's quite hard to combine two specialties and be a true professional in both of them. At least because both these spheres get ahead year over year and there's an unbelievable scope of information that professionals must keep up with and apply in practice.
What are the alternatives? IT companies providing the full development cycle (mobile app design and development) or design agencies which most frequently don't have in-house developers and provide web and mobile app design services only. In this case, all the prominent roles are divided between qualified specialists that guarantee the superb quality of the final product.
Yes, that'll cost you a pretty penny but remember that in the 21st-century users decide whether to continue using a product or not in minutes. So, it's the first step to a successful product. Keep in mind that a great app design is not only about how your app looks like but how it feels as well.
Mobile app design process
Roughly saying, the app design process can be divided into subdivisions like interaction design, user experience design, user interface design, motion design, and so on. Some of these are steps optional and not required for each project, while some of them are an integral part of any app design process. Nevertheless, each team has its own proven approaches to creating designs.
Let's take the process of design creation in our company as an example, so you could see how our design department structures its work.
It is the stage where we learn about an app, target audience, customer's vision and objectives. The deep analysis of intended users, their preferences, goals, and desires is an important priority for us, as well as analyzing of the latest design trends. During this stage, we dive into the market environment that allows us to solve problems of the concrete audience in a more efficient way. Thus, we are able to generate app design ideas tailoring our customers' products to their target audience needs and preferences.
After this stage, we generally provide clients with a rough estimate (approximate time required to create a mobile app design) based on the features list. In case a customer agrees to continue cooperation -- we move forward to the next stage.
Mobile app wireframe is a schematic placement of all design elements that are supposed to be in the final version. In other words, it's a skeleton of your future app. Wireframes of apps are built based on the results of research in order to meet preferences of the target audience and make it easy for them to use the app.
Studying wireframes enables us to find the best suitable solution for your app and convert them into mobile application UI design. Wireframing is fast and cost-effective solution to visualize the concept and make all the changes with the least losses of time.
After this stage, we conduct a detailed estimate for application UI design based on wireframes we've done.
Wireframing process at Cleveroad
Creating a user interface is all about how the app is laid out. UI app designers are concerned about visual communication of the app. They are in charge of delivering pages and screens, branding, interior layer, color schemes and overall appearance. The interface is built around the requirements of the technical concept.
There are always a lot of options for the visual realization of the problem, but the main criterion for selection should be the goal of creating an application, and only then the appearance.
If the project covers both mobile platforms, we generally start from iOS app UI design and then adapt it to Android realities. In case a customer needs an app version tailored for tablets or wearables -- it's done parallelly with the main app design, but estimated separately.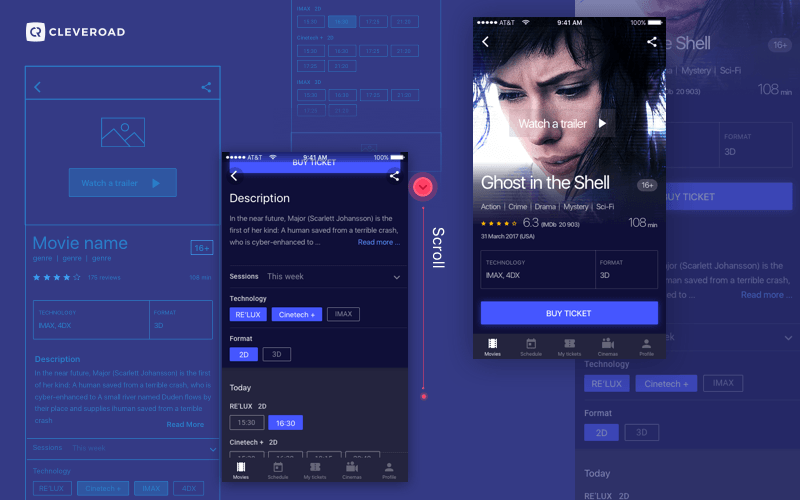 App user interface design process at Cleveroad
4. Other design processes
Here we can refer creation of graphics (e.g. a set of icons), animations, and interactions. They're estimated separately as well.
App animation by Cleveroad
Difference between iOS and Android UI design
When it comes to designing for iOS and Android platforms, you won't see the significant price discrepancy. Despite the fact that both platforms share the same principles, the difference between Android and iOS app design exists. It's not only about layouts, icon sizes or touch gestures, it's about design guidelines restrictions. However, these differences don't affect much on final app UI design cost.
iOS mobile app design should correspond to certain standards that Apple describes in its Human Interface Guidelines. Why should designers follow them? First of all, there are certain requirements violation of which can lead to refusal from publishing your app to App Store. However, the most important thing is that they standardize apps in order they looked like a part of the ecosystem. In turn, it makes the interaction with apps an easier thing for users.
Android app user interface design
Concerning Android app UI design, everything is a bit more complicated. Until 2015, there were no guidelines designers had to follow in order their apps were approved and published on Google Play. Of course, that had no positive effect on how users interact with apps, so Google introduced its User Interface Guidelines.
We are just trying to say that you should make sure that you entrusted the work on your Android mobile app design to a professional who is really good at guidelines and has excellent skills.
Another factor making Android less friendly is fragmentation of this OS. Not only because of different versions of operating systems and its adaptations by third-party companies but the enormous amount of devices and resolutions if compared to iOS.
Mobile app design price by countries
It's completely clear that in different regions of the world the app design price ranges the same as prices for other IT services. You should always remember that the cheapest price isn't always the marker of a high quality. That's why you should explore the market and search for good value for money.
From our side, we can suggest you pay your attention to Eastern Europe in particular to Ukraine. Prices for mobile app design services in this region are one of the lowest but quality is really on a high level. That's proven by dozens of successful startups (Grammarly, Teleport, Nimses etc.) and rapidly developing IT industry. You can refer to Clutch ranking to explore top companies from this region.
Mobile app design cost by complexity
All right, it's high time to get back to our 'How much' question and give you the concrete figures. You already know that there are several design stages. Respectively, mobile app design cost depends on the number of hours that designer requires to end up all the needed stages.
Let's say your basic app design was estimated in 180 hours. Then, you should multiply this figure by company's or freelancer's per hour rate to know the final price.
Let's take a look at design cost of the app for one platform based on project complexity (remember that Android app design cost is equal to iOS one and vice versa in most cases). We'll take into consideration the minimum and maximum amount of hours the designer may require to do the wireframe along with UI/UX design:
Wireframing

in app design can take from 8 to 80 hours.

UI/UX design

can vary from 25 hours for a simple app to 300 hours for a complex one.
To learn the figures in dollars we should apply some basic maths. Let's take an average per hour rate in Eastern Europe ($25) as an example:
Wireframes design

services may cost you from $200 to $2K

UI/UX design

cost varies in the range from $600 up to $8K
We included to this list only the estimations of fundamental design stages because it's barely possible to estimate even an approximate time required for animations, interactions, and so on knowing nothing about the project. In other words, to estimate these stages we need to talk with the project holder personally to learn more details.
Design is the first thing the user faces even before installing the app on device. The first impression is known to be the most lasting. Design is the key factor that forms the initial feeling about your app and determines whether the user will continue using it or put it aside. Poor design can prevent people from experiencing those features you were trying to convey.
If you have an idea and would like to receive a product that combines great functionality and appealing design -- contact us. We are always happy to transform your ideas into reality.
Don't forget to subscribe to our newsletter to stay tuned! Find this form to the right of this text, enter your email and get one letter weekly with the most interesting content from our blog and YouTube channel.
Rate this article!
Bad!
Strange!
Boring!
Good!
Love it!