UI/UX Design Costs: How Much Does It Cost to Design an App?
9415 Views
|
14 Mar 2018
|
7 min
It goes without saying that UI/UX design means everything to end-users and has a huge impact on a product's success. It's both how the app looks and feels like for users. Investment in mobile application design is something every product owner does to get a competitive product solving problems for the target audience.
In this article, I'll try to answer all your budget-related questions as informative as possible.
Mobile App Design: How much does it cost?
Should I Hire a UI/UX Designer?
It's often the case that stakeholders don't want to hire a dedicated design professional looking for developers with some UI design background.
They think, 'Why should I pay thousands of dollars to a person performing one single function if I can hire a developer with some Photoshop skills and ask them to build my app from scratch?'. Wrong thinking.
You indeed can find a freelancer who'd have design and programming skills. But then you're at risk of getting a poor quality product and get it later than agreed.
It's hard (if possible) to combine two specialties and stay a true professional in both of them. Both these fields are developing extremely fast year over year and there's unbelievable scope of information that professionals must keep up with and apply in practice.
What are the alternatives? Software development agencies providing the full development cycle (mobile app design and development) or design agencies that frequently don't have in-house developers and provide UI/UX design services only.
When design and development roles are distributed between separate qualified professionals, you get the final product of a decent quality.
Yes, that'll cost you a pretty penny but remember that in the 21st-century users decide whether to continue using a product or not in minutes judging from design. So, it's the first step to a successful product.
Keep in mind that great app design isn't only about how your app looks like but how it feels as well.
Hire talented UI/UX designers
Fill in a short contact form and we'll get back to you within 24 hours to specify details.
Mobile App Design Process
The app design process can be divided into a user experience (UX) and user interface (UI) design. Every agency or team has its own workflow for design creation.
Underneath, I've described how this process looks like in Cleveroad and most software development companies.
The design team digs into such product peculiarities as target audience, competition, and business objectives. At Cleveroad, we also pay great attention to in-depth user analysis required to define their preferences, goals, and problems.
Having gathered all the details, our team is able to create a mobile app design tailored to the audience keeping their problems and preferences in mind.
Before proceeding with the next stage, our UI/UX designers ask clients about their design preferences: colors, layouts, etc. This helps us to deliver the client's product vision with more accuracy.
!
Note: To create wireframes, any software development agency would require a clear list of requirements or a specification.
Mobile app wireframe is a schematic placement of all elements on app's screen. In other words, it's a skeleton of your future app. Wireframes of apps are built based on the results of research to meet the preferences of the target audience and make the app useful and easy-to-use for them.
Wireframing is a must-have step before prototyping. It lets clients understand how the app will look like, make suggestions and changes to design.
At Cleveroad, we craft several design concepts at request so the client could choose the most appealing one. We work with collaborative design platforms like InVision and open access for commenting and reviewing the progress.
Wireframes enable us to find the best suitable solution for the app and convert them into mobile application's UI design. It's also a fast and cost-effective solution to visualize the concept and make all the changes with the least loss of time and money.
Wireframing process at Cleveroad
Prototypes are about how the final version of the app will look like. UI/UX designers craft a prototype for every application's screen. Unlike wireframes, prototypes are detailed as the whole UI development is based on them.
If the project covers both mobile platforms, we usually start from iOS app UI design and then continue with Android design. In case the customer needs an app version tailored for tablets or wearables — it's done simultaneously with the main design, but estimated separately.
Again, clients have commenting options via InVision and can suggest changes to prototypes. On top of that, most companies provide static or clickable prototypes at the client's request. And we're not an exception.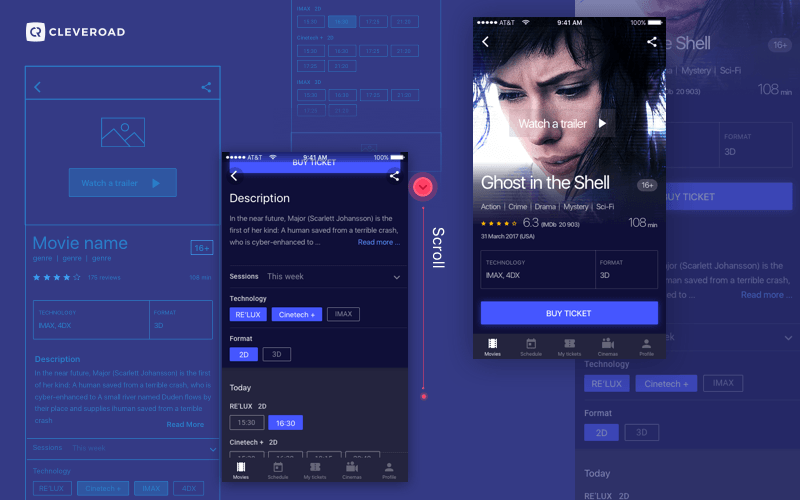 App user interface design process at Cleveroad
Creation of graphics (icons and illustrations), complex animations. They're estimated separately.
App animation by Cleveroad
Mobile App Design Cost Based on Complexity
All right, it's high time to get back to the 'how much' question and give you the concrete figures. You already know there are several stages of UI/UX product design. Accordingly, mobile app design cost depends on the number of hours designers spend to finish the task.
Let's say your basic app design was estimated in 180 hours. Then, you should multiply this figure by per hour rate the company charges.
Let's take a look at the design cost of application based on its complexity. Keep in mind that Android app design cost is equal to iOS one and vice versa.
Basic application — 100 hours
Medium complexity — 135 hours
Complex — 185 hours
To learn the figures in dollars, you should apply basic maths. Let's take a $30/h rate as an example. It's the average hourly rate in Eastern Europe, Ukraine so the price for other regions may differ.
UI/UX design price
| Complexity | Man-hours | Approx price ($30/h) |
| --- | --- | --- |
| Basic application | 100 hours | $3,000 |
| Middle complexity | 135 hours | $4,050 |
| Complex | 185 hours | $5,550 |
!
The prices and man-hours listed above are approximate and imply UI/UX design creation for both platforms (Android and iOS).
UI/UX Design Pricing in Different Regions
As said, the app design price you pay drastically depends on the region where you hire a contractor. The cheapest price isn't always a sign of high quality. That's why you should explore the market and search for good value for money.
From our side, we can suggest you Eastern Europe. This region has one of the best value for money ratio and is a preferred outsourcing destination for many companies.
In particular, you may consider outsourcing to Ukraine. It'll bring access to a rich talent pool at a reasonable cost. Prices for mobile app design services in this region are one of the lowest but the quality is on a high level. You can use Clutch to find out the best companies from this region.
I'm attaching the table with UI/UX design cost by region. There you can compare how much it'd cost to get a simple, medium, and complex UI/UX design in various popular outsourcing destinations.
App UI design cost by regions
| Region | Basic complexity | Middle | Complex |
| --- | --- | --- | --- |
| Eastern Europe ($30/h) | $3,000 | $4,050 | $5,550 |
| Western Europe ($65/h) | $6,500 | $8,775 | $12,025 |
| North America ($50/h) | $5,000 | $6,750 | $9,250 |
| Australia ($70/h) | $7,000 | $9,450 | $12,950 |
| Asia ($20/h) | $2,000 | $2,700 | $3,700 |
So, the bigger your app is, the more time your mobile application design and development takes.
Design is the first thing users deal with launching the application. The first impression is known to be the most lasting. So good design is the key factor forming positive experience and determining the product's success. Poor design will scare users off using your product.
Need UI/UX design for the project?
Schedule your free consultation with our specialists and get a free estimation.
We've gathered some useful information from this article in a comprehensive infographic for your convenience.
Rate this article!
Bad!
Strange!
Boring!
Good!
Love it!