Mobile App Design Cost: What's the Price of UI/UX Design?
Here's the thing: app marketplaces boost with apps that look much-the-same. Apple Store offers more than 1,8 million apps, and there are more than 2,47 million apps on the Google Play Store.
At this point, the best chance for a new app to single out is to focus on first-class UI and exceptional user experiences.
But how long does UI/UX building take? How does it go? And, most important, how much does it cost to design a mobile app?
In this article, we're answering all these questions. Plus, together with our business analysts, estimating app design cost of two popular apps – Uber and Instagram.
Time to get down to numbers.
How UI/UX Design Process Goes
But first, let's focus on how the app design process goes.
It's usually divided into user experience (UX) and user interface (UI) design. Still, each company or team has their own workflow for design creation.
Below I'm describing how the design process goes in Cleveroad and most software development companies.
Stage #1: Research
Our design team starts to work from digging into product peculiarities – target audience, business objectives, and the competition.
We pay huge attention to in-depth user analysis required to define their preferences, goals, and pain points.
Having collected all the details, the UI/UX team gets down to creating a mobile app design tailored to the audience's needs. And keep users' problems and preferences in mind while doing that.
Stage #2: Creating Wireframes
Note: To create wireframes, any software development agency would require a clear list of requirements or a specification.
A wireframe is a schematic placement of all elements on the app's screen. It's like a skeleton of the future app.
Designers create wireframes based on the results of their research to meet the preferences of the target audience.
It's a must-have step that comes before prototyping. Wireframes help clients understand how the app will look like. And suggest changes if they don't like something in the design.
At Cleveroad, we craft several design concepts at request. This way, our customers could choose the most appealing one. We work with collaborative design platforms like InVision and open access for commenting and reviewing the progress.
Wireframes help us find the best suitable solution and convert it into a mobile application's UI design. It's a fast and cost-effective means to visualize the concept. The one you can change with the least loss of time and money.
Wireframing process at Cleveroad
Stage #3: Prototyping
Prototypes show how the final version of the app will look like. Unlike wireframes, prototypes are detailed as the whole UI development is based on them.
UI/UX designers craft a prototype for every application's screen.
If the project covers both iOS and Android, we usually start from the UI design of the iOS version. And move to Android design.
When the customer needs an app version tailored for tablets or wearables, it's designed simultaneously with the main design, but estimated separately.
As I've said, customers have an option to give their feedback in InVision and suggest changes to prototypes.
On top of that, most companies provide static or clickable prototypes at the client's request. We're not an exception.
App user interface design process at Cleveroad
Other stages include, for example, creating graphics elements like icons and illustrations or making complex animations. All these processes are estimated separately.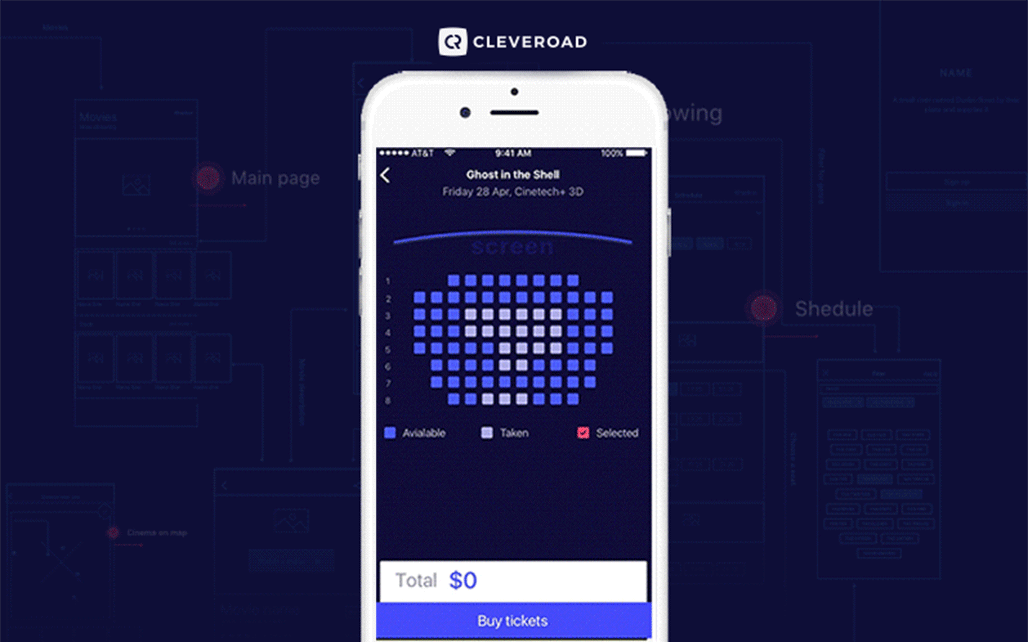 App animation by Cleveroad
App Design Costs By Region
Different companies adopt different estimation processes. Still, most IT firms that provide software development services follow this pattern:
hourly rate х number of hours spent = app design price
Let's say you're building an Uber-like app and outsourcing UI/UX services to Ukraine. Here are the rough numbers: $50 (average hourly rate in Ukraine) x 246h (max design time) = $12,300 (iOS and Android apps)
But we're taking a more detailed look at Uber mobile app design cost later on.
What if the price seems to be too high? Well-skilled IT specialists want to be well-paid, and UI/UX designers are no exception.
For example, the cost of top design services may reach up to $150 per hour in the USA or Canada. That will be up to $62,700 for Uber-like iOS and Android UI/UX design.
Here's the good news: local designers are not the only designers. If there are no great specialists around or mobile app design prices they set are too high, you can offshore design services to another country.
To help you to decide on the outsourcing destination, we've checked UX/UI design rates across different countries on platforms like Clutch and GoodFirms.
The average design rates by countries:
United States, Canada charge $50 - $150/h;
Australia gets $50 - $150/h;
Western Europe & UK asks for $50 - $100/h;
Eastern Europe (including Ukraine) delivers great design at $25 - $50/h;
India works at $20 - 49/hr
As you see, the app UI design cost depends on the region where you hire a contractor. The USA and Canada set the highest rates – up to $150/h. While Indian designers work at the cheapest ones – they charge less than $25 per working hour.
How much to charge for app design: costs it different regions
Still, the best price doesn't equal the best quality. That's why you should explore the market and search for good value for money. The more you learn about the company you're going to deal with, the higher are the chances there will be no unpleasant surprises.
Cooperating with an offshore partner? We've created a very detailed guide on this topic – check it out!
How to choose a reliable offshore service provider? Follow these steps:
Look at the company's portfolio.
Read reviews on Clutch, GoodFirms, or IT Firms.
Ask the firm's previous clients about their cooperation experience.
If confidentiality is required, check if they sign NDA.
How Much Does App Design Cost: Uber and Instagram
Uber and Instagram are two of the most important apps of the decade. And they both come with exceptional UI and brilliantly thought-out UX design.
That's why in this part we're taking a closer look at these apps. Plus, figuring out their mobile app design price – screen by screen.
Uber
Launched back in 2011, Uber – just in 5 years – turned from a car service for friends in San Francisco to a worldwide transportation network.
In the third quarter of 2019, Uber completed over 1.7 billion trips.
Why did Uber become so popular? It makes the process of calling a taxi as easy as pushing a button. With their smart interface, the whole process turns into playing a simple video game.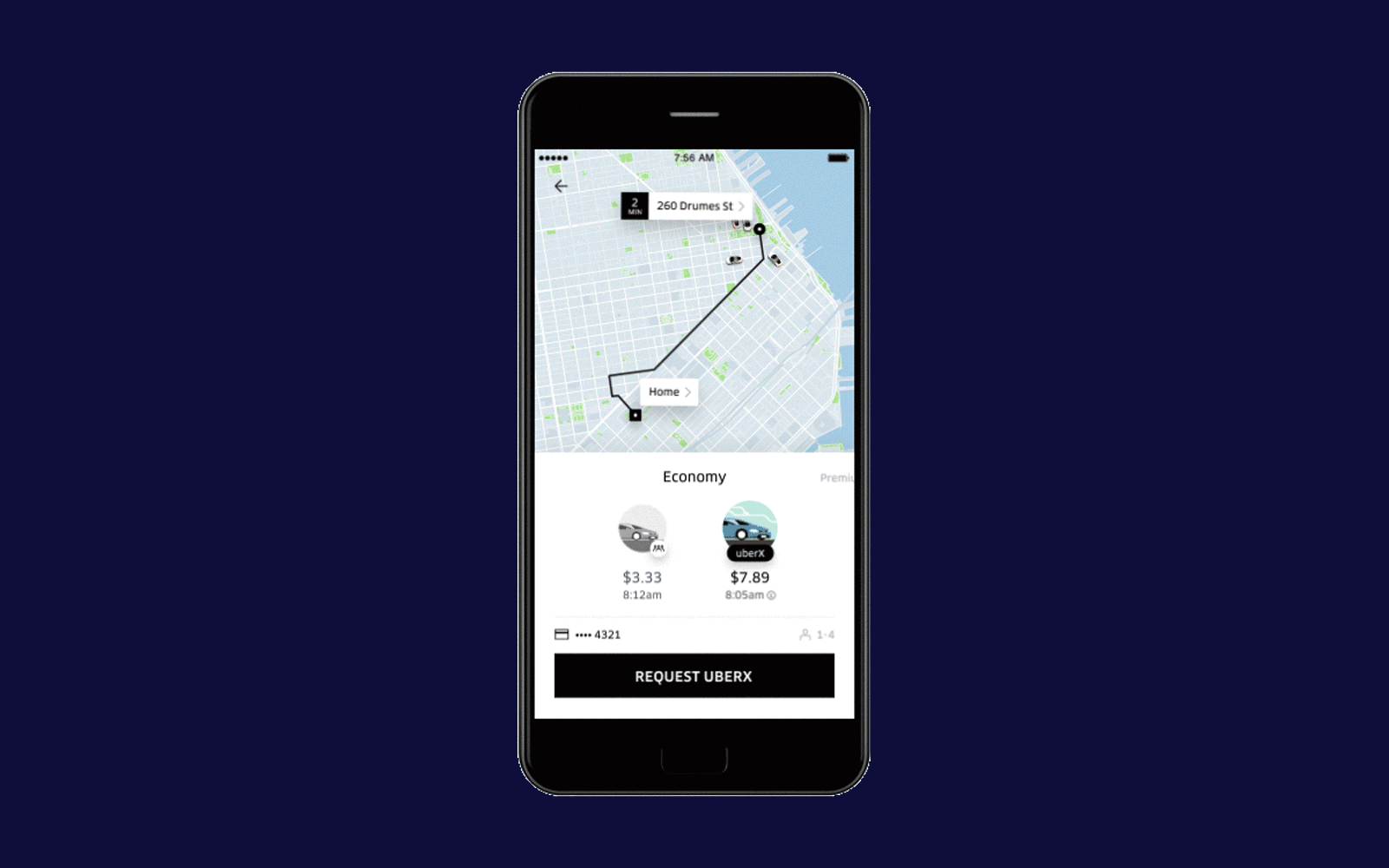 What's more important, Uber has done an excellent job designing their apps – for both passengers and drivers. They managed to keep a simple appearance but hide the complexity within.
Our business analysts estimated the time it takes to create a UI/UX design of both Uber apps – for riders and drivers.
Estimation of Uber UI/UX design

| Platform | Passenger app | Driver app |
| --- | --- | --- |
| iOS | 126h | 120h |
| Android | 88h | 84h |
The number of hours listed above is approximate and imply UI/UX design creation for iOS and Android platforms. We didn't include the admin panel as it usually has only a web version.
Full UI/UX design is usually done for one platform (mainly iOS), and then it gets adapted to the second platform (Android). Thus, Android design takes 60-70% of the time required for iOS design.
Again, this is a rough estimation. The exact cost fully depends on the app's UI/UX design complexity. A basic design of the app's MVP version will cost much less.
Finally, let's check how much Uber's iOS and Android app design costs in different regions.
US/Canada. $20,900 - $62,700
Australia. $20,900 - $62,700
Western Europe. $20,900 - $41,800
Eastern Europe. $10,450 - $20,900
India. $8,360 - $20, 482
Cleveroad Dribble concept: admin panel for on-demand delivery service
Instagram
The app that is all about visual content can't have a bad UX/UI design.
No wonder Instagram's UI and UX are well-thought-out: the designers behind the app have studied the science, art, and psychology of it's users, creating satisfying user experiences.
What's the result? Instagram has an average of 4.5/5 stars across all versions on the App Store. There's always room for improvement, crashes, and bugs, but users love the app.
Here's how much Instagram's UI/UX design is going to take.
Estimation of Instagram's UI/UX design

| Platform | Hours |
| --- | --- |
| iOS | 214,5h |
| Android | 150h |
In total, design takes ~365h.
Check the full screen-by-screen estimation of Instagram UI design prepared by our business analysts.
Instagram app design price across different regions:
US/Canada. $18,250 - $54,750
Australia. $18,250 - $54,750
Western Europe. $18,250 - $36,500
Eastern Europe. $9,125 - $18,250
India. $7,300 - $17,885
Our concept of a social media mobile app
Our Expertise
RetailOps is a unified SaaS platform for back-office that offers a suite of tools for retail companies.
In the beginning, RetailOps' UI/UX design was quite enough for a small application. But over the time, the app grew out of it's iOS 4 appearance, and it's UX could no longer cope with the new scale.
To make the RetailOps both helpful and user-friendly, app owners decided to redesign it.
Seven versions of the iOS design guidelines were released since RetailOps' first design, so our design team had to create an all-new mobile UI and UX.
Want to see more of our works? Take a look at our portfolio! Or check Dribble and Behance accounts to see our brand-new shots and works.
Need UI/UX design for a project?
Schedule your free consultation with our specialists and get a free estimation.
Frequently Asked Questions
All depends on the app's complexity. A basic UI/UX design of the app's MVP version may take just a few working days.
But applications with complex UI like Uber or Instragram may take up to 400+ hours for UI/UX design.
To calculate the price, use this formula: hourly rate х number of hours spent = app design price.
For example, if you need UI/UX app design close to Uber's and your designer charges $50 per hour x 246h (max design time) = $12,300 (UI/UX design of iOS and Android apps).
Hourly rates often depend on the designers' location. For example, in the United States and Canada, UI/UX designers charge $50 - $150 per hour. European designers work for $25 - $100/hr while in India UI/UX design services cost $20 - 49/hr.
We follow these steps:
Step #1: Research
Step #2: Creating wireframes
Step #3: Building a prototype
Step #4. Handing the project over to developers
Rate this article!
21027 ratings, average: 4.58 out of 5
Give us your impressions about this article
Give us your impressions about this article