How to Build an E-commerce Website in 2023: A Step by Step Guide
Modern realities dictate their terms to the commerce industry. Against the background of offline stores closing one after another without surviving the pandemic, online sales are flourishing and experiencing an unprecedented rise in popularity. According to analysts, the entire e-сommerce industry will only continue to grow, and by 2025 its size will exceed $560 million.
E-commerce market achievements
In such conditions, entrepreneurs can't afford to stay only offline since they miss out on a huge part of potential customers. In such cases, the only right solution is to create e-commerce website for business. However, to craft a truly unique online marketplace you need to use custom solutions and understand how to develop such products. We will analyze this process in our article and go over these vital topics:
What is an e-commerce website?
Why should you expand the reach of your business through an e-commerce website?
What features should you include?
How much will it cost to develop an e-commerce website in 2023?
E-commerce Market Overview: Directions, Prospects, Forecasts
We wouldn't be talking about how to make an e-commerce website if the e-commerce industry wasn't successful and promising, right? We've decided to collect some promising predictions and statistics to further strengthen your decision to enter e-commerce with your own website. To begin with, let's start by saying what you will lose if you do not have your own website for online trading. You run the risk of missing out on more than 230 million buyers, and this is exactly the number of buyers, according to analysts' forecasts, that only the US audience should have reached by the end of 2021. It is harmful for business to miss out on such a large number of potential customers.
To back up the previous statement, it is also worth talking about sales, which is also a very important indicator of the industry's success. According to recent statistics, total retail e-commerce sales should have reached over $4 trillion by the end of 2021. This is a crazy number that your business can become a part of if you get your own e-commerce website.
Do not forget about the trends of this market, which are also worth looking at if you want to get a competitive edge. And today, the most popular trend in the industry is m-commerce since more than 53% of all retail sales are purchases made from mobile devices. That is why it is extremely important at the ideation stage to think about its compatibility with mobile devices.
The e-commerce industry is now stronger than ever, and if you want your retail business not only to survive but also to start growing in such a troubled time for ordinary stores, your salvation will be to create your own website. Having made this choice, you will definitely not be mistaken since statistics show that such rapid growth is only the beginning, and by joining the e-commerce industry, your business will gain an incredible boost.
Why Is It Worth Building an E-commerce Website?
While the statistics don't lie, it's worth talking about a few more reasons why you should consider developing your own e-commerce website. We have collected the most important benefits that your business will receive when it starts operating using a custom website.
Benefit #1. Increased Sales and Revenue
During the lockdowns, many retailers experienced severe drawdowns in profits and sales as all buyers remained in the comfort of their homes. However, in the meantime, brands and companies that account for 50% of their sales from e-commerce performed significantly better than other companies during lockdown periods. To be more precise, 40% of the stores adapted for online sales have increased their revenues. And this trend will not subside, as analysts predict an increase in the number of consumers who shop online.
Benefit #2. Cost-Effectiveness
Doing business through a website is much cheaper than maintaining a standard store. All you need to maintain is a timely payment for hosting and a salary to the administrator (we omit the costs of modifications and improvements since they are temporary). Meanwhile, a full-fledged store every month bites off significant amounts of money from your budget for renting premises, paying for utilities, cleaning, salaries for all employees, sick leaves, and so on.
Benefit #3. Enhanced Product Visibility
The e-commerce website provides you with unique tools to promote your brand and products that are not available in standard retail stores. For example, you can increase sales of certain products using contextual advertising, personal recommendations, thematic selections, and other ways to attract customers to the goods.
Benefit #4. Your Store Runs 24/7/365
By transferring your entire business online, you can forget about the weekend for your marketplace. In addition, you are not tied to the geographic location of your store and can serve customers from all over the world (having previously established an uninterrupted delivery system). Thus, your store is available around the clock, which allows you not to interrupt cash flow to your budget.
Benefit #5. Better Analytics
This benefit is very dependent on your set of features (which we will talk about a little later). However, if you take care of the availability of a wide range of analytical tools on your website, it will become much more convenient for you to track the success of your store and, based on the data, manage the strategy for further development of your business. In addition, monthly reporting can be reduced to a few mouse clicks, saving you time and focusing on more important aspects of your business.
Benefit #6. Field for the Implementation of Modern Technologies
Your own e-commerce website lets you implement an insane amount of modern technology to simplify your workflow and user experience. For example, you can implement Artificial Intelligence on your website in chatbots that will solve customer questions. Or, permeate the site with machine learning algorithms that will study the actions of buyers on the site and provide them with personalized recommendations and customized offers.
Main perks of e-commerce website
What to Notice When You're Building an E-commerce Website
Before you start developing your e-commerce website, you should take care of some nuances. The creation of a website for online commerce is a responsible process that does not allow frivolity and unpreparedness. That is why we will now talk about a few aspects that you should know about.
Choosing E-commerce Platform
At the core of every e-commerce website is a specific e-commerce platform. It helps handle the entire store and its critical aspects such as checkout, delivery, storefront management, and so on.
In total, there are three types of e-commerce platforms on the market that are designed for different types of business and are equipped with a different set of features.
Open-source platforms. Here the name speaks for itself, and such platforms offer their source code free to anyone who wishes. Each entrepreneur can modify the code to flexibly customize the entire platform for specific business needs. However, it is worth noting that such solutions are best suited for established entrepreneurs ready to spend money on a separate development team that will modify and manage the entire system in the future. Any code injection requires advanced technical knowledge.
SaaS platforms. This type is the complete opposite of the previous one since all the platform functionality becomes available only upon subscribing. You don't need to worry about anything because such platforms have all the necessary tools to start an e-commerce business. In addition, the management of the platform itself and its security lies entirely with the vendor. However, you will have to pay a lot for such amenities. Your expenses will include monthly platform fees, commissions per transaction, additional enhancement fees, and third-party plug-ins.
Headless commerce. This platform format separates the cart and display layer on e-commerce sites. As a result, you can use a content management system, digital engagement platform, progressive web application, or other technologies in the front-end and supplement them with an e-commerce engine in the back-end.
Mobile Commerce
Mobile devices have made great strides in the past ten years, and now it is difficult to imagine modern life without them. And in the wake of popularity, businesses are beginning to adjust their processes to the trends dictated by mobile devices, namely that 79% of users prefer to shop through them than go to a full-fledged store and shop there.
When building an e-commerce website, you should constantly consider whether your design and functional solutions will look good on mobile devices. It's not enough to just run a desktop version of a website on a mobile device and hope it works. You need to perfect the mobile design, making it intuitive, user-friendly on different screens, and as functional as the desktop version of the website. To understand the difference, just look at the Nixon watch website and its mobile version.
Nixon Watch website versions
Security
As sad as it is to admit, however, on the Internet you will come across even more frequent fraud cases than you might have faced in reality. When creating your own website for online commerce, you must take care of the impenetrable security barrier of your business since not only monetary losses but also reputation are at stake.
How to create an e-commerce website and make it secure? You should take care of the following aspects:
User card data security. Leakage of user card data can threaten reputation losses and a violation of the law by your business. To avoid this scenario, your e-commerce website must fully comply with the PCI DSS industry standard, which ensures the secure transmission and storage of credit card information collected on the Internet.
ISO compliance. Even though ISO is an international organization that imposes many standards and requirements for businesses and their products, we will talk specifically about ISO/IEC 27001: 2013. This certification affects the security of the data that your business collects and processes, so you should obtain this certification and partner with an ISO-compliant technical vendor to help you achieve cybersecurity excellence in developing your commerce website.
Personal data security. Personal data protection is especially important when it comes to data privacy regulations such as GDPR. These regulations were adopted by the European Union to ensure the protection of the personal data and privacy of citizens of the European Union. However, even if your business is in America and you sell products internationally, in addition to the California Consumer Privacy Act, you still need to be GDPR compliant as you can sell your products to the European Union.
TLS, SSL, and HTTPS authentication. These three acronyms also underpin the security of your business. SSL is the precursor to TLS and is responsible for authenticating and encrypting links between computers on a network. Once your website is SSL-compliant, you can switch from HTTP to HTTPS, which will serve as a signal of confidence to your customers for the security of your site.
Features of E-commerce Website
So, we have figured out all the nuances of the e-commerce industry and website development. Now is the time to talk about the features that will be the basis of the functionality of your commerce business.
MVP Features for Customers
How to create a website for e-commerce? First, think about MVP functionality. These features are the foundation of any product and help it perform the basic functions assigned to it. In our case, this is an opportunity to conduct full-fledged commerce.
Registering a profile is the backbone of any website and allows users to create their own profiles for a more convenient shopping experience. Often this feature has a login via a standard email/password or a login via social networks.
Italic registration screen
This page is the face of your website and will display popular products, most purchased and viewed items.
On this page, the user can customize their profile, add an avatar, change their name and add information about themselves. In addition, it is worth adding the ability to view orders made and track their status.
This page is essential for every online store since the users must easily and quickly find the product they need in your assortment. We recommend enabling different categories and filters (manufacturer, price, and so on) for a more convenient search.
Venero Skate Shop goods catalog
Your product must have a detailed description so that buyers understand well what they are going to purchase. The product page should have a separate tab with characteristics and a carousel of photos with magnification so that not a single inch of the product is left unchecked. Besides that, it is worth adding a comments section and user rating, so the others could leave their opinion about the product.
The shopping cart is the page on which the buyer confirms the order and makes the payment. Therefore, it is very important to provide the user with as many payment options and shipping methods as possible. In addition, the order details should be indicated on this page.
Buyers will always have certain questions that will require a solution. The Help screen is the center of your website's customer service, and to make it as useful as possible, you should include the Terms and conditions, company information, feedback form, and frequently asked questions.
MVP Features for Website Owners
In this section, we will talk about the admin panel which is vital when you want to create e-commerce website. The entire management of the online store takes place through it, and it must have specific functionality.
Authorization
The administrator must be able to safely enter the panel, so it is worth taking care of the presence of login through a password that will be issued personally by the store owner or other administrators.
User management
The administrator needs to monitor registered users on the website and, in case of suspicious actions, be able to block the account of such a client. In addition, moderation of product comments also occurs through this screen.
Item management
The functionality for adding products should also be in the admin panel. All information that is displayed to the buyer on the site is configured through the admin panel.
Payment management
Setting up payment methods is the administrator's responsibility, so the admin panel should be able to connect various payment gateways (Braintree, Paypal, and so on).
Requests
Orders are processed through the admin panel, and it should have functionality for viewing incoming orders, their details, as well as the ability to change the status of orders that users see in their profile pages.
Steps to Launch Your Own E-commerce Website
So, it's time to consider the main stages of building an e-commerce website that await you ahead.
Step #1. Market Research
Market research is an extremely important stage that will help you understand how strong the competition is in the niche you want to occupy and if there is any at all. You should study your potential competitors in detail, namely:
A full list of the services they provide (or what products they sell)
Their "killer features" that they stand out
Their target audience and how they work with it
Their social networks
What promotion method is used
This will give you a complete picture of the market situation, and it will be easier for you to come up with a unique offer that will set you apart from the crowd and win the attention of the fastidious consumer.
Step #2. Finding a Tech Vendor
As we said earlier, developing an e-commerce website is a complex process that requires the interaction of various specialists with a high level of technical expertise. Nobody forbids you from using website builders as it is a quick and easy way to create a website and go to market. However, real customization and high functionality can only be provided by providers with domain expertise.
We recommend that you conduct searches on specialized sites such as:
These websites are aggregators of information from various software development vendors from around the world. You will be able to conduct an in-depth search, as each company page is provided with a detailed description of services, pricing policy, location, and useful links to contact the company. In addition, you can get acquainted with the reviews and ratings left by past clients, which will help you make the final decision.
Discover in our recent article how to hire dedicated web developers for your project making no mistakes
Step #3. Discovery Phase
So you've found your tech vendor that knows how to create a website for e-commerce. The first thing you will encounter is the discovery phase, which is extremely important for developing any technical product. During this phase, business analysts examine your business, technical product requirements, desired features, and so on. Finally, all this information is packed into a detailed specification, based on which you get the final estimate of the development time and cost.
Learn more about the discovery phase and why it's a vital stage of the whole development pipeline
Step #4. Design
During the design stage, UI/UX specialists create wireframes - schematic displays of future website design elements and a sequence of transitions between screens. In essence, this is a blueprint of a future technical product that must be approved by you. After that, the wireframes turn into full-fledged design mockups that reflect how the website will look in the end. Of course, all mockups must also be approved, and the final part of this stage is their transfer to web developers.
Step #5. Development
The development marks transforming your ideas and requirements written in the specification into complete lines of code and a working product. All development is divided into sprints and each one takes two weeks. During this period, developers must implement a certain part of the functionality and present it to you at the end of the sprint. Such a pipeline continues until all the functionality is implemented.
Keep in mind that your new software product can be developed in two ways: during the traditional development or low code/no code app development. But you should remember that choosing the second option doesn't suppose any uniqueness of your future web application or a site.
Step #6. Quality Assurance (QA)
Your e-commerce website must work flawlessly, and therefore, it undergoes rigorous QA testing. The specialists of this department examine every part of the website for bugs, and if they find them, they create bug reports that are then sent to the developers. Bug reports help restore the state of the website in which the bug was found and fix it faster.
Step #7. Release
This stage marks the finish line in building an e-commerce website. The developers make final edits and polishes, and after that, they give you your site with all the source code.
Step #8. Launch and Marketing
So you've launched your e-commerce store, but how do you get customers to see it? The correct answer is marketing. You have many ways to promote your business, and in the e-commerce field, you can use the following ways:
Content marketing. This category includes various types of content that both advertise your products and aim to improve the SEO performance of your website. This can be various blog posts, Longform content, promo videos, podcasts, Instagram posts, and more.
SMM. Promotion through social networks is also extremely effective and is similar in strategy to content marketing, but it occurs exclusively on popular social networks (Twitter, Facebook, Instagram, etc.).
Influencers. The main idea is to deal with popular personalities who can advertise your product and services on their blogs, social networks, YouTube channels, and so on.
Email marketing. Another way of promotion consists of sending introductory letters and letters that encourage the user to go to the site and make a purchase (for example, mailing news about discounts or gift certificates).
SEO. This is the cornerstone of any business promotion because if you don't take care of your website's search rankings, you risk ending up on the last page of Google, where no one will find your website. This strategy is to optimize keywords, titles, meta tags, and other elements that are extremely important when indexing a website by search engines. At its core, you show Google that your website is relevant to the topic, useful to the customers, and worthy of being above others in the search results.
Choose any way to promote your website or combine them all. Your main task is to attract an audience, and for this, all means are good.
What you need to do to launch your own e-commerce website
The Price of Building an E-commerce Website in 2023
So we come to the final point of our article. This question worries many entrepreneurs, and it is not surprising. After all, the more expensive the development costs, the longer the investment will pay off. Our analysts have calculated the approximate cost of developing an e-commerce website based on the profit centers of the features that we have already discussed in this article.
Let's start with MVP features for customers.
MVP features development time

Feature
Functionality
Development time (hours)

Registration

Register using email and password, Login using social media, Forgot password, Logout

56

Main screen

Watched products, Last purchased products, Popular products

96

Catalog screen

List of categories

24

Product details screen

Photo slider, Rate, Add review

64

Cart

List of products, Checkout

112

Profile

Edit profile, Orders, Payment screen

64

Help screen

Terms and conditions, About company, Feedback form

32

Total development time

448 hours
The next one is an Admin panel features and their development time.
Admin panel development time

Feature
Functionality
Development time (hours)

Authorization

Sing up, Sign out

8

User management

List of users, User details, Create user, Search user

120

Item management

List of items, Create item, Delete, edit, search items

104

Requests

List of requests, Details screen, Change request status

72

Export products

From Shopify or other places per request

80

Payment management

Manage payments

40

Total development time

456 hours
Given the amount of work, it'll cost you approximately $95,200 to create e-commerce website described in the table. However, your expenses don't end there. Do not forget that you will have to pay monthly for hosting the website and updating it from time to time to stay on the cutting edge of technology.
It is also worth noting that the final development price is influenced by the location of your technical vendor since there are different hourly rates in different regions of the world. For example, the average developer rate in the US is $150 per hour, while developers with a similar level of experience in Eastern Europe will cost you $50 per hour.
Wrapping Up
Building an e-commerce website for a business is a multi-stage and complex process requiring good preparation and knowledge of the field. You must carefully study the market, come up with a unique market offer, and, based on this, develop a website with features that will deliver this offer. In addition, you need to enlist the support of an expert technical vendor who will turn your ideas into a working product. And if you already have such an idea, we will gladly help you to infuse life into it.
Cleveroad developers have 5+ years of experience in designing and building any-size e-commerce websites. We build secure and converting e-stores for our clients and make a heavy focus on personalized customer experience and unique design that combines the latest trends and brand vision. For example, you can evaluate one of our many website redesigns for an e-commerce store.
Frequently Asked Questions
The cost of development depends on many factors: from the number of features you want to add to the region of the development team. The final cost will be told to you only after a detailed study of your project. However, we have compiled a guide on estimating cost of building a marketplace website so that you can get a rough idea of how much it would cost to develop such a website.
In order to create a great e-commerce website for your business you need:
Choose the type of platform that best suits your needs.
Take care of a high level of security, since not only financial, but also reputational losses are at stake.
Decide on a list of features (basic and additional)
Choose a technical vendor and its region, as the cost of developing a website depends on this.
In order to create your own e-commerce website, you must go through the following steps:
Step # 1. Market research
Step # 2. Finding a tech vendor
Step # 3. Discovery Phase
Step # 4. Design stage
Step # 5. Development
Step # 6. Quality Assurance (QA)
Step # 7. Release
Step # 8. Launch and marketing
Developing your own e-commerce website will bring several significant benefits to your business:
Benefit #1. Increased Sales and Revenue Benefit #2. Cost-Effectiveness Benefit #3. Enhanced Product Visibility Benefit #4. Your Store Runs 24/7/365 Benefit #5. Better Analytics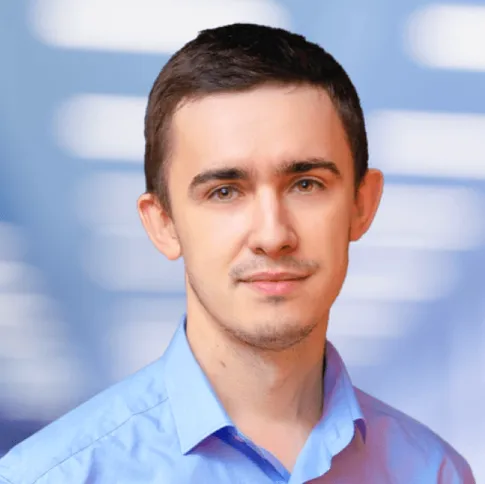 About author
Evgeniy Altynpara is a CTO and member of the Forbes Councils' community of tech professionals. He is an expert in software development and technological entrepreneurship and has 10+years of experience in digital transformation consulting in Healthcare, FinTech, Supply Chain and Logistics
Rate this article!
1354 ratings, average: 4.69 out of 5
Give us your impressions about this article
Give us your impressions about this article
Bhavika
20.01.2023 at 06:11
Hi, Thanks for sharing such an awesome blog.
Sherif
08.10.2021 at 15:34