HR Software Development: Challenges and Cost Explained
Specialists from the Human Resource department know the struggle of completing routine tasks every day. Luckily, modern technologies provide an opportunity to automate tasks and save HR managers time.
HR software development improves the internal companies' processes. HR marketplace is worth over $14 billion (and constantly rising), so companies of any size tend to integrate HR management solutions.
U.S. HRM management market size
In this guide, you can find all the required information about HR software development: from types and components to the cost of making an HR system from scratch.
Types of Human Resource Software
All companies tend to have an HR department to manage the employees more effectively. These days, it's even common to divide the HR department into smaller groups responsible for recruitment, onboarding, and employee retention.
Each of these groups focuses on a particular task. For example, recruiters look for suitable candidates while retention managers work in a great atmosphere within the company.
Having various tasks, HR managers need different systems. That's why it's common to single out three types of HR management software.
Human Resource Information System or HRIS
HRIS tends to be the most used software solution due to a bunch of cool functions like time-tracking, compensation management, and others.
HRIS offers a database that stores information like onboarding, employee demographics, time-tracking, payrolls, and more. The system also provides up-to-date information about employee retention and hiring processes.
If you want to start HR software development and create a Human Resource Information System, you should include such capabilities:
Recruiting. There are various features like posting job descriptions, managing candidates and their CVs, scheduling interviews, and others.
Working schedules. HR managers can monitor employees' absence due to vacations, sick leaves, day-offs, and more. They also can set shifts for the workers.
Employees' learning and development. HR managers can schedule meetings or conferences for the employees to share their experience with their colleagues.
Benefits management. If your company offers benefits like health insurance, sport compensation, and more, it's better to track all the required data in the system.
Compensation management. Speaking about money, you need to manage salaries, paid time off (vacation, sick leaves), and overtime pays.
Personal profiles. Each employee has to have a personal profile, so that HR managers can find personal data like contact information, position, date of birth, and more.
Examples: BambooHR, SAP SuccessFactors, Natural HR
Human Resource Information System
Human Capital Management or HCM
This system focuses on employee performance and development. A talent management feature includes compensation planning, employees' education, and development, and career planning.
HCM system tends to have the following features:
Performance tracking. HR managers can track the performance and productivity of each employee.
Onboarding. It helps new employees to join the team faster.
Analytics. Get up-to-date information about employees' performance based on the required metrics.
HR space. Employees get access to the company's knowledge base, procedures, and documentation.
Examples: Workday HCM, Ceridian Dayforce, UKG Pro
Human Resource Management System or HRMS
Last but not least is the HR management system. This solution tends to have features common for HRIS and HCM. However, there are several unique features:
Payrolls management. Labor costs are almost the largest cost item. And HRM systems can calculate salaries, taxes, and more.
Time and labor management (TLM). The system allows tracking time spent on projects to increase productivity.
Examples: HR Cloud, ADP, Sage HRMS, PeopleStreme
We've already covered HRMS development, including advantages, must-have features, and steps to take.
Human Resource Management Software
Starting an HR software development, you should pick the system type — HRIS, HCM, or HRMS — depending on your business needs and requirements.
Components of Human Resource Management System
Since HRMS is the most widespread, let's discuss the details of this system. It's common to single out the following components of the Human Resource Management System:
Core HR
Onboarding
Workforce management
Talent management
Recruitment
Learning management
Core HR
As you can say from the name, the core HR covers the essentials like employee management, organization charts, and payroll management.
Core HR focuses on employees' performance, containing personal information, pertinent documents, and working records within the company.
Employees can also use this solution to enter, update, or look through their personal information. Using the system, they also can ask for vacations or sick leaves and mark overtime.
HRM Candidate profile by Cleveroad (Source: Dribbble)
Onboarding
During HR software development, you should integrate a well-organized onboarding process.
The onboarding stands for a set of procedures focused on supporting new employees and helping them to join the team. HR managers can make onboarding fun and organize informal events like lunches with colleagues.
The standard onboarding process includes:
Setting up communication tools and email addresses.
Adding a new employee to corporate chats and mailing lists.
Introducing to the rest of the team members.
It's also required to provide access to corporate rules and values (better having them in written form for the employee to read).
It's possible to create and assign onboarding tasks to HR managers or other employees. They will receive a notification about the new task.
Workforce Management
The primary goal of this solution is to track and analyze the employees' efficiency at their workplace. The system also helps find out the exact number of employees to complete particular tasks.
For example, if you have an e-commerce business, the system shows the number of employees for customer support based on calls from your customers.
There are a bunch of useful tools:
Attendance tracking
Time tracking
Scheduling and tracking tasks
Budgeting
Vacation and leave planning
Talent Management
Talent management stands for developing and retaining employees with the required skills and experience to reach the company's goals and plans.
This solution usually has such features as:
Performance management
Career development
Individual development plans
Compensation management
To work more effectively and develop constantly, it's better to set career goals. The managers can monitor the employees' progress based on the agreed metrics.
The system is helpful for performance reviews. HR managers can create a rating system or ask other employees to give feedback about working with a particular employee.
HRM Dashboard by Cleveroad (Source: Dribbble)
Recruitment
Recruitment is vital for companies of any size. Unfortunately, recruitment can be a time-consuming task. HR software development helps automate various tasks like candidate management and interviews arrangement.
The recruitment systems usually have the following functions:
Looking for a candidate
Managing candidates' information like a CV, portfolio, achievements, and more
Interview scheduling
Writing down the feedback after the interview
HRM Recruitment by Cleveroad (Source: Dribbble)
Widespread Issues with an HR Software
There are a lot of ready-made HR management tools on the market. However, using such a system can be a struggle. There are several reasons:
Poor user interface
Let's face it — user interface means a lot. The HR management software has to be user-friendly and straightforward, so your employees spend less time training and understanding how the system works. Additionally, ready-made systems rarely offer mobile versions.
Too many solutions
Ready-made HR systems tend to focus on one task. For example, CakeHR is perfect for onboarding and offboarding employees, and SmartRecruiters offers a good experience for candidates and recruiters. As a result, your HR department uses too many tools, so it's complicated to track the activities.
Made for mass market
Most HR systems are made for the mass market, so they can't fulfill all your business requirements and needs. If your company needs some specific features, it's better to choose HR software development from scratch.
Drawbacks of ready-made HR solutions
HR Software Development [Checklist to Follow]
Step 1. Consider why you need to build custom HR software and decide what type you need.
Step 2. Meet with department leads to create a list of the required functionality.
Step 3. Form an in-house team or get a software development company to help you with HR software development.
Step 4. Calculate the required time and cost to build the solution.
Step 5. Consider the user-friendly UI/UX design.
Step 6. Start the development process.
Step 7. Test how well the system integrates with the company's internal processes.
Step 8. Deploy and enjoy.
How Much Does HR Software Development Cost?
HR software development costs may vary from $25,000 to $250,000. In some cases, the price may even be higher, depending on your business needs and requirements.
Several factors that can completely change the price:
Project complexity. It's evident that the more complicated the system is, the higher cost will be. Developers need more time to make the required features along with a higher qualification.

Development team. These days, the IT market offers three cooperation models — hire in-house teams, cooperate with freelancers, or outsource the development to the vendor. In our experience, the most reliable option is outsourcing software development company. Outsourcing is perfect for long-term cooperation in comparison to freelance development. Also, you can reduce costs since there are no additional expenses for rent, hardware, and software.

Seniority level. Developers can be divided into three categories depending on their work experience — junior, middle, and senior ones. HR software development requires middle or senior developers since it's a complicated system.

Region. Outsource website development can significantly change depending on the region. For example, developers from North America tend to have the highest hourly rates. On the other hand, developers from Asia have the lowest rates, but the product's quality is often questionable.
Developers' rates in various regions
HR Software Development Cost [Our Experience]
To give you a hint, we want to share our estimate of the recruitment system.
Our software solution has three user roles — candidate, employer, and admin. The system allows recruiters posting job positions and get feedback from candidates. As for candidates, they can upload their CV and tell recruiters about their experience. We integrated chat to ensure the convenient communication process.
In the table, you can see an approximate development time by modules. Recruitment system development requires 755 hours in total to implement those modules.
Note! Mind that every HR software solution is unique. We've estimated only the basis features of the recruitment system. Contact our managers to get a custom estimate, it's free of charge.
Cost to develop a recruitment system (development only)

Module
General features
Approximate time (hours)

Candidate role

Signup and login

registrate by email +password
choose required tags
upload CV
login by email + password
forgot password
log out

63

Profile

upload photo
edit profile
change password
change email

45

Search

search for a job
list of categories
list of jobs
job details screen

45

Interviews

accept offer
reject offer

73

Chat

list of conversations
online/offline status
typing status
read status
sent status
send text
send photos
send files

123

Calendar

schedule interviews and meetings

64

Settings

turn on/turn off notification
payments screen
log out

31

Employer role

Signup and login

registrate by email +password
choose required tags
login by email + password
forgot password
log out

6 (partial reuse)

Dashboard

search
sort
list of candidates
details about the candidate

42

Profile

upload logo
edit information about candidate

29

Job management

list of open positions
job details
remove job
create job
job preview

55

Chat

list of conversations
online/offline status
typing status
read status
sent status
send text
send photos
send files

3 (partial reuse)

Interviews

sort candidates
list of candidates
candidate details
send request for CV
video interview

63 (partial reuse)

Admin role

Authorization

login by email + password
log out

10

Candidate management

list of candidates
candidate details
edit candidate
delete candidate
block candidate

28

Employer management

list of employers
employer details screen
edit employer
delete employer
block employer

24

CV management

approve the CV
disapprove the CV

16

Payment management

35

Total development time

755 hours
To make the development process more structured, we tend to divide it into smaller parts (called sprints), so there are 8 development interactions. Mind that HR software development requires not only developers, but a whole team.
Here's the full development team:
Front-end developer - sprint 1-7
Back-end developer - all sprints
Web Team Lead - all sprints
UI/UX designer - sprint 1-7
Business Analyst - sprint 1-7
Project Manager - all sprints
QA engineer - all sprints
DevOps engineer - all sprints
With this team composition and the amount of work, HR software development will cost you approximately $90,350. As a software development company, we can guarantee successful project delivery meeting your requirements and deadlines only if you hire all the specialists from the team.
Mind that this price is approximate and can vary depending on your business needs and requirements. If you want to reduce your budget, you can hire only software engineers and follow the staff augmentation model. In this case, you manage the team on your own and are responsible for the final product.
Frequently Asked Questions
HR software stands for a system that automates routine tasks of the HR department like performance tracking and employee management.
It's better to cooperate with a qualified and experienced development team to create HR software.
HR software development costs may vary from $25,000 to $250,000. In some cases, the price may even be higher, depending on your business needs and requirements.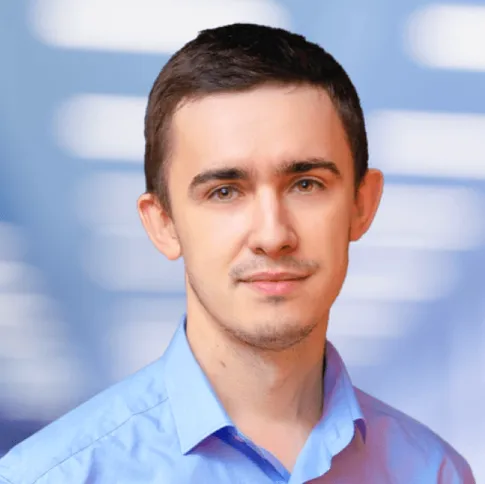 About author
Evgeniy Altynpara is a CTO and member of the Forbes Councils' community of tech professionals. He is an expert in software development and technological entrepreneurship and has 10+years of experience in digital transformation consulting in Healthcare, FinTech, Supply Chain and Logistics
Rate this article!
1720 ratings, average: 4.85 out of 5
Give us your impressions about this article
Give us your impressions about this article