How To Create A Custom HRMS: Advantages, Features, Important Steps
Employee's performance level is very important since HR managers need to know whether the staff feels comfortable, how they are efficient in doing their job and so on. In addition, HR managers have a lot of paperwork and it is very difficult to perform different tasks, keeping in mind too much information. That is why human resource management system (HRMS) is software that HR team needs and it can substantially improve their working process
This article will cover HRMS definition and objectives, its advantages, must-have features along with steps to build your custom HRMS solution, and how to find reliable web development services.
What is HRMS?
HRMS or human resource management system makes it possible to automate human resource management process on both mid-sized companies and enterprises. A system consists of a set of modules that provides an HR department with the necessary tools to achieve strategic objectives of a company considering specific conditions. And, of course, HR software for small business will be different from HRM system for a mid-sized or large business.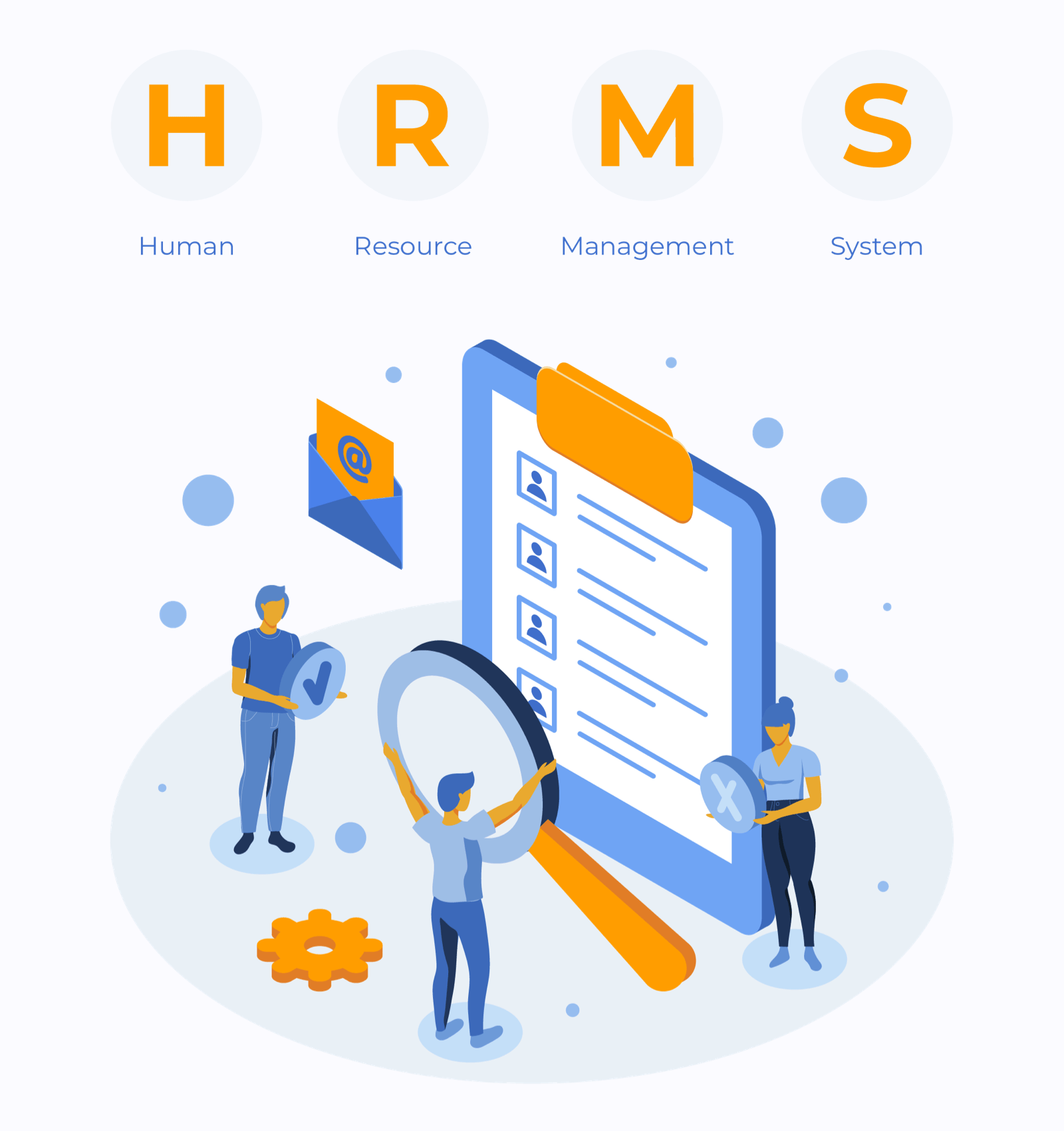 Human resource management system
HR management software is designed to manage staff, but such systems have much wider functionality than automated personnel recruitment systems. HRMS allows HR managers to work not only with quantitative indicators but also with qualitative indicators of personnel. The main goal of employee management software is to help managers retain valuable specialists at a company.
HRM system presents an automated complex system of staff management. In comparison with conventional systems of personnel accounting automation and payroll management, HRMS offer much more features. Apart from accounting (personnel accounting, staffing table, document flow, leave management and time tracking, pension, and military accounting, etc.) and settlement (salary, tax payments, allowances and deductions, and so on) modules that process figures and other financial data, such systems also include modules to evaluate the performance level of employees.
When you need to use HRM systems
HR management system is one of the most crucial corporate software that is used in various companies of different scale. The necessity of HRMS integration is determined by its capabilities of solving the following issues:
Cost management. Labor costs are almost the largest cost item. And HRM systems are used for planning and optimization of costs.
Efficient management of business processes. HRMS solutions make it possible to handle many HR business processes like personnel solutions, keeping records about employees, payrolling, development of motivation schemes, etc. Also, HR managers give employees direct access to the required information, and it increases efficiency.
Legal compliance. It means compliance of legal items that regulate relationships employee and employer. HRMS allows users to settle complicated issues, implement flexible payrolling schemes and personnel document flow.
Human capital improvement. Companies need to focus on employees career and skill growth, developing incentive programs and motivational schemes.
In fact, a custom human resource management software is a must-have software in your business if you want to retain your employees and show them your attitude.
Advantages of human resource management system
In fact, we have already reviewed the main strong sides of custom HRM systems and why you need one. But let's list all the benefits of HR software in detail.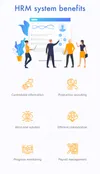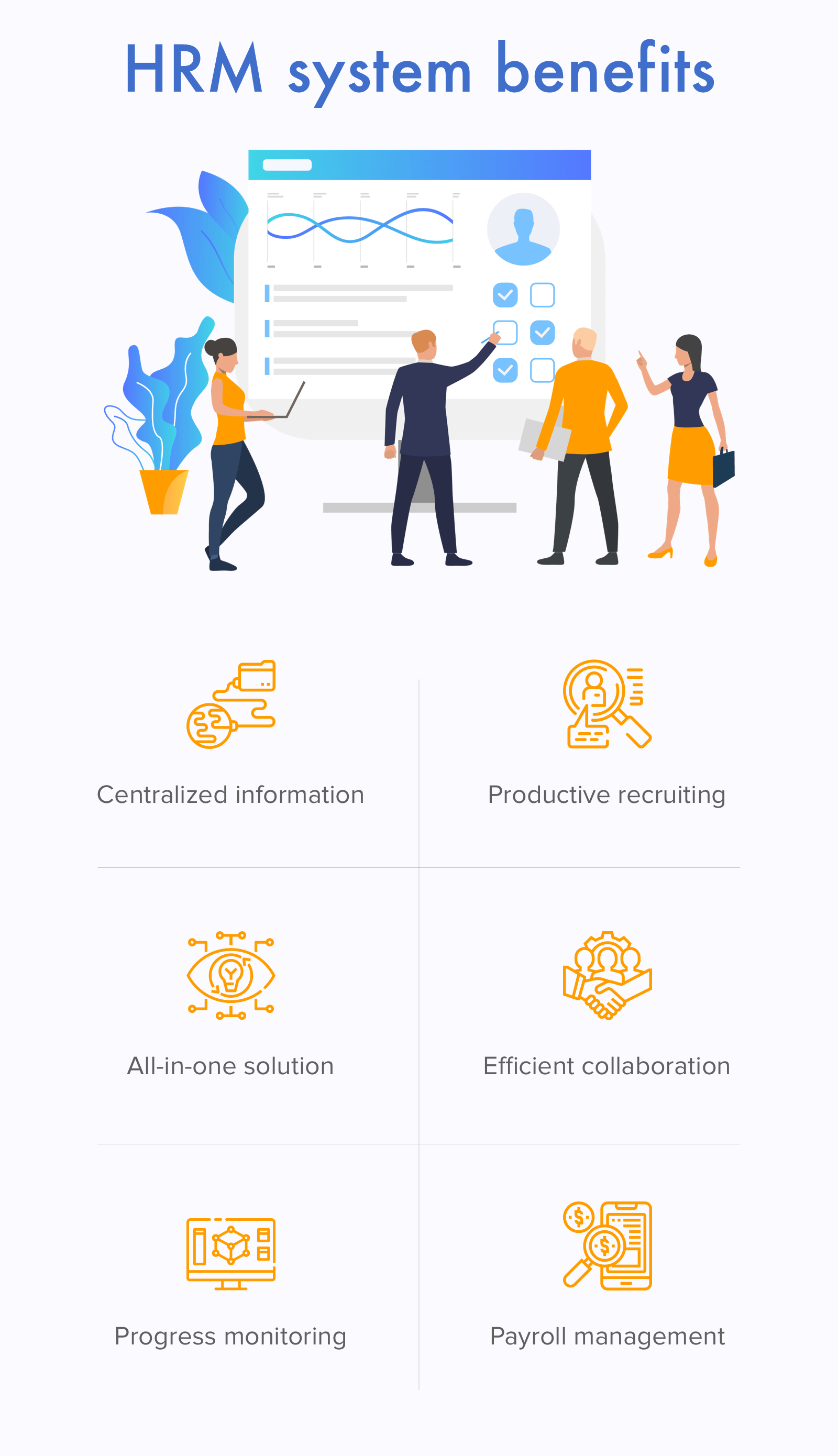 Information centralization
HR software solutions allow employees to have their profiles where they have assigned tasks and the profile contains all important information about an employee. Employees can update all the information by themselves, and it saves the time of HR managers.
High-quality recruiting
HRMS help managers draw up vacancy announcements and post them on job platforms. Also, managers can select specific candidates who meet the requirements of a certain vacancy. And managers may also keep data about skilled candidates even if you don't have a job position for them right now to contact them later.
A single multipurpose solution
One HRM system has everything needed for convenient work with human resources. HR managers don't need to have a bunch of spreadsheets and other docs with different information. HRMS helps monitor progress, assign tasks, make accounting procedures, and so on, and everything can be performed in one web-based HR software or mobile system.
Efficient collaboration
HRM systems offer users communication panel where they can leave their comments, share ideas, check recent updates, and so on. Also, HRM systems work as a database of useful material and all team members (or limited number) can get access to it from any point of the world. Also, users may exchange files in HRMS.
Progress monitoring
HR managers know like nobody else that employee should be motivated enough to work efficiently. Otherwise, an employee won't see a real goal to achieve and why they should work at your company further. That is why human resource management solutions help monitor the progress of each employee, develop special programs to evaluate the quality of work, and reward hard-working employees. If the performance level of specific employee is decreasing, HRM system may help HR managers understand how to fix the situation and why it happened.
Payroll handling
Expenses management is one of the top advantages of HRM system, HR managers along with accounting managers may estimate payrolls, taxes, sick leaves and vacations. Thus, all financial information will be available only for internal use and no third-party providers will participate.
The list of HRMS benefits can be extended, but the real advantage lies only in a custom solution. It means if you create your own HRMS for your company and your needs, a custom solution will help you succeed to the fullest in the collaboration with your employees.
Why out-of-the-box is second to a custom solution
If you intend to buy a ready-made HMRS application, you should be ready that it will be too common and designed for different types of business, not for a specific one. That is why a custom HRMS will be much more beneficial for your business. Why? It is high time to single out all capabilities of custom HRM system.
First, in the long run, a custom solution may become a cheaper option. How is it possible? You pay for the development and then you don't need to pay for licensing which is required when you chose an out-of-the-box software. In addition, an out-of-the-box solution may cease to be supported and you will need to replace it with a new paid solution.
Then, you don't need to wait for new updates with an expected functionality (besides that, necessary features may be absent) in ready-made software. Your custom HR software will perform everything you need, and if some updates are required - you can always contact your development company which created the initial product.
You will get more efficient productivity since HRM system created for your business will perform tasks necessary only for your business. So you will achieve better results when your team will work more productively.
And, finally, you may enhance teamwork with custom features and make your business more competitive since you get your employees what they want, they will be motivated enough. You will have more advantages over competitors which use out-of-the-box software with limited functionality.
Thus, a custom solution is always one step ahead. Now let's talk about must-have human resource management software features.
HRMS software features
A custom HRM system should have the following MVP features: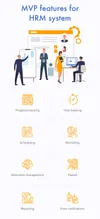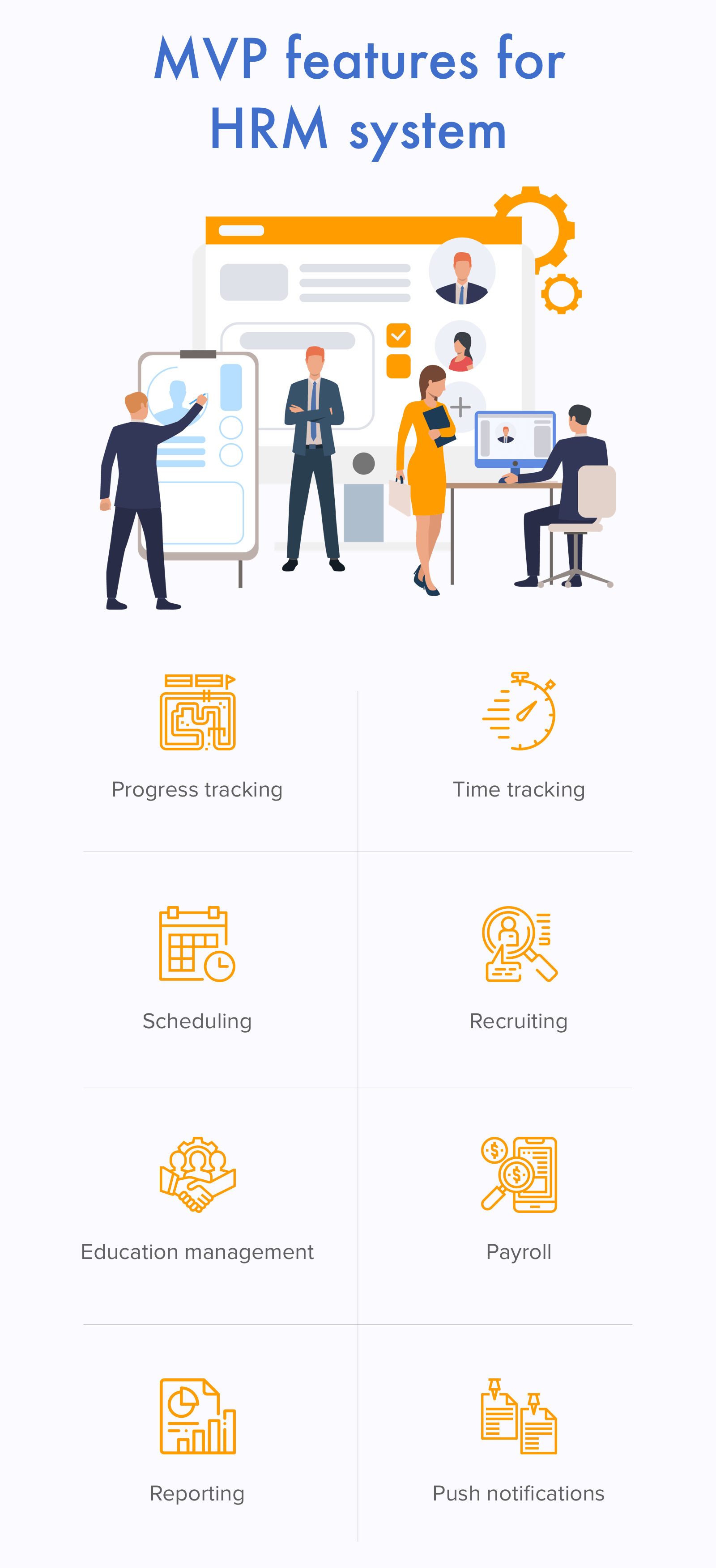 Progress tracking
HR leads should monitor the performance level of employees, track progress, and assign specific tasks for HR colleagues. Thus, HR department always keeps up with all updates.
Scheduling
It is necessary since HR managers can schedule attendance or shifts, and time will be considered more wisely. For example, scheduling of performance review in the integrated human resource management system will help both employees and HR managers organize their work better.
Time tracking
When specific tasks are assigned, it is important to monitor how much time it takes for an employee to complete the task. Also, time tracking is an important part of the performance review to understand how good specialists are at the implementation of set goals. In addition, a time tracking feature is required to monitor sick leaves and leaves, paid time off, etc.
Recruiting tracking
Manager can easily track and keep data about applicants, write all necessary data about them, single out certain candidates, add to favorites. Also, this features helps HR managers work with vacancy announcements, post them on job platforms, and so on.
Education management
This feature is crucial since HR department should be interested in the self-development of employees. To retain skilled specialists, it is necessary to provide them with an opportunity to learn something new permanently. Thus, HR managers not what meetups and conferences will be held soon to let employees participate there and get new skills.
Payroll
As we noted above, payrolling plays an important role in the working process, and it is very convenient when this time-consuming and complex work can be done in one software. Staffing table, tax payments, salaries, paid time off, sick leaves and leaves - everything can be calculated using HRM system. So this feature is the one that your software should have.
Note: By the way, Cleveroad specialists have added this feature to a Starter pack our Android developers use. Starter pack is a kit of frequently used features that can be integrated faster. That is why the development time of your HRM system may be reduced substantially. For example, now we spend 80 hours on the integration of this feature into Android app instead of 120 hours as before.
Reporting
This feature will provide HR managers with detailed statistics for each employee performance along with analytical data. So HR team won't need to use an additional app to analyze the data and get statistics.
Push notifications
Everything is clear here. Notifications about any changes, meetings, reminders will pop on a mobile device or PC screen.
These HRMS features are basic, let me remind you. So if your business requires in additional features for human resource monitoring, mind to consider them during HRMS implementation. And also you should think out the development process of your HRMS to make sure you will get what you need indeed. The next section is about it.
Steps to consider when you create HRMS
Keep in mind that these steps will help you arrange the development of your HRM system strictly according to your requirements.


Steps to take into account when building HRMS
Determine why you need one
You should decide on what challenges your HRMS will solve and how it can improve the working process of HR department and the whole company. If you don't understand clearly what you need, you may fail and waste your money. Determine whether you just need a cool digital tool or you need a tool to boost your business, so list all HR software requirements.
Build a project team and brainstorm
You can hold a meeting with your HR department and even hire an appropriate specialist who will supervise the project development to make sure it meets all requirements. Together with your team, you can brainstorm and discuss project plan, find out ideas of HR managers to build a high-quality product and avoid unwanted mistakes.
Think out objectives and scope
Together with a team, you can write down what scope of the project should be, what goals you want to achieve, what features product should include, and so on. Then, you can share this document with a software development company to give them a clear understanding of HRMS functional requirements.
Consider both mobile and web app
Don't forget that a custom HRMS should be built both in mobile and web version. Why? The matter is that it allows HR specialists to get access to the software from anywhere having only one mobile device. But at the office, it is much more convenient to use a web-based app. However, for a start, you can order the development of HRMS web application only and then build a mobile app a bit later.
Envision your final result
Imagine what end result you want to get when you will have a completed software. You should have some kind of a mental image of software, thus, you will be able to explain to software development team all your ideas and visions. You can also visualize the final result with your project team when brainstorming.


Steps to take into account when building HRMS, part 2
Draft your working processes
Here you need to create a scheme of all your working processes that HRM system will have a direct impact on. It will help you evaluate how the system will assist in the implementation of specific processes and in the interaction between you and employees.
Estimate your budget and build requirements analysis
In order not to fail, you should know clearly how much money you will need to build a custom HRM system. That is why requirement analysis should be built and then you can ask for a rough estimate from software development company you found. It can be even a few companies at once. For example, at Cleveroad, we provide customers with a rough estimate quickly within a couple of days. Or you can use our mobile app cost calculator.
Hire the right dedicated team
And, finally, make your choice on who will create your HRM system. You can read Clutch reviews about various companies, check their portfolio to evaluate their experience, what skills software developers have, and so on. The most preferable way is to outsource your development since outsourcing development companies offer more profitable options and have a lot of advantages with their dedicated teams. You can check a detailed guide on hiring a dedicated team.
Security is important
Keep in mind that your HRM system should have high-level security. HRMS stores personal employees' data, confidential company data, and other classified information, not for third parties. So security protocols, encryption methods should be applied during the development process. Also, access to software may be permitted only with a password, and even two-factor authentication, if necessary. It will help protect your HRM system from hackings.
Keeping up with these steps, you will surely succeed and use your custom HRMS for the benefit of the company.
Why choose Cleveroad?
Cleveroad already exists more than 5 years on the IT market and we can boast about an abundant portfolio. We've built a large number of mobile apps and websites for various niches and industries. And we had an experience in the development of custom HRM systems as well. They all are under NDA (non-disclosure agreement), so we cannot disclose all details concerning such systems, but we can note that each HRM system has its own set of additional features for an individual niche it is built for.
But you can check out the concept of HRM system our UI/UX designers have created. You can also visit our Dribbble profile and look at other images and concepts Cleveroad team of designers has drawn. Maybe, if you like something, you can request to build a similar UI for your future web or mobile app.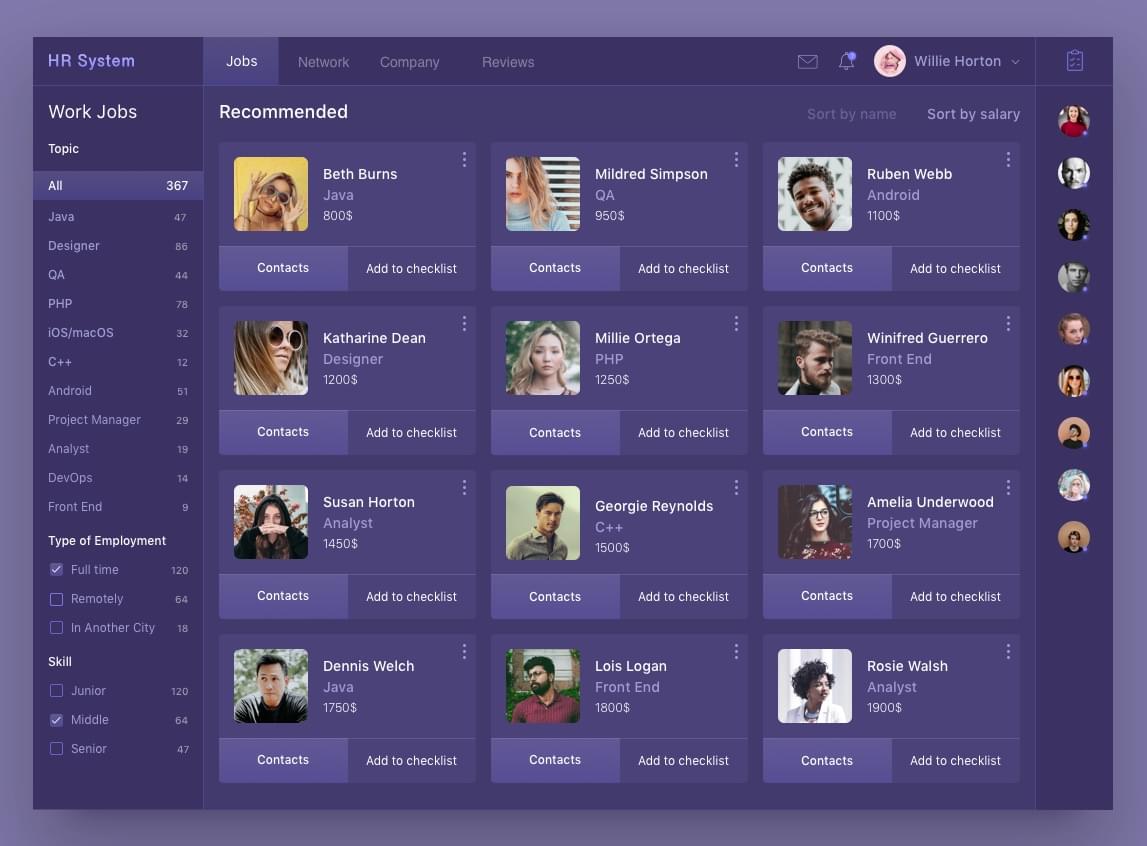 HRM system concept by Cleveroad
Summing up, let's discuss once more why and when you need HRM system. If you want to retain your specialists and improve working processes in your company, optimize the workflow of HR managers, you need HRMS for sure. In fact, any business needs it. How your system will look like and what features it will have - it depends only on your specific requirements. You just need to contact our requirements managers and they will provide you with detailed information. Follow the right road, and read our content!
Frequently Asked Questions
HRMS or human resource management system makes it possible to automate human resource management process on both mid-sized companies and enterprises. A system consists of a set of modules that provides an HR department with the necessary tools to achieve strategic objectives of a company considering specific conditions.
HRM system presents an automated complex system of staff management. In comparison with conventional systems of personnel accounting automation and payroll management.
There are several vital features that must be in every HRM system:
Progress tracking
Time tracking
Recruiting tracking
Education management
Payroll
Information centralization
High-quality recruiting
A single multipurpose solution
Efficient collaboration
Progress monitoring
Payroll handling
These steps will help you arrange the development of your HRM system strictly according to your requirements.
Determine why you need one.
Build a project team and brainstorm.
Think out objectives and scope.
Consider both mobile and web app.
Envision your final result.
Draft your working processes.
Hire the right dedicated team.
Security is important.
Rate this article!
3035 ratings, average: 4.81 out of 5
Give us your impressions about this article
Give us your impressions about this article
Radhika
05.11.2020 at 09:34
Thanks for sharing the details of HRMS software.