Programming Outsourcing: Revealing Strengths and Weaknesses
The IT outsourcing market is a huge part of the service outsourcing industry. Statista calculated that in 2019, the IT outsourcing market's size was $66.52 billion. That number accounts for more than 70% of the total services outsourcing market.
These numbers shouldn't surprise you as programming outsourcing is one of the best ways to get quality work done on time. In this article, we'll analyze what IT outsourcing is, how to outsource programming it, and what nuances to look out for.
What Is Programming Outsourcing?
First off, let's clear up what it actually means to outsource computer programming.
Programming outsourcing is the delegation of software development tasks and responsibilities to third-party vendors that provide IT services and have all resources to deliver them.
These tasks may include the development of various digital solutions:
Mobile apps
Desktop software
Websites
PWAs
Internal management systems (EHRs, EMRs, ERPs, CRMs)
This also applies to hiring third-party developers to a ready-made team to speed up development or temporary replenishment of staff with specialists needed for development.
Tech Tasks You Can Outsource
Besides the options mentioned above, you can also outsource parts of tech processes to cut costs and keep your core team focused on strategic tasks:
Support and maintenance
DevOps services
Business analysis
Project management
Software testing
Most Common Outsourcing Models
Software development companies are quite flexible when it comes to cooperation models. They're usually picked based on the needs and project. There are two main models of programming outsourcing.
Building Digital Solution From Scratch
This is the standard model for IT outsourcing companies. The client comes with an idea or problem to the company, which helps to develop a solution. The client's request goes through several stages that help the company to determine the project scope, and time they need to deliver it.
It typically starts with a discovery phase. This phase is meant to eliminate unknowns in the project.
During this phase, the project requirements are collected, which include platforms, business goals, main features, and much more.
Based on this information, a specification is drawn up. Specification is a document with product features and tech description of how they should work. It greatly simplifies the communication between team members and helps them deliver the customer's product vision..
Next come the wireframes — a schematic representation of each screen with UI elements and user flow between all screens. User flow shows the navigation between screens.
Then, wireframes and the specification are checked by QA engineers for logical errors. Finally, a detailed estimate of the development time and cost is drawn up.
By the end of this phase customers get: specification, wireframes, and a detailed estimate. Now the company can evaluate the complexity and development time to move to the next stage.
After all these steps, the product development begins. It starts with UI/UX design that's based on the wireframes. When all app's mockups are ready, the development of the project begins.
When all is set and done, a finished product goes through the release stage and is finally handed over to the customer.
Hiring a Development Team
The basis of this method is that clients hire developers from outsourcing companies. Those developers become a part of an in-house team working remotely.
Such a scenario is common when the client already has a product but needs more hands to continue its development.
Another case is when clients lack developers with certain expertise (like Machine Learning) or skills. Thanks to this method, it's possible to hire the missing staff faster.
Why Do Companies Outsource Programming?
The answer to this question is made up of many factors. When outsourcing programming services, companies have to deal with the strengths and weaknesses of this approach.
Pros of Programming Outsourcing
Let's start with the benefits of IT outsourcing.
Quick Hiring
Outsource programming is a time saver for companies. You don't have to spend a ton of time looking for qualified developers and interviewing every candidate. Companies that provide outsourcing programming services are staffed with all the specialists you might need. =.
The Whole World of Talents Is Open to You
It can be pretty hard to hire a team of local programmers who are experts. High demand and a small number of qualified tech talents make local companies fight for each candidate. For smaller companies, it's often hard to compete with giants like Google or Facebook for talents. As a result, it will be very difficult for you to compete with the hiring departments of large companies since they offering larger salaries, various social packages, more interesting projects and so on.
In such cases, outsourced programmers are the best choice. You're not limited to territorial boundaries and can find industry specialists you need.
No Extra Expenses
This point is a huge plus if your main goal is to make a digital solution at the lowest cost possible. If you outsource programming, you don't need to worry about additional expenses:
Purchasing software licenses
Vacation coverage
Taxes
Rent
Things you have to pay for if you decide to organize your team.
Cheaper Rates
One of the main criteria for outsourcing is development rates. If you want to hire a company from North America, you should be ready for rates around $100 - $199. At the same time, you can hire a team of experienced developers from Eastern Europe with rates around $25 - $50.
However, if you turn to the services of foreign companies, you'll be pleasantly surprised by the value for money they offer.
Below you can see the rates of tech specialists by regions of the world.
Global outsourcing rates

2019 Global Outsourcing Rates Based on Accelerance Data

Full Time Employee

North America

Latin America

Eastern Europe

Asia

Business Analyst

$100 - $186

$35 - $45

$35 - $45

$30 - $35

Architect

$180 - $265

$40 - $50

$40 - $50

$40 - $50

Project Manager

$130 - $212

$40 - $50

$35 - $45

$35 - $40

Jr. Developer

$95 - $101

$25 - $35

$25 - $35

$20 - $30

Mid-Level Developer

$120 - $127

$35 - $45

$30 - $40

$25 - $35

Lead Developer

$160 - $170

$35 - $50

$40 - $50

$30 - $40

Sr. Developer

$140 - $148

$35 - $50

$40 - $50

$25 - $35

Jr. QA

$70 - $74

$20 - $30

$25 - $35

$20 - $30

Mid-Level QA

$90 - $95

$30 - $40

$30 - $40

$25 - $35

Sr. QA

$130 - $154

$35 - $45

$35 - $45

$30 - $40

Graphic Designer

$72 - $148

$30 - $40

$30 - $40

$30 - $40
Cons of Programming Outsourcing
Outsourcing surely has a huge number of significant advantages. But if you want to outsource programming, you should be prepared for its weak sides and know how to deal with them.
Communication Inconveniences
Many entrepreneurs who outsource project development overseas are worried about the language barrier and communication problems. The situation varies from region to region. However, employees in most IT service companies have fluent English.
Also, many companies test candidate's English before hiring them. Moreover, don't forget that you'll mostly be communicating with Project Managers with fluent English.
Another nuance is the video meetings schedule and the associated inconveniences like time zones. There are also many solutions to these inconveniences. Usually, the video calls schedule is negotiated in advance to make it convenient for the client. Messengers and e-mail are also used to establish communication between customers and vendors.
Less Control Over the Project
The further the outsource programming company that implements the project is located, the more difficult it's to control the development progress. It's not always convenient to fly back and forth to communicate with the team in person.
To simplify control over the project, development companies report on the development progress and the number of implemented features.
Outsourcing companies can also provide customers with access to corporate tools, such as Jira and Trello, to monitor the execution of tasks in real-time.
Security Risks
This point follows from the previous one. Due to the lack of personal communication with the company, the customer may have a feeling that work results and ideas are insufficiently protected and that vital project information may leak to third parties.
To prevent the information leakage, there is a Non-Disclosure Agreement (NDA). This agreement obliges the outsource programming vendor and all its employees not to disclose any details about the developed projects.
Companies That Outsource Programming
Programming outsourcing is not only an excellent solution for small and medium-sized businesses; different tech giants also use it.
Here's a quick list:
Alibaba. This company outsourced all design and development tasks related to their website.
WhatsApp. iOS app development of this messenger was outsourced.
Slack. Marketing website design was outsourced.
GitHub. Significant part of back-end work was outsourced.
Famous outsourced projects.
How to Outsource Programming Properly?
Before you outsource your project development, you should go through several steps to make this process painless..
Step #1. Do Your Homework
Before resorting to outsourced programming, you must clearly understand your future project. Start with an idea and develop it gradually:
What kind of project will it be?
What functions will it perform?
What niche will it occupy?
What features will your application have?
You should have answers to all of these questions before you speak with a company representative. This will significantly facilitate the process of further cooperation between you and the company.
Moreover, you can provide the company with a ready-made project specification if you have such an opportunity, and you have employees who can create it.
Step #2. Choose the Region
Choosing a region isn't an easy task as there are too many nuances to consider. You need to study the regions' technical backgrounds as different regions are more or less focused on software development, due to the peculiarities of education in the region.
This can directly affect the number of outsourcing vendors and the quality of services provided. For example, Eastern Europe is famous for its technical universities and focus on STEM subjects, which directly affects the number of IT professionals and IT companies in the region.
You should also consider the percentage of the English speaking population in the region. This indicator clearly shows how easy it'll be for you to communicate with the company. The lower the percentage, the higher chance that you'll have communication issues with programmers. According to this index, Eastern Europe has an EPI (English Proficiency Index) equal to 56.64. It's several times higher than the index in the Middle East (46.02), which is also a popular outsourcing region.
Do not forget about time zones, as this is a very important criterion that will directly affect communication with the outsourcing vendor. The more significant the difference in time zones between you and the company is, the more difficult the process of scheduling video calls and reporting will be.
Step #3. Conduct a Company Research
There are many specialized sites such as Clutch, GoodFirms to simplify the search for outsource programming companies. You can think of them as large databases that collect information about various IT companies. You'll be able to find contact information of companies, their location, a brief description of what they do, customer reviews, and much more.
In addition, do not forget to familiarize yourself with their portfolios. This will give you a clear idea of ​​what industries these companies have experience in, and what applications they've worked on.
Also, do not neglect the professional social network LinkedIn. Most outsourcing companies have their own LinkedIn pages where you can see contacts of company representatives, owners, news and achievements.
Step #4. First Contact
Select several outsource programming vendors that you liked according to the criteria described in the previous steps and contact them to discuss cooperation opportunities. Tell them about your idea, see what pricing policy and approximate development timeframe they can offer you.
Step #5. Final Decision
After negotiations with those companies, you have to choose which you will cooperate with in the future. Consider the pros and cons, and choose the one that best suits your selection criteria and the resources you have.
Why Outsource Programming to Cleveroad?
Cleveroad is an experienced outsourcing company with more than 5 years of experience. Our mobile development services include creation of web apps, UI/UX design, Quality Assurance testings and Discovery phase services.
We've recently developed these projects:
Blockbuster, an on-demand streaming service for the Nordic region.
Ayoo, a social network made specifically for dancers.
Train Away, an app for people who want to keep fit during their journeys.
What to see more of our projects? Check out our portfolio.
Frequently Asked Questions
Programming outsourcing is the delegation of software development tasks and responsibilities to third-party vendors that provide IT services and have all resources to deliver them.
There are several pros of programming outsourcing:
Quick hiring
No boundaries in the hiring process
No extra expenses
Step #1. Define all crucial info about your app (features, platforms, business goals and so on).
Step #2. Choose the region where you'll outsource your app.
Step #3. Conduct a company research
Step #4. Make first contact with companies you like and discuss further options for cooperation.
Step #5. Make a final decision.
There are a few nuances that may impact the overall decision on whether to outsource programming or not:
Communication inconveniences
Less control over the project
Security risks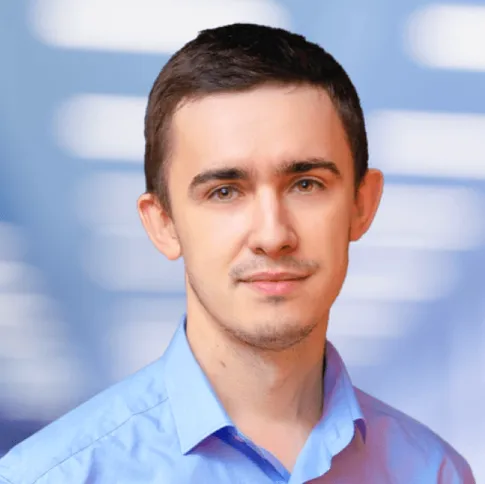 About author
Evgeniy Altynpara is a CTO and member of the Forbes Councils' community of tech professionals. He is an expert in software development and technological entrepreneurship and has 10+years of experience in digital transformation consulting in Healthcare, FinTech, Supply Chain and Logistics
Rate this article!
2269 ratings, average: 4.51 out of 5
Give us your impressions about this article
Give us your impressions about this article
Catherine Häring
17.12.2020 at 02:02
This article convinced me to outsource my project. First, I wanted to organize my in-house team. But after your article, I like the idea of outsourcing the development of my project. Thanks a lot!
Piper Patel
13.12.2020 at 00:13
Thanks for the explanation, you did a great job!
Katrine Halland
28.10.2020 at 00:55
Great article. Recently I outsourced my project. It took me a couple of months to choose a company. As for the communication troubles, it's partially true since I have a huge time-zone difference.

Anton Diduh
11.11.2020 at 07:51
Thanks for kind words and sharing your experience!
Noé Rey
24.09.2020 at 18:01
Nice article! It helped a lot!