HR Technology Strategy: 4 Effective Ways to Draft One for Your Company
No single company could succeed without employees. That's the reason why any firm strives to create a flexible workforce strategy tailored to it's business goals. In turn, the strategy implies boosting employee productivity and engagement. HR technology is something that can handle this task and bring visible results at reasonable cost.
In this article, we tell you about benefits of HR software, shed some light on how to draft custom HR technology strategy, as well as give several pieces of advice on development.
Benefits of HR software
Put simply, HR software is a dedicated platform or module which performs a set of specific functions. If your company utilizes an ERP system you can develop the HR module for it or, let's say, build this software apart from all systems you use.
Of course, HR software features differ depending on it's type (custom/vendor). You can build this soft on your own from scratch and add in there any features you need or use solutions from vendors and build features you lack right on the existing platform. The problem is such an opportunity depends heavily on a service provider.
Let's consider some benefits of HR software solutions.
Cost-cutting
Your company spends a pretty penny on employee turnover. According to multiple studies, you lose from 16% up to 213% of employee's annual salary when he/she leaves.
For instance, SHRM study found out that when you replace a salaried manager with $40,000 of annual earnings, you spend around $20,000-$30,000 on his/her training and recruiting expenses.
The CAP study revealed the average amount of money you spend to replace employees of different salary levels. Underneath, you can see the results.
Benefits of HR software: Cut on expenses of employee turnover by annual salary rates
HR solutions can help you to reduce these numbers by making sure employees' needs are met. Moreover, with it's help, your human resource personnel can find appropriate candidates with more ease which decreases the likelihood to hire a wrong person and drives up revenue.
Improved time management
Your HR staff can't get more working time which makes it necessary to create a time-saving environment for them. The first thing that should be optimized is various manual manipulations like data entry and checking candidates for openings. By automating these insignificant at first sight processes through the HR tech solution, human resources department will have more time for more important matters like working with legal issues, enforcing policy of the company etc.
HR software allows businesses don't waste their time and optimize in-house resources focusing them on key business areas.
Accurate insights
It's hard to imagine how much data comes through the company's HR department nowadays. Employees physically can't process it all and some parts of valuable information may be overlooked.
Human resources software provides companies with huge benefits of working with data and allows making informed decisions. Level of analyzing capabilities heavily depends on your vendor or budget allocated for the project.
Drawing up HR tech strategy
Strategies are an integral part of any company and they exist at all it's levels. The strategy need to go along with general company's goals, as well as it's HR tactics. The HR technology strategy should be flexible enough to meet both future and present company's needs at a high level.
The best way to develop HR tech strategy is to involve the whole human resource department into it's planning and development. Now, let's skip to our pieces of advice.
#1. Immerse your HR staff in strategy creation
In case you're a business owner, it's reasonable to let your human resources department create HR technology strategy on their own and just watch this process from the sideline making some proposals or corrections if necessary. If you're HR lead -- don't panic as this article tells you how to approach this task.
HR should take responsibility for drafting HR technology strategy in cooperation with IT firm providing web development services or team of developers. They should work as one whole to make sure the approaches chosen by HR for solving certain problems come with the appropriate solutions.
Even though IT can help making informed tech decisions, HR should take charge of the implementation. That's because he/she can think through all the aspects from the employee's point of view and has a clear understanding of practices that can support or establish an effective workforce.
Today's technologies allow reshaping many HR tech processes without referring to IT specialists constantly. That became possible due to SaaS platforms which can be configured by one tech-savvy HR. Still, such platforms are limited in functionality and in case you want to develop a feature you feel lack of -- you will have to deal with developers.
HR technology strategy: Things to work on this stage
#2. Tailor tech strategy to crucial HR & business goals
Human resources technology should complement the company's business goals. Otherwise, you may experience some problems during scaling and not only.
To create the HR technology strategy it's vital to study in detail the company's goals. For this purpose, HR can interview stakeholders to get a more clear picture of organization's strategic directions and obstacles it has to overcome on it's way to a greater success.
You should bear in mind that no standalone HR technology solution can bring great effectiveness. It's possible only in case you align it with company's processes and goals. Resorting to such approach, you know exactly what it's better to focus on and in future, you would be able to easily measure how successful your HR technology strategy is.
However, the alignment with overall company's goals isn't enough. You should ensure that your human resources technology innovations can be easily adapted for further changes on the market. For this reason, you should align the strategy with critical business components. To ensure the alignment is acceptable you may do the following:
Get the clear vision of the internal

& external situation in a business;

Write down the company's objectives for short and long-term;
Define the special needs of each key business area;
Figure out how technologies can simplify achieving the company's business goals.
Remember, HR technology strategy requires not only lots of planning and good implementation but an effective execution.
#3. Make sure your HR tech strategy is flexible
Nowadays, technology helps businesses to stay competitive and effectively deal with the constantly changing environment. So, HR technology strategy should be flexible enough to cope with multiple aspects.
The strategy should cover the coming years and you should assess it's progress regularly. Besides, it's vital to keep track of internal, as well as external conditions of a business to link them back with your HR tech strategy so it could stay flexible and adapt when it's needed.
In general, being flexible in terms of tech solutions for business means to utilize the right technology. Most SaaS providers upgrade their human resources solutions constantly and provide customers with an opportunity to build a feature they need on their own. Any organization can turn to web and mobile development services to customize their SaaS platform and stay flexible or create custom HR software from scratch.
For instance, Nationwide picked this approach and significantly tweaked it's HCM system from a well-known vendor.
HR technology strategy: Things to work on this stage
#4. Think of long-term perspectives
If you're intended to create the human resources software solution that will contribute to the company's success in long-term -- focus your HR technology strategy not only on process automation but go beyond. It must cover the HCM field as it helps retain and develop professionals. To support this strategically important initiative you should answer several questions:
How can technology make the company's staff more effective?
Focus on the role that the HCM solution should play instead of a certain vendor or tool type. When you'll find something worthy -- involve employees to find out which features they need. It's also a good idea to evaluate how user-friendly this system's UX design is.
How can technology contribute to talent management?
Successful companies understand that effective talent management can be achieved if they create an environment that contributes to better productivity of employees. The use of technology in HR allows managing talents effectively should be easy to reach, simple, and improve decision-making.
HR technology strategy: Overall tips
How to develop HR tech solution?
We figured out how you should approach HR technology strategy creation. Now, let's consider several basic steps to take for getting started with HR software development.
Figure out your timeline & budget
The HR team can take charge of overall process but it's likely that other stakeholders and even third-parties will be involved in it. As it was already mentioned, it's reasonable to include someone from your IT department or refer to IT service provider for consultancy in case you have no in-house developers to connect HR and technology together.
Concerning the project's timeline -- it's not a matter of one day so you better don't rush. Explore the human resources technology trends and get the clear vision which service provider fits your company the most. Many companies still prefer building custom HR software on their own and don't use any solutions from vendors for many reasons.
Take into consideration the employee expectations
Remember that employees don't have to experience any discomfort from moving to the HR technology approach. Conversely, they should benefit from it. As HR tech strategy should cover the coming years, we should mention that 24/7 data access through whatever employee's device (including mobile) and the policy called bring your own device (BYOD) are already sort of default. The next step might be 'bring your own app'.
Work out an implementation schedule
The final stage implies defining how much time you need to convert data and train users.
Can't decide whether it's better to build HR software from scratch or use SaaS platform and modify it? Contact our managers and they'll tell you the most advantageous variant for your specific case.
Like this article? Subscribe to our newsletter to get more to your inbox! No spam, we promise. Just one letter a week with the latest videos and articles from our team.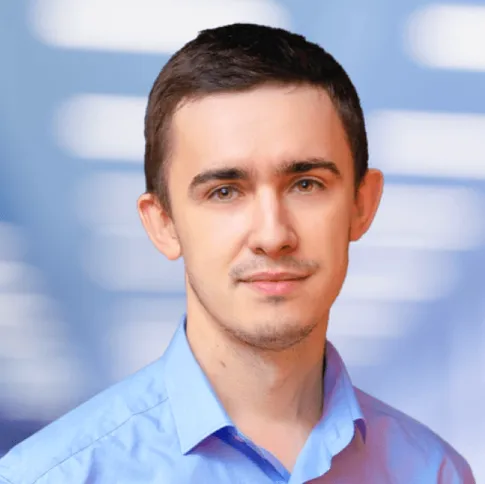 About author
Evgeniy Altynpara is a CTO and member of the Forbes Councils' community of tech professionals. He is an expert in software development and technological entrepreneurship and has 10+years of experience in digital transformation consulting in Healthcare, FinTech, Supply Chain and Logistics
Rate this article!
2977 ratings, average: 4.92 out of 5
Give us your impressions about this article
Give us your impressions about this article