European IT Services Market: Software Development Cost by Region
3271 Views
|
20 May 2019
|
8 min
The stats are in, and they show impressive results: in 2018, outsourcing of IT services gained 62 billions of US dollars according to Statista. This means more and more companies turn to offshore software development, and the cost is a key reason for most of them.
In this article, we've reviewing software developers' hourly rates in one of the widest markets — European. The numbers you'll see are based on the rates indicated by the two largest rating & review platforms in IT field — Clutch and GoodFirms. So if you'd like to find the perfect country to outsource software development – keep reading.
Why Do Companies Outsource Software Development to Other Countries?
Companies have lots of reasons to outsource the development to software companies in Europe. Namely, the local cost of development services, lack of talents, high taxes, strict time-frames, etc. We're going to focus on the three most common reasons why companies choose outsourcing over traditional in-house teams.
There may be plenty of top-rated developers in your country ready to build a first-class app. But what's the point, if their services are unaffordable? You'll have to make do with one solution – web or mobile – or look for more investments.
But the most reasonable option for most companies would be to outsource software development. Europe, for example, offers prices much more affordable hourly rates compared to the US, Australia or Canada.
2. No professionals in the city
It doesn't even matter if you live in a million-person city or not – the competition on IT market is pretty high, so be prepared to spend some time looking for the right candidate. Actually, the hunt for qualified software developers may last for months. Outsourcing comes to the rescue when you need to find developers in a few days, not months.
In case your team's already working on a high-stakes project, but you'd want to take up other applications outsourcing seems to be the best option. Another case is when there's a lack of qualified programmers to work on your main product, and you're losing money because of missing features or bugs. Time matters, and when it does you can't afford spending months on staffing the team.
Now, let's find out what options we have on the European market and what prices it offers.
The IT sector in Eastern Europe is constantly growing in number which makes it an attracting offshoring destination. According to Clutch, currently, there are 2671 firms that specialize in software development in this region. 551 IT firms are based in Ukraine, 486 in Poland, and 179 in Belarus, not to mention other countries.
Developers from Ukraine, Poland, Czech Republic, Belarus, and other European countries are well-educated, have good English and advanced programming skills. For instance, Ukraine Digital News research shows that more than 38,000 Ukrainians graduate with technical degrees annually. The index of English proficiency in Eastern European countries is also high enough. And as the number of qualified software developers grows, so does the demand for European developers.
These benefits are also accompanied by moderate market costs. In average, software development rates in such countries as Ukraine, Belarus, Hungary, Romania, Bulgaria, and Moldova vary from $25 to $49 per hour. Depending on the country, the level of developer expertise, and the project complexity, the cost may be above $99/h. Still, if you choose an offshoring model or turn to junior software developers, the rate will be no more than $18/h.
As for Poland, the Czech Republic, and Slovakia, their cost of IT services is twice as high. Programmers in these countries charge $50 - $99 per hour.
Thus, we can say that average IT service rates in Eastern Europe vary from $37 to $74 per hour.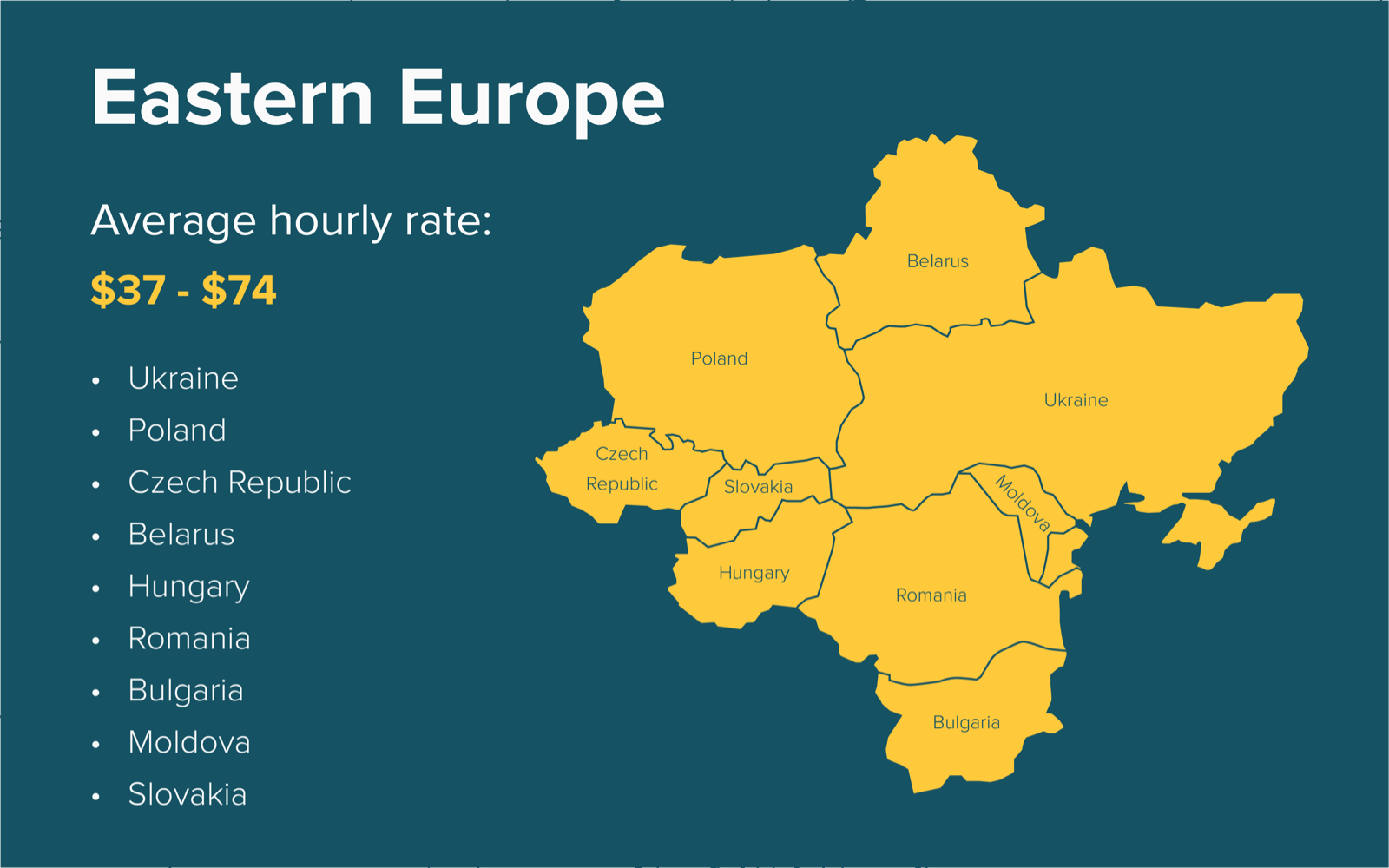 Software development in Eastern Europe: hourly rates
Central and Western Europe
You were not mistaken if you assumed that an average hourly rate for IT services here is pretty high. Western and Central Europe consists of developed countries with large economies and high taxes. In turn, a high standard of living generates high prices, and IT services aren't an exception. Finally, it results in high wages of local developers, and that directly contradicts with clients' expectations.
The price range in these countries is that wide – from $37-50 up to $200-300 per hour of work. Prices in Germany, Netherlands, Switzerland, and the UK are at $50 - $99/hr, although in Switzerland they may reach up to $200 - $300/hr which is the highest hourly rate in the region.
?
Want to deliver your project at a reasonable cost? Get in touch, and we will estimate your future product development at no charge.
IT service costing in Austria and Belgium is, again, twice as high. The most common range is $100 - $149 per hour. We can thus say that the average custom software development rates in these regions are close to $68 - $99 per working hour.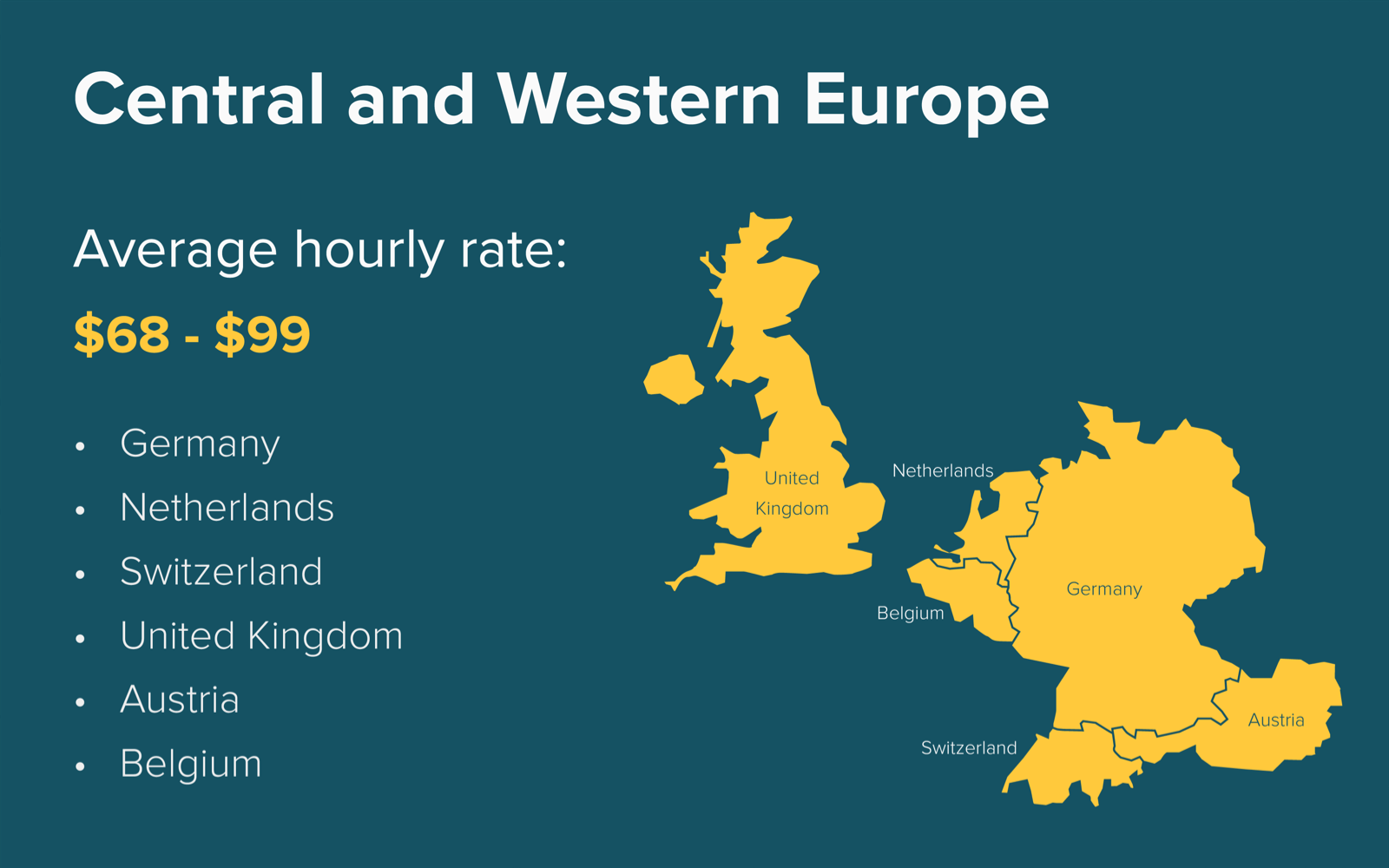 Average IT services hourly rate in Central and Western Europe
The Baltic states are perhaps the most dynamic region in the post-Soviet space. They have a large number of startups, favorable economic conditions and lots of successful projects (for instance, Skype and Taxify were developed by the Estonians). On the other hand, statistics show that IT services price list on Clutch and GoodFirms don't differ much from the countries of Eastern Europe.
In Latvia, the average rate goes up to $50 - $99/hr. Still, there's a number of IT firms that provide services for $25 - $49/hr or even less than $25.
Lithuania shows more restrained appetites – their developers are ready to work for $25 - $49/hr. In Vilnius, though, the rates may reach up to $99 per working hour. As for Estonia, rates here also start from $25 - $49/hr and reach up to $50 - $99/hr.
The average IT services cost is the Baltics region is close to $35-$49 per hour.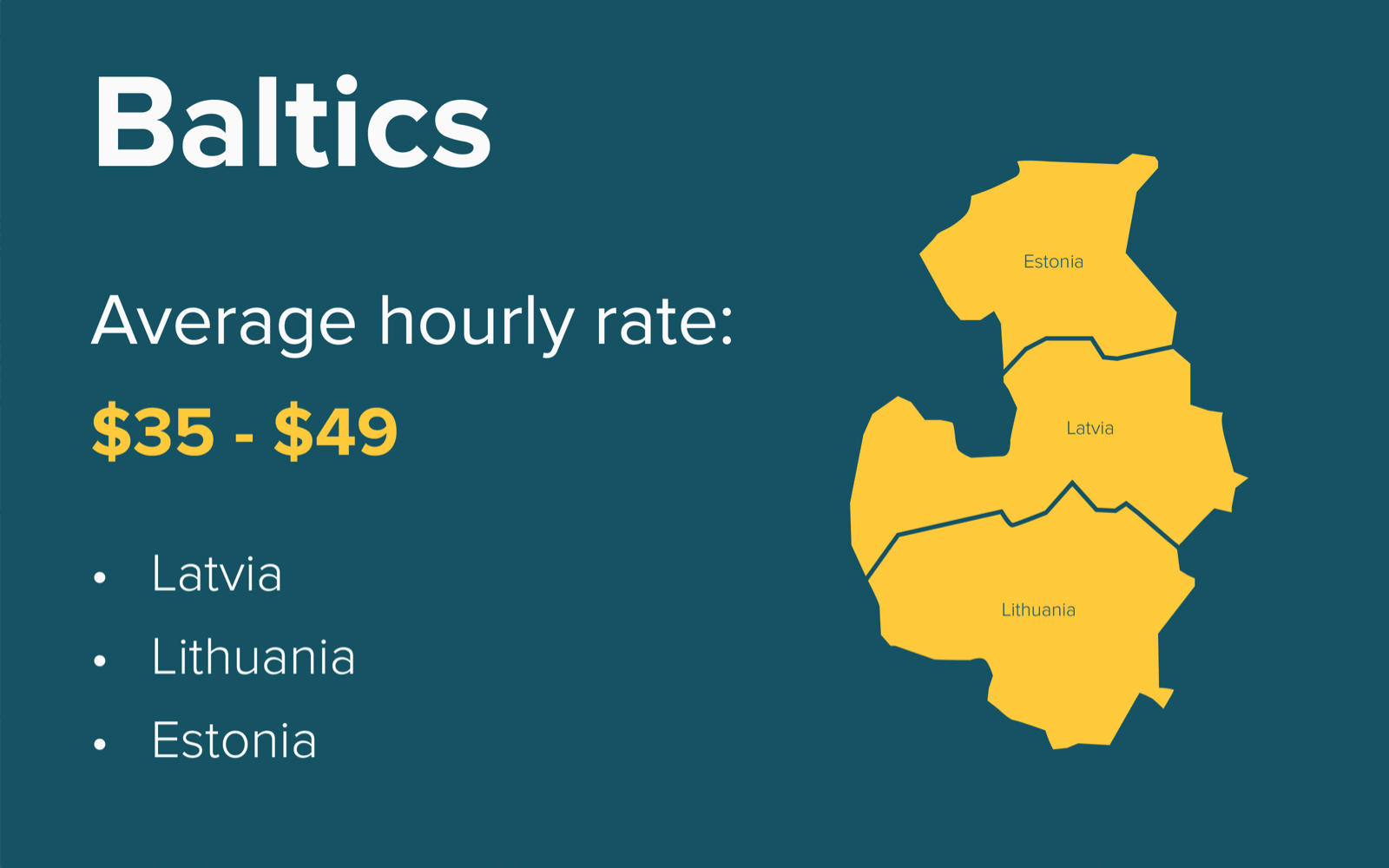 IT services cost per hour in the Baltics region
Sure, this region couldn't boast of a large number of IT firms. But our analysis shows that developers from Croatia, Greece, Serbia, and Slovenia are ready to work for a relatively low average hourly rate. IT services costs per hour in this region are quite different since we have included both prosperous Croatia and Slovenia, as well as Greece and Serbia, whose economic situation is hardly satisfying.
Hourly rates in Croatia start from $37 - $74/hr and reach up to $100 - $149/hr (Zagreb). Slovenia offers the same price range. As for Greece and Serbia, prices here are correspondingly lower.
IT firms based in Greece charge $25 or less per working hour. The biggers rate you'll see is often no more than $49/hr. Serbia is in a similar situation, estimating the cost for IT services at $25 - $49 / hr. The average price for software development in the Balkans is about $28-$37 per hour.
By the way, the percent of "less than $25" IT service pricing is bigger than in any Eastern European country. This means Balkans are also an excellent choice if you're on a low budget.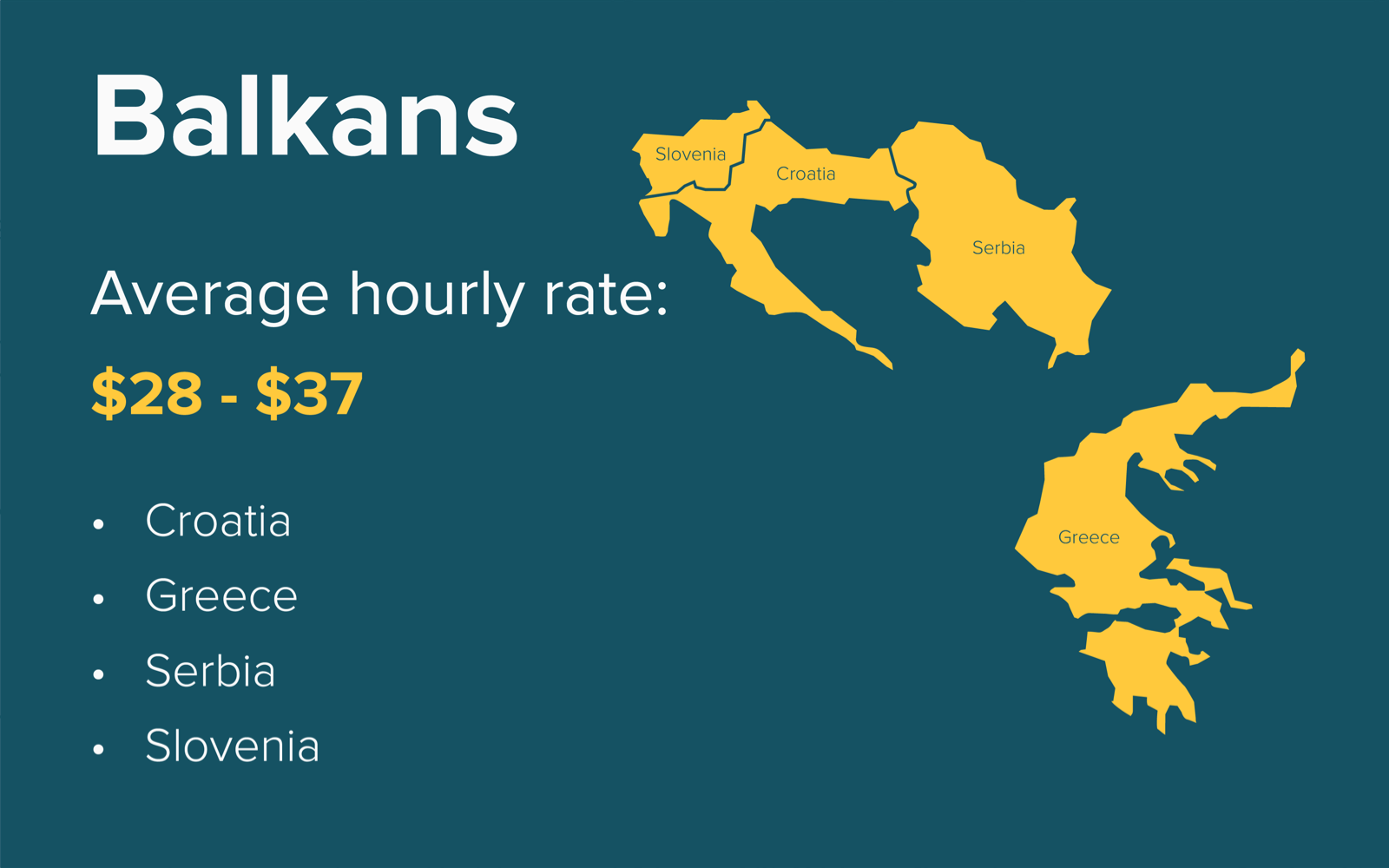 European IT services rates in the Balkans
Scandinavia is associated with a decent quality of life, personal freedom, and high wages. And we can use this description to partially characterize their IT pricing models. It's a comparatively small but still an expensive IT region.
The most expensive countries are Denmark and Finland. Developers there charge no less than $50 - $99/hr, and their prices often go up to $150 - $199/hr.
Norway and Sweden are more moderate when deciding how much to charge for IT services. An hour of software developers' time in these countries will cost about $50 - $99/hr. The highest rates end at $100 - $149/hr.
This way, we can call Scandinavia the most expensive region, when it comes to IT services pricing. The average cost of software engineering is $50 - $174 per working hour.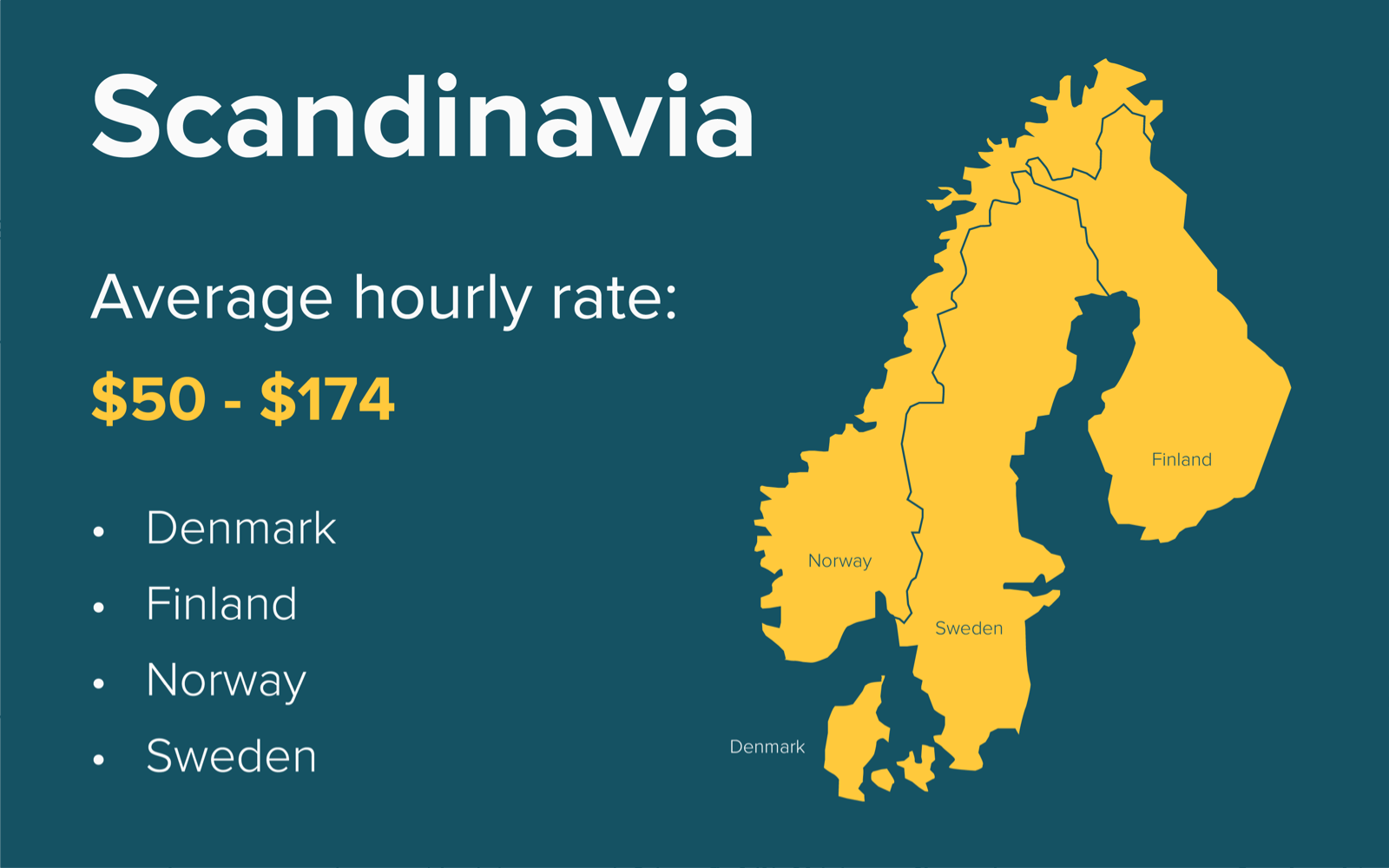 Software developer hourly rates in Scandinavia
How to Сhoose a Сountry for Outsourcing?
Sure, IT services rates per hour plays a vital role when you're choosing the right company. But it doesn't mean everything. Same with choosing an offshore team of developers. That's why experienced vendors pay attention to the following points:
Financial attractiveness of the project;
Availability of required developers;
Communication means;
Business environment;
Taxes and benefits policies;
Correlation between quality of services and cost.
Besides, keep in mind public holidays and minimum annual leave. If you're dealing with tight time-frames, checking these details is one of the first things to do.
!
UI/UX design is more important that you may think. Order first-class designing services to make your app stand out!
Finally, make sure to check the working conditions and labor laws in the selected country. Sometimes their terms make turning to software development companies in Europe more expensive than hiring local engineers. So choose wisely.
We know that cost-effectiveness matters. That's why Cleveroad tends to provide top-notch services and hires best software engineers. Our software developers pass several interview stages and are constantly improving their skills by sharing knowledge with teammates, visiting special conferences, etc.
Want a free project estimation?
Tell us about your project, and our business analysts will estimate it's cost.
By the way, if you're eager to see the projects we've delivered, check our portfolio.
Rate this article!