5 Reasons Why the UK Cooperates with Ukrainian IT Outsourcing Companies
The IT industry is gaining momentum, so nearly every company strives to create it's own app or at least a website. However, the decision to go digital implies the involvement of qualified staffers to this. That's where entrepreneurs are faced with a dilemma whether to hire in-house developers or use refer to outsourcing companies.
In fact, 31% of the existing IT services including Skype, Slack, GitHub, and many other were outsourced. Not to mention ordinary businesses not connected with this industry. Moreover, 89% of clients are satisfied with outsourcing services they were provided with. Add there the fact that outsourcing prices generally range from $15 per hour to $150 so it is affordable for any budget.
Let's move away from statistics and dive deeper into the matter of outsourcing country choice. In this article, we are going to consider several advantages of outsourcing in Ukraine if compared to the UK.
1. Price-quality ratio
There is no need to go far to see a pretty big pricing difference between Ukraine and the UK. In Ukraine, prices vary from $25 to $50 per hour, while in the UK you will be asked to pay from $50 to $100 on average for the same scope of work.
Let's say you have an app idea estimated in 300 hours of development. So, applying to IT outsourcing company in the UK you will get the $30,000 worth bill versus $15,000 worth in Ukraine (based on maximal per hour rates of both countries).
Of course, pricing is not always the most important aspect you should consider when deciding on a country for IT outsourcing. Nevertheless, the Gartner's ranking highly valued Ukraine, putting it on the first place among all the countries of Eastern Europe in the value for money category.
Value for money ratio (Source: European IT Outsourcing Intelligence Report)
Another important point is that Ukraine has over 90,000 IT professionals and 36,000 tech graduates annually from more than 300 universities around the country. This way, Ukraine is of the leading countries of Eastern and Central Europe in the number of tech graduates and people with higher education in general. In comparison, the UK has nearly 27,000 tech students graduating each year from around 100 higher education institutions.
What does it mean? The more candidates for work, the more highly-qualified staff can be hired by IT companies. The great competition motivates both professionals and graduates to learn new technologies and attend refreshing training to move forward their career ladder.
Talking about IT outsourcing companies, there are over 1,000 of them in Ukraine and nearly 260 in the UK. Respectively, the more competition is, the more favorable conditions can be proposed for you as a customer.
Key numbers related to outsourcing in Ukraine
2. Ukraine is trusted among big names
The big IT companies not only outsource development and other related services in Ukraine but also place their quarters there. That's because Ukraine is the 5th country with the lowest cost of living according to the index of 2017. Although the cost for development has slightly raised for the last couple of years, overall pricing is still quite attractive for the Europe and Western countries.
For instance, to rent an office in good area for 10 employees in Ukraine will cost you about $500 per month, while for the same options in the UK you will pay £5,000 and more. So, lots of companies already save a pretty penny by situating their headquarters in Ukraine.
Thus, the British company called Playtech has already opened their offices in three Ukrainian cities at once. Among other big names, it is worth to mention Samsung with R&D center in the capital of Ukraine, Wargaming, Gameloft, ABBY, Magento and many other.
International rankings of Ukraine
3. Ukraine creates big names
As it was already mentioned, Ukrainian developers have launched over than 2,000 successful startups that are known not only within the country but outside it's borders as well.
To the recent Ukrainian startups that went viral we can refer the social network with it's own cryptocurrency called Nimses, as well as the photo editing app based on neural networks allowing you to change your hair color and background called Teleport.
Except for newbie products, there are a variety of services and software that was created by Ukrainian developers relatively long time ago. For instance, photo stock service called DepositPhotos ($8M of total equity funding), grammar checker Grammarly ($110M of total equity funding), rubbish cleaner for Mac named MacPaw and a bunch of other world-known products.
Famous Ukrainian startups
4. Time zone & Mentality
Well, we have already discussed several points related outsourcing in Ukraine or the UK. Further sections are written for those people who decided to look for outsourcing services outside the UK for some reasons.
Timezone is a very important factor since you should get in touch with your team of developers all the time for receiving feedback from them or making some changes to your project.
The capital of Ukraine Kiev is situated in the time zone UTC +3, while London is in UTC +1. It means the time difference between these two cities is -2 hours that is quite convenient for you as a customer. Furthermore, if there is a need for personal presence -- the flight time to Ukraine is 3 hours on average and prices for round-trip tickets start at £300.
Flight time and time zone difference
Concerning mentality, you won't be faced with any barriers when working with Ukrainian companies since Ukraine is Western oriented and client forward. Obviously, it is not a cornerstone your decision should be based on but, nevertheless, mentality is important. Especially it matters in terms of software development where the communication between a customer and developers is a vital component the same as the proper understanding of each other.
5. Government support
Since IT industry is the third largest export sector in Ukraine, the government actively creates laws contributing to easier work processes for both local IT companies and foreign customers.
Taxes
Foreign entities that purchase IT services in Ukraine do not have to pay any Ukrainian taxes. This rule is applicable for both individuals and companies.
Protection of intellectual property
In 2016 in Ukraine was established a so-called Intellectual Property Court intended to regulate all the issues connected with rapidly developing IT industry.
Local subsidiary
Ukraine has quite flexible laws concerning foreign business entities. This way, if the foundation of local subsidiary on the territory of Ukraine is strategically necessary -- you can do it being a foreign person or non-residential legal entity.
As you can see the IT industry in Ukraine is quite a well-developed sphere that definitely will continue gaining momentum in future. By the way, our company tops the list of market leaders in app development, being the #1 in Ukraine according to Clutch ranking. So, if you are in searches of a reliable partner - contact our managers to learn all the details about cooperation with us.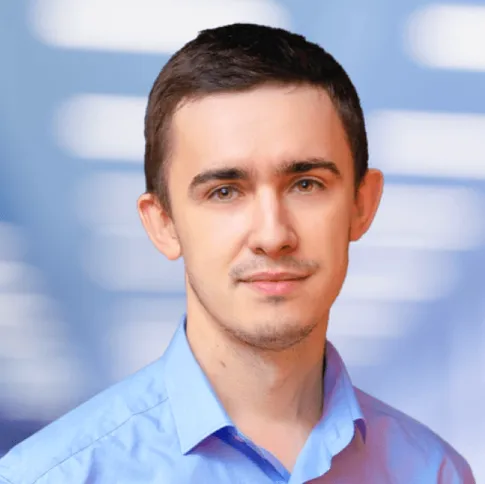 About author
Evgeniy Altynpara is a CTO and member of the Forbes Councils' community of tech professionals. He is an expert in software development and technological entrepreneurship and has 10+years of experience in digital transformation consulting in Healthcare, FinTech, Supply Chain and Logistics
Rate this article!
3790 ratings, average: 4.98 out of 5
Give us your impressions about this article
Give us your impressions about this article