The Fullest Guide On Creating Superior Location-Based Augmented Reality App
11471 Views
|
17 Jul 2018
|
12 min
In 2016 world went crazy for Pokemon Go. And while the great popularity of this game is slowly decreasing, augmented reality becomes a new trend in the tech world and confidently grabs market share. In 2017, the AR market reached more than $14.1 billion and is expected to reach $209.2 billion by 2022. What's more, the number of AR users is expected to grow up to 1 billion by 2020.
Besides the game industry, many other business areas can profit from implementing augmented reality apps. One of the types of augmented reality called location-based or markerless augmented reality will be in a spotlight of this article.
What is location based augmented reality
Location-based AR is also known as markerless, position based and geo-based augmented reality. In contrast with marker-based AR, it doesn't need special markers to identify the place where a virtual object should appear.
It primarily relies on GPS, accelerometer, digital compass and other technologies to identify phone's location and position with the high level of accuracy. Through the fact that all modern devices are equipped with these sensors, augmented reality is available for every mobile device owner.
The biggest question is how does augmented reality work and how does it get the information about the location. The mechanism of work of such an app is the following: your application sends queries to sensors. After the app gets the needed data, app compares it with information about points of interest (POI) and defines where it should add virtual data to the real world.
Markerless AR can be divided into outdoor and indoor. Outdoor augmented reality uses GPS, while indoor recognizes the current location of a mobile device with the help of beacons.
The biggest players in the tech industry predict a great potential in AR and continue to develop software for creating AR applications. The arrival of such powerful tools like Apple's ARKit and Google's ARCore made it much easier for developers to create their own AR apps. Being both released in 2017, these tools got enhancements this year.
Impact on different areas
AR technology can offer much more than just an incredible gaming experience. Here's the list of industries that can benefit from creating AR mobile application.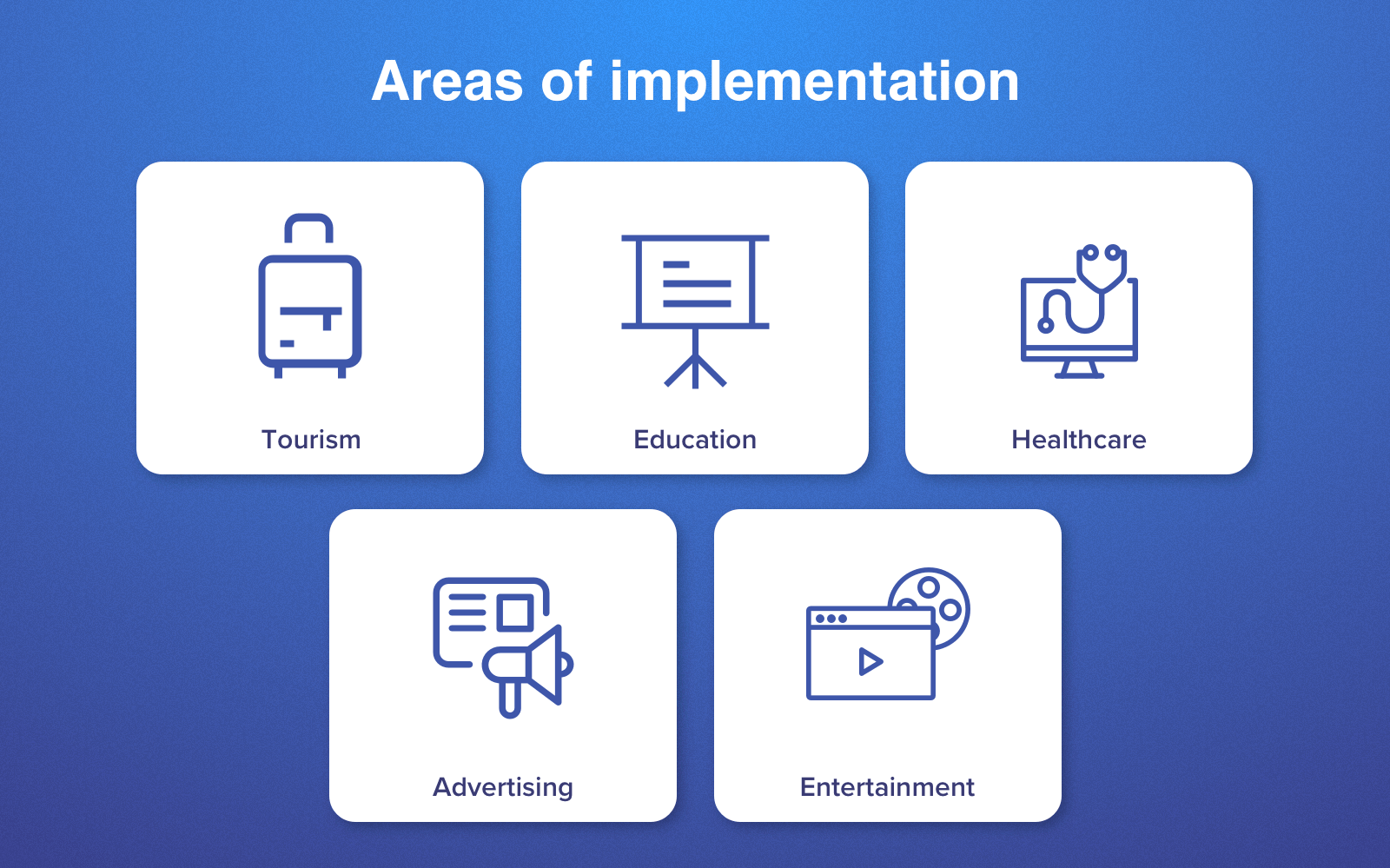 The list of areas where you can implement location-based AR
Tourism
Using location-based markerless augmented reality can become a great way of improving traveling experience. Hence, now it is widely used particularly in this sphere. It helps tourists discover new places and quickly find the most popular sightseeing in a real-time mode using their mobile devices. Navigation applications with location-based augmented reality dramatically improve the effectiveness of navigation system. For instance, a traveler can find the nearest McDonalds by simply pointing the camera at the street.
Education
There is no denying that colorful animated 3D or 2D objects are much more interesting than boring information from books! That's why the arrival of augmented reality had a major impact on the educational industry. Even though the marker-based AR is more common in this area, use cases of location-based AR also occur. Astronomy is a great field for implementing such type of AR, and soon we'll discover best examples of such apps.
Healthcare
Beside the undisputable utility of marker-based AR for the healthcare industry, location-based AR can also come in handy. Consider an AED4EU as an example. This application identifies the nearest points of automated defibrillators and builds the best route to them. It will help to save lives of people who have suddenly fainted.
Advertising
Augmented reality introduces a whole new way of promoting goods and services. Many companies began using AR in advertising due to several reasons. It is much cheaper than traditional printed ads and stimulates customers to buy goods or services by introducing a new way of AR experience. The great power of location-based augmented reality on mobile phones can be used to enhance hyperlocal advertising. Just imagine, a user points the camera of the smartphone at the street, and at a glance, an AR app shows the information about current discounts or special offers in establishments nearby.
Entertainment
We won't talk much about this area, because we already mentioned it several times. Putting virtual objects into the real world is funny, therefore gaming and entertainment seem to be industries gaining the most profit from implementing location-based AR technology. The growing interest in location-based augmented reality can be illustrated by many companies willing to create AR mobile games. The Next Games studio in collaboration with AMC introduced the location-based AR game Walking Dead: Our World that put users into the post-apocalyptic zombie world. Mossland app, geared towards combining markerless AR, blockchain and real estate, is expected to arrive in 2019.
Want to build an AR application?
Apply now for consultation and get free project cost estimation.
Examples of augmented reality apps available on the market
Pokemon Go with approximately 100 million downloads and $1.2 billion revenue, needs no introduction. Instead, consider best location-based AR apps that became popular among users.
Yelp was the pioneering AR mobile app, working since 2009. It provides better navigation through a city. The latest version of this app uses smartphone's compass and GPS to display information about restaurants, bars and other places nearby. It also displays the rate of the particular place and users' reviews.
In case you have a Yelp account, you can also view and create a route to nearby friends.
WallaMe is an example of AR entertainment app which allows users creating their own virtual graffities. After taking a photo of their surrounding, users may add pictures, stickers, and drawings on it. Once their picture or a so-called Wall is ready, the app adds data about it's location. Soon, other users passing by this spot can view these Walls.
Ingress is another entertainment app using augmented reality GPS navigation. It is a multiplayer online game released by Niantic Labs that created PokemonGO. All players are divided into Enlightened and Resistance factions and fight with each other in order to control virtual territories. The main point of this game is to capture the largest possible number of portals, which are usually situated in places of cultural significance. Ingress uses data obtained from Google Maps and available on both iOS and Android.
Wikitude World Browser is another product of Wikitude, the company known for it's Augmented Reality SDK. This 'first AR browser for smartphone users' has a wide range of features that can come in handy for tourists.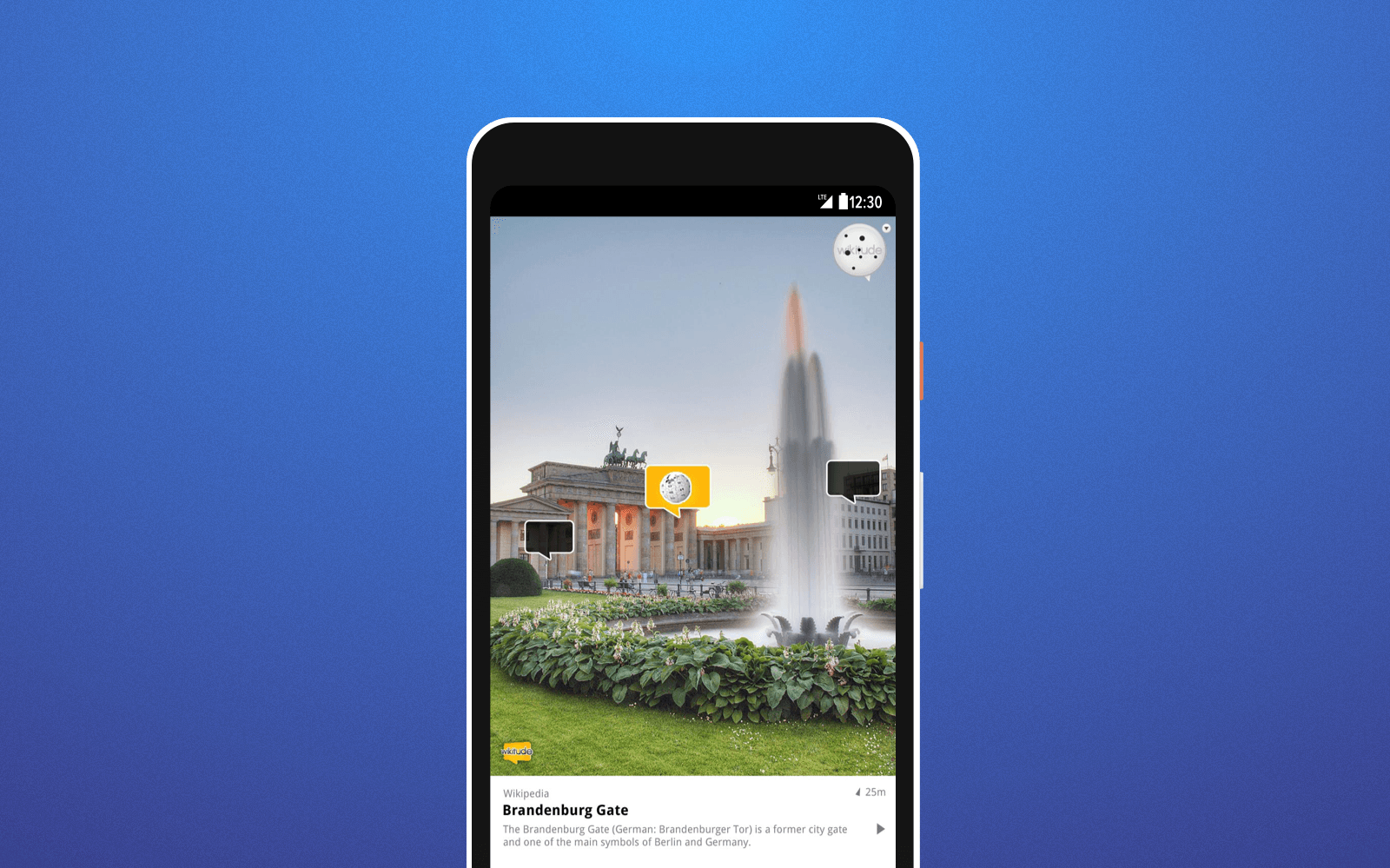 Wikitude World Browser - another example of location-based AR
For instance, you can view the information about the particular sightseeing by just pointing the camera at this place or find a way to the nearest mall and so forth. World Browser also offers coupons and shows discounts from stores nearby. The integration with such popular services like Yelp, Trip Advisor, Hotels.com, and Qype enables travelers to quickly check all needed information.
Vortex Planetarium - Astronomy
Vortex Planetarium from Magic Torch Software is an educational tool for those who fond of astronomy. It identifies user's location in order to show a detailed information about star constellations visible from the current point.
Besides Vortex Planetarium, the list of AR solutions for astronomy includes Star Walk, Sky View, and Star Chat.
This app is a great example of indoor markerless AR. IKEA launched it's AR app in order to promote it's furniture and let customers know how the new IKEA product will look like at their apartments. There are about 2000 items in this IKEA catalog. IKEA used ARKit to develop this app for Apple devices and AR Core for gadgets running Android.
How to build location-based AR app
After talking about best examples of location-based AR apps, let's move directly to building such an app.
Step 1. Prepare required data
First of all, you should decide what data you will add to the real world. The easiest way is to build an application like Yelp Monocle or Wikitude Browser that simply displays text information. Developing a game or an app with colorful 3D objects will be more difficult. To create this kind of markerless augmented reality, Unity Engine is a must-have. Unity is the most popular game engine used for creating mobile and computer games.
Step 2. Choose development tool
With no doubt, the most essential step to take is to choose the best location-based AR SDK which will be able to meet all your requests. We considered the most well-known and powerful tools for developing the AR app of this type.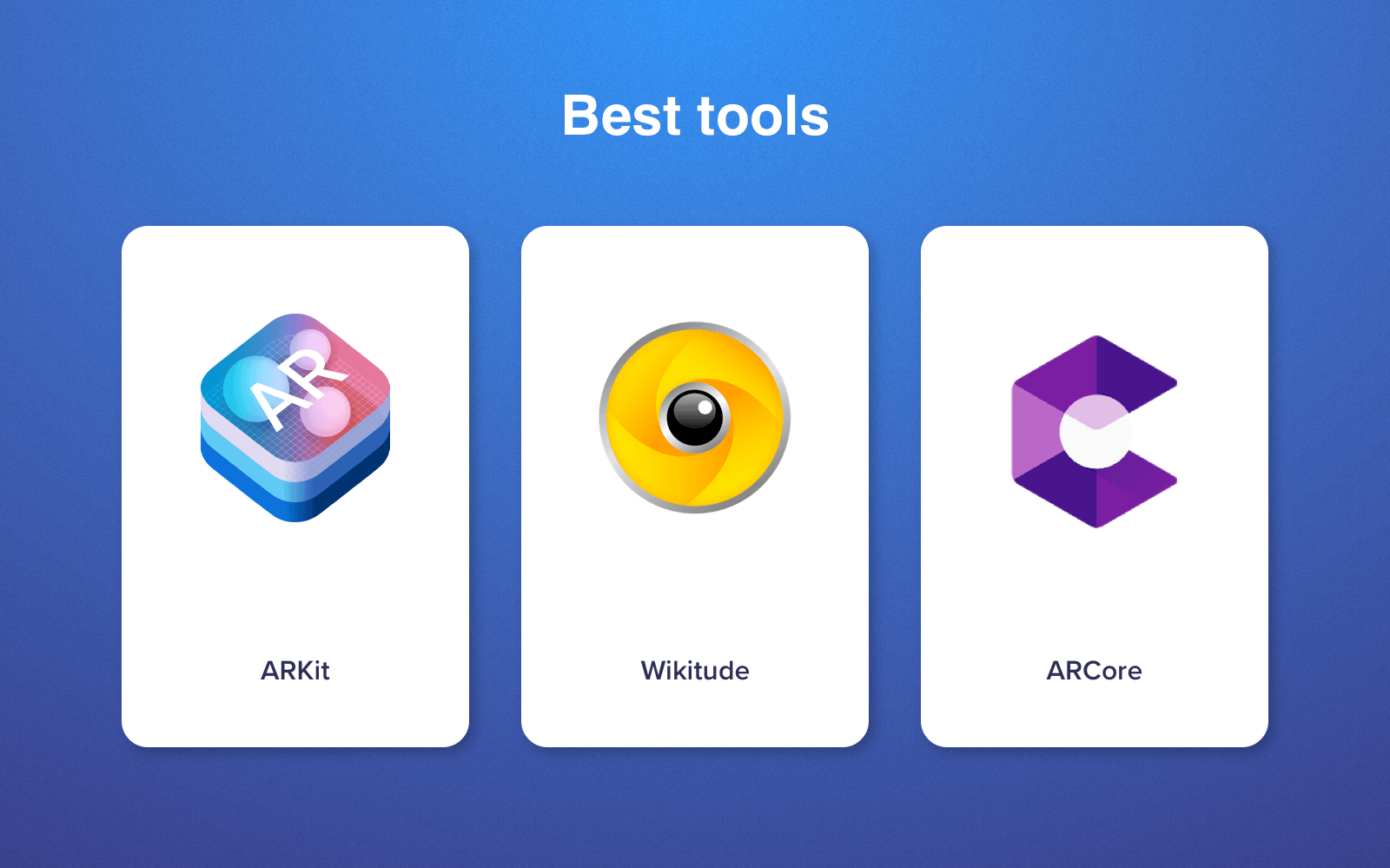 Best tools for creating location-based augmented reality apps
Previously we have mentioned this SDK, now let's deepen our knowledge. It has the following features:
Visual Internal Odometry that combines computer vision and information from the camera to accurately track the environment.
Scanning both vertical and horizontal environments
Lighting estimation. On the basis of the amount of light in the real world, this SDK adjust the amount of light on the virtual model.
Integration with Unreal and Unity engines.
ARKit 2 now also allows several users to cooperate with each other in a single virtual surrounding. Besides, it identifies 3D objects and remembers the location where AR object was left. Also, Apple introduced new USDZ format that enables developers to share and create AR items in an extremely easy way. It has a major impact on the AR market. But the main drawback of AR Kit is that this SDK available only for iOS.
Wikitude enables developers to create both marker-based and markerless AR applications. Among the main features of Wikitude are:
'Scene Recognition' which can recognize and track large objects like rooms, landscapes, buildings, etc;
SLAM technology;
It has finally got a Unity plugin, so it became easier to implement created 3D objects into the app;
geolocation support;
integration with various frameworks like Xamarin and Cordova.
This SDK allows creating location-based augmented reality apps for Android, iOS and AR glasses. But Wikitude will cost you a pretty penny. It has a free trial, but the full version will cost you from 2490 per year.
The competition between Google and Apple has already become legendary. The strongest feature of this tool is mapping, which is the most crucial for development markerless AR apps. It detects both horizontal and vertical surfaces and has a function of motion tracking.
In AR Core 1.2 Google added the Cloud Anchors, enabling two separate gadgets spectacle and manage the same AR objects from different viewing angles. New Vertical Plane Detection Feature allows placing AR items on various vertical surfaces.
Step 3. Integrate geolocation data
While one markerless augmented reality SDK already provides the mapping function, another may not. So you should integrate geolocation on your own.
GPS technology is the most common way to determine outdoor location. The main advantages of GPS are high accuracy and ability to determine your position literally from anywhere in the world. But there is the other side of the coin - GPS tracking is highly energy-intensive. To integrate a geolocation into your app, you should use Android Location services or iOS location service.
Discover how to integrate geolocation in your app
So your application already has all required information and can identify device's position and location. Now, it's high time to add a list of points of interest to the application. To add the list to Android or iOS application, you need to enable Google's Places API.
Challenges to overcome when building a location-based AR app
Even though the fast development of location recognition technologies, creating good-working location-based app could be quite challenging. You can face the following obstacles:
#1
Virtual objects should stay at their place even when users move their camera. In this case, SLAM technology comes in handy. This markerless tracking technology for augmented reality parses a visual scene and tracks phone position and orientation in the house down to the centimeter. Thanks to it, objects augmenting the real world stay still and don't bounce when a user moves a camera.
#2
Accuracy is a critical factor for an app of this type. To provide a high level of accuracy, your app should send queries to all needed sensors correctly and simultaneously. Attitude and position of the phone should be taken into account.
#3
Techniques that calculate a distance between your phone and needed object should be reliable and efficient. Make sure that implemented GPS works without errors.
So, you can see that building a top-notch app of this type requires a high level of proficiency. If you decided that developing a location-based AR app is what you want, you can contact us. First, we will properly estimate the cost of your project and then our skilled coders and designers will do their best to create a markerless AR app meeting all your needs.
We regularly post articles about how to build various types of apps, so you can subscribe to our newsletter and never miss guides on creating applications.
How location-based Augmented Reality works?
How do you make a location-based app?
What is location-based Augmented Reality?
How to build a location-based AR app?
What is the main purpose of location-based application?
Rate this article!