How to Choose a Business Model for a Startup?
A startup without a business model is no more than a hobby. That's because a business model, among many things, explains how the business works, what products or services it provides, and how it'll make a profit.
So after you've been struck with a powerful idea of a software startup, the first thing to do is start looking for the startup business model.
In this guide, we're going to discuss different business models for startups and how to choose the right one for a software company.
How to Choose a Business Model for a Software Startup
A startup business model is a company's plan for making money. It contains information about the company's products or services, target markets, and any expenses that may occur.
The business model answers questions like:
What value do we create?
How we deliver the value?
How will we bring in revenue?
How can we earn money?
There's also a revenue model, which is a part of the startup business model. It describes how the company generates income.
For example, Facebook gives people a platform to communicate and works with advertisers. It's their business model. Selling ads is their revenue model.
UberEats transfers the order from a customer to a restaurant and arranges the delivery. Users pay Uber for the food; Uber collects a fee and transfers the rest to the restaurant. It's their business model.
UberEats doesn't give all the money it collects. It charges a fee from the eatery (and users) for delivering the food. It's their revenue model.
There's no universal business model that'll work just for any startup. Even the largely popular 'Uber for X' model (where X means any deliverable service) won't work for each company.
Before choosing the business model for a software startup, consider these things:
Target market
Potential customers
Competitors
Revenue sources
Let's go over them one by one.
#1. Target Market
Before you launch a startup, ask yourself: is there anyone who needs your service/product?
When Uber was launching, taxi markets in many countries could only offer high prices and poor customer focus. There was a need for a cheap and good-quality taxi service. That allowed Uber to compete for customers and gain a market share.
Besides, moving from point A to point B is a recurring need. Customers loved the service and kept coming.
And the more users Uber got, the better it became. For example, the company collects data from both riders and drivers to facilitate payments for drivers, monitor for fraudulent activity, and troubleshoot user bugs.
#2. Potential Customers
Who exactly is going to use your product or service?
If the startup solves unexisting problems or sets sky-high prices that their target audience can't afford, maybe it'd be better to not launch at all.
Same if the people are satisfied with another product they already use and you bring nothing new to it.
Before food delivery services like Uber Eats or GrubHub, people had to cook food at home or eat out. Both activities are time-consuming, and not all restaurants could afford to hire couriers.
So food marketplaces focus on three categories of users:
Time-pressured people
People with kids
Tech-savvy millennials
Food delivery startup business model focuses on three categories
All these people are too busy to deal with food preparation or don't have enough time to eat out. So it's more convenient for them to order food delivery from restaurants and pay for its delivery.
#3. Competitors
Most likely, there are already people doing what you're planning to do. Your job is to understand who they are and how you can do their job better.
Let's take a look at Uber Eats, Just Eat, and Glovo. All three are food marketplaces but with slightly different approaches:
Just Eat uses the 'order-only' business model: people choose food from their catalog, and restaurants themselves take care of the delivery.
Uber Eats works with the 'order & delivery' model: people order food in the app, and Uber's couriers deliver it.
Glovo offers delivery from restaurants as well. But their couriers can also bring you carrots or other groceries from nearby stores, deliver alcohol, and pharmacy.
The best way to prevent a competitor from copying your service is to grow the quality. The more customers you get, the better service or product you should provide. Your competitors would eventually fall behind.
#4. Revenue Streams
Your big idea already implies the main source of revenue. If it's a social network, you sell ads. If it's a marketplace, you charge commission from sellers.
Some of the best business models for startups include several revenue streams. Amazon is a good example of such a company.
Amazon's core business model is based on its platform, which is now a blend of an e-commerce site and a marketplace. The company sells its own products and allows individual sellers to list on Amazon, too.
Amazon charges $39.99 + 10-15% of transaction from professional sellers (those with 40+ sold items/month) and $0.99 + referral fees and variable closing fees from individual sellers (those having fewer than 40 items/month).
The company also has physical stores, subscription service (Amazon Prime), AWS cloud hosting, and an advertising business competing with Google.
Amazon's revenue streams in 2019 (Source: Statista)
The easiest way to determine a revenue source for a startup is to look at competitors and analyze their value for money.
Why Use Business Model Canvas?
To understand which tech startup business model will work for your startup, try filling in the Business Model Canvas (BMC) developed by Alexander Osterwalder. BMC is a visual template that'll help you identify and organize different elements of your business model.
Osterwalder divides the canvas into nine sections:
Customer Segments
Key Partnerships
Key Activities
Revenue Streams
Value Propositions
Channels
Key Resources
Customer Relationships
Cost Structure
Business model startup canvas template by Alexander Osterwalder
To give you an example, we've filled in the Business Model Canvas for the Uber app.
The canvas has lots of modifications, including the Lean Startup Canvas designed specifically for startup launching. It's simpler than BMC and takes less time to fill in.
5 In-Demand Business Models for Startups
There are 55+ time-proven business model patterns, which is quite enough to choose from. We're going to focus only on modern-day business models for startup companies that create software.
Freemium Model
Freemium model offers a basic service for free, while additional premium functions or services are only available for a fee.
Phil Libin

CEO of Evernote

The easiest way to get one million people paying is to get one billion people using.
Freemium is a very common business model for a startup in social gaming. The games are designed to have limited playtime or tough levels that require upgrades. Each upgrade is $1.99 or less.
May not sound like too much money, but games like Candy Crush Saga made over $600,000 per day using this approach.
Services like Evernote, Skype, LinkedIn, Dropbox, Spotify, MailChimp, and others have adopted the freemium model.
Don't mix up freemium with the subscription model. You can use YouTube for free if you're fine with ads, no background mode, and no downloads. Same for Dropbox or Spotify.
But if you miss a monthly subscription payment on Netflix, you can't watch anything there.
Subscription Model
The subscription-based model works great if you're selling software or your customers want to keep the flexibility of choice.
Rather than offering a product as a one-time purchase, companies like Netflix, Amazon Prime, Adobe, New York Times offer users monthly payments.
It's more convenient for users to pay Netflix $8.99 or $15.99/month (depending on the plan) instead of $108 or $192 collected in one payment. And the lower Netflix prices are, the more people can use the services.
And for businesses, it's easier to predict the next months or annual revenues, seeing the number of subscribed customers and their plans.
Companies choose this model not only because they want to make their service more convenient for users. For Adobe and similar software-based companies, subscriptions are a way to pay off long-term development costs (adding new features, maintenance, etc.). For Netflix, it's a way to pay off the production of TV series and purchase rights to them.
Besides, subscription-based companies simply earn more money in the long run.
If the people like the service Netflix provides, they won't need much convincing to renew their subscription (or hit the auto-renew button). Still, to get enough revenue monthly or annually, you need to have an extremely large customer base.
Reseller Model
Here you don't manufacture any of the products you offer to customers. You're representing a partner company and gain money by promoting their offers to your target audience.
That's the way Amazon and eBay work. Their platform offers different companies a partnership, then promotes and sells their products.
For sellers, the revenue comes from the difference in the selling price and the price they acquire the stuff for. For Amazon, it's $39.99 seller fee + transaction fees.
Advertising Model
Free product or service is at the core of this model. You gather an audience by creating content or attracting interaction and engagement, then sell access to advertisers.
The more people you can reach, the higher your profits will be.
The best examples are Facebook and Google. Their products are free for users, but these two companies make money on advertising. In 2019, they took up 59% of U.S. digital ad revenue.
Sharing Economy Model
Among the most popular examples of the on-demand model are Uber, BlaBlaCar, and Airbnb.
The on-demand model works by 'access is better than ownership' principle. It's when owners (drivers or landlords) provide services to seekers (people looking for a taxi or a flat to spend a night in), and the platform serves as an intermediary.
The platform itself does not possess any of the assets it offers. Airbnb doesn't own a single room; Uber works with people who own cars. They only match users.
On-demand platforms earn money by charging a fee, often from both users and service providers:
Uber charges 25% on all fares
Lyft takes 20% on fares + service fees
Airbnb charges 3% from owner + 6-12% from guests
Instacart takes $3.99 for 2-hour deliveries + up to 15% product markup
Each of the startup business model examples we've mentioned is good in its own way. Still, the best idea may be to combine a few models—or create your own. Tech giants like Google, Facebook, Uber, Amazon may have started with a simpler business model, but now they get revenue from quite a few sources.
And don't forget about the tech component of your business model. Uber wouldn't be that popular if its app could not process a taxi request, crashed, or had an awful UI/UX design.
Need help with the tech part?
We're offering a free of charge tech consultation. Describe your idea and any questions you have.
Frequently Asked Questions
A startup business model is a company's plan for making money. It contains information about its products or services, target markets, and any expenses that may occur.
Because a business model is the startup's foundation. It explains how the business works, what products or services it provides, how it'll make a profit, lists the target markets, and lists any expenses that may occur.
A startup without a business model is no more than a hobby.
A business model's choice doesn't guarantee the company will be a successful one, but it matters a lot.
Most billion-worth companies combine a few business models to get revenue from a few sources. For example, Amazon uses the reseller model as well as provides subscription services and hold physical stores.
Start with looking at your competitors: which business models they use, how they make a profit, and what value provides.
Next, check what business models are there. Business model navigator lists 55 patterns, including the popular ones like direct selling, subscription, e-commerce, two-sided market, etc.
Or maybe you'd want to combine a few business models or create a unique one.
Startup business models generally include information about products/services the business plans to sell, its target markets, and any expenses that may occur.
In general, there are 55+ business model patterns. The most popular for software startups are:
Freemium
Subscription
Reseller
Advertising
Sharing Economy Model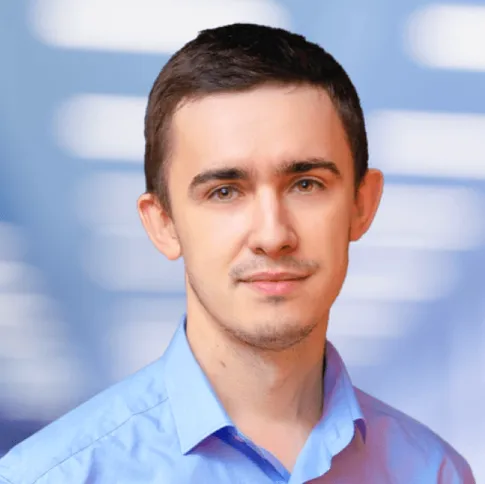 About author
Evgeniy Altynpara is a CTO and member of the Forbes Councils' community of tech professionals. He is an expert in software development and technological entrepreneurship and has 10+years of experience in digital transformation consulting in Healthcare, FinTech, Supply Chain and Logistics
Rate this article!
1958 ratings, average: 4.58 out of 5
Give us your impressions about this article
Give us your impressions about this article