Fixed Price vs T&M vs Dedicated Team Contracts: How to Make Your Choice
Giving your money to someone is always difficult, at least for me. When I open my wallet I have to be sure that I get the best quality for this money. However, the variety of services, goods and payment methods is vast, so sometimes I really get confused. The same goes for here, in the IT sphere! You can choose development of your mobile application or a website, according to the type of a project and the way you want it to be built.
In our article, we'll dot the i's and cross the t's and find out what kind of payment, Fixed Price or Time and material or Dedicated team model is going to be the best for you.
Time & Material vs Fixed Price vs Dedicated team: Let's handle the basics
Before you buy a new chair you want to know everything about it. What materials it is made of, who constructed it, where it was produced, will it last long? Before we pick the payment option and know the winner of confrontation Time and Materials vs Fixed price vs Dedicated team, let's make sure that you understand what each one means.
Fixed Price Contract
It is a model where a client pays a predetermined amount of money, which he has discussed and agreed to pay for a particular scope of work to a vendor. You can understand what Fixed Price project is if you read between the lines. A client and a vendor set not only the fixed sum but also a date (deadline), which cannot be changed even if a vendor faces lots of issues, bugs and technical crashes.
So, all risks are handled by the vendor. You might have thought that it's a fantastic way to run your business, you pay and don't worry about anything. However, it's not quite that easy. This model also implies that a client won't change the scope of work. In reality, of course, changes can be added to the scope, however, they will be discussed in another contract, with another deadline and billing.
Time and materials Contract
The Time and material model is an approach when a client pays for all the materials and hours, which were spent on the project. If I were a client I would boil over. It could take them an eternity to develop it! And I have to pay for this? No, thank you. Nevertheless, this method is as popular as the Fixed Price. It happens because a client supervises the whole process and sees how much time was spent on every feature and pays only after a thorough discussion.
Dedicated Team Contract
According to the Dedicated Team model, you can hire not only developers but any IT staff your project requires. Your dedicated team can be completely packed and consist of UI/UX designers, project managers, QA engineers etc.
Compared to a fixed price model, the dedicated team puts all the risks on you as in most cases you deal with the full management cycle. So, the dedicated team model is often chosen by experienced startuppers and corporate customers. In other words, this model fits customers who understand the complexity of the project, as well as possible pitfalls.
Time and materials contract vs Fixed price in terms of methodologies
Let's get back to our chair when you pick one you know exactly where you want to place it and what purpose it is going to serve. When you choose the method of payment for your project, you should think about how you will develop it.
We can spend hours talking about various development methodologies in the IT sphere. Nevertheless, the most common (probably because they are the best ones) are the Waterfall and Agile approaches, which perfectly suit Fixed price and Time and material projects. At this point, we're going to take Dedicated team model out of the equation. It's really so customizable to the client's requirements that there's no need to generalize.
Waterfall methodology: Fixed price contract vs Time and material contract
The Waterfall methodology has a long preparation stage where all the documentation should be gathered before the development stage begins. Once the development has started, nothing can be changed. If you have a very clear understanding of your project then Waterfall is a perfect choice for you.
Usually, such projects are startups. A person or a group of people have an idea about a product in detail, including the functionality, design, target audience and have fixed amount of money to bring the idea to life. So it is essential to apply a Fixed Price model here. In general, startupers don't have a technical background, so the process of supervision is difficult and a little stressful for them. When a fixed amount of money is paid, they get rid of these obligations because all risks are on the vendor. When a client spends a little time inspecting the development team, he or she will get what they paid for.
On the other hand, we have clients with broken chairs. I meant projects. Or they want a chair and a sofa and a table in one. My point is that a vast majority of all projects are bug fixing or the rebuilding of existing products. And, of course, we shouldn't forget about large projects with complex functionality when not only the team but the customer himself has a little understanding of what features the final product will include. In such cases, when the scope of work is unclear, an Agile approach fits the best.
Agile methodology: Fixed price vs Time and materials contract
The Agile choice means flexible, because here you can make changes anytime, and the Fixed Price model cannot be used. However, the Time and Material model can. And very successfully, by the way. The team sets the tasks for two weeks (usual the length of a sprint) and approves it with a customer and he pays for man-hours, which will be used for the tasks performing.
The type of project you have and the way you want to build it define your way of payment. If you have your idea on paper, or at least understand all the features you want to include in the product, and you don't have much time to control and check the development team - then a Fixed Price fits your purposes more.
If you need to rebuild an existing website or mobile application, or you have a large project with lots and lots of features, and you want to customize a product for your needs - in such cases, you should definitely vote for the Time and Material model.
Tips and tricks or how they bill you
When you choose a vendor and are thinking of the Fixed Price vs Time and material payment methods, you should understand that every company and every development team tries to insure themselves. It doesnt mean that they all are trying to hand you a lemon. No. They just want to be sure that they wont work for free.
Most of the young development teams prefer the T&M billing model because it is difficult for them to make a clear and reasonable estimate when they don't know exactly how long will take the development of a particular feature. Probably because they will be doin it for the first time and don't realize what pitfalls they are going to meet on the way.
More experienced teams find it less difficult to provide a client with a detailed and feasible estimation. They use their knowledge and previous background to calculate the needed time. Such companies keep options open and give clients the right to choose a payment method.
However, it doesnt mean that they don't keep their back covered. Trust me, all companies include risks in the contract. It means that the team adds some hours for theoretical issues solution, which might appear during the mobile or web development process. And they are not free hours developers spend on their leisure. I can guarantee you that 99 percent of all these hours will be either spent on the self-education of a developer (designer, QA engineer) or for the practical resolution of real questions. And again, every company, based on it's' experience, includes a different number of hours. Usually, we can talk about 15 - 40 percent from the overall duration of the project. Consequently, the more experienced your team is, the fewer risk hours youll be paying for.
When you're thinking of how to pay for your product don't rush. Make a well-argued decision. Think about your project. Is it very clear in your mind, or something can be added or cut? Consider how you want to interact with the team. Will you have enough time for everyday communication or you trust your team and rely on them completely? The answers will help you choose not the correct (because there is no correct variant), but an appropriate option for the purposes you set. If you want to find out the price of your project, contact us and well provide you with a professional estimation.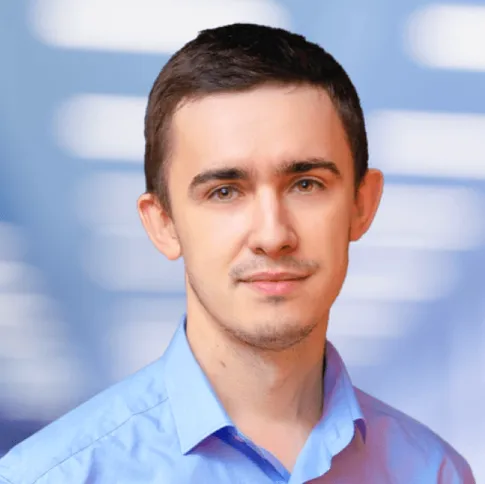 About author
Evgeniy Altynpara is a CTO and member of the Forbes Councils' community of tech professionals. He is an expert in software development and technological entrepreneurship and has 10+years of experience in digital transformation consulting in Healthcare, FinTech, Supply Chain and Logistics
Rate this article!
4345 ratings, average: 4.83 out of 5
Give us your impressions about this article
Give us your impressions about this article