Guide to Creating an Uber For Laundry App and Maximizing Your Earnings
3027 Views
|
06 Jul 2018
|
10 min
There's no time for household chores in our fast-paced life. So when it comes to accomplishing small tasks, on-demand services come in handy. You can order pizza in a few clicks, find a babysitter through a mobile app, and yeah, get dirty clothing cleaned and ironed with a couple of taps. The on-demand apps make our life easier, so that's why the demands for them are growing. And so does the revenue of Uber for X owners.
BIA/Kesley has found, that in 2016 the market value of the on-demand industry reached $34 billion in the US. And this number is expected to reach $57 billion by the end of 2018.
We are going to tell you how you can benefit from developing a laundry service app and list the main features that your Uber for dry cleaning and laundry app should have.
Why Uber for laundry is advantageous
The dramatic success of ridesharing company Uber has inspired a great number of entrepreneurs to open an Uber-like business and get a closer look at this business model. The laundry industry wasn't an exception. Zion Market Research shows that on-demand laundry market was valued at $9,4 million in 2016. In 2024 it is expected to reach the number of $96,2 million.
Applications of this type work in a simple way. At first, users make an order through a website or mobile application and choose the most convenient time for pickup and delivery. Then, a delivery person takes dirty clothes to the laundry or dry cleaning service provider. After clothes is washed, dried and ironed, the laundryman delivers it back to the client.
There are two popular options for payment. In the first scenario, a customer pays when the clothes are delivered. In the second scenario, the customer pays when he gets a notification that work is done. And after the payment laundryman delivers clothes.
We found out the top reasons why on-demand laundry apps are so popular:
Laundry pick up app, also called Uber for laundry, can save a lot of time. There is no need for users to waste a couple of hours by washing dirty clothes or taking clothes to a laundry shop. In most cases, such apps also provide dry cleaning and ironing services. Just a few taps and all dirty clothes will be clean in a couple of days.
Customers can schedule pick-ups and deliveries. What's more, they can customize their orders. For instance, a customer can ask for washing with eco-friendly cleansers or softener, and so forth. After placing an order, users can track its status in the application. They can identify whether the order is in a queue or is already done.
In case you have a laundry shop, laundry app can be a good way to scale your company. By developing laundry management software, you will get an increased customer loyalty and add new customers who don't want to waste their time on the road to a laundry shop. Moreover, you can automate the whole process and make calculations easier.
The application can also be a platform that connects customers and laundry provider. In this case, you can start a business from scratch. Such an application is a marketplace, where users can find the nearest laundry shop. So you have no need to invest in equipment but will profit from the interest rate. But in this case, you need to find a laundryman who can pick up and deliver clothes.
So you can see, that with the help of this application customers can save their time on doing unpleasant housework. That's why the number of mobile laundry services is increasing every year.
There are two possible business models used by on-demand laundry startups.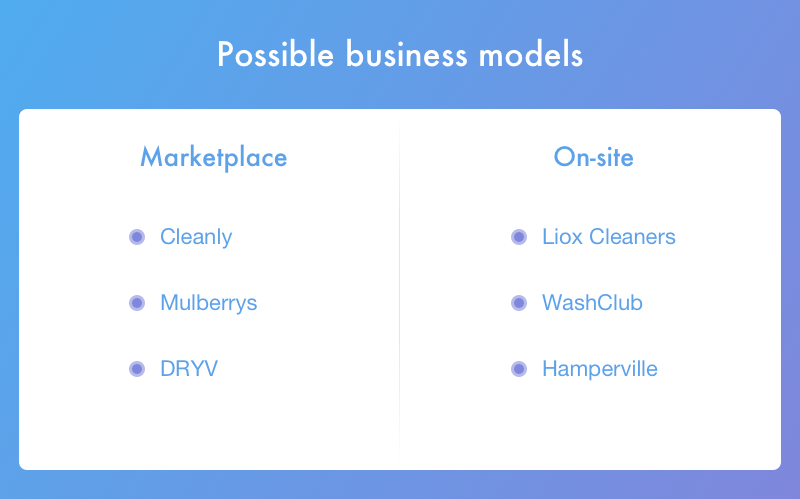 There are two possible models for on-demand laundry business
Marketplace model is a great solution for startups that are on a tight budget. Your application becomes a platform where users can connect with local laundry shops they choose on their own. After work is done they can rate laundries. In this model, you can get interest from each transaction. Cleanly, Mulberrys, DRYV use this business model. If you start your business from scratch, it's important to make a partnership with local laundry owners. As far as your app is a medium between vendors and customers, building good relationships with each side is of a great importance.
This model is a great solution if you already own a laundry shop, but have difficulties with attracting new clients and scaling your laundry startup. By creating a website or mobile application you provide customers with the ability to order laundry pick up and delivery in a few taps. This business model is used by Liox Cleaners, WashClub, and Hamperville.
Whether you selected marketplace or on-site model, you should think through hiring a delivery man. Most companies usually hire freelancers who want to get some money. Cleanly and Rinse hire part-time employees with a car and pay them for each order. TaskRabbit company created a special platform where users can hire freelancers to wash and deliver their dirty clothes. The key difference is that customers choose not laundry shops, but people who are ready to perform chores, so the company has no need to think about delivery. TaskRabbit gains money from commission on each transaction.
Laundry delivery app monetization
One of the most frequently asked questions is 'How can I make money by developing Uber for laundry?' In case you have your own laundry shop, it's obvious that you will have an increased revenue because of an increased client base. But what about marketplace model?
Most software for laundry businesses earn money by setting fixed prices for each option. Other solutions are to set a delivery fee and get your interest from each in-app payment. Such popular way as advertising is inappropriate, while with advertisement your application won't look trustworthy. You also can provide your customers with additional services. For instance, in Rinse customers can get their clothes earlier if they pay extra $5.
Best laundry apps available on the market
The profit from developing Uber for laundry can also be illustrated by the success of companies. Let's consider the most famous companies providing users with on-demand laundry services.
In 2015 Cleanly participated in Y Combinator. Then it raised $2.3 million in seed funding, and after that $5 million more in the series A. Cleanly claimed, that in 2016 their annual revenue in NYC alone reached $2.5 million.
It is on-demand laundry and dry-cleaning delivery app available in the US. The company's work cycle is not so complicated. After a user has placed an order, Cleanly concierge picks up his/her clothes and brings it to Fulfillment Centre, where clothes are sorted. After that, they take the dirty clothes to a vendor. When the vendor washed clothes, the concierge returns it to the customer at the chosen time.
The application has a unique feature - if the stain on clothes requires special attention, the customer can snap a photo and highlight this stain. It also provides users with the opportunity to track order on the GPS map. Talking about app monetization, Cleanly has a $4.99 delivery fee if customer's order is under $30.
Rinse is another US-based laundry startup, which provides dry cleaning, press and launder services. It was founded in 2013 and raised $23.5 million in total. A client can create an order at any time before 5 p.m., then so-called Rinse Valet picks up the clothes and delivers it to local laundry company. It takes 3 days to wash and deliver laundry, but they can do it in 2 days for extra payment.
Rinse provides an opportunity to chat with human representatives in case you have some problems and track your order. The company also has a clothing repair service. Rinse has a fixed price list.
According to Crunchbase, Laundrapp has $2 million in revenue and has raised totally 14.5 million in 4 funding rounds. Laundrapp has fixed price for each item starting from 2.
It works in the same way as previous companies. It also has a Quality Guarantee and like an Uber gives the opportunity to track an order on the map. The company plans to provide its services in 15 countries by the end of 2018.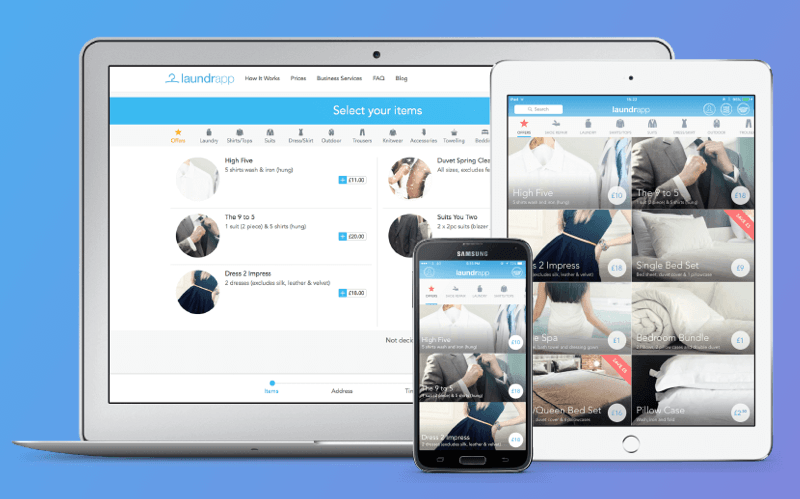 Laundrapp is available for different devices
All these companies have both application and website for online ordering. To place an order, a customer enters a postcode and then selects all needed options. You can then invest inwebsite development and have an extra profit from new customers.
After talking about top laundry apps, let's discover common features of applications of this type. In case you decided to make your own on-demand app, this paragraph is essential while it can help you with development cost estimation. Even though this application looks quite simple, it contains various basic features. Take into account, that Uber for laundry app usually consists of several components.
This panel consists of the login form, customers data with all needed information (i.e. customer's address, first name, etc). With the help of this panel, clients can calculate costs, make and track their orders. Basic features for customer panel can be the following:
Log in and registration form
Here you should choose how the user will register: via email, phone, social network or in all these ways.
Cost calculator
Your customers choose the type of clothes, total weight and, according to this information, can view how much a laundry or dry-cleaning service will cost them.
Push notifications and order tracking
Most users want to be sure everything is okay with their clothes. The application notifies customers whether their clothes are washed, some problems have occurred or payment was successful. The tracking feature is optional, it requires using the GPS tracking.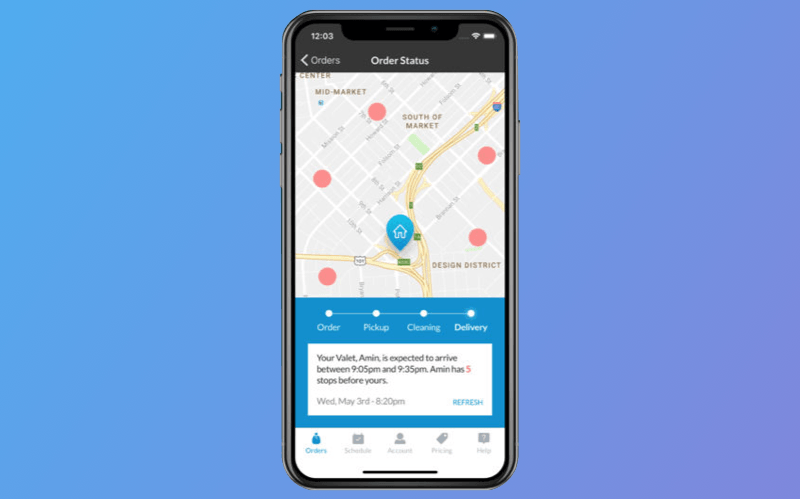 Here's how Rinse allows clients to track their order
Schedule pickups and order history
With scheduled pickups, customers can choose the most convenient time for them. Order history allows them to view previous orders and repeat them.
View and rate laundries
If you chose the marketplace business model, you need to provide your customers with the list of nearby laundry shops, and then allow them to choose one of them and rate them after work is done.
In-app payments
Cash-free payment is an extremely easy way to pay for services. This feature makes it possible for users to pay for services in a few taps.
Learn how to integrate a Payment Gateway into an App
You have no need in this panel if you selected marketplace business model.
Order history
With the help of this feature, delivery man can get info about orders waiting for approval and the time when he/she must pick them up. He can accept or decline the order in accordance with his/her availability.
Route
Depending on orders, delivery man builds the best route from customer to laundry shop and vice versa.
Managing orders
Delivery man sets a status of the order when the laundry is picked up, washed and delivered.
In case your mobile laundry business uses on-site business model, there's no need to develop service provider model.
Information about an order
With this feature, a service provider can accept or decline orders, view the information about the order (i.e. the customer's preferences)
Manage information about services
This feature allows owners to easily update price list, special offerings and so forth.
View analytics
Laundry shops can view their income, the number of orders per month, etc.
The most essential part is an admin panel, which manages interactions between all panels, store and analyze data. This feature requires a huge database which can cope with a big scope of data. In this case, the role of cloud technology cannot be missed upon. Storing data in the cloud provides fast access to data and makes laundry business scalable. It also provides admin with all data about costs, incomes and so forth.
Components of Uber for laundry app
There's no denying that developing Uber for laundry app can be profitable for both startuppers and laundry business owners. But you can see, that the laundry app development cost depends on many factors.
Ready to build Uber for laundry?
Fill in this short contact form and our specialists will get back to you within 24 hours.
And don't forget to subscribe to our blog in order to get the newest information about business and IT.
Rate this article!
Bad!
Strange!
Boring!
Good!
Love it!