From Startup To Scaleup: 7 Ways To Prepare Your Business for Evolution
An adventure from startup to corporate giant requires great efforts. If you have already launched a startup and record increased profits, greetings. Your company has come a long way since opening and it's time to scale. In this article, we will help you find out whether your startup is ready to expand and give some useful tips on how to prepare startup to scale up.
Growth vs. Scaling
At first, it's important to discover the differences between scaling and growth. Growing means that companys revenue and costs grow at the very similar pace. For instance, when you add new clients, you need to hire more people to serve them. So you get an additional revenue, which is a little different from additional costs. But talking about scaling, the situation is quite different. Scaling doesnt require an increase in spending to trigger an exponential growth in revenue. In plain English, you get a maximum profit with a minimum investments.
Scaling up can be clearly demonstrated by Google. At this stage of company's development, Google added customers very quickly. But invested few resources to service them.
The number of scaleups in UK increases
When is it high time to scale up startup?
Let's move directly to preparing your company to scale up. The first and the most essential step is to define when your startup is ready for it. In 2011, the StartupGenome Report surveyed about 3200 startups. The results were following: 74% of startups failed because of premature scaling. What's more, premature startups grow 20 times slower than startups that scaled properly.
So defining the right time can be a key point for your startup. We found out 4 signs showing that your company hit this milestone.
The road from Startup to Scaleup
Good team
Good staff is a foundation of your startup's success. Look closely at your employees. Are they ready to bring innovative ideas to the project? Will they be able to tackle new tasks? Some of them are great in current setup but may not be effective as new tasks come up. But for others, new tasks will be an interesting challenge, so productivity and the number of innovative ideas will increase. If the first scenario is more credible, think twice before scaling.
You achieved previously set goals
It is the first and the most obvious sign of startup scalability. At the very beginning, startup owners don't possess enough information which can help them predict their revenue, costs and further objectives. So they borrow statistics and set goals in accordance with it.
But once they see that they've met and even exceeded previously set goals, it's high time to reevaluate and scale up company.
Strong Cashflow
Exponential growth requires financial investments, no matter you scale up business or startup. At this point, it's not enough for your startup to just be profitable. To decide exactly, whether it's time for scaling up, you should carefully analyze your revenue.
Will it suffer greatly if you invest a part of the gained money into scaling? And what can you do in case something went wrong?
Ability to control costs and predict profits is an essential point at this stage. At first, think through needed resources. Make a list of startup's ongoing and one-time expenses. Then calculate approximate costs and define, whether you can invest such an amount of money. And don't expect the fast growth of profit in the first month. Typically, it takes at least 4 months to see a return on investments.
Scaling up may also involve looking for investors. In this case, you should prove them that there are no risks for your startup to fail.
Good working IT systems
If you're one of those who uses business software, you need to be confident that your IT systems can take the strain connected with the growth of client base.
Scaling up means that more information needs to be stored. If your IT systems perform only small tasks, you seem to face serious problems when scaling up. But if you use software that can easily deal with serious tasks and store a great amount of information, don't be afraid of startup expansion.
See the most essential signs that your company is ready to scale
How to prepare the startup
After you exactly know that you've built a scalable startup, it's time to move ahead.
1. Develop right strategy
No doubt any company needs a good strategy. But there's no need in complicated one. The first thing the strategy should include is a list of strengths, weaknesses and prospects of the startup. Then, on the basis of this information, set a goal for each quarter, then for a year. Include information about investors and analysis of the market.
At the preparation stage don't hesitate to ask others. Contact with experts or business owners who have done it before. It also be useful for you to attend events for startup owners. For instance, there is an annual event Startup Scaleup that helps entrepreneurs with scaling a business.
2. Invest in technology
Your startup isn't scalable if any aspect of it is labor intensive. It's a digital age now! Streamline as many processes as you can. There is a couple of popular solutions that can help you with managing your startup and make it scalable. But keep in mind, that these are optional tools and not every startup needs them.
Clients are of the great importance for any startup. Scale up requires the fast growth of customers, so it's essential to improve customers experience. Customer Relationship Management (CRM) software helps you manage interactions with your clients by organizing and storing data about them. With the help of this data, you can faster respond to customers' questions, improve marketing strategy in accordance with clients' needs and analyze their buying patterns.
You can use ready-made CRM systems like Saleforce, HubSpot, Sugar CRM, and Zoho CRM. But there are two pitfalls of using them. You need to pay for it every month and the more employees use CRM the more you should pay. Or you can build your own CRM from scratch and don't pay for using it every month.
As we mentioned earlier, with the growth of client base the amount of stored information is also growing. Cloud Computing provides an opportunity to fulfill increasing demand with least resources and investments.
It also provides accessibility. Imagine, that your customer needs an urgent help at odd hours. But how employees can help the customer if they have no information needed for solving the problem? With the cloud-based CRM they can access data in just a few clicks.
If you have business directly connected to the Internet, you need flexible and powerful space for your project. Cloud computing can provide this space. You also can outsource the whole IT infrastructure of your project and through that get rid of expenses on in-house hardware, electricity and free up space. Storing information in the cloud is a good point in developing both startup and business scaling strategy.
On the startup phase it was easy to run a company by yourself, but with the growing staff it becomes more difficult. To control resources and processes in your scaling startup, it would be useful for you to use ERP system. Enterprise Resource Planning (ERP) helps organize business data, reports about changes in working process, and facilitates work collaboration and planning. What's more, ERP solution gives you access to data at any time and any place.
3. Outsource non-essentials
In-house staff is common for big companies. They hire their own designers, developers, copywriters, lawyers and others. But for small business and startup, there's no need to hire in-house employees for everything. At this point, an outsourced team is the best solution. For instance, you have a manufacturing company and decided to build your own ERP application to manage inventory and human resources. What's the point of full-time developers and designers if you only need an app?
In this case, an outsourced mobile development will cost you less than full-time developers, so you can easily reduce unnecessary expenses. Remember, that only essential roles should stay in-house.
4. Improve marketing
With the right scaling up strategy, great IT systems, and a big team of professionals your startup won't even grow if nobody knows about it. So before you transform the business from startup to scale-up, it is essential to think about how you can make more people know about your company.
The solution is quite obvious - you should pay close attention to marketing. But not every type will help. Let's figure out what types of marketing are effective when scaling up.
Direct marketing
Forbes claims, that neither word-of-mouth nor direct marketing is scalable. They will be useful in the early stage of startup development but are insufficient while scaling up.
Content marketing
Content marketing is considered to be the most scalable method. A lot of startups choose this method because of it's viral potential and continual value.
Social media marketing (SMM).
As far as every startup is on public eye, it's important to analyze social media. Sometimes startups are unable to invest many resources into advertising. Social media becomes a great 'runaway' to build a reputation of the company. That's the reason for such a popularity of this method among small scale startups.
Influencer marketing
It is a brand new trend in marketing. In plain English, it is a cooperation with so-called influencers. An influencer is a person who is popular on various blogs or social media. It implies that this person will tell his or her subscribers about benefits of products or services you sell and recommend followers using these services or products.
5. Improve reputation
This point follows from the previous one. The right marketing strategy is the first step to building good relations with customers. The second one is branding. In this case, building a website for your company is a great solution. How does your startup look from the client's side? If your startup already has a website, pay close attention to it's design. Is it eye-catching or it is time for a redesign? A good looking design coupled with right marketing strategy may become a powerful tool for gaining new customers.
6. Select the right staff
Scaling your startup also stands for hiring more people. We have already talked about the outsourced staff, now it is high time to think about in-house employees. At this stage, we found out the most essential characteristics of employees that will help you build the right team.
They perform essential tasks. For other purposes, you should turn to outsourced software development services. They can do what machine cannot. As stated earlier, to reduce costs and human resources, automate as many processes as possible. Then think through what tasks cannot be done by machines. And hire people only for these tasks. Otherwise, it will be a waste of human effort.
They are multi-skilled. In the startup one person can do several tasks. Be ready for this scenario and hire multi-skilled people.
They are innovative thinkers. In the highly competitive world, innovative ideas are what separate you from the rest. New people with different experience and background can be a gulp of fresh air for your startup. So don't hesitate to hire creative thinkers and then make them free to share ideas.
7. Make startup workable without you
The more employees you hire, the more difficult it becomes to manage them. Fail to manage the team correctly, and you will get decreased productivity and employee turnover. To avoid it, onboard new leaders that can manage employees without your help. And don't forget to build right hierarchy.
The startup is truly scalable only in case it can function without you. Take a deliberate absence. With the help of this step, you can force employees to be independent.
Follow these steps to prepare your startup to scale up
Where you should not go overboard
For not to waste human resources and money, you shouldn't go overboard in 3 areas. Here they are:
Spending
It's one of the hardest startup scaling challenges. A lot of startups fail because they get loose with money once they get a big amount. Stay disciplined with money and invest only in necessary improvements.
Hiring
Don't hire too many new people. Particularly when it comes to hiring managers and non-essential specialists. Such actions take your company away from it's core competence. At the beginning of scaling up focus on the most essential areas.
Building
So you see that your startup has achieved product-market fit. It doesn't mean that your next goal is to add functionality or add new products and services. At first, make sure you enhanced your current product.
How to scale up a startup: companies' experience
Before transiting your business from the startup to the scale-up phase, it would be useful to look at the examples of scalable startup entrepreneurship. Here is a couple of stories from other companies.
Letgo
Letgo is an app that helps you buy and sell stuff. For two years Letgo's valuation has grown to over $1 billion and the number of downloads has reached 75 million.
In one interview Enrique Linares, Letgo's co-founder, gave some tips to startuppers. He said that hurdles are inevitable. But instead of being discouraged by them, you should focus on empowering the team. You also should study what your rivals have done wrong and right, and then integrate this information into scaling-up strategy.
Cobone
Cobone's co-founder Pieter Sleeboom also shared his experience after scaling two of his startups. He pays attention to the division of roles. He says it is important to divide responsibilities of each employee and align the whole organization so that everyone talks with one voice.
Can't scale due to tech problems?
Fill in this short contact form and our BA specialists will consult you concerning solutions.
Also, click a Subscribe button if you want to receive up-to-date news and tips tailored to your interests! No spam, only the most useful information once a week.
Frequently Asked Questions
We found out 4 signs showing that your company hit this milestone.
You achieved previously set goals
Strong cash flow
Good working IT systems
Good team
There are several points you need to consider while scaling startup:
Develop the right strategy.
Invest in technology.
Outsource non-essentials.
Improve marketing.
Improve reputation.
Select the right staff.
Make startup workable without you
Scaling does not require an increase in spending to trigger an exponential growth in revenue. In plain English, you get a maximum profit with a minimum investments.
There are several points:
Develop the right strategy.
Invest in technology.
Outsource non-essentials.
Improve marketing.
Improve reputation.
Select the right staff.
Make startup workable without you.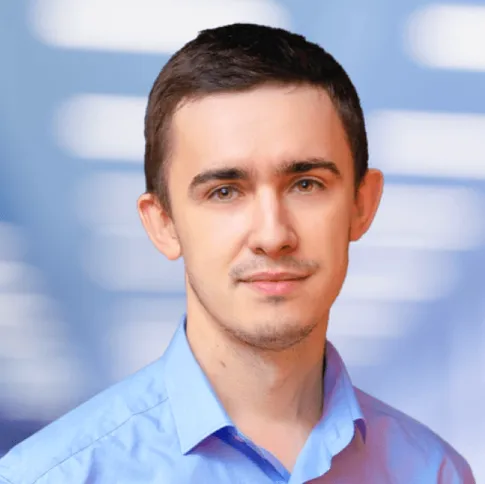 About author
Evgeniy Altynpara is a CTO and member of the Forbes Councils' community of tech professionals. He is an expert in software development and technological entrepreneurship and has 10+years of experience in digital transformation consulting in Healthcare, FinTech, Supply Chain and Logistics
Rate this article!
6862 ratings, average: 4.97 out of 5
Give us your impressions about this article
Give us your impressions about this article