How to Create a Laundry App With No Mistakes [2022 Overview]
There's no time for household chores in our fast-paced life. So when it comes to accomplishing small tasks, on-demand services come in handy. You can order pizza in a few clicks, find a babysitter through a mobile app, and yeah, get dirty clothing cleaned and ironed with a couple of taps with laundry mobile app development.
The on-demand apps make our life easier, so that's why the demands for them are growing. And so does the revenue of Uber for X owners.The global on-demand services market is expected to grow by $4730.31 billion during 2021-2025. Isn't that a significant reason to give your idea a start?
We are going to tell you how you can benefit from on demand laundry app development services and outline the main features an Uber for dry cleaning and laundry apps should have.
Benefits of Laundry Apps
The dramatic success of ridesharing company Uber has inspired a great number of entrepreneurs to open an Uber-like business and get a closer look at this business model. The laundry industry wasn't an exception. The Global on-demand laundry market is expected to reach $113.24 billion by 2027.
Applications of this type work in a simple way. At first, users make an order through a website or mobile application and choose the most convenient time for pickup and delivery. Then, a delivery person takes dirty clothes to the laundry or dry cleaning service provider. After clothes are washed, dried and ironed, the laundryman delivers it back to the client.
There are two popular options for payment. In the first scenario, a customer pays when the clothes are delivered. In the second scenario, the customer pays when he gets a notification that work is done. After the payment, a laundryman delivers clothes.
We found out the top reasons why on-demand laundry apps are so popular:
Laundry pick up, also called Uber for laundry, can save a lot of time. There is no need for users to waste a couple of hours by washing dirty clothes or taking clothes to a laundry shop. In most cases, such apps also provide dry cleaning and ironing services. Just a few taps and all dirty clothes will be clean in a couple of days.
Customers can schedule pick-ups and deliveries. What's more, they can customize their orders. For instance, a customer can ask for washing with eco-friendly cleansers or softener, and so forth. After placing an order, users can track it's status in the application. They can identify whether the order is in a queue or is already done.
In case you have a laundry shop, you can create a laundry app to scale your company. By developing laundry management software, you will get increased customer loyalty and add new customers who don't want to waste their time on the road to a laundry shop. Moreover, you can automate the whole process and make calculations easier.
The application can also be a platform that connects customers and laundry providers. In this case, you can start a business from scratch but you'd need to cooperate with a laundry app development company to create a solution. Such an application is a marketplace, where users can find the nearest laundry shop. So you have no need to invest in equipment but will profit from the interest rate. But in this case, you need to find a laundryman who can pick up and deliver clothes.
So you can see that with the help of this application customers can save their time on doing unpleasant housework. That's why the number of mobile laundry services is increasing every year.
Business Models
The on demand model has integrated so well with today's reality that traditional laundry setups have almost disappeared. Before we proceed to the business models of Uber for laundry apps, let's take a quick look at trends that transformed the traditional laundry service into on demand one.
Customer behavior
People love solutions on the go. Book a hotel room in a few clicks, order food to their doorstep, the option to pick up a laundry detergent, etc. Besides, having the opportunity to monitor every step of the process is also a benefit that users want. The transparent approach offered by on-demand laundry businesses is a key point that shifted consumers' focus toward the 'Uber for X model.'
Crowdsourced supply
This is the second trend that has modified the model of today's laundry industry. If you're a startup and want to scale up your laundry business, there is no need to establish or augment your in-house team. You can cooperate with freelancers or hire a dedicated development team. Adopting crowdsourced supply into your business processes will allow you to save extra time and money and concentrate on core tasks.
Less ownership model
Let's clarify this term with a simple example. Suppose you want to extend your laundry business and open one more laundry in another area. The first things you should do is to own or rent extra space, develop infrastructure and hire new team members. However, this step requires a significant investment, infrastructure costs, and more. Dry cleaning app development enables entrepreneurs to serve a large client base without owning a watershed area.
Now, let's move to the two possible models for the on-demand laundry business.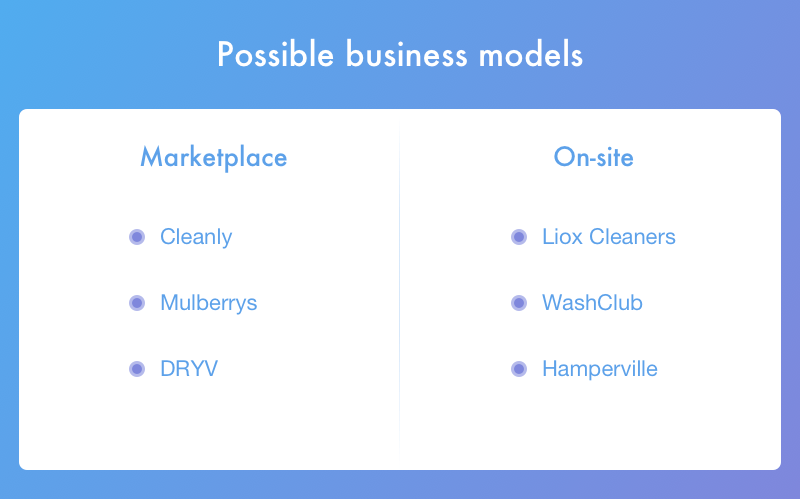 There are two possible models for on-demand laundry business
Marketplace
Marketplace model is a great solution for startups that are on a tight budget. Your application becomes a platform where users can connect with local laundry shops they choose on their own. After work is done they can rate laundries. In this model, you can take a cut of every transaction. Cleanly, Mulberrys, DRYV use this business model. If you start your business from scratch, it's important to make a partnership with local laundry owners. As far as your app is a medium between vendors and customers, building good relationships with each side is of great importance.
On-site
This model is a great solution if you already own a laundry shop, but have difficulties with attracting new clients and scaling your laundry startup. By creating a website or mobile application you provide customers with the ability to order laundry pick up and delivery in a few taps. This business model is used by Liox Cleaners, WashClub, and Hamperville.
Whether you selected a marketplace or on-site model for on-demand laundry app development, you should think through hiring a delivery man. Most companies usually hire freelancers who want to get some money. Cleanly and Rinse hire part-time employees with a car and pay them for each order. TaskRabbit company created a special platform where users can hire freelancers to wash and deliver their dirty clothes. The key difference is that customers choose not laundry shops, but people who are ready to perform chores, so the company has no need to think about delivery. TaskRabbit gains money from commission on each transaction.

Laundry Delivery App Monetization
One of the most frequently asked questions is "How can I make money by developing Uber for laundry?" In case you have your own laundry shop, it's obvious that you will have increased revenue because of an increased client base. But what if you want to build a laundry app following the marketplace model?
Most software for laundry businesses earn money by setting fixed prices for each option. Other solutions are to set a delivery fee and get your interest from each in-app payment. Such popular way as advertising is inappropriate, while with advertisement your application won't look trustworthy. You also can provide your customers with additional services. For instance, in Rinse customers can get their clothes earlier if they pay extra $5.
Best Laundry Apps Available On the Market
The profit from developing Uber for laundry apps can also be illustrated by the success of companies. Let's consider the most famous companies providing users with on-demand laundry services.
Cleanly
In 2015 Cleanly participated in Y Combinator. Then it raised $2.3 million in seed funding, and after that $5 million more in the series A. Cleanly claimed that in 2016 their annual revenue in NYC alone reached $2.5 million.
It is an on-demand laundry and dry-cleaning delivery app available in the US. The company's work cycle is not so complicated. After a user has placed an order, Cleanly concierge picks up his/her clothes and brings it to Fulfillment Centre, where clothes are sorted. After that, they take dirty clothes to a vendor. When the vendor finishes cleaning clothes, the concierge returns it to the customer at the chosen time.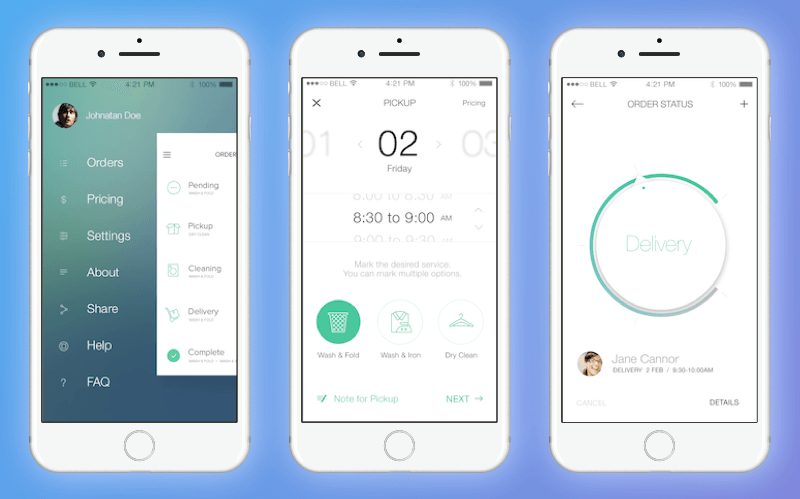 The application has a unique feature - if the stain on clothes requires special attention, the customer can snap a photo and highlight this stain. It also provides users with the opportunity to track orders on the GPS map.
Talking about app monetization, Cleanly has a $4.99 delivery fee if customer's order is under $30.
Rinse
Rinse is another US-based laundry startup, which provides dry cleaning, press and laundering services. It was founded in 2013 and raised $23.5 million in total. A client can create an order at any time before 5 PM, then the so-called Rinse Valet picks up the clothes and delivers them to the local laundry company. It takes 3 days to wash and deliver laundry, but they can do it in 2 days for extra payment.
Rinse provides an opportunity to chat with human representatives in case you have some problems and track your order. The company also has a clothing repair service. Rinse has a fixed price list.
Laundrapp
According to Crunchbase, Laundrapp has $2 million in revenue and has raised totally £14.5 million in 4 funding rounds. Laundrapp has fixed prices for each item starting from £2.
It works in the same way as previous companies. It also has a Quality Guarantee and like an Uber gives the opportunity to track an order on the map. The company plans to provide it's services in 15 countries by the end of 2018.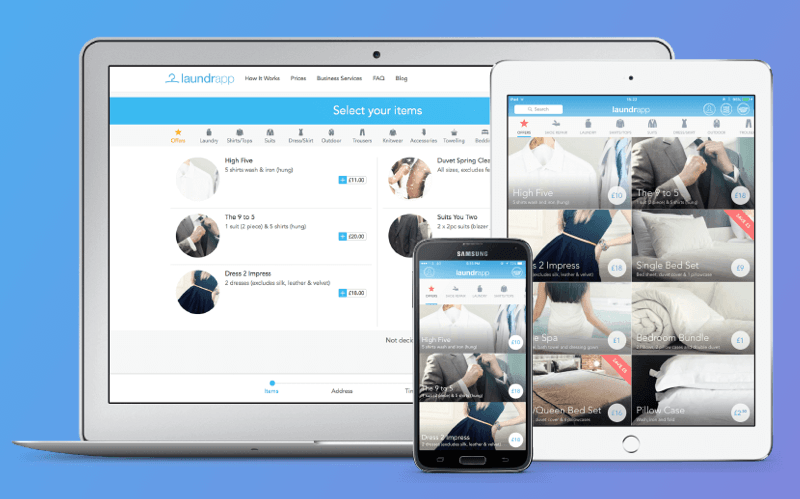 Laundrapp is available for different devices
All these companies have both an application and a website for online ordering. To place an order, a customer enters a postcode and then selects all the needed options. You can also invest in website development services, and then have an extra profit from new customers.
Laundrapp video presentation
Uber for Laundry App Development Core Features
After talking about top laundry apps, let's discover common features of applications of this type. In case you decide to make your own on-demand app, this paragraph is essential while can help you with development cost estimation. Even though this application looks quite simple, it contains various basic features. To create a laundry app, you should take into account that Uber for laundry apps usually consist of several components.
Customer panel
This panel consists of the login form, customer data with all needed information (i.e. customer address, first name, etc). With the help of this panel, clients can calculate costs, make and track their orders. Basic features for customer panel can be the following:
Login and registration form
Here you should choose how the user will register: via email, phone, social network or in all these ways.
Cost calculator
Your customers choose the type of clothes, total weight and, according to this information, can view how much a laundry or dry-cleaning service will cost them.
Multiple booking options
You should make it possible for clients to make bookings according to their requirements. Usually, customers are provided with two options: book now and book later. It's a useful feature for users since they can plan the requests by pointing to the date and time.
Cancel bookings
Users always appreciate the opportunity to cancel their requests in case of an emergency. Some service providers enable clients to cancel their orders via mobile app. Once they cancel the request, service providers get a notification and change their schedule accordingly. Moreover, users need to pay some fees in case they have paid for the service in advance.
Push notifications and order tracking
Most users want to be sure everything is okay with their clothes. The application notifies customers whether their clothes are washed, some problems have occurred or payment was successful. Real-time tracking enables users to monitor the service provider's journey utilizing Google maps. Using GPS tracking, customers can easily track the whereabouts of providers and estimate the time of arrival.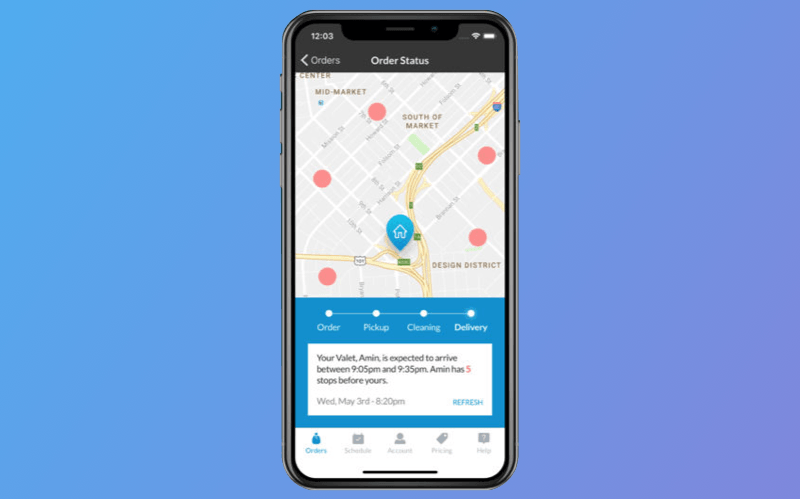 Here's how Rinse allows clients to track their order
Schedule pickups and order history
With scheduled pickups, customers can choose the most convenient time for them. Order history allows them to view previous orders and repeat them.
View and rate laundries
The service connects users to nearby laundrymen who can take the clothes. Customers can enter the dry cleaners' profile and check the number of completed orders, client feedback, and ratings. The quick-search bar allows users to find the right match for themselves, which improves their experience.
In-app payments
Cash-free payment is an extremely easy way to pay for services. This feature makes it possible for users to pay for services in a few taps.
To accept payments in your mobile app, you need to integrate payment gateway. Read more about how to do it properly or watch our video.
Learn how to integrate a Payment Gateway into an App
Invoice generation
After the customers pay for the services, the invoice is generated automatically within the app. It displays information about clients' names/surnames, location, type of service, and payment methods. Besides, customers can save the invoice for future purposes.
Delivery panel
This panel is useful for managing order delivery. It enables delivery men to process requests and choose the optimized routes. However, if you select the marketplace business model, you can save some money, as there is no need for this feature.
Order history
With the help of this feature, delivery men can get info about orders waiting for approval and the time when he/she must pick them up. He can accept or decline the order in accordance with his/her availability.
Route
Depending on orders, the delivery man builds the best route from customers to the laundry shop and vice versa.
Managing orders
Delivery man sets a status of the order when the laundry is picked up, washed and delivered.
Service provider panel
In case your mobile laundry business uses an on-site business model, there's no need to develop a service provider model.
Information about an order
With this feature, a service provider can accept or decline orders, view the information about the order (i.e. the customer's preferences)
Manage information about services
This feature allows owners to easily update price lists, special offerings and so forth.
View analytics
Laundry shops can view their income, the number of orders per month, etc.
Add services
Providers can add additional services filling up the required data (service type, rates, and other related information). This feature will allow them to get extra money, and it'll also be helpful for customers to get services done from one provider.
Master reports
Admin can сreate various reports using one specific feature (number of orders, driver's order history, total income, etc.). These reports will allow managers to make informed financial decisions.
The most essential part is an admin panel, which manages interactions between all panels, store and analyze data. This feature requires a huge database that can cope with a big scope of data. In this case, the role of cloud technology cannot be missed upon.

Components of Uber for laundry app
Laundry App Development Cost
So, how much can on-demand laundry app development cost you? The main price drivers are the development rates of an outsourcing company you partner with (depends on region), features, and platforms (iOS, Android or both).
Taking the average rate of $50/h in our region (Eastern Europe, Ukraine), we've estimated the approximate timeframe our development team would need for basic laundry app development.
The time required for laundry app development

Modules
Core MVP features
Approx time, iOS + Android (hours)
Approx time, Backend (hours)"

User role

Registration

Email + password
Phone + password
Select your gym's network

106

14

Login

Phone + password
Forgot password
Logout

65

5

Subscriptions

List of plans
Select option to pay in cash
Generate Invoice

73

6

Order Laundry Service

List of items
Select gym your order will be picked from/delivered to
Make your order daily based

90

18

Orders & Stuff Management

200

26

Store

Search
Filter
List of items
Cart

233

44

Profile

Evaluate service
Payments management
Addresses management

265

46

Driver role

Login

Email/phone + password
Forgot password
Logout

20

1

Report

18

10

Delivery from Gym

Confirm number of towels
List of orders made by Customer
List of orders received by Driver

133

16

Delivery to Gym

List of orders received by Driver
Set number of towels delivered

65

8

Delivery from Laundry

List of completed orders by Laundry

43

6

Deliver to Laundry

List of Drivers accepted orders

40

11

Gym employee role

Login

Phone + password
Forgot password
Logout

20

Subscriptions Management

83

15

Shelves Management

53

11

Orders & Stuff Management with Customer

98

12

Orders & Stuff Management with Driver

115

11

Report

9

10

Total development time

1729

270
Notice
The prices above are based on two platforms. You can contact our managers to get a consultation and request project cost estimation for one platform.
All laundry apps require a thoughtful admin panel for managing users' profiles.
Laundry dry cleaning admin panel development time

Module
Core MVP features
Approx time, Backend (hours)
Approx time, Frontend (hours)"

Authorization

10

Managers Management CRUD

28

25

Users Management CRUD

12

12

Total development time

40

47
In the tables above, you can see an approximate development time by modules telling that developers will spend about 2086 hours to implement those modules for both iOS and Android platforms. Dividing that time into smaller parts (called sprints), we'll get about 9 development iterations. Keep in mind that software developers aren't the only specialists you need on a team to build such a complex product.
Here's the full team composition you'll need:
Front-end developer (2X) - all sprints
Back-end developer (2X) - all sprints
UI/UX designer - sprint 1-8
Business Analyst - sprint 1-8
Project Manager - all sprints
QA engineer - all sprints
DevOps engineer - all sprints
Team lead - all sprints
Given that team composition and the amount of work, it'll cost you approximately $153,150 to create a laundry app. As a software service provider, we can guarantee successful product delivery within a specified time frame only if all needed specialists are on the team.
Wrapping Up
There's no denying that developing Uber for laundry app can be profitable for both startuppers and laundry business owners. But you can see, that the laundry app development cost depends on many factors.
And don't forget to subscribe to our blog in order to get the newest information about business and IT.
Frequently Asked Questions
To create a laundry app you have to develop following features:
Login and registration form
Cost calculator for clients
Push notifications
Scheduling pickups and order history
View laundry rates
In-app payments
Beside, your app should have a delivery panel which consists of the following:
Order history
Route
Managing orders
Laundry app development is a time-consuming process. Depending on features it takes between 1070 and 1607 hours of development time to build an app for Android. You'll get approximately same numbers for iOS development. If you're aiming on both platforms the development process will last for 1700 - 2553 hours. With an average rate of $50/hour for Eastern Europe it will cost $85000 - $127650 to create an app.
Mind that the price in the US will be much higher because of an average rate of $150/hour.
To develop a laundry app, you have to decide on a business model. There's a choice between marketplace and on-site model, so choose one that fits you the most. Further, you have to figure out how to monetize your app. The final step is creating a list of features that you want to see in your app. Then, you have to find a software development company that will make an estimate and build your app.
Rate this article!
6125 ratings, average: 4.57 out of 5
Give us your impressions about this article
Give us your impressions about this article
Denis
22.07.2021 at 09:15