Banking App Development Cost: Determining the Main Price Drivers
How much does it cost to develop a banking app? The answer to this question is quite complex and depends on various factors.
The factors influencing the mobile banking app development cost are the number and complexity of features, the chosen platform, design features, and more. As an IT provider with 10+ years of industry expertise in FinTech software development, we at Cleveroad are here to share our knowledge and help you understand what makes up the cost of banking app.
Basically, all factors that determine the cost of developing a banking app can be measured as its complexity. The more complex the software is, the more time and money will be needed to create it.
Banking app development costs by type

| | | |
| --- | --- | --- |
| Type of banking app | Avg development costs | Avg development time |
| 🎯Simple banking app | $40,000 - $120,000 | 2-3 months |
| 💶Medium-complexity banking app | $120,000 - $200,000 | 3-6 months |
| 📊Complex banking app | $200,000 - $300,000 | 6-9+ months |
That's a pretty extensive range, right? Stay tuned, and let's explore all factors affecting the banking app development cost in more detail.
Development Cost of Popular Banking Applications
To give you a rough idea of how much the online banking app development cost can be, we will look at some of the most popular solutions and their initial funding.
Monobank is a Ukrainian mobile bank that offers a wide range of financial services, including expense tracking, money transfers, lending, and other features. The app provides users with an intuitive mobile interface, fast money transfers between Monobank cards, and support for contactless payment. The seed funding for Monobank was about $1 million.
Revolut is a fintech company with a mobile app that provides various financial services, including international money transfers, currency exchange, travel cards, and investment opportunities. Features of the app include multi-currency accounts, instant and low-cost international transfers, and an asset management and investments through the app. Revolut received initial funding of about $4.8 million.
Chime is a US-based financial services company offering a mobile app and banking services such as account opening, debit cards, automatic savings, and credit services. The app attracts users with no monthly payments and minimum account balances, automatically rounding purchases with a transfer of change to a savings account and access to paychecks before payday. Chime has received seed funding of about $3 million.
Monzo is a British digital bank offering a mobile app and banking services, including expense tracking, debit cards, money transfers, and credit. Unique features of the app include real-time expense tracking, financial transaction notifications, and automatic bill reduction based on goals and budgets. Monzo has received initial funding of about £1 million.
WeChat Pay is a Chinese payment service integrated into the messenger WeChat. It allows users to make payments, money transfers, online and offline purchases, and use digital wallets. This application will enable users to make quick and convenient payments via QR codes and integrates with other WeChat functions, including communication, social networking, and booking services.
Factors Influencing Mobile Banking App Development Cost
The cost of developing a banking app depends on many different factors. All of them have to be taken into account when planning a budget, so let's look at each one in detail:
The number of features and their complexity
The more features your application will have and the more complex they will be, the higher the online banking app development cost will be. You can start by building a Minimum Viable Product (MVP) that includes only core features to reduce the initial investment and time to market. Later you can add more advanced features.
Banking app features: basic and advanced

| | |
| --- | --- |
| Core features | Advanced features |
| Authorization | Recommendations and suggestions |
| KYC | Smart expense analysis |
| User profile | Financial planner |
| Account activity | Payment systems |
| Transfers | Subscription management |
| Bill payments | Integration with financial instruments |
| Cards management | Cheque recognition |
| ATM&bank locator | Investments |
| Settings | Document scanning |
| Support | E-Wallets |
Design
The complexity and amount of work involved in the User Interface (UI) and User Experience (UX) design can also affect the cost of developing a mobile banking app. If high-quality and complex design is required, it may require more time and resources. Moreover, the number of animations and complex visual elements will also affect the final price.
Platform
The cost to build a banking app may also change depending on your target platform. For example, if you plan to develop an app for iOS and Android, you will need to spend twice as much time and money since those operating systems require different approaches and development stacks. However, you can save up to 50% by turning to cross-platform Flutter app development services. Cross-platform development means creating an application that can run on both iOS and Android on a single code base. In this way, development time is significantly reduced, lowering costs.
Tech stack
The choice of the technology stack, which includes programming languages, frameworks, tools, and databases, can also affect the cost of developing a mobile banking app. Some technologies may require higher expertise or have higher licensing costs, which can affect the project's overall cost.
Here's a preliminary list of a technology stack for developing a banking application:
Programming languages: Java, Kotlin, Swift, JavaScript
Frameworks: Android SDK, iOS SDK, React Native, Flutter
Databases: MySQL, PostgreSQL, MongoDB
Cloud platforms: Amazon Web Services (AWS), Microsoft Azure, Google Cloud Platform
Please note, that the tech stack is not final. You should consult with your IT partner to determine the tech stack that fits your banking app idea
Type of cooperation
The type of cooperation model you choose also significantly impacts the online banking app development cost. You can turn to one of three options:
Freelance. Hiring a specialist on one of the freelancing platforms is the cheapest option. However, creating a quality banking app requires the services of a developer, a designer, a QA engineer, DevOps, etc. Hiring and managing all of these professionals freelance will be difficult and risky.
In-house team. You can expand your company's abilities by hiring all the necessary specialists. That way, you can have complete control over the work of each of them. Nevertheless, finding and hiring each employee will take a lot of time. Moreover, keeping an in-house team is the most expensive option due to a large number of operational costs, such as rent and equipment payments, insurance payments, etc. .
Outsourcing. You can turn to an outsourced software provider. This option offers the most flexibility in both pricing and method of cooperation. You can either expand the capabilities of your team by hiring several out-staff specialists or cooperate with a completely remote team. Moreover, you can access unlimited talent and technology worldwide by outsourcing.
Location and team structure
Another important factor that significantly affects the mobile banking app development cost is the location of the team you are collaborating with. For example, the price of a developer in the US is $130-$150 per hour, while in the Central and Eastern Europe (CEE) region, it is $40-$60 per hour. This price difference is related to lower taxes and higher state support of the IT sector in the region.
Equally important is the team composition. As a rule, banking app development requires these specialists:
Business analysts (BA)
Solution architect (SA)
Project manager
App developers
QA engineers
UI/UX designers
DevOps engineers
Additional factors affecting price
Beyond the core price-drivers, there are also hidden costs to bear in mind to plan the budget for mobile banking app development properly.
Regulatory assistance
Banking apps deal with many personal user data, so some regulations and requirements apply. For example, for the European Union countries, this is the GDPR.
App release
Google Play and App Store charge one-time or annual commissions and fees for in-app purchases. These costs are not significant compared to other costs of developing a banking app, but they are also worth considering. For example, Google Play charges a 15% service fee, and App Store charges 30% for the first year, reducing it to 15% afterward.
Data storage and integrations
You will also need to pay for data warehousing and fees for third-party integrations such as financial APIs or payment gateways. For simpler integrations with standard APIs or payment gateways, you can expect the cost to be on the lower end of the spectrum, potentially ranging from $500 to $2,000.
Support services
Once the app is released, it also requires some investment in updates, adding new features, and fixing possible bugs. Usually, the cost of maintenance services may be about 15-20% of the app development cost.
Marketing costs
You also need to invest in promoting your app. Consider your marketing strategy in advance to attract as many users as possible. The cost of advertising your banking app will depend on your marketing strategy and activity.
Core Features Required for Successful Banking Application
Let's take a closer look at the basic features you need to implement so that you can plan your mobile banking app development costs more effectively:
All user interaction with your application begins with authorization. This feature provides secure access to bank accounts and personal information through an authentication process, such as entering a username, password or using biometrics.
The KYC feature is critical in all financial applications and includes a process for verifying personal information and user identification for regulatory compliance and fraud prevention. This may consist of asking for documents like a passport or driver's license and performing identity verification.
A user profile allows users to manage their personal information, including contact information, security settings, notification preferences, and other information related to their bank account.
Your users must stay up-to-date on all the latest changes to their accounts. The account activity display feature informs users about transactions, balances, statements, transaction history, and other account-related events.
Another important feature of the banking app is making money transfers between their accounts or to other bank accounts, including domestic and international transfers.
The bill payments feature allows users to pay various bills, such as utilities, Internet, cell phone, and other bills related to financial obligations.
Users also need a bank card management feature that allows activating, blocking, requesting a new card, setting preferences, and notifications for convenience and security.
Security features ensure that banking information and user accounts are protected. This can include multi-factor authentication, suspicious activity alerts, the option to block or temporarily suspend the account, and other security measures.
The ATM and Branch Finder provides the user with information about the location and availability of ATMs and bank branches in or near a particular area.
Users will be more comfortable using your app if they can customize their preferences and app settings, such as language, notifications, preferred payment methods, and more.
For banking apps, a support feature that gives users access to help and support, such as through online chat, phone contact, or a system for sending inquiries to resolve questions or issues, is essential.
The admin panel is essential for you because it provides management and control from the bank or financial institution, including the ability to view and analyze data, manage users, configure settings, and other administrative functions.
After the release, gathering feedback, and getting the first reviews, you can increase your investment in banking app and start building a more feature-reach application. Among the advanced features of banking apps are:
Personalized recommendations and suggestions
Smart expense analysis
Financial planner
Integration with payment systems and e-wallets
Subscription management and automatic payments
Integration with financial instruments and investments
Cheque recognition and document scanning
Cost to Build a Banking App: Rough Estimate
Since you are already familiar with all the necessary features, let's calculate how much do banking apps cost to make. Our estimate is based on an hourly rate of $50, typical for the CEE region.
First, take a look at the approximate banking app development time for basic features.
Time to create a banking app (development only)

| | |
| --- | --- |
| Feature | Development time |
| Authorization | 80 hours |
| KYC | 85 hours |
| User profile | 80 hours |
| Account activity | 152 hours |
| Transfers | 72 hours |
| Bill payments | 44 hours |
| Cards management | 58 hours |
| Security | 38 hours |
| ATM&bank locator | 60 hours |
| Settings | 30 hours |
| Support | 170 hours |
| Admin panel | 310 hours |
| Total development time | 1179 hours |
Keep in mind that software developers aren't the only specialists you need on a team to develop such a complex product.
Here's the full team composition you'll need:
Front-end developer
Back-end developer
UI/UX designer
Business Analyst
Project Manager
QA engineer
DevOps engineer
Team lead
It is worth considering outsourcing to optimize the cost of developing a banking application. This option can offer many advantages, including:
Reduced operational costs. Outsourcing allows you to significantly reduce the costs of hiring and maintaining your own development team, including insurance premiums and other related expenses.
Savings on infrastructure and equipment. By turning to an outsourced vendor, you can avoid the costs associated with purchasing and maintaining the infrastructure and equipment necessary to develop and support your application.
Flexibility and scalability. You can increase or decrease the number of developers according to the scope of work, which allows you to optimize your staff costs.
Focus on core business. Turning to outsource providers, you can completely transfer all concerns related to the application development to them, allowing you to concentrate on the main activity of your company and optimize the use of internal resources.
What's more, when you outsource, you can choose the region that best suits you in terms of rate and conditions.
Banking software developers hourly rates worldwide
Banking App Development Cost Estimation at Cleveroad
Cleveroad is a banking software development company with more than 11 years of experience in the IT industry. Our team will help you develop advanced software that facilitates online payments, financial analytics, and banking, ensuring security, legal compliance, and data protection.
We make two types of estimates for our clients: rough and detailed. The rough one is divided into the Solution Design Stage estimate and the Discovery Phase estimate.
The Solution Design Stage estimate is the rawest and is based on the so-called "helicopter view." We make it based on previous similar projects and offer three versions of estimates: pessimistic, optimistic, and realistic. This allows us to define a strategy to stay within the budget.
Discovery Phase estimates are more accurate; it corrects the previous one, and all requirements and team composition become more accurate. It includes detailed cost estimates for preparatory work, development, integration of frameworks and libraries, etc.
Detailed estimates are the most accurate. It is created after the discovery phase with developers and allows the team to accurately estimate the time and money needed to develop your product.
To demonstrate our expertise in banking software development, here's one of the financial projects we've delivered for an investment bank.
Our team helped a well-known investment bank located in Switzerland to solve problems related to the system's inflexibility and complexity of platform usage by clients.
We've designed and built an investment bank software from scratch with improved UX so that users can easily complete the registration process and open and operate trading accounts. To meet the bank's client's expectations, we built and implemented the key required solutions: user-friendly sign-up, digital account opening system including KYC pass, and online banking portal. Our experts also ensured system compliance with technical security and data protection standards and FINMA circular for outsourcing solutions.
The newly developed eBanking system allowed our customers to increase their user retention rate by 20-30% (due to improved UX and UI) and freely work under its license, meeting the terms of Swiss banking regulators (namely, FMIA).
If you want to know how much it costs to develop your own banking app, contact us now. Our experts will check your requirements and give you a personalized estimate of your mobile banking app idea.
Frequently Asked Questions
A banking app is a mobile application that allows customers to access and manage their banking services and accounts using their smartphones or tablets. It provides a convenient and secure way for users to perform various banking activities without the need to visit a physical bank branch.
Mobile banking app development cost may vary from $40,000 to $300,000 and more, depending on app's complexity, number of features and other factors.
The cost of developing a banking app depends on many different factors, including:
The number of features and their complexity
Design
Platform
Tech
stack
Type of cooperation
Location and team structure
Banking apps require such essential features:
Authorization
KYC
User profile
Account activity
Transfers
Bill payments
Cards management
Security
ATM&bank locator
Settings
Support
Admin panel
After release, you may also add more advanced features to attract more users.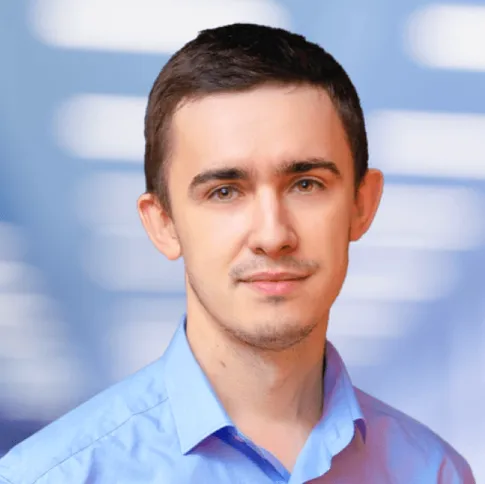 About author
Evgeniy Altynpara is a CTO and member of the Forbes Councils' community of tech professionals. He is an expert in software development and technological entrepreneurship and has 10+years of experience in digital transformation consulting in Healthcare, FinTech, Supply Chain and Logistics
Rate this article!
240 ratings, average: 4.67 out of 5
Give us your impressions about this article
Give us your impressions about this article