How to Implement a CRM: a Plan for Your Client Service Digitalization
When business is prosperous and your number of customer interactions starts to spiral, accessing databases, spreadsheets, and ledgers won't cut it for your sales and marketing team. What do you need? A CRM. However, most businesses don't have a CRM, use a ready-made tool, or their CRM is in its infancy. One of the reasons is the companies' concerns about the price and complexity of CRM implementation. However, when adopted with the right plan, everything will be clear, efficient, and cost-effective.
In this guide, you'll learn the steps of successful CRM implementation, tips to do it right, and will know why custom CRM benefits from ready-made ones.
What Is a CRM Implementation
Before diving deeper into the features of the CRM implementation process, let's start with the basics.
CRM (Customer Relationship Management) implies business development, customer retention, consumer acquisition strategies, techniques, systems, and technologies. Its core goal is to strengthen interactions with clients to increase brand loyalty and boost sales. CRM systems collect customer information from different contact points between clients and the company (e.g., website, phone line, email). Businesses go for custom CRM development to generate higher sales, more leads, and improve customer satisfaction.
CRM implementation refers to the process of unifying and centralizing all the contacts between an organization and its current and potential customers. It involves deploying CRM software with functionality (modules) matching your corporate needs. And the critical modules behind the well-tuned CRM solution are:
Contact management
This module enables recording clients' details to receive data-based insights. It also monitors and keeps customer interactions in the contact database to create an integrated client profile.
Lead management
It allows for capturing lead details from various communication channels, such as web forms, emails, social media platforms, etc. It also traces the progress of prospects through the sales cycle and helps opt for marketing initiatives for client lead raising.
Email management
It enables the ability to send tons of emails, trace email conversations with customers, plan email marketing campaigns, send automated personalized messages to clients for events (e.g., birthday cards, bonus awards), and more.
Marketing
This module is responsible for leads segmentation and lead generation, preparing and initiating marketing campaigns, monitoring campaign optimization, and sustaining social media marketing.
Reporting and analytics
It's required to scrutinize business data, measure overall performance, and track KRIs. Based on this data, insightful reports are made. These reports help C-level executives to make more informed decisions and achieve corporate goals effectively.
Implementing CRM ensures significant advantages to any service-based business: from e-commerce and financial services to healthcare CRM development and real estate. Modern CRM systems can maintain consumer interactions and behavior within the customer lifecycle, including sales and marketing, digital commerce, and client service communication.
Here is how exactly the implementation of CRM systems can boost business growth (but it's not limited to them):
Keep track of all internal sales and marketing activities
Automate sales- and marketing-related operations
Track the sales team's productivity and ensure they keep on top of customer queries
Produce highly targeted messages to provide personalized offers, thus, increasing consumer satisfaction
Organize, supervise, and enhance clients interactions across the company's divisions: from the first query to service delivered
Pile up and keep business-critical data in a private CRM database and provide RBAC access to all the workers to offer great support to all clients.
How businesses can make use of CRM software
After understanding the essence of CRM system implementation and its gains for businesses, let's see how CRM projects are implemented from the tech point of view:
Step 1. First contact. It all starts with the project request you left on the vendor's website. Once the request is processed, managers contact you to schedule a meeting for further project discussion.
Step 2. Requirements analysis. Having input info, business analysts scrutinize your business goals and product concept. After that, an expert team maps out the plan for the realization. Finally, all the stages of CRM implementation are broken down into manageable plots with clearly set timelines.
Step 3. Development and implementation. The dedicated team builds software in line with all the customer's requirements. To enable data centralization from different sources, an enterprise data warehouse (EDW) is implemented. The information is cleaned and merged to be further moved to the CRM.
Step 4. CRM Testing. The testing experts carry out manual and automation tests to ensure smooth integration of all the CRM's modules, data consistency and security, and seamless incorporation across line-of-business software.
Step 5. Release and maintenance. The software is built and released to end users. The IT support team ensures continuous monitoring of the CRM's performance, addresses system issues (if such appears) and adjusts the functionality and processes to meet changing business or user needs.
Why Do You Need to Implement and Customize Your CRM?
A customer relationship management system is not a ready-made tool or code set. It's rather a strategy for effective work with clients, so its development should be approached this way. However, regarding business management solutions like CRM, deciding between ready-made or custom isn't always straightforward. So let's figure it out.
Out-of-the-box CRM is typically used to address standard business processes. They're faster and easier to deploy than bespoke solutions but are not customized to particular corporate needs and challenges. There is a consensus that ready-to-use CRM programs are cheaper than custom creation. But, in the long run, the cost will be higher since you need to buy licenses for each new CRM system user. Moreover, off-the-shelf CRM tools bear away the opportunity to expand your business or bring changes.
Creating a CRM from scratch enables adding business-specific functionality at a price that fits your budget. This option allows flexibility by designing a single IT infrastructure for all divisions and scaling it effortlessly. Moreover, such solutions ensure high compatibility by integrating with any business systems or 3rd party platforms you need. Even though it might appear costly to build a CRM from scratch, it saves you money in the long run; there is no hidden cost, you only pay for the features used.
Note: One of the biggest and most common mistakes is to build a CRM for current needs only. You should always keep in mind that your business will grow, and the number of your employees and customers will increase. How can you ensure that the system that works well for 100 people will still work uninterruptedly for 1000? The best way is to leave a reliable basis for future scaling and to build a scalable architecture with a competent software development company.
Below you'll find reasons corporations choose custom CRM implementation:
Tailored Functionality
Pre-built CRM programs offer many features, some of which may not approach your internal processes. Still, you'll need to compromise between the functionality provided and your specific business workflow. If you decide to design a personalized CRM, you'll be able to insert features aligning with your goals and technical needs. Customization doesn't mean creating the whole system from scratch. You can also modify your existing functions or integrate new ones.
Seamless integration
From lead generation to sales and customer support, every business operation will run more efficiently when you have it joined across multiple business units. Custom CRM solutions are specifically developed to connect to your existing programs and databases (even legacy systems). It means every department can continue utilizing existing software solutions and processes besides making use of newly-adopted CRM.
Easy modifications
Off-the-shelf CRM solutions aim at supporting routine daily activities, like file sharing, email sending, etc. But as your business evolves, the need for extra spending comes into being to adapt your current CRM to increased needs. Of course, you can request upgrades with an out-of-the-box CRM system, but that might not be sufficient for a large enterprise. Instead, implementing CRM from scratch, you can add individual customizations and design custom apps and features for specific needs whenever needed. Besides, using bespoke software, you'll be able to adjust to industry changes and gain a competitive advantage due to your unique capabilities.
Advanced security
Every year enterprises suffer from malicious attacks, resulting in colossal financial losses. For example, the average cost of global ransomware damage has reached $20 billion in 2021, compared to $11,5 billion in 2019. CRM stores a massive amount of critical business data, including personal one. Thus, the security capabilities of such systems should adhere to the highest safety standards. Programmers can integrate any security features required (e.g., two-factor authentication, cipher data, blockchain) to prevent security risks. Moreover, bespoke CRM software is fully controlled by you. In contrast, not many CRM software providers can brag about highly secure products. In some cases, the CRM programs may be accessed by 3rd parties after the system is updated.
Custom vs. out-of-the-box CRM solution comparison

| | | |
| --- | --- | --- |
| Specifics | Custom CRM | Off-the-shelf CRM |
| Customization | Can be easily customized to your corporate needs | Limited customization opportunities provided by vendor |
| Costs | High initial costs. But you save on licensing costs, upgrades, and user fees | High CRM development cost in the long run as you need to purchase licenses for each system user |
| Security | Ability to integrate any security features required | Standard security package. High risks of data breaches |
| Maintenance | Ongoing support | Dependence on the server provider |
| Scalability | Level of scalability can be customized according to your business needs | Scalability has limited options |
How to Implement a CRM and Not Make Mistakes?
After considering all the needs and advantages of custom CRM building, let's see how to implement a CRM system to make the most out of it. Below we've prepared actionable tips to project success.
Tip 1. Work with a senior expert
Customer relationship management implementation is a tricky process that should be taken professionally. So you need to find a reliable IT company with practical expertise in CRM development services. The proven way is to check business platforms, like Clutch, provide reviews and rates of various IT companies. Then, you can come to the company profile and get relevant information about their services, project budget, and real customer feedback.
When it comes to implementing complex solutions, like CRM, it's more beneficial to choose offshore, or nearshore software development. Central and Northern Europe is considered one of the popular outsourcing destinations. This region is becoming more and more demanded due to affordable prices, a vast talent pool, low taxes, and the government support of the IT sphere.
Here are the top three reasons for outsourcing CRM system implementation:
a. Easy scalability
In large projects like CRM, the scope of work may either grow or reduce, resulting in changes that need to be added. If this happens, the initially chosen team needs to be scaled up or down. It's challenging to do that with in-house development. Deciding to outsource software development, you can avoid these concerns. The outsourcing companies have the entire staff enabling quickly responding to project changes keeping the app's quality. It means that if you need modifications made, you can reach the dedicated team, and they will adjust to your requirements (at any time).
b. Continuous support
Once the software is implemented and well-functioning for business, ensuring ongoing support is the next critical step. Imagine the situation. Your development team has built a good CRM, but you don't have the capacity to support it. What to do next? You can delegate these duties to a reliable IT outsourcer. For example, the app maintenance cost in Central and Northern Europe varies from $50-$80 per working hour, which is highly beneficial for long-term software maintenance.
c. Save time and cost
Enterprise app development usually takes longer and costs more due to its complexity. An outsourced team may help you speed up the time to market and avoid postponements. Why so?
First, you entrust the recruitment process to a partner and don't reckon on the in-house resources for the product launch.
Second, implementing new technologies becomes more accessible with a broad pool of tech talent available.
Third, most IT agencies, including Cleveroad, adhere to Agile SDLC to quickly release high-quality software and achieve effective results.
Additionally, the total cost for the project is structured depending on the assigned tasks and the amount of software development time required to implement CRM.
Here are the next success factors you should know to adopt your CRM solution at a company:
Tip 2. Employ usage guidelines
To make the most out of CRM implementation, the data available in the system must be accurate. Therefore, there should be detailed usage guidelines for every system user. Employees must be instructed on the proper procedure to enter data, send emails, extract reports, trace the progress of the sale, and other business-related operations.
Tip 3. Assign a dedicated CRM user
There should be a person who knows the basic CRM of an enterprise inside and out. Therefore, this person will be accountable for utilizing the new CRM software. The super CRM user will help others address CRM-related issues. The responsible person should also be involved in the CRM implementation process and negotiate with the tech implementer. This individual should be a subject matter professional within the business to help ensure the project goals are met.
Tip 4. Top management must be motivating
The success of a CRM implementation is a shared effort of every employee. As a C-level executive, you and a board of directors should also apply the newly deployed software in your work and stimulate other staff. The negative attitude may have a place, though. The management team can propel new cultures or opinions within the organization.
Tip 5. Don't undervalue marketing
Internal marketing is often ignored when implementing a CRM. But if you don't discuss the new digital initiatives with your colleagues and the gains they'll get, they may be skeptical. So your marketing team should create a solid plan to introduce a new CRM to the target users. For instance, organizing the party, presenting unique launch treats (e.g., t-shirts, cups), posting on social media and a corporate site, etc. It doesn't have to cost big money, but something to celebrate the launch and drive enthusiasm.
Key advantages of CRM system implementation (Source: FinancesOnline)
CRM Implementation Plan Creating
A successful CRM implementation doesn't require a fabulous budget or take a year to kick off. Whether you are a startup, small business, or enterprise looking to implement CRM, here are preparation steps you should account for:
Define business goal
Set metrics and KRIs
Plan budget
Cooperate with an experienced IT partner
Let's discuss them in detail.
Outline business goals
How to implement CRM in an organization and succeed? Outline high-level goals you want to achieve by integrating the CRM system. Your objectives should contain specific and clear-cut results to evaluate your company's performance within a set period.
For instance, you may want to:
Boost monthly incoming leads to 30%
Convert 25% of warm prospects into deals
Raise month-on-month sales revenue by 20%
Set metrics and KPIs
Key performance indicators will help you measure how well you deliver, implement, and execute business strategy. It's crucial to ensure that every indicator is linked to a strategic goal. Metrics you might reckon are the cost of CRM against sales and profits. For example, it can appraise marketing campaigns on new contacts and leads, scrutinize consumer support concerns and resolution times, etc.
Plan budget
As your business grows, so does the investment. Therefore, it's essential to properly plan the budget before implementing a CRM strategy. As I mentioned earlier, custom software development requires more funds, but it will increase business efficiency and save money in the long term. Also, integrations can either be affordable or costly if you don't plan the budget in advance.
Collaborate with an experienced vendor
Your venture will succeed only in cooperation with an experienced tech partner. When choosing a provider for your project, keep in mind that your partner is here to help you get the best out of your digital solution. Hence, don't limit yourself to sharing the project's details so the company can develop an effective CRM implementation plan. Considering this step seriously, you'll have an up and running your CRM project faster.
CRM Implementation Steps
After you understand how to prepare for CRM adoption, let's observe the implementation process itself. Implementing software implies dividing the project into phases and tasks with an outlined timeline. Here are the generalized stages of CRM implementation plan:
Step 1. CRM consulting
Step 2. Defining system architecture
Step 3. Data assessment
Step 4. Determine CRM settings and customizations
Step 5. Implementation and integration
Step 6. Testing and deployment
Step 7. User training
Step 8. Post development support
CRM consulting
This stage involves reviewing your existing CRM processes:
Scrutinizing your CRM (if you have one and plan to revise it)
Questioning users
Examining process descriptions and guidelines
The team also analyzes the tasks you want to execute in a CRM system and makes the workflows with pre-designed or custom functionality to address them. Defining necessary integrations also comes off during this phase.
Defining system architecture
Before implementing CRM, it's critical to choose an IT architecture design. Cloud and on-premise are the leading deployment options for large digital solutions. Although, the hosted segment dominates the market, with 61% of all CRM being cloud-based. Cloud CRM systems enable remote access to data and optimize real-time centralized database management of clients' information. Additionally, SaaS app development allows for rapid integration and adaptation to changing business requirements.
CRM system for gym chains designed by Cleveroad (Source: Dribbble)
Data assessment
Successful CRM implementation is based on estimating the current information. The business data needs to be verified for accuracy and integrity and migrated to the new CRM solution. Proper planning reduces the risks of missing customer data. Moreover, transferring all your data from the old system is not necessary. It's recommended to test the consistency of data transfer using a small sample.
Determine CRM settings and customizations
This stage involves customizing your existing CRM system to meet particular business needs (using point-and-click tools or by code). Customization examples entail custom reports and dashboards, automated sales processes, integration with other business software, etc. Custom app development implies creating all the CRM's functional modules from scratch and assembling them into an integrated system.
Implementation and integration
This phase implies setting up your existing CRM with out-of-the-box functionality to match specific business workflows. Creating your own CRM stands for designing the backend and frontend of the product using an appropriate tech stack, including API integration. To avoid prolonged development, it's better to start with MVP development. This approach will allow you to validate the project idea and create software with minimum investments.
The CRM implementation process also involves reviewing the business environment and where CRM will fit into it. Integrating your CRM solution with other business systems will boost the company's efficiency and scale profit through the systems' synergies. This way, your employees can switch between the apps and access the clients' data within the CRP platform.
Here are the examples of digital solutions you may require the consolidation with:
Enterprise Resource Planning (ERP)
Ecommerce platforms
Social networks
Email apps
Accounting software
Marketing automation tools
Testing and deployment
The testing phase means you've almost finished your CRM implementation process, and it's time to check all system angles: functionality, performance, integrations, usability, and security. Through testing, you'll discover how the system's elements act together and will be able to assess end-users touchpoints to ensure CRM works as needed. After testing is done, the CRM is deployed to the production environment.
User training
User training is an essential step to successful CRM implementation. It aims to increase end-user involvement and show them how CRM works and the means of its practical use. Collecting your employees' feedback is vital to know what should be improved (if needed). To simplify the task, you can directly integrate the training materials (e.g., tutorials, webinars, presentations, user manuals) into your CRM.
Post development support
CRM systems relate to complex interconnected solutions that require continuous technical support and maintenance services. This work may comprise tracking CRM's performance, fixing system issues, version updates, and adjusting CRM functionality and processes to align with changing business/user needs.
Practical Experience in CRM Setup and Deployment
With 10+ years of experience in CRM services, Cleveroad performs CRM implementation to help businesses of all sizes improve workflow efficiency, streamline customer-related processes and increase business capitalization.
Based on our experience, we collected some practical tips to contribute to properly launching and implementing CRM systems into your internal processes.
Evaluate risks
It's not always possible to predict every CRM implementation risk, but once you know what they're, you can handle them. Here are the most common obstacles:
1. Estimate the project development time
Even if you know what features to include and business operations require automation, it's tough to understand how much time the CRM building may require without a tech team's support. And if the project's demands change promptly, the project may easily deviate from the planned path. Therefore, it's better to define the scope of work and timeline with an IT expert's help.
2. Plan the budget
CRM project cost estimate is also challenging without professional support. There are many hidden costs (e.g., the cost of each implementation activity cost for each CRM module) that should be considered when calculating your overall expenditure.
At Cleveroad, we provide you with two rough estimates according to your requirements and a description of your idea. Then we define the approximate number of hours required to create a project. Finally, having received your approval, we proceed to detailed estimation and preparing visual concepts of your product.
3. Consider intuitive UI/UX design
No matter how useful your CRM functionality is, if it offers a poor user experience, your employees won't be able to benefit from it entirely. It's recommended to survey the drawbacks your staff experienced with a previous CRM system and create a new one fitting their needs.At Cleveroad, we balance the latest technology, visual logic, and business goals to bring you fast-loading and user-friendly software within UI/UX design services.
Gather your CRM team
It's critical to have a dedicated CRM team who will be responsible for correct CRM implementation across the enterprise. However, there is no need to assemble a separate team to run the CRM. Instead, you can assign it to the employees with appropriate roles and add managing the CRM to their liability field.
Assess your goals
Setting business goals you want to achieve is a half of the way. Now, you need to assess them to ensure your business goes straight to deliver on your goals. There are many methods you can consider to evaluate your business performance. For example, the SMART goal method is considered the most popular one.This technique will help you break down complex tasks into specific, measurable, achievable, relevant, and timely goals for sales. This way, you can verify whether your goals are made to attain results you can assess to define your success.
Measure CRM adoption
How do you know that CRM implementation has been successful across the team? Measure its success rates against selected KPIs. Here are the key metrics to consider:
Adoption rate. It allows you to see if your employees are actually making use of the new CRM system.
Outreach rates. Raised outreach from your sales department over time will show you whether or not the newly-adopted CRM assists the sales team in connecting with prospects and leads.
Conversion and close rates. Increased lead conversion rates will demonstrate that the new CRM helps sales teams convert their efforts into revenue.
Whether you are a small or medium-sized company, or a large corporation, a well-architectured CRM is vital for better client management. That's why investing in a partnership with a reliable tech vendor is what you should do now. How fast you implement CRM and how experienced the vendor is, depends on the business's profitability in the long run.
Boost your business with CRM now
Implement a CRM solution with Cleveroad software development team to boost your business efficiency
Frequently Asked Questions
There are the 8 main stages of CRM implementation plan:
Step 1. CRM consulting
Step 2. Defining system architecture
Step 3. Data assessment
Step 4. Determine CRM settings and customizations
Step 5. Implementation and integration
Step 6. Testing and deployment
Step 7. User training
Step 8. Post development support
Implementing CRM ensures significant advantages to any service-based business: from e-commerce and financial services to healthcare and real estate. Modern CRM systems can manage consumer interactions and behavior within the customer lifecycle, including sales and marketing, digital commerce, and client service communication.
CRM implementation refers to the process of unifying and centralizing all the contacts between an organization and its current and potential customers. It involves deploying CRM software with functionality (modules) matching your corporate needs.
Successful CRM implementation starts with defining business goals. Then, you need to set metrics and KRIs to assess the outlined CRM objectives. This will help you ensure your company goes in the right direction. It's also critical to plan the budget to know the amount of money you can count on. Finally, the final success will depend on the experience level of the IT vendor you are going to work with.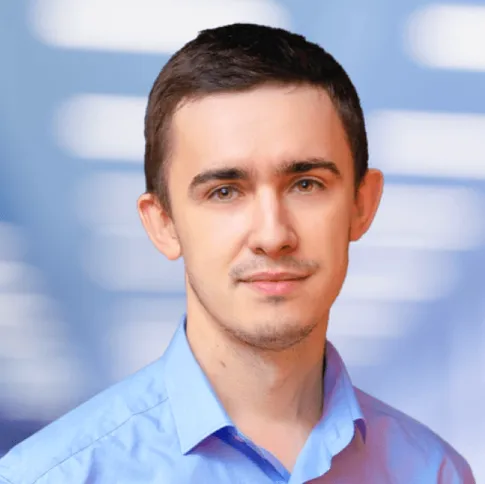 About author
Evgeniy Altynpara is a CTO and member of the Forbes Councils' community of tech professionals. He is an expert in software development and technological entrepreneurship and has 10+years of experience in digital transformation consulting in Healthcare, FinTech, Supply Chain and Logistics
Rate this article!
705 ratings, average: 4.52 out of 5
Give us your impressions about this article
Give us your impressions about this article