How to Choose a Software Development Company?
Software development rushes towards outsourcing. Now, there are more than 27,000+ agencies on Clutch – one of the biggest IT outsourcing platforms. And the number is only growing. But with the range this wide, choosing a software development company is quite a challenging process, especially when you're investing lots of resources into the project and looking for a team of proficients for a productive partnership.
This article will help you to clarify the peculiarities of outsourcing. We'll describe how to choose the right software development company stagely:
Fundamental knowledge about outsourcing
Productive communication establishment
Completion of Basic research
Significant points before choosing
Tech research and solutions stack
Partnership arrangement
What to Know About Outsourcing Software Development
Outsourcing provides the delegation of the project development flow to a company engaged in remote building and support.
There are 3 types of outsourcing models:
Location-based model
Relationship-based model
Project-based model
Know more about outsourcing models classification and how to choose between them from our in-depth article!
Responsibilities of such companies consist in a diverse spectrum of work: from maintaining servers or setting up security to developing the new project from scratch. Outsourcing companies fulfill tasks faster and at a lower cost compared to in-house teams due to the fact that the customer pays only for the required services. Plus, no overhead costs for employees (vacation, sick leave, insurance, workplace). Therefore, the responsibility for risks lies on the shoulders of the outsourcing company, not on yours.
Outsource app development cost is quite beneficial. Besides, cooperation doesn't lead to quality sacrifice in pursuit of lower cost. Despite this fact, choosing cheapo services is not profitable at all .
By selecting the lowest-priced software development company, you'll face many drawbacks, for example:
Code debt. Choosing quick and easy solutions lacking well-written codes, testing, and information over a more complex and more extended approach. As a result, you'll have to pay more to fix all of that.
Software agreements. You won't be provided with the source code. Instead, you may receive a bundled code or will be asked to get a license.
Lack of understanding. Unsatisfactory English level and experience will prevent you from better understanding and clarifying the development flow.
The best option is choosing a software development company with excellent value for money.
Communication Peculiarities
To successfully convey the requirements and task to the team, you should have qualitative and productive communication. Consequently, for a better understanding, your potential partners should essentially know English.
According to statistics, it will be beneficial to choose a software development company from Central Europe, in particular, Estonia. Estonian outsourcing companies are an extremely rational option due to the following reasons:
Excellent internet and infrastructure networks: Estonian companies are facilitated with advanced up-to-date networks and stable secure internet connection which allow developers to freely communicate with customers worldwide.
Transparent project management and workflow control: Estonian software developers use all the communication tools (Jira, Zoom, Google Meet, etc.) and implement brand-new project management technologies so that customers always understand how things are going.
Lack of language barrier: Estonian software development teams speak English perfectly. In case you need a consultation, each team member can efficiently clarify the required info concerning all the arising issues in English.
Physical availability: Software development outsourcing companies located in Estonia are physically available due to the fact that travel to this country is mainly Visa-free. The developed transport infrastructure and air traffic make the visits easy and convenient.
Well-developed soft skills: Estonian developers are passionate workers who are engaged in your project's success. They will willingly give you recommendations in order to choose the best possible solution.
We'll describe how to choose a software vendor below to maximize your cooperation's productivity.
How to Choose a Software Development Company: The Initial Steps
Let's imagine you're picking an IT partner among a few candidates. One appears to have great expertise, another worked on projects in a similar domain. And there's the one your friend recommends.
The best option here is not picking blindly. Instead, spend a few hours on proper and careful research – from a company's website to reviews on outsourcing platforms like Clutch or GoodFirms.
We've divided the process into three stages:
Basic research.
Tech research.
Face-to-face meeting.
Let's review them one by one, starting with the basic information.
Requirements Identifying
Before finding out how to choose software development company, you should clarify your requests.
To deliver a detailed description of your project to the company, consider two questions:
What are your needs?
Who can fulfill them successfully?
After understanding your requirements, you can step to the next stage.
Red Flags
There are some moments, which can tell, that the company isn't decent for partnership at this stage:
Lack of Rough Estimate. Reliable software development companies, such as Cleveroad, calculate the rough estimate free of charge and are ready to provide clients with the transparent price.
Lack of reliable references. Some organizations falsify their reviews and do not have valid references. Every trustworthy company presents itself on the Internet and shares lots of information on credible open resources.
What to Consider Before Choosing a Company
Portfolio
When choosing a software development company, the very first thing to do is dig into their previous projects. That's how you check their knowledge of specific technologies, experience with various domains, countries, and so on. Besides, there's always a good chance of finding a case similar to your project. For example, if the company can successfully build a fitness app, they know how to implement a GPS tracker into the platform. So you should carefully overview each portfolio, compare them and companies' experience.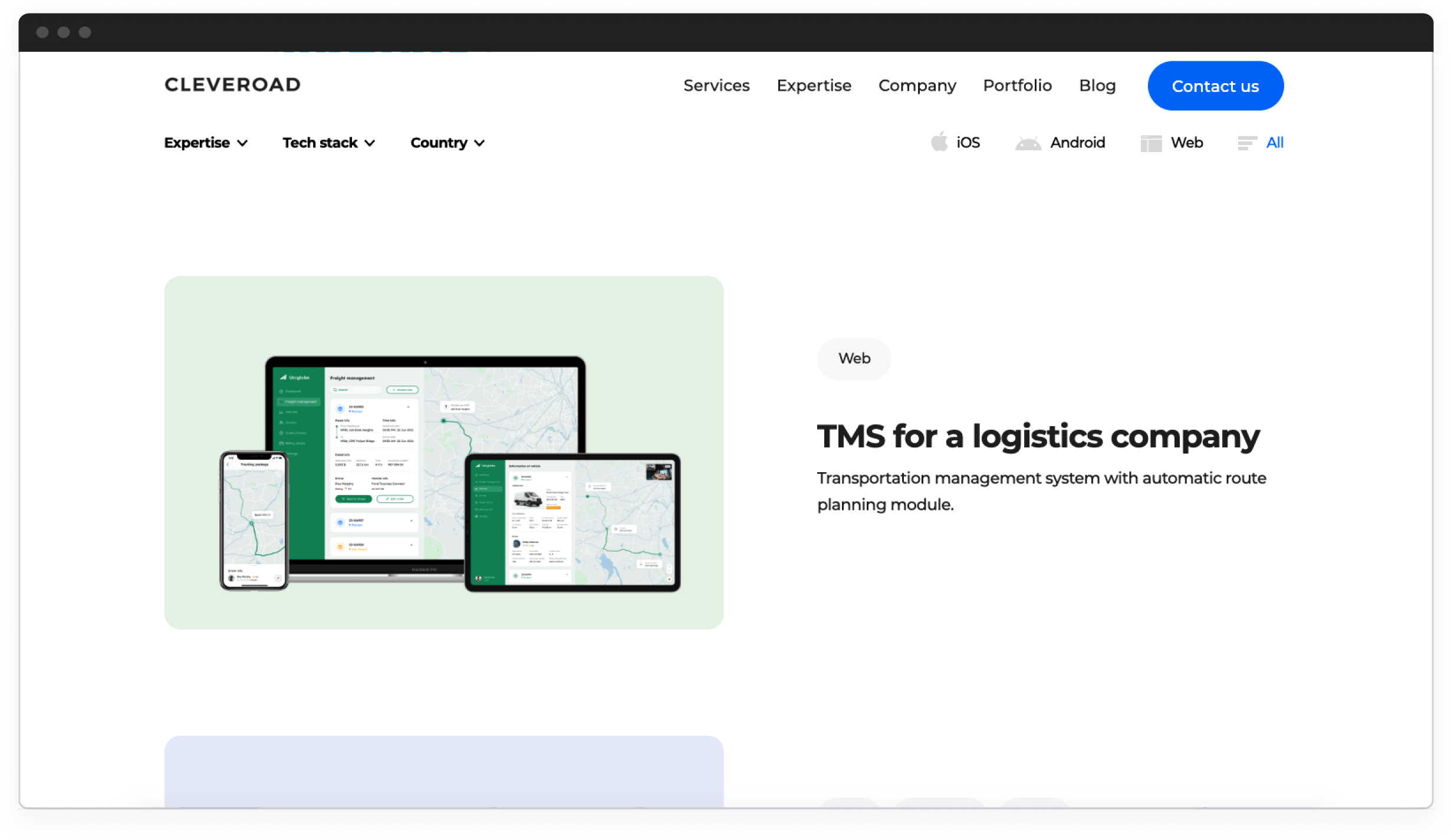 Portfolio example by Cleveroad
Brief
Making up a brief helps you to describe your request and task to the developers clearly. It's desirable to receive a cost estimate in return even before the cooperation agreement, which will clarify your expenditures. Thus, such a reply evidences two positive things:
A company is eager for cooperation and ready to provide you with all the essential data even before working together
The team actually took your project into consideration and calculated the cost of the requested task so that the price may be precise
Rough cost estimation prevents overpaying and naming a random price, so you can see what you pay for.
Client Reviews
You understood how to choose the right software development company and selected several suitable options. Now it would be a brilliant idea to overview their previous experience. Companies love putting reviews from satisfied customers on the main page. Which is quite a good idea – that's how newcomers can quickly check what people say about their services.
But how to choose a software development company that has genuine reviews written by their clients?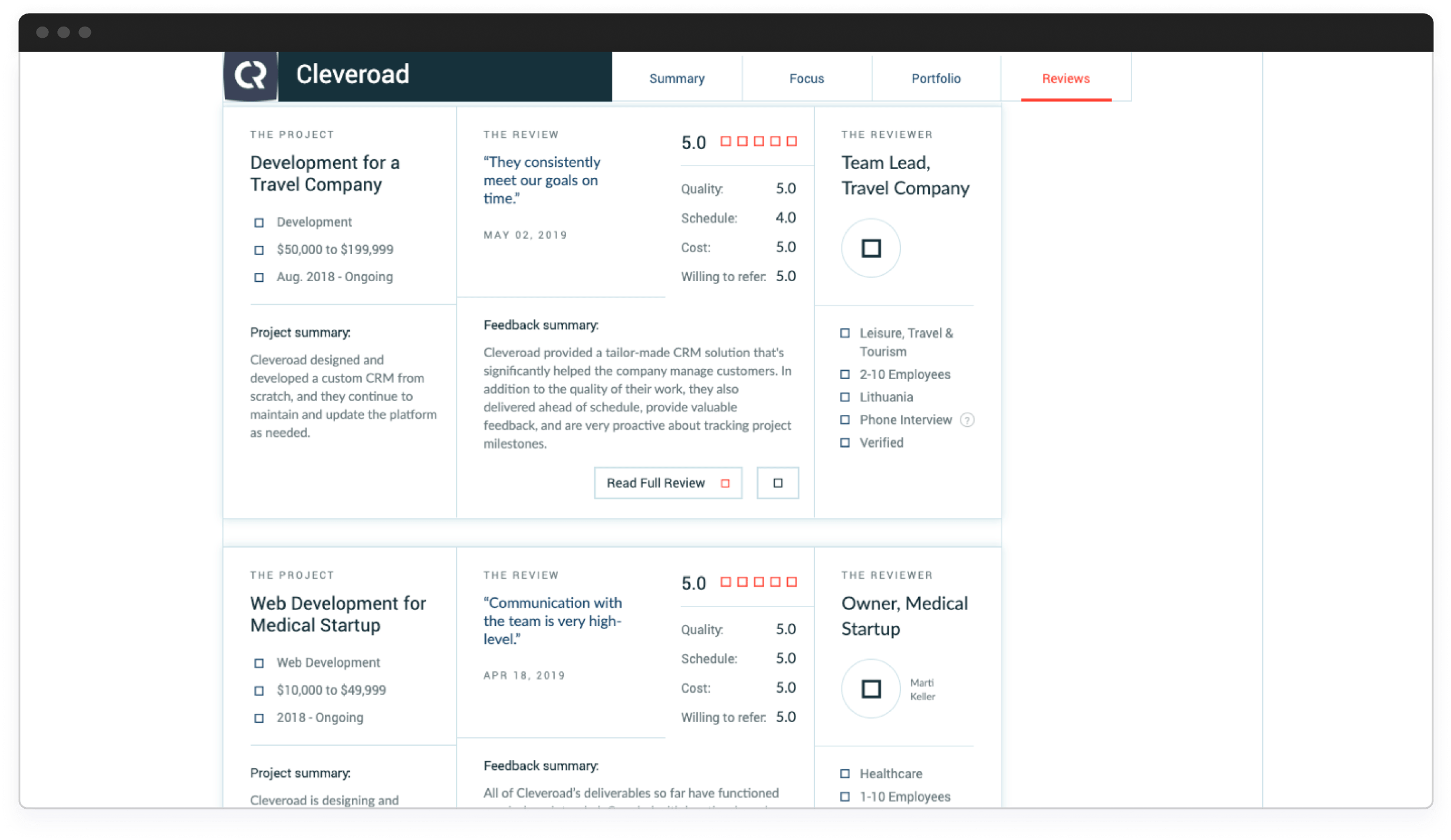 How to choose a software vendor? Check Clutch for first-hand reviews!
You may reach out to some of the current or previous customers and ask them to share their experience of cooperation with the firm. Most wouldn't mind sharing, but there also is another, simpler way. Check outsourcing platforms like Clutch, GoodFirms or Upwork for reviews from verified customers. Today, every respectable IT company has a profile on at least one of these platforms.
There you'll find a ton of useful information like mentions of the issues clients faced while working with the team. All reviews get approval from the platform's administration, so there's no chance the firm's employees wrote them.
Want to know all the pros and cons of outsourcing companies? Look through our comparison of 'In-House vs.Outsourced Development' and find out the benefits and challenges of each option
Community Involvement
Interest towards the local and global IT community is extremely meaningful. These marks indicate credible companies:
Participates in extensive IT conferences
Arranges workshops and meetings, online webinars, shares open-source instruments
Produces e-books, guides, blog publications
Is honored by certifications and awards, which acknowledge the company's expertise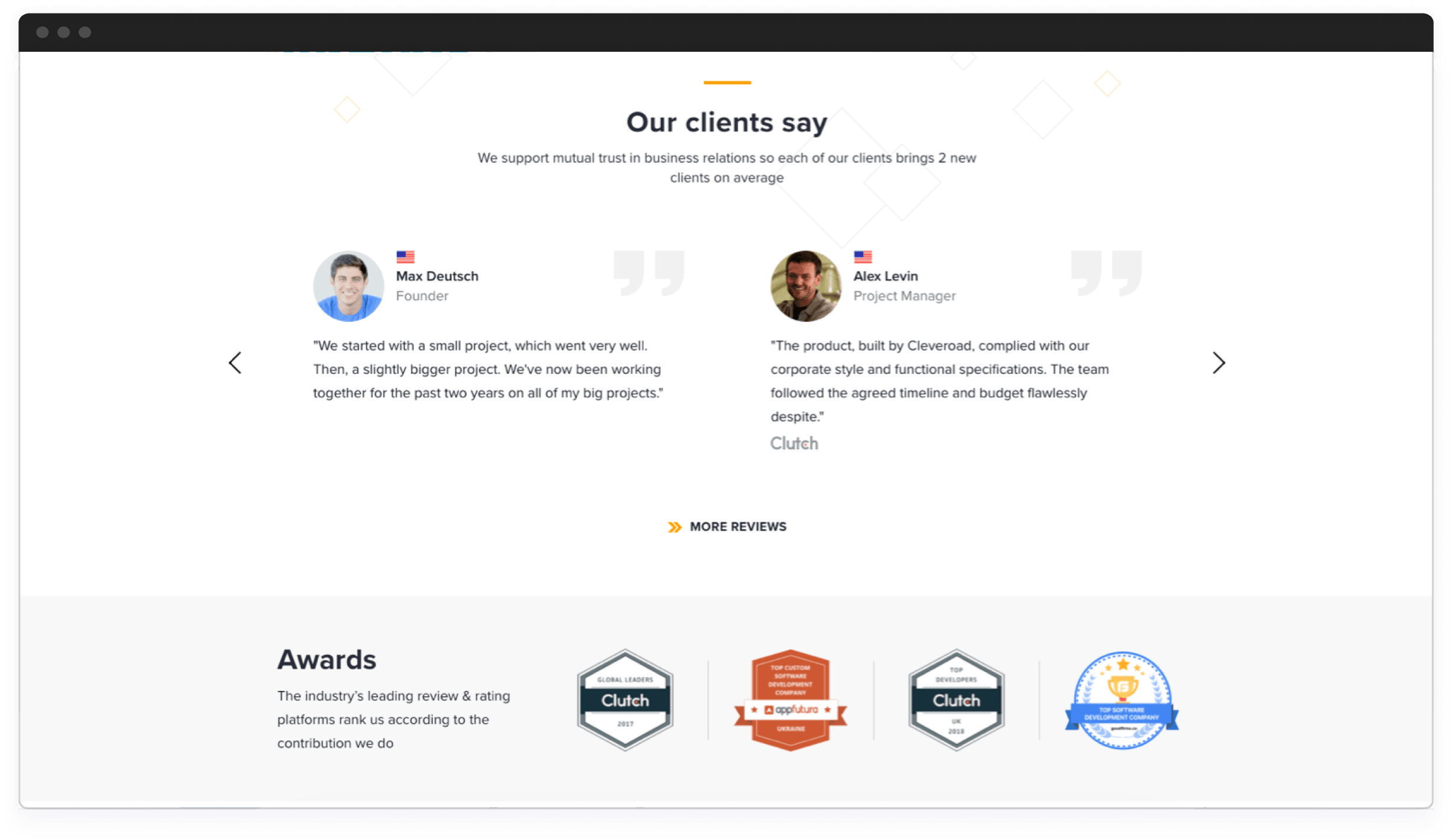 Awards and clients' feedback on the services
Social Media Accounts
A regularly updated blog or publications on social media can tell that the firm is proficient enough to provide the users with additional info. Moreover, social media accounts allow you to evaluate the proficiency and experience of the company. But it's not necessary to check their every blog post thoroughly, just look through the titles and topics. And pay attention to the publication date – new content should appear regularly.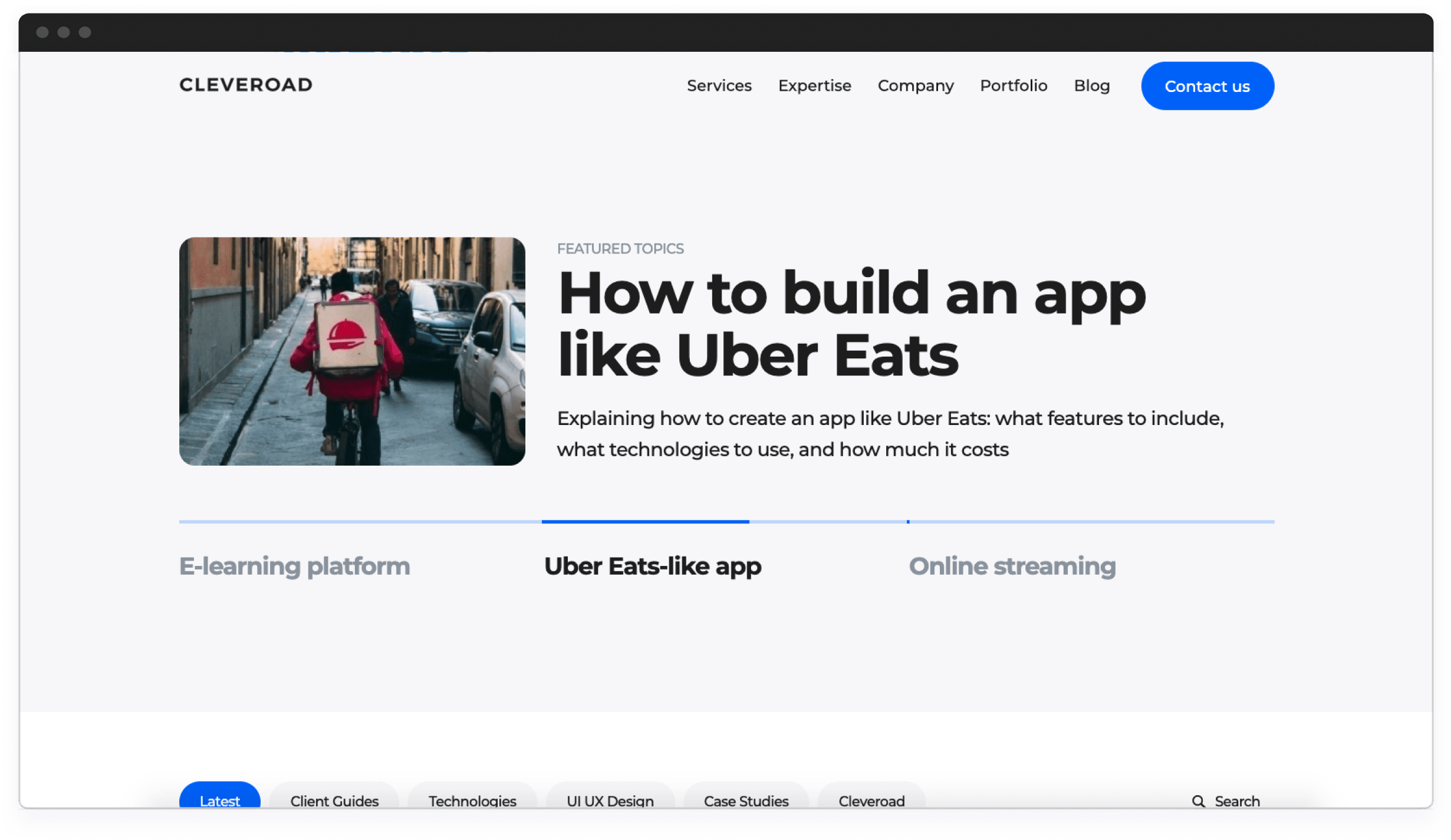 IT vendor should have a blog that's frequently updated
As for social networks, the most popular platform for B2B companies is LinkedIn. If you're choosing a software development company, you'd want to gather as much info as you can. And their LinkedIn page helps you find the firm's description, location, number of employees, and lots of other details.
GitHub
Github is a collaborative code hosting platform and a company's portfolio of code. Developers use it to show their coding skills, create code repositories, and manage their work. On Github, you'll see whether the team delivers reusable, laconic, and easy-readable code, how often it's updated, who contributed, and so on.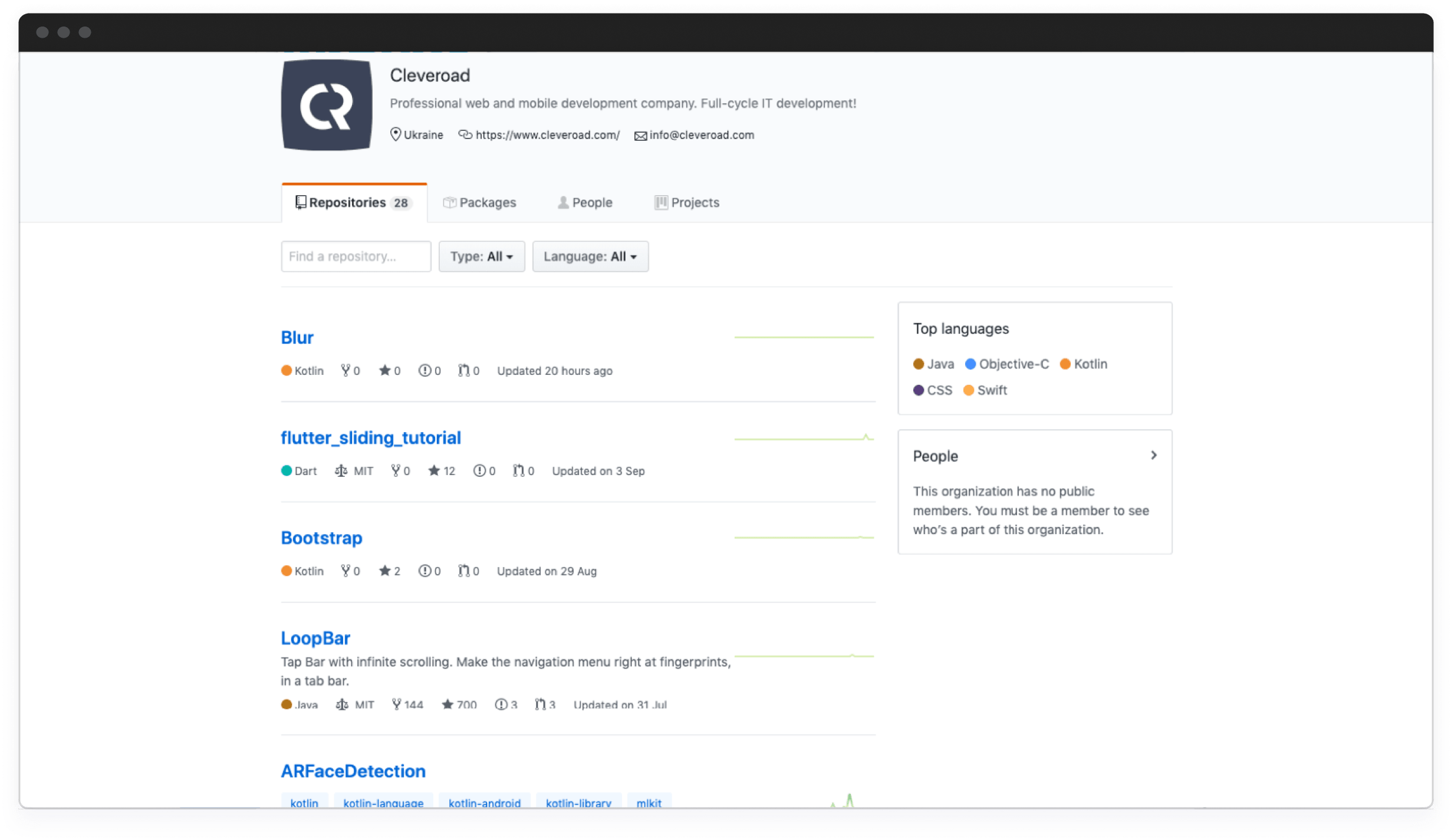 How a company's GitHub page looks like
The enlisted points are essential for turning attention to reliable software development vendor that would be comfortable to collaborate with. Let's take one more point into consideration to understand what else is necessary before starting outsourcing cooperation.
Development Methodology
Agile software development is a point of reference. It's based on customizable planning, fast delivery, development flow updates, and communication instruments. This means you'll keep up with each stage of project building. But even if the company works in agile, ask what's your role in it. Every organization implies agile methods in their own way, so clarify everything beforehand.
This basic information will help you to conduct the primary assessment of the software development company's level.
Business Strategy
Before moving to the solution stack you should outline the business strategy. The following questions may help you to think it out:
Are you looking for short-term or long-term cooperation conditions?
Which part does the software development company play in your business structure?
Do you have any certain principles regarding the way of the project development?
Would you rather daily connect to the team to track the progress or receive systematic reports?
Would you like to hire a Scrum Master, or will you take over organizational and supporting responsibilities?
Understanding and introducing your requirements to the outsourcing company allows you to negotiate future cooperation and decide on a technology set successfully. Lots of companies know how to make a great first impression. But how to choose a software vendor with solid tech skills? If you're tech-savvy or have a reliable consultant nearby (or a developer you can use as one), that won't take much time. Here comes a small checklist we've prepared.
Technologies
First, pay attention to technologies the company works with and consult whether they can be tailored to the needs of your project. Different projects require different solutions, and sometimes the best-fitting company may not have experienced areas the project explores (e.g., blockchain, AR/VR, AI).
Finally, the team must keep up with the latest technologies. Programming languages, frameworks, and tools change all the time, and it's crucial to track them.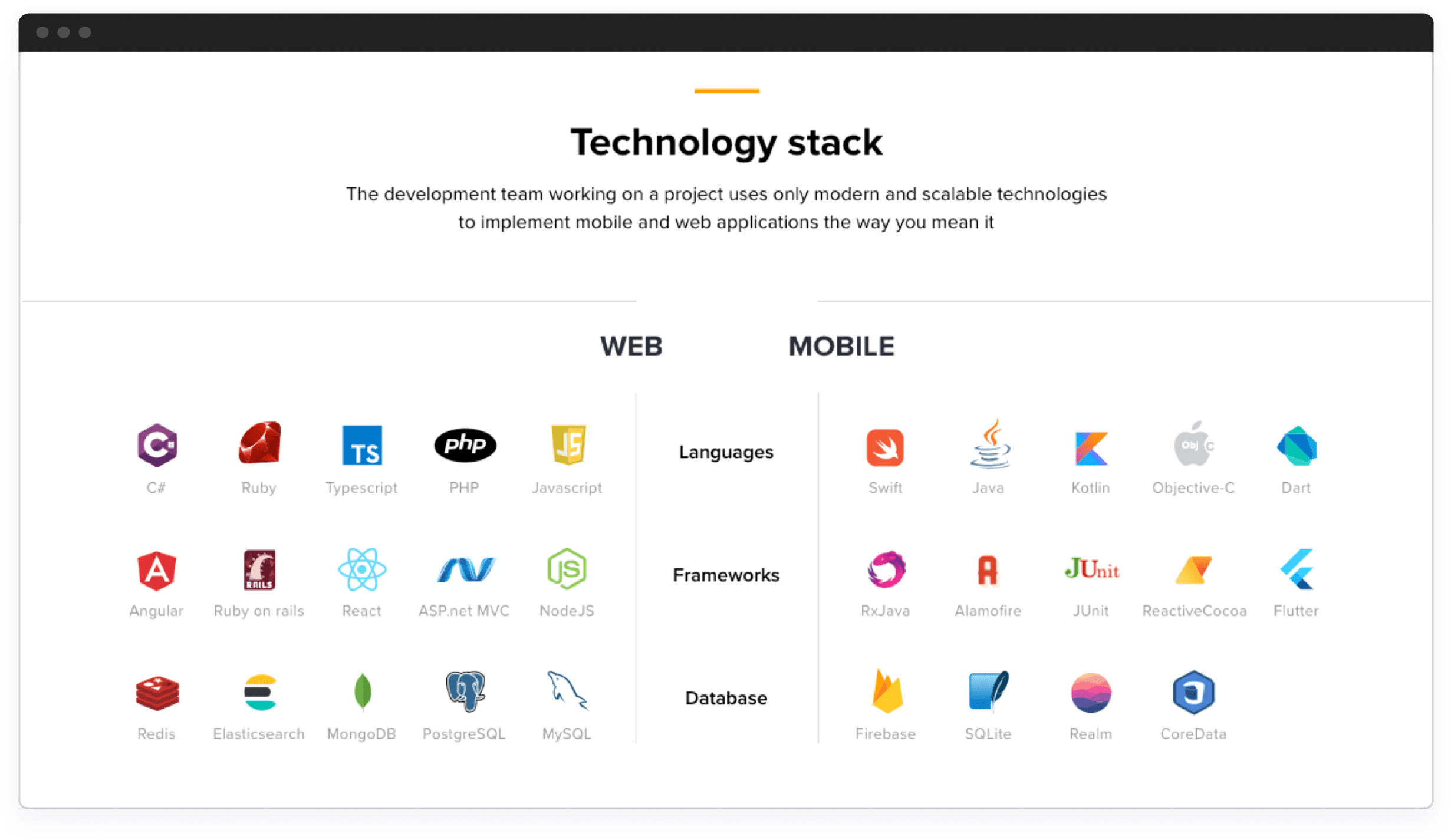 How to choose the right software development company? Tech stack will speak for them.
Project Management Tools
Project management tools help teams to complete client's requirements, manage time and scope constraints. A reliable vendor contributes to transparency and may provide access to some of their project management tools.
The most popular are:
Jira, bug, and issue tracking software that fills the gap between project managers and developers

Slack, an internal messaging tool that helps to monitor progress updates, code updates, system alerts, and so on

Github, a code management platform where all code is maintained and documented

CircleCI, a continuous integration and delivery platform

Confluence, a content collaboration tool that helps teams share knowledge efficiently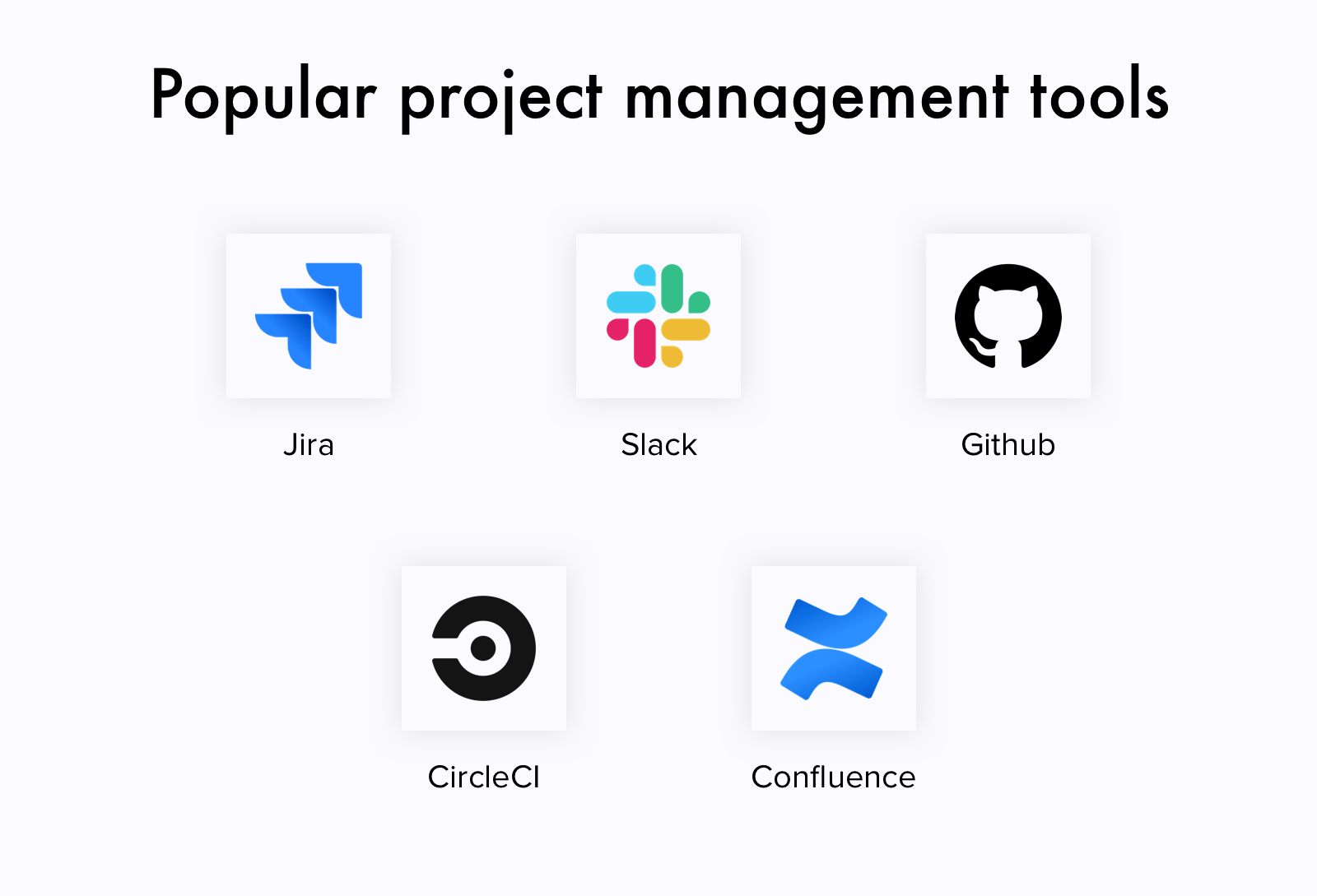 Project management tools most IT companies use
Next Step: The Meeting and Partnership's Establishment
Let's start with a small task for you. Before arranging a meeting with the selected vendor, collect as much information about your project as you can.
The must-haves are:
Project idea in details
Problems the product solves
Questions and suggestions
Any concepts, templates, wireframes made
Make sure to send the file with these details before the actual meeting, so that the company has enough time for checking. Done? Time for meeting the team face-to-face!
Team Structure And Services
For a clearer understanding of the potential partnership team, you should inquire about the members who participate in your product's development. Building the platform from scratch requires a list of essential specialists apart from the front-end and back-end development. Here's the list of indispensable teammates, whose job is vitally important:
Product Manager — a person whose duties are to operate the business plan of the product and organize the work of others.

UI/UX Specialist — a person who is responsible for developing original user-friendly designing.

Specialist Developers — expert team, which provides web app development services and build the front-end and the back-end of the product.

Business analysts — experts who researches your business requirements, analyses your business model and evaluates its union with technology to improve the IT product's quality.

QA Engineers — specialists who can test the project to detect and get rid of bugs and other issues.

Solution Architect — who decides on the tech stack for the particular project.
Such an utter team incorporating all the essential specialists will deliver a unique, successful product, which will meet all your expectations.
Still, a video call may be quite enough to understand:
Company's business logic
Security procedures
Communication ways and tools
Now, about each in detail.
Business Logic
If you've sent the full description of your project to the company, listen to what they say about it. And ask about their business logic. If the developers checked the data you sent, they would make their answer fit your project. Discuss possible risks, ways to omit them, and hear what solutions they'll offer. If there are no issues/questions at all, maybe they didn't find time to check your materials.
Communication Channels
When you're dealing with an offshore team, communication is everything. So I suggest a few points to pay attention to.
Everyday communication
Ask how you will overview the workflow: what's the schedule of calls, what tracking tools they use, and who will you be meeting with – a Project Manager or a Team Leader?
Problem-solving approach
How to choose software development company with good problem-solving skills? Think of a random issue (e.g., the application won't run on a certain OS) and ask how the team is going to tackle it down. A solid plan of action and eagerness to solve the issue are the keystones of a good development team.
Work ethic
Make sure the people you're going to work with share your values and work ethic. The best way is to ask a question about any tech aspect of your product and see how they're responding. If they are calm, polite, and make sure you get straight to the point – it's a good match.
Security Matters
There's never too much security, especially when working with sensitive details like users' payment or personal data. A reliable IT vendor sets an official security policy to monitor all the operations.
What's more, there's a solid information security standard – ISO/IEC 27001 created by the International Organization for Standardization. It defines how to organize information security and helps companies evaluate security risks.
So in case you're choosing a software development company and making a bet on security, consider only those IT companies that are compliant with ISO standards.
Why Outsource to Cleveroad
Cleveroad is a skillful outsourcing IT company located in Estonia (Central Europe). For more than 10 years, we've been assisting startups, small businesses, and large corporations in achieving their objectives and bringing ambitious ideas to reality.
We specialize in a wide variety of IT services and customized software solutions. They improve workflow efficiency, aid in the acquisition of competitive advantages, and address business issues.
Why choose us as your software development company?
Cleveroad's expertise incorporates 12 services and 8 industries.

Our previous clients are fully content with our high performance, which is evidenced by our reviews on different platforms and many awards and certifications.

Our team incorporates all essential, trustworthy top-class specialists to develop an original brand-new product.

Our technology stack is exceptionally up-to-date, as well as our approach to development.

Our on-demand services include customized software creation and updates, as well as the modernization of legacy systems.

We think that being honest with clients, partners, and staff members is a vital component of developing outstanding products.
Wrapping up
A suitable outsourcing software development company is a key point in the future product success. But remember: you are not only looking for experienced specialists but for credible partners with well-developed communication skills. If your choice is right, as a customer, you'll get an enormous number of benefits from it for a long-term perspective and easily achieve your project's success.
Frequently Asked Questions
The process of searching for a software development company has three stages:
Basic research. Take a look at the company's portfolio to find project similar to yours. You may also check what their clients say on platforms like Clutch or GoodFirms. Also, pay attention to their social media pages: what posts they make, how often they post something, how relevant is their content.
Tech research. Pay attention to the technologies—programming languages, frameworks, libraries—they work with, their project management tools, and GitHub commits.
Face-to-face meeting. A great way to learn more about their company's business logic, security procedures, and everyday communication channels.
Pay attention to what their clients say on platforms like Clutch and GoodFirms. Reviews on company's websites can be fake. While on Clutch/GoodFirms you see only verified reviews checked by the platforms' administration. Check the vendor's involvement in local and global IT community:
Company's employees speak at large-scale IT conferences
Firm organizes workshops and meet-ups, online webinars, shares open-source tools
Writes ebooks, guides, blog publications
Has certifications and awards
Conduct a thorough research and try to reach out to the company's previous or current clients.
Always sign a contract and, if your project requires it, ask for an NDA.
Pay attention to their work ethic. The best way is asking a question about any tech aspect of your product and see how they're responding. If they are calm, polite, and make sure you get straight to the point – it's a good match.
Rate this article!
1684 ratings, average: 4.96 out of 5
Give us your impressions about this article
Give us your impressions about this article