How to Choose The Right Software Development Company and Succeed
Software development rushes towards outsourcing. Now, there are more than 27,000+ agencies on Clutch – one of the biggest IT outsourcing platforms. And the number is only growing. But with the range this wide, choosing a software development company is quite a challenging process, especially when you're investing lots of resources into the project and looking for a team of proficients for a productive partnership.
This article will help you to clarify the peculiarities of outsourcing. We'll describe how to choose the right software development company stagely:
Fundamental knowledge about outsourcing
Productive communication establishment
Completion of Basic research
Significant points before choosing
Tech research and solutions stack
Partnership arrangement
How to Choose the Best Software Development Company: 5-Point Checklist
Before you begin your search for a software development company to collaborate with, you need to plan your actions. We've prepared a list of actions you should follow to accomplish your purpose:
1. Make a list of vendors you'd like to collaborate with. Look through professional platforms like Clutch, or Goodfirms, listings and so on, getting acquainted with their company information. Pay attention to previous customers' reviews to find reliable client perspectives. Also conduct the negative feedback research to get a complete picture of a future vendor's activity.
2. Examine the potential tech partners' websites and review their experience in the field you need, including their portfolio. Determine if they comprehend your commercial requirements – you need a vendor to provide the optimal solution for your clients.
3. Look at what technologies the team uses in their work. Your task is to determine specialists in different technologies. You can also consider the way your potential partner plans and executes projects, along with the tools they utilize.
4. Prepare a brief to tell them more about your project. It means you should shortly describe your product idea. The vendor experts may clarify the details during the further working process.
5. Ensure the security measures. Find out whether the chosen company implements adequate security measures to safeguard intellectual property and user data (e.g., signing an NDA).
This is an algorithm you should go through to find an excellent tech partner assisting you with a software creation. Let's find out everything in detail.
Tips for Choosing a Software Development Company For Successful Cooperation
When you plan your own software development project, you want it to be successful and profitable. How to accomplish the best results with it? You can look for an IT vendor that is experienced in creating apps, has a solid portfolio, and offers qualitative results to boost your business profitability and performance.
We'll give you some hints on choosing a software company, and get more information.
Check professional platforms
There are many resources you can search for a software development vendor. Clutch is one of the most trustworthy platforms for finding verified IT companies. The service provides a wide range of possibilities for anyone looking for a software development firm, starting with a category of interest. For instance, there are more than 27,000 businesses from all over the world listed under the category of bespoke software development organizations.
Clutch provides information about the company's services, hourly rates, required project budget, location, personnel count, and contact details.
How to choose a software vendor? Check Clutch for first-hand reviews!
Other popular professional platforms are the following to look through:
ITFirms

GoodFirms

Glassdoor
Listings of the best bespoke software development vendors
Check out well-selected lists of the best firms to avoid spending time sorting through hundreds of names choosing the best software development company. It can be rankings published on reputable websites or social media channels.
These rankings are often created by analysts that investigate and assess software development firms before selecting the top 5 to 15 in a certain area. As a result, you can avoid choosing a few options in the initial step.
You'll find what you're seeking a lot more quickly if you know exactly what kind of software development your projects call for and conduct your search accordingly.
Look for referrals
How to choose the best software development company to work on your project? You can always request referrals. There's a good chance that someone in your professional network can recommend a reputable individual.
However, this approach needs a huge network of business contacts. Your chances of finding and contacting a trusted vendor increase the more individuals in the business you know.
Search for a bespoke software vendor on various IT events
Last but not least, you could want to go to events for software developers if you want to personally network with development representatives, share ideas, discover cutting-edge trends and technologies, and finally, choose software company that will be the best to cooperate with.
You may discover a good match for a custom software development business if you search for and select the ones that fit your product concept and can discuss everything immediately.
How to Choose Software Development Company: The Initial Steps
Let's imagine you're picking an IT partner among a few candidates. One appears to have great expertise, another worked on projects in a similar domain. And there's the one your friend recommends.
The best option here is not picking blindly. Instead, spend a few hours on proper and careful research – from a company's website to reviews on outsourcing platforms like Clutch or GoodFirms.
We've divided the process into three stages:
Basic research.
Tech research.
Face-to-face meeting.
Let's review them one by one, starting with the basic information.
Requirements identifying
Before finding out how to choose software development company, you should clarify your requests.
To deliver a detailed description of your project to the company, consider two questions:
What are your needs?
Who can fulfill them successfully?
After understanding your requirements, you can step to the next stage.
Look for software development company
You can collaborate with IT specialists through many options (like freelance, in-house personnel hiring, outstaffing, etc.). However, software development outsourcing is one of the most popular these days — companies more and more outsource their IT project due to the advantageous price-quality ratio, wide pool of tech specialists, and faster project delivery. This way, according to Aptitude outsourcing report, 68% of companies use outsourcing to satisfy their business needs and fulfill workforce requirements.
Let's talk more about the essence of outsourcing and the advantages it gives to businesses.
Outsourcing means transferring software projects from a client company to a vendor one. The vendor specialists care about the product creation from its very beginning, while you track the development process and approve its results or make corrections.
Responsibilities of such companies consist in a diverse spectrum of work: from maintaining servers or setting up security to developing the new software product from scratch. Outsourcing companies fulfill tasks faster and at a lower cost compared to in-house teams due to the fact that you pay only for the required services. Plus, no overhead costs for employees (vacation, sick leave, insurance, workplace). Therefore, the responsibility for risks lies on the shoulders of the outsourcing company, not on yours.
Outsourcing services are differentiated by various parameters (e.g., location, relationships, project-based). We'll look through one of such classifications by location for you to gain insight and choose the cooperation model that suits you the best:
Onshore — your vendor is in the same region as yours (e.g., you and your vendor are both from Estonia)
Nearshore — provider's location is in the adjacent country (e.g., you from Latvia apply to an Estonian provider)
Offshore — the vendor is situated far away from you (e.g., your US company contacts the vendor from Estonia)
Outsource app development cost is quite beneficial. Besides, cooperation doesn't lead to quality sacrifice in pursuit of lower cost. Despite this fact, choosing cheap services is not profitable at all. Selecting a skilled software development company to collaborate with will help you get effective corporate software quicker to take your business to new heights. This is possible due to a range of outsourcing benefits like the most common ones given below:
The perfect quality-price ratio. It means the ideal balance between a reasonable price and continuously great software quality. For example, the CEE region can easily offer it.
Unlimited range of talents to hire. IT outsourcing gives you access to a large pool of technical professionals with experience in areas you require. It doesn't have to take months to hire someone; it may happen quickly.
Faster software delivery. You can always speed up the construction of your project by, for example, working with extra experts. Because of this, time to market and costs are reduced; you may outperform your market competition without spending much.
That's why the choice of IT outsourcing is the best hiring and collaborating option with excellent value for money.
Red flags
There are some moments, which can tell, that the company isn't decent for partnership at this stage:
Lack of Rough Estimate. Reliable software development companies, such as Cleveroad, calculate the rough estimate free of charge and are ready to provide clients with the transparent price.
Lack of reliable references. Some organizations falsify their reviews and do not have valid references. Every trustworthy company presents itself on the Internet and shares lots of information on credible open resources.
What to Consider Before Choosing a Company
While selecting an IT company to cooperate with, you should clearly realize that your future success depends on your choice. We've prepared the important points for you to consider during this process.
Study the preferred company's portfolio
When choosing a software development company, the very first thing to do is dig into their previous projects. That's how you check their knowledge of specific technologies, experience with various domains, countries, and so on. Besides, there's always a good chance of finding a case similar to your project. For example, if the company can successfully build a fitness app, they know how to implement a GPS tracker into the platform. So you should carefully overview each portfolio, compare them and companies' experience.
Portfolio example by Cleveroad
Prepare a brief for vendor's developers
Making up a brief helps you to describe your request and task to the developers clearly. It's desirable to receive a cost estimate in return even before the cooperation agreement, which will clarify your expenditures. Thus, such a reply evidences two positive things:
A company is eager for cooperation and ready to provide you with all the essential data even before working together
The team actually took your project into consideration and calculated the cost of the requested task so that the price may be precise
Rough cost estimation prevents overpaying and naming a random price, so you can see what in particular you pay for.
Study client reviews
You understood how to choose the right software development company and selected several suitable options. Now it would be a brilliant idea to overview their previous experience. Companies love putting reviews from satisfied customers on the main page. Which is quite a good idea – that's how newcomers can quickly check what people say about their services.
But how to choose a software development company that has genuine reviews written by their clients?
You may reach out to some of the current or previous customers and ask them to share their experience of cooperation with the firm. Most wouldn't mind sharing, but there also is another, simpler way. Check outsourcing platforms like Clutch, GoodFirms or Upwork for reviews from verified customers. Today, every respectable IT company has a profile on at least one of these platforms.
There you'll find a ton of useful information, like mentions of the issues clients faced while working with the team. All reviews get approval from the platform's administration, so there's no chance the firm's employees wrote them.
Check out the company's communication style
How to choose a custom software development company successfully convey the requirements and tasks to the team? You should have qualitative and productive communication. Consequently, for a better understanding, your potential partners should essentially know English.
According to different statistics sources, it will be beneficial to choose a software development company from Central Europe, in particular, Estonia.
Estonian outsourcing companies are an extremely rational option due to the following reasons:
Excellent Internet and infrastructure networks: Estonian companies are facilitated with advanced, up-to-date networks and stable, secure internet connection which allow developers to communicate with customers worldwide freely.
Transparent project management and workflow control: Estonian software developers use all the communication tools (Jira, Zoom, Google Meet, etc.) and implement brand-new project management technologies, so customers always understand how things are going.
Lack of language barrier: Estonian software development teams speak English perfectly. In case you need a consultation, each team member can efficiently clarify the required info concerning all the arising issues in English.
Physical availability: Software development outsourcing companies located in Estonia are physically available due to the fact that travel to this country is mainly Visa-free. The developed transport infrastructure and air traffic make the visits easy and convenient.
Well-developed soft skills: Estonian developers are passionate workers who are engaged in your project's success. They will willingly give you recommendations to choose the best possible solution.
Community involvement
Interest towards the local and global IT community is extremely meaningful. These marks indicate credible companies:
Participates in extensive IT conferences
Arranges workshops and meetings, online webinars, shares open-source instruments
Produces e-books, guides, blog publications
Is honored by certifications and awards, which acknowledge the company's expertise
Look through social media accounts
A regularly updated blog or publications on social media can tell that the firm is proficient enough to provide the users with additional info. Moreover, social media accounts allow you to evaluate the proficiency and experience of the company. But it's not necessary to check their every blog post thoroughly, just look through the titles and topics. And pay attention to the publication date – new content should appear regularly.
As for social networks, the most popular platform for B2B companies is LinkedIn. If you're choosing a software development company, you'd want to gather as much info as you can. And their LinkedIn page helps you find the firm's description, location, number of employees, and lots of other details.
IT vendor should have a blog that's frequently updated
Check the company's GitHub
Github is a collaborative code hosting platform and a company's portfolio of code. Developers use it to show their coding skills, create code repositories, and manage their work. On Github, you'll see whether the team delivers reusable, laconic, and easy-readable code, how often it's updated, who contributed, and so on.
The enlisted points are essential for turning attention to reliable software development vendor that would be comfortable to collaborate with. Let's take one more point into consideration to understand what else is necessary before starting outsourcing cooperation.
Know more about their development methodology
Agile software development is a point of reference. It's based on customizable planning, fast delivery, development flow updates, and communication instruments. This means you'll keep up with each stage of project building if choosing a software company with such a development methodology. But even if the company works in agile, ask what's your role in it. Every organization implies agile methods in its own way, so clarify everything beforehand.
This basic information will help you to conduct the primary assessment of the software development company's level.
How to Choose Software Development Company: Tech Research
The research is a necessary part of making a vendor choice. Let's find out what points you should pay your attention to.
Outline your business strategy
Before moving to the solution stack you should outline the business strategy. The following questions may help you to think it out:
Are you looking for short-term or long-term cooperation conditions?
Which part does the software development company play in your business structure?
Do you have any certain principles regarding the way of the project development?
Would you rather daily connect to the team to track the progress or receive systematic reports?
Would you like to hire a Scrum Master, or will you take over organizational and supporting responsibilities?
Understanding and introducing your requirements to the outsourcing company allows you to negotiate future cooperation and decide on a technology set successfully. Lots of companies know how to make a great first impression. But how to choose a software vendor with solid tech skills? If you're tech-savvy or have a reliable consultant nearby (or a developer you can use as one), that won't take much time. Here comes a small checklist we've prepared.
Think out technologies to employ
First, pay attention to technologies the company works with and consult whether they can be tailored to the needs of your project. Different projects require different solutions, and sometimes the best-fitting company may not have experienced areas the project explores (e.g., blockchain, AR/VR, AI).
Finally, the team must keep up with the latest technologies. Programming languages, frameworks, and tools change all the time, and it's crucial to track them.
Consider project management tools
Project management tools help teams to complete client's requirements, manage time and scope constraints. A reliable vendor contributes to transparency and may provide access to some of their project management tools.
The most popular are:
Jira, bug, and issue tracking software that fills the gap between project managers and developers
Slack, an internal messaging tool that helps to monitor progress updates, code updates, system alerts, and so on
Github, a code management platform where all code is maintained and documented
CircleCI, a continuous integration and delivery platform
Confluence, a content collaboration tool that helps teams share knowledge efficiently
Project management tools most IT companies use
Choosing The Best Software Development Company: Partnership's Establishment
Let's start with a small task for you. Before arranging a meeting with the selected vendor, collect as much information about your project as you can.
The must-haves are:
Project idea in details
Problems the product solves
Questions and suggestions
Any concepts, templates, wireframes made
Make sure to send the file with these details before the actual meeting, so that the company has enough time for checking. Done? Time for meeting the team face-to-face!
Team structure and services
For a clearer understanding of the potential partnership team, you should inquire about the members who participate in your product's development. Building the platform from scratch requires a list of essential specialists apart from the front-end and back-end development. Here's the list of indispensable teammates, whose job is vitally important:
Product Manager — a person whose duties are to operate the business plan of the product and organize the work of others.
UI/UX Specialist — a person who is responsible for developing original user-friendly designing.
Specialist Developers — expert team, which provides web app development services and build the front-end and the back-end of the product.
Business analysts — experts who researches your business requirements, analyses your business model and evaluates its union with technology to improve the IT product's quality.
QA Engineers — specialists who can test the project to detect and get rid of bugs and other issues.
Solution Architect — who decides on the tech stack for the particular project.
Such an utter team incorporating all the essential specialists will deliver a unique, successful product, which will meet all your expectations.
Europe is the most beneficial value for money outsourcing continent. Look over our 'IT outsourcing in Europe' article to know the reason.
Still, a video call may be quite enough to understand:
Company's business logic
Security procedures
Communication ways and tools
Now, about each in detail.
Business logic
If you've sent the full description of your project to the company, listen to what they say about it. And ask about their business logic. If the developers checked the data you sent, they would make their answer fit your project. Discuss possible risks, ways to omit them, and hear what solutions they'll offer. If there are no issues/questions at all, maybe they didn't find time to check your materials.
Communication channels
When you're dealing with an offshore team, communication is everything. So I suggest a few points to pay attention to.
Everyday communication
Ask how you will overview the workflow: what's the schedule of calls, what tracking tools they use, and who will you be meeting with – a Project Manager or a Team Leader?
Problem-solving approach
How to choose software development company with good problem-solving skills? Think of a random issue (e.g., the application won't run on a certain OS) and ask how the team is going to tackle it down. A solid plan of action and eagerness to solve the issue are the keystones of a good development team.
Work ethic
Make sure the people you're going to work with share your values and work ethic. The best way is to ask a question about any tech aspect of your product and see how they're responding. If they are calm, polite, and make sure you get straight to the point – it's a good match.
Security matters
There's never too much security, especially when working with sensitive details like users' payment or personal data. A reliable IT vendor sets an official security policy to monitor all the operations.
Non-Disclosure Agreement (NDA) can be signed per your demand to protect the uniqueness of your app concept, and your company confidential data
Access to data for developers handling your project. They don't need access to the entire database; if you like, you may merely share an anonymized copy of it.
Secure Socket Layer (SSL) certificates can be used to verify the identity of your contracted developers.
What's more, there's a solid information security standard – ISO/IEC 27001 created by the International Organization for Standardization. It defines how to organize information security and helps companies evaluate security risks.
So in case you're choosing a software development company and making a bet on security, consider only those IT companies that are compliant with ISO standards.
QA and app maintenance
It's essential whether your future tech partner will be able to provide you with a qualitative product. So, talking to the company representative, you should necessarily clarify if their testing policy assumes checking the software during all the creation flow. Moreover, you need to also clarify whether they offer post-development services (e.g., app support and maintenance) so you can be assured that your software solution keeps up with your evolving business needs.
Why Choose Cleveroad As Your Trustworthy IT Partner
Cleveroad is a skillful outsourcing IT company located in Estonia (Central Europe). For more than 10 years, we've assisted startups, small businesses, and large corporations in achieving their objectives and bringing ambitious ideas to reality.
We specialize in a wide variety of IT services and customized software solutions. They improve workflow efficiency, aid in acquiring competitive advantages, and address business issues.
Working with our clients, we offer them three models of cooperation to choose from. These are the following ones:
With Time and Material model, you'll get a rough project estimate and the team will start working with a knowledge of your app concept and job scope. Moreover, this cooperation model is particularly advantageous for projects with a lengthy run, changing needs, and an undefined scope. Each sprint is clearly planned, the customer approves all sprint and test plans, and all conditions are thoroughly discussed. Also, while working under the T&M contract, you can alter the scope even while the team is still developing it or modify the workloads assigned to them. Furthermore, we completely control the delivery method, timetable, and quality.

A Dedicated Team hiring will enable you to increase your development skills with a committed workforce. Depending on the responsibilities, we construct a team composed of software developers, a solution architect, QA and DevOps engineers, designers, business analysts, and a project manager. This group separately completes the agreed-upon project/work scope. You have total control over managing dedicated team developers, workflows, and tried-and-true communication procedures with the Dedicated Team cooperation model. Also, it is simple to scale up and down the team and incorporate it into current development procedures. Moreover, you may completely monitor requirements, deadlines, teams, and work scope from your perspective.

A Fixed Workscope agreement is intended to be a one-sum contract with specific estimates, clear specifications, and stringent timeframes for the Discovery Phase. To ensure suitable end outcomes, you can share with engineers your precise vision of the product. Given that the Discovery Phase, which comes before development, has highly predictable demands, specifications, and rates, the Fixed Workscope model is the best option.
Working process with Cleveroad
Frequently Asked Questions
The process of searching for a software development company has three stages:
Basic research. Take a look at the company's portfolio to find project similar to yours. You may also check what their clients say on platforms like Clutch or GoodFirms. Also, pay attention to their social media pages: what posts they make, how often they post something, how relevant is their content.
Tech research. Pay attention to the technologies—programming languages, frameworks, libraries—they work with, their project management tools, and GitHub commits.
Face-to-face meeting. A great way to learn more about their company's business logic, security procedures, and everyday communication channels.
Pay attention to what their clients say on platforms like Clutch and GoodFirms. Reviews on company's websites can be fake. While on Clutch/GoodFirms you see only verified reviews checked by the platforms' administration. Check the vendor's involvement in local and global IT community:
Company's employees speak at large-scale IT conferences
Firm organizes workshops and meet-ups, online webinars, shares open-source tools
Writes ebooks, guides, blog publications
Has certifications and awards
Conduct a thorough research and try to reach out to the company's previous or current clients.
Always sign a contract and, if your project requires it, ask for an NDA.
Pay attention to their work ethic. The best way is asking a question about any tech aspect of your product and see how they're responding. If they are calm, polite, and make sure you get straight to the point – it's a good match.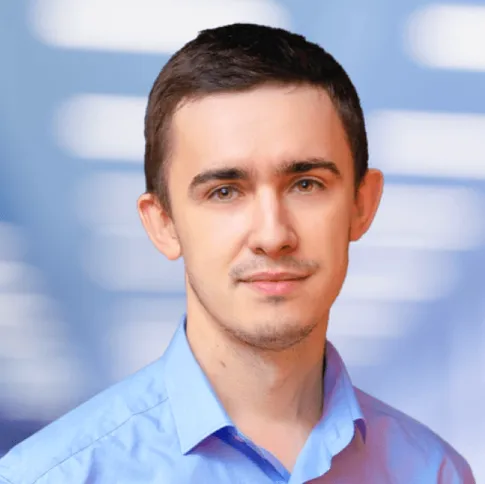 About author
Evgeniy Altynpara is a CTO and member of the Forbes Councils' community of tech professionals. He is an expert in software development and technological entrepreneurship and has 10+years of experience in digital transformation consulting in Healthcare, FinTech, Supply Chain and Logistics
Rate this article!
2227 ratings, average: 4.96 out of 5
Give us your impressions about this article
Give us your impressions about this article