5 Tips on Financial Software Development for Your Business
One of the best ways to optimize business operations is to transfer your data to a cloud. Time changes the way companies manage their financial resources and many of them start applying tech approaches to cope with that. In this article, we would like to tell you about cloud-based financial software (like DeFi lending and borrowing platform) development for your company based on cloud computing.
According to the Financial Executives Research Foundation (FERF) report that has interviewed executives involved in the financial sphere, the total number of cloud-based finance software is rising. Nearly 42% of interviewers in the USA claimed they already use some financial cloud solutions, 20% of them said they actively study the possible scenarios of their usage, and 37% prefer storing their data on in-house databases over cloud.
Before we consider several points you should keep in mind during the cloud application development, let's look through some advantages of this type of software.
Advantages of cloud-based software for finances
Replacing server software with cloud technologies you bring to your company the improved experience of cooperation between employees, instant access to important documents and data from anywhere in the world. Such a solution can be available in real-time and capable of updating data fast. Owners of a small business often point out that cloud-based software solutions increase productivity and facilitate data management (for example, how to build a DeFi app question will answer in what way to obtain the said benefits).
Let's consider several more advantages in details.
Automatization of manual business processes
The expansion of a business often requires integrating brand-new solutions in order to meet the functional demands of an organization. The automatization of processes allows the financial department to cooperate with the rest of a team more closely. In turn, that allows decision-making to improve and gives department executives an opportunity to do their job having up-to-date information at hand.
Elimination of duplicate records
Data accuracy has paramount importance for successful financial management. Manual data processing is fallible, takes a lot of time and is unnecessarily expensive. For instance, the organization that takes data from one system and puts it into another one can make some mistakes when transferring. Financial cloud software is capable of updating the data, as well as tracking duplicate data. It will help you to avoid that problem.
Hierarchy of access
Growing companies often get certain benefits from moving to more decentralized management structures that are supported by automated mechanisms of control. However, those changes to business processes often make entrepreneurs worry about what data should be provided to different interested parties in a company. Confidential information in the wrong hands may lead to big troubles.
Or watch our 5-minute video on this topic if you have no time to read another article.
SaaS software development comprises carefully adjusted management elements, so your staff will be able to access only that data they are permitted to see and work with. Also, these elements guarantee that the rules of a hierarchy are followed all the time.
High standards of security
The security issue stands out sharply when it comes to company's confidential data especially related to finances and customers. Cloud financial solutions are quite reliable and secure, so they minimize the chances of data losses, as well as of being hacked. One of the firms providing web development services can implement different functionality eliminating cloud security risks. For instance, disaster recovery, automatic backup or recovery in real time.
24/7 access
Instead of transferring files back and forth every time somebody needs the access to them, cloud-based software allows to get it instantly and 24/7 via a browser or a remote connection.
Benefits of cloud-based software
It is high time to give you several tips related to the development of cloud-based finance software for your business.
What type of clouds to choose?
Corporate finance software should contain a variety of tools meeting all the demands of a separate business. There are several types of cloud-based finance software:
Public cloud storage
Private or personal cloud storage
Hybrid cloud storage
Every type has it's own set of pros and cons that depend on your budget and peculiarities of business.
Public clouds have great scalability and rapid deployment but they are more vulnerable. So, the usage of these clouds for big companies may be not secure enough and have some pitfalls related to productivity.
Private or personal clouds are typically of a high level of security and reliability, though have some problems with scalability. Financial cloud solutions like these are one of the most secure but, in many cases, it requires software development from scratch that entails financial cost.
Hybrid clouds include the combination of several frequent options and may propose both internal and external control. However, such solutions tend to cost a lot.
Types of cloud-based software
So, which one to choose? Actually, there is no one sure answer. Rather, you should focus on separate characteristics you want to achieve and discuss with your developers the possible ways to do so.
Tips for cloud-based software development
Let's consider several basic characteristics your cloud-based finance software should obtain so you and your employees can work conveniently in there.
1. Keep it secure
Yeah yeah yeah, security again. Probably, it is hard to truly assess it's significance if you have never been hacked before. To protect your company from such an experience make sure your financial cloud software has all the necessary security certificates providing a secure connection between a server and a product, as well as data encryption. By the way, access to the server should be possible only by means of a password or other secure means of authentication.
2. Make sure your product's UX is great
User experience must be convenient and intuitive. That means it should have simple navigation. Besides, the updating processes should be well-organized so that it can work both offline and online depending on the type of cloud-based software you want.
3. Arrange the data accurately
Balances, profits, losses, reports, and expenses should all be present and synchronized with the data of other accounts. Wherein, each company member should be able to access only a certain part of your cloud-based finance system, while, let's say, department executives should have full or wider access to that data.
Of course, the information filling your product may vary depending on your preferences. Thus, you may add viewing account data, monitoring transactions, bank account data, managing information about balance and personal expenses.
4. Choose stable data centers only
The clouds can be anywhere but nonetheless, providers should have several data centers for disaster recovery. So, you have to make sure these centers are situated in regions with a low risk of natural and man-made disasters. In addition, agreements concerning the level of service with providers should have a threshold determining the uptime and availability of services. However, the stability of data centers is not enough since your cloud-based software solution should be stable as well. So, select the team of developers carefully.
Drawing up a line let's determine the core and additional features that your cloud-based software for financial operations may include.
Core features may be the following:
General ledger
Accounts receivable
Accounts payable
Cash management
Expense management
Purchases Order management
Business analytics
Additional features may be the following:
Project accounting (including time and cost management)
Multi currency
Global consolidations
Sales tax management
Inventory Income management
To sum up, we want to say that cloud app development is the right direction to watch for. Not only for specialists in accounting and finance but all industries in general. Cloud-based software helps to save money and increase efficiency.
In case you are considering an opportunity to create a cloud-based solution for your business - contact our managers to learn more about our company's experience in this field and get your free consultation.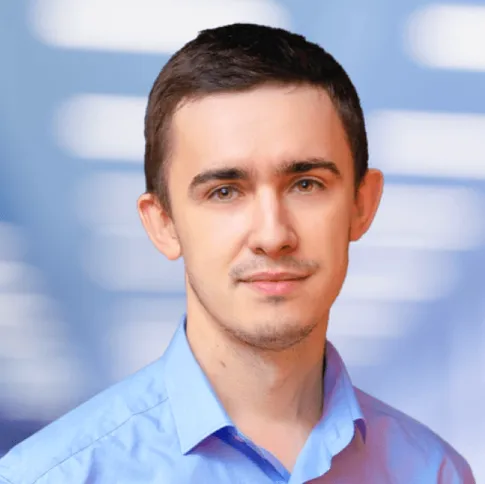 About author
Evgeniy Altynpara is a CTO and member of the Forbes Councils' community of tech professionals. He is an expert in software development and technological entrepreneurship and has 10+years of experience in digital transformation consulting in Healthcare, FinTech, Supply Chain and Logistics
Rate this article!
3468 ratings, average: 4.53 out of 5
Give us your impressions about this article
Give us your impressions about this article