How Much Does It Cost To Implement A CRM System In A Simple Estimate
Business optimization through the implementation of CRM is far from being a novelty for companies. However, some companies still lack this solution or have it in its "infancy," which prevents them from getting the most out of it.
In the vast majority of cases, businesses avoid using this system due to the fact that there is an opinion about the high level of complexity of its implementation. However, this article will tell you how to make the right approach and strategy for the development and adoption of this solution and will also cover the rough CRM implementation cost calculation.
What Is Usually Included In The CRM System Implementation
Customer Relationship Management (CRM) system is a solution to manage customer relationships and streamline internal business processes. A key component of this approach is the special software product that allows for organizing and structuring interactions with leads, tracking customer actions, and automating communications.
Marc Ostrofsky

American entrepreneur, venture capitalist, New York Times Best Selling Author, and public speaker

Corporations invest in sophisticated CRM, or Customer Relationship Management, programs to effectively oversee their relationship with their customers at every point during the buying process.
What objectives can this solution accomplish? Let's outline the key ones: The concept behind implementing CRM is to reduce operational costs, save employees' time, and provide seamless customer service. Companies choose CRM systems to achieve maximum efficiency and productivity.
Profit increase
Sales process and transaction management are one of the main goals for which the implementation of a CRM system is carried out. Custom CRM comprises extensive basic functionality developed on the basis of global practices that demonstrate high efficiency. At the same time, the system flexibly adapts to the needs of the company when it is important to take into account the unique features of the business.
Quality of customer service enhancing
By automating interaction with customers, the system minimizes the influence of human factors, which greatly increases the loyalty of existing customers and the conversion of leads into revenues. In addition, you will be able to collect a detailed history of each client and use it for subsequent sales or services.
Requests tracking
Excel and Google spreadsheets still remain integral tools to serve customers in a major part of companies. Managers manually transmit requests from different sources into the tables. With human resources, missed calls are not recorded and tracked anywhere. If an employee is distracted and another number of calls increases, it is easy to lose a newly-generated lead. And if there are several sources of requests, there should be a tool to track and save all of them.
CRM overcomes this issue by automatically capturing requests from a range of channels - websites, social networks, messengers, and mail. The system itself assigns the manager responsible for the new request and sets a task with a deadline. The same happens with missed calls, thanks to the integration of CRM with telephony. This makes it possible not to lose a single lead.
Customer data storing
When the client base is kept in diaries and Excel spreadsheets, finding information about a client who contacted you a couple of months ago or six months ago is almost unrealistic. You have to reacquaint yourself with the client, and he has to waste time in order to tell you about the problem again. In the CRM, the entire history of communication with the client is stored in his card. At any time, you can view all correspondence and listen to phone records.
Tracking and processing requests
CRM systems can be integrated with your website, social networks, and other sales channels. After a request is received, a manager is automatically assigned to the client, deadlines are defined, tasks are appointed, and sometimes their phone number is already dialed. After that, the software moves on to the next stage, predicting the following actions required to complete the sale. Even after a week, a month, a year, or several years, you can return to this customer, send an email with a promotion of your company and make another deal.
Staff productivity
CRM provides transparent and reliable analytics, enabling managers to track the performance of each employee. This allows you to assess the actual productivity of a single member and plan staffing levels accordingly.
Business Automation
Competently configured the CRM, you can automate most tasks of varying complexity. Due to this fact:
Employees have more time from routine tasks, become more productive, and can better realize themselves in other fields and directions of the business: in sales, finance, and marketing.
The human factor is reduced, and with it, the risk of forgetting, missing significant points, or making a mistake. With a CRM system, you will not lose a single contact, transaction, or call due to the fact that the employee writes down everything in the notes on the phone.
An automated client base will help you not to lose potential clients and profits by storing the details of all of the newly-attracted customers and having a history of interactions with the devoted client base as well. You are able to access this database covering the details of your audience at any time and outlining the most appropriate way to reach the customer and increase your profit.
CRM systems can replace several different programs and services, combining into one platform messengers, email clients, telephony, task scheduler, analytical services, document editor, website management, calendar, file sharing, corporate social networking, and much more.
Such opportunities are highly valuable for each business striving to grow its competitiveness. But how much should you invest to get such significant benefits?
CRM concept and functions
Let's consider the average CRM implementation cost in the example of a successful CRM solution- Salesforce. Although, the price is estimated according to the demands of your business as well as the number of users who are going to leverage it. Apart from this, there's a great diversity of tariff plans and packages. Talking about Salesforce, the pricing starts at $25 per user (monthly).
Considering a range of cost-determining factors that we will reveal in this post, the Salesforce implementation price may start from $10,000 for the implementation of the core functionality to over $100,000 for the multifunctional, complex and a more sophisticated solution comprising complex integrations, robust streamlining, and excellent customization.
Due to such potential, approximately 60% of organizations increased IT spending in 2020. And it will remain the same in 2023. Customer Relationship Management software income has overtaken database management systems to become the most enormous of all software markets. And with the income projected to reach over $80 billion by 2025, CRM is currently the fastest-growing software market.
The average cost of CRM implementation is always a reasonable investment since, with such value for money, you can recoup your investments with up to a 37% growth in profit, enhancing your relationships with customers and rapidly extending your business.
CRM Implementation Cost: Determining Factors
The cost of implementing such a system is very variable and ranges from case to case within entities. Each business has its own requirements, depending on the market, the target audience, and the industry, respectively, increasing or decreasing the final amount of investment.
Thus, when estimating the cost of CRM implementation, you should be aware of a range of determining factors that will help you understand the cost formation process:
Software modules
Needless to say, the functionality you want to implement in your software is the first factor that affects the cost of implementing CRM. Potential basic features include the following list:
Task management
Account operation
Workflow automation
Campaign management
Reports, dashboards, and insights generation
Client orders and requests processing
Call management
Forecasts and projections
CRM maintenance is one more point you should be ready to invest in. It's a continuous flow of verifying your CRM data, defining tech challenges, and fixing them within your software. Software maintenance expenses typically form 75% of TCO (total cost of ownership).
Basic features for CRM software
Deadlines
The rapidity and milestones of the product implementation define how much does it cost to implement a CRM system as the number of hours required to implement the project grows in parallel with expenses. This is due to the fact that the final formula is straightforward- we should multiply the number of hours required by the developers' hourly rates to get the precise number.
Team composition
The functionality and deadlines set for your CRM reflect the composition of the tech employees required for your project. You will need an expanded competence to build more sophisticated and multifunctional software, which will also affect CRM implementation costs. Apart from this, the region of the experts you hire determines their hourly wages, which is vital to mention as well. Below we've prepared the approximate hourly rates of tech experts by region globally:
Hourly rates of tech experts worldwide

| | | | | | | |
| --- | --- | --- | --- | --- | --- | --- |
| Specialist/Region | North America | Australia | Western Europe | Northern | Asia | South America |
| Frontend developers | $70-$90 | $60-$75 | $60-$80 | $40-$55 | $35-$50 | $45-$70 |
| Backend developers | $75-$95 | $75-$80 | $70-$85 | $40-$55 | $35-$55 | $45-$75 |
| iOS developers | $80-$100 | $75-$90 | $75-$95 | $45-$70 | $40-$70 | $50-$80 |
| Android developers | $80-$100 | $75-$90 | $75-$95 | $45-$70 | $40-$70 | $50-$80 |
| UI/UX designers | $50-$70 | $50-$70 | $45-$60 | $35-$50 | $20-$49 | $45-$70 |
| QA engineers | $50-$70 | $50-$70 | $45-$60 | $35-$50 | $20-$49 | $45-$70 |
| DevOps engineers | $80-$100 | $75-$90 | $75-$95 | $45-$70 | $40-$70 | $50-$80 |
Company scale
This is one of the most important factors to think over. Therefore, you should calculate the exact number of employees you will access to the CRM software. This will not only help you to select the most appropriate software type but to allocate the budget efficiently. When talking about paid CRM, its price begins at roughly monthly $12 per user for small-scale companies.
In case you are an established market player and your business needs more expanded tariffs with extra functionality, the cost will vary from $50 to $150 (per one user/monthly). For the most expensive and advanced software, you will have to invest $300 per user per month or even more.
When allocating the budget, it is also worth considering non-obvious items of expenditure that will require investment. Therefore, consider the following nuances without fail:
Tailoring the system to meet your special needs
In case your tariff plan delivers a universal package, the set of features can still be insufficient. Therefore, you'll need to adjust the functionality to your specific requirements; for this will need the engagement of a technical expert.
System customization
If you have complex software (to illustrate, corporate IT solutions), the CRM setup requires certain competencies to integrate it with the current business workflow smoothly.
Integration with existing solutions
For high-quality performance, you may need to integrate existing business solutions with your CRM. Such solutions may refer to a mail client, telephony, analytical services, cash register equipment, and other products that already exist and are leveraged in the company.
Maintenance and team training
It is worth considering a budget for the technical support of this solution, as we've already emphasized. Also, you should order the training and expert support for your team for the beginning of the work so that the adaptation goes smoothly and the employees are aware of how to apply the CRM capabilities in practice.
Which nuances are also worth considering to answer how much does a CRM implementation cost?
The convenience and simplicity of the interface. The faster managers of your company will be able to master the subtleties of the chosen CRM, the better.
The availability of the mobile version to manage from any place in the world
The protection of data: two-factor authorization, limitation of access by IP, and others
Easy access to technical support service
Expansion and migration options when deciding to create a non-standard integration or migrate to another solution
Average Cost Of CRM Implementation: The Breakdown
Let's complete the CRM implementation cost breakdown on the stage of implementation and adaptation of the business:
CRM usage subscription fees
Let's begin with the primary expense, which is the one for leveraging CRM services annually, which is $1,500-$36,000. Such drastic variation is facilitated by the fact that the team of experts to link to the CRM may start with ten users and finish with thousands.
Setup, team training, and data transferring investments
CRM implementation costs obligatory to cover the expenses associated with adopting your software and integrating it with your current business workflow. Apart from this, you should migrate your company's data. Taking this into consideration, you should have a sufficient budget to invest in those processes. The amount is equal to $1,800-$10,000.
VoIP and telephony
Conducting calls is a crucial sales activity, so you should be ready to include VoIP services in your investments. Considering the average cost of CRM implementation from scratch, you will have to integrate it leveraging the software engineering team's competence, which will require from $1,200 to $6,000.
Sales instruments upgrading
It's vital to comprehend that CRM doesn't promise rising sales. To increase your revenue, it will be reasonable to invest in the sales stack updating as well. This will enhance the entire client service delivery and order execution process, providing higher income. Yet, the price is very variable, so there's no approximate sum.
Advanced services integrations
The functionality of the basic CRM may be insufficient, so there's a possibility of the need to integrate third-party tools and services to benefit from the CRM maximally. Some of the integrations are absolutely free, but some will require up to $18,000 of your budget. Thus, the CRM implementation cost is also determined by the number of essential integrations as well as their type.
Why It Makes Sense To Invest In A Custom CRM Deployment
As the most demanded software on the market, CRM is definitely one of the most efficient ways to not only optimize the workflow but see quaintable modifications in your profit. Let's see what the key reasons for this are:
Transaction management
The program guides the customer from start to finish, not forgetting to close their needs. The customer receives timely responses, updates on the status of the request, and supporting documents that the admin can simply forget about. This yields loyal, open customers, increasing your profit due to the generation and retention of devoted leads.
Analytics and reports
The platform analyzes the market, displays statistics, processes it, and forms a marketing strategy. A clear sales funnel shows at what stage each deal is and where to work to bring it to an end. Besides, you'll get a clear view of the upcoming market and users' requirements, which is an excellent way to keep your business innovative and in demand on the market.
Account of the client base
The repository stores data on customers who have ever left requests. The administrator can see the entire path of the relationship between the organization and the customer. Such valuable data as client requirements, demands, and behavior patterns allow the business to deliver top-class service and maximize the client experience.
Service management
Within customer serving, the system performs the key processes by itself: receiving money, organizing delivery, sending notifications about the condition of the order, and reclamations. It enables delegating tasks to software and allows the team to concentrate on more complex responsibilities.
Solution of daily tasks
The manager receives a detailed report on each specialist. It enables seeing who is meeting the plan and who is not working as well as he should. CRM also delivers daily notifications of completed, overdue cases. Thus, you can track the performance of your team and allocate human resources efficiently, leaving the most productive specialists in the team.
The Practice Of CRM Implementation Cost Calculation
CRM implementation is a highly complex process that can't be properly executed without a competent IT vendor. Cleveroad is here to help you with custom CRM architecture and smooth integration.
Cleveroad is an expertized tech company with headquarters in Northern Europe, Estonia. Our experience covers over ten years of helping businesses of diverse scales. Our fundamental goal is to deliver technical services and tech products from scratch to optimize the workflows of our customers. Having a solid experience in CRM architecture, we are ready to complete a thorough discovery step within the project completion to make the outcome fully reflect your expectations and requirements.
Here are some more details of how this happens in practice:
Before we start developing a CRM, we gather our client's requests and create an appropriate roadmap based on their requests. This helps accelerate costs and wisely allocate resources for both our customers and us. Besides, it helps get a clear view of the output and see whether our sight matches the client's. Put in practice, a comprehensive, in-depth Discovery phase can help cut down up to $200,000 in software architecture investments, which surmounts the cost of the initial stage service itself.
During this phase, the four essential activities are:
Verifying project ideas
The available budget streamlining
Outlining the work confines
Strategy development
By completing all of the aforementioned activities, you'll be able to detect obsolete and inefficient points within the current business tools, define the sectors to renovate and get software reflecting the state-of-art standards of security, leverage, and interoperability.
Primarily, we outline your existing business internal flow, conduct solid research, and enhance the daily performance of tasks with custom solutions designed to meet your needs and objectives. Next, we pick the most robust methods to automate manual performance to grow your company's productivity and offer the appropriate tech product.
Rough and detailed estimates
The key goal of the rough estimate is to get an approximate estimate of the budget as well as outline the broad-brush architecture phases. Such details are delivered to the customer for informational purposes.
We create two estimates to maximize the calculation precision gradually:
The first one is accomplished after our Solution Design Workshop
The second one is based on the completion of the Discovery Phase
The Solution Design Workshop estimate is highly approximate and is defined by our previous cases and a very brief project overview. We define objectives, main tasks, complexity of the project, and constraints, assess and handle potential risks and mitigation strategies, and outline the core non-functional requirements.
Cleveroad delivers three options for this estimate: optimistic, realistic, and pessimistic. Having such calculations, we are able to create the appropriate roadmap for the project implementation: whether to include all features in the scope or only the essential ones to stay within budget and meet the quality level according to non-functional requirements.
The Discovery rough estimate is made after the start of work with the customer during the Discovery Phase. We research the business processes more in-depth, create a more accurate functionality, detect the key peculiarities of the specific case, and work out non-functional requirements and architectural solutions. Then, a more detailed rough estimate is created, and another rough estimate is delivered with all of the nuances considered to get higher accuracy.
Such workflow is efficient from the long-term perspective because, as your IT vendor, we will be able to deliver high-quality maintenance services and prolong the life for your software. Why is it beneficial for businesses to opt for such a partnership with Cleveroad?
Full immersion in the specifics of your business
Flexible methodologies and approaches
Transparent workflow and communication
Cutting-edge security solutions
Maximum quality maintenance and support services
So, Cleveroad is ready to implement the CRM taking the aforementioned analysis into account. We guarantee the delivery of a high-quality bespoke CRM solution for the highest cost-effectiveness possible, smooth adoption, and leveraging of your software.
Take your business to the new level
CRM from Cleveroad will become your integral assistant for client serving and workflow improvement
Frequently Asked Questions
Considering a range of cost-determining factors, the Salesforce implementation price may start from $10,000 for the implementation of the core functionality to over $100,000 for the multifunctional, complex, and a more sophisticated solution comprising complex integrations, robust streamlining, and excellent customization.
Although, the price is estimated according to the demands of your business as well as the number of users who are going to leverage it. Apart from this, there's a great diversity of tariff plans and packages. Talking about Salesforce, the pricing starts at $25 per user (monthly).
The cost of the system is influenced by factors such as:
Payment conditions (desktop or monthly payments for usage)
Peculiarities of implementation and configuration of services
CRM system functionality
Updates, technical support, and system improvements services
Team training and the number of employees connected to the system
Selection of an off-the-shelf service or the creation of an individual system
Due to such potential, approximately 60% of organizations increased IT spending in 2020.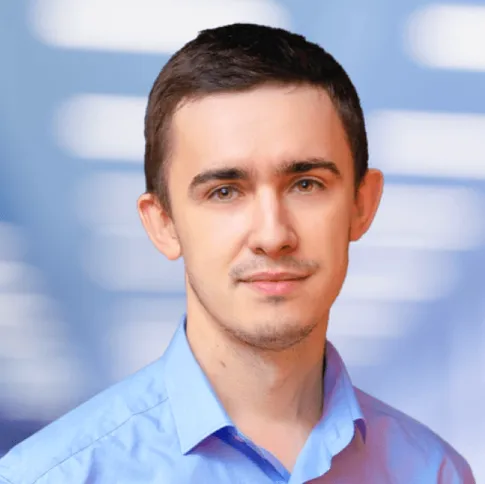 About author
Evgeniy Altynpara is a CTO and member of the Forbes Councils' community of tech professionals. He is an expert in software development and technological entrepreneurship and has 10+years of experience in digital transformation consulting in Healthcare, FinTech, Supply Chain and Logistics
Rate this article!
722 ratings, average: 4.63 out of 5
Give us your impressions about this article
Give us your impressions about this article