Crowdfunding App Development or How to Earn on Happiness?
Do you know a real price of your ideas? Creation of something new is always full of risks. In the world of consumption, you never know which idea will pass the long way from a thought to a product bringing enormous amounts to it's creators. Community understanding the value of ideas have initiated the crowdfunding software development.
A lot of ideas were buried under the layer of numerous doubts and financial fears. The concept of crowdfunding allows startupper both to learn whether the product is interesting for a community and to raise money on for the project.
Crowdfunding is a process of raising capital through the collective efforts of individual investors and in this article we will consider the launch of a successful crowdfunding platform.
The crowdfunding philosophy
Before we start, let's look through some peculiarities of crowdfunding. It will help you to choose the direction of further platform development.
Principle of work
First of all, the project should be placed on one of the crowdfunding platforms (Kickstarter, IndieGoGo etc.). The users of resource can donate money to project in case they are fond of an idea or have another motivation.
On condition, a project earns the desired amount of money - it is considered to be successful. After that, creators are obliged to realize the promised product. In case of campaign failure - every investor will get the money back. This way, crowdfunding provides both sides with financial assurance.
World-famous Pebble Time watch initially was a startup on Kickstarter (Source: Kickstarter.com)
What is the interest for the platform owner?
In case you are thinking to build your own crowdfunding platform, you are probably interested in how to gain profit from it.
The scheme of getting profit is pretty simple. Let's consider Kickstarter as an example. In case, the project collects the desired amount in the allotted time - Kickstarter will get 5% of this amount plus a fee. This way, in case of failure - all the backers will get their money back and Kickstarter will get nothing accordingly.
What is the interest for the backers?
Why all these people give their money to a startup? Every consumer is interested in unique and qualitative goods but sometimes it is hard to find something appropriate with market presence. While supporting startups, users not only give it's creators an opportunity to develop their ideas but also get a ready-made product through time.
However, the start of product manufacturing is not the only privilege. For example, Kickstarter offers different additional bonuses depending on the invested amount. This way, users can get a discount on the final product, free shipping, and much more.
Forecast for the number of crowdfunding platforms users (Source: Statista)
One more thing, you should choose a model of your platform development. There are several variants: charitable, reward-based and equity crowdfunding. Each of them has it's own peculiarities.
Charitable campaigns
The name speaks for itself. This model consist of the projects focused on charity, improving the world, and other similar ideas. The charitable campaign is a perfect choice for those users who want to make a contribution to the world's improvement or help other people.
Drawbacks: the openness and simplified profit model make it less attractive for both consumers and big investors.
Equity crowdfunding
Being focused on professional investors, the donations often start at $100,000 and more. Entrepreneurs looking for investment are the target audience of this model. After the project is funded - investors get a part of the business.
Drawbacks: a narrow-circle audience and unaffordability for the ordinary users.
Reward-based
Reward-based crowdfunding is the most widespread model on the market. Hundreds of thousands of projects were implemented with it's help. We can say that this model is aimed at a product pre-selling. However, everything depends on the startup and donated amount.
Drawback: focused on business-to-consumer ideas only.
Reward-based crowdfunding revenue (Source: Statista)
The subtleties of crowdfunding app development
The main thing you should think through before creating a crowdfunding platform is it's type. In case, it is a mobile solution - you need Android or iOS developers. However, if you decided to build a web solution - a team of professional web developers required.
Now, let's consider closer some peculiarities you need to take into account while your project development.
Payment process
A crowdfunding platform development requires two separate profiles implementation - profile of a user and startupper. It is needed in order to provide both sides with different payment options. Users should have an opportunity to support the project in any convenient way including the credit cards and other digital payment services (PayPal, WePay etc.). Accordingly, a startup owner should not have a possibility to withdraw money before the end term or in case the campaign failed.
So, how to implement the crowdfunding payment processing? There are two variants. You can develop it from scratch or use already existing APIs.
Talking about the first variant, you need to get a license from the financial regulator. Not mentioning the necessity to be aware of such issues as KYC, AML, CFT in order to find a licensed partner able to provide you with banking and payment processing. Also, the creation of a payment system is challenging and time-consuming for your developers as demands a lot of efforts and complicated back-end work. Finally, it may take years before your solution will be certified and audited.
The second variant is becoming more and more preferable today since the market is full of flexible solutions allowing to save your time and money. The most popular payment APIs are PayPal, Stripe, Square, Dwolla, and others.
Make your platform secure
A high level of security is a must for any digital service. Especially for that one, where multiple payment operations take place. The most commonly used method to achieve secure data transference is encryption.
There are lots of encrypting methods. SSL considered to be one of the most widespread among them. It can be applied to Android and iOS devices as well as for Web solutions.
SSL protocol allows transmitting securely such important information as credit card numbers, passwords, logins etc. Usually, all the information is sent to the server as a plain text. That makes it vulnerable to fraudsters and is being solved by encryption protocols.
There are lots of security protocols and their number continue growing. Before starting a crowdfunding platform, all the security methods should be chosen by professionals according to the platform's peculiarities.
Components required for successful start
A successful start of any digital product demands a lot of efforts. After you have built your crowdfunding website or app, you should be ready with the steps helping to draw community's attention.
Branding
Branding is an essential part of any site's creation. It is hard to change the logo or the name of your resource after it's release. Your target audience will be confused, so, you need to think through all the possible variants for brand building.
Have no idea how to name your app? Not a problem! Read our latest article that will help you to manage this task
Design is a very important part of your brand. Your crowdfunding platform should consist of beautiful UI and convenient UX. Otherwise, why exactly should users spend their time on your product if there are variety of alternatives? Of course, you can conduct a redesign any moment but there are additional expenses.
Recruiting
After the branding is done, you have to convince users that your platform is an excellent choice to launch their campaigns. The best way to earn the users' trust is to provide your platform with successfully funded projects.
Do not expect a million dollar profit immediately and be ready for step-by-step development. As your current task is to fulfill your crowdfunding business with projects - you may recruit some friends to start their own small campaigns in several hundred dollars.
As you remember, familiar platforms make a profit on the projects which have succeeded in fundraising. This way, it is understood that it is in your best interest to provide the startups with a number of services increasing the percentage of success. It will help you to stand out from the crowd and to attract new prospective startups as well.
Crowd as a key to success
An eye-catching and convenience digital solution is not enough to make the grade. Users are an integral part of the whole digital world. No one product can become successful without them.
So, you have already made your crowdfunding mobile app or site with several projects in there. However, you are still a newbie in the world wide web. What should you do? Thus, qualitative SEO is required. Then, make sure that the startuppers also do their best in order to promote their campaigns.
These two components provide your project with new users which will form a constant audience over time.
Worldwide internet users by age (Source: Statista)
More promotion
Promotion is never enough. As soon as you have launched several campaigns do not hesitate and try to attach different media that can be interested in your website or app.
Newspapers and magazines. It is a great idea to promote your crowdfunding business in some local newspapers or magazines.
What can attract major publications better than a successfully funded startup acquiring worldwide popularity? However, before you have achieved that, an article in any magazine or newspaper is a good idea.
Interviews. The trends have changed. The responsibility of a company's spokesman in giving the interviews is now the CEO's duty. As the CEO's speech inspires more trust to the company. So, be ready to it.
By the way, it is a good idea to implement a blog containing news, interviews, videos, and other content related to your company. The page for the press with detailed crowdfunding project's statistics also takes place. You just need to think through it's structure and give your developers some time.
Be social. An empty twitter feed is worse than no twitter at all. Users want to follow your news on their favorite social networks. So, give them such an opportunity. Also, the startup sharing feature would be a great addition on your way to socialization. This way, users can not only discuss a startup with friends but also provide you with some so-called passive advertisement.
Advertisement. You can announce yourself not only from time to time appearing in the social feed but also with the help of an advertisement. Conduct a cross-promotion or a separate promotion campaign. Organize email newsletters. But do not spam, make it really interesting for your users.
How to build a crowdfunding website?
At Cleveroad we already have one crowdfunding project behind and it is called CrowdGiv.
Platform: Web
Development time: 7 months
Technology in use: AngularJS, Node.js
It was designed exclusively for nonprofit organizations. Every campaign is assigned to certain charitable institutions that get money directly from the bidders. Campaigns may contain text description, uploaded video, and pictures. Besides, they are split into two groups: Individual and Team. An individual campaign is a standard crowdfunding while the team campaigns allow their creators to invite friends via emails in order to speed up funding. Also, you can share your crowdfunding campaign on different social networks including Facebook, Twitter, and Google Plus.
Talking about development, the project took us in total about 1,500 hours of development. For this time we have built a payment system by means of PayPal and ProPay as well as took care of security. Thus, the website was SSL certified providing the secure connection with a server.
Concerning basic information about the project, we can say that front-end was written by means of AngularJS while back-end was built using Node.js.
The admin panel of this website was implemented on basis of Inspinia template. This panel allows the main admin to see all registered campaign, delete them if necessary, and also to see the donated amount of money. Besides, admin is able to create partner campaigns that are called Partner Fundraiser.
CrowdGiv crowdfunding platform
Let's draw a line
The title of this article is not accidental. Crowdfunding is exactly that kind of businesses making everybody happy. The consumers are satisfied with the new products, as well as the entrepreneurs being happy with the realization of their ideas.
However, the way to success in this business is not a piece of cake. You need to think through all the details, to analyze the market, and finally to find a team which is ready to implement your ideas.
Being experienced in crowdfunding website development - we are ready to build your own ideas. You can contact us anytime.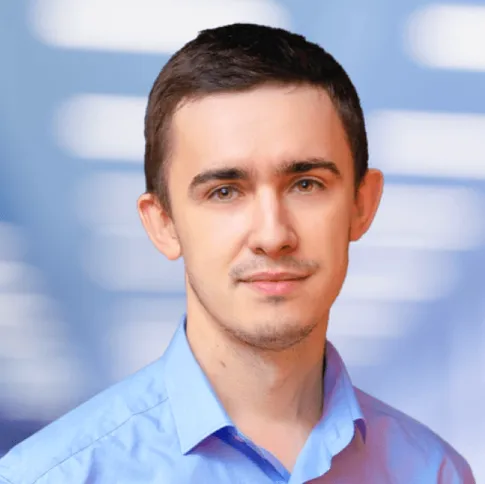 About author
Evgeniy Altynpara is a CTO and member of the Forbes Councils' community of tech professionals. He is an expert in software development and technological entrepreneurship and has 10+years of experience in digital transformation consulting in Healthcare, FinTech, Supply Chain and Logistics
Rate this article!
2618 ratings, average: 4.64 out of 5
Give us your impressions about this article
Give us your impressions about this article