How To Pick the Right Name and Write a Perfect App Description
Developing a great app is only half the battle. To benefit from it, you should spark the interest of users to your product. The mere fact that it's really cool and non-trivial does not guarantee success. The shelves of app stores are so stuffed with all kinds of apps that you will have to make efforts not to get lost in the crowd. What exactly can you do for it?
I bet you've heard something about ASO (App Store Optimization) - a package of measures aimed to boost the rating of your creation in an app store. In recent years, it has grown into a separate branch of marketing science with it's theoretical basis and practically proven methods. Applying them during the mobile app development, you can achieve impressive results.
In this article, we will focus on two aspects of ASO strategy - app title and description. Based on our many years of experience, we have formulated a few principles for their effective invention.
How to Create an App Title and Description
Why you need to name your app carefully
A recent Google research shows that more than a half of apps are discovered by users when browsing app stores or using search engines. The Mobiledevhq report says the majority of users download a new app every week or more.
The ways of discovering new apps
The frequency of downloading new apps
These pieces of data point to a simple truth: it's vital to deliver thoughtful mobile application development services to make your client's app noticeable for the users. How can you achieve that? First of all, it is necessary to choose a memorable name and provide an informative description.
How to set an effective app name
Fresh thinking and creativity play an important role in the process of choosing an app name. Nevertheless, they are not the only methods that you should use. Below, I have listed a few tips that will help you in this matter.
Make it stylish and brandable
It is necessary that your app name sounds like a brand but not like an ordinary phrase. Mere words do not trigger any associations and are quickly forgotten. For this reason, I do not recommend using any figures or special characters in the title since they put your app far away from a brandable tone and sound strange.
Just imagine that you sell dresses and decide to make a compatible eCommerce app. Do you think "Dress-shop" or "Number1Dress" craft a brandable image? I doubt that. Such titles are like a gray blur that are hard to remember and hard to say.
To stick in users' memory, you need something unique and classy. Not too cheesy but not too extraordinary at the same time. In my opinion, "DressLab" or "DressLink" are good examples. They are insightful, neat, and brand oriented. They get the idea of your app across to customers and don't look mean.
Make it easy to pronounce
At this stage, you might come up with a question: "Why pronunciation is so important if the users type but not spell a title when searching for the app?".
The answer is determined by the concept of "processing fluency." In general, it studies how quickly a person absorbs the information. In marketing, it is often applied to generate the names and titles in different business areas.
For example, the stock market studies proved that the shares are quoted better if their names are more pronounceable (compare KAG and KGH). That is why you should avoid things like "RevolutionaryDresses" and adhere to the less tongue twisted titles.
Make it short enough
Even though Apple App Store allows titles with the length of up to 50 characters and Google Play of 30, I recommended applying much shorter names.
If you look at the top-rated apps in the App Store, you will see that the average length of their titles does not exceed 26 characters and five words.
Title length of the top apps in the App Store
You may also notice that the majority of apps have a one-word title. Only some of them have names with two words or more.
Why so? Well, there is a simple explanation: the short titles are easy to say, easy to remember, and easy to search. Moreover, they won't be cut on the user's screen. The old saying goes, "Brevity is the soul of wit." I can't argue with that and advise on using reasonably small titles that won't slip out of mind quickly.
Getting back to our example, if you want the word "dress" to appear in the app title, you might think of such alternatives as "iDress" or "eDress."
Tend to unicity
Here is what you get when you search apps by the word "crazy" (I've picked up this word randomly) in Google Play.
The number of applications on the "crazy" word request
Hundreds of results. The same picture appears for the majority of words that are often used in titles. Not to join the ranks of numerous crazy-like apps, think of uncommon words and word combinations or even invent a new word using the approaches below:
Complex word. Compose it by joining two nouns or a noun and a verb. Make sure that they sound smoothly together. Examples: Facebook, Foursquare, GetAround.
Blend word. Create it by contracting two words' stems and joining their standard letters. This approach requires more creativity. However, the result may surpass all expectations. Examples: Pinterest, Funimation, Codecademy. Tools: WerdMerge, Invent-a-Word
Affixation. You can use it for creating new words by adding suffixes and prefixes to the stem of the word. The most common affixes are -on, -all, -in, ify-, ly-, ism-, etc. Examples: Spotify, onSwipe, bitly. Tools: Wordoid, NameVine
Backward word. Turn the actual name in the reversed direction to get a unique spelling. Avoid vague sounding words. Examples: Xobni, Aneres. Tools: SpellBackwards
New invention. If none of the methods above are good enough, you can pfaff around with an entirely new word. Use your imagination and make sure that your creation sounds natural. Examples: Yipit, Odeo.
Use keywords when necessary
I cannot argue with the fact that using keywords delivers benefits. However, when you create a display name, you do not need to consider this factor as a priority.
Note that display name and app title are not the same. The first appears under the app icon on users' devices. This is the name by which people know your application. The second is an official title placed on the landing page of the app store. It is usually much longer than the display name and aims to provide more information about the app.
And now let's cut to the chase: the screen name does not contribute to the ranking of keywords, but the official app title does.
It means the following: there is no need to include keywords in a short title (the display name), but there is a great virtue from using them in a long title (the official app name).
At this point, don't get me wrong. If you have a cool keyword that perfectly matches your app's name, there are no reasons for not taking it. However, struggling to turn the highly ranked but foolish keywords into the app's title is utterly useless.
Below, I have provided a few examples of well-known apps that have long keywords-oriented titles and short but catchy display names.
App titles and display names of popular apps
Make it intuitive
For new apps that join the market of mobile development, it is crucial to have a highly informative title. Such titles provide your customers with the opportunity to understand your app's nature.
In a perfect world, you should pick up the proper name at once and don't ever change it in future. In practice, there are many cases of altering the title that led to an absolute improvement in users' engagement.
Remember famous Uber that was introduced as UberCab at the dawn of it's activity. It's first title may be interpreted as "super taxi." It has an unambiguous clarity and directly tells users about the focus area of the app. With time, the name was shortened to just Uber and currently it's a world-known service of car booking.
The above implies that it's OK to change the name once or twice during the whole life cycle of the app. However, frequent updates may count against the good reputation of your application and point to your incompetence.
Don't repeat somebody else's title
The problem is not that you may appear unoriginal but that you may face a serious problem dealing with copyright laws. Note that you should consider not only app names but any trademarks already registered in a relevant database.
These services will help you conduct the initial search and find out whether a particular name is available:
Global Brand Database enables the search of the trademarks worldwide.
Trademark Electronic Search System provides the list of trademarks registered in the USA.
EU IPO Search deals with the trademarks of the European Union.
Japan Trademark Search allows checking your title in the trademarks database of Japan.
IP Australia - opens access to Australian catalogues.
Anyhow, if you have any vestige of doubt as for the chosen title, it is strongly recommended to consult an expert before naming your app.
The ingredients of a perfect app title
How to make a useful app description
App descriptions appear on the device's screen along with the title when users search for the app. Unlike the name, it has greater opportunities to introduce your product to the customers as the number of it's characters is not that limited.
If you ever heard of an elevator pitch, you can identify the app's description with that technique. It consists of such components as:
laconism

precision

content-richness

readability

accuracy
Before you start working on the description, try to look at your app from the point of view of the users. When writing, emphasize the following points:
Define 2-3 main options of your app

Point out to the problems that your app solves

Say what distinguishes your product from other apps

Specify the reason why users should download your app
Along with that, consider sticking to the rules below:
Pay special attention to the first three lines as only they are directly visible on the PCs' and devices' screens when users browse an app store for a specific app. To see the rest of the description they should click the "Read more" button.
Skype description in Google Play
Mention great blogs and social media posts that tell about your app. People trust them. Don't worry if such publications haven't appeared yet. They will take place if your app is any good (if no consider making some changes to improve it).
Appeal for an action at the end of your description after you have listed all the benefits of your app and told how it could serve the users. You may say something like, "Download the X app and get the best shopping experience ever!".
Promote yourself by giving some information about your company and other apps of yours. It will increase the credibility of users to your products.
Localize your description so that users from different countries and regions could read it easily. If you are not an expert of foreign languages, hire professional translators. Google Translate is not an option.
The recipe of a perfect app description
Why keywords matter and how to apply them wisely
While Apple App store is indifferent to the keywords in an app's description, Google Play, makes good use of them to build app search results. Anyhow, the Google search engine "sees" the keywords in the description of the applications that are in the App Store, that is why I suggest that you use them in any case. However, for iTunes, it would be better to pay more attention to the quality and uniqueness of the text. Nevertheless, you should not leave out keywords.
Note that importance should be placed on the quality rather than the quantity. Don't try to stuff your app with a record number of keywords. Instead, pay attention to the following factors to make a wise decision:
The relevance to your app. Think how a given a keyword relates to the content of your application. Weigh the chances of downloading your app if it's found by such keywords. For instance, imagine that you sell the food for pets. In this case, the keyword "food" might not be directly relevant to your app as a lot of users would expect to find online services for humans. At the same time, "pet food" phrase accurately describes the functionality of your app.
The best ranking. There is no reason to use the most searchable keyword if you appear on the 527th place in the search results. The users won't scroll that long. It is better to include the keyword that will push you to the top.
Search requests. You should consider the number of search requests when the two above are equivalent.
How to find the best keywords?
Such tools as MobileAction can help you calculate the probability of your app's ranking when using a specific keyword.
MobileAction shows how your app is going to rank
You can also use the following tools to select appropriate keywords for your description:
Google AdWords

App Annie

Keyword Tool

FreshKey

Appcodes

Sensor Tower
I hope the information above was helpful. For any further questions, feel free to contact our managers. Not to miss another post from the world of mobile industry, subscribe to our blog!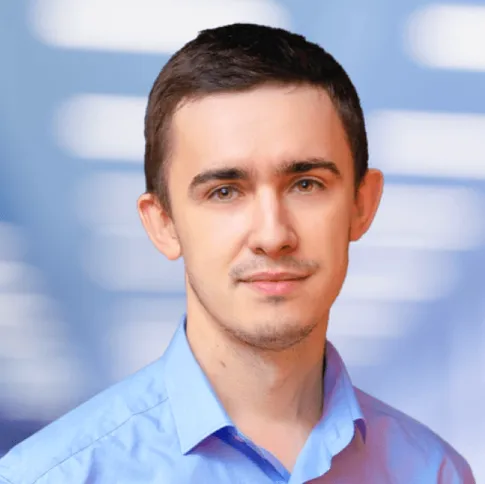 About author
Evgeniy Altynpara is a CTO and member of the Forbes Councils' community of tech professionals. He is an expert in software development and technological entrepreneurship and has 10+years of experience in digital transformation consulting in Healthcare, FinTech, Supply Chain and Logistics
Rate this article!
4361 ratings, average: 4.72 out of 5
Give us your impressions about this article
Give us your impressions about this article