How to Create a Photo Editing App Like Retrica?
Social networks are on it's development peak and the necessity to edit photos quickly and without undue efforts appear more and more often. Since people are sometimes obsessed with making their photos to look like from the magazine's pages - a photo and video editing is a good niche to jump in. In this article, we are going to consider how to create a Retrica camera app.
Retrica review: market niche
Category: Photo & Video
Platforms: iOS, Android
Downloads: over 100M
Total Equity Funding: $6M
What is Retrica app? It is worth mentioning that Retrica app is Korean startup that was launched in 2012. Retrica for iPhone was released two years earlier than for Android devices. From that time the app has gained a huge client base over Europe and America.
Jeremy Levine

Bessemer Venture Partners

Retrica organically gathered a hundred million users around the world with no advertising whatsoever, and this is very rare
Indeed, Retrica application has succeeded and still leads the list of App Store and Google Play in many countries all over the globe. Thus, Retrica takes 78th place in the US, 30th in Russia, 23th in France, 6th in Turkey, and 14th in Italy. It may seem that the places are not high but Photo & Video category has thousands of competitors.
This way, we can conclude that the app has made the stakes in the European and American markets since on the motherland in Korea it takes only the 110th position.
Probably you are wondering why the position of Retrica photo editor app on the US market is relatively low. That is because of a great competition within the niche as well as constantly changing trends (so your provider of mobile development services should know them). Here, the leading positions are still for apps with a great emphasis on social components. Thus, VSCO and Instagram are on the top due to the huge audience for which the built-in editor is enough.
Positions in Photo & Video category
So, the main competing apps like Retrica are Instagram, PicsArt Photo Studio, Facetune 2, VSCO, Pic Collage.
Retrica features that attract users
Photo editor Retrica has social components. It counts over 120 filters that could be added in a real-time mode by means of Retrica's camera without the necessity to load photos from the gallery. It is worth to single out an opportunity to create GIF images, collages, and videos.
Talking about other Retrica features, users can add to their photos numerous stickers and texts. To other features, we can refer the built-in timer, Photo Messenger that allows sharing your photos with friends directly from the app, and of course integration with such social networks as Facebook, Instagram, VK.
Retrica editing app is divided into a free version and a paid one. The main difference is that there are lots of additional filters and settings (e.g. photo retouching, brightness & contrast adjustment, fonts, stickers) in the paid version.
What features do Retrica photo app require?
Special for you, our readers, we have considered Retrica for Android and iOS from different sides in order to single out it's main features needed for MVP as well as additional features that users expect to see in the final product.
MVP or must-have features
1. Image loading
a. From gallery
b. Directly from device camera in a real-time with an opportunity to select the number of photos and proposed cell types
2. Collage loading
a. From gallery
b. Directly from device camera in a real-time with an opportunity to select the number of photos and proposed cell types
3. Registration
a. Through a social network
b. Through an email
4. Settings (quality, autosave, type of photo)
5. Photo editing features
a. Filters
b. Blur / Vignette
c. Image rotation
d. Image size (square or full screen)
e. Add stickers, text, draw on photo
6. Save photos
a. In gallery
b. Load to social networks
That were the core features needed for creation of competitive photo editing apps like Retrica. Now, let's move to additional features that will help you to gain even more audience.
Additional features for the final product
Built-in photo timer
Flash
Personal account where users may keep their photos
Opportunity to cut a part of a photo and save it as a sticker
Additional filters, effects, stickers, fonts, frames etc.
GIF images creation
Short videos creation (like in Snapchat or Boomerang)
Photo retouching (teeth whitening, remove red eyes)
Crop / Rotate / Align photos
Adjustments of brightness, contrast, exposure, saturation, focus, color
Own VSCO-like social network allowing users to share their photos
The core features of a modern photo editing app
In this list, we have presented the features aggregated from Retrica app for iPhone/Android as well as it's competitors. However, you should remember that users are fond of features they have never met in other product. So, brainstorm for a while together with your mobile app development team to get new innovative ideas.
Retrica app review: business model analysis
Andy Carvell proposes to consider the business model by means of strategic planning of mobile app growth. What factors do you need to take into account?
Channels
You have to conduct a simple research in order to find out what channels of gaining users are the most efficient. To such channels can be referred promotional emails, push notifications, social networks, advertising on different sources. For example, Retrica app for Android as well as Retrica for iOS gained popularity without advertising.
Channels of getting users
Marketing
PR and marketing are great sources to attract more traffic and increase your app's downloads. One of the most popular sources of you may promote your solution like Retrica mobile app is a social presence. You can inform users about different new features in an app or discounts by means of their favorite social network, generating some more traffic.
Dive deeper into digital marketing! Discover what Steps to Take After App's Release to Attract Even More Customers
One more important thing is App Store Optimization that includes comprehensible app's description, attractive icon, and qualitative screenshots along with a video (optional) containing some useful information about Retrica-like app.
Analytics
Analytics includes Lifetime Value model, A/B testing and much more. Everything depends on the chosen strategy and desirable goals.
Virality
Retrica software is a good example of a viral app. Moreover, it has become viral with the help of it's users who post their photo edited in Retrica on different social networks. The virality is that the app's logo is added to every photo their users have edited. This smart hack helped the company remind users about itself without any expenses.
Efficient monetization model for apps like Retrica
When choosing a monetization model it is worth to base on your app's niche. So that, we have prepared for you the list of inefficient models along with efficient ones.
Inefficient models
According to statistics, the subscription model is not the best choice for the photo editing apps like Retrica. That's because this type of monetization is generally widespread among apps in such categories as news, lifestyle, entertainment.
Users are not ready to pay the subscription for every app they use. That's why the subscription model is extremely popular among apps offering constantly updating content like Netflix, Spotify, Pandora etc.
Another inefficient type is paid monetization model. Using this kind of monetization, your solution like Retrica photo editor will barely get enough users since they are not ready to pay for an unknown product. Moreover, the competition in Photo & Video niche is extremely high and that will not be difficult for them to find another analogous app that uses freemium.
Efficient models
Free with in-app purchasing model allows your app to gain loyal customers who as a result will have a desire to pay for some additional functionality. This model is chosen by the majority of Photo apps like Retrica. However, concentrate your attention on a balance between free and paid features. Free features should not be weaker than paid ones. In another case, it may look like the restriction. That fact often provokes users to get rid of an app and move to another one.
Advertising model. This model implies the presence of targeted advertising. For instance, statistics shows that the target audience of Photo apps is women. This way, the advertising of cosmetics will not irritate and confuse most users.
Monetization models for a Retrica-like app
Pitfalls on your way
Every entrepreneur should ask yourself the following questions:
'Does my product really work?'
'Do my users understand how to use the product?'
'How can I make my product better than competitors' solutions'
Startups deal with these questions every time when creating a new idea be it a Retrica photo editor app or whatever, it is vital for them to find the answers. Even the world's most innovative product is senseless if your users have no idea how to use it and why to use it. The examples of pitfalls may serve such startups as Molome and Stipple.
Molome was launched in 2011 and closed in 2015. It was an app created to help users in taking funny photos with an opportunity to add there some stickers, text etc. The reason for closure was the impossibility to compete with such apps as Instagram and Snapchat.
Stripple was launched in 2009 and closed in 2014. The app was related to e-commerce and could identificate the content inside the images. The reason for closure served a lack of scalability.
So, to avoid such pitfalls the first thing you can do is refer to qualified professionals. That will help to decrease the number of mistakes while development of a solution like Retrica photo app. It is worth mentioning that Android app development servicewill be more effective when 3-4 developers are involved in a project, and each of them stands for a separate set of functionality.
In case you are willing to create your own photo editing app and you are seeking for a reliable partner - contact us to get your free consultation and estimation.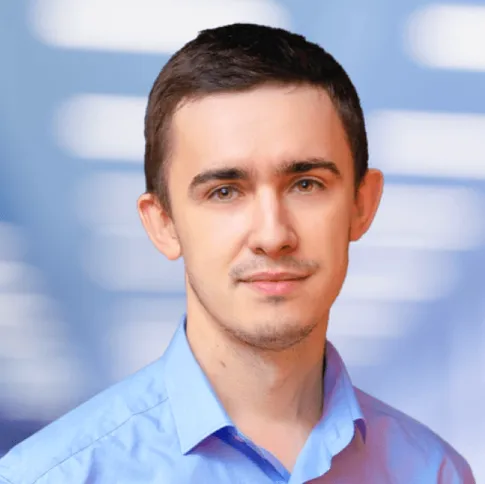 About author
Evgeniy Altynpara is a CTO and member of the Forbes Councils' community of tech professionals. He is an expert in software development and technological entrepreneurship and has 10+years of experience in digital transformation consulting in Healthcare, FinTech, Supply Chain and Logistics
Rate this article!
4087 ratings, average: 4.85 out of 5
Give us your impressions about this article
Give us your impressions about this article