4 Reasons Why Canadians Outsource Software Development to Ukraine
Technology gave the ground for an infinite number of breakthrough ideas. Someone uses it for business needs, others create apps and services changing the way we live. As the demand for IT services is high, there is a sharp question where to find competent developers. For example, entrepreneurs from Canada prefer to outsource software development to Ukraine and some other countries.
Why choose Ukraine for IT outsourcing?
First and foremost, it's good value for money. IT industry in Ukraine is developing extremely fast. This means companies can offer it's customers a competitive pricing alongside with top-notch quality.
The evolving Ukrainian IT market didn't go unnoticed and was marked in multiple global rankings in 2017. For example, the IAOP association included 13 companies with headquarters in Ukraine to it's Global Outsourcing 100 ranking. Seven of these firms were originally founded in Ukraine.
What's more, in 2017 to this ranking joined three more companies if compared to the previous year. It's an important detail as IAOP assesses candidates by several parameters (e.g. size, growth, awards) which clearly indicate a positive dynamic of the industry development.
Another ranking called Global Innovation Index 2017 included Ukraine to top 50 countries. This way, Ukraine is ahead of such popular countries for IT outsourcing as India, the Philippines, Brazil etc.
Benefits of outsourcing to Ukraine
Entrepreneurs from Canada hire our company pretty often to build a project for them. Though the Canadian tech industry is on the rise and companies like Amazon opens there their headquarters, it has several disadvantages if compared to offshore software development in Ukraine or some other countries. Let's consider some of them.
1. Well-developed tech industry
In Ukraine, there are over 3,000 tech-intensive companies and at least 1,000 of them provide IT services for customers from all over the world. For a client, such competition on the market means an opportunity to choose from a variety of companies and find the best conditions.
Another prominent feature of tech industry in Ukraine are startups. Angel.co claims there are 1,600 Ukrainian tech startups with average evaluation in $2.5M and almost 3,000 of investors. As for Canada, these figures are more balanced -- 600 startups with average evaluation in $5.2M and a little more than 500 investors.
Not only investors believe in the startups with Ukrainian origins but giants of the industry as well. For instance, Amazon has recently bought a startup called Ring with the R&D office in Ukraine. Another example is the Looksery startup which was originally founded in Ukraine and bought by Snapchat.
Except for these, such well-known companies as Grammarly, Petcube, People.ai, CleanMyMac are also originated in Ukraine and used by customers from all over the world.
2. Wide talent pool
Currently, Ukraine takes the fourth place in the world among the countries with the biggest number of tech workers. There are over 90K of IT specialists, 50K of which are software developers. In addition, Ukraine generates more than 38K of tech graduates every year.
In general, 79% of people in Ukraine obtained higher education, while 57% of tech specialists have STEM degree. According to estimations, the number of web and mobile developers in Ukraine will exceed 200K by 2020.
Except for the number of tech specialists, the developer community in Ukraine is also very active. There are dozens of big conferences, meetups, and forums with thousands of visitors as well as speakers from different countries. Here are several of dozens popular events:
Outsource People;
iForum;
IT Arena;
etc.
Furthermore, there are a variety of educational initiatives encouraging both students and experienced specialists to learn new technology like AI or Data Science. So, Ukrainian developers keep pace with the times.
Another important skill for any developer is English language. 80% of tech workers have an intermediate level or higher. So, you won't face any language barriers if decided to outsource software development to Ukraine.
Software outsourcing to Ukraine: English level of developers in Ukraine
At the same time, Canada experiences some troubles with qualified workforce in the tech sector. According to the studies, at least 182K of IT jobs will be available in the country by 2019 and 32K more by 2020. However, only 126,000 students are enrolled in programs allowing to get a job in IT after they graduate.
For instance, in 2015 there were only 12,800 graduates from entire Canada with the degree allowing them to work in the information technology or related fields.
3. Best value for money
One of the main reasons why entrepreneurs from different parts of the world outsource mobile app development and other IT services to Ukraine is the price-quality ratio.
As it was mentioned, there is a large talent pool in Ukraine and the country takes the 1st place by the number of talents in Central and Eastern Europe. What's more, the talent pool grew on 27% in 2017 and this growth won't stop in 2018 either.
Of course, the education alone can't ensure each graduate will be writing a code like a genius. Experience also matters. According to statistics, about 56% of IT specialists have from 3 up to 10 years of working experience.
Ukrainian tech specialists by experience of work
Another point is the price. Compared to such popular outsourcing destinations in Europe as Poland or Belarus, Ukraine can offer more competitive rates and a larger number of talents. The average hourly rate of software development in Ukraine ranges between $25-40. While the average monthly salary is $2,500-4,000.
It's hard to find a country with similar price on IT services and high level of professionals at the same time. For instance, in Canada or the US software development services will cost you from $50/h to $250/h on average.
IT outsourcing map: Price rates by region
4. Cultural reality
If you choose Ukraine as the country for software development outsourcing or hire dedicated development team based there - you won't face any cultural gaps.
In other words, Ukrainian IT companies are customer-driven, while employees strive to be deeply involved in the project they work on to not just get the task done but solve your business problem.
R&D centers in Ukraine
Ukraine attractive not only for software outsourcing but opening R&D centers and headquarters as well. The world-known quickly understood that and started opening R&D centers in here. Underneath, you can see several of them.
Companies that opened R&D centers in Ukraine
There are two main reasons why these companies decided to open up R&D centers in Ukraine: value for money and large talent pool. The fact such giants of industry rely on Ukrainian developers inspires trust by itself, isn't it?
Let's wrap it up. Underneath you can see the key figures of Ukrainian outsourcing.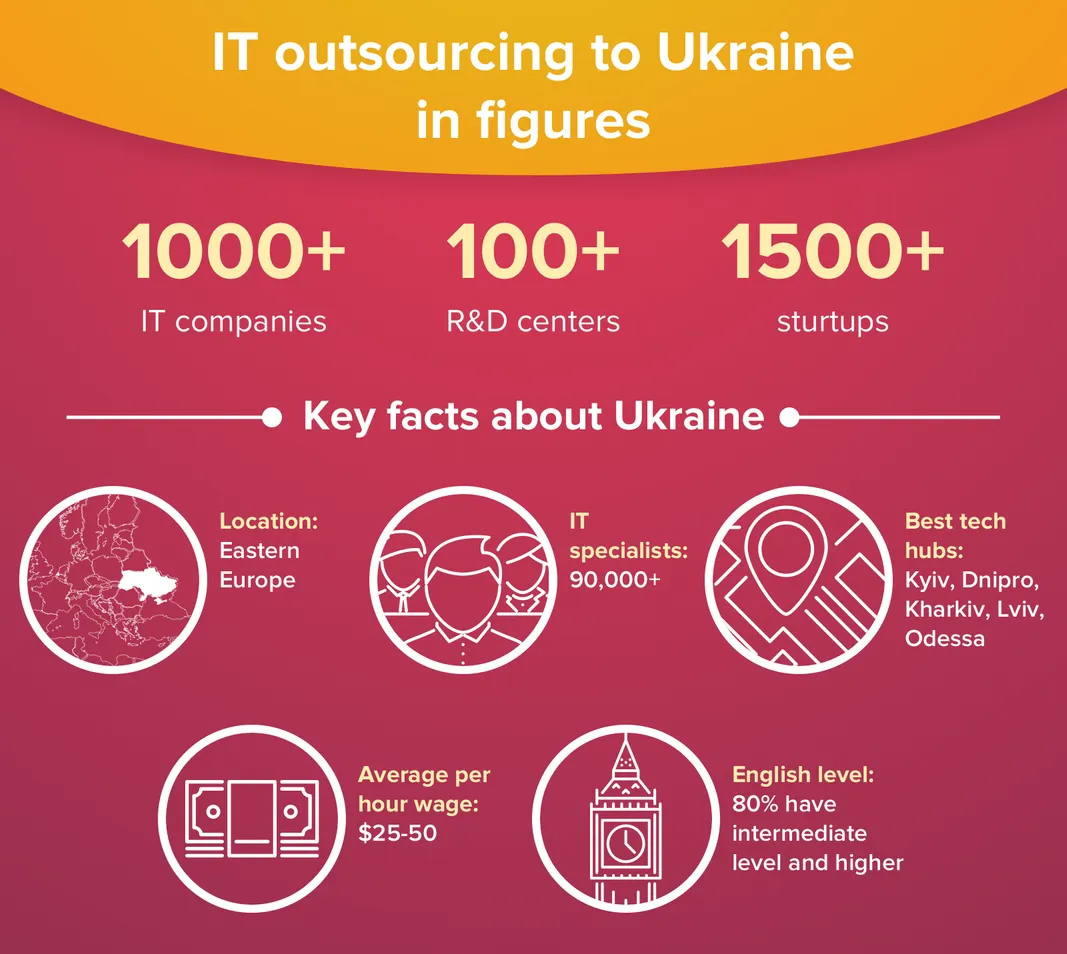 Looking for a reliable company to outsource software development? Contact our tech-savvy managers and they'll tell you about all the details of cooperating with Cleveroad.
Subscribe to our newsletters! No spam, we promise. Just one letter a week with the latest videos and blog posts from our team.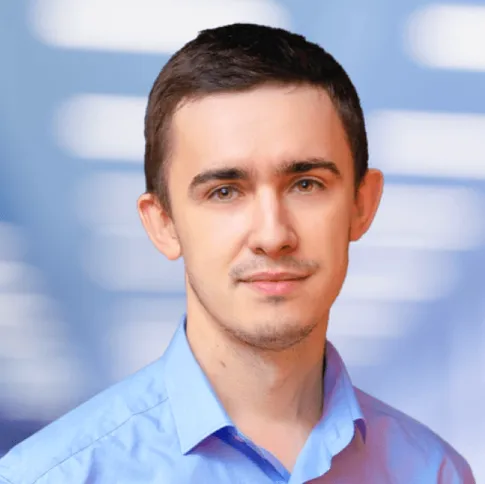 About author
Evgeniy Altynpara is a CTO and member of the Forbes Councils' community of tech professionals. He is an expert in software development and technological entrepreneurship and has 10+years of experience in digital transformation consulting in Healthcare, FinTech, Supply Chain and Logistics
Rate this article!
1777 ratings, average: 4.59 out of 5
Give us your impressions about this article
Give us your impressions about this article