How Much Does It Cost to Build an E-Commerce Website?
What's the average cost of e-commerce website? It's hard to tell as too many factors influence the price: features, design, integrations. Especially if you're going for custom development, not some ready-made templates.
That's why we've made a guide explaining how to estimate an e-commerce website cost, what influences it, and what are the MVP features for this type of sites. Here's what we'll review:
And I'm going to start with the most interesting part – average e-commerce website cost.
Average Cost of E-Commerce Website
In short, a custom e-commerce website may cost from $26,400 to $99,700 and up. That's true for websites developed from scratch, not built with some ready-made templates (which may work well but for short-term needs).
Why not use an out-of-box template? Custom site will load faster, be more user-friendly and hence SEO-friendly. And will have a unique UI design which lowers the chance of someone using the same template.
What's even more important, out-of-box solutions may not be as secure as you want your website to be. Especially when you're dealing with customers' personal and payment details.
Alright, we've worked this part out. Now, let's why to figure out where an e-commerce website cost comes from.
To make it even more clear, I suggest splitting e-commerce websites by their complexity, from simple sites to more complex platforms.
Large e-commerce sites have to be well-architected to cope with high loads and rank well on search engines. This (and many other points like unique design) is what makes e-commerce site cost go up.
By the way, the teck stack also changes from project to project – a simple website may not need push notifications or coupons, but it's hard to imagine a large-size platform that doesn't have these features.
E-Commerce Website Cost and What Affects It
To keep it short, there are a few major cost-drivers:
Number of features and their complexity
Complexity of website design
Number of 3rd party integrations
Developers and their location
Let's discuss each of them.
Features: Number and Complexity
It's pretty easy: as your website grows, so do tech requirements. And the cost to make an e-commerce website.
Screens, buttons, fields, logic – when it comes to pricing, all these matter a lot. Besides, devs often need to use third-party APIs (e.g. to integrate payment systems or social login) or code from scratch.
Development cost here and below is estimated at $50/h (rates in Ukraine, Eastern Europe)
I'm going to calculate e-commerce development cost by features in the next part of the article. But here's a list of pages our clients often ask about:
Main page
Shopping cart
Favorites
Check out
Blog
Category pages
Product pages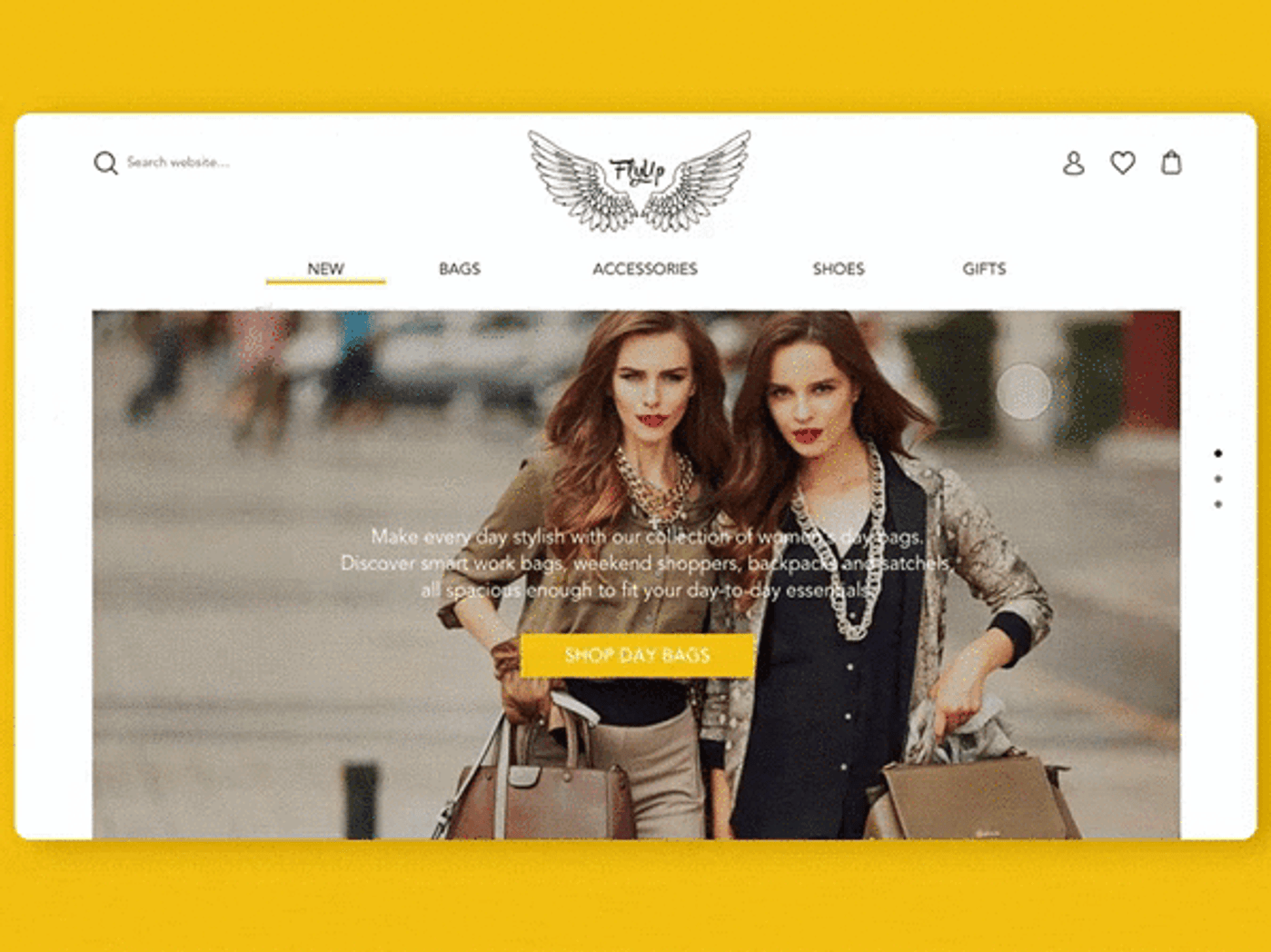 E-commerce website main page by Cleveroad (Source: Dribble)
And the features:
Integration with payment systems (Stripe, PayPal)
Push notifications
Recently viewed products
Products' rates and reviews
Search bar with filters
Admin panel
Custom Website Design
Same with e-commerce website design cost: the more sophisticated the design is, the more time it takes.
After all, design isn't all about pretty looks but also about making the select-buy process simple, fast, and clear for customers. Or even encouraging them to buy some products.
Besides, if you want to include some animations or have a choice between 2-3 visual concepts (designers need time to get them ready), be ready to face a higher e-commerce site cost.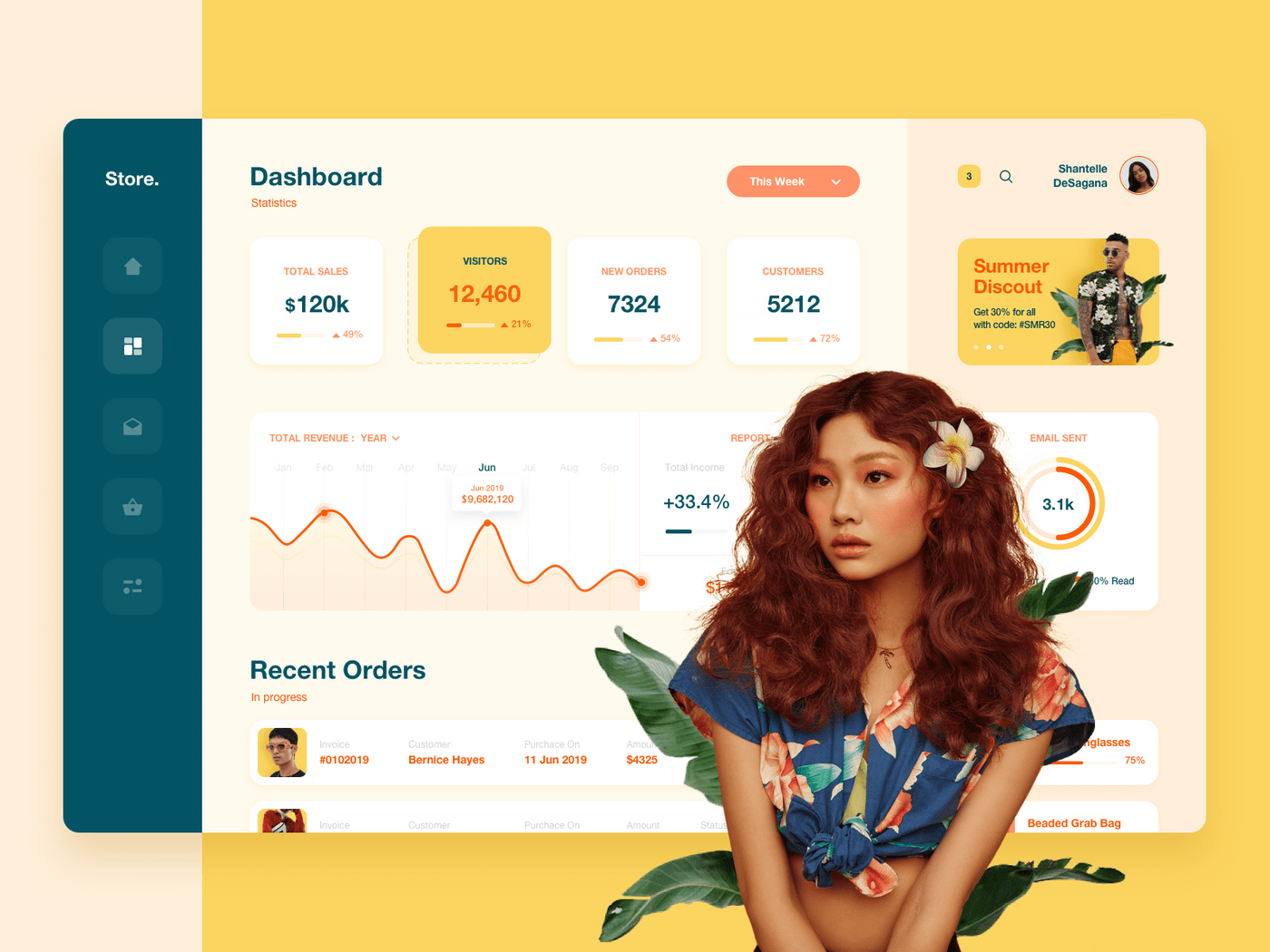 E-commerce dashboard design by Cleveroad (Source: Dribble)
One more thing: you may want your website look good on mobile devices. There's a good reason for that: in 2021, 72.9% of all purchases will be done from smarthphones.
That's why you may want to add adaptive web design to the list of web development services. It makes web pages render well on different devices, including smartphones (so you won't need to build native iOS and Android apps for mobile users).
Number of 3rd Party Integrations
If you plan to integrate third-party tools to handle payments, add a live chat or customize shipping options, be ready to face a higher e-commerce website making cost.
Let's start with must-have payment integrations – Stripe and PayPal.
Stripe takes 2.9% + 30¢ per successful card charge. Same with PayPal, but they also charge 5% + .05¢ for payments under $10.
Want a robot to call or SMS your customers? Or send them messages in WhatsApp? Twilio APIs, programmable voice or SMS is quite a good option.
Let's see Twilio starting prices:
$0.0042 to send a WhatsApp message
$0.0075 to send or receive an SMS
$0.0085/min to receive and $0.013/min to make a call
Again, devs need time to integrate it (not much though).
Last example, emails. You'll surely need them if you're going to infom customers about their orders being collected or shipped.
I'm suggesting we use Amazon email sending service (Amazon SES). They charge $0 for the first 62,000 emails you send each month, and $0.10 for every 1,000 emails you send after that.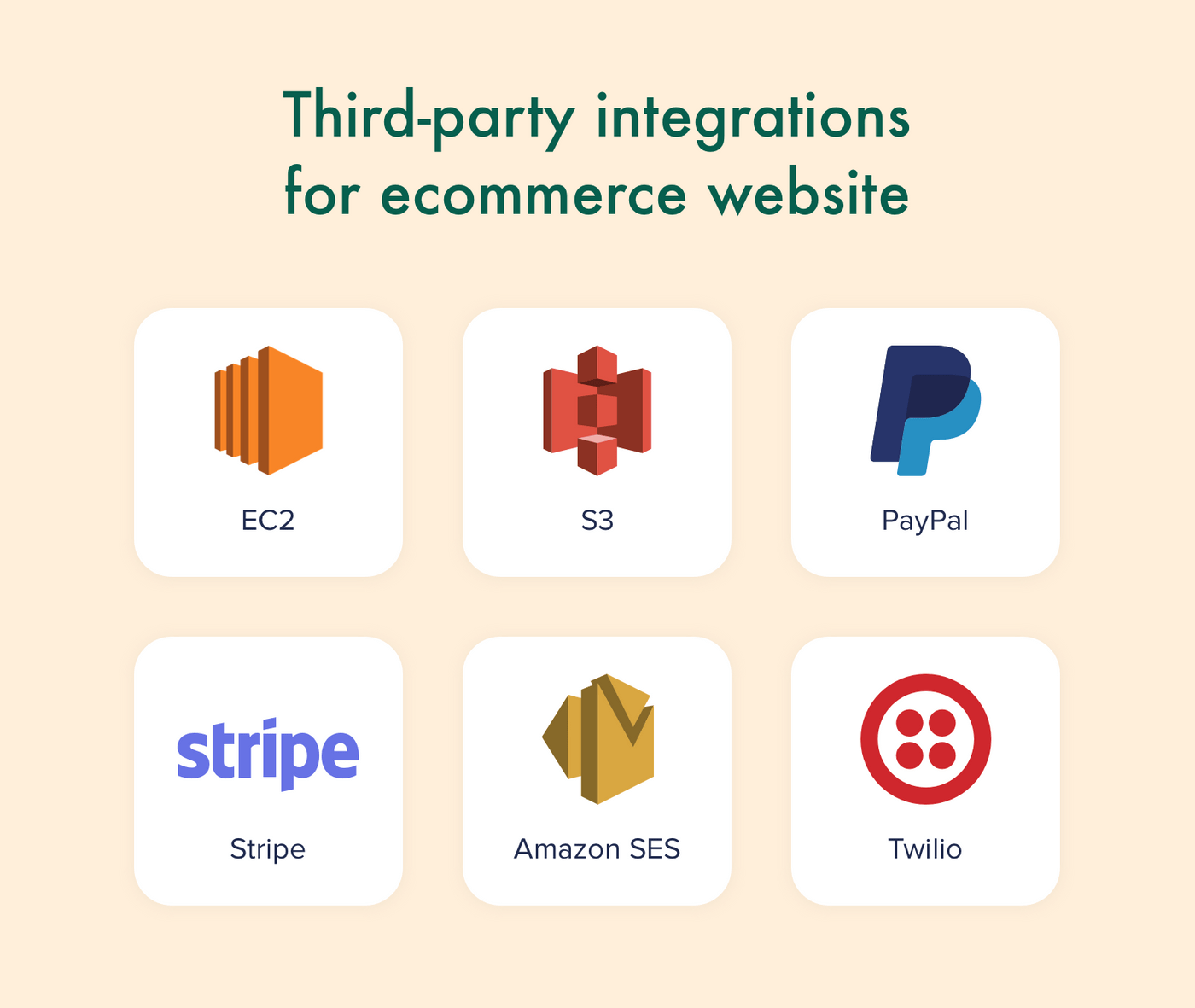 E-commerce site development cost: 3-rd party services
Developers and Their Location
Software development services in Eastern Europe cost less then in United States, Canada or Western Europe.
Here are the hourly rates in world's biggest tech hubs.
Cost to build e-commerce website in different countries

| Country | Cost per hour, $ |
| --- | --- |
| Canada | $100 - $149 |
| United States | $100 - $149 |
| Israel | $100 - $149 |
| Australia | $100 - $149 |
| Sweden | $100 - $149 |
| UK | $50 - $99 |
| Germany | $50 - $99 |
| Norway | $50 - $99 |
| Switzerland | $50 - $99 |
| Latin America | $30-50 |
| Ukraine | $25-50 |
Yet big price doesn't necessarily mean big quality, and it may not matter from which country your devs are from – United States, UK, or Ukraine.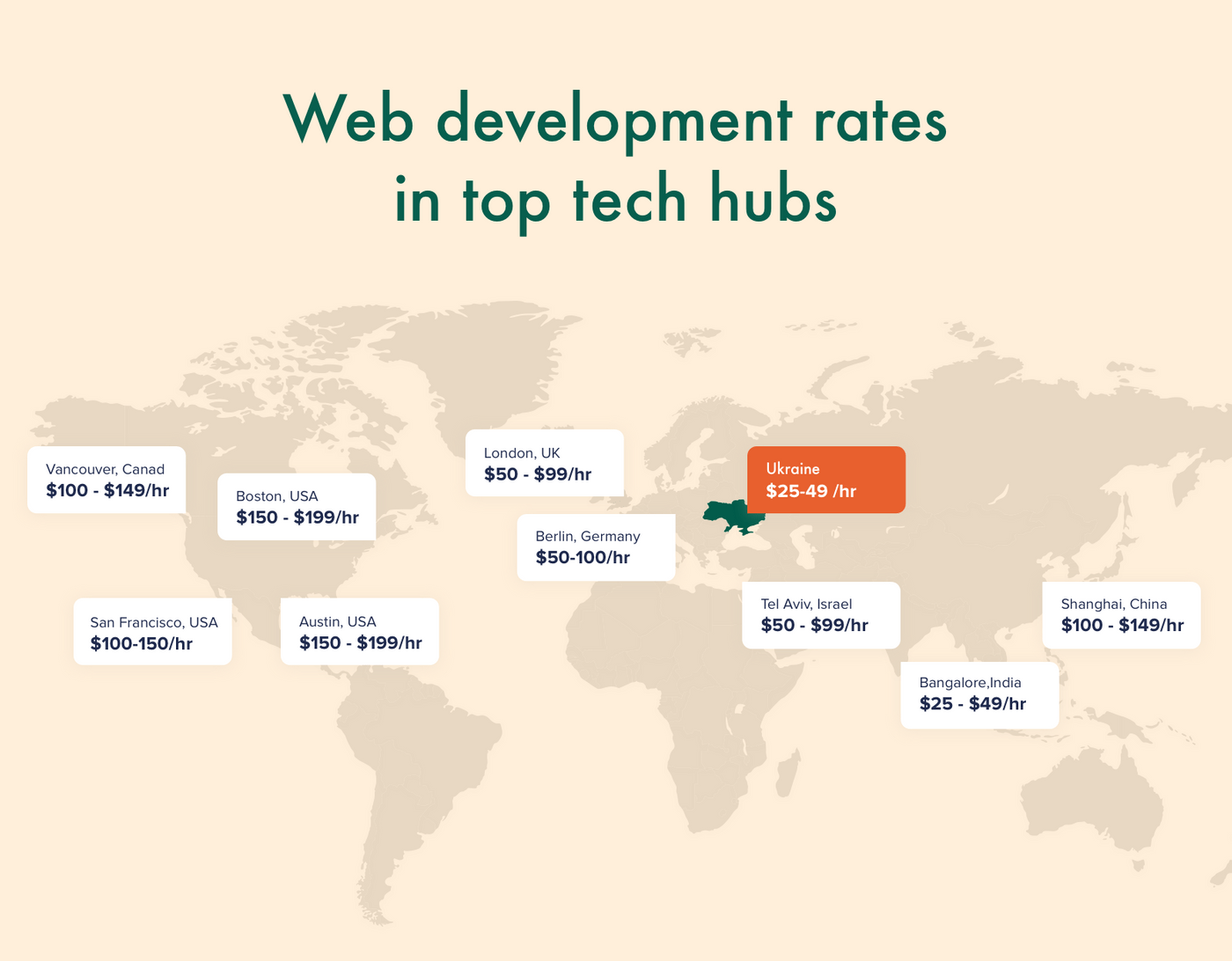 E-commerce website development cost in biggest tech hubs
But that's not all. I've mentioned the main factors of e-commerce site cost, but there surely are additional expenses:
Domain name ($10 to $20/annualy)
Hosting ($100 to $200)
SSL certificate ($6 to $150)
Maintenance ($500 to $12,000)
Finally, if nobody knows about your website — it doesn't exist. That's why I would add marketing expenses to the list:
Pay-per-click advertising (the cost depends on how demanded keywords are)
Search engine optimization (SEO) ($300 to $1,500 monthly on average)
Copywriting (from $50 per article)
Social media marketing (SMM) (from $400 per month)
That's it. Now, I suggest moving to the most important part – and the biggest e-commerce website cost driver – features.
E-Commerce Website Cost: Estimate by Features
Your websites' content, design, and domain name surely matter. However, features that you're planning to implement for the website will take up most of the budget.
How much to build an e-commerce website? Let's see what development modules are there.
Cost to create an e-commerce website (development only)

Module
General features
Approx time (hours)

Registration

Register using email and password
Login using social media
Forgot password
Logout

56

Main screen

Watched products
Last purchased products
Popular products

96

Catalog screen

24

Product details screen

Photo slider
Rate
Add review

64

Cart

List of products
Checkout

112

Profile

Edit profile
Orders
Payment screen

64

Help screen

Terms and conditions
About company
Feedback form

32

Push notifications

16

Analytics integration

Google Analytics (or another per request)

16

Total development time

480 hours
All e-commerce projects require a thoughtful admin panel for managing items, users, and giving different access levels to employees. Keep that in mind to accurately calculate e-commerce website development costs.
Admin panel development cost

Module
General features
Approx time (hours)

Authorization

8

User management

List of users
User details
Create user
Search user

120

Item management

List of items
Create item
Delete, edit, search items

104

Requests

List of requests
Details screen
Change request status

72

Export products

From Shopify or other places per request

80

Payment management

40

Voucher management

32

Total development time

456 hours
In the tables above you can see an approximate development time by modules telling that developers will spend about 936 hours in total to implement those modules. Dividing that time into smaller parts (called sprints), we'll get about six development iterations. Keep in mind that software developers aren't the only specialists you need on a team to build such a complex product.
Here's the full team composition you'll need:
Front-end developer (2X) - all sprints
Back-end developer (2X) - all sprints
UI/UX designer - sprint 1-5
Business Analyst - sprint 1-5
Project Manager - all sprints
QA engineer - all sprints
DevOps engineer - all sprints
Team lead - all sprints
Given that team composition and the amount of work, it'll cost you approximately $99,700 to build the e-commerce website described in the table. As a software service provider, we can guarantee successful product delivery within a specified time frame only if all needed specialists are on the team.
The price can also change drastically depending on your requirements. If you want to save some budget, there's a team augmentation model available. Choosing it, you simply hire as many developers as you need for the project and manage them on your own. However, you bear full responsibility for the result choosing team augmentation.
Tech Stack of an E-Commerce Website
What's more, I've asked our developers to make a list of technologies they would use to build such an e-commerce website. Let's see the tech stack.
Frontend:
Angular + Angular Universal (server-side rendering engine for SEO purposes)
UI components library like Twitter Bootstrap, Angular Material, or Semantic UI
Backend:
Nodejs + TypeScript
PostgreSQL or Mysql as the main database with Sequelize as ORM
Elasticsearch as full-text search engine
Redis as cache
BullMQ as the message broker
Integrations:
Amazon Simple Storage Service (Amazon S3) as file storage
Amazon Simple Email Service (Amazon SES)
Paypal, Stripe, Adyen, etc. for payments
Firebase Cloud Messaging for notifications
Login via social media API (Facebook, Gmail, Twitter)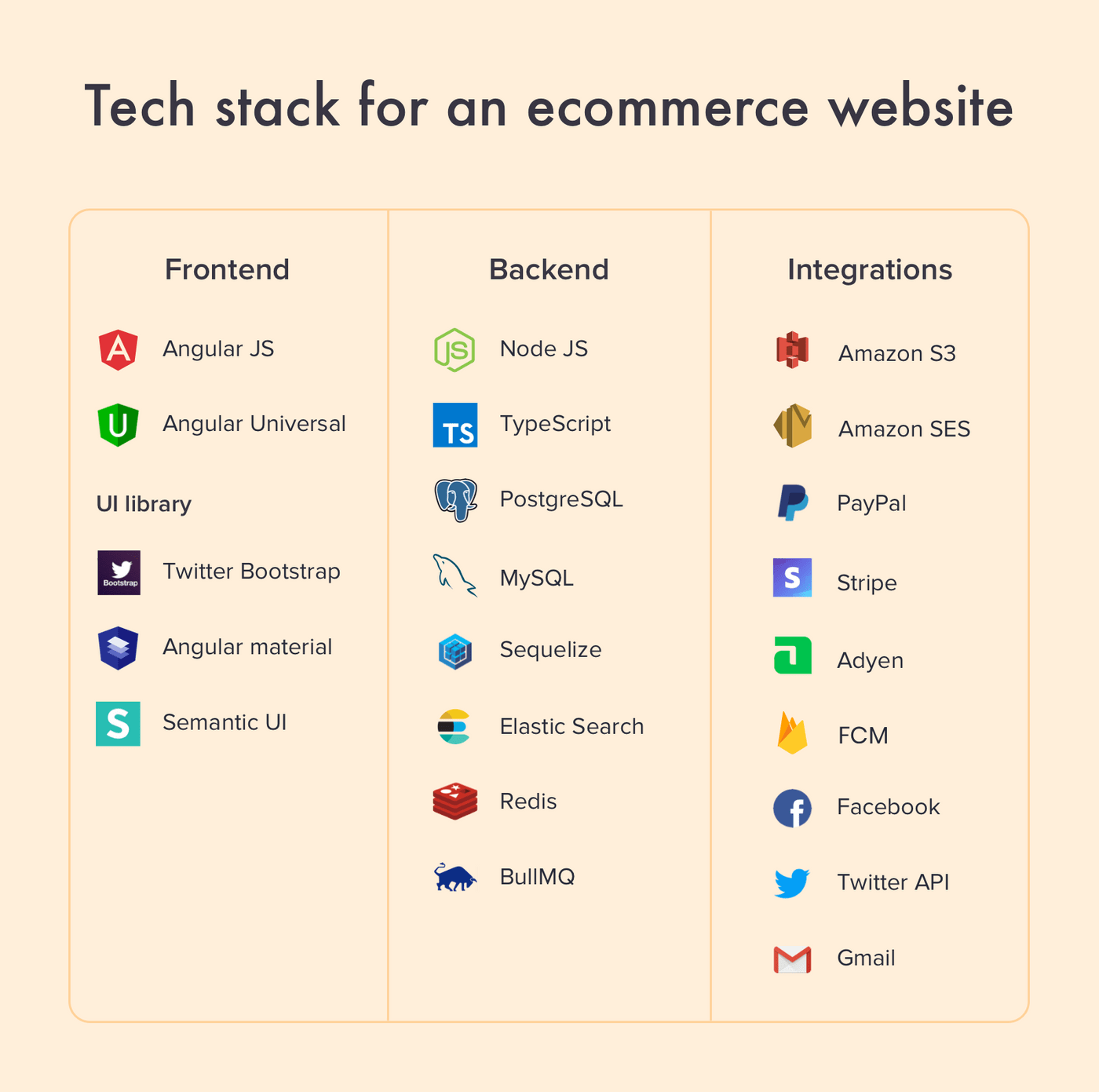 Full e-commerce website tech stack
Cleveroad Expertise
Cleveroad developers have 5+ years of experience in designing and building any-size e-commerce websites. We build secure and converting e-stores for our clients and make a heavy focus on personalized customer experience.
It's always better to see once though, so here's one of our projects.
AYIO
Meet AYIO, a P2P website that offers services in many fields – from travel to plumbing.
AYIO comes with everything an e-commerce platform needs: a complex search system with categories, payment handling (we used Stripe), tracking of income and expenses, and many more features.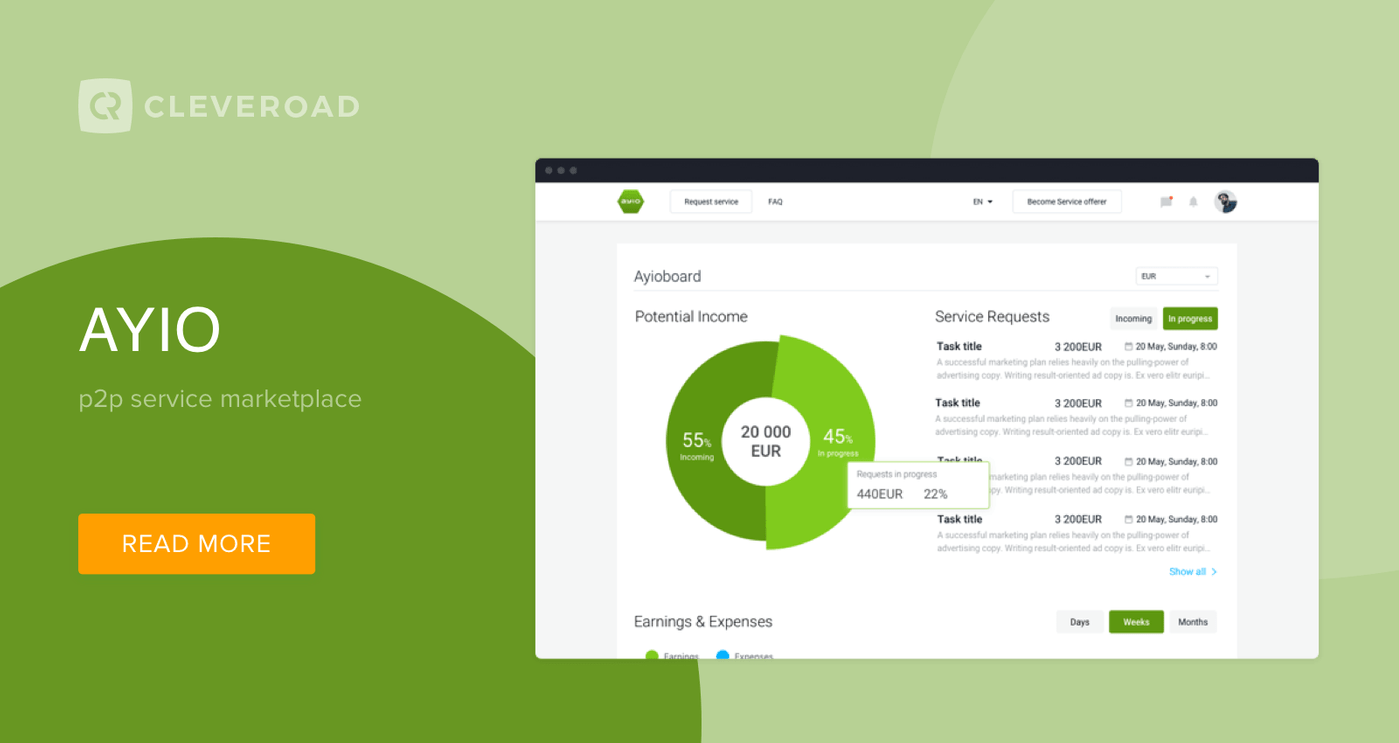 Want to see more projects like this one? Check our portfolio!
See your future e-commerce website?
We'll calculate its cost for FREE. Just contact us and desribe the idea.
Frequently Asked Questions
From $20,150 to $28,800 and up only to develop the features. The exact cost depends on how complex your website is going to be, whether you need custom UI design, 3-rd party integrations, and additional services.
It depends on how much additional services cost. They usually include:
Domain name ($10 to $20/annualy)
Hosting ($100 to $200)
SSL certificate ($6 to $150)
Website maintenance ($500 to $12,000)
A simple e-commerce website will cost $20,150+ for features and about $3,250 for custom UI/UX design. More complex functionality will cost ~$28,800.
$3,250 for simple website design. If you want to add adaptive web design for mobile devices, it'll cost 30% of the front-end part, not including the admin panel.
Must-have features: registration, user profile, main page, product pages, catalog, shopping cart, and help screen.
Additional features: wist list, analytics, social login, blog, push notifications.
There's no one-size-fits-all formula. But things like expert UI/UX design services, simple checkout, wish list, automatic emails, and a website blog may greatly help.
Rate this article!
1134 ratings, average: 4.52 out of 5
Give us your impressions about this article
Give us your impressions about this article