Blockchain and Real Estate: 7 Ways It Can Revolutionize the Industry
591 Views
|
01 Aug 2018
|
12 min
The real estate trading is undoubtedly stressful. It's getting even more nerve-consuming because real estate trading usually contains a set of vague and fragmented operations, tiresome paperwork as well as surprise tasks and money expenses.
Blockchain technology is swiftly revolutionizing many industries. If you thought of it just as 'something related to cryptocurrencies', you have to realize what blockchain is more deeply. You can watch our video below or read about blockchain benefits for various industries.
Utilizing blockchain in real estate seems like a perfect solution for solving the troubles above. Why? It's because blockchain is a decentralized digital ledger that enables to verificate and monitor transactions while the trusted external party control is not necessary. Thus, it records valid information chronologically that can't be changed or controlled externally. What's more is that blockchain in commercial real estate offers a high level of security making hacking attacks close to impossible.
Blockchain real estate startups which had already begun to utilize the benefits of blockchain in real estate started to appear more than 3 years ago. So mass acceptance of this technology is just a matter of time. And if you desire to be among these innovators, obtain tremendous profits form this brilliant business idea plus feel yourself as cool as Google or Amazon, you'd better consider software development of your blockchain real estate app.
Disturbing state of current real estate transactions
According to the Hacker Noon, 66% of Americans consider home reselling as a great way to make money. However, 71% of Americans think of property transactions as a complicated process and wish it would become simpler.
There's a pile of problems in the real estate trading process such as: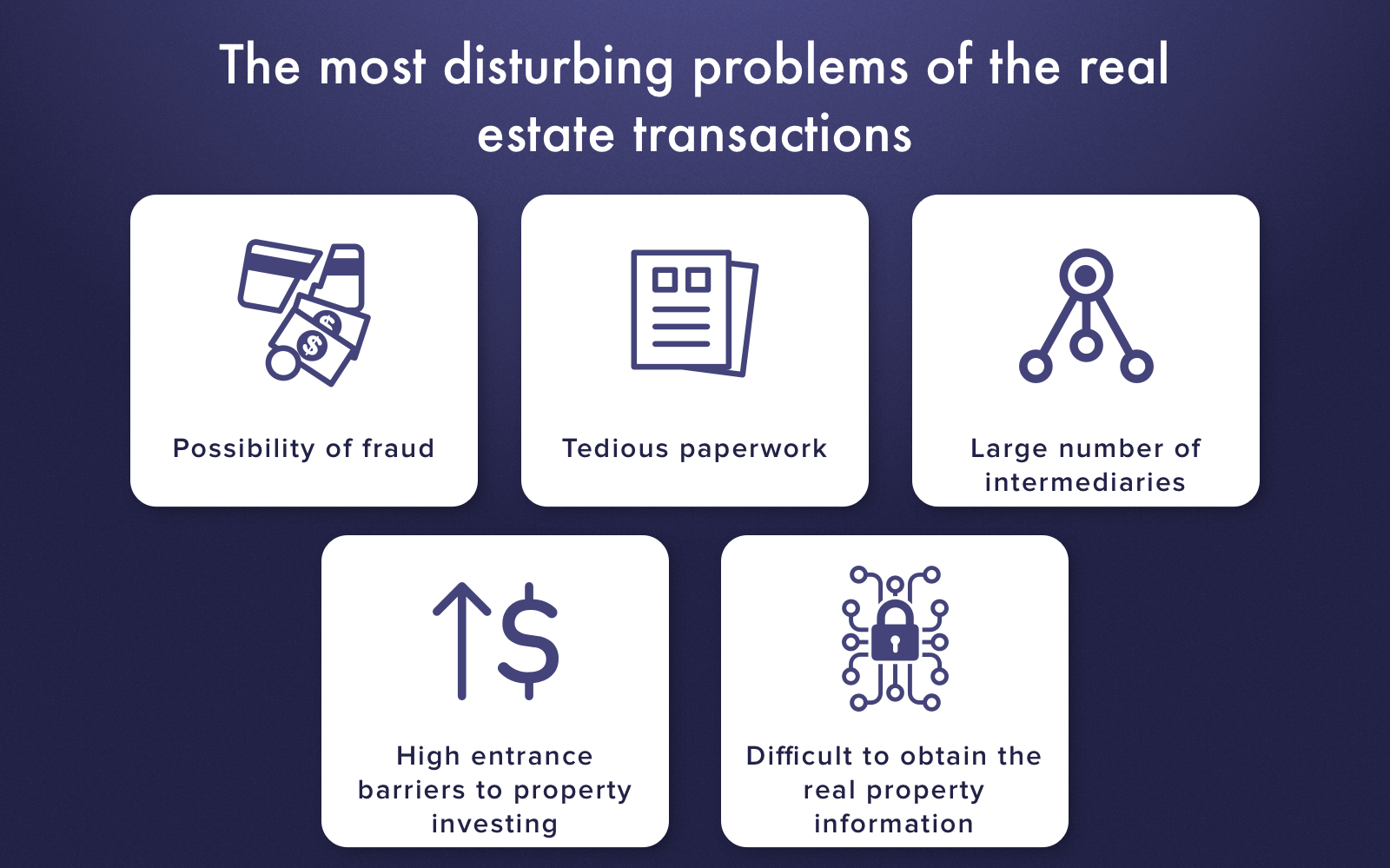 Real estate trading and investing is not for the faint-hearted
A chance to encounter a fraud
Since the ordinary property agreements are in paper form and greatly depend on the human factor, they can be easily falsified.
A high amount of paperwork
It takes your time and money, distracts you from your main goal, and may result in losing your potential buyer/seller.
High entrance limits
Considering the real estate investment field, it is closed for you unless you have large sums of money it usually requires
Numerous intermediaries
And a necessity to pay additional unwanted fees in result.
Hard to obtain realty info
It's also accessible on a paid basis while being frequently inaccurate, out of date or insufficient.
Blockchain and real estate: What advantages can it bring?
Blockchain is mainly famous as the key feature of Bitcoin. However, real estate experts have realized that by using blockchain, real estate transactions can get dramatically improved.
Utilizing blockchain technology for real estate field can efficiently solve its major problems
Nowadays every party interested in real estate trading utilizes multiple listing services (MLS) to search for necessary property info like the property ownership, rental rates, property specificities, etc. The problems with MLS is that they demand extra financial cost while the quality of data they provide is variable or insufficient. Since there's no standardized way to arrange property data, the reliability and detail of it are fully under control of the real estate brokers. Thus, the data could be imprecise, outdated or non-exhaustive.
In addition, the data which MLS offers is frequently partitioned because there are plenty of real estate associations that cover their specific area in the US, Canada, etc. Consequently, utilizing MLS tend to bring setbacks in decision-making for realty owners and renters as well as low reliability of the provided information.
Using blockchain for real estate enables realty data to be shared among a p2p network. It enables brokers to receive additional monitoring of this data as well as reduce the MLS fees as data will be in the free access. As a matter of fact, according to Deloitte's company poll, 37% of 308 executives consider cost-efficiency as one of the major advantages of blockchain usage.
Improves pre-purchase Due Diligence
Before buying or renting the desired property, a lot of time is usually spent on the due diligence activities. This step is obligatory since it allows to prevent the situations when you discover some legal, financial or technical problems after the sale is already done. Due diligence usually includes a thorough inspection of the documents including title deeds, proof of possession, the list of renters and repair cases. At present, this data is kept as papers which can be easily corrupted so it becomes vulnerable to the human factor. The problem 2 is the check-up which is performed manually. Hence, the verification demands the participation of several external specialists that make it a long and more costly process.
With the utilization of blockchain, property documents can be kept digitally in the blockchain-based platforms. The digital documents are able to contain all the required property data and easily searched anytime. Hence, blockchain allows to do all the paperwork automatically and is able to minimize the possibility of annoying paper errors as well as inaccuracies
With blockchain, intermediaries becomes unnecessary
The real estate purchasers spend 2-5% on different additional fees. The quantity of fees is tremendous as it includes expenses on property evaluation, lawyers, applications and a lot more. Besides, we didn't mention the huge time as well as energy losses required for transaction closing. The closing period has gradually raised lately and amounts to about 50 days.
Real estate field was a lucrative source of enrichment for numerous specialists like attorneys, assessment experts, realtors, etc. Thus, it's understandable why the entire amount of fees may scare off the prospective investors. Blockchain technology in real estate is capable to eliminate the need for all of those mediators. From managing a highly secure database of property records to automatically conducting every payment, blockchain can become an absolute realty mediator.
Smart contracts & real estate
Realty deeds formerly involved a number of parties in the transactions, e.g. renters, brokers, property owners, lawyers, etc. So managing all the amount of paperwork and payments became a cumbersome challenge. E.g., the renter isn't just obliged to pay a certain amount to the property owner according to the rental contract. The money trace is also exposed to thorough inspections by various financial institutions like banks and auditors. Consequently, the realty agencies spend a large sum of finances on accounting and money trace management.
Smart contracts enables real estate to finally enjoy benefits of deals automation and transparency. This process looks like this: transaction parties sign the smart rental contract. One of its conditions is that the smart contract can initiate the tenancy payments automatically and regularly to the landlord or other contract parties. When the tenancy period ends, the smart contract can evoke the payout of guarantee fee to the renter.
Therefore, the financial institutions can conduct payment as well as money trace inspection using the only undamaged source by means of the digital contract.
Blockchain in real estate transactions
Since there're a lot of steps in property trading process, the realty field offers a suitable environment for various kinds of scam. Recently, the interested party had to cooperate with title as well as escrow companies to guarantee the successful deal completion and it resulted in additional expenses.
Because of the decentralized nature of the blockchain technology, it offers the absolute transparency for its stakeholders. The required data concerning the desired property is always accessible to every purchaser or property owner or others involved. Thus, utilizing blockchain for property transactions is promising to greatly reduce the scam chance.
Thanks to blockchain real estate investments become liquid
Illiquid investments are difficult to exchange for cash fast or they lose some of their value to do it. Investments into realty are considered to be illiquid because you can't trade it in a heartbeat.
But blockchain enables real estate investments to become liquid. That's because it provides transparent records for the desired realty, secure multi-signature contracts as well as no tedious paperwork. So trading realty in a heartbeat becomes possible and more than that, it becomes reliable. Thus, blockchain technology can raise the comfort of real estate investment over other types such as equity investment.
Blockchain real estate crowdfunding is getting possible
Real estate investments were historically the prerogative of persons with high income. The blockchain real estate investments are about to change that by offering more flexibility than the ordinary real estate investments or property investment funds. It offers the investors to trade the shares of real estate using the cryptocurrencies in a convenient way and at competitive prices. Thus, investors with lower net worth receive a chance to broaden their portfolios with investments into real estate. There's also transparency of asset handling operations for cryptocurrency owners that can provide the maximum revenue e.g. by means of high tenancy rates.
Blockchain real estate startups which are turning a fantasy into reality
Let's review some practical examples how the real businesses deliver benefits of blockchain to the real estate field.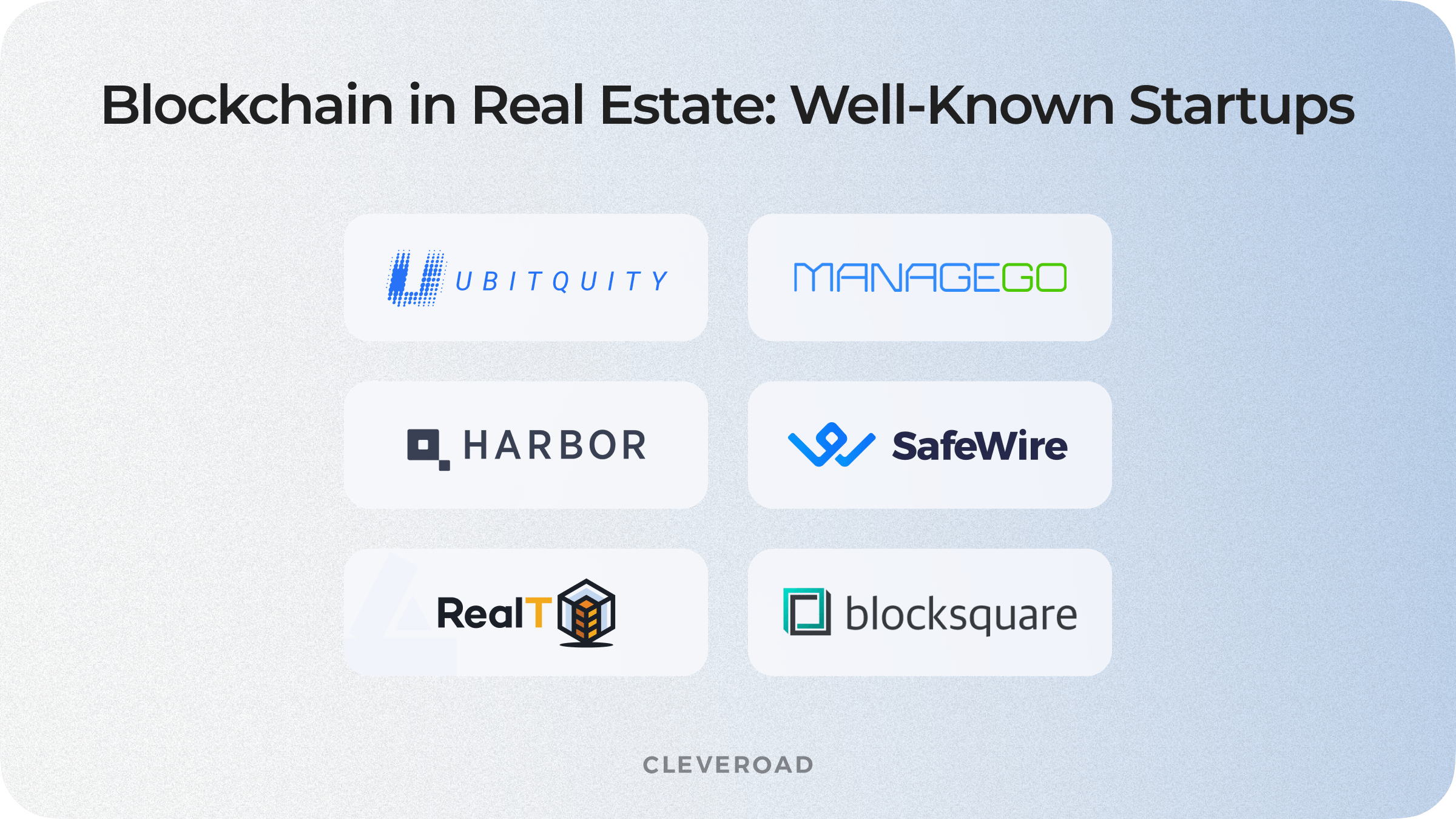 Real estate blockchain startups which don't fear to be the pioneers of the new technology
This real estate blockchain company aims turn hard to trade assets like property into the tokenized securities which comfort to Securities and Exchange Commission terms.
Here's how it goes: after a property has been legally validated, its price can be tokenized, e.g. in area measurements. It means that 1 token an cost 1 square millimeters of the realty. Thus, in place of investing a huge amount of money into a single unit of real estate, a person can invest a little bit into multiple properties.
Harbor utilizes R-Tokens as a digital version of property assets. One of the rules concerning R-Tokens is accredited investors are unable to sell them to non-accredited ones. It's an essential way of protection to eliminate possible scam transactions.
The most alluring feature of Harbor blockchain real estate platform is the capability to resell tokenized security. It's theoretically possible because R-Tokens have Ethereum's ERC20 token standard at their core. On the other hand, it's only underway as no crypto exchanges currently have judicial rights to buy/sell security tokens. The launch date of Harbor's initial security token with client software is summer 2018.
Ubitquity was founded in 2015 in the US promises to be the first international platform for a digital way of storing real estate records. Ubitquity was developed as a Software as a Service platform that allows physical persons, companies as well as inspection bodies to monitor real estate records via blockchain ledger technology. It is a transparent, indefectible and secure source of data. Ubitquity company evaluates that by making record-storing a digital automated process, up to 4 billion dollars per year can be saved.
The undeniable advantages of Ubitquity real estate blockchain platform are:
Ubitquity real estate blockchain platform benefits
No mistakes in public records
The digital automated system like blockchain doesn't make mistakes similar to humans. Ubitquity guarantees the correctness and ability to validate every document;
No unpaid checks from the former landlords
All of the landlords' history is available and transparent in the blockchain database;
No inheritance issues
The data concerning inheritors and their real estate rights shall be stored, managed and safeguarded by the blockchain system.
No falsifications
The platform eliminates the possibility of falsification because blockchain has a cryptographic protection at its core. Ubitquity also cooperates with companies from the title and financial fields that also helps in reducing falsification probability.
It is among the first real estate blockchain platforms that brings together property developers and investors throughout the world to attract investiture at initial phases of house building. The investors are able to invest little quantities and safeguard them by entering this data into the decentralized blockchain registry. The solution enables smart contracts and offers BitRent's RNTB tokens.
The BitRent platform works like this:
BitRent uses smart contracts for real estate to track the progress of property building
This real estate blockchain project resembles a digital version of a notary. Smart Law is trying to adapt juridical systems and a brand new blockchain technology. Smart Law is a great example that to succeed in the real estate business you also should develop a mobile application and not only a website. The platform along with the mobile application utilizes smart contracts and, thus, provides these significant capabilities:
Smart utilizes blockchain in real estate transactions to improve their safety
Momentary remittance
Customers are able to purchase or sell the actives instantly with no private meetings or messing around with documentation.
No need in insuring a title
Since all the required data is going to be kept using a blockchain technology.
Multiple signatures
It became available to safeguard the house owners' money using a multi-signature technology to provide extra layers of safety;
As you can see, blockchain in real estate delivers a new level of transparency, security, and simplification. The benefits of blockchain are so obvious that the real estate world has to think if it can afford to exist without it. Now it's the best time to create your own startup to gather the biggest profit until blockchain became a mainstream.
Make a first step towards creating your real estate app and contact our managers to discuss any detail of your project. Besides, the project estimation is free.
If you like this article -- subscribe to our newsletter to get more exclusive content to your e-mail. No spam, just one letter a week with the latest articles and videos from our team!
Rate this article!