How to Create a Real Estate Website That Will Succeed
Being involved in the real estate industry and not having a thoughtful website means losing a fight to competitors. Over 90% of real estate firms have websites. Therefore, it's no longer enough just to create a real estate website to win the competition.
It has to be modern, well-designed, and provide homebuyers with all the features they need to make a decision.
In this post, I'm going to guide you through peculiarities of real estate web development and give you useful real estate website tips focused on the increase of conversions.
Why Invest in Real Estate Website Creation
Being a provider of real estate website development services, we can see how our clients benefit from their websites.
I'd like to share several general arguments for developing new or improving an outdated website before proceeding with the topic.
So how can you take advantage of your own real estate website?
#1. Save Time, Get Qualified Leads
First and foremost — a good website allows potential home buyers going through the property selection funnel without having to contact you (or employees) for asking clarifying questions. Thus, less time is spent on working with clients who are rather warm. Still, you'll be able to track interest to one or another house page using analytics services.
To eliminate the lack of basic support, you may task your real estate web developers to integrate a live chat into the website (e.g. Intercom, Zendesk, ClickDesk).
As stated, 63% of millennials prefer getting basic support from live chats. Given that they account for 45% of mortgages, it's pretty hard to ignore their preferences. (Web presence by the way is obviously one of them).
So not only do you reduce time on answering questions, but get qualified leads who know what they want.
#2. Survive the Digital Era
Obviously, it's better for agents and firms to create real estate website rather than be absent on the web or have a poorly designed one. Too many potential clients hang out on the internet to pay little attention to this channel.
I've attached a table showing where buyers of different ages found the home they eventually purchased.
Where buyers found the property they purchased

| | | | | | | |
| --- | --- | --- | --- | --- | --- | --- |
| Where found | All buyers | 36 and younger | 37 to 51 | 52 to 61 | 62 to 70 | 71 to 91 |
| Internet | 51% | 56% | 50% | 47% | 37% | 23% |
| Real estate agent | 34 | 28 | 28 | 33 | 35 | 44 |
| Yard sign/open house sign | 8 | 6 | 8 | 9 | 10 | 14 |
| Friend, relative or neighbor | 4 | 5 | 4 | 5 | 8 | 10 |
| Home builder or their agent | 2 | 3 | 6 | 4 | 7 | 6 |
| Directly from sellers/Knew the sellers | 1 | 2 | 3 | 2 | 2 | 1 |
| Print newspaper advertisement | 1 | Less than 1% | Less than 1% | 1 | 1 | 2 |
As you can see, the internet dominates almost all age groups. And that's one more reason to create your own real estate website or polish the existing one. They generate awareness and help to make a decision.
#3. Get a Powerful Advertising
To keep this short, I'd like to mention the last reason. It's the advertising. The internet gives endless opportunities for reaching more clients via marketing:
Search Engine Marketing (SEM) — rank higher for relevant keywords to generate more leads.
Pay-per-click marketing (PPC) — place ads all over the internet to make more people know about you.
Content marketing — write blog posts, shot videos on real estate topics (e.g. how to choose a house), record podcasts to natively and help people solve their problems and promote your services at the same time.
Others (e.g. email marketing, affiliate marketing).
The best part is that you can spend little to no money at all. Internet marketing is suitable for any budget.
Core Real Estate Website Features
From our experience, there are several features both product owners and clients would like to see in real estate websites:
Listings and mapping
Mobile-friendly design
Thoughtful search with filters
High fidelity photos
Calculators
CRM system
Blog
Others
So to build your own real estate website that'd succeed, you should consider adding those features. The same concerns website improvements. Consider adding/modernizing those features.
Let's now take a closer look at each of them.
Listings and Mapping
It's barely possible to imagine a real estate website or platform without lots of properties for sale or rent. There are two options: you either use your own database with listings or get access to Multiple Listing Service (MLS) to gain more houses (or combine both variants). Real estate firms, online platforms, and listings brokers can provide access to their MLS.
It typically contains the following data:
Photos of a property
Description of facilities
Location
Price
Area
Once you found one or several MLSs as well as agreed on terms of use, the real estate website development company have something to work with. MLSs are typically integrated with the help of Internet Data Exchange (IDX) which allows pulling data from them.
Listing example (Source: Hillel Realty Group)
Visualization is the next point to discuss. There is no better way of showing where the property is situated than placing it on a map. Many companies actually let their clients search for houses on a city map.
Properties on a map (Source: radpad)
Properties on a map (Source: BHHS)
Mobile-Friendly Design
Real-estate website development implies you should care not only about functionality but design as well. Especially if you're looking into ways to improve an existing product.
Before jumping into mobile-friendliness, I'd like to say that the desktop design shouldn't be ignored either. An average user hangs out on a web page for 15 seconds. That's how much time you've got to draw the attention of potential clients. In other words, if a website is poorly designed, you'll be losing clients with or without responsive layouts.
Normally, web developers write responsive code only. This means the website can fit any screen size and change it's layout depending on resolutions. In case you hired a vendor to build your own real estate website, the company's business analysts may ask whether you need a responsive or adaptive layout before they start.
Why responsiveness is such a big deal? There are at least two reasons for this:
User experience. It's needless to say how many users prefer surfing the web on mobile devices over desktops. The rule is simple here: no support, fewer conversions.
SEO. Remember how we talked about marketing? Google moved to mobile-first indexing. Meaning if you intend to optimize a non-responsive website for search engines, you may still rank lower than others. Respectively, chances for conversion are lower as well.
Example of responsive real estate websites (Sources: redfin, Hillel Realty Group)
Thoughtful Search With Filters
Well, you already have lots of listings and care about clients browsing from different devices. It's time to think about search and filters — features which probably affects conversion rates most of all.
Just to compare, here are some of the filtering options provided by such real estate platforms as Rentberry, Zillow and Trulia:
Address, neighborhood, or ZIP
Listing type
Price
Number of beds/bathrooms
Home type
Year built
Square feet
How the search by filters may look like (Source: Zillow)
Not talking about neighborhood data like crime level, schools, shops and eateries around. Though it's not exactly the filter but map overlays.
Map overlays example (Source: Trulia)
Many real estate websites also offer users to save their searches to not to lose anything. This feature requires registration or entering an email. The obtained data is often used for email marketing or PPC campaigns. Respectively, not only does it make your website more useful for clients but helps you increase conversions via marketing.
High Fidelity Photos
How to design a real estate website that'll succeed? Professional photos are definitely one of the success factors. BuzzFeed has had a great post demonstrating how much real estate photos matter.
The logic is simple: the more clients like how a house on photos, the more likely they are to book a tour, contact the company or do any other interactions.
Which means conversions may also depend on how good the property looks on photos.
Example of photo arrangement (Source: radpad)
There is one small tech detail, though. High fidelity photos tend to weigh a lot. And that's bad for website loading time. In turn, low performance affects usability and rankings on search engines.
To avoid this, real estate web developers have to think over the ways how to compress images with minimal quality loss. Sometimes a simple change of image type is enough (PNG to JPEG or PNG/JPEG to SVG). In other cases, developers may need to lower the overall page weight using console utilities like jpegoptim, optipng, pngquant.
There are a variety of Graphic User Interfaces for those utilities:
Calculators
Calculators of different kinds are also great helpers in increasing conversions. They keep prospective buyers notified about the cost of a house and allow making informed decisions assisting with financial issues related to mortgage and other challenges.
Underneath, I've listed several common realty calculators:
Mortgage
Affordability
Rent vs. buy
Refinance
Debt-to-income
Example of the debt-to-income calculator (Source: Zillow)
Example of the affordability calculator (Source: Trulia)
By the way, Zillow utilizes machine learning and artificial intelligence for it's calculators to give users credible and precise data.
CRM System
Customer Relationship Management (CRM) systems are vital for most businesses. A robust real estate CRM can help you manage clients and communications way more effectively due to the automated tracking of interactions with customers.
Depending on your needs, you may want to order software development services to build CRM from scratch, customize an out-of-the-box solution (e.g. Pipedrive, Zoho, MoxiEngage) or use it without changes to save costs.
Let me list several of them:
Lead tracking
Marketing tools
Contact management
Billing
Quote template example in Zoho CRM
Dashboard example in Pipedrive CRM
Blog
If you'd like to make use of search engine marketing and share useful insights with your clients the blog is a must-have. It generates both traffic and conversions as you can write posts with target keywords.
Some topics you can write on:
Pieces of advice on buying and selling houses
Legal issues of buying and selling property
Latest news in real estate
Reviews and guide
Insights section example (Source: CityRealty)
Other Features
Those were the core features you should consider to design a real estate website. Of course, it's up to you as a product owner which ones to include to the final feature set.
Based on our experience, I can suggest several more complementary features:
Online chats
Live market analytics
Calendars
Favorites
How to Make a Real Estate Website?
To implement the functionality described before you should either hire web development team or do it on your own. The latter implies a strong building something out of ready-made solutions (e.g. templates and plugins). And this option doesn't provide for rich customization opportunities unless you can code.
So if you belong to non-technical entrepreneurs and don't want to use one-size-fits-all solutions, the best option is to hire qualified developers or software development company who'd build everything from scratch.
Basically, there are three hiring options:
Local software dev company. A good fit if you prefer live communication over online and ready to pay more depending on the country ($150/h — the US, $100/h — Central and Western Europe, $100/h — Australia).
Offshore software dev company. The best option for those who want to save costs and don't mind online communication. An hourly rate among the top offshoring destinations (e.g. Eastern Europe, Asia) ranges between $15 and $50.
In-house developers. In case you're planning to build a platform requiring constant support and updates. Be ready for administrative expenses, salaries, purchase of software and hardware.
Having decided to hire a vendor, you're likely to go through the following.
Selecting a Vendor
To select a software development company who'd create real estate website, you may use one of the industry-leading review & rating platforms:
There you can see the list of companies by countries, their hourly rates as well as read reviews from previous clients.
Mind peculiarities of doing business with companies from other countries (e.g. legal issues, making a contract, taxes, intellectual property protection). For example, I've already touched upon how to choose a tech partner in Ukraine, so you can check this short guide and learn how to find a reliable vendor there.
Starting Cooperation
Once you choose the company and discuss all the terms, the work on your product is about to begin.
That's how it usually works:
Business analysis. Company's business analysts clarify and document all requirements for the project to not to miss anything during development. This is a pretty standard process for most software development companies.
UI/UX design. After the work on documentation is finished, designers start working on wireframes. As soon as wireframes (schematic placement of elements) are approved by the client they work on a prototype (how the app will actually look like).
Development. Finally, developers start implementing crafted design and required functionality.
This is quite a simplified description of software development process. But still can give you some understanding of what this process is like.
How Much Does It Cost to Build a Real Estate Website?
The creation of a real estate website with the set of features mentioned in the article may cost between $75,000 and $105,000. It's an APPROXIMATE estimate based on $50/h (Eastern Europe, Ukraine). Depending on your needs and requirements this price can lower or increase.
How was it calculated? The math is simple: the more time developers need to implement the required functionality, the more it'll cost you. The rough estimation of our business analysts has shown the time to build the website with mentioned features may range between 1,500h and 2,100h.
As said, the price also depends on the country where the chosen development company is situated:
Eastern Europe. $75,000-$105,000 (based on $50/h)
Central and Western Europe. $150,000-$210,000 (based on $100/h)
USA. $225,000-$315,000 (based on $150/h)
Australia. $150,000-$210,000 (based on $100/h)
Again, these prices are approximate and completely depend on project requirements. A simple real estate website with fewer and not so complicated features will cost less. You may ask us to estimate the cost of your project by writing to a live chat or filling in the contact form. We do it for free!
Final Words
Taking into consideration an ever-rising number of real estate websites and platforms, it may take some effort and time to build a competitive website with features described in this article.
Either way, you need to find a strong tech partner to make that happen. You may contact our managers to learn more about Cleveroad. We offer free consultation as well as dev time and cost estimation of your project.
Frequently Asked Questions
The price also depends on the country where the chosen development company is situated:
Eastern Europe. $75,000-$105,000 (based on $50/h)
Central and Western Europe. $150,000-$210,000 (based on $100/h)
USA. $225,000-$315,000 (based on $150/h)
Australia. $150,000-$210,000 (based on $100/h)
From our experience, there are several features both product owners and clients would like to see in real estate websites:
Listings and mapping
Mobile-friendly design
Thoughtful search with filters
High fidelity photos
Calculators
CRM system
Blog
Others
You need to select a reliable vendor. There are three hiring options - local software development company, offshore software development company, and in-house developers. Then, you need to start cooperation with a chosen vendor.
There are four primary monetization strategies that you can integrate while creating a real estate website:
Advertisement
Premium features
Subscriptions
Partner programs
#1. Save Time, Get Qualified Leads #2. Survive the Digital Era #3. Get a Powerful Advertising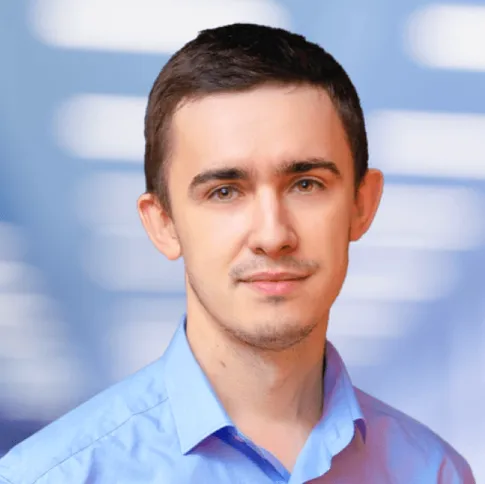 About author
Evgeniy Altynpara is a CTO and member of the Forbes Councils' community of tech professionals. He is an expert in software development and technological entrepreneurship and has 10+years of experience in digital transformation consulting in Healthcare, FinTech, Supply Chain and Logistics
Rate this article!
4233 ratings, average: 4.84 out of 5
Give us your impressions about this article
Give us your impressions about this article
Zinavo
12.09.2023 at 10:26
I found this article on real estate website development highly informative and insightful. The tips and strategies discussed here are invaluable for anyone looking to establish a strong online presence in the real estate industry. Thanks for sharing these valuable insights!