How Can a Landing Page Help You In a Mobile App Promotion?
Even before you launch your new mobile app, you've started thinking of it's promotion. The first thing you may consider is a website which will ensure your online visibility. But today, even an excellent website isn't enough, to guarantee you big sales on the online spaces. Now, landing pages are a top trend in the online marketing of mobile app development service.
If you are interested in your mobile app advertising, we will tell you how to promote a mobile app with the help of a landing page in this article.
How to Promote Apps Using a Landing Page?
What is a landing page
If you have no idea of what a landing page is, it doesn't mean you've never seen it. We are pretty sure you've seen it a bunch of times. To make it clear, a landing page, in it's widespread meaning, is the first page where a user starts his interaction with your product, or, in other words, where they 'land' first. However, speaking about a landing page in the context of marketing, another more specific term fits here better.
A 'landing page' is a page of your website which has a specific objective: to present and sell your product. Unlike homepages which usually have lots of different options that distract the users' attention, a landing page provides the exact information that your potential user needs.This is the reason why analysts say landing pages are much more efficient for mobile app marketing than homepages.
How can you use a landing page to promote your app
A thoughtfully made UI/UX design of a landing page can help you improve the following marketing stages:
Tell your app's story
The first thing that users require while searching for a new app is a quick and clear information. When you use a web home page for your traffic, you should understand how distracting and annoying it can be for users to find the information they needed with all the different options proposed.This is where a landing page gains the upper hand.
A landing page allows you to clearly promote your app's brand with a brief description to catch your audience.You can supplement your introduction with more copies, to tell about the features and benefits. Moreover, to create a landing page which will show all facets of your app, you can use your app's screenshots to demonstrate the features, or make a video, so people are able to get a detailed preview. Visual info will help users have a realistic idea of how your app works.
A good landing page can tell your app's story
Here are some tips for a successful app's storytelling:
A short story is a good one.
If you can write ten full pages about your app, it doesn't mean you need to. Users can quickly get bored of reading.You only need as much info as it takes to tell a quick, but compelling story.
Honesty.
You have to tell people on what development stage your product is on. No matter if it is real and being created, or if it is only something on the back of a napkin that you are testing.
Visual info.
Screenshots and videos will make your story more realistic for customers.
An established connection with your audience.
Make your audience believe that your product is the best. Humor and personal messages will help you.
Gather a user base before the launch
If you want people to know about your app, you need start your marketing campaign even before the app is launched. It's crucial to ensure that there will be people interested in using your app.
A pre-launch landing page can start to build anticipation, generate leads with your potential customers and create a successful future launch. A "coming soon" landing page usually has a call to action button that suggests users to sign up for further updates, which requires email addresses and some personal data.
Once you get the data, stay in touch with your potential customers and keep them interested on what are you up to. Although, remember the "rule of seven" (an old-school marketing concept) which says that people need to hear about your product seven times before they are willing to take action.
A landing page helps to gather a user base.
Gain visibility before and after the launch
When you need to gain online visibility, SEO (search engine optimization) is what makes your product visible on the Internet. Landing pages optimized for search engines are particularly engaging to the algorithms that decide whether or not a page is valuable to users.
A pre-launch landing page is the best place to start with the SEO activities. Choose the right keywords and put them into URLs, titles, meta tags, names of images and description copies. However, you shouldn't forget that, first of all, you create your landing page for people who will use your app, not for a search engine algorithms. That's why your texts need to stay human-friendly, so users must enjoy visiting your landing page. Moreover, if the keywords and tags are overused, a search engine can easily ignore your page.
It is also important not to neglect your optimization once you have a successful app launch. Furthermore, it will need an expansion with you traffic growth. The right conduction of SEO activities, as well as the regular testing of new approaches and keywords will ensure your success.
Analyze user behavior via A/B testing
A/B testing is an experiment where two or more variants of a page are shown to users at random, and statistical analysis is used to determine which variation converts users better. This helps you to endure careful changes to your landing page's UX and see how it affects users' behavior.
A/B testing is an essential part of creating an efficient landing page. For example, if you want to improve your landing page conversion form, try changing the headline, images, form fields, call to action, or overall layout of the page. The testing will help you discover which changes had an effect on the user's behavior, and which ones did not. After several tests, you can combine changes that had the best effect to build a landing page efficiently.
Here are some examples of how the A/B testing on landing pages helped big companies increase their conversion rates:
Kiva
Kiva
is an American non-profit organization which helps people to lend money online. They set a goal to increase the number of donations from the users who visit their landing page for the first time.
By the providing more information for users on their landing page, they hoped to increase the number of donors, so they added an information box to the bottom of their page.
As a result, donations from Kiva's users increased to an 11.5%.
Source: Conversion Case Study
Sony
Sony
wanted to increase the conversion rates from their banner ads. Their ad contained two calls-to-action, "Make it personal" and "Customize your VAIO." Sony decided to test which of these two ads would convert more.
The first one increased the click through rate by 6%, the other - by 21.3% from the original.
Source: Sony A/B Tests Banner Ads [Case Study]
What makes an efficient landing page
If you've already decided to build your own landing page, here is a list of aspects which will help you make it effective:
Understanding your target audience
A landing page is a natural part of mobile marketing which has it's goals and target audiences. If you haven't identified your target customer, it will be very difficult to write a copy which your customers will like.
First impression
The first impression from your landing page is very important to customers. A bad first impression can cause your user to leave without doing anything further.
Your landing page can easily make a good first impression if it has:
a catching headline;
a well-thought-out design;
appropriate visuals;
a strong call-to-action.
Headlines
Users who come to your site only need one moment to decide if they want to stay and learn more about your offer, or go back to surfing again. A key to make them stay is a catching headline. A good headline for a landing page should be action-oriented and dynamic. It should also be clear and positive to compel a visitor to take a closer look.
Text
A good landing page copy should provide only the information which will encourage and convert users. Users easily get bored with a lot of information, so you need to be sure that you provide only the essential information.
To make a copy easy to read, it is important to break it down.
There are often four basic parts to a landing page:
a heading;
a sub-header;
some important information;
some additional information.
Design
It is vital for a landing page to have a clear design with obvious and simple navigation, the most important information. Ideally, you should be able to convert users in one click on a landing page. A designer should think of every additional click as a step towards annoyance for the user.
Landing Page for Royal Ballet School (Source: Dribbble)
Call to action
The main objective of any landing page is to make users perform a specific action. That is why, one of the essential parts of a landing pages is a call to action. The heading or a button text can contain a call to action. It should be obvious for your users what the next steps are. You need to show your users exactly what you want them to do.
Visuals
The use of high quality video on your landing page can help your users get a real idea of your product. What's more, it is an excellent way to increase the length of time people spend on your page, and a video can be a better way for some users to receive your message, rather than through a copy.
Trust signals
Trust signals on a landing page can easily indicate your offer and brand to users as trustworthy. Testimonials are a commonly used form of trust signals, which can ensure your users with testimonials from your past customers. "Likes" and +1s from social media sites can also show a more subtle form of endorsements.If you have received certain testimonials from big companies, be sure to showcase them.
Mobile-friendly pages
A mobile-friendly landing page can double conversion rate. Your landing page should look excellent on mobile devices with easy navigation and fast loading.
Efficient Landing Page ingredients
Here we showed you that a good landing page can really help you in a mobile app promotion. If our article has already inspired you to create your own landing page, just drop us a line and we are ready to help you!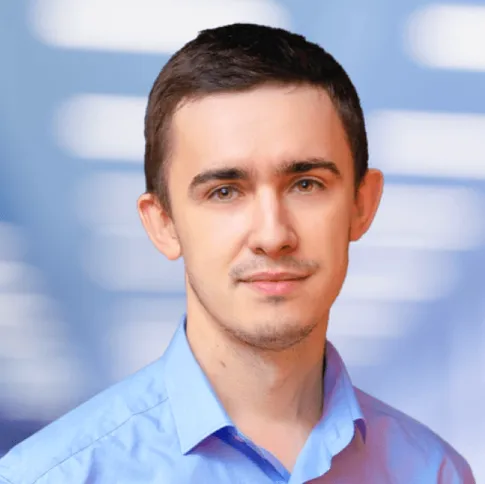 About author
Evgeniy Altynpara is a CTO and member of the Forbes Councils' community of tech professionals. He is an expert in software development and technological entrepreneurship and has 10+years of experience in digital transformation consulting in Healthcare, FinTech, Supply Chain and Logistics
Rate this article!
2637 ratings, average: 4.95 out of 5
Give us your impressions about this article
Give us your impressions about this article