Cost of Building a Marketplace Website [Full Estimate]
Want to know the marketplace app development cost to build the platform like Etsy, Amazon, or eBay? It's a great idea because the statistics are astonishing: the number of active purchasers on Etsy in Q1 in 2021 is 90.65 million, which is 89.9% higher than Q1 in 2020. And it's not even the most popular marketplace in the USA.
But there's one question – how much does it cost to build an online marketplace in 2022? The development requires various services that aren't cheap, and your idea may cost tens of thousands. For anyone who wants to know the cost of building a marketplace website, this guide shows the price feature-by-feature and the total cost across different regions.
Types of Marketplaces
Before we jump right into the costs, let's see what marketplaces are.
There are three types of e-marketplace:
Vertical that occupies one area or niche.
Horizontal that offers goods from a few categories with a secondary character in common
Global that offers items or services from a wide range of categories
Let's take a more detailed look at them.
Vertical Marketplaces
They offer goods from multiple sellers but the type of items is the same. Vertical marketplaces are exclusive suppliers that offer specific goods and have topnotch sellers. For instance, on Zillow, it's free to list a home for sale or rent. The platform works with many owners and agents/brokers, but their services incorporate purchasing, renting, or selling apartments.
Another bright illustration of the vertical marketplace is ThredUp. According to 2021 statistics, the number of its engaged buyers is 1.24 million, and the number of active sellers is about 428 million. Document Thredup distribution center has over 100 million items processed. The number of offered brands is 35 thousand by 2021.
Examples of vertical marketplaces
Horizontal Marketplaces
Horizontal e-marketplaces sell goods or services in several categories but with a single common characteristic.
For example, Couchsurfing works with and for travels, Etsy sells handmade items in eight categories. DogVacay offers different services but only to people with pets.
One more instance of horizontal marketplaces is a widely-used platform Poshmark. Forbes states that it is striving to market with a valuation of over $3 billion. The number of registered users is 70 million, and the total sum of purchased items from the moment of establishment is $4 billion. In March 2021 The Company announced that its net revenues are $81.8 million, which increased by 22% from the first quarter of 2020.
Popular horizontal marketplaces
Global Marketplaces
Global marketplace offers a great diversity of goods – books, furniture, grocery, apparel, toys, software, appliances, and a whole lot more. They consolidate lots of market segments to satisfy more consumers. This type of online marketplaces is focused on customers whose priority is high speed and lowest price. There are many categories of goods, and sellers' price offers are competitive. Amazon is a great illustration. Yep, it became famous for selling books, but today you can buy literally anything on Amazon. eBay works in a similar way.
Everyone knows an incredibly popular instance of the global marketplace, which is AliExpress.
AliExpress is expected to raise its cross-border clientage to 30 million by 2030. In January 2021, there were 528 million visitors on this platform. AliExpress direct traffic was 60% for the same period of time. In January 2021, there were 528 million visitors on this platform. AliExpress direct traffic was 60% for the same period of time. AliExpress is worth $3.63 billion as of February 2021.
Popular P2P global marketplaces
We can also categorize marketplaces by target audience:
B2B (business-to-business) — websites that sell various products from one business establishment to another. Multiple wholesalers are allowed to connect to purchasers to provide them with products/ services in bulks.
B2C (business-to-customer) — business provides products/services directly to customers.
P2P (peer-to-peer), sometimes called C2C (customer-to-customer) — websites are intermediaries between product owners and sellers interested in it.
Tech Stack for a Marketplace Website Development
To find out how much does it cost to build an online marketplace in 2022 you should come up with the essential features and proceed to MVP development services. It's a good chance, the product creation will require to implement in-app search (technology: Elastic Search), payments (Braintree, Stripe), and online chat (Firebase). And here are some other technologies we use for the e-commerce and retail software development.
Frontend
Front-end is a client-side part of the website. It incorporates the whole interface, buttons, and menus that users interact with directly. You can find an example of the front-end web app development services solution stack below:
Angular
JavaScript
WebStorm
Backend
Back-end is a server-side of a platform, invisible to the user. It accumulates, settles, and provides all the essential data from the data access layer on request and is necessary to make all features from the user side operate well. Here's the tech stack example for back-end development :
Node.js
EC2
MySQL
Swagger
Express 4
Sequelize
Integrations
To implement the solutions into the product we usually use third-party services. An API integration allows developers to connect multiple applications. APIs provide data exchange among their systems and this way enables them to implement various tools into the product. Here are some of the tools mentioned above:
S3
PayPal
Stripe
Amazon SES
Twilio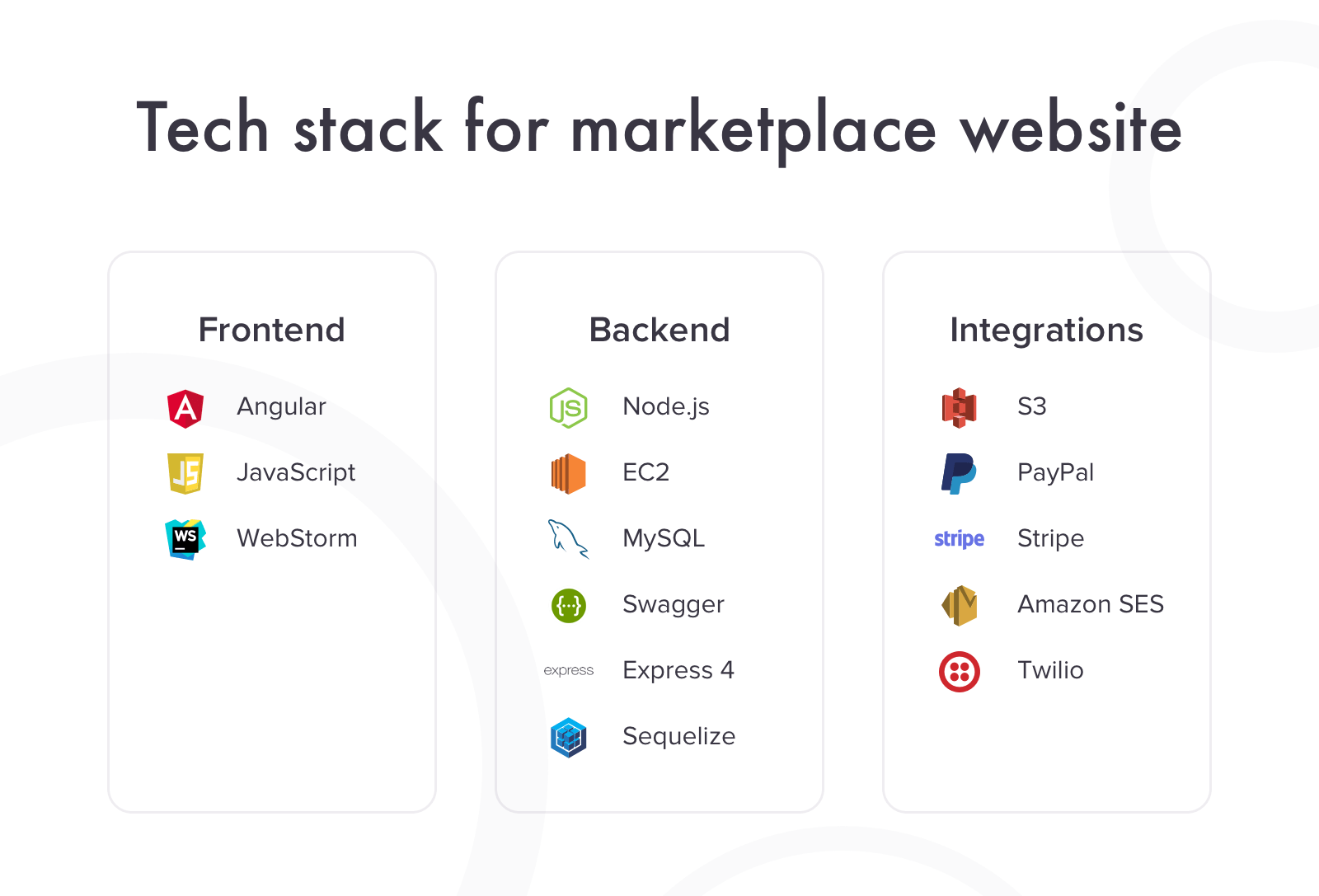 Technologies we use to build marketplace websites
MVP Development: Core Features
It is highly recommended to create MVP since it really helps to answer the question about how much does it cost to build a marketplace website. Starting a project with an MVP version is a common practice. MVP comes only with the much-needed features, and you can add more sophisticated ones on the way. After all, the faster you launch the marketplace, the quicker you start getting feedback. And figure out what to add or improve. Let's use Etsy as an example to show the features of an MVP marketplace.
Before we start, we'll split the feature list into two categories:
Customer's side
Seller's side
Time to check them.
Customer's side
To get access to all the opportunities of the marketplace, users must complete the signing-up process. To do this, they have to provide their personal info like name, email and set a password. What is more, customers should agree on Terms and Conditions. Another primary feature for clients is the opportunity to share feedback and ask questions through a Help Screen.
Here's how the registration goes on a horizontal marketplace, Etsy.
The marketplace asks for the first name, email, and password. They offer social sign up via Google or Facebook, and the links to Etsy's terms of use and privacy policy are right there.
Authorized users will need to enter and edit their profile details. To illustrate, it may be adding or changing a delivery address, subscription plan, payment method, email, or password. Furthermore, they should be able to check their current/ previous order history.
The landing page is a calling card of the platform. The best way to develop the interface is to make it intuitive and user-friendly.
Needless to say that the laconic sophisticated UI/UX design also plays an integral part here. Add the last watched product section and relevant suggestions to your homepage. It is extremely convenient for users. Another idea is to add a list of popular products to the homepage. That should help users make a choice (or add something extra to the cart).
To find the suitable goods faster, customers should be able to apply a system of filters (location, price range, conditions, etc.).
How filtering system looks like on Etsy
This page should comprise a detailed description of the product, some photos, videos, and price.
Product details from a buyers' perspective
Customers are able to reach out to suppliers with the help of messaging to bargain, discuss shipping details, or request extra information.
The list of products should be displayed here. Users may edit its quantity or remove them from their cart. Users can check the price details, fees or discounts, promocodes, delivery and payment options, and add comments. The next stage is proceeding to the payment method. When it comes to MVP, a credit card or PayPal is sufficient.
How a shopping cart may look like
Clients are allowed to manage vendors by the following actions:
Searching
Filtering
Deleting
Blocking
The clients are allowed to leave a review and briefly tell about the cooperation experience with a particular vendor.
Seller's Side
The seller completes the registration process or signs in with existing social media accounts. After that, the supplier is required to provide personal data:
Company name
Phone number
Address
Links to social media
Ratings/reviews
Testimonials
How a seller's page looks like on Etsy
Some types of e-commerce marketplaces offer to change the account type from a buyer to a vendor in the profile. We're going to discuss this feature later on.
To publish an ad, a supplier should categorize the item and provide an essential detailed description that may incorporate current condition, price, delivery methods, available quantity, existing colors, size range, etc.
Ads creation from a sellers' account
Vendors can communicate with clients via online chat to clarify the deal details.
Your MVP marketplace must allow sellers to withdraw their income utilizing various payment methods. Sellers need to view payout details (like the amount earned) and have an option to add or change the payout method.
A section where the supplier is able to overview personal rating,comments and feedback left by the customers.
How user reviews section may look like
Changing the Account Type
It's time to talk about the buyer-seller switch I've mentioned. What if an authorized user decides to become a seller? Do they need to create a second account? Many marketplaces offer a direct switch from the buyer to the seller within the user's account. It's usually done for free, but platforms charge a selling fee (Etsy charges $0.20 for listing).
Or they use the Amazon-like approach, offering a professional sellers' account (Amazon charges $39.99/month for that) + additional selling fee. So, users can change their account type in profile and start managing their shops – pick a name, add items, set up billing, and so on.
Admin panel allows the seller to adjust settings for various purchasers categories, such as delivery/ payment methods and price and manage goods. A standard MVP marketplace admin panel offers:
User management. The list of users, the details screen, edit user option, delete or block user, create an account manually, users search.
Messages. Getting and answering messages from 'Contact us' form.
Product management. Same as for sellers.
We've discussed a very basic list of much-needed e-commerce website features. Note that we did not include integrations with payment systems like Apple Pay/Google Pay, favorites, or personalized push notifications. These points should be discussed with your software solution provider.
So, let's finally proceed to the cost of building a marketplace website estimation.
How Much Does It Cost to Build a Marketplace Website
Cost to build a marketplace website like the one we've described is around $41,200. It's the number based on a $50/h rate (true for Central Europe, Estonia).

| Feature | Approx time (hours) | Approx cost ($) |
| --- | --- | --- |
| Sign up | 11 | $550 |
| Sign in | 27 | $1350 |
| Help screen | 26 | $1300 |
| User profile | 60 | $3000 |
| Homepage | 89 | $4450 |
| Shopping cart | 134 | $6700 |
| Add listings | 165 | $8250 |
| Product details | 41 | $2050 |
| Payouts | 25 | $1250 |
| Change account type | 60 | $3000 |
| Seller subscription | 50 | $2500 |
| Admin panel | 136 | $6800 |
| Total | 824 | $41,200 |
How did we get this number? It's simple: the more hours devs spend on website development, the more it costs. Our business analyst estimated how many hours it will take to develop a web marketplace (including the sellers' part, backend, and admin panel). Then to find out the cost to build a marketplace website we've multiplied the number of hours by $50. And here's where these numbers come from.
How Much Does It Cost to Build a Marketplace App (By Features)?
One more thing: in 2021, 72.9% of all purchases will be done from mobile devices. That's why we suggest adding an adaptive design that makes web pages render well on different devices, including smartphones. We approximately estimated it as 30% of the frontend part, not including the admin panel.
So in our case, adaptive web design cost is around 100-120h ($5000-$6000). Total: 688h features + 136h admin panel + 100-120h adaptive design = 924-944 hours or $46,200-$47,200.It's hard to tell the cost of creating an online marketplace without any project details. That's why the numbers above are approximate. In general, a marketplace website may cost from $41,200 to $123,600 and up (without adaptive design). It all depends on its complexity, features, and region where you hire developers.
Besides, the chosen hiring option is a cost-determining factor as well. There are the three main hiring options you are able to choose from:
Freelancers
Despite the fact that this option has the most decreased cost, with freelancers you have the lack of the final product's guaranteed high quality, and compliance with your requirements as well as deadlines. They are great for minor technical tasks, but not for a website creation from scratch implying long-term collaboration.
In-house team
Here, both employing specialists to assemble the team and managing the project are your responsibilities. The cost of this option is the highest of all due to the fact that it requires a lot of extra expenses, such as buying hardware, paying salaries regularly, renting office, etc. Yet, such a team is an excellent option for large-scale projects creation and further support, so partnership with them may last long.
Outsourcing companies
Outsourcing your project implies tech-savvy specialists taking over all your website development and project management tasks. You don't have to spend time on recruiting, as the team of experts with an in-depth experience is already gathered. Besides, businesses often choose this option due to its cost-efficiency, as you pay only for work done and can be confident in the product quality. Central Europe is a region full of outsourcing companies with talented specialists, so you should explore its market, especially, the Estonian one. Specialists there demonstrate high performance meeting your requirements and deadlines at a reasonable price with the guaranteed high quality.
The product development is a responsible and complex project, which requires lots of attention and conditions of various aspects. However, cost to build online marketplace can always be optimized, provided that you apply to credible, reliable, and trustworthy partners with excellent portfolios and reviews which will speak for themselves.
To give you an idea, here's how much the marketplace website costs in 2022 in different regions (rates are taken from Clutch):
Central Europe — $41,200 (based on $50/h)
Eastern and Western Europe — $82,400 (based on $100/h)
USA — $123,600 (based on $150/h)
Australia — $82,400 (based on $100/h)
Cleveroad Expertise
Cleveroad is a software development company with headquarters in Central Europe, Estonia experienced in a wide range of domains, such as Healthcare, FinTech, and Streaming. We've completed over 170 successful projects delivering full-fledged softwares to startups and businesses of all sizes since 2011.
Cleveroad is a trustworthy partner who can offer a wide range of IT-related services and digital products created from scratch according to your requirements. They optimize workflow efficiency, help overcoming different business issues, and comprise many competitive advantages.
We eagerly help startups, SMBs, and enterprises fulfill their goals and implement all ideas of our clients into real products.
To maximize the collaboration efficiency with Cleveroad for our clients, we offer a row of adjustable cooperation models:
Time and Material. With this model you pay exceptionally for the work accomplished and the time required for this. This model is efficient for large-scale projects with undefined or dynamic requirements.
Fixed Price. Cleveroad specialists will calculate the total cost of the project development prior to starting the work, so the client will know the agreed final price which will remain the same till the cooperation finish. Such conditions suit the projects with defined deadlines and requirements as well as the fixed budget.
Dedicated Team. By working with the dedicated team, you get top-class developers with a comprehensive experience in the industry you need. You can expand your team with additional specialists, gather an agile-oriented team for a new project or maintain and update the existing one.
Cleveroad is highly experienced in B2B, B2C, and C2C marketplaces of any complexity and focus. We develop e-commerce software that help SMBs and well-known brands to reach business goals and increase their value.
And we'd like to tell you about our P2P marketplace we've built for our client.
AYIO
Meet AYIO, a P2P marketplace that helps you find specialists in different fields – from travel to plumbing.
This platform comes with a complex search system, a custom payment account (so users get their pays faster), and real-time activity tracking of income and expenses.
Frequently Asked Questions
From $41,200 (Estonia) to $123,600 (United States) and up. The cost depends on project complexity, features, and region where you hire developers.
There are three types of e-marketplace:
Vertical that occupies one area or niche.
Horizontal that offers goods from a few categories with a secondary character in common
Global that offers items or services from a wide range of categories
Cleveroad provides software development services for 5+ years, and we know how to build B2B, B2C or P2P marketplaces that meet user expectations.
And I'd like to tell you about our P2P marketplace we've built for our client.
Rate this article!
5575 ratings, average: 4.86 out of 5
Give us your impressions about this article
Give us your impressions about this article
Wow! That's actually not what I expected. It's quite easy and affordable. Thanks for gathered information!