How Much Does It Cost to Create An App Like WhatsApp In 2023?
Are you thinking of creating a new messenger on your own? Has the success of other companies in the field affected your decision? Do you have some awesome features to add but want to save the basic functionality of other popular messaging services? Or maybe you are wondering how much it cost to develop an app like WhatsApp? Great! That's your lucky day because Cleveroad will gladly help you navigate through these muddy waters.
The cost of making an app like WhatsApp can range from $50,000 to $60,000. The amount depends on many factors, including the number of features and their complexity. This time, we're going to discuss how to build an app like WhatsApp and how much it actually costs to develop an instant messenger similar to it.
WhatsApp: Its Role and History
WhatsApp was founded by Jan Koum and Brian Acton in 2009. At the end of the year, it was launched on the App Store for iPhone with no alternatives in the world at the time.
This app, referred to as an instant messenger, was intended to give users an opportunity to exchange messages in real-time using mobile Internet or WiFi. Today WhatsApp is available for all popular mobile operating systems.
This is what makes it so popular. WhatsApp is available everywhere, from non-smartphones to cutting-edge devices. That is why your intention to build an app like this is quite reasonable.
What can WhatsApp do?
On the whole, you can do the following with the help of WhatsApp:
Send photos
Send audio files
Exchange geodata (a very handy feature for those who like traveling)
Send contact data
Send voice messages
WhatsApp has rich functionality, a flexible system of settings adjustment, a simple and user-friendly interface, and high performance. That is why WhatsApp became one of the most popular messengers in the world, and many entrepreneurs want to know how to create a chat application like WhatsApp.
WhatsApp statistics
To explore the benefits of WhatsApp-like app development, let's look at some statistics on this app. According to Statista and imBee researches:
WhatsApp is the third most popular social network after Facebook and YouTube
Among mobile messengers, WhatsApp is in the lead with 2,000 million monthly active users.
WhatsApp is also number one in downloads, nearly 45 million users install it every month.
Among WhatsApp users, 45.8% are women, and 54.2% are men.
The most significant number of WhatsApp users is in India (390 million), with Brazil and the United States in second and third place.
The app is used in 180 countries.
Well-known WhatsApp-like apps
Let's take a look at some well-known alternatives to WhatsApp to get some inspiration.
WeChat
This messenger is the second most popular after WhatsApp and is similar to it in its functionality. WeChat is prevalent in China, replacing Facebook. In addition to the common features, such as messaging and file sharing, calls, etc., the app offers an alternative to stories called "Moments." The app also has a "WeChat out" feature that allows users to make international calls at a low cost.
Telegram
This messenger has over 500 million users. It has many advantages, such as:
Unlimited file sharing. Users can exchange files of any size.
High security level. Telegram uses two types of encryption to ensure that only the sender and the recipient can read the message. There is also a secret chat feature that deletes messages after a certain amount of time.
Cloud-based. The user can access their account and all data from any device.
The main disadvantages of Telegram include limited company transparency and metadata storage.
Viber
Created in 2010, Viber has more than 800 million users today. The messenger is free and allows you to make audio and video calls, exchange voice and video messages and media files, and communicate in groups of up to 250 people. Just like WhatsApp, it uses end-to-end encryption, which guarantees data security. The main drawback of Viber is that it contains ads.
Many business owners consider WhatsApp as a good choice to start their new business. So, to create an app like WhatsApp, they need to plan their budget and estimate possible expenditures, so they need to know how much it will cost to create an app like WhatsApp.
Steps on How to Create App Like Whatsapp
Follow these six steps to build your own WhatsApp application:
Step 1. Choose a proper business model to keep up with to build a messaging app like WhatsApp. You can do the full market research by yourself or ask for help from a professional software provider.
Step 2. Find experienced developers that know how to make an app like WhatsApp. A professional software vendor guarantees you high quality and helps you create whatsapp applications faster.
Step 3. Consider team's location. Your technical partner's region will determine the hourly rate, which will affect the cost of making an app like whatsapp.
Step 4. Build the app architecture. At this stage, your technical partner will determine all the details of the messenger's structure.
Step 5. Go through MVP development with your IT provider. It's a proven approach to reduce initial investments and launch your app faster.
Step 6. Start collaboration with experienced UI/UX team to make a great design for your WhatsApp-like app. In the case of messengers, the user experience plays a key role, so pay special attention to UI/UX design.
Now let's study all these steps in detail to give you a better understanding of what you should undertake.
Create an App Like WhatsApp With a Proper Business Model
Before you start creating your app, you should think about all the business nuances you will face when you learn how to make an app like WhatsApp. Check out the main principles you should keep up with to succeed.
Target audience
First, you should determine your target audience for which you are going to build your own WhatsApp. As a rule, young people use messengers more often than older people. Although WhatsApp is also popular among business people since it is secure and easy to use.
Know your competitor
You should analyze the market and study all your competitors. If their apps are good, what should you do to make your app better? On the whole, you should know what messenger apps similar to WhatsApp are available on the market.
App value
If your app is entirely similar to other apps from this niche, what is its value? It's highly important to add something new to your app to make it competitive and unique when analyzing how to create a messaging app.
App store optimization
When WhatsApp-like app development is finished, and it is available in Google Play or App Store (or in both), it is not enough just to wait till everybody starts downloading it. You should think about app promotion to attract more users.
Monetization strategy
When you release the app, you want to earn money and make the app pay off. When you create your own WhatsApp-like app, there can be a few monetization models you may use to gain a profit: P2P payments, in-app purchase, subscription, and advertising. Let's take a closer look at each of them:
P2P payments. The model requires adding Person-to-Person transfers to your application. Then, you can charge a fee for each transaction. Facebook Messenger is a good example of benefiting this model.
In-app purchase. You can provide basic features for free and sell access to more advanced ones.
Subscriptions. You can provide your messenger services on a monthly/annual, or permanent subscription basis.
Advertising. In the case of WhatsApp app development, advertising should be embedded as naturally as possible so as not to distract users.
Hire a Dedicated Team to Develop WhatsApp
There are a few things that should be considered when planning your project budget.
Find experienced developers
If you want your app to grow and develop, its architecture should be thoroughly elaborated at the first stages of development. This is what a good entrepreneur always sees. As your application grows, you need to have an opportunity to process a large flow of data. You need to consider everything, from server sustainability to code design, to have the ability to add new features seamlessly later. A poorly designed code can cause improper app operation as new options are added.
Let's now discuss existing hiring options to define the one suitable for your case:
Freelancers. This option is excellent due to the opportunity to decrease development costs and complete moderate tech tasks. Yet, you have no quality guarantee and confidence in such specialists' experience. Moreover, freelancers often request a prepayment, after which they may simply not fulfill their job.
In-house teams. Gathering an in-house team is a great option for vast companies which need to develop large-scale projects and constantly maintain them. The communication between your team and you and, consequently, accessibility are on the highest level as well. Nonetheless, all the management responsibilities are on your shoulders. What's more, you have to check the expertise of developers when employing yourself. In addition, this option has the highest cost due to the need to buy expensive hardware, pay office rent and salaries, and cover many other expenses.
Outsourcing software development teams. With outsourcing, you can substantially cut down your outgoings and save the high product quality. Among the other benefits, there's no need to spend time on interviews to check the developer's competence, as the utter team with a verified high qualification is already assembled. Thus, there's no need to pay for hardware and office rent, you only invest in the services provided. Flexible cooperation modes that meet deadlines and requirements have already helped many businesses optimize their workflow and reach their goals. The global market is full of advantageous offers, especially the ones from Central Europe and Estonia.
Our advice is to hire someone who has already dealt with such types of projects. Good specialists can foresee all possible scenarios to avoid an app's crash and money losses in the future. Don't risk your reputation and money; hire a highly professional staff.
Consider team's location and staff numbers
The cost of creating an app can vary depending on your future employees' location. We will take the Central Europe development team's average salary, which is equal to $50 per working hour. Let's consider the entire membership of your prospect team. The team members could be as follows:
Sales manager (can be in touch with a client before, during, and after the development process)
Project manager (can also take a business analyst's responsibilities)
Requirement analyst (it's desirable to have both a project manager and an analyst)
Software developers (depending on the project complexity, a dev team can include 2-5 members for front-end development, the same is for back-end development, 2-3 members can be engaged in post-release support if such specified by a project)
Quality assurance engineers (1-4 members)
UX/UI designers (2-4 members)
Marketing manager (can be involved if product promotion is needed)
Software development team for a Whatsapp-like app creation
How to Make Whatsapp: The Architecture and Tech Stack
When you find a good guide on how to create an app like WhatsApp, you should get acquainted with WhatsApp's architecture. It's important to know what is in the background of the app. So in this section, we've gathered some vital information that should be considered before you start. All of WhatsApp's processes would be impossible without the stuff given below. This is what makes this powerful message exchange machine work.
WhatsApp uses the Ejabberd XMPP app server (FunXMPP) written in the Erlang programming language to handle message traffic. It's perfect when it comes to accommodating huge communication systems because of its good sustainability. Erlang will be a good option because it quickly adapts to hotfixes and instant updates. Thus, it doesn't have to be restarted in order to add new functionality or updates.
If you want to create exactly the same app, you can use Erlang on the server side as the messenger's techies did. Of course, you're free to choose among other server-side scripting languages. Other apps like WhatsApp, such as Telegram or Kik, use Node.js to code their servers.
To store multimedia files, WhatsApp uses a high-performance web server called YAWS (Yet another web server), which is also written in Erlang.
To power servers, the WhatsApp developers chose the FreeBSD operating system.
They also have chosen Mnesia as a database because it's the default database for Erlang.
WhatsApp uses the Extensible Messaging and Presence Protocol (XMPP) technology to transfer messages. This technology provides both one-to-one and multi-user chat communications.
The company rocks RC4 (Rivest Cipher 2) as a cipher method but is considered to be not that secure, though.
Regarding client-side development, the programming language can vary depending on what operating system runs on a device. That could be iOS - Objective-C or Swift, Android - Java or Kotlin. Then we can move to how to create MVP application: particularly the list of MVP features your WhatsApp should include.
How to Make App Like Whatsapp: MVP Features to Include
Congratulations! We've finished with the inside structure of WhatsApp-like app development. Now let's see what MVP features such a messenger as WhatsApp includes.
1. Registration + address book formation
The registration page is the entrance to your app. On WhatsApp, once users input their credentials (a phone number), the app sends an SMS for authorization. The app opens and processes this SMS automatically. Such automation improves user experience. When you build a chat app like WhatsApp, you can provide more options along with SMS authorization, for example, voice verification.
With the WhatsApp-like app, the user's anxiety about password loss or identity theft is eliminated because it's connected directly to a user's phone number, which can't be duplicated. On installation, the app creates an account using a person's number as a user's name. Then its software automatically checks all numbers in the new user's address book and compares them with WhatsApp's user database in order to set up the list of contacts in the application.
Do you know why should an MVP be a start of your business? Figure it out in our video below:
Why Should You Start Your Business from MVP?
WhatsApp uses the XMPP to create accounts with the Jabber ID. The app has recently refused to use IMEI and MAC to generate accounts, sending an SMS with a randomly generated password on the server side to a user's phone number. Consider it since it is a must-have feature if you create a chat app like WhatsApp.
2. One-to-one and group chatting
As you intend to build WhatsApp-like app, it's pretty obvious that the opportunity to start a dialogue has to be provided. Once a user presses a dedicated button, a contact list has to appear to choose a person. Also, there should be an option to create a group chat, where users can add a chat picture and provide a subject to the conversation. WhatsApp has recently released a feature to send one message to several people at once, called Broadcast Lists. You're free to integrate your ideas if you have such ones.
You already know that the XMPP technology is engaged in message sharing allowing users to talk tete-a-tete or have a group chat with as many contacts as they want. It's pretty much like HTTP. Here, a client opens a socket that stays open as long as a user is logged in. Unlike REST API, the client opens a socket and closes it after a message is sent/received. Although WhatsApp earlier used communication technology similar to SSL (Secure Sockets Layer), where messages were sent in plaintext. In 2012, it was reported that the company had changed the concept, but the developers haven't disclosed a cryptographic method yet.
Important note! You need to know that WhatsApp doesn't store users' messages on its server. After a user sends a message, it will be situated on the server, but just until the server requests the receiver to acknowledge receipt of the message, it happens quickly. After the message is acknowledged, the server delivers it to a receiver and automatically removes it from the temporary storage. The message is no longer WhatsApp's responsibility. Perfect!
In case you want to store users' messages on your server, you need to do your best to protect it. Anyway, you need to take care of users' privacy when you analyze how to create apps like WhatsApp. Nobody wants their sensitive data (history) tapped. You need to choose the right way the encryption of messages. However great WhatsApp is, the privacy problem remains unsolved. This is where you can learn from competitors' mistakes.
There is a little secret about message storage on WhatsApp. It's a chance that you will never receive a message if you're without an Internet connection for a long period of time. For 30 days, for example. Because this is how long your messages will be stored on the corporation server, then it'll be removed and not available. Be careful, sometimes WhatsApp can be utterly cruel!
Another fancy feature that can be implemented is a self-destructing message. This one usually is associated with Telegram and Snapchat. But you can implement as many ideas as you want. Self-destructing message development will take up to 8 hours, including back-end and front-end.
The XMPP technology is thought to be obsolete among developers. So if you do not find some desperate fans of this method, you can apply others. There are dozens of them for such purposes. For instance, MTProto is a new protocol applied to Telegram, which is thought to be more secure and reliable, or Microsoft Notification Protocol (MSNP). MSNP24 has been used by Skype since the beginning of 2014. It's up to you which of those to choose!
You may also want to add some spice to your message exchange functionality, like Stickers. They are worth a thousand words. Today many users expect Stickers to get reliable and secure communication and high-quality content in the conversation. Most of the messengers have Sticker stores inside them to increase the retention and engagement of their users. New content attracts more users. Also, selling it allows you to create an additional revenue stream for your app. You can launch your own store by integrating with Stickerpipe Stickers Store, which provides top-quality Stickers with a choice of different models that allow you to have either free and/or a revenue-sharing opportunity.
3. Notifications
This is how your user knows that somebody's sent them a message. On WhatsApp, users are usually informed about two things: when they are invited to a group conversation or when a new message arrives. It's carried out in the way of pop-ups or push notifications if a device screen is locked.
How can this procedure be implemented? It can be made through Google Cloud Messaging or Apple Push Notifications. Your server sends the notification to your app users via these cloud services using the HTTP/2 multiplex protocol. Take it into account when you create a WhatsApp clone.
4. Multimedia files transmission
WhatsApp users can also send short voice messages, pictures, and videos. This is a standard option among several others listed below. If you want your app to have the same functionality, you can include the multimedia files transmission feature. The transmission procedure is performed by uploading a multimedia file to be delivered to the HTTP server (hi, YAWS), it then sends a link to the content together with its Base64 encoded thumbnail. Again, you can choose any of the existing web servers when you decide how to create WhatsApp app.
5. Voice and video calling
Today, these features are an integral part of all popular messaging apps. How does it work in WhatsApp? The messenger uses Internet traffic rather than the phone's tariff plan money or minutes. By pressing a dedicated button, a user can activate voice calling. You can either take an older version of WhatsApp as an example or add this feature. But it can take more time and money to integrate it.
Voice calling in WhatsApp
As any master who doesn't want to reveal his secrets, WhatsApp didn't hurry to do so. We've done deep and exhaustive research and found out that WhatsApp uses the PJSIP library to implement Voice over IP (VoIP). This is an open-source multimedia communication library written in C. The library uses a high-level API by combining the SIP (signaling protocol) with the multimedia framework and NAT traversal functionality. This API is suitable for all types of systems, including mobile handsets.
6. Settings adjustment
Everything regarding this is included in one menu called 'Settings' on WhatsApp. It's not a strict rule to do like the original app. Who knows, maybe your designers will create a more excellent and more convenient interface. However, the app should include several basic things that help it adjust to users' needs.
Help. Your user should have an opportunity to read some information about the app and to reach out to you if your consultation is needed.
Profile settings. It's vital for a user to be able to change a user's pic/nickname/status.
Account settings. Three basic points have to be included:
Privacy. It's actually a good idea to let a user monitor his recent actions. You may include another awesome feature blacklist.
Opportunity to change a number. It's necessary when users change their current phone number. The app should make it possible for the user to migrate from one number to another.
Opportunity to delete a user's account. It's essential to have such a feature in case a user doesn't want to use the app anymore (however sad it is) or gives a device to somebody else.
As for the rest of the Account Settings menu, it's up to you what to include. It could be Payment Info and Storage Usage, how it's implemented in WhatsApp.
Chat settings. Here, users can change chat wallpapers, switch on/off incoming media, and carry out backups. When talking about backup, cloud services are the most progressive way to store information. The solution for users' chat history and media synchronization should be provided.
Chat settings in WhatsApp
Notifications settings. This is very important because these 'guys' can be really annoying. Notifications should be freely adjustable.
Data usage settings. Having included this feature, you will give users an opportunity to control data flow.
Remember, if you want to create an app similar to WhatsApp, you don't have to follow exactly the same course as its developers. You always have a choice! We're stressing that all the above features weren't added all at once! There is no necessity to stuff your app with all these at the start. The perfect solution is to build a stable, good-working product by implementing basic procedures which could be updated after you get a fine client base.
How to Create Messaging App Like Whatsapp With Great Design
Another thing influencing your app popularity most is it's design. This is the face of your product. However smart your app can be, it won't be popular without a pretty and attractive interface. Details, lovely colors, fonts, well-designed icons this is what make your app desirable. A stylish interface is worth its weight in gold. So don't be stingy when it comes to the design.
Pay attention that you will need to add about 60-70 additional hours to the total amount of working hours to implement UX/UI design.
Cost of Making an App Like Whatsapp
At this point, we will consider the development time and cost of an app like WhatsApp only with the basic functions. The table below shows the approximate development time of the WhatsApp-like app by modules and what they include.
Development time of WhatsApp MVP features

Modules
Features
Approximate time, Android or IOS (hours)
Approximate time, backend (hours)

Registration + address book formation

Mobile number verification + input code screen + name screen

39

28

Login

Username + password + forgot password/change password

19

22

Chats

List conversations + search online/offline status + send multimedia + edit name + block/unblock user

188

223

Group chats

Group info + media screen + mute/unmute notifications + leave group

85

120

Audio and video calls

List of calls/call to user

120

170

User profile

My profile + tab followers screen + list of records

24

28

Search

Suggested users/discover list of groups/near me

45

62

Settings

Call/chat screen + set dafault number + delete all chats + deactivate account + change password/email + security/privacy screen

102

70

Contacts

Contacts screen + search + list of contacts

10

28

Notifications

Screen list of notifications

14

14

Push-notifications

24

20

Total development time (single-platform)

670

Total development time: Android and iOS (no backend)

1340

Total dev time (for Android and iOS) with backend:

2125
You can see that the process of MVP creation of an app like WhatsApp may take approximately 2125 hours for both iOS and Android. Given the amount of time, it will cost you around $30,000-$50,000 for one platform and $60,000-$100,000 for two (with an average rate of $50).
How to Make App Like Whatsapp: Cleveroad's Experience
Cleveroad is a software provider headquartered in Central Europe, Estonia. Our team of 120+ engineers has been helping startups and businesses create unique technical solutions for over 10 years. During that time, our specialists have completed 170+ successful projects, including social media and messaging apps.
Applying to the Cleveroad team to create a chat app like WhatsApp, you will get many advantages, among which:
Full-fledged services. Our experts will pick up your project at the stage of raw idea, conduct full-fledged market research, and can make a WhatsApp-like app that will stand out.
Modern technologies. Our developers use a modern tech stack in their work, which will help your app to be ahead of the competition.
Quality assurance. A team of QA engineers accompanies your product at all stages and performs full-fledged testing.
Flexible cooperation models. Based on your needs and capabilities, you can choose between fixed work scope, time & materials, or dedicated team models.
Privacy. We sign a Non-Disclosure Agreement (NDA) per your request.
Media software by Cleveroad
An example of one of our latest media solutions is the social network for dancers. The app was created in order to unite dancers from all over the world to allow them to communicate and share knowledge. The Cleveroad team brought the client's ideas to life by creating an application for iOS and a web admin panel. The core techstack of Ayoo is Node JS, Express and Swift.
With the help of a social network for dancers, users were able to share successes with each other, discuss the latest news, and even have dance battles. The client, in turn, got a rapidly gaining popularity application that met all the requirements and helped generate profits.
Another media app developed by the Cleveroad team is a sports social network. Its main purpose was to unite people who are passionate about sports so that they can organize and participate in sports events. To fulfill the client's requirements, our specialists created two native applications - for iOS and Android, using Swift and Kotlin. Braintree, Google maps, and Intercom were also integrated.
Sports social network: in-app chat
As a result, the client received the following:
A quality application. With well-thought-out UX, users were interested in the app, and their number was increasing.
A complete environment. Interaction between users of both platforms and administrators became as convenient as possible.
Increased revenue. Thanks to the growing app's popularity, the client was able to maximize profits according to the chosen monetization model, namely subscriptions.
Want to create a messaging app?
Our specialists will build a top-notch app like WhatsApp according to the requirements you provide
Start with a competitive research. Look through apps similar to WhatsApp (and WhatsApp itself), pay attention to their cool features, and the features these apps are missing.
Choose platforms. If your target audience lives in the US, Canada, or Australia, it's better to make an iOS app. If they live in Central Europe, India, Africa, or China, go for an Android-powered app. Or both, to make the app available for all users.
Think of basic features. No messaging app will go live without registration, profile management, pop-up notifications, chats, file transmission, or voice calls.
Don't forget about the modern UI/UX design of your app.
If you're not a UI designer yourself, the best way is to hire a UI/UX designer who will do the work for you. They will consider platforms peculiarities, follow Google's and Apple's design guidelines, and make sure the app looks good on both iOS and Android.
Some messaging apps use advertisements, some use in-app purchases (like Viber stickers), or subscriptions. Or just look for sponsors.
Android development takes ~15-20% more time compared to iOS. That's because of a bigger number of screens and OS versions. But in general, the process remains the same as with iOS apps:
Research
Planning
UI/UX design
Development
Release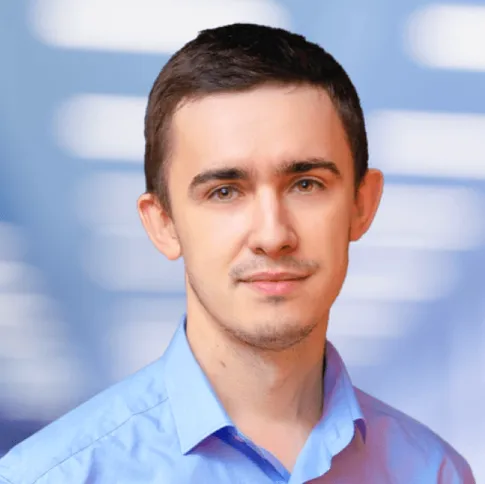 About author
Evgeniy Altynpara is a CTO and member of the Forbes Councils' community of tech professionals. He is an expert in software development and technological entrepreneurship and has 10+years of experience in digital transformation consulting in Healthcare, FinTech, Supply Chain and Logistics
Rate this article!
23877 ratings, average: 4.99 out of 5
Give us your impressions about this article
Give us your impressions about this article
sarath ps
16.01.2023 at 12:03
Jitto Varghese
11.09.2022 at 06:15
Louis .
23.05.2021 at 15:09
Excellent! Detailed, substantive and very informative! Many thanks
Louis
23.05.2021 at 15:08
Excellent! Detailed, substantive and very informative!