How to Create a Church App: Reasons to Build One and Features It May Have
The mobile development industry has been growing so quickly, and now smartphones are an integral part of every person's day-to-day activities. The unprecedented demands for mobile devices have pushed religious faiths to build a church app to keep up with the current trend and access a broader audience. In fact, about 47% of American citizens belong to a church. So you run the risk of missing out on more than 120 million potential customers. And that is just the US audience.
A mobile application would bring church an opportunity to conduct online sermons and receive donations. However, there are plenty of things to learn before looking for mobile app development services.
This article will help you learn how to develop a church app, its benefits, challenges, features to implement, and cost estimate in detail.
Why You Need to Create Your Own Church App
A church app is a digital tool for managing daily activities and administrative tasks such as congregation management, tracking attendance, and allowing spiritual leaders to take notes on participants in various groups. By implementing mobile apps for churches you can get a number of benefits, including cost reductions, improved communication, and others:
Next level of communication
Church app development is an excellent decision if church ministers want to stay in touch with parishioners and parishioners want to communicate with each other. The application can inform users about the latest church news and deliver them invitations on events.
Broad reach
Church applications provide users with 24/7 access to sermons, videos, sacred books like Holy Bible, and other religious material with just a few clicks. As for the clerics and spiritual leaders, they can deliver the word of the Lord among the people around the world by applying modern OTT solutions with superior streaming quality.
In addition, such applications unite parishioners into an active online community. They may give an opportunity to chat both in the application or jump to a person's social media profile and continue there.
Donations
A mobile app is a convenient way to make donations. So church app solutions may have a donation opportunity and let parishioners share the donation link in social networks.
Live streaming
The opportunity to stream videos can be very important since there is always somebody who cannot visit sermons and other events. Moreover, statistics show that 54% of Christian millennials watch videos related to faith and spirituality.
Charity and volunteering
Building a church app allows reminding parishioners about the forthcoming charity or volunteering events. Push notifications can be great helpers in involving more people to an event. Also, it's reasonable to add a photo library for events, let people comment them on, as well as make charity donations.
Overcoming challenges online
The parishioners often discuss their difficulties and support each other in difficult situations. The presence of a mobile application can greatly facilitate this. According to Christian Web Trends, a social element in religious apps was recognized as very important by 57% of the respondents, while 75% found that push notifications are one of the most important features.
Those were only several reasons why custom church apps are useful. Except for everything mentioned above, it's also possible to keep church records, develop interactive features for children, etc.
Why Custom Church Apps?
Wondering how to get a church app, you may choose between custom development, off-the-shelf software, or a solution created using app builders. Custom church app development means creating software from scratch, considering all your goals and requirements. It will allow you to get all the necessary functionality and meet all your needs.
On the other hand, out-of-the-box solutions and applications created with app builders cannot guarantee either stability of work or rich functionality. Developing a custom app is the only way to keep user experience at a high level and provide users with the required features.
Custom mobile apps for churches can bring you the following advantages:
Secure access
The post-pandemic reality shows the need to make churches more flexible and get online. Church applications allow priests and pastors to hold religious practices and meetings remotely without being limited to specific places and times.
Branding
When you create a custom product from scratch, you can get a unique mobile app design that will reflect all the features of your brand and ensure your church name and logo are on the user's home screen. This way, you can promote it, increase your reach and attract new users.
Church application tailored to your needs
By contacting the church app developer to create a custom solution, you can share all your requirements and business goals and get an application that will meet all your needs and have all the necessary features.
Integration with accounting software
Custom development allows you to successfully integrate a mobile church app with your accounting software, allowing you to conduct and monitor payments.
Let's compare custom mobile church solutions and ready-made apps:
Custom vs. ready-made church apps

| | | |
| --- | --- | --- |
| | Custom solution | Ready-made solution |
| Cost | Higher development and implementation cost. But initial investments will pay off on the long run | Lower implementation costs |
| Scalability | You can expand and improve an app further | You can't modify an app |
| Functionality | Includes custom features that meet your needs | Limited functionality |
| Suitability | Suits all your goals and requirements | May lack the functionality to meet your goals |
| User experience | Provides better UX | Provides worse UX |
| Unique services | Allows you to provide unique services and stand out from the competition | Contains only basic services |
Types of Church Applications
Also, the app can perform one single feature. For example, notifying about news or allowing to read the Gospel or other religious texts.
There are three main types of church applications to single out: for parishioners, spiritual leaders, and clerics. So before delving into the question of how to create an app for church, let's consider how different they are:
For parishioners
First, it becomes easier to spread the God Book among parishioners if you create a church app for them. Second, you can broadcast important events with the help of platforms like YouTube or Vimeo.
The members of your church can register for events, propose podcasts, make records of preaching, and donate through the application. For big churches, it's reasonable to include a map of campus and events taking place in different rooms or classes of the church.
For spiritual leaders
This kind of app is focused on managing groups of parishioners of the church. It can track attendance and allow spiritual leaders to make notes about participants of different groups.
The application should be protected by authorization so that no one can access the personal data of parishioners.
For clerics
If you create church app of this type, it will allow church leaders and clerics to interact with each other and have single access to the church database.
For instance, if a leader enters the attendance data along with some notes, they are automatically updated and synchronized so that clerics can see the changes through their personal profiles. That also gives clerics an opportunity to make attendance reports, evaluate the level of participation in different events, etc.
For children
Applications for children differ from those focused on adults. There are lots of peculiarities on how to create a church app for children.
You should take into account the fact children should not be bored when using the app. That's why the best way for similar children apps is to entertain them by giving an opportunity to play games and solve interesting tasks. Don't forget about the rewards!
In addition, it's a good idea to include videos and other interactive content. To build a church app that'd be interesting for children, you can also consider adding interactive Bible chapters for reading and, let's say, add a quiz at the end of each chapter.
Also, different cartoons related to spiritual development, pictures of Biblical characters, artifacts, holy places along with a description of them are a good fit. The main thing is to present information in an easy and educative way.
Example of religious app for children (Source: Google Play)
Popular church app examples
Now, let's consider the real example of church application to learn from their concept and features included.
Church Times
The Church Times is an iOS-based app that allows users to know about the latest church news and trends worldwide. The information is published weekly on Fridays and includes cartoons, articles, interviews, book reviews, and current church vacancies. Among the exciting features are:
Download each week's publish to read offline
Read the latest news stories posted throughout the week
Listen to the podcasts that come every week
Look for specific information (news, podcasts, appointments, etc.).
Share articles via social media
Churchme
Churchme is a church social community that allows members to interact and share testimonies, prayer requests, devotionals, and more. The application provides users with the following features:
Share church journals and announcements
Making donations
Look through the church member directory
Share pictures from church service with the rest of the participants
View upcoming events via an in-built calendar
Receive push notification alerts
E-zekiel Church Management
E-zekiel ChMS enables spiritual leaders to view and handle the information about the groups of parishioners from mobile devices. Among the valuable functionality provided are:
Self-check-in for parishioners to skip the lines
Create participants' profiles, search, and update them
Make families' profiles, search, and update them
Contact entire congregation
Reach to specific groups
View church list
Record visits
Make notes about engaging with people
How to Create an App for Church: Possible Challenges
Despite the advantages for parishioners and clerics, church app development has some pitfalls you should be ready to deal with. Strict security requirements and some limitations are discouraging entrepreneurs from getting into this niche.
Let's figure out the main problems.
Cost
Despite the benefits of bespoke solutions, many churches are hesitant about creating a unique church application because of its cost. But how to reduce the development costs while delivering a top-notch product? The answer is to build a Flutter-based church application.
Cross-platform projects can decrease the estimated development time by up to 50 percent, thus reducing the price. The point is that native projects include the development time for both platforms. In turn, the Flutter framework allows software engineers to come with a single codebase for iOS and Android. At Cleveroad, we provide cross-platform app development services on Flutter to help our clients reduce time to market, faster release, and deliver high-performance, scalable mobile apps on time and within their budget.
Additionally, you can consider outsourcing app development to one of the popular outsourcing destinations like Central Europe and get a high-quality product for an affordable price. With average rates of $25-$50/hour, the final cost of making a church app will be significantly lower.
Security
Security issues are an essential part of any business, and ministries aren't excluded. Combating increased cyber risks is critical to guarantee parishioners' data security. There are several ways how to make a church app secure:
Use multi-factor authentication to prevent unauthorized access to sensitive data.
Apply an SSL certificate to encrypt communications and provide the highest security environment to your clients.
Don't store confidential information on user devices, encrypt it with special algorithms like AES-256 or RSA.
Additionally, you have to conduct security self-evaluation and monitor new vulnerabilities after each update to provide complete protection. If the company neglects the security demands, the application might be blocked from App Stores or even get a fine of €20 million if there is a potential breach of GDPR (General Data Protection Regulation).
Necessity in updates
The majority of users abandon the application if they see nothing change or improve. The only way to retain your customers is to regularly check your church app for possible issues to keep it upgraded and relevant. If your platform doesn't generate enough value for users, they may just end up deleting it. But bear in mind that the renewed version of the app will be available for users once it's verified by App Stores. It takes, on average, two days for Apple's Store and two hours for Google Play.
Promotion
After the release, you need to grow your user base actively. But how to get customers to see your app? The correct answer is marketing.
Ensure you start a marketing campaign long before you launch your application. This approach makes it easier to engage new users and increase trust to your church platform. For example, you can make a pre-launch landing page to collect users' emails, participate in online communities, deal with famous personalities, or create your own blog on social media. A well-prepared pre-launch stage will help you to get an initial boost and continue working on creating a loyal community.
Church App Features
To create your own church app, you should first decide on the required features. Once it's done, write down every idea you have to be able to provide clear requirements for the company that'll be building your application. It'll fasten the app development process and help bear everything in mind.
Now let's talk about features. First, let's consider some basic features needed to create a church app that will be helpful for parishioners:
Basic features for church apps
Information about a church
That's probably the first thing the app should contain. You may provide members with detailed information on church history, goals, clerics, and ministry programs.
News
The feed will allow parishioners to be aware of all the forthcoming events. Church app developers can build a push notification system.
Events Calendar
Create church mobile app with an event calendar feature so that users can plan their time. You can also use push notifications to remind you of upcoming events.
Push notifications
Deliver important information to parishioners in an instance. Besides, GEO fencing can be used to adjust notifications depending on the area of living.
Sacred books
A variety of users read religious books like the Bible on their mobile devices. So, you can provide them with such an opportunity within building a church app. Besides, it's a good idea to add the opportunity for writing personal notes.
Donations
Donations are important for any non-commercial organization. Some churches collect donations during events. To organize it conveniently for parishioners, you can send them notifications to remind them about the possibility of making donations.
Social networks integration
This step will provide you and your users with an opportunity to share different events on social networks using your church app solution.
Media library
You can connect websites like YouTube or Vimeo for placing/adding videos to your media library. You can also integrate audio sermons from iTunes or other audio stores, as well as create own podcasts and downloadable audio files.
Live streaming
By means of services like Live Stream or Ustream, you are able to conduct live broadcasts from your church app. This feature will help to keep up with events for those parishioners who cannot physically attend church services or certain events.
Community features
Building a church app provides a great opportunity to create a friendly community among church members. Introduce features as group chats, that allow members to communicate, discuss the latest news, and prepare for upcoming events.
Contact feature
You may allow your app's users to ask questions in chat, make calls or contact the representatives of the church in any other convenient way.
Advanced Church App Features
Here are some advanced functionalities you can add to enrich your church application:
Gallery
Map
In-app camera
Live analytics
Attendance rewards
Polls and surveys
Christian radio
How to Develop a Church App
So, it's time to consider the main stages of building a church app. We will describe how to build such a solution on the example of our software development flow:
First Contact
You contact the company and leave a request on the vendor's website. Once the Business development manager processes the request, the company reaches you to schedule a meeting and discuss the details of your application.
Solution Design stage
At this stage, our solution design team consisting of a business analyst, solution architect, and designer, will contact you to discuss business goals, scope of work, basic quality attributes, etc. We will then create a rough estimate and form a proposal.
Discovery Phase
During the Discovery Phase, the team turns all previously collected requirements into a clear plan, which will speed up the development of mobile apps for churches. During this phase, the team creates a detailed list of features, conducts quality attributes workshops, analyzes business processes, and creates relevant diagrams. Also, designers work on developing design concepts and UX maps, considering all the requirements. As a result, they create church mobile app mockups that reflect the final look of the app.
Also, at this step the team prepares a detailed estimate of the product development costs by platform. Ultimately, we sign a development contract if you agree with the numbers and conditions.
Development and quality assurance
Developers convert mockups into a working social media website. The development workflow is split into sprints (2-week periods), during which the programmers need to develop an agreed part of the website functionality. There are different methodologies that can be applied during this stage.
For instance, at Cleveroad, we use Agile methodologies and work with the Scrum framework on our projects. Scrum helps our clients stay flexible and easily make changes to their projects.
In order to provide a great user experience, your application must be bug-free. Therefore, QA engineers conduct quality tests to ensure the church app runs as expected and meets the testing plan. If bugs appear, they put them into the bug report and send it to developers to fix the issues.
Release and maintenance
The software developers make final edits and polish the project to ensure the church app is ready to release. After refining is done, developers hand the product over to the client with all project materials. But the cooperation doesn't end here. You can continue collaboration with your software provider to add various tweaks based on feedback from users and maintain your solution with improvements and new features.
Tech Stack for a Church Application
There are a bunch of powerful tools that can be used for church app development. If you want to create a native mobile app, you will need to apply a programming language — Swift (iOS) and Kotlin (Android). In the case of cross-platform development, programmers use Flutter.
Note: You should consult with professionals to choose the tech stack for your educational app. The final toolset always depends on your technical needs and project requirements.
To give you a hint, we've listed the required technologies to make a church app.
iOS app
Programming language: Swift
Networking: Alamofire
Android app
Programming language: Kotlin
Networking: OkHttp 3
Flutter-based app
Programming language: Dart
Networking: Chopper
Back-end development
Programming language: Node.js
Framework: Express 4
Database: MySQL
API: Swagger
Tools
Signup: Amazon SES, Amazon SNS
Emails: Elastic Email
Search: Elastic search
Payment: Braintree
Push notifications: FCM
Storage: Amazon S3
How Much Does It Cost To Develop a Church App?
There are a lot of factors affecting the final price such as platform, features, design, integrations, and developers' rates. However, if you consider all of them, the average cost to build a church app will vary between $60,000 and $180,000+.
As we mentioned earlier, cross-platform solutions are more budget-friendly than native app development. That's why our expert team has calculated the approximate cost of developing a church app with Flutter based on the basic features. The price is based on the average hourly rate in our region (Estonia), which is equal to $50/h.
Time to create a church app (development only)

| | |
| --- | --- |
| Core features | Development time (h) |
| Registration | 71 |
| Login | 64 |
| Profile | 123 |
| Settings | 23 |
| Home screen | 24 |
| Streaming | 55 |
| Posts | 99 |
| Mobile Bible | 75 |
| Push notifications | 31 |
| Admin panel | 325 |
| Total development time | 890 hours |
Given the amount of work, it'll cost you approximately $90,850-$120,000 to create your own church app with Flutter. The estimation above doesn't include QA, BA, SA, DevOps and UI/UX design services (the services of these specialists are counted separately), and estimates only features described in the article. Meaning those are approximate numbers.
Additionally, the final price can vary depending on the team's location. To give you a hint, we've estimated the approximate cost to build a church app in different regions:
Central Europe. $90,850 - $120,000 (based on $50/h)
North America. $181,700 - $210,000 (based on $100/h)
Western Europe. $163,530 - $183,000(based on $90/h)
Australia. $181,700 - $200,000 (based on $100/h)
Cleveroad Expertise in Making Church App
Cleveroad has already delivered custom church apps for our clients before. Manna for the Morning is one of such apps. We created it for our US-based client, who turned to us to build church app to meet their goals, namely attracting new parishioners and increasing the involvement of existing ones.
The application is equipped with the following features:
Daily Bible reading with tracking of the studying progress.
Brief comments to make Bible study more convenient.
Maps and graphics.
A personal journal where users are able to make notes.
Original illustrations to help users visualize various stories they will face.
Additional studies like "Manna for parents", "Manna for children", "Manna for couples" with daily updates.
In-app purchases allowing users to purchase books inside the app.
As a result our client got iOS and Android apps that allowed them to attract more users, increase member engagement, create an extended community and boost profits.
Church app design by Cleveroad
Now, allow us to introduce our company and the IT services we provide for startups, small and medium-sized companies, and enterprises.
Cleveroad is a skillful software development company with headquarters in Central Europe, Estonia. Since 2011, we have been helping startups, SMBs, and enterprises to get custom native apps for iOS and Android and provide cross-platform app development services on Flutter that fit your needs and budget requirements.
We offer a variety of benefits for every client to deliver your own church application:
Custom mobile development services for iOS, Android, and cross-platform Flutter development
On-demand services: software development from scratch, legacy soft modernization, Discovery Phase services, UI/UX design services, and more.
An experienced team that quickly adjusts to new requirements and changes and integrates into existing workflows
All required specialists available — mobile and web developers, DevOps, designers, PMs, QA engineers, analysts.
A team of high-skilled and certified QA engineers ensuring the high-quality of mobile solution
Innovative tech stack and development approaches
If you need mobile church app developers, our team is ready to help you.
Ready to build a church app?
Get custom mobile development services from a team with 11+ years of experience in the field
Frequently Asked Questions
A mobile application would bring the church an opportunity to conduct online sermons and receive donations. However, there are plenty of things to learn before looking for mobile app development services.
To create a custom church app you should first decide on the required features. Once it's done, write down every idea you have to be able to provide clear requirements for the company that'll be building your application. It'll fasten the app development process and help bear everything in mind.
The cost to build a church app may vary from $60,000 to $180,000+. However, there are a lot of factors affecting the price, such as number and complexity of features, platforms to cover, etc., so if you need detailed numbers, you should ask your software vendor for an estimate.
For parishioners. it becomes easier to spread the God Book among parishioners if you create a church app for them. You can broadcast important events with the help of platforms like YouTube or Vimeo.
For spiritual leaders. It can be capable of tracking the attendance and allow spiritual leaders to make notes about participants of different groups.
For clerics. Charch apps allow church leaders and clerics to interact with each other and have single access to the church database.
For children. To build a church app that'd be interesting for children, you can also consider adding interactive Bible chapters for reading and, let's say, add a quiz at the end of each chapter.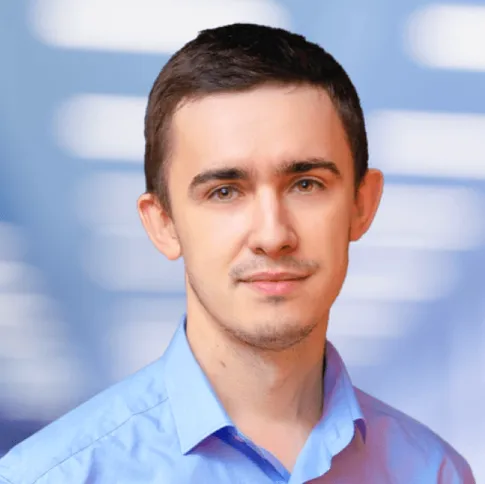 About author
Evgeniy Altynpara is a CTO and member of the Forbes Councils' community of tech professionals. He is an expert in software development and technological entrepreneurship and has 10+years of experience in digital transformation consulting in Healthcare, FinTech, Supply Chain and Logistics
Rate this article!
3270 ratings, average: 4.71 out of 5
Give us your impressions about this article
Give us your impressions about this article